When preparing for your wedding, you might love to get a cake that fully integrates the theme of your wedding color. Cakes Decorated With Lavender Purple is a common color used in wedding decorations. How about having a cake decorated with Lavender?
Yes, you read it right!
Give your wedding cake a unique twist with lavender. You can create a simple lavender wedding cake or opt for a more lavish lavender wedding cake design; the choice is absolutely yours!
When it comes to wedding cakes decorated with lavender, you have endless choices to select from. It is important for you to make the right choice of cake for your wedding celebration. Lavender cakes are common choices for couples who are getting married. If you're looking to add a touch of elegance and a delightful floral essence to your dessert, lavender cakes are the perfect choice.
Wedding cake is an integral part of any wedding. A wedding without the right wedding cake would feel incomplete. Hence, it is crucial that you make the right choice of cake for your wedding.
If you are excited to know more about lavender cake designs and wondering, how can you incorporate lavender to your wedding cake, then read the full article.
This article delves into the world of Lavender wedding cakes with the different designs and decorations you can opt for. You will have learned all there is to know about lavender-decorated cakes by the time you finish reading this article.
So, without any further ado, let's get started…
Table of Contents
Best Lavender Wedding Cake Designs
The right selection of cake can help you host a memorable wedding celebration that even your guests won't forget for long. Here is our list of top wedding cake designs for you to give a thought to. You will surely love the list and will be able to make an informed choice of wedding cake by the end of this article.
Here's our rundown of cakes decorated with lavender you can choose for your wedding celebration. Take a look!

1. Lavender Sprigs and Buttercream Swirls
This is a simple lavender wedding cake that's beautifully decorated with a unique design. It is decorated with real lavender sprigs, which are attached to the stems. The decoration on this cake gives it a charming and natural look.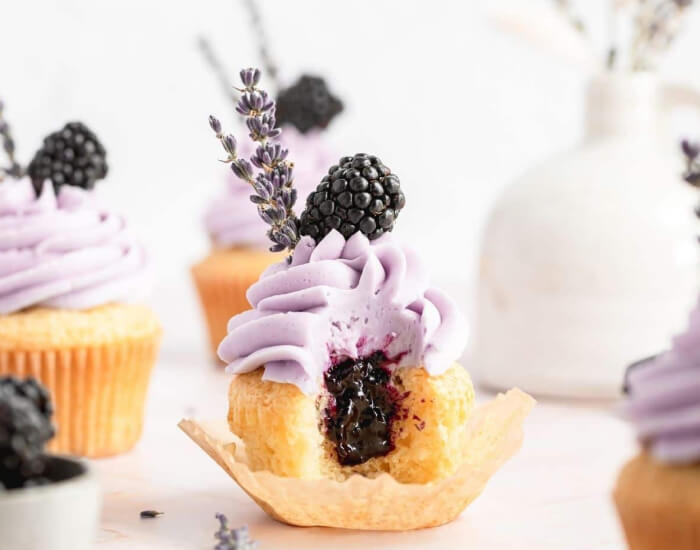 If you want a simple and classic cake for your wedding, this design of cake is perfect. A combination of lavender sprigs and buttercream swirls make this cake perfect for any celebration, including weddings. If you are looking for a simple yet elegant wedding cake, then this is the one for you.

2. Ombre Lavender Ruffle Cake
This is yet another unique lavender wedding cake design that's perfect for a purple-themed wedding. This breathtaking ombre lavender ruffle cake design features both dark and deep shades. It has a dark lavender shade at the top and a deeper shade below.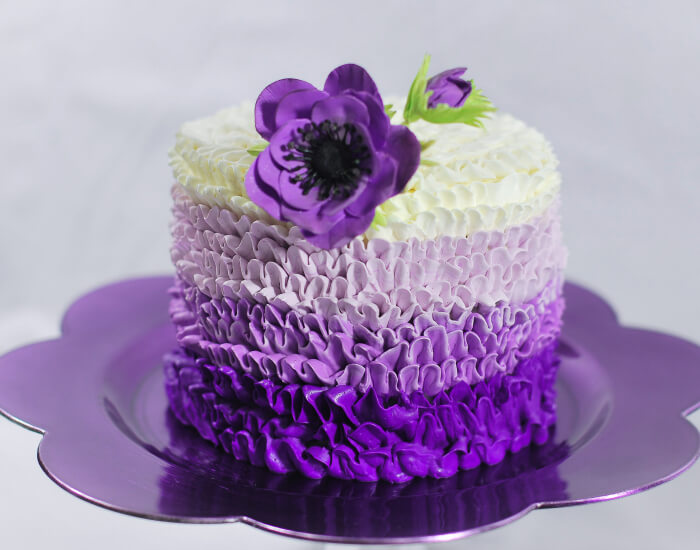 Lavender ombre offers a distinct and creative approach to incorporating various shades of lavender into your wedding cake. Additionally, it is adorned with intricate ruffle details that enhance its aesthetic appeal. Consider this captivating lavender wedding cake design for your big day if you want your event to one-of-a-kind. It is elegantly simple and would be a beautiful choice for your special day.

3. Earl Grey Tea And Lavender Cake
When it comes to an elegant lavender cake, you can't get a better cake than this design. Culinary Lavender makes this cake even more flavourful, and the Earl Grey tea gives it a great taste that your guests would love for sure. You can ask your baker to add a little decoration of Parma violets to this lavender cake.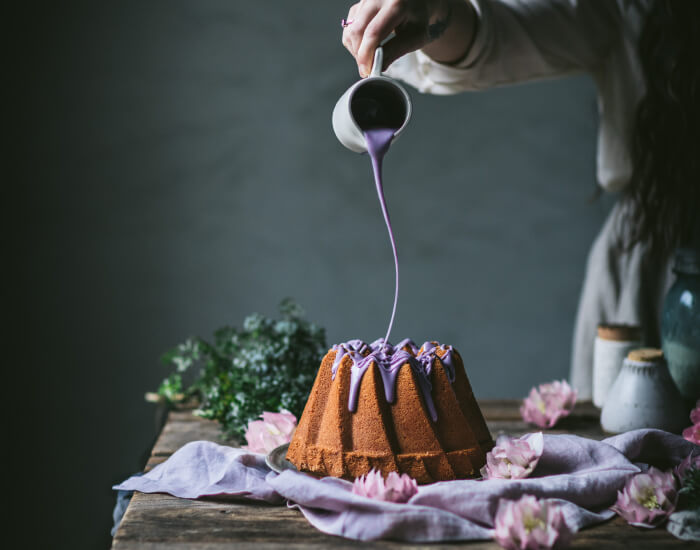 4. Lavender Lemon Blackberry Cake
This is another amazing choice for a simple lavender wedding cake you can opt for. The addition of lavender, blackberry, and lemon to your wedding cake will take it to another level. This cake is considered best for a summer wedding. The use of lemon gives it a cooling effect.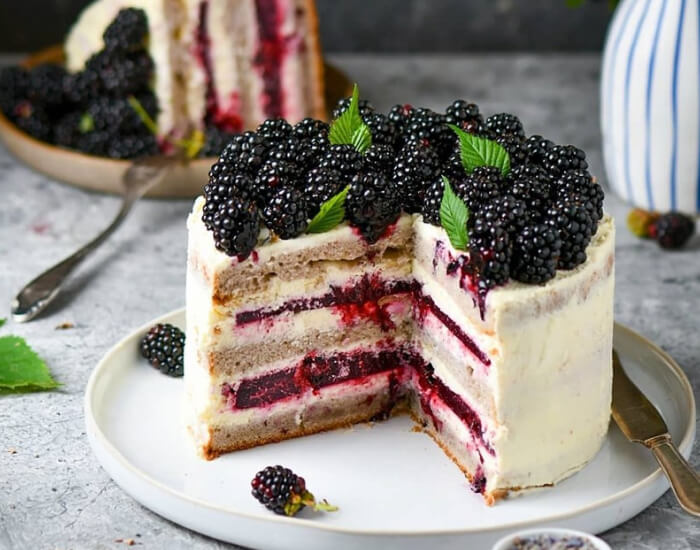 It also has purple flowers with blackberries on it, which gives this cake a perfect finishing touch. If you want a simple lavender wedding cake with little decoration, then this is a perfect choice. Try it out!

5. Lavender and Mint Cake
Lavender and mind cake is yet another wonderful choice of cake for making your BIG DAY even more special. The two make for a unique wedding cake that is subtle and elegant. This cake design is a perfect choice for a spring or summer wedding celebration.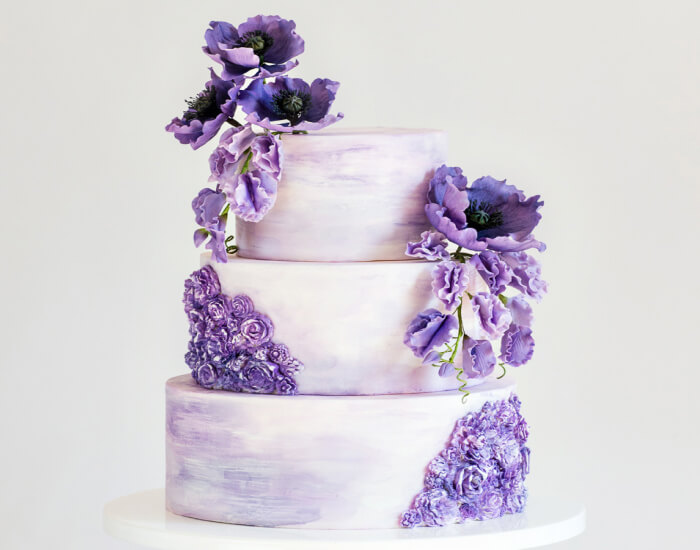 Moreover, combining mint green with lavender gives the cake a vibrant, irresistible look. Your guests would love the taste of it for sure! Give it a shot!

6. Cascade Cake
How about having a cascade of flowers arranged in your white wedding cake? Just imagine! Isn't it mesmerizing?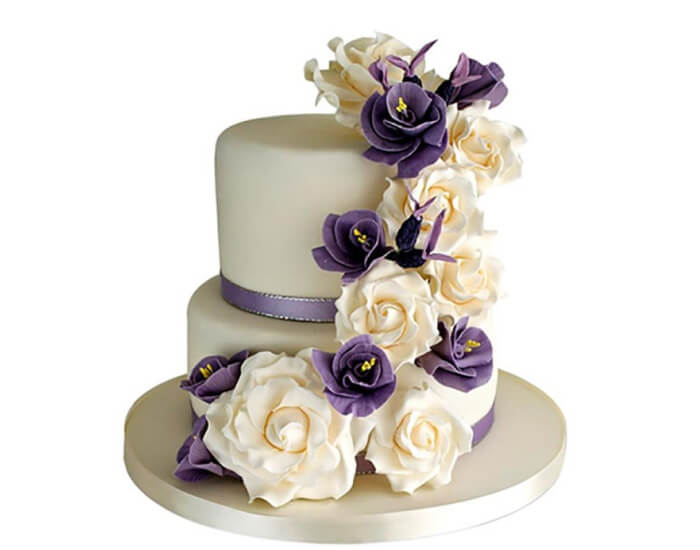 If you want an eye-catching lavender wedding cake for your big day, this design is perfect. This is a white cake decorated with lavender flowers cascading down the cake. This lavender wedding cake design will add a unique touch to your romantic wedding celebration.

7. Magical Purple Cake with Lemon and Lavender
Do you want a lavender cake with a hint of lemon?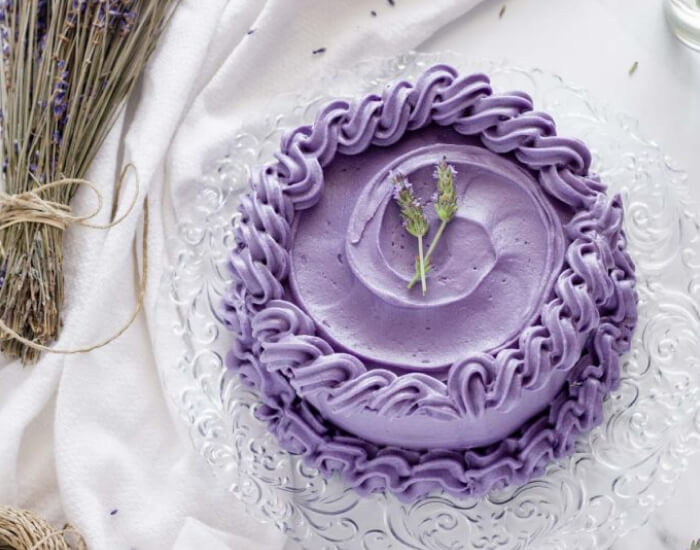 This is one of the best lavender wedding cake designs with a refreshing flavour. It's a perfect choice of wedding cake for a wedding to be held in summer. The combination of lavender with lemon gives this cake a sumptuous and refreshing taste that your guests would love for sure. This lavender wedding cake design features three different layers, giving it a unique look and amazing taste.

8. Adorned Naked Cake
Naked cakes are perfect choices for couples who love to keep things simple. This minimalistic cake decorated with lavender blooms and sprigs makes for a one-of-a-kind wedding cake design that even your guests would adore.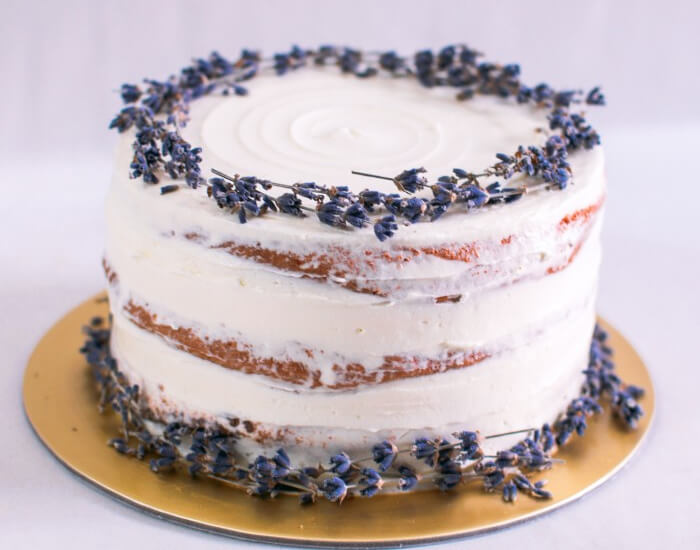 This cake design doesn't come in a hue, but your baker can make use of floral to add more beauty to it. You can make this cake your choice because it will easily fit into the theme of your wedding. The addition of lavender florals to it will take it to the next level.

9. Watercolor Base Cake
This is yet another simple lavender wedding cake you can have for your special day! Watercolor Base lavender cake is a creative design that gives a cake an artistic effect. If you have always wanted an artistic-looking cake, then you should opt for this design.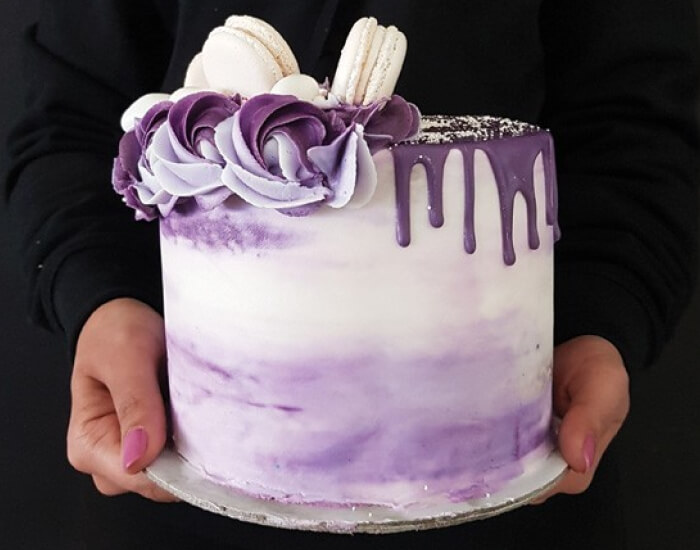 Enhance your lavender wedding cake by adding exquisite hand-painted brushstrokes, transforming it into a true masterpiece. You can even enhance it further by adorning it with edible flowers.

10. Lavender and Lace Cake
Laced patterns can make any ordinary cake look extraordinary. The lace used in the cake is edible and is placed on the bottom of the cake. Lavender and lace cakes are a pretty popular choice among modern couples. It looks simple, attractive, and elegant. For your vintage-inspired wedding, this simple lavender wedding cake is perfect. Opt for it!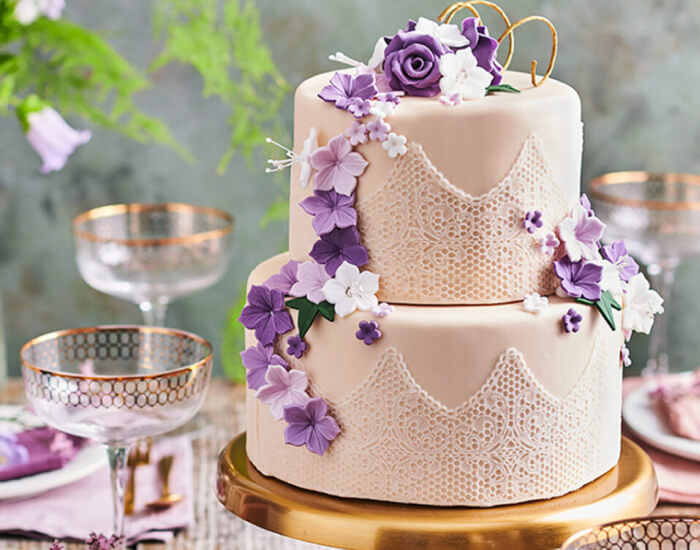 11. Lavender Garden Cake
This is yet another attractive lavender cake that looks beautiful. It is decorated with lavender blooms and garden flower. The beautifully arranged flowers on the cake are sure to attract more attention.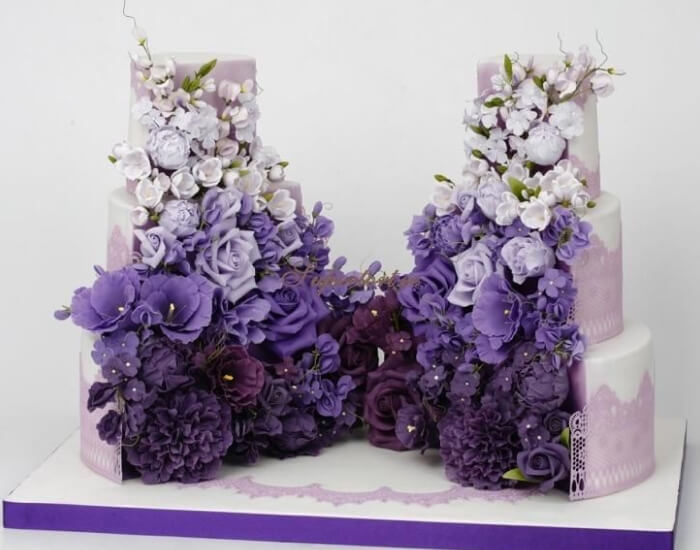 12. Lavender and Honey Laver Cake
Another stunning and attractive choice of cake for your wedding is lavender and honey layer cake. The exterior is soft and purple, with a buttercream finish. The cake features honey dripping from the top to the bottom. The decorations on the cake give it an elegant appearance and enhance its visual appeal, making it look both beautiful and delicious. The delicious flavour of this cake will leave you craving for more. Give it a thought if you haven't yet selected the one for your special day!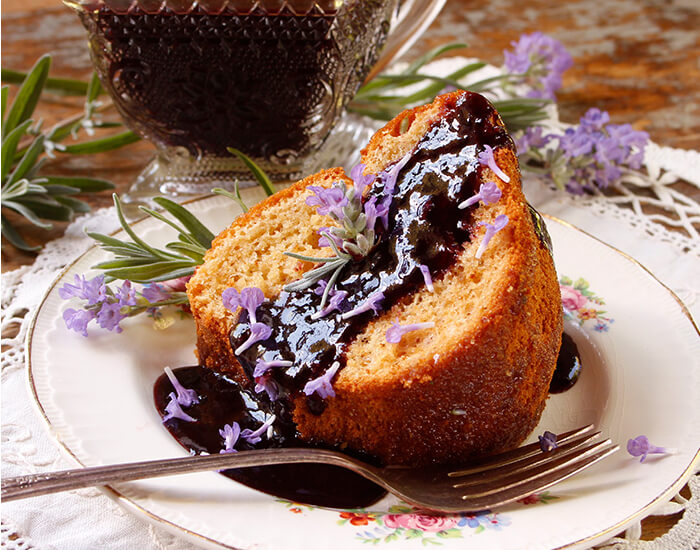 13. Lavender Cupcake Tower
This is also another cake design, but it's in the form of cupcakes. You can serve this first to your wedding guests as an appetizer while they have fun.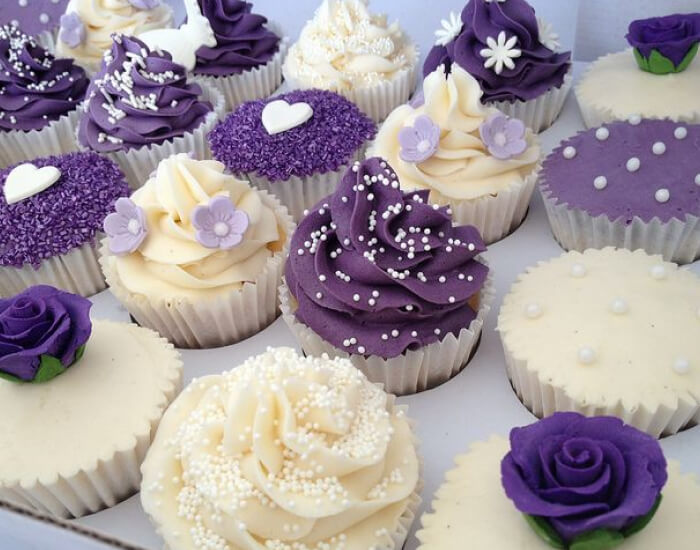 It is decorated with little edible lavender flowers and lavender frosting. The well-decorated lavender cupcake tower will take your wedding celebration to the next level. Moreover, it can be a perfect appetizer for your guest, in case you haven't selected any so far!

14. Dark Chocolate Lavender Cake with Lavender Buttercream Frosting
Dark Chocolate Lavender Cake with Lavender Buttercream Frosting can be an amazing addition to your BIG DAY celebration. This attention-grabbing cake is sure to stun your guests. You cannot ever go wrong with the right cake, and this is the one for you!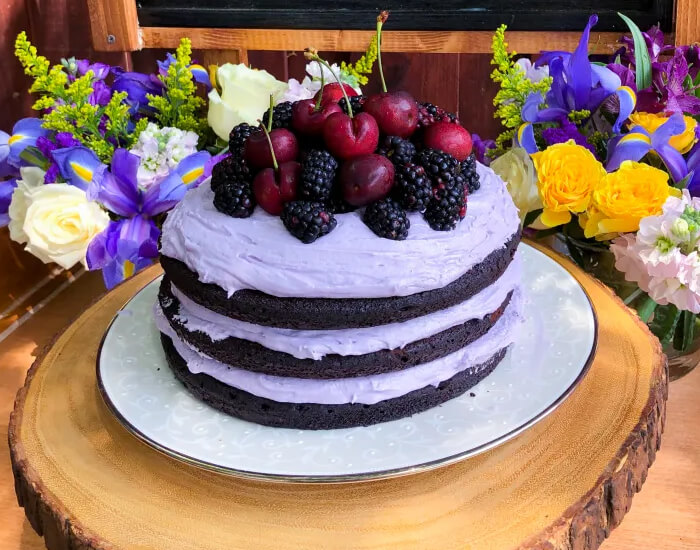 This cake features a delightful blend of rich dark chocolate base and a delicate lavender buttercream with sweet floral notes. The combination of brown colour with the purple frosting make this cake eye-catching. If you are fond of chocolate cakes in particular, then consider this one for your wedding day.

15. Lavender Whimsical Cake
Last on our list is a whimsical lavender cake. This lavender cake design is adorned with fondant bows, edible glitter, and whimsical shapes, creating a visually captivating and intricate appearance. The lavender wedding cake design is an excellent choice for a lavish wedding ceremony.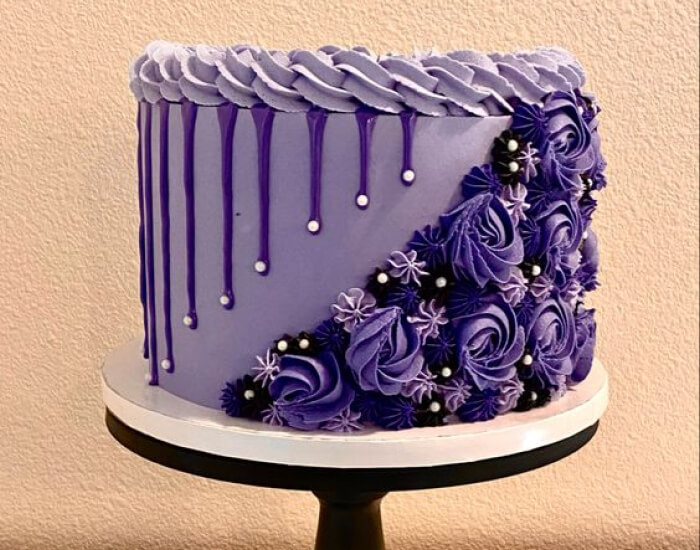 The cake's decoration is both unique and beautiful. It is an excellent choice for your wedding. It incorporates fanciful elements that enhance its attractiveness. Give it a try!

Why Choose Cakes Decorated With Lavender?
Lavender is a shade of purple color that's unique and perfect for couples getting married during springtime or summer. This design of the cake is often mixed with vanilla flavours or lemon for a great taste.
Lavender can be used to decorate cake in different ways. Here are a few reasons why we implore you to consider cakes decorated with lavender for your wedding:
Lavender is a unique shade of purple color, which symbolizes royalty. It's
A sophisticated color that's so attractive, and also a perfect choice for cakes.
Lavender can easily be paired with different flavours like honey, chocolate, mint, lemon, and vanilla.
You have the option of customizing your wedding cake by incorporating lavender elements that complement your chosen wedding color scheme.
Cakes decorated with lavender often symbolize purity, love, and dedication. If you have chosen this as your wedding cake, you can enhance its appeal by adding unique designs for added depth.
Lavender is a versatile choice for cake decoration, as it complements various styles in unique ways. To create the most delicious lavender cake, you have the option of using lavender sprigs, fondant, or colored frosting. You can create a variety of cake designs matching your wedding theme using lavender.
Putting it all together…
So, there you have the top fifteen lavender wedding cakes that could make your guest long for more at your wedding. Whether your wedding celebration is themed around the purple color or not, this is the perfect choice of wedding cake for your BIG DAY! You can customize your cake by adding several elements, such as lavender sprigs, fondant, or colored frosting.
Keep in mind that these lavender cakes listed in this post are perfect for a wedding celebration. Make sure to choose a professional baker for your wedding cake. A professional baker would be able to bring your dream cake to life using lavender in no time and will help you add a unique twist to your wedding!
Thanks for reading!
Happy Wedding… 😊😊