When it comes to watching movies, Romantic movies top the list. Most people prefer to watch cheesy romances on the screen. We all love to see, boy meeting girl, and then they fall in love with each other, then they go through several problems, and finally, they marry. No matter how regular the whole stuff looks like, romantic movies have a flavor of its own. And these movies look more beautiful when you are about to get married. So here is a list of the 17 best movies every bride and groom should watch before their wedding day.
Let's have a look on the selection….
1. My Big Fat Greek Wedding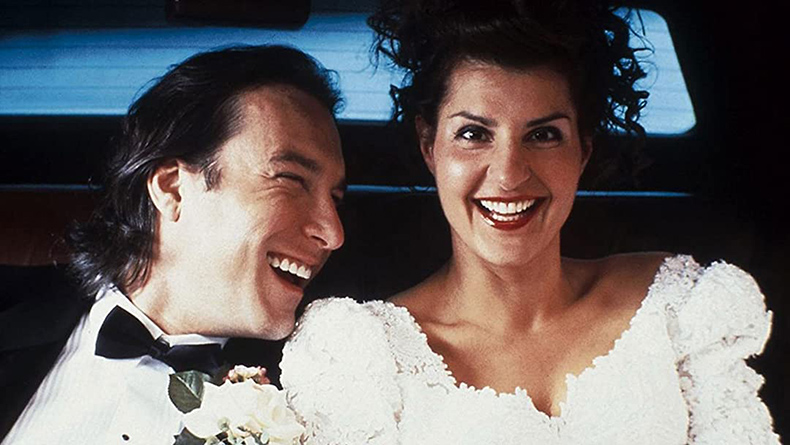 My Big Fat Greek Wedding is a 2002 independent romantic comedy film and is one of the classic movies. It is a cheerful love story, which revolves around an unconfident sheltered woman, Fotoula "Toula" Portokalos (Nia Vardalos), struggling to discover her own identity before meeting the man of her dreams, Ian Miller (John Corbett). It is a good romantic dose in case you need a little inspiration before the big day. Do watch and see how a Greek American woman falls in love with a non-Greek man and what happens next.
2. Wedding Crashers
An excellent movie for all those who are going to miss all of the fun of being single. It is a 2005 American romantic comedy film; it follows two divorce mediators (Owen Wilson and Vince Vaughn) who crash weddings in an attempt to meet and seduce bridesmaids. Both Wilson and Vaughn jump from one marriage to another, to meet and have sex with women. They keep doing it until they realize that sometimes all you need is that one perfect person.
3. Bachelorette
Bachelorette is a 2012 American romantic comedy film starring Kirsten Dunst, Lizzy Caplan, and Isla Fisher. All three women are featured as the troubled women who reunite for the wedding of a friend (Rebel Wilson) who was ridiculed in high school. You will surely love this spicy and sweet romantic comedy. You may even relate yourself with any of the three characters in the movie, from party girl Lizzy Caplan to control freak Kirsten Dunst.
4. The Wedding Singer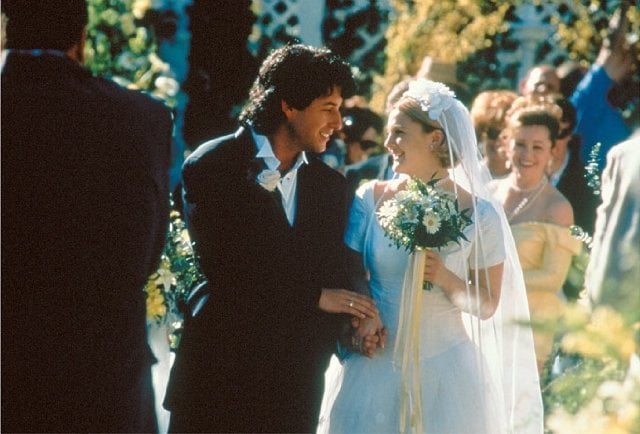 The Wedding Singer is a 1998 American romantic comedy film starring Adam Sandler as a wedding singer in the 1980s and Drew Barrymore as a waitress with whom he falls in love. It has it all! It's funny, it's cute, and overall, it's a fantastic movie every bride & groom should watch before their wedding day.
5. Meet the Parents
Meet the Parents is a 2000 American comedy. Starring Robert De Niro and Ben Stiller, the movie chronicles a series of unfortunate events that befall a good-hearted but hapless nurse while he visits his girlfriend's parents. You will be surprised to see the sequence of events that take place in Meet the Parents. Do Watch!
6. Runaway Bride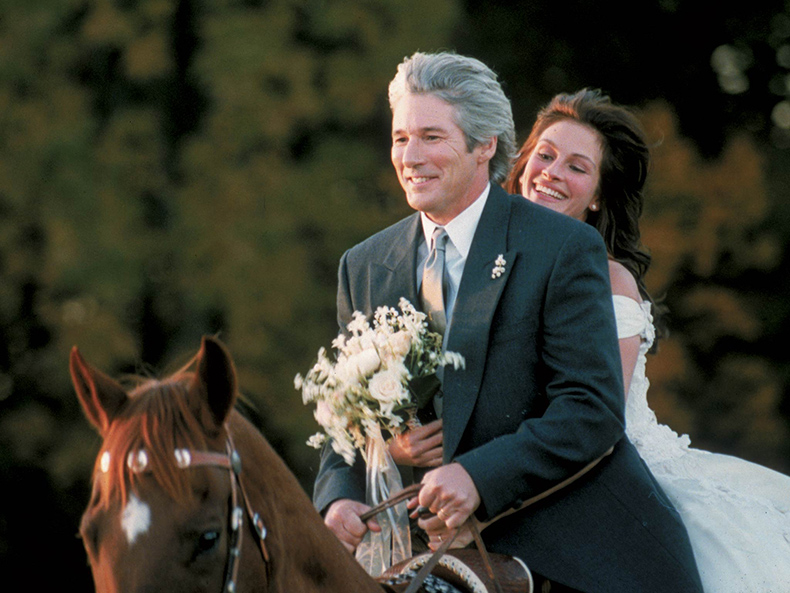 Runaway Bride, a 1999 American romantic comedy film that stars Julia Roberts and Richard Gere. Maggie Carpenter (Julia Roberts), a spirited and attractive young woman who has had several failed relationships in the past. Maggie, nervous about being married, has left a trail of fiancés waiting for her at the altar on their wedding day. All of these were caught on tape, earning Maggie tabloid fame and the dubious nickname "The Runaway Bride." The lead character in the movies shows that most important love in life is for their own self. No matter how many times you get a heartbreak, you undoubtedly get the right guy.
ALSO SEE: Top 4 Things Every Bride Should Know Before Her Wedding
7. 27 Dresses
27 Dresses is a 2008 romantic comedy starring Katherine Heigl and James Marsden. Jane Nichols (Katherine Heigl) who has been a bridesmaid for 27 weddings meets Kevin Doyle (James Marsden), who helps her get home while attending two weddings almost simultaneously, Doyle discusses his cynical views of marriage with her and with whom she falls in love later. A great movie to have some gorgeous ideas on your bridesmaid gown selections.
8. Bride Wars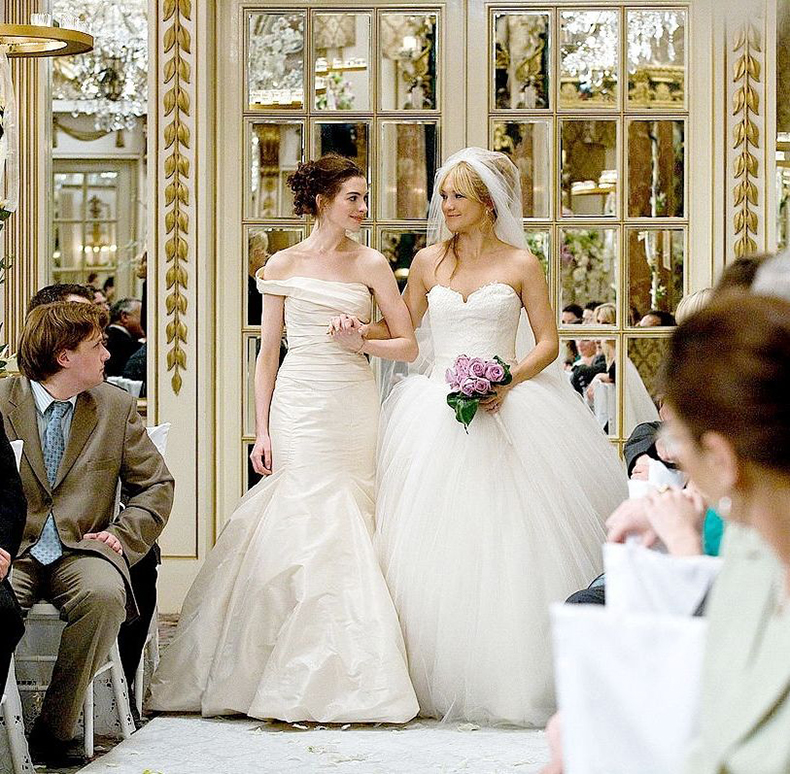 Bride Wars is a 2009 romantic comedy film starring Kate Hudson, Anne Hathaway, Bryan Greenberg, Kristen Johnston, and Candice Bergen. Emma Allan (Anne Hathaway) and Olivia "Liv" Lerner (Kate Hudson) are best friends who have been planning every detail of their weddings, since the time they were little girls. They have been planning each and every aspect of their future weddings, which include choosing the same destination: New York's famed Plaza Hotel. However, when a clerical error causes a clash in wedding dates, Kate and Liv became hostile to each other.
9. My Best Friend's Wedding
My Best Friend's Wedding, a 1997 romantic comedy film starring Julia Roberts, Dermot Mulroney, Rupert Everett, and Cameron Diaz. Both Julianne Potter (Julia Roberts) and Michael O'Neal (Dermot Mulroney) were childhood friends, and they had a deal to tie the knot if they were still single by age 28. Right before Julianne's 28th birthday, she discovers that O'Neil is marrying a gorgeous 20-year-old girl named Kimberly (Cameron Diaz). Suddenly she realized that she's in love with him, Julianne vows to stop the wedding at all costs. Just watch how things get complex after that!
10. Bridesmaids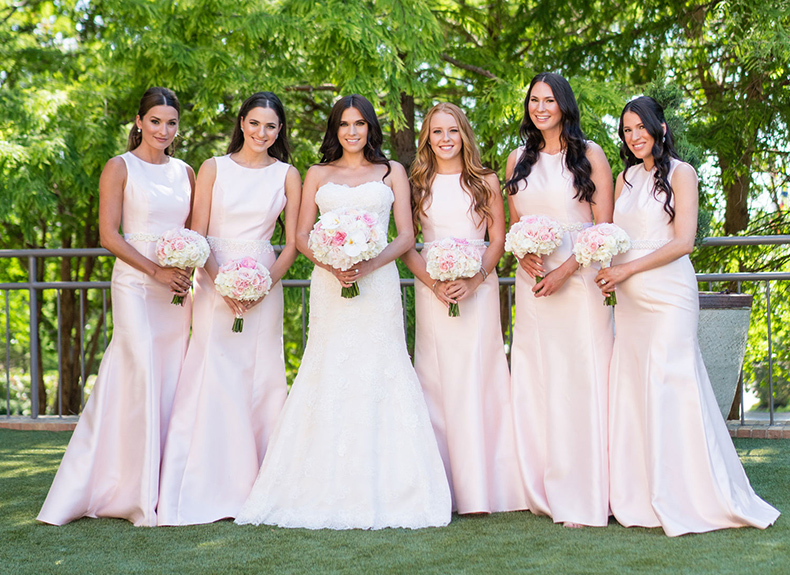 Bridesmaids is a 2011 comedy film starring Maya Rudolph. Rose Byrne, Melissa McCarthy, Ellie Kemper, and Wendi McLendon-Covey. The film centers on Annie (Kristen Wiig), a single woman whose own life is a mess. But when her lifelong best friend, Lillian (Maya Rudolph), got engaged, Annie has no choice but to serve as the maid of honor. Lovelorn and almost penniless, Annie suffers a series of misfortunes after being asked to serve as maid of honor for her best friend, Lillian. Just watch how she winds her way through the strange and expensive rituals associated with her job as the bridesmaid.
11. Monster-in-Law
Monster-in-Law is a 2005 romantic comedy film starring Jane Fonda, Jennifer Lopez, Michael Vartan, and Wanda Sykes. The movie centers on Charlotte (Jennifer Lopez), who was smitten when she meets Dr. Kevin Fields (Michael Vartan). So when Kevin proposes her for the wedding after they start dating, Charlotte happily accepts. But soon, she realizes that Kevin's mom, Viola (Jane Fonda), is not very happy to have her as his son's bride. Viola, who is a newscaster, has just lost her job, and suddenly, she starts feeling attached to Kevin. She regards Charlotte as her new competition — and does anything to make her son call off the wedding.
12. The Proposal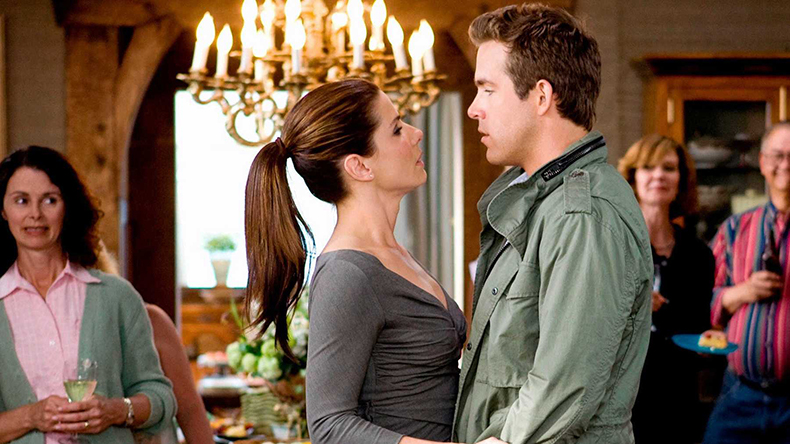 When it comes to watching a wedding romance, then "The Proposal' probably is the most preferred choice of most couples. The Proposal is a 2009 romantic film starring Sandra Bullock and Ryan Reynolds. The story revolves around a pushy boss (Sandra Bullock) forces her young assistant (Ryan Reynolds) to marry her in order to keep her visa status in the U.S. and avoid deportation to Canada. You will love to watch the crazy chemistry between the two. Don't miss to watch this movie; it is simply magical!
13. The Wedding Planner
The Wedding Planner is a 2001 American romantic comedy film starring Jennifer Lopez and Matthew McConaughey. Mary Fiore (Jennifer Lopez), an ambitious San Francisco wedding planner starts to believe in love when she is rescued from a near-fatal collision with a runaway dumpster by handsome pediatrician Steve Edison (Matthew McConaughey) while she celebrated her newest and most lucrative account — the wedding of Internet tycoon Fran Donelly (Bridgette Wilson-Sampras). After she spent the most enchanting evening of her life with Steve Edison (Matthew McConaughey), Mary thinks she's finally found a reason to believe in love. What happens later is the thing to watch…..
14. Sweet Home Alabama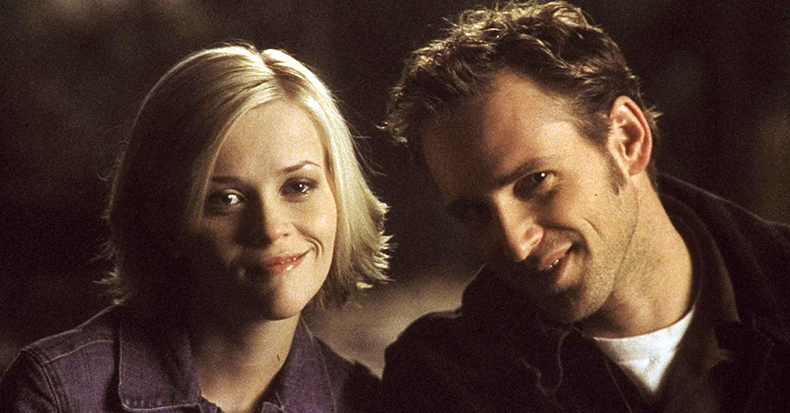 Sweet Home Alabama is a romantic comedy film released in 2002 starring Reese Witherspoon, Josh Lucas, Patrick Dempsey, and Candice Bergen. The story revolves around New York fashion designer Melanie (Reese Witherspoon), who suddenly finds herself engaged to the city's most eligible bachelor. But Melanie's past holds many secrets, which include Jake (Josh Lucas), the man she married in high school, who refuses to divorce her. Bound and determined to end their relationship once and for all, Melanie sneaks back home to Alabama in order to confront her past. But, rather, they rediscovered the love that they lost.
15. License to Wed
A 2007 American romantic comedy film, License to Wed stars Robin Williams, Mandy Moore and John Krasinski. Newly engaged couple Sadie (Mandy Moore) and Ben (John Krasinski) plan a traditional wedding in St. Augustine's Church. But, sadly, for the lovebirds, the Rev. Frank (Robin Williams) refuses to bless the union until they pass his onerous marriage-prep course. While the clergyman puts the couple through holy hell, Ben and Sadie had to believe that they are truly destined to love each other till death and that their love could withstand any test.
16. Father of the Bride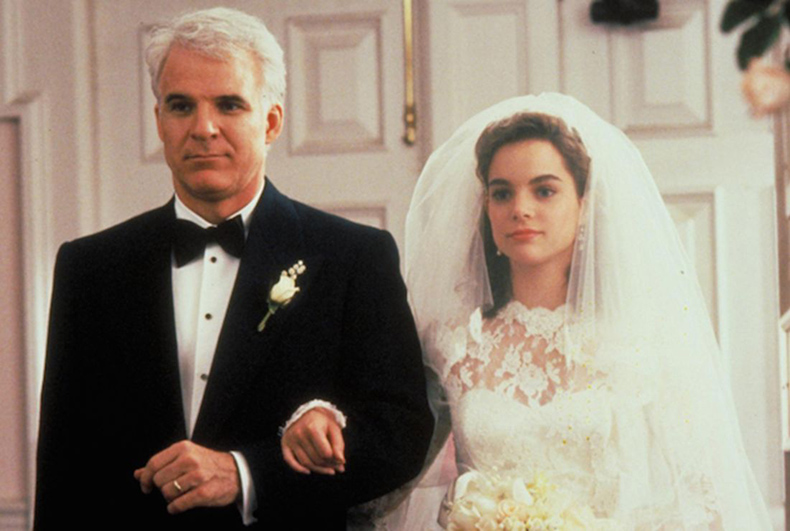 Father of the Bride is a 1991 comedy film starring Steve Martin, Diane Keaton, Kimberly Williams, Martin Short, B. D. Wong, George Newbern, and Kieran Culkin. George Banks (Steve Martin) and Nina (Diane Keaton), are the proud parents of Annie (Kimberly Williams). They love their daughter to the point of almost losing her. When Annie returns from studying abroad and announces that she is engaged. The very moment their whole world turns upside down, especially George's, who is overprotective father. Watch how George get into troubles, from meeting the in-laws to planning the wedding with an over-the-top consultant (Martin Short) and his buoyant assistant (B.D. Wong). Throughout the movie it seems as if the troubles are never going to end.
17. Corpse Bride
Corpse Bride, famously known as Tim Burton's Corpse Bride is a 2005 stop-motion-animated fantasy film voiced by Johny Depp, Emily Watson, Helena Bonham Carter, and Richard E. Grant. The movie is about Victor (Johnny Depp) and Victoria's (Emily Watson). Their families arrange their marriage. They like each other, but Victor is nervous about the ceremony. He heads to the forest to practice his lines for the wedding, suddenly a tree branch becomes a hand and drags him to the land of the dead. It belongs to Emily (Helena Bonham Carter), who was murdered after she eloped with her love and wants to marry Victor. Victor must get back aboveground before his fiancé Victoria marries the villainous Barkis Bittern (Richard E. Grant). If you're looking for something outside of the norm, then this the movie.
AND FINALLY…..
So, these are the 17 best movies every bride and groom should watch before their wedding day. If you are also set to get hitched, do watch all these movies with your partner-to-be. Have a great time!
Happy Wedding….. ☺ ☺