Cruise weddings are considered to be the most romantic weddings. Whether you host your wedding onboard, at an exotic beach or in a garden, wedding cruises help you make your story stunning by simply combining your love for each other with your love for travel in beautiful settings. Yes, if you're looking for a more leisurely way to travel and cruises are always a great alternative to air travel. And the best part is cruise cost you less than airfares.
There are many cruise lines already offering cruise wedding packages. They have their own on-board chapels and celebrants, and are able to take care of the entire wedding and wedding guests properly. They even provide you wedding packages you can choose. Or if you want to customize everything on your cruise wedding then you can do that too.
Cruise weddings are the most hassle-free weddings as they take care of everything. They are event management experts, and can help you organize the big day exactly how you want. They can help you plan every detail to create memories that last a lifetime.
If you are also looking forward to a cruise wedding. Here's all about a wedding on a cruise ship, you need to know:
Your marriage should be legal
First things first, before you plan your wedding on a cruise ship, it is essential to know that you will need a marriage license wherever your ceremony is held. So, ask your wedding coordinator about all the requirements at the cruise ship, where the ceremony will take place. He will help you understand the details.
Each country has different requirements. For instance, some countries have residency requirements, which means you have to reside on the island for a certain period of time in order to legally marry there, which I believe is not possible. In such a case, you can legally marry in your home country before your cruise ship wedding and have a symbolic wedding at the port.
However, as I said, different countries have different rules for cruise ship wedding. Basically, you need to follow the laws of the country where the ship is registered. So, it is crucial to do your research, talk to your coordinator or a travel agent. And yeah, don't forget to apply for licenses far in advance if you really want a cruise ship wedding.
Cruise ship weddings are best for…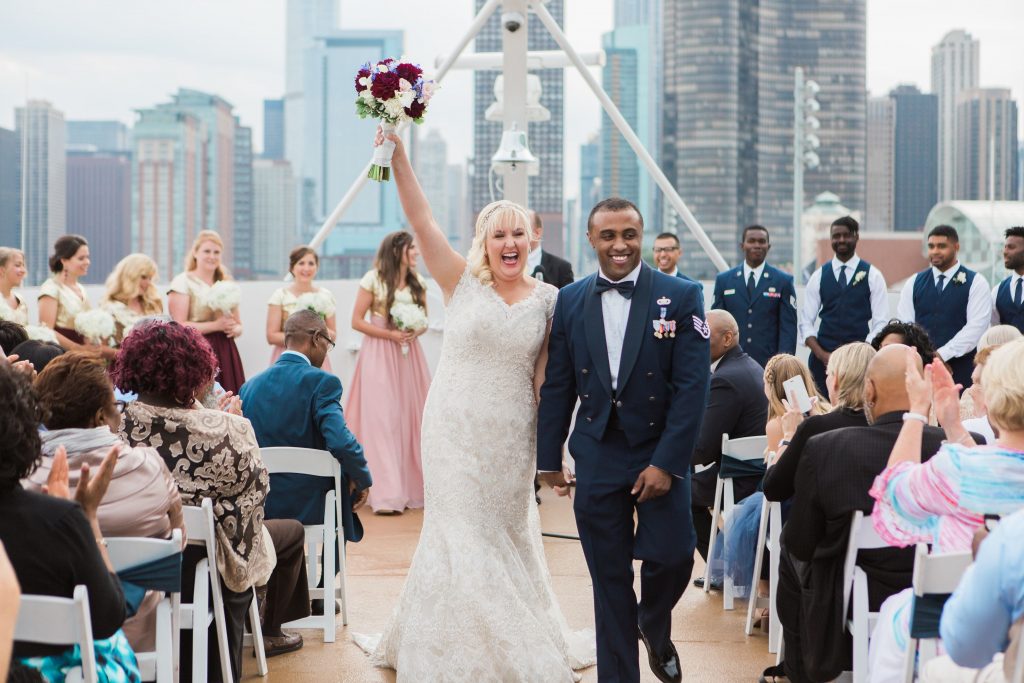 Cruise weddings are a perfect idea for a variety of different couples and styles. But, it is considered best for the couples who don't go deep into details and looking for a low-key ceremony. Because everything at cruise weddings from the flowers to the music will be simple. Also, you have less choices in a cruise wedding.
When it comes to wedding size, cruise ships usually work best for a smaller guest lists. However, there are some cruises where you can host a comparatively bigger wedding. If you don't want any wedding guests just you two, your families and few close friends then cruise ship wedding is surely meant for you. You can combine your wedding with a unique honeymoon experience.
How do cruise weddings work?
It's up to the couple, there are couples who choose to get married on the ship before it departs, while some get married on land at the destination port.
If your friends and family are not able to afford the cruise but can make for your wedding, then you can tie knot on ship before it sails. But if your family and friends can make for the cruise, then you can choose to get married in a tropical garden or on the beach on a Caribbean island.
Note: cruises may skip ports due to weather conditions that can be a risk if you're planning a wedding on land.
Duration of cruise ship wedding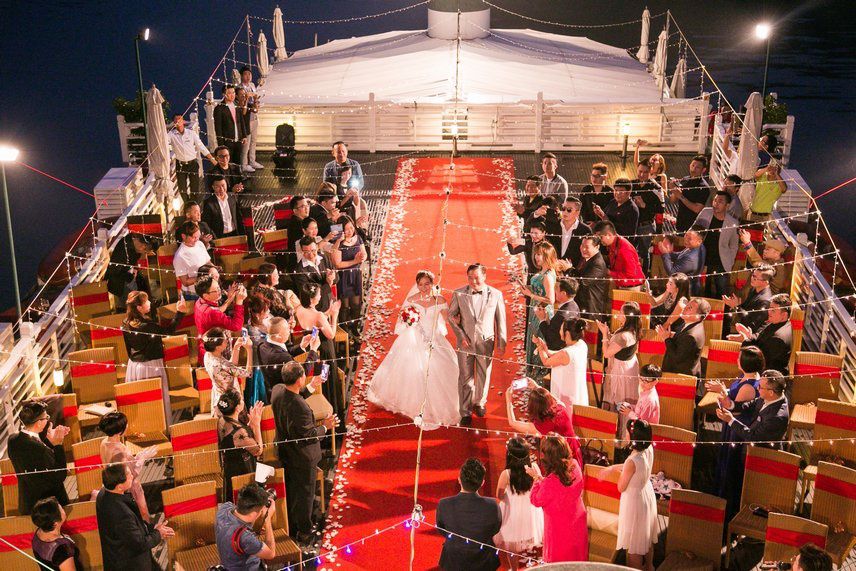 If you're planning to combine your wedding with your honeymoon, then a five to seven-day cruise will be ideal.
What to expect from a cruise ship
If you're planning to tie know on the ship, then the cruise will provide you a wedding coordinator in their package. And the wedding package usually includes, the flowers, music, photographer, and officiant in the packages. Besides these, the couple will be responsible for other things like; registering for their marriage license, their wedding attire, and the wedding invitations.
Popular cruise locations for weddings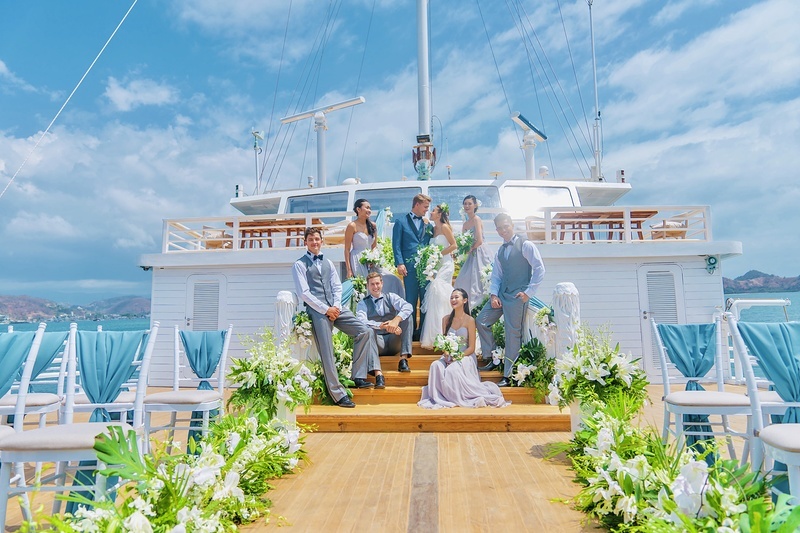 The Caribbean is most popular amongst all, but it has residency requirements. St. Thomas, Puerto Rico, Jamaica, St. Lucia tend, Bahamas, Mexico etc. are popular.
Popular cruise lines for your weddings
These are few best cruise lines you can consider for your cruise wedding: Princess Cruises, Celebrity Cruises, Disney Cruise Line, Carnival Cruise Line, Norwegian Cruise Line, Royal Caribbean International, P&O Cruises, Holland America Line, Cunard Line, MSC Cruises.
Make sure you pick a ship that matches your style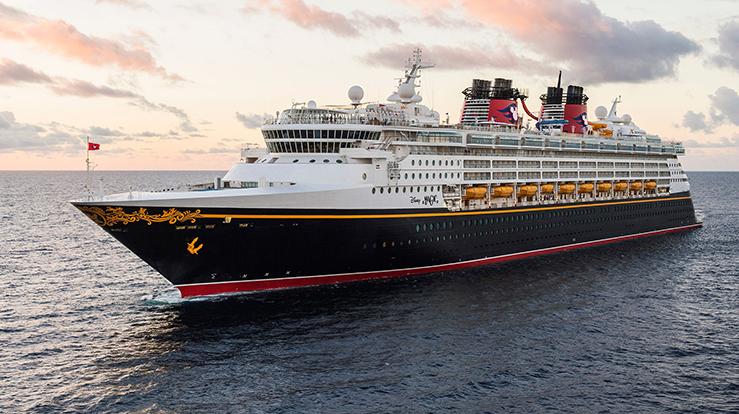 Every cruise ship will be unique in its own way and will have its own personality! So, while planning your wedding on a cruise ship, make sure you pick the one that matches your own style, with the dining, entertaining and amenity options that you and your wedding guests will enjoy.
Make sure you book your cruise ship a bit early
Cruise weddings are trending, every couple wants to make their wedding a unique experience for everyone. So make sure you book your cruise ship early so as to avoid a sold out sailing and also be mindful of possible holiday surcharges.
Know weather conditions beforehand
You may be excited to host your wedding on a cruise ship, but it is crucial to consider the weather and the season while planning your wedding on a cruise ship.
Arrive to the port a day early
It is always a good idea to arrive to the port a day early simply to ensure that everything is in order and also you can enjoy the city!
Make sure you inform your guests well in advance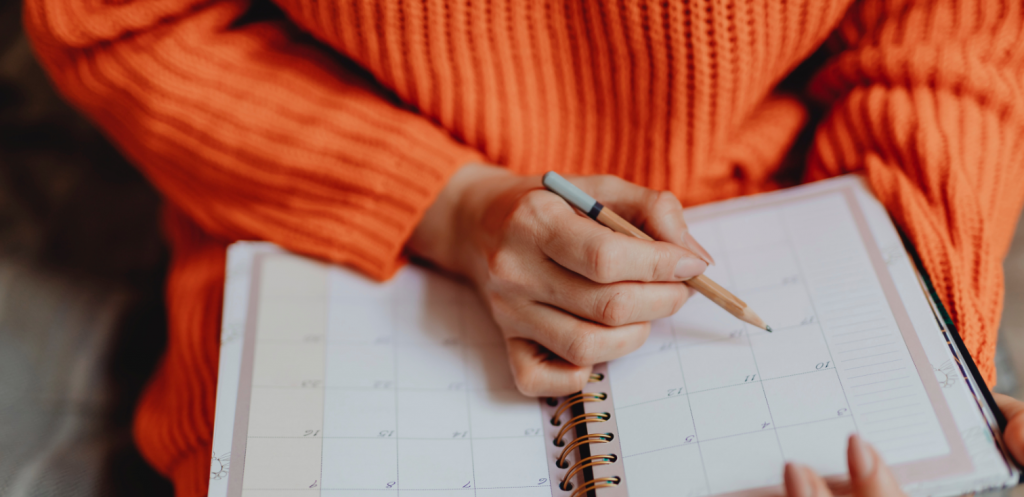 Of course, it is crucial that your guests who you are expecting on your cruise wedding should know about it well in advance. You don't need to send out the wedding invites as soon as you book your cruise, but they will definitely need time to make arrangements to take time off work.
Set up your wedding registry
Make sure you set up a wedding website and honeymoon registry so that it becomes easy for you to share information with your wedding guests. Also, they can help create the perfect honeymoon experience as you start your life together.
Check your cruise length in advance
While picking a cruise line for you wedding, make sure you check the cruise itinerary before that. It should not rush your wedding celebrations and at the same time it should not be too long or too expensive for your guests. A five- to seven-day cruise gives couples enough time for the ceremony and doesn't require too much of their vacation time.
Check for affordable group rates for your cruise weddings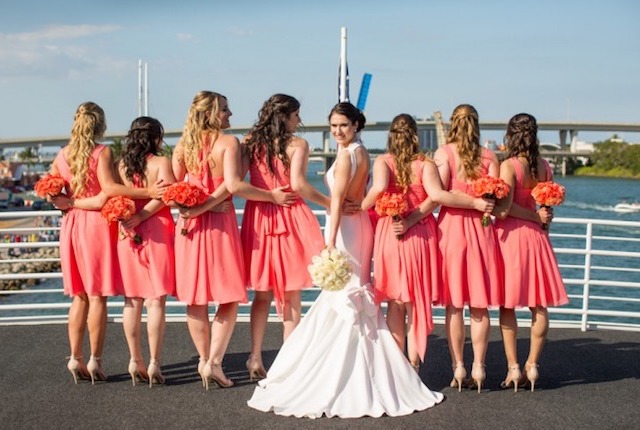 Cruise do provide group rates, which are comparatively cheaper than the ones you buy for individuals. While planning your cruise wedding make sure you book accommodations as a group so that your wedding guests get a better rate. Also, you can plan group shore excursions, it will allow you to have a fun time with your wedding guests and turn your wedding into an affordable vacation for yourself and your family and friends!
16. Pick a wedding package that's in your pocket
Different cruise lines offer different inclusions in their wedding packages, which allows you to match your budget and your wedding style. You can choose an elegant sit-down reception, cocktails and hors d'oeuvres, or even you can join your guests at the shipboard buffet. Different wedding packages allow you to choose your favorite menu selections. Also, you can customize your wedding package with flowers, favors, entertainment and other personal touches, which you always wanted to have.
Dress accordingly
By and large, cruise ship life is casual, but brides would still want to dress up for their ceremony. So, it is essential that the bride and her attendants have dresses that are easy to get into, especially if the wedding ceremony has to take place in the home port prior to sailing. However, for the groom and his gang, it's easy to look handsome without having to pack a tux; because on-board formal wear rentals can have their suits ready in their rooms when they arrive.
Photographer will be supplied on board
Yes, your cruise wedding package will include the wedding photographer as well. Cruise ship usually do supply a professional photographer to take photos and videos of your wedding and create beautiful wedding albums. And the best part is, photo prints will be ready before you head home, allowing you to avoid long waits for the final wedding albums.
Cruise wedding are exceptionally meant to enjoy
Cruise weddings are meant to spend a wonderful time together with your loved ones and embrace the bond and togetherness amidst beautiful water. You can have a perfect vacation at the cruise wedding, where your guests will be sailing with you. There's so much to do on a ship, each wedding guests will have something to enjoy.
Perfect for a low-key wedding ceremony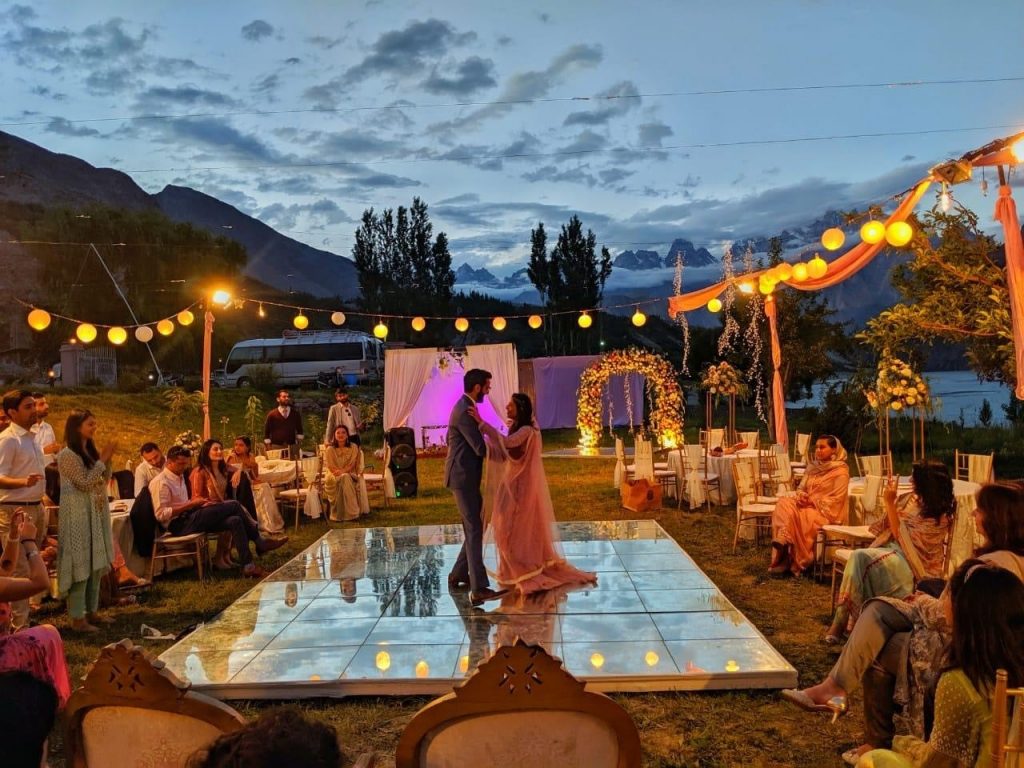 Cruises are a great way to host a low-key ceremony with just a few people and create wonderful memories of the biggest event of your life.
Combine your wedding with your honeymoon
Cruise makes for a perfect honeymoon as well. So, you can combine your honeymoon with your wedding. Like this you will not only save on money that you may spend on airfares and hotel bookings otherwise, but also on time.
Don't miss to relax
Once your wedding ceremony is over, so is the stress. Now is the time to enjoy the ship's amenities and shore excursions. Also, you can find quiet corners on the deck where you two can simply enjoy each other's company as a newly married couple!
Best season to plan a wedding on a cruise ship
While booking your cruise, it is essential that you see the best time for the same. For instance, the Caribbean's hurricane season is from June 1 to November 30, so avoid booking during this time period, then you will not have to deal with any unpredicted storms. Crete and Santorini are appealing in April and November. Athens is best from March to June and September to November. Temperature starts to drop in Alaska during winters; hence, summer is the best time to have a wedding in Alaska. Also, Alaska cruises have a particular set of dates when they allow cruises.
Holidays and the family vacation season, especially summer can be quite expensive and over-crowded and might not be the best for planning a cruise wedding.
Cost of wedding on a cruise ship
Believe it or not but the traditional destination wedding is costlier that the wedding on a cruise ship. But on the land you get a lot more options, more security, you are not at the whim of the sea, and you can have more people at the wedding.
For a cruise wedding, you pay for the cruise and for the wedding package. Some companies offer à la carte options. Also, you will have to pay for license fees, which vary by cruise line, per package, per location.
Cruise wedding packages often have flat surcharges. The base packages are remarkably affordable, which includes accommodation, travel, a legal ceremony, venue hire, meals and much more. Usually a cruise wedding package starts from $1500 and can go up to $3000 at the most.
If will get married on land, you'll be responsible for arranging all of the details, you may even need to hire a planner at your wedding location to ensure that everything goes smoothly. However, on a cruise ship these people are event management experts, who take care of all your needs exactly the way you want.
Cruise weddings in holiday season can be expensive.
Wrapping up……..
Cruise lines are large event specialists, they can help you create a wonderful and unique wedding that too in your budget. You can plan a premium wedding for reasonable prices on a cruise ship. Also, you don't have to take care of wedding décor and food as the cruise ship takes care of that. It is the best way to have a stress-free wedding ceremony.
If you're planning to host a cruise destination wedding, it is recommended to check the prices offered by different cruise lines. Pick up the cruise that matches your style perfectly and is able to accommodate your wedding guests as well.
Your wedding on a cruise ship will be a unique experience for not just you and your partner, but for your wedding guests as well. Also, the destination wedding at cruise cost you less than what it can cost you at your home.
So Happy Cruising….. ☺ ☺
Thanks for reading….. And Happy Wedding…….