Whether you're on a budget or want to host an eco-friendly wedding, your backyard is the place to opt for. Yeah, backyard weddings have been in trend since time immemorial. The best thing about a backyard wedding is that you save a lot of money on the wedding venue if it's yours. Yes, you don't have to pay anything for your wedding venue if you host your wedding in your backyard.
Another important thing that makes a backyard wedding alluring is that you can decorate it your own way. More often than not, wedding halls and other venues provide you with limited options. They have the standard decoration that they use in almost every wedding. I'm sure you don't want to have standard decoration, you're looking for a new and fresh idea. If it is so, then you're reading the right article.
In this article, we'll share with you some of the best DIY backyard wedding ideas. Whether you're looking for backyard wedding ideas for spring or backyard wedding ideas for winter, this post can be helpful. It will acquaint you with numerous backyard wedding decor ideas, including rustic backyard wedding ideas.
So, without any further ado, let's get started…
Top 27 Backyard Wedding Ideas
We have compiled a list of top 27 DIY backyard wedding ideas for you to get started. Take a look…

PREPARING THE BACKYARD
If you have decided to host your wedding in a backyard, then the first thing you'll need to do is prepare it for the day. So, here are some simple steps to follow:

1. Level it up
The first thing you should do when applying DIY backyard wedding ideas is level the ground up. Of course, you don't want your guests tripping on the rough ground and injuring themselves. Furthermore, the finely leveled ground appears more appealing than the uneven one.

2. Spruce it up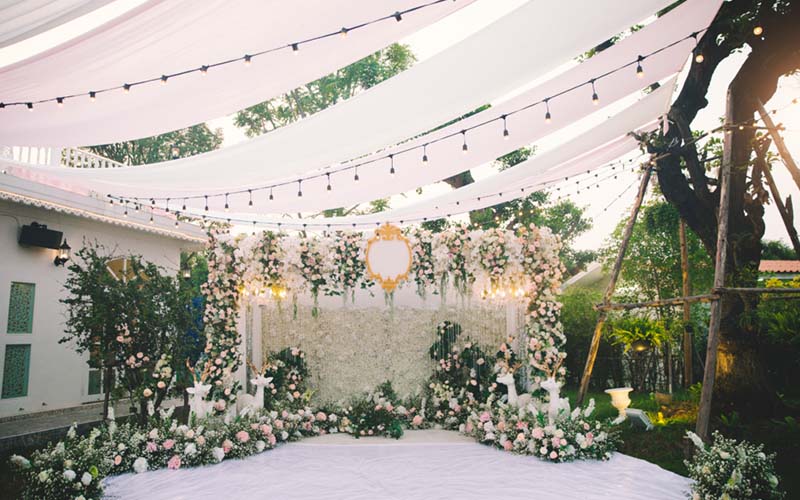 Of course, you don't want your wedding to be marred by unkempt garden beds or an unappealing lawn. So, for your event, it is best to spruce up the garden beds and lawn. Believe you me, the moment you start preparing your backyard for your wedding, you'll have completed half of the work.

DECORATE YOUR BACKYARD YOUR WAY
If you're looking for backyard wedding ideas on a budget, then continue reading this post. The decoration is the most important part of your wedding. And the beauty of a backyard wedding lies in the fact that you can create any ambiance you want. For example, if yours is a green wedding, then you can use nature to your advantage. And if you're looking for rustic backyard wedding ideas, then adding elements resonating with the theme can be helpful. Below are some fantastic decoration options for those looking for last-minute backyard wedding ideas:

3. Create a rustic entrance arch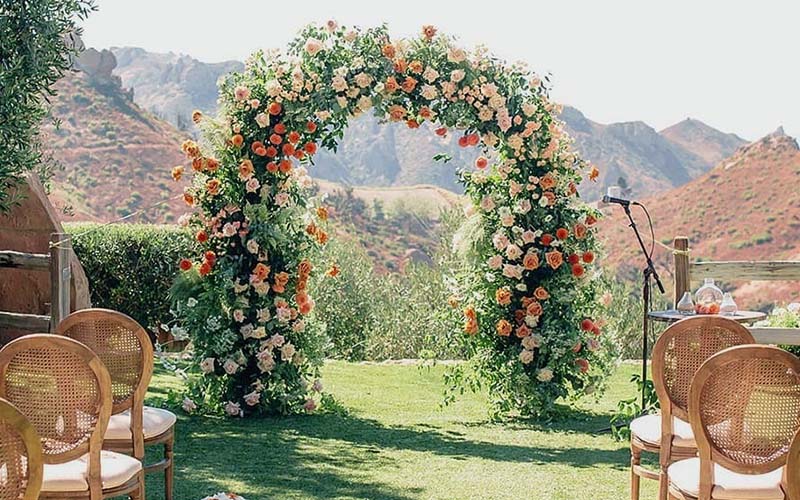 If you want to make your backyard look appealing, then go for some unusual ways. For example, creating a rusting entrance arch. The best thing is that you don't need to break your bank for this. DIY it all by yourself; you can even use it in your backyard after the wedding. It will serve as a beautiful reminder of the special occasion that you can see daily. Use things like branches, leaves, and flowers to create the arch (all these are available for free in a backyard wedding.)

4. Think outside-the-box
As said earlier, the best part of a backyard wedding is its decoration. All you need is a bit of creativity to create a heavenly ambiance. For example, if you have clotheslines in your backyard (which almost everybody has), don't remove them. Instead, use them to create a stylish escort card display. Yes, with a few simple steps, you can transform your clothesline into a snappy escort card display. All you have to do is to tie each card to a hanging-down tassel and hang the whole thing to the clothesline. And you're done.
This is the quirkiest and one of the best DIY backyard wedding ideas. It's easy to do and looks amazing!

5. Use nature to your advantage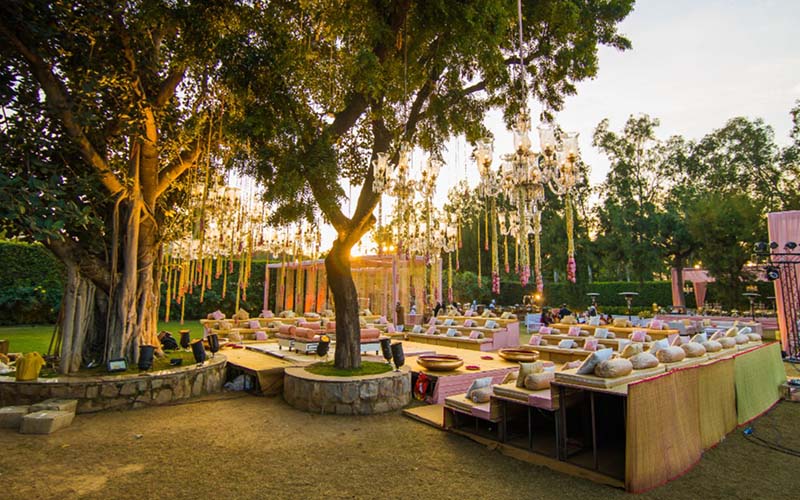 If you don't want to overdo anything, take advantage of nature. If your backyard is swamped with trees, incorporate them into your wedding decor. String lights wrapped around the tree trunk can be used to create a unique arrangement. Another way to achieve that hypnotic look is to hang rattan pendants on them.

6. Create a stunning walkway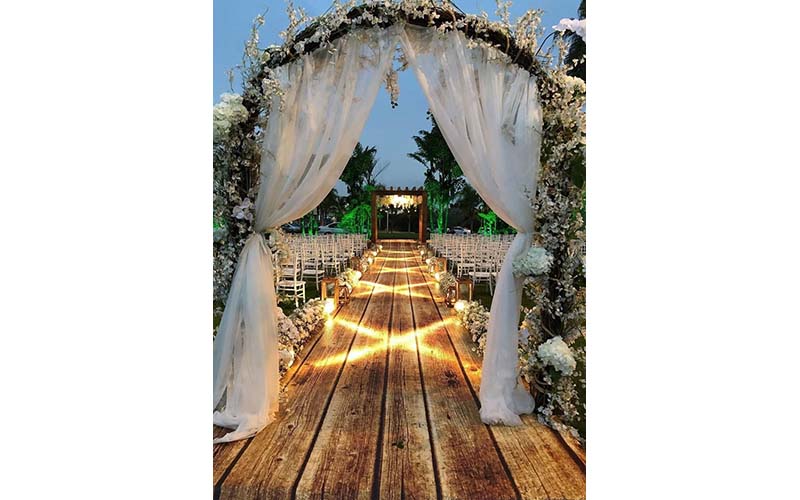 You can leave the whole thing as it is, but creating a pathway will add to your decor. You can use lanterns, reclaimed wood signs, etc., to create a unique path for your guests to follow as they make their way through the wedding festivities.

7. Bright it up with lots of string lights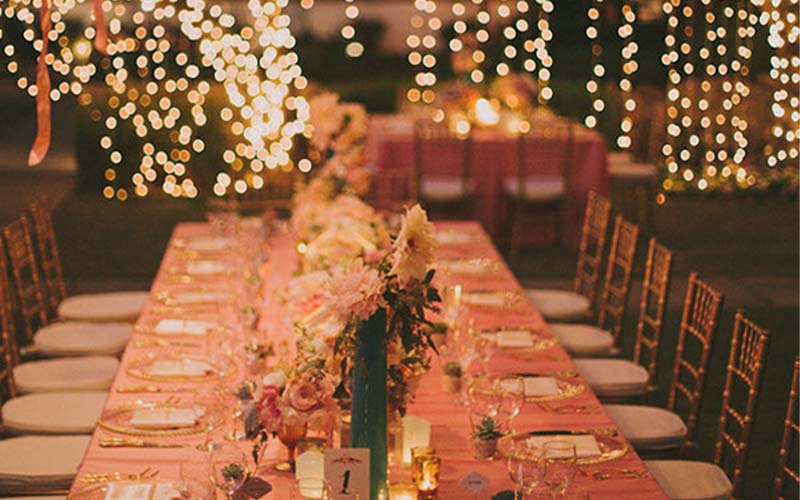 String lights are the savior when it comes to backyard wedding ideas on a budget. You don't have to break your bank to create a dreamy arrangement. Just invest in string lights of different kinds, and you're done!
Trees are excellent natural supports for decorative outdoor string lights, especially if they are planted on both sides of a grassy area. You can spruce up your backyard with string lights. Just drape string lights between tree branches or hang string lights on shrubs. You can also illuminate your space by using Curtain-led lights.

8. Use flowerless plants for centerpieces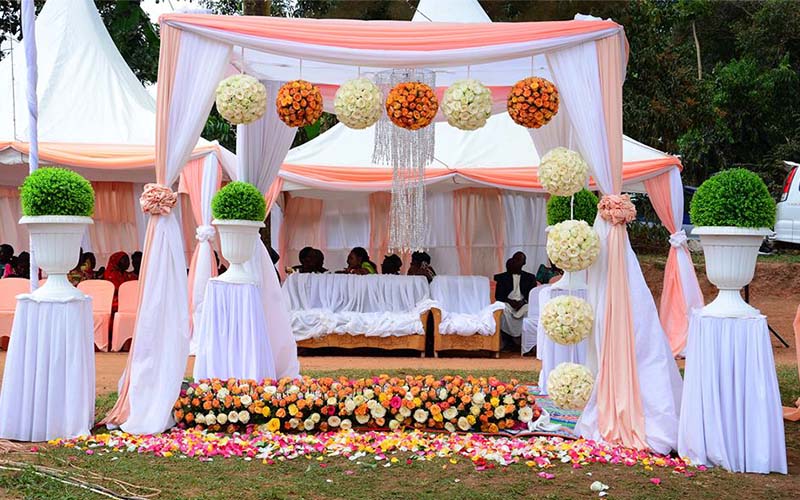 Instead of buying artificial centerpieces, use flowerless plants in pots for centerpieces. Not only do they make stunning centerpieces, but they also add to the wedding theme beautifully. Gather a few plants of your choice and place them on the tables. That's all!
Is there any better way to jazz up your table decor!

9. Add colour to your decor
To jazz it up further, add some floral prints or natural flowers to your backyard wedding theme. You can use printed lines to drape tables. Or just tie colorful bows to the wedding chairs. Or just create pew bows to decorate your wedding chairs or wedding aisle. It will simply add visual depth to your outdoor wedding setup. Aside from that, you can use colorful balloons to create stunning wedding décor.

10. Create a one-of-a-kind table setting with mason jars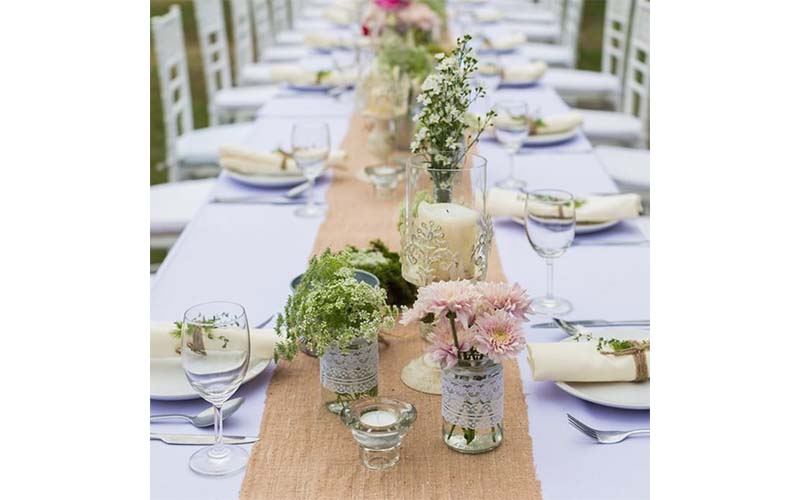 Believe it or not, Mason jars can be used to make beautiful vases, candle holders, and hanging lanterns. They are available in several colors, including clear, teal, blue, and green. The best part is that you can personalize them as much as you want. Decorate the mason jars with lace, ribbon, or burlap. To make beautiful candle holders, simply fill your mason jars with sand, salt, acorns, rocks, or anything else that matches your wedding theme.

11. Keep it natural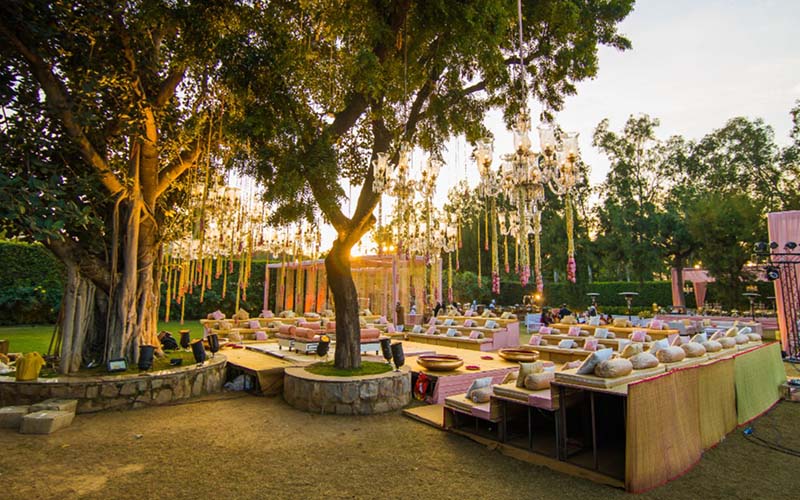 Nature-inspired wedding decor can be made with items from your own yard, such as pine cones, logs, acorns, or rocks. Wildflowers, which look lovely in mason jars, can also be used to decorate tables. It's a great way to keep your wedding decor simple while adding a touch of quirkiness.

THE DELECTABLE DELICACIES

Wedding food is yet another important aspect of your wedding. When planning a wedding, food can add up quickly. And if you want a low-cost backyard wedding, you can either call all of the catering services and select the one in your budget or ask your friends and family to assist you with the cooking. See, the choice is yours.

This will help you save money, but you'll have to spend a lot of time cooking and decorating your dishes. Are you up for that? Think before you make up your mind to cook for your wedding. Or else, scroll down and see the best DIY backyard wedding ideas:

12. Roaming food bars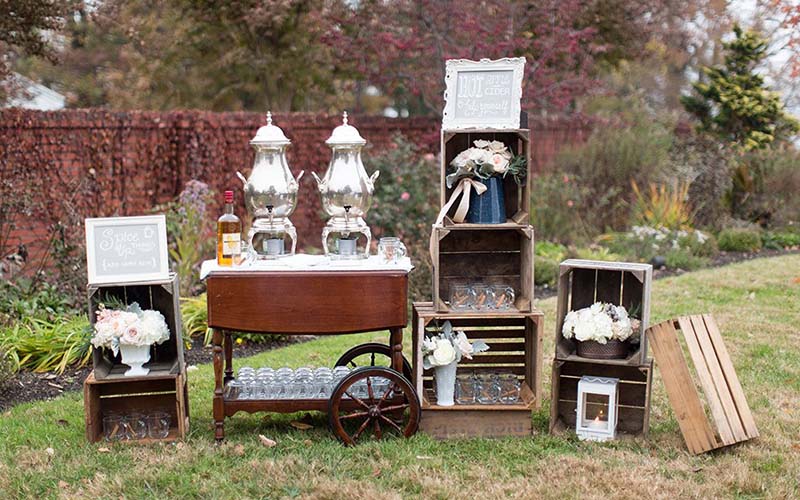 Roaming food bars are a contemporary take on traditional hors d'oeuvres platters. A guy in a cool wooden crate carrying a full-fledged raw bar will look cool. He'll bring dishes, napkins, and condiments, as well as anything else your guests might need.

13. Go a little traditional with Potluck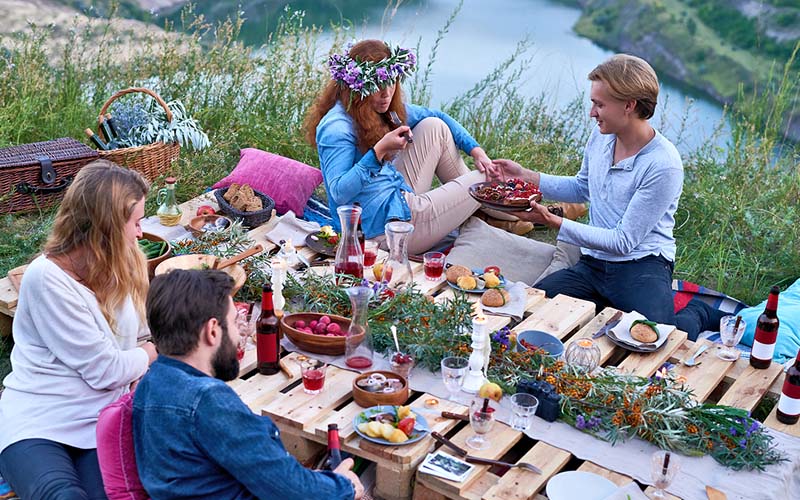 Consider throwing your wedding reception the traditional way, with a potluck! Ask everyone to bring their favorite dishes. It is necessary to plan ahead of time so that you do not end up having the same items.

14. Cherish your traditions with a wedding brunch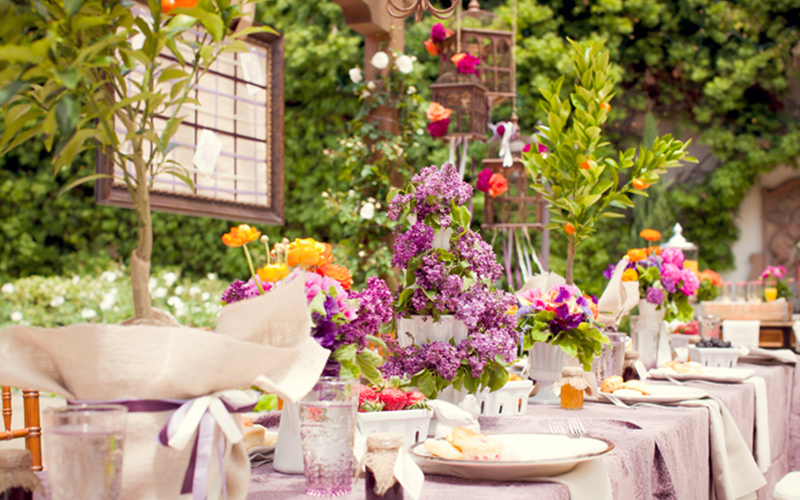 You can consider having a brunch reception if your wedding is in the morning. Make arrangements for bagels, sandwiches, omelets, French toast, juices, fruit, and other brunch fares. Create an elegant atmosphere by playing classical music in the background—a great way to cherish the charming countryside way of life. You'll have a fantastic backyard wedding reception without having to spend much money.

15. Set up a food truck/ food cart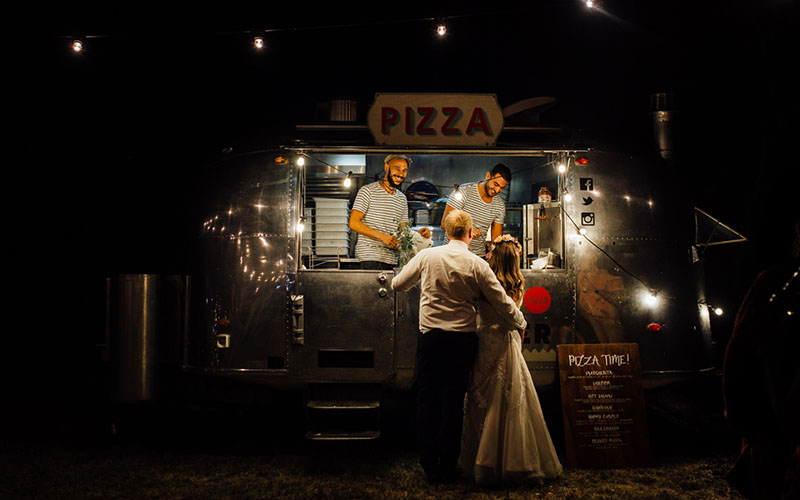 Food trucks have become market norms. A food truck or food cart is an excellent choice for making your reception last a little longer. Your guests will be delighted to dine late at night on their favorite foods. The best thing is these trucks aren't expensive, and they look stylish and cool. A food truck can be stationed at the wedding reception site. Make sure to inform the vendor of your food requirements ahead of time. A food truck wedding reception may appear to be significantly less expensive than a traditional wedding reception.
A regular catering price includes rentals, staffing, and, in many cases, beverage and dessert service. Typically, cuisine trucks only provide their food and their vehicle. It's a great way to save money by having a picnic-style wedding reception.

16. Contact your favorite restaurant in your area
If yours is an intimate backyard wedding celebration with only a few guests, consider ordering food from a restaurant. All you need to do is find a good restaurant in your area and place your order. However, make sure you contact the restaurant owner ahead of time and inform them of your needs. It's because they'll need time to set up everything and prepare all of the dishes.

17. Barbecue food for guests
A BBQ wedding reception is one of the best excellent backyard wedding ideas for winter or backyard wedding ideas on a budget. BBQ is a perfect way to save money on a wedding reception, especially hosting a wedding for a small gathering. This gives your guests the impression that they are at a family picnic. They'll love the whole idea for sure!

TIME FOR DESSERT
Instead of opting for an expensive wedding cake, you can select from a variety of options. All it takes is a little imagination! The coolest thing about wedding cake alternatives is that they can frequently be made at home, saving you a lot of money. Here are some of the best wedding cake alternatives for a low-budget backyard wedding:

18. Cake in cups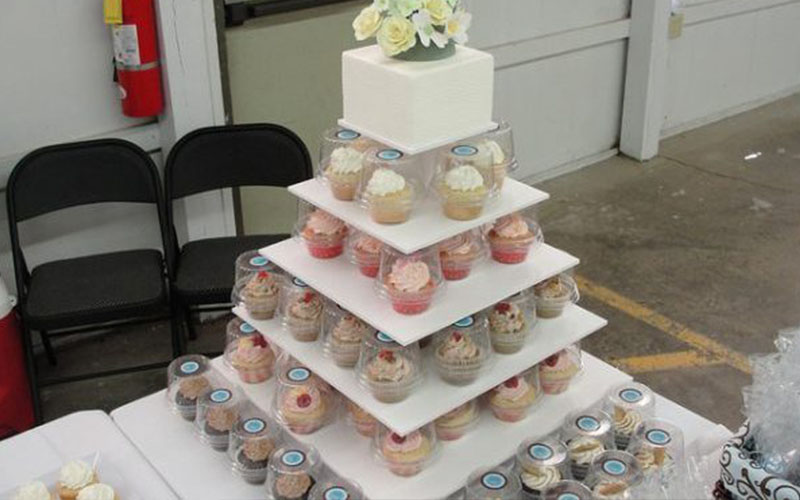 Oh, I'm talking about Cupcakes. Cute, miniature cupcakes are already popular! Cupcakes have the benefit of being able to be decorated in any color or design you can imagine. It is one of the best DIY backyard wedding ideas. You can make lovely cupcakes at home for a low cost. The best thing is that they can be tailored to your wedding theme or color scheme and served as favors in small boxes for guests to take home.

19. Let your guests scream with Ice Cream.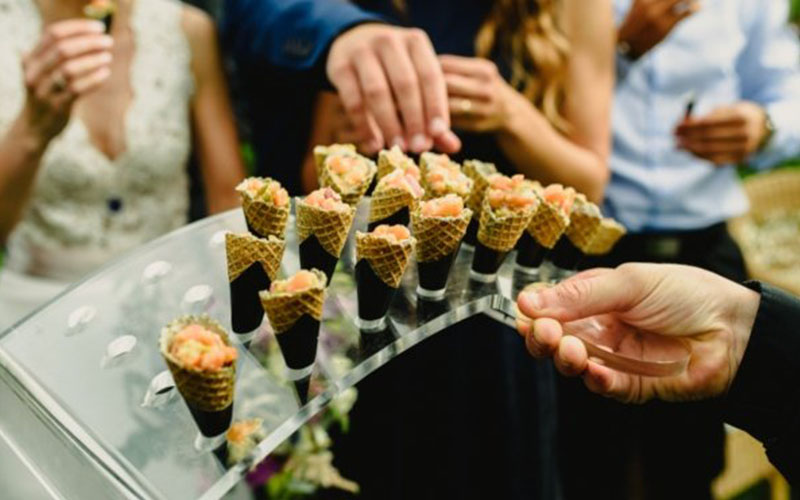 Ice cream is an excellent choice. The best part about this refreshing treat is that it is available in a variety of delectable flavors. Your wedding guests will want to eat their favorite ice cream. Your guests would love to create their own dessert with a variety of flavors, toppings, and sauces at your backyard wedding.

20. A 'pie bar.'
Pies are a trendy dessert that can be used in place of a wedding cake. The coolest thing is that you can satisfy everyone's taste buds with a variety of home-baked pies.

21. Petit Fours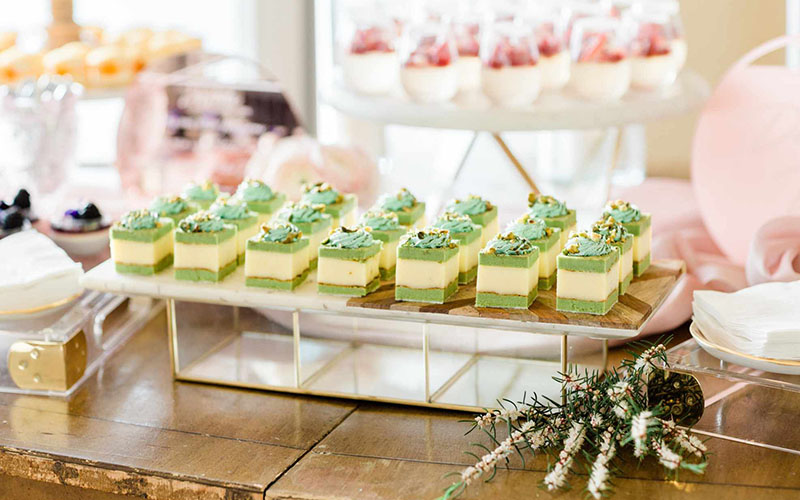 Petit Fours are miniature desserts that include cakes, cookies, meringues, pastries, and macaroons. With fondant, frosting, and chocolate on top, these small bite-sized confectioneries are delicate and exquisite. Serve a variety of petit fours or just one type, such as macaroons.

22. Add some appeal with cheesecakes.
Cheesecakes are very popular these days and are a great substitute for a wedding cake. They come in a variety of flavors, including vanilla, chocolate, and fruit. In addition, they can be baked or served cold. They can also be served in layers or as mini-cheesecakes.

LIQUOR BAR
Weddings without the bar will have no appeal! So, make sure to create a stunning liquor bar at your wedding. You can DIY a beautiful bar for your backyard wedding. Here is how you can jazz up your wedding bar:

23. Bar cart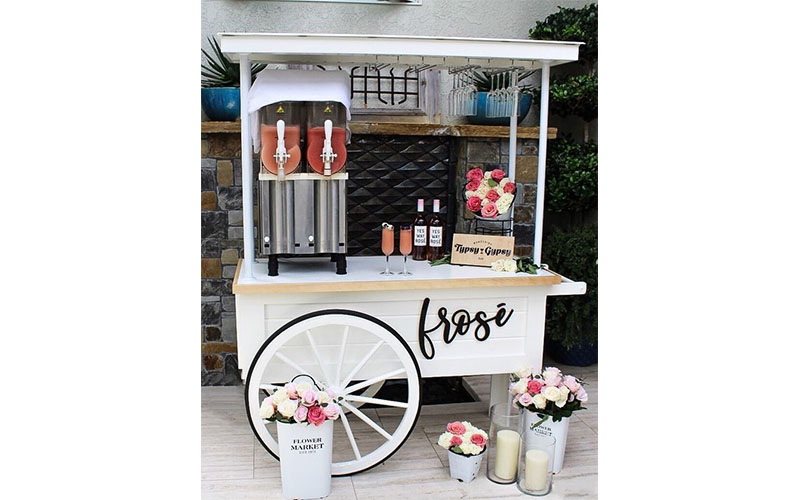 For a quick and stylish refreshment, stock a bar cart with bottles of bubbly.

24. Bar truck
Bring in a vintage car or bar truck stationed in the backyard if you want to take things to the next level. Your guests will love to enjoy their favorite drinks in style. Make sure to coordinate well in time with the bar truck owner so that you don't have to make last-minute liquor arrangements for your wedding.

25. DIY your own bar.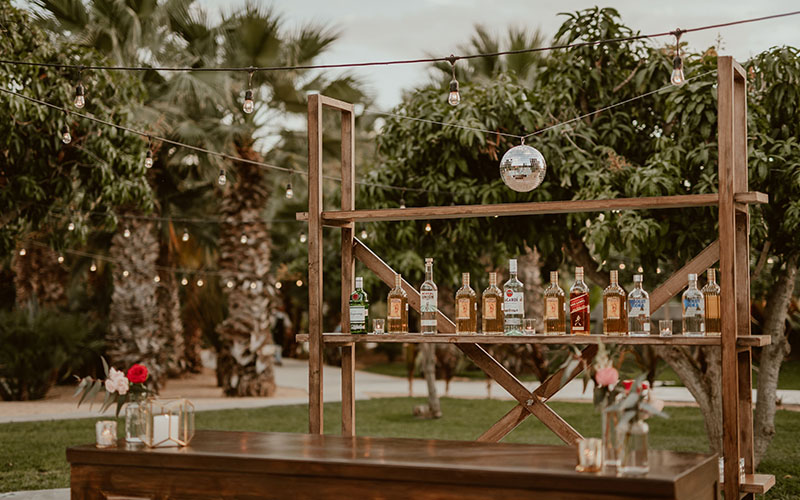 If hiring a cart or bar truck seems too much, then create your own bar. Arrange beers, wine, and some other drinks of your choice. Stack them in style, decorate the bar area with string lights, and you're done. And yeah, make sure to have someone at the bar to look after your guests and serve them drinks.

MUSIC FOR BACKYARD WEDDING
A wedding without music doesn't make any sense. Here is what you can do to have your guests shaking their booties at your wedding:

26. Live performance.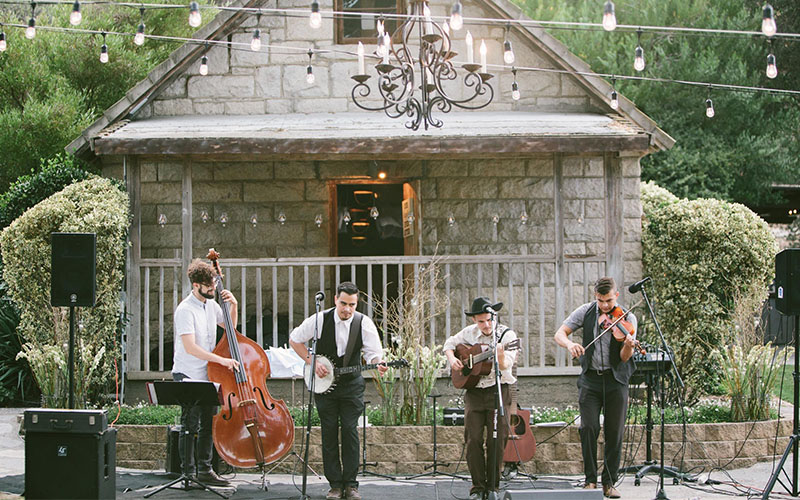 The live performance will set your wedding on fire, believe you me! Many aspiring musicians are already on the lookout for new opportunities to add to their resumes. Coordinate with the band looking for a chance to play at your wedding. It will simply spruce up your wedding and make it a memorable occasion. The best part is that these musicians do not charge exorbitant fees for their services.

27. Arrange a music system.
If budget is a constraint, there is another way to spruce up your wedding. Set up your music system; if you don't have one, ask a friend to bring one. You have to prepare a music playlist ahead of time and have someone take care of wedding music. That's all!
Aside from that, you can contact a university band to perform at your wedding or ask your music enthusiast friend to show his/her magic at your wedding.
Are you ready to host a stunning Backyard Wedding with these DIY backyard wedding ideas?
So these are the best backyard wedding ideas. Aside from these, there are a plethora of other ways to host a stunning backyard wedding that includes all of the elements you desire.
Furthermore, whether you're planning a luxurious wedding or a low-budget wedding, the goal is to enjoy every moment of it. Because your wedding is a once-in-a-lifetime event, you must make the most of your wedding reception.
Whether you've got a budget constraint or you're just enthralled to host a backyard wedding. It is one of the best options to host a stylish wedding on a budget. If you don't have a backyard, you can ask to host your wedding in your friend's backyard or rent out one. The best part is that hosting a backyard wedding allows you to have a stunning wedding experience your own way.
Enjoy every moment of your wedding reception, from the moment you walk in the door to the moment you leave. Never lose sight of the fact that this is the moment you've been waiting for for a long time. So, make the most of it, enjoy every moment of your wedding, and make the best memories of your BIG DAY!
Happy Weddings… ☺ ☺
Thanks for reading!
Hope this post has been informative and enlightening for you and will help you get started with your backyard wedding planning!
It's time for some Backyard Wedding FAQs. Take a look…

Backyard Wedding FAQs
Q.1. Are backyard weddings unfashionable?
No, not at all! Backyard weddings can be absolutely stunning. You can create a gorgeous wedding with proper planning and a tad bit of creativity.
Q.2. How much time does it take to plan a backyard wedding?
A backyard wedding, like a wedding in a hotel or wedding hall, must be planned at least a year in advance. And, if you're planning a backyard wedding without the help of an event planner, you'll need to begin wedding planning at least 18 months prior to your BIG DAY.
With your vision, you'll have to start from scratch. So make sure you start on time if you want to have the fairytale wedding you've always wanted.
Q.3. How much does a backyard wedding cost?
The cost of your backyard wedding will be determined by the size of your wedding and your wedding budget. If you have a small wedding with a few guests, you will spend less than if you have a large group.
You will undoubtedly save a significant amount of money on a wedding venue if it is in your own backyard. However, there will be additional expenses such as catering, music, wedding photography, florists, and so on. A backyard wedding typically costs between $2000 and $10,000.
It is entirely up to you to decide what type of wedding you want to host. Of course, if there are no rentals, you will save money. And if you choose the best vendors in town, the price will undoubtedly be high.
Q.4. Is hosting a backyard wedding less expensive?
A backyard wedding can be much less expensive, but it all depends on how you set your budget. You may end up spending more than you would at a traditional venue if you hire expensive vendors and rent a lot of equipment. But if you know how to plan a stylish wedding on a budget, a backyard wedding is the right pick.
Q.5. Is it easy to plan a backyard wedding all by myself?
Well, it all depends on your configuration. Planning a backyard wedding can be a lot easier if you start planning your wedding at least a year ahead of the BIG DAY. You'll need to think of several aspects, such as a rain backup plan, the right vendors, etc. while planning your backyard wedding by yourself. If all that seems easy, go ahead and if you think planning a wedding is not your cup of tea, then hire a reputable wedding planner who can bring your dream to reality without you having to take any load.