Are you utterly infatuated with romantic novels? Who isn't? The idea of a perfect, movie-like wedding!
If that rang any bells, you might be interested in the list we have compiled.
Having a beach wedding is now the 'in thing'.
The thought of a warm island breeze, blue skies, and being surrounded by all our loved ones is a soothing feeling.
What is a beach destination wedding?
Thousands of couples choose beach weddings for their nuptials because of their simple elegance and natural beauty. The concept of beach weddings dates back to the early 60s, and the craze has grown many-fold in recent years.
More than four million destination weddings are held around the globe every year, and you will be surprised that it costs less than a quarter of the price offered by traditional wedding venues.
Couples can select their best wedding destination and customize it to meet their needs.
Costa Rica, Mexico, and the Caribbean islands are the ultimate beach wedding destinations.
Destination weddings are intimate affairs because the guest list is limited, and it becomes a special occasion with people close to you.
Why tie the knot on the beach?
There are several benefits to a beach wedding destination compared to a traditional wedding, like out-of-this-world views and photos, savings, and ease of planning.
Here are a few benefits of a beach marriage.
The cost reduction provides an attractive option for couples opting for an international destination wedding. In the USA, destination weddings cost under $10,000, while traditional weddings cost over $30,000 on average.
The climate is the most attractive factor for which couples opt for the best beach wedding destination because the climate is warm all year round and the sight of palm trees and the tropical ocean breeze is very tempting for those who live in colder regions or have experienced a very long winter.
Couples enjoy their wedding as everything is taken care of by the resort or the event management company they hired. The guest list is also limited compared to the traditional wedding at home.
No extensive ornamentation is required.
A beach wedding does not require excessive decoration because nature does the needful.
A wedding to cherish forever
Beautiful beaches offer an out-of-this-world experience for couples and their guests. A beach wedding is a favorite among couples because it provides a special experience for family and friends.
Top 10 Best Beach Wedding Destinations
A beach wedding offers great scenery, pleasant weather, and a lot of fun for the people attending the wedding. If you're looking for a perfect location, your search ends here as there are a lot of choices around you.
1. Dubai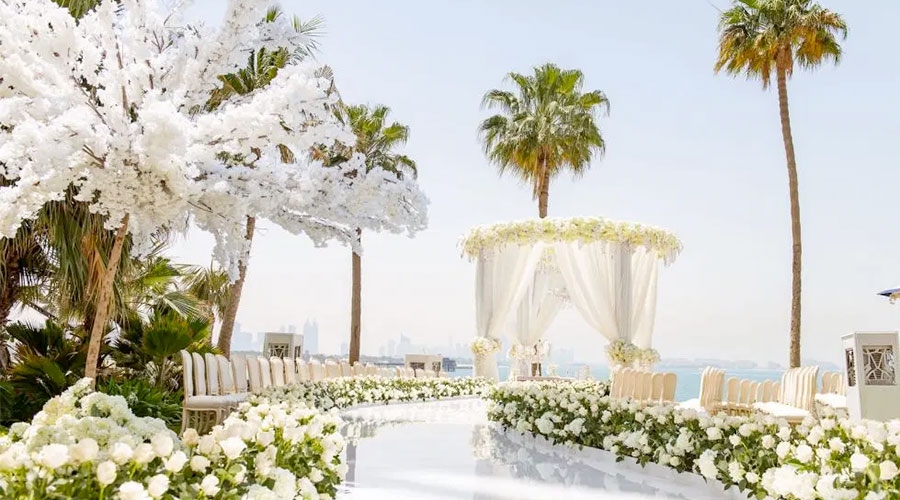 Dubai is one of the best beach wedding destinations in the world. Dubai is located in the United Arab Emirates and is known for its cultural variety. Dubai is well connected by air to every corner of the world, which makes Dubai easily accessible.
Dubai has a tourist-friendly image as it offers hotels and resorts with amazing deals, which makes Dubai one of the best places for beach weddings.
An ideal time for the wedding is from January to April.
Best venues
Four Seasons resorts
The Grand Hyatt residency
The Ritz-Carlton
2. Negril, Jamaica
Negril is situated in the western part of Jamaica and is ideal for the best beach wedding destination as it is known for its dreamlike and sophisticated weddings.
The city boasts over miles of coastline and picturesque beaches with clear waters.
Negril is famous for its spectacular sunsets and seven-mile beach.
If fun is on your mind, Negril is the best place for a beach wedding. Negril has plenty of budget-friendly and luxury resorts that are just a few steps away from the sea. Negril is famous for its reggae bands, which guarantees that all your friends and relatives will groove on the dance floor.
Best venues
Sandals, South Coast
Legends Beach Resort
The Spa Retreat Boutique Hotel
3. Mexico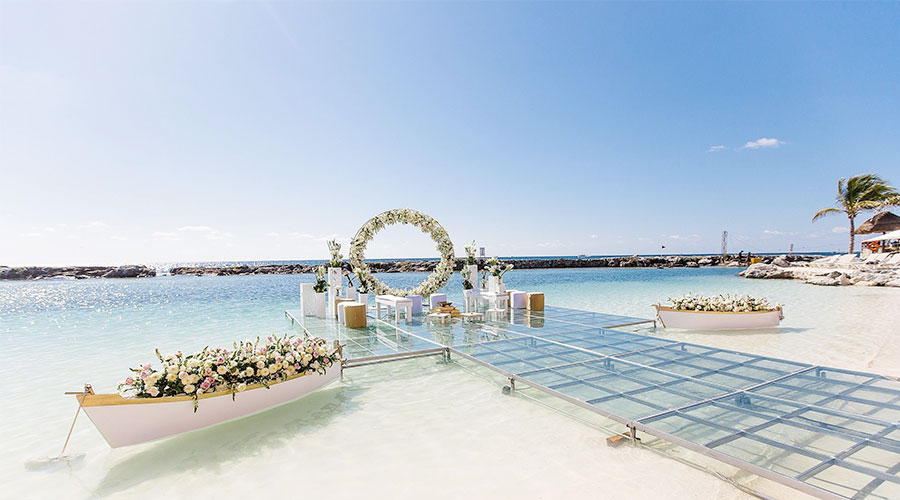 There are many reasons to plan a destination wedding in Mexico. The opportunity to say "I do" in a tropical setting with a beautiful beach around you is the best experience for couples.
Maroma beach is always on the list of the top ten beaches in the world by leading travel channels.
Mexico is the best beach wedding destination because it's close to the US and a very popular holiday and wedding destination.
All the couples and the guests fall in love with the electrifying beaches of Mexico.
Best venues
Hyatt Zilara Cancun
Secret's Maroma Beach Rivera Cancun
Live Aqua Beach Resort Cancun
4. Bahamas
NASA astronaut Scott Kelly once famously said that the Bahamas is the most beautiful place visible from space.
With delightful white sand beaches, surrounded by beyond-belief blue waters.
It is famous for its 700-plus islands and is ranked as the best white-beach holiday destination by many travel channels. It is also considered one of the best beach wedding destinations.
Friendly locals and resorts that suit all budgets make the Bahamas one of the top beach wedding destinations.
Best venues
Sandals Emerald Bay
The Ocean Club, A Four Seasons Resort
The Cove Eleuthera
5. Bermuda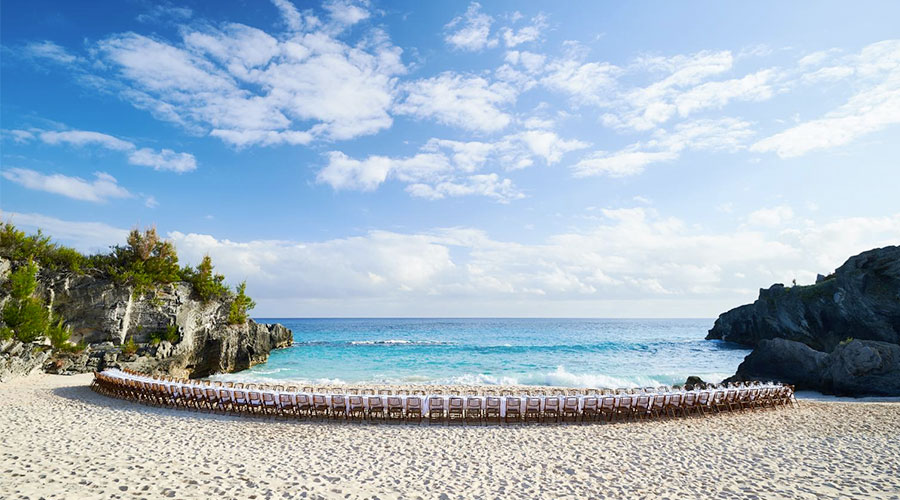 The beaches of Bermuda offer something extraordinary to its visitors. The perfectly pink beaches of all the 181 islands make it the best beach wedding destination.
As soon as you land at the airport, Bermuda welcomes you with its exceptional climate. Bermuda is known for its world-class scuba diving. A great shopping destination and the most romantic sun-kissed pink sand beaches make the island the best place for beach weddings.
Best venues
Coral Beach Club
The Hamilton Princess and Beach Club
The Loren
Also see: 30 Beautiful Beach Wedding Guest Dresses Ideas
6. Mauritius
Mauritius is one of the best beach wedding locations in and around the world.
This tropical paradise offers more than just sea sand and sun. Mauritius offers a great variety of water sports, adventure safaris, lush green golf courses, and hiking, adding a feather to its cap.
Mauritius will make your wedding magical, memorable, mystical, and romantic, as it fascinates you as soon as you land there.
The climate is pleasant all year round, but the best time is from May to December. Mauritius is a very affordable wedding destination, so if you are on a tight budget, it is going to be an excellent choice.
Best Venues
Tamassa Resort
Constance Belle Mare Plage
LUX Le Morne
7. Payangan, Bali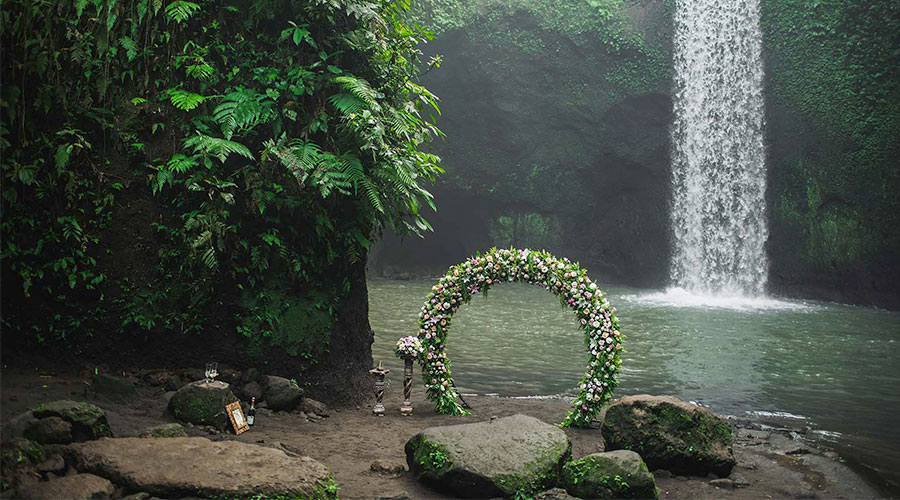 Payangan, Bali is not only famous for its beaches but also its volcanoes, mountains, forests, and famous paddy fields. Payangan is also well known for its religious sites and striking views. Bali has an aura of calmness and peace, which makes it the best beach wedding destination.
Biking, visiting famous temples, hiking, and the famous Kecak dance, along with the famous beaches, make Bali the best beach wedding destination.
Many travel magazines and shows rate Bali as the best beach wedding location. Bali is also economical if you are looking for a budget wedding.
Best venues
The Surga Villa Estate
Tirtha Uluwatu at Tirtha Bali
Wonderland
8. Belize
Belize is a treat for the eyes. With its blue water and lush greenery, Belize is the best beach wedding destination for couples around the world.
Belize is a small place with lots of big surprises like diving and snorkeling. The beaches seem naturally beautified with palm trees, and the pleasant climate throughout the year makes Belize one of the best places for beach weddings.
Best venues
The Belly's collection
Sirenian Bay Resort
Las Terrazas Resort
9. Maldives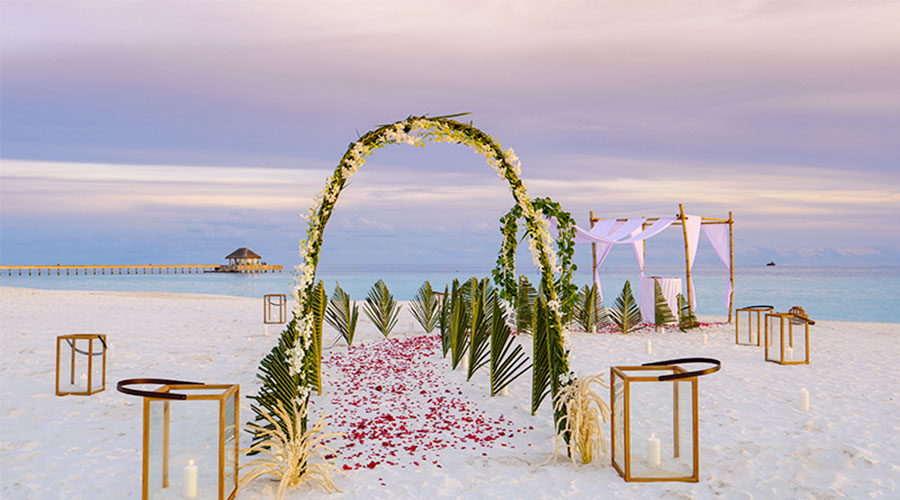 The Maldives is a tropical paradise in the world. The country has many islands which are surrounded by lagoons.
Maldives is one of the most gorgeous and dazzling tropical islands in the world.
This spectacular paradise is one of the best beach wedding destinations as it caters to all budgets.
Maldives is famous for various reasons, such as virgin beaches, vibrant culture, widespread greenery, and marvelous landmarks. Maldives is also well known for its adventure activities and water sports.
Best venues
Meeru Island Resort and Spa
Paradise Island Resort & Spa
Sun Siyam Iru Fushi Maldives
Also See: Find out Top Reasons why you Should Plan your Destination Wedding in Maldives
10. Panama
Panama has a fascinating culture, a variety of historic sites, and breathtaking beaches, which makes Panama one of the most beautiful countries in the world.
With beautiful beaches, a rainforest, and a desert, Panama has been the best beach wedding destination for couples over the years.
The US dollar is the main currency, and English is spoken by most of the local people. Panama is one of the most tourist-friendly destinations in the world.
The pleasant weather throughout the year makes Panama the best beach wedding location.
Best venues
Hilton Panama
Dream Playa Bonita Panama
The Buenaventura Golf and Beach Resort, Panama
We have briefed you about the most popular beach wedding destinations, which are easy to reach from anywhere in the world due to their convenient location. They are easily accessible to all major cities. The best thing about the list is that it has the most popular destinations and still offers both luxurious and affordable wedding destinations.