As the wedding day approaches, it's natural that you like to make it memorable for your groom. After all, this is a once-in-a-lifetime event, and you want to ensure he feels loved and appreciated. If you need help with ideas for surprises for groom on the big day, don't worry! There are a bunch of forms to show him how much he means to you. Here are a few unique concepts to get you initiated:
Write him a love letter or poem to look through at the sunrise of the marriage.

Have a small gift delivered to his room before the ceremony.

Organize a special breakfast or lunch with his closest friends and family.

Set up a slideshow of memories or photos for him to watch before the ceremony.

Plan a particular activity, like a round of golf or a hike, for the two of you to enjoy before the wedding.
Whatever you choose, the most important thing is to let your groom know how much you love and appreciate him on your special day. In this article, we go through the best surprises for groom on wedding day.
➢ Love Note Journal
A love note journal is a unique and thoughtful gift that allows you to express your love and affection for your partner in a meaningful and lasting way. You can write down your thoughts, feelings, and memories and look back on them whenever you want to feel close to your loved one.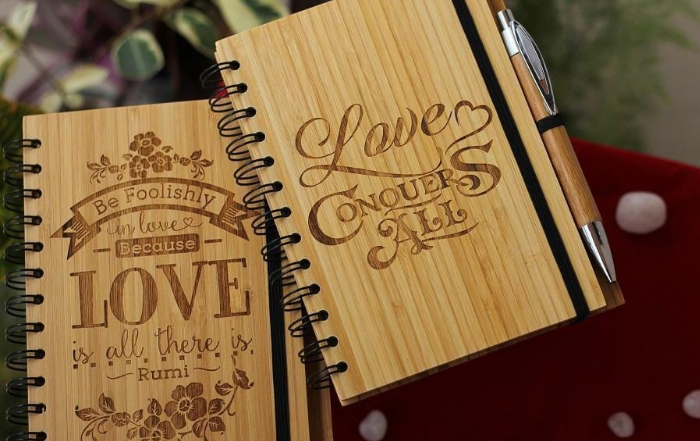 To make your love note journal unique, consider personalizing it with special touches that reflect your relationship. You could:
Choose a cover that represents your shared interests or hobbies.

Add photos or mementoes that have unique significance to the groom.

Write your notes in a specific theme, like love quotes or your favourite memories together.

Decorate the pages with drawings, stickers, or other creative touches.
The essential thing is to be genuine and heartfelt in your notes. Your love note journal should be unique that displays your love for each other.
➢ Play a moment away 
One unique way to surprise your groom on your wedding day is to play a moment away. This could involve creating a unique scavenger hunt or trail of clues that lead him to a special surprise or activity. Here are some concepts to get you initiated:
Leave a series of notes or clues hidden near the place of your marriage. Each note could lead him to the next surprise, whether it's a special gift, a meaningful place, or a note from you.

Organize a memorable action or outdoor trip for you to enjoy together. This could be something as simple as a picnic in a beautiful location or something more elaborate like a hot air balloon ride.

Create a personalized playlist or mix CD loaded with melodies that have particular significance to both of you. Leave it for him to find on the morning of the wedding, and set aside time for you to listen to it together.
Whatever you choose, the most important thing is to put thought and care into the surprises for groom and make them meaningful for your groom.
➢ Gift a hamper
A hamper is one of the great ideas to surprise for groom on your wedding day! Here are some concepts for things you could have in the hamper: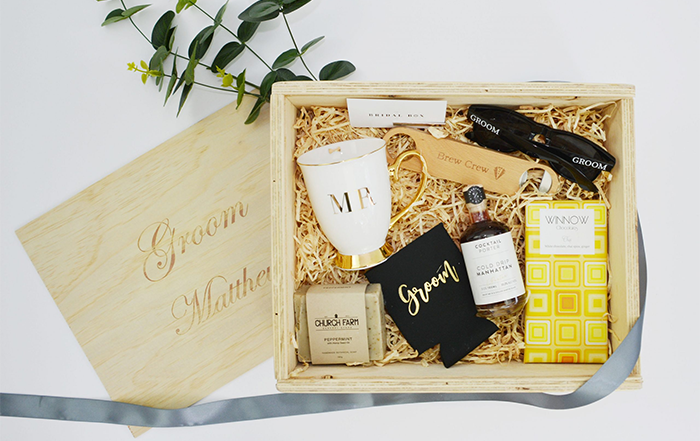 His favourite snacks or treats

A handwritten note or love letter

A small gift or token of your affection, such as a famous novel or any accessories.

A picture of the two of you or a special memory you share

A grooming product or cologne

A fun activity or game to enjoy together
Remember to personalize the hamper to your groom's tastes and interests. You could also include items that will be helpful on the wedding day, such as a packet of tissues, mints, or a small bottle of water.
Also See:

1) Unique Groomsmen Gifts Ideas for Your Bestman
➢ Order a personalized ring box 
A personalized ring box can be a beautiful and thoughtful gift to surprise the groom on your wedding day. Many companies offer custom ring boxes, and you can usually choose from various materials, sizes, and designs. Some companies even offer the option to engrave your name or initials on the box.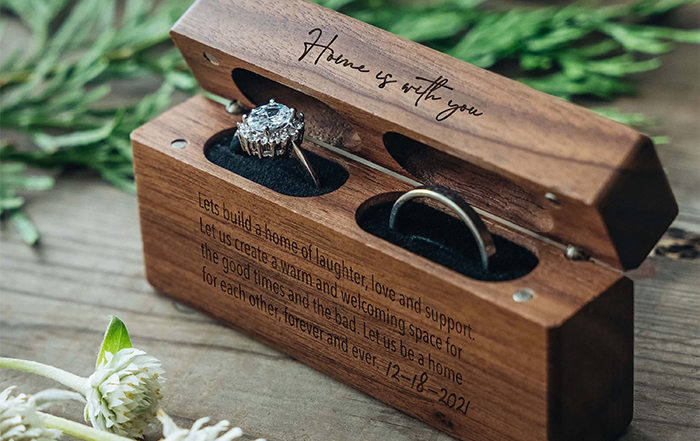 To order a personalized ring box, you can do a quick online search to find a company that offers the type of box you're looking for. Many companies have an online form or order form that you can fill out to customize your box. You will normally require to furnish the following details:
Material: Wood, metal, or another material?

Size: How large or small do you want the box to be?

Design: Do you want a specific design or style?

Personalization: Do you want your name or initials engraved on the box?
Once you have placed your order, the company typically takes a few days to create your customized ring box and ship it to you. Therefore, ensure enough time for the package to arrive before your wedding day.
➢ Organize a groom's cake
A groom's cake is a fun and delicious way that surprises the groom on your wedding day. A groom's cake is typically a small, personal cake meant just for the groom. It is often a chocolate or other flavour that the groom particularly enjoys.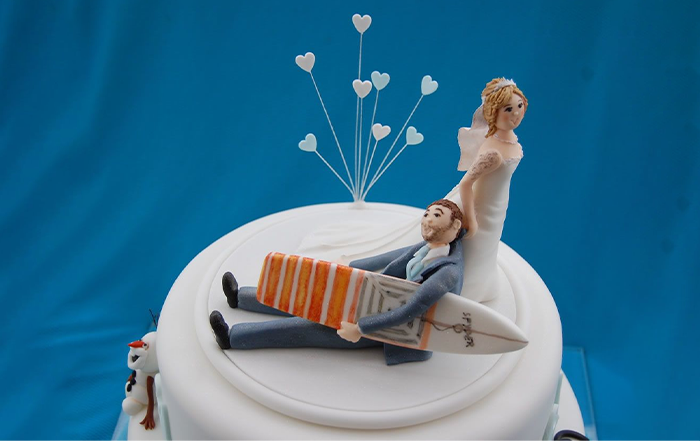 To organize a groom's cake, you can start by discussing your groom's favourite flavours and preferences with a baker or cake designer. You can choose a design that reflects your groom's interests or hobbies or keep it simple with a classic chocolate or vanilla cake.
If you're planning a surprise groom's cake, you can have it delivered to the reception venue or have a friend or family member bring it with them. Then, you can present it to your groom as an amazing surprise at the bash. Just coordinate with the baker or cake designer to ensure that the cake is delivered on time and in good condition.
➢ Have a radio dedication for your groom
A radio dedication can be one of the sweet and thoughtful surprises for groom on your wedding day. Many radio stations allow listeners to request melodies or devote them to somebody exceptional. To have a radio dedication for your groom, you can follow these steps:
Find a radio station that allows dedications: Not all radio stations accept dedications, so it's a good idea to call or check the station's website to confirm that they offer this service.

Choose a song: Think about a song that has special meaning to both of you or that your groom particularly loves.

Contact the radio station: You can request a dedication by calling the station during their dedicated request or dedication time or by filling out a form on their website.

Make your dedication: When you call or submit your request, include your groom's name and a brief message. You can also specify when you would like the song to be played.
Remember that radio stations often receive a large volume of requests, so it's a good idea to make your dedication well in advance to increase the chances that it will be played. Consider having a friend or family member listen to the commitment and let you know when it airs.
Related: 7 Self-Care Tips For Grooms To-Be Before The Big Day
➢ Write him a love letter
A handwritten letter is a timeless and personal way to express your love and appreciation for your partner. Write down everything you love about him and how much he means to you, and present it to him on the morning of your wedding.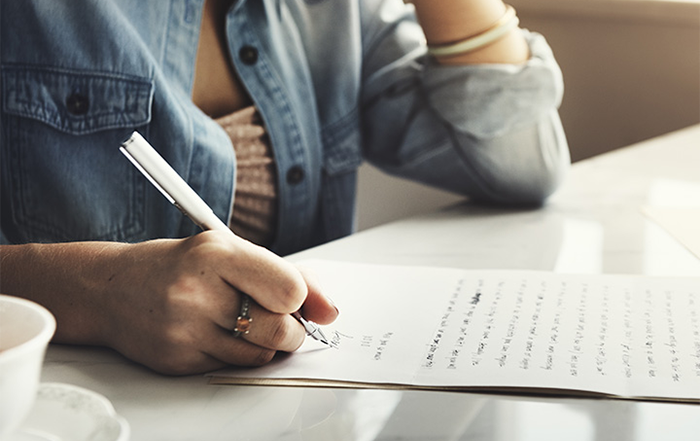 ➢ Personalize his wedding band
Consider engraving your wedding bands with a special message or design that is meaningful to both of you. This will be a sentimental reminder of your love whenever he looks at his ring. This is one of the best surprises for groom.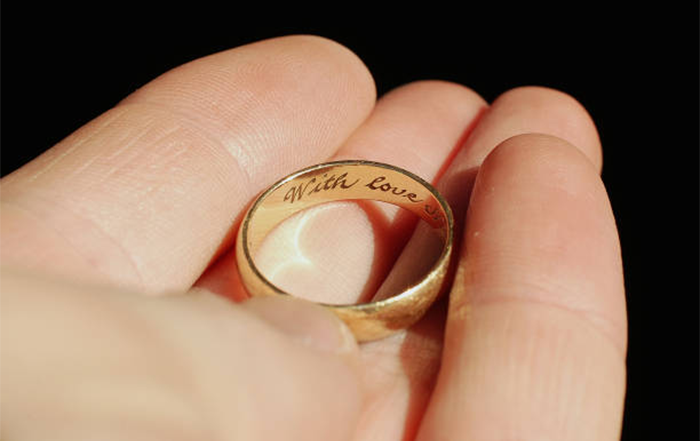 ➢ Create a unique wedding day gift
Think about your groom's interests and hobbies, and put together a gift that speaks to those things. This could be a collection of his favourite books, a personalized piece of art, or a gift certificate for an experience he has always wanted to try.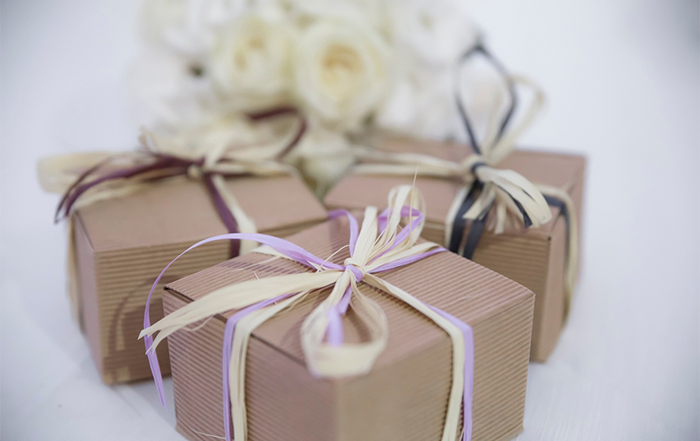 ➢ Plan a surprise activity
Does your groom love sports? Consider organizing a pickup game with his friends or taking him to a professional game as a surprise on the morning of your wedding. Or, if he's a foodie, surprise him with a private cooking class or a special tasting at a top restaurant.
➢ Customize your vows
Take the time to write your wedding vows, incorporating personal anecdotes and inside jokes that only the two will understand. This will make your ceremony feel even more special and unique.
Conclusion
The wedding day is a time of joy and celebration, and adding a few surprises for the groom can make it even more memorable. From a heartfelt note or gift in the morning to an exceptional dance performance during the reception, there are many ways to surprise the groom and show your love and appreciation.
Whether you opt for something small and intimate or something grand and elaborate, the key is personalizing the surprise to the groom's interests and personality. Whatever you choose, the groom is sure to be touched by your thoughtfulness, and the wedding day will be even more special. We hope this article on the best surprises for groom on a wedding day is useful to the readers.