Your big day is around the corner, and you also have to get prepped for your Bridal Shower. Well, then, you must be a little indecisive about what to have on the menu, including the bridal shower cake.
So, if you're looking for ideas for your bridal shower cake, then you are definitely on the right page.
We are hopeful that this post is going to help you tremendously.
In this post, we will walk you through 25 bridal shower cake ideas that you can consider picking for your bridal shower.
So, let's get started…
What Is A Bridal Shower?
A bridal shower is a party that is held in honor of the upcoming wedding and is attended by the bride's close friends and relatives. Even though it is not required that a full meal be served on the occasion, it is still a pleasant touch to celebrate with a dessert and refreshments such as coffee or cocktails.
Guests at a wedding shower "shower" the soon-to-be bride with gifts while also enjoying delicious food, entertaining games, and a festive atmosphere. Of course, a bridal shower cake is an indispensable part of your big occasion. The celebration would not be complete without a stunning wedding shower cake, so get baking!
The best thing about bridal shower cakes is that they can be adorned and customized to match your requirements for the occasion. Regardless of whether you want a more classic tier cake or a cake that is as one-of-a-kind as the bride herself, everything is possible. In addition to this, both you and your visitors will enjoy eating them very much.
Why is A Bridal Shower Cake Vital?
You might want to consider surprising your guests with a delightful dessert at the end of the meal; if you want the pre-wedding celebration that you're throwing to end on a particularly sugary and happy note, then a bridal shower cake comes in handy.
Undoubtedly, dessert is an essential component of any successful bridal shower celebration. You can have your guests enjoying these bits at the end of the celebration and conclude your event on a happy note. However, creating a bridal shower cake will depend on a variety of aspects, including the preferences of the bride-to-be, the budget for the party, and the theme of the event.
The bridal shower cake ideas listed here will surely help you find your ideal cake type for the special occasion. 
So, continue reading for the best bridal shower cake ideas to serve on the occasion.
Top 25 Bridal Shower Cake Ideas
1. Make a Cake with Waffles
If you're really creative or are fond of waffles, then they can be your best bet! Waffles are very commonly had as breakfast. And the fact remains that most of the bridal showers are held around the time when brunch is served, so why not add waffles to the cake?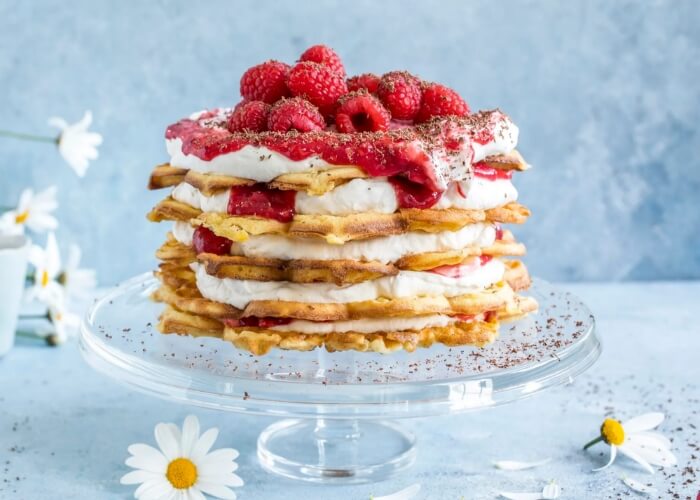 Brunch is a common time for women to celebrate their upcoming marriage. A waffle cake will be a stunning addition to your party. On the side, serve extra toppings such as whipped cream, syrup, and fresh berries to sprinkle on top of the dessert.
2. Tiramisu Cake
Making a Tiramisu cake may sound difficult, but the recipe makes the process straightforward and simple. You will be surprised to see the end product as it comes out to be a sophisticated dessert with an alluring boozy kick.
Although it may sound like a challenging undertaking at first, it really isn't. The iconic dessert served at many Italian cafes is known as tiramisu, and adapting it into a cake with multiple layers might be yet another challenging task. But a professional pastry cake will help you with a wonderful Tiramisu cake.
3. Add Edible Flowers
Cookies, which are prepared with edible flowers that have been crushed, is a work of art. And the best thing is that they are too lovely to eat because of their intricate designs.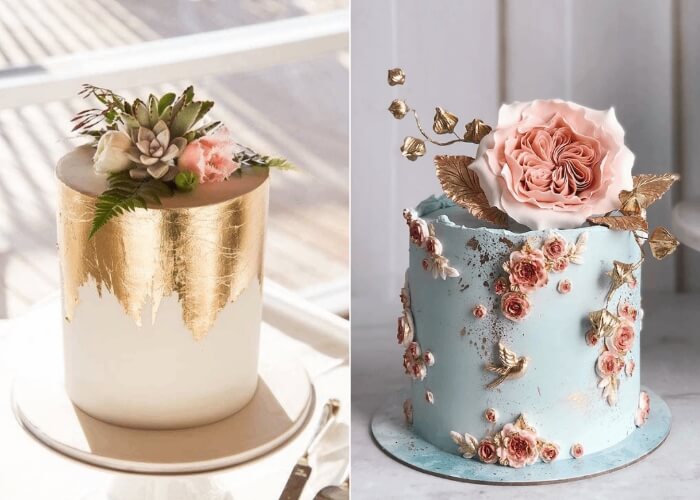 You could make an even tastier treat by imitating this appearance on cookies (of your choice), or you could even do it on miniature cakes. Both of these options are available to you.
4. Cake Pops
Doughnut holes are the secret ingredient in this cake pop dish. This quick dessert is perfect for parties with plenty of guests. If you want to make your cake pops more unique, you can coat them in candies of any color you like.
It's a viable alternative to making the cake from scratch and icing it by hand. Making perfectly round cake balls before dipping them might seem a challenge, but the idea is brilliant.
Related Post: 10 Beautiful Bridal Shower Theme Ideas
5. Make it Iconic
Do you think you have got an artistic side? Make an asymmetrical cake topper and put it on top of a plain white cake. Trust that it is going to catch a lot of attention. Moreover, it will provide the most picture-perfect scenario for you and your guests at the event.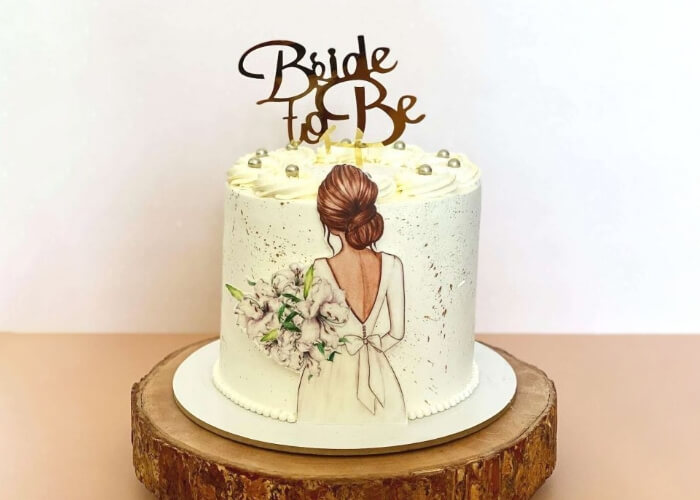 6. Decorate Your Cake with Flowers
Give your simple white cake a touch of elegance with a border of pale pink flowers. Also, don't miss to sprinkle some leaves around. It is going to be a show-stopper item at your event for sure.
7. Give it a Natural Touch
A hand-painted cake is a wonderful way to give it a personal touch and make the day about yourself. You can opt for anything, from a quote that's special to the bride-to-be to a pattern that's inspired by a favorite designer.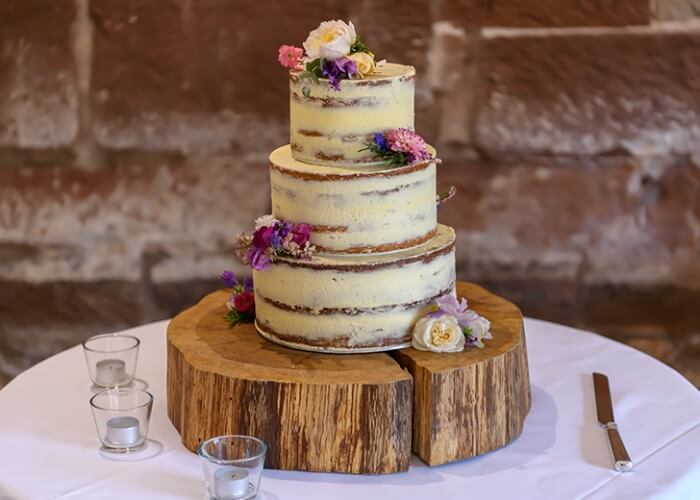 A hand-painted cake is always one good way of adding little notes to oneself. You can also have flowers and foliage as part of the cake.
8. Adorn With Paper Flowers
If you want to give your white cake an extra touch, then adorn it with a paper flower. The simple white cake can be given a touch of elegance by a layer of pale pink flowers and a sprinkling of leaves.
9. Use Truffles
Truffles are every chocolate lover's fantasy. Cake layered with ganache, mocha buttercream, and chocolate hazelnut truffles look not only stunning but also tastes amazing. Add dimension to the design with powdered sugar and let the flowers and leaves lend a burst of color.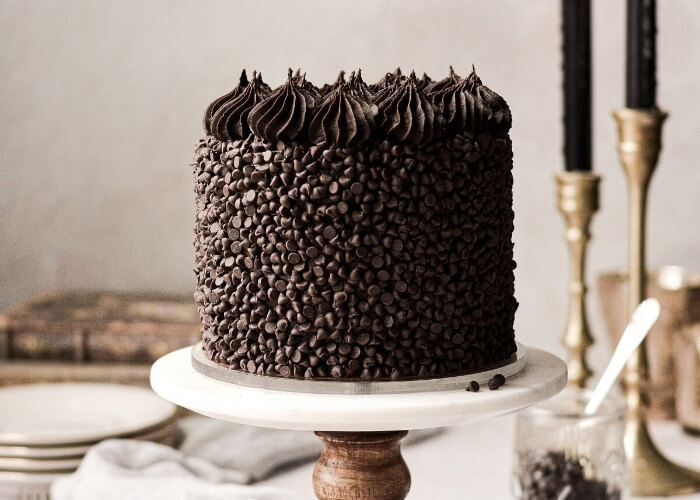 10. Match It With Your Dress
You can take cues for the bridal shower cake from the embellishments of your wedding dress. For that, it is crucial to have your bridal shower dress in advance.
11. Try adding Macarons
Macarons not only come in a wide range of flavors and colors, but they also look great and work well with any party's aesthetic.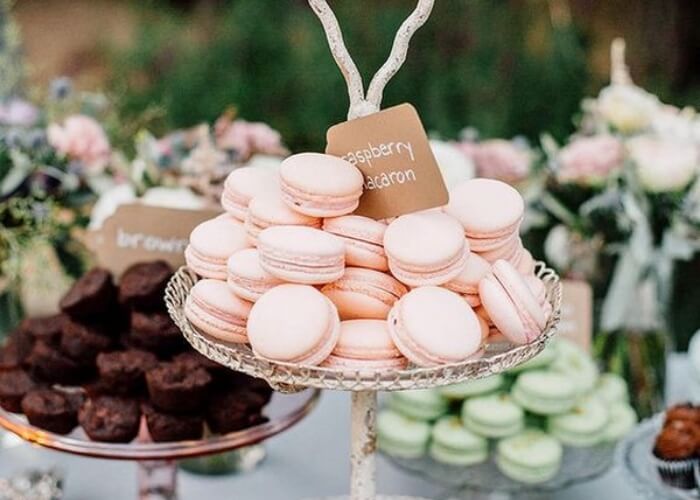 Also, they make for a stunning dessert centerpiece when stacked in a tower. Macarons packaged in customized boxes are an easy favor to send to your guests as they leave.
12. Be Creative
An already remarkable three-layer cake in a light pink color can be made even more eye-catching by the addition of a modern linear pattern in a vertical orientation.
Polka dots are an excellent alternative to embellishments for plain layers since they provide the same level of sophistication.
13. Embrace The Berries
Berries, in particular, can indeed be a sweet and beautiful touch to your bridal shower cake. You can have berries of any kind, such as blueberries and blackberries, on your bridal shower cake, along with other ingredients.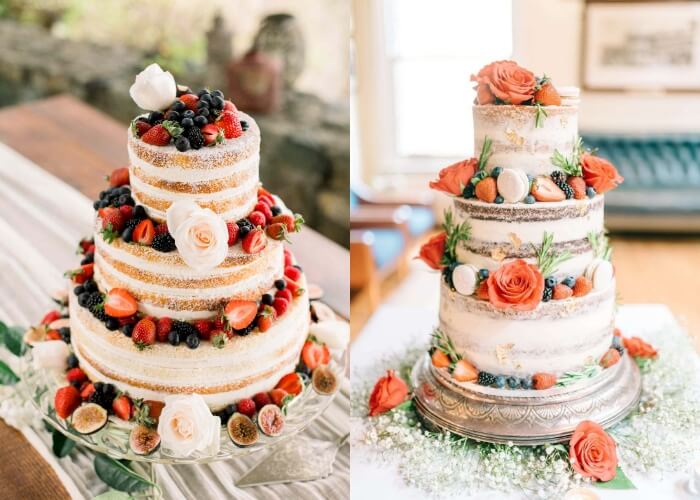 14. Take Cues from Wedding Location
Create a design element that gives an exciting sneak preview of the celebrations that will take place in the future by taking inspiration from your wedding site. You can add images of your wedding location that is going to be held in a tropical setting. Lush, verdant foliage and solitary, snow-white blossom will make your bridal shower cake look extraordinarily stunning.
15. Match it with the Layout of the Occasion
You may always choose bits and pieces from the venue's architecture to incorporate into your cake. No matter where the party is being hosted, you can always be creative.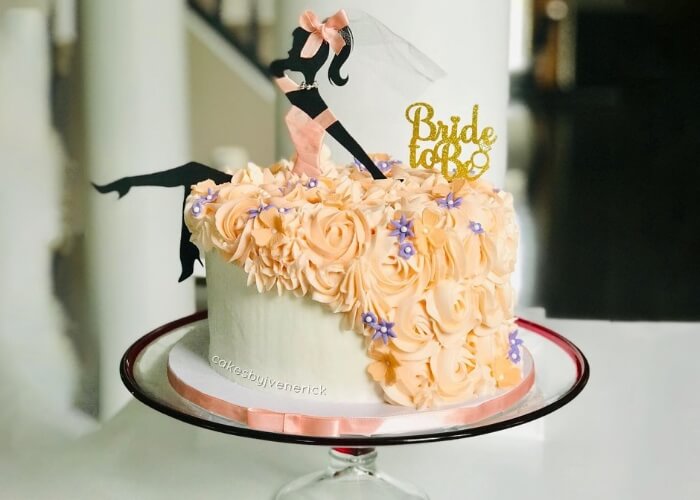 The cake can be decorated with silver leaf lace and colored with white and red food coloring to make your cake extra imaginative.
16. Make A Serving For Each Guest
When the guests come, place individual cakes at each of their respective place settings. This will guarantee that dessert is the main attraction during the get-together.
Desserts that are portioned for a single serving are not only more aesthetically beautiful, but they also make it much easier to accommodate the numerous dietary requirements that your attendants may have.
17. Bring The Vintage And Retro Back
You can get an adorable miniature cake presented on a lovely vintage green glass stand that has been lavishly embellished with an assortment of flowers to give the impression that it dates back to the 1800s. It will certainly make an impact on the guests.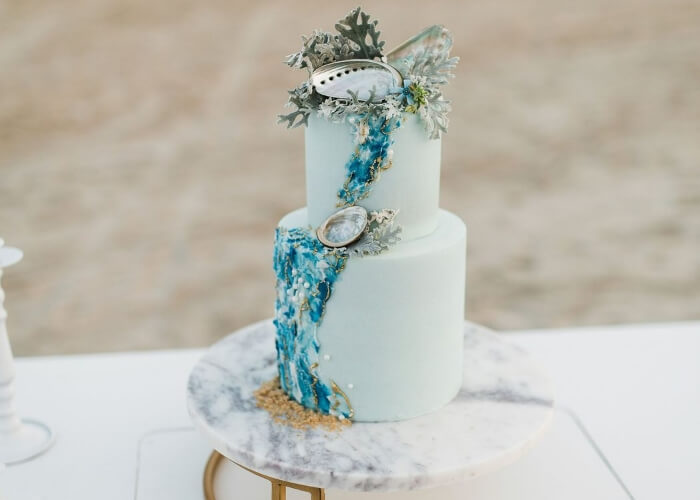 Besides, you can even have it color-coordinated with your guests. It may be difficult, but it will have its own aesthetic benefit. 
18. Top It With Strawberries
Do you intend to throw a shower sometime between the seasons of spring and summer?
If you want to give your cake an additional unique touch, you should consider adding some seasonal fruit to it. Strawberries being your best seasonal fruit, will make it look scrumptious. When they are placed with some basic yellow and white flowers, these strawberries will have a really nice appearance. Moreover, the end product will be truly enjoyable. 
19. Have Donuts and Cake; both
Are you having trouble choosing between a few enticing alternatives for your dessert?
There is a solution, so worry not! You can have a cake baked with doughnuts and a tier of lemon cake. You are free to apply this idea to anything you choose, from cupcakes to candies and anything in between.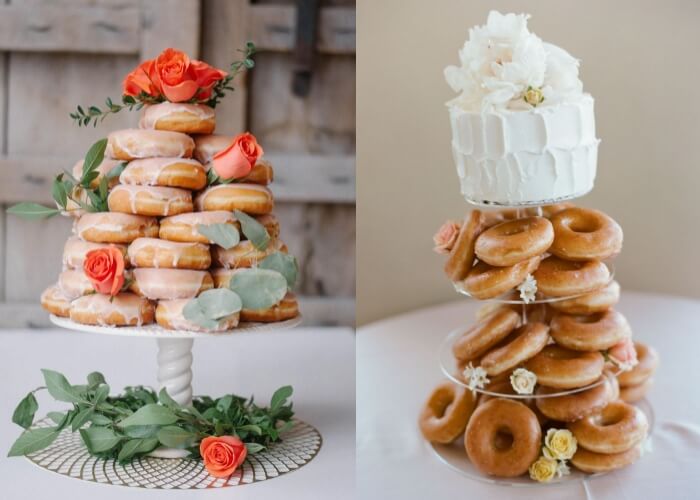 20. Fly High With Your Imaginations
Your fixation on pressed flowers is evidenced by the fact that you want a cake decorated with those in it. The combination of the brilliant blossoms and buds with the natural aspect can be contrasting yet beautiful for your bridal shower. 
Also See: What Size Wedding Cake Will I Need?
21. Champagne Cake and Icing  
Toasts with champagne are always a good idea. Families and your guests will love such cakes that have a consistency that is solid enough to maintain its shape when baked in a variety of pans. You can choose icing of your choices like buttercream or cream cheese.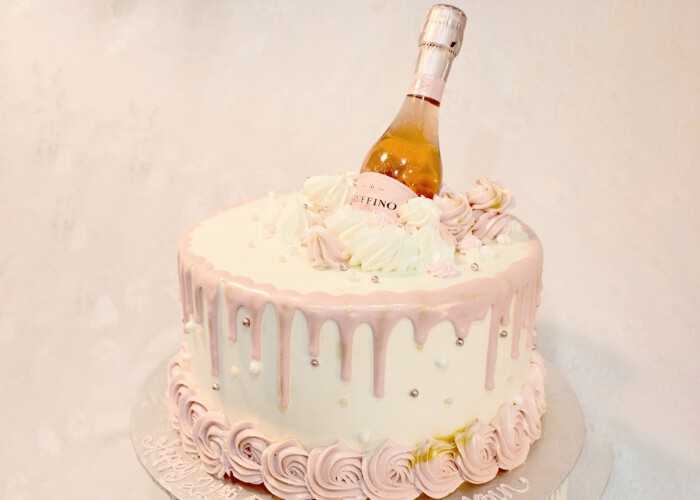 22. Go Minimalist
The conventional two-tiered cake can be given a contemporary and modernist appearance with the help of delicate blossoms. You can keep the entire design of the cake clean using a glass pedestal and a milky color scheme. You never know who in your guests' list will get inspired by your cake idea for their own bridal shower in the future.
23. Cupcakes Using Raspberry
The cupcakes can include a white cake base, a raspberry filling, and a white chocolate buttercream frosting, all of which come together to form a flavor profile that is quite enticing.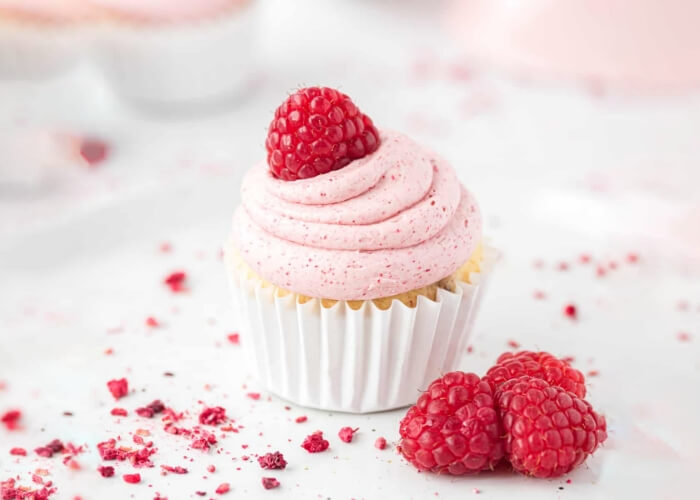 A dessert that has a slice of fresh raspberry placed on top of each individual serving. It is one that is visually appealing in addition to being delicious to the taste buds. Your guests will surely love the idea!
24. Mountain Cake
If you're on the hunt for a white cake recipe that can serve as a blank slate for all of your holiday adornments, your search can end here. In addition to muffins, this recipe would work great for cupcakes. This is a superb representation of the traditional white cake. It is crucial that you follow the baking directions thoroughly, as white cakes are famously challenging to create. Although if done rightly, it will guarantee a delicious and moist mountain cake. 
25. Go Vintage
There are a lot of things that you can consider taking from the past, and a 3 tier Cake is one among them. You must be aware of the typical multiple-tier cake, but you surely can add your twist to it.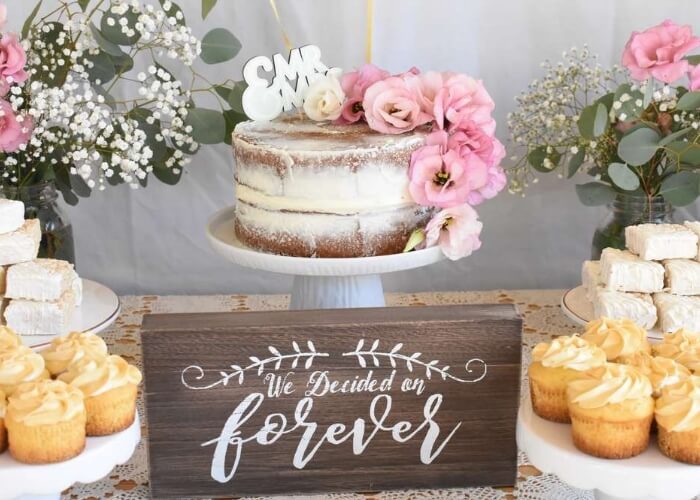 Also, there is a very popular saying that 'good things come in threes.' You cannot go wrong with a three-tiered bridal shower cake. You can have three different cakes so that your guests will have three different flavor options to choose from.
Putting it all together…
So, there you have it: the top 25 bridal shower cake ideas. We hope that our list of cakes will help you get some inspiration for your bridal shower cake.
The cake is a traditional element at many celebrations, including weddings and bridal showers. You can get as imaginative as possible to create a lovely bridal shower cake for your event. Besides the ideas mentioned above, you can also utilize your own creativity to bring the best bridal shower cake to life for your event.
And if you wish to buy a ready-made bridal shower cake, then don't miss to give some consideration to the colors and flavors of the cake you buy to make sure they perfectly match the event.
FAQs
Is a Bridal Shower Cake Important?
The cake is a common component of both weddings and bridal showers. However, because a bridal shower is not a wedding, you shouldn't feel the need to provide anything that is meant for your BIG DAY, such as a classic white dessert.
If you intend to partake in the tradition of cutting into a cake, put some thought into the hues and flavors you choose so that they complement the spirit of the occasion.
How Much Does A Bridal Shower Cake Cost?
Well, the cost of the bridal shower cake will vary significantly depending on the cake toppers, embellishments, etc., you will want to incorporate into your bridal shower cake. Prices for individual slices of couture cakes can easily reach $25 or even more.
Establishing a budget for your cake as soon as possible is vital to avoid experiencing a sudden shock. Doing so will also ensure that you and the pastry chef are on the same page.
Can We Opt For Customized Bridal Shower Cake?
The quickest answer to this is 'Yes.'
However, customizing a cake will significantly impact your prices. Of course, the more embellishments, the higher the prices. More often than not, your pastry chef will be able to provide you with myriads of cake options for your bridal shower.
You can ask your pastry chef to combine, adapt, or even create something entirely new from scratch for your bridal shower. Keep in mind that you can always change the flavor of the cake and combine it with a different filling. And if you don't see your favorite flavor, just ask. They will be able to provide you with what exactly you want.