First of all my heartiest congratulations to the Bride-to-be!
2023 had been the year of weddings for big shots… Yeah, many couples from the Industry got hitched in 2023. Indian weddings are pricey events no doubt about it, with exotic destinations, unusual designers, personalized details, and so on. 2023 can be called a year that set a road map for many couples who are planning to get hitched this year. And it is only going to get better and larger now.
No Indian wedding will go plain and if it is about a bride then the list will always be lengthier than the groom. Sometimes, it looks as if it is the right of the bride to do exclusive shopping for herself, and why not? After all it is the one and only event in a couple's life which never comes again and looks most beautiful in the birthright of any bride. Though, wedding attire is no more only a Bridal thing because grooms are equally participating in the race and trying to look their best at their weddings, unlike in olden times. But still, brides are good at winning this race… ☺ ☺
In Indian weddings, a little show is a mandate and there is no harm in it. Unlike old times, there are so many known and not so known designers available in the Market that there is no point looking simple in own marriage. These days' specific shopping stores are there where one can get everything related to weddings in one place. Now it has become easier for couples to shop from one place without getting tired in window shopping in several places during their preparation journey.
► Varieties for Brides!
If you have attended in any Indian wedding, then you already know that pomp, show and color are part of the clothing tradition, in an Indian Wedding. Every function in an Indian wedding is a great reason to show off their beautiful dresses on the very occasion. We already know how Indian weddings are full of ceremonies and events. A very valid reason for a bride to spend lavishly on her shopping. Indian bride outfits can be categorized in a wide range of styles from Velvet Lehnga to to Georgette style, Lehnga to Saree etc. Brides have too many options available to choose from, now brides can have too much to explore when it about her style. Now is not the old time when only banarasi saree was the option for a girl to wear in her wedding.
Brides can have an array of attires for all her wedding functions from engagement to reception!
You must have seen your parents pictures, your uncle and aunt's wedding images there in you will find many similarities and that is all of them must be wearing more or less same color combination. Also, the same kind of dress style either saree or at the most lehnga. Now it is not like that. Brides and the dress designers are doing everything to explore new colors and combination for giving bride a unique look in her wedding. Earlier it was kind of mandatory to wear red dress on wedding, but now it's not so. Now designers are coming up with variations, hence, there are various options available for the bride to choose from, for all the occasions from pre- wedding celebration to a reception party. There are motley of choices to make from very Classic style Lehnga to a Designer Gowns, Anarkali Dress to Designer Saree in amazing colors with a beautiful work on them.
In this article we are sharing Bride's Indian Wedding Attire for all the functions for 2023.
Lo and behold….…
► WEDDING ATTIRE FOR ENGAGEMENT FUNCTION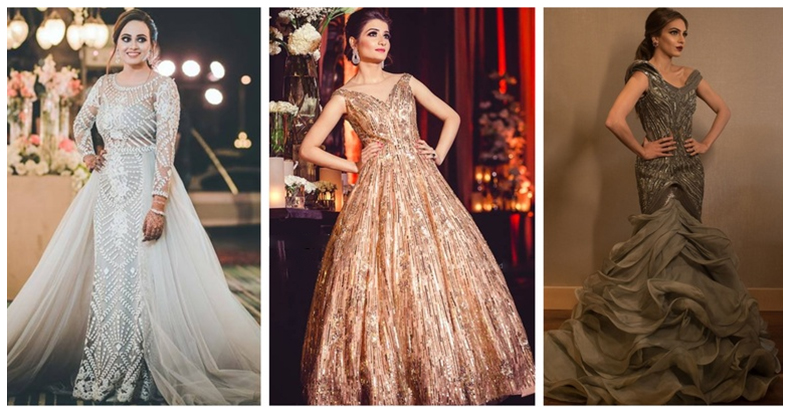 An engagement is first and one of the most important function of a girl's life. The day is the significance of the prospect of a happily married life ahead. On this day is usually a small ceremony takes place with a ring exchange. The girl definitely would want to dress in her best and thereby making an engagement dress important. The girls choose usually bold dresses for their engagements since this is the day she can show off her beauty and grace. Mostly dresses are floor length and decorated with beads, sequins, etc. For an engagement dress to look stunning, it is important that the color combination should go with girl effectively. Mostly girls prefer pastel shades, but some go with darker tones as well especially if the materials is like satin and velvet. Choice of material very much depends on the weather condition and season. Like satin, silk, and velvet will suit if the engagement is in winters, whereas in summers one can choose lace, chiffon, velvet, etc. Neck lines and sleeve lengths are the other factors that one can choose according to the season.
The fashion industry today is brimming with tonnes of designs and dresses. Even the traditional salwar is now stitched to make it look perfect on your engagement day. Then there are ethnic sarees with shades of vibrant and bold colors, not just to be worn the traditional way, but practically in all the possible ways. Another option for the engagement is lehengas stitched or ready-made with some light embroidery for the grand appearance. Then there are designer dresses, gowns, anarkali, suit, ghagra-choli, traditional sarees, pageant prom dress, etc. All thanks to the creativity of the designers, the engagement day has becomes a stage for flaunting their efforts and style. The best part is that you can now move around and pull of the dresses of your choice, whilst making sure they are probably the best fits for the event. These fashion experts, have made endless options available for you all. Their dresses and your happiness make a perfect combination making your day perfect day to remember forever. While you exchange rings with each other and give your consent to each other for the lifetime, in addition your day gets complete with some apt fashion stories to say forever.
► WEDDING ATTIRE FOR COCKTAIL PARTY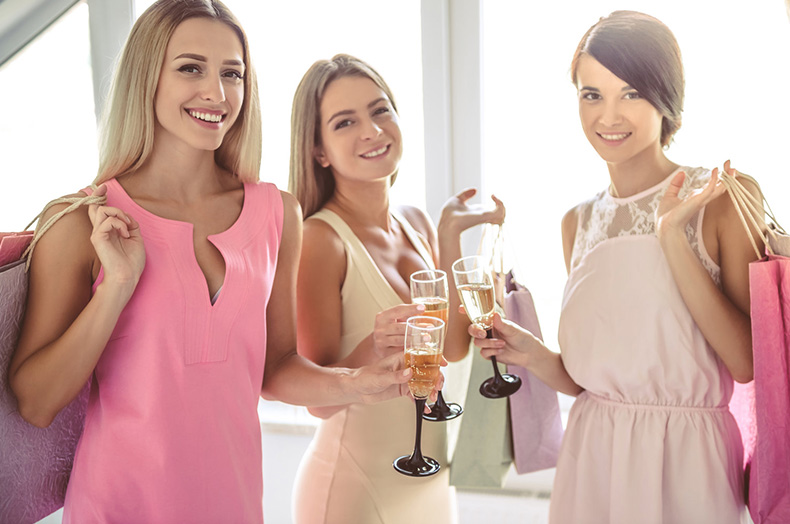 Cocktail parties are common these days and kind of a must in most of the north Indian weddings, especially if it is a Punjabi wedding. Though cocktail party happens for family members but still girls have a reason to look different and beautiful. In a cocktail party bride can wear casuals like a simple suit or anarkali dress with simple work on it.
More often than not a cocktail party will be clubbed with some other function mostly with ladies sangeet but it is celebrated separately than girl can wear anything simple and sober.
► WEDDING ATTIRE FOR HALDI FUNCTION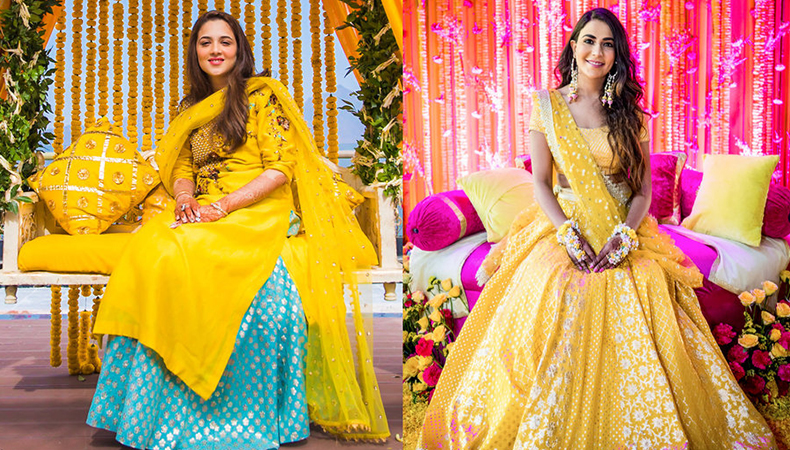 Haldi is celebrated almost in all the parts of the country and it is considered one of the auspicious and the most important celebration in an Indian wedding. Mostly, it takes place in the morning, on the day of wedding. In Haldi celebration turmeric paste with few other natural ingredients is applied to bride and groom. Not only haldi celebration is an auspicious ceremony, but also the application of haldi is said to improve the complexion and that is why Haldi function is celebrated in all the Indian weddings.
For Haldi ceremony brides have myriads of options unlike olden days when brides used to wear old suit so that haldi color do not ruin the dress, but now it is not the case. Girls these days are ready to risk their new dress for their haldi to get their best pictures even in Haldi ceremony as well. Brides can wear light colored or any shade of white simple salwar suit. These simple yet beautiful salwar suit look really amazing on brides with yellow color dupatta. Brides can wear anything from simple salwar suit to Patiala salwar or maybe long kurti with palazzo can also be worn along with beautiful flower jewelry to add to the overall beauty of the bride and to get the perfect pictures of the event.
► WEDDING ATTIRES FOR MEHNDI & SANGEET FUNCTION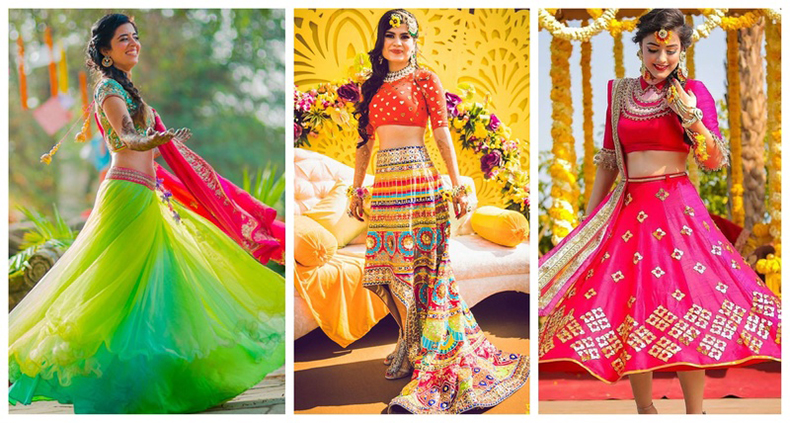 Mehndi and Sangeet is again very important function in an Indian wedding. Gone are the days when there has to happen simple sangeet and mehndi celebrations wherein bride used to wear old clothes of hers just to protect her attire from getting strained with mehndi mark. Now it is not so, girls are smart enough to get themselves a beautiful dress and make-up for the event. Mehndi is considered auspicious and very important part of Indian and most Asian weddings. Brides to-be enjoy this day a lot. Hardly any girl would be there who would not like to apply mehndi otherwise every girl likes mehndi a lot. Not only bride, but also the other ladies of family looks excited for applying mehndi.
It is said that mehndi on bride's hand helps to improve bride and grooms relations in initial days. Also it is said that if the bride gets darker color of her mehndi than her husband and mother-in-law will love her very much. Well, go only know how true it is, but still mehndi looks wonderful. These days mehndi and sangeet functions can be clubbed together to make it more fun and a grand event. Brides on this day can wear very light embroided lehnga, or a simple yet beautiful anarkali can also do wonders. If the bride like more of western touches in her style than going for gown is another great option now. This way she will have variations in her wedding to flaunt.
Also, if it is a destination wedding in some far land away from your hometown than both the bride and groom's mehndi can be planned together. In case of destination wedding bride and groom can wear some contrast colors or maybe matching can be done, bride wearing a light embroidered lehnga in shades of pink or pastels whereas groom in kurta payjama with matching details or contrasting shade. Shades of Greens, Pinks, Yellow, Orange, and White can go very well in occasions like mehndi and sangeet. Mostly light shades are preferred on these occasions and bride with flower jewelry will be a superb add to her attire.
► WEDDING ATTIRE FOR THE MAIN EVENT I.E, YOUR WEDDING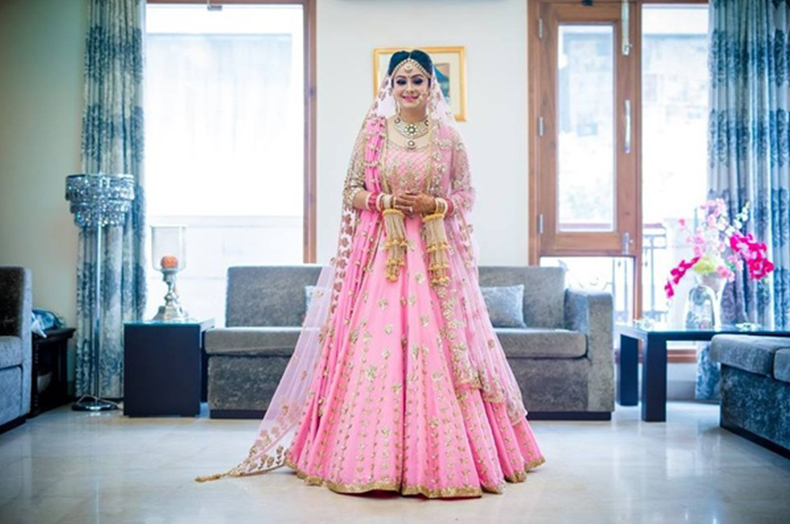 Wedding day is the most important day of a couple's life. The day is significance of the two people's and their families union in the presence of close family and friends. This day is usually marked with rituals, food, dance, fun, love, laughter, and much more. This the day when the two gets united and become partners forever. Every bride wants to be dressed in her best and that is why a wedding attire hold an important place in any bride's life. Brides do lot of surfing and window shopping for getting that best dress for their wedding. The dresses for wedding day are usually bold since this is the day she wants to show off her beauty and grace. Most of the wedding dresses are floor length and highly decorated with beads, sequins, etc. For a wedding dress to look stunning, it should go very well with the liking of the bride. On wedding day mostly brides prefer to wear darker shades of red and maroon.
However, these days designers are coming with variations in wedding attires, they are successful in giving brides altogether a different yet beautiful looks. Like Saina Nehwal in her wedding attire looked so stunning and she wore light colors all in all, same with Neha Dhupia in her wedding wore light color with pink which went so well with her. So, designers now are pretty inventive and outrageous to come with new and fresh for brides to-be unlike olden days. Again it is important to choose material carefully, say if you are getting married in winters then surely material such as silk, satin, and velvet will be better. However, if your wedding is in summers you will surely not want to have runny make-up in hot season choose material like lace, chiffon, etc. Neck lines and sleeve lengths are also the other factors which should be chosen as per the season, while you are choosing your wedding attire.
Notwithstanding, wedding day is the main day of the Indian wedding, while choosing wedding attire bride should make sure that the wedding attire is absolutely different from the ones which she wore in all the pre-wedding functions. Mostly, weddings take place at night so the bride can go with the bright colored Lehngas with heavy embroidery work on it. Also, sarees are in trend once again, one can choose a traditional saree for her wedding, or half saree, saree looks great in almost every occasion. Saree is one of the most graceful yet beautiful attires. Try out Sabyasachi's wedding lehnga or saree you will be amazed. It is every girl's dream to wear Sabyasachi's lehnga on her wedding.
The fashion industry has too much to offer you, once you start to find for your wedding attire. Stores are brimming with tonnes of models and designs. The ethnic sarees worn in traditional way, the lehenga elegantly stitched and designed for your body type. All thanks to to the creativity of the designers!! Who help you well to look your best at your wedding day! You have multiple options to look amazingly beautiful in your wedding. Also, bride can match her attire with the groom… How you ask…
► Matching Color Hues for the Brides Lehnga or Saree and Grooms Sherwani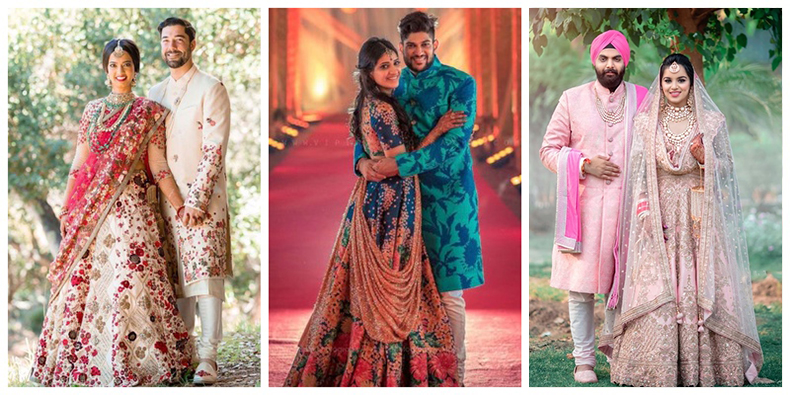 Well, already when two are on the same path of life, why not they should also have same color combination of bride and groom's attire. That will befit best to their life's big event. Even their wedding pictures will not be able to talk about the connection, bond and synchronization which they share. Just like Viraat and Anushka did in their wedding, you must have definitely seen their wedding images. Groom can wear something which is of matching colors with the bridal attire, like Viraat did in his wedding that added elegance to their overall personalities.
► Going Contrast- Red for groom and Golden for Bride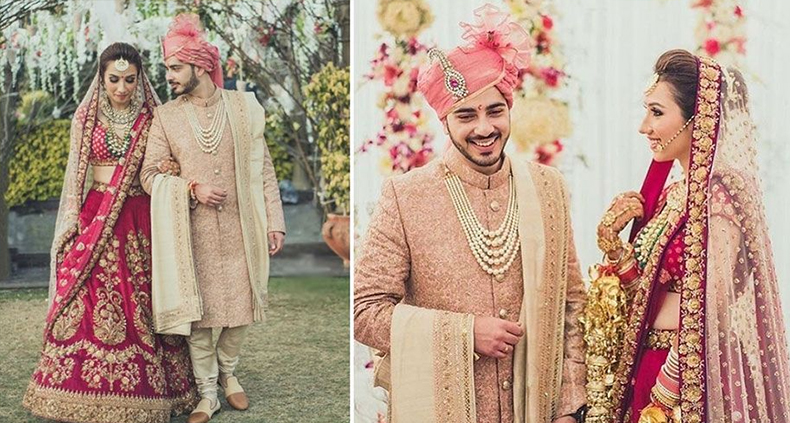 Till date we all imagine a bride in red and the groom in golden and it is very natural for all of us. As, we have seen this trend for years, but now is the time to go opposite of what we have been witnessing in all the weddings we have attended till date. Don't hesitate to experiment something new in your wedding as new brings freshness.
This time make your Groom wear red colored kurta payjama with little work on it or maybe a red colored shervani, whereas you come in golden lehnga an absolutely different combination but beautiful for the viewers and even your wedding photographs will tell a contrasting story which you will cherish all your life. Make sure that the color you both choose are harmonizing and exactly in opposite contrast, should look elegant not bizarre. Try out!!
► Going With Same Color But Varied Shade Of Your Bride's Attire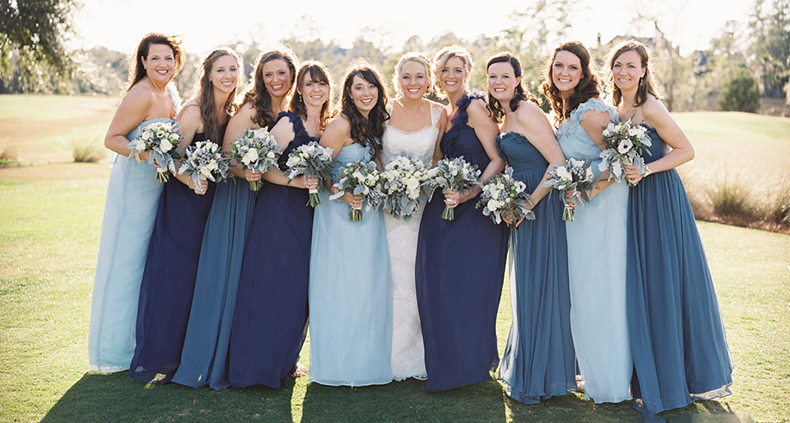 Any color has varied shade of it, and we all know that, so, as per this theory bride and groom can decide to wear something in such a combination. Like Deepika Padukone and Ranveer Singh boldly found flaunting in their wedding. Deepika was wearing mint green saree whereas Ranvir wore emerald green shervani on their wedding day, and believe you me both of them were look perfect together "made for each other" couple. You can also try to adopt such style statement on your wedding by going for the same colors but with different shade of the color. Unique and beautiful look combination all in all.
► Elements Which Can Match Between Bride And Groom's Attires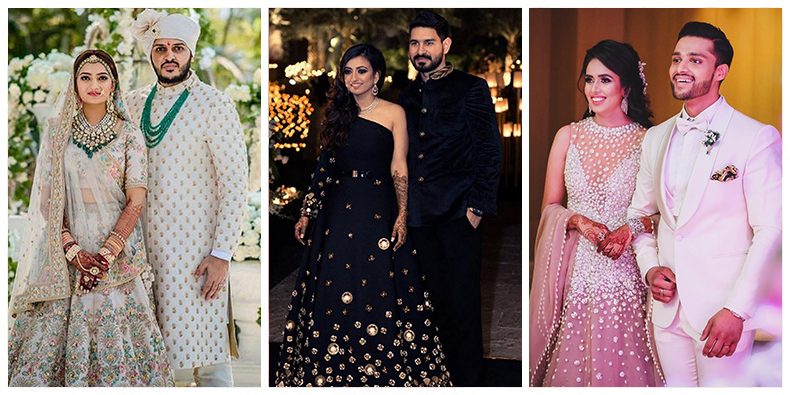 If by any chance you have seen Neha Dhupia's and Angad Bedi's bridal images, you will notice the beautiful matching elements in those pictures. Where Angad was wearing pink turban and Neha is wearing pink dupatta and overall it was enhancing their personalities and bringing uniqueness in color coordination. Same ways you can match your elements or dupatta with the groom's matching element on it like kalgi, Dupatta, Turban, Safa. Both of you with the help of your dress designer can choose any element which perfectly goes with your attire to make it look complete. And the easiest and the best way to select your matching elements or Dupatta, is to match with your partner's dress. This work really well if the couple wants to have a superb color combination and it is very popular style for that matter. Let the public see the perfect coordination between you too!!
► How About Going White This Season?
White is soothing color and if your wedding is scheduled for this summer than you know nothing can be cooler than going for white on your wedding. Though, white was not considered a color for wedding attires in our tradition. But now people are going out of their way to look their best at their weddings. Hence you have very valid reason to go for white. Being a soothing color it will sooth the overall environment too. White stands for peace and believe you me it is very cool and calm color. It is the color of serenity and your wedding is no less than any serene reason to go for white to spread peace and the happiness.
In your summer wedding white will look superb if you doubt then let me remind you of our chocolate charm, cute Shahid Kapoor and his better half Mira wearing white on their wedding day, both of them were captivating in their respective wedding attires. If you're planning to get hitched this summer try out white, you will surely fall in love with your pictures. Everybody present at the wedding will be stunned to see simple yet smart groom stepping in. ☺ ☺ Try out!!
► Go Traditional!
If by any chance you have witnessed your grandma's wedding album than you might have surely seen her in traditional banarasi saree which actually looked stunning. Now, if you want you can also go traditional on your wedding this season. Saree is a classic and ethnic wear which still looks beautiful no matter what the occasion is. And, your wedding is itself a once in a lifetime event, undoubtedly. Just imagine groom in Chipakan Style or Mughal Style Sherwanis and you in a traditional attire just blending well with the occasion. Indian Tradition is one of the unique tradition in the history. Imagine you two in traditional attire entering the venue in that classy way, people will be awestruck upon seeing you two in your traditional wedding attire, even soon to be married girls will want to wear same kind of dress on their wedding too. Be Classic, look classic!!
► Other Styles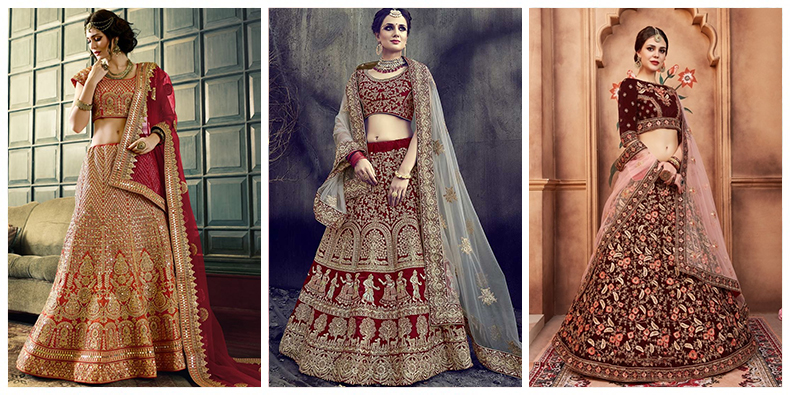 Then there are other attires too such as half lehenga with heavy embroidery, which you can consider for you wedding. Age old sharara can also be considered for your wedding, even the heavy work salwar suit is also one options to go with. Just to give your wedding a different dimension. Also, salwar suit can be considered if your wedding is a small intimate event with just few people present. These wears look classic-trendy look. Also, you can try out the different color hues to match it with the theme of the wedding. Even the traditional wears from Rajasthan are too good to go with matching with the groom's Rajasthani attire. The best way of giving your wedding a traditional touch with the modern theme.
Undoubtedly, there are several options and choices available for the brides these days to look their best at their wedding. However, you can choose the one which you feel yourself comfortable with. Also, which brings out your overall personality. While choosing for your wedding attire make sure that you check the fabric, fitting and details nicely as these are very important aspects to consider. You have to make sure that you not only look beautiful in particular attire but also your attire is comfortable enough for you, because you will wear the attire for long hours maybe more than 12 hours on your wedding day. SO see comfort as well while choosing your wedding attire. It is important!
► WEDDING ATTIRE FOR THE RECEPTION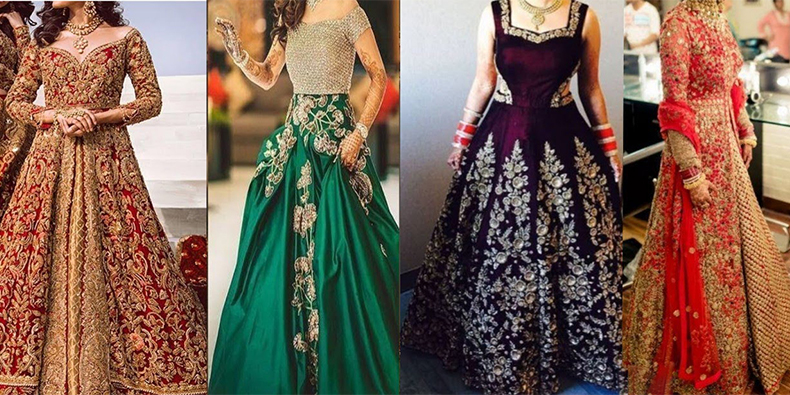 Reception, it is a ceremony with which you conclude the whole of your wedding. Well, at reception you can wear anything from a designer saree to a designer gown. Mostly lehngas are not preferred for the reception parties. Brides either choose some designer dress, gown, pageant prom dress, designer saree etc. Receptions mostly are held at night, so it is mostly bold and dark tone, while buying your reception attire make sure you consider the theme and other details of the party, it will add to the overall look of yours.
Also, while shopping for your reception attire you can go either with matching colors with the groom's outfit or something in contrast. These days' grooms prefer to wear formal suits in deep solids, so, you can also wear a gown that can perfectly match with your partner's attire. Or else two of you can go in contrast with the color combination, if you haven't tried contrast at your wedding. Then your reception is the best occasion to look contrasting with each other. People present at the reception will not be able to off their eyes from you…
Well, you have got a nice idea about your wedding attire by now. Here are few tips which you can consider while you go shopping for your wedding attire.
Select your wedding attire by yourself: The first and the foremost of all, choose your dress by yourself. Firstly, selecting by yourself is good because then you can see all the aspects of a wedding dress such as color, work, design, fitting and most importantly the comfort upon wearing it. Others can be judge, but no one can judge your comfort at all. Believe it, no matter how confused you get upon seeing so many options but you can only judge your attire are in the best way. So, howsoever busy you are, go choose your own wedding attire. Don't depend on others for this very important and once in a lifetime shopping of your life.
Know Your Type: What's do you think is your type? What would you prefer the most Saree or the lehenga? Know that first. As it is very important in the first place to know what do you like to wear on your wedding? It hardly matters what is in trend, as long as you are not comfortable with the going trend. Once you know your type, make sure to head straight to the best designer in town and tell them your choice of design, your details of choice or allow them to take the free hand in designing for you. If you have a theme, choose your dress accordingly.
Give Yourself Enough Time: Don't rush! This one is going to take lot of time from your schedule. You may sometimes find yourself stuck in some color but not necessarily that will look good on you too. DO lot of online research, pinterest few samples or your favorite dresses. Make a separate folder and keep adding designs and elements you like while researching. So that when you go to the designer you have enough to talk to him and tell him about your choice.
Design, Color and Fabric: Give importance to the color part, make sure that the one you pick perfectly matches your skin tone. These days trending pastel colors are an option to choose from, apart from the traditional maroon or red for your wedding. You can also custom design your outfit with colors of your choice. If you like bold colors than you know market has always been brimming with such color tones. Go girl, get it! Next, give importance to the fabric as well. As I said if your wedding is planned for summers abstain from velvet or anything that is too thick or heavy. No doubt, velvet looks stunning but you know already, how cruel summers become sometimes!! Choose wisely. ☺
Well, these are the four important rules you need to consider while you go for shopping your wedding attire. Do ponder upon the designs and price while also making sure you buy it from the right place.
To conclude……
Your wedding is a great event of your life and no wonders you definitely want to look your best. And you should!! Go with the best outfit which you are comfortable with and look awesome too.
Choose your wedding attire wisely, besides seeing the design and style don't miss to see the other important aspects of it such as fabric, fitting, details and elements as these are all when combined get you the best look of yours on your special day.
Also, make sure that you wear different designs, colors and styles in all the functions, avoid repetition!! Also, while choosing the color of your attire be respectful of religious affiliations, most often black and dark blues are avoided in Indian culture especially in the main wedding. Reception you can choose blues. Blues are totally fine in reception parties, but for wedding and other pre-wedding celebrations make sure that you go by Indian traditions. There is a lot you can do to look beautiful and stylish on your wedding. Look Beautiful!!
Happy Wedding & Keep Styling….. ☺ ☺