If you think you have less time to organize all the functions at your wedding and if you are planning to chuck any of them (maybe your mehndi) considering it less important, then here is a reason why should you celebrate mehndi and its significance!
Keep Reading…… ☺ ☺
The moment we talk about Indian weddings, what comes in your head? I believe it will be ceremonies, fun, delicacies, colorful decorations, unique attires and so on and so forth and that is absolutely true for Indian weddings. Indian weddings are no less than an event, Indian weddings are mostly known for their rituals and celebrations. Notwithstanding, the beauty of Indian weddings lies in the beautiful traditions that are associated with those special celebrations. You can't imagine an Indian weddings sans traditions, rituals, and celebrations these are A MUST of a successful Indian weddings. Furthermore, Indian weddings are no less than a week task, ceremonies begin with pre-wedding celebrations and continue for a week, till the reception.
Mehndi, commonly known as Henna in some parts of the nation and world-wide too. It comes in powder state which is green in color and its paste is made by mixing several other ingredients like eucalyptus oil, clove oil and a few drops of lemon and then it is applied on hands and feet of girls, and women. However, Mehndi has its own charm and it is used by Indian and neighboring countries' women on some special occasions like karwa chauth, Diwali, hariyali teej and so on and so forth.
Moreover, Mehndi plays an important role in an Indian wedding be it Hindu wedding or Muslim wedding. To be honest, festivities in an Indian marriage starts with the mehendi ceremony. Mehndi ceremony is considered to be one of the most important pre-wedding ceremonies filled with fun, colors, enjoyment, dance and what not. On Mehndi night from the bride-to-be, to all the females present at the wedding gather together to adorn their hands with beautiful, and abstract henna design patterns. Even some families conjoin Mehndi and Sangeet ceremony together to make it more fun and enchanting ceremony.
Background of Mehndi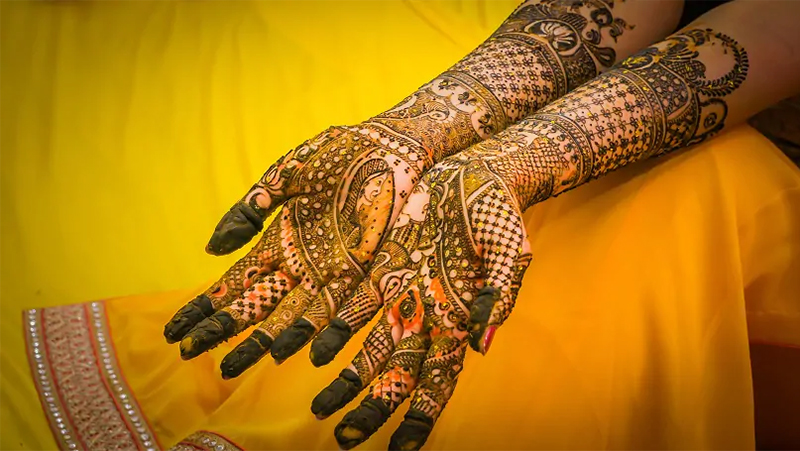 We all love Mehndi art a lot, but do we really know that mehendi is the oldest form of body art, which is into existence since time immemorial. The word 'mehendi' is derived from a Sanskrit word, 'mendhika,' which simply means henna plant. Mehendi is in use even prior to the Vedic Age. Traces of henna had been be found in mummification. Moreover, history has evidence that the beautiful princess, Cleopatra used to use henna to paint her body. Isn't it fantastic? Mehndi has its roots deep down in the history… ☺ ☺
Earlier only few patterns and designs were used, since, times have changed and a lot of new inclusions have been made in Mehndi art. There are variations in designs, girls and women can choose any design to go ahead with. There are unlimited mehndi designs available now from Arabic Mehndi Designs to Asian Mehndi Designs, Bridal Mehndi Designs to Designer Mehndi for Wedding, Designer Mehndi for Palms & Nape to Diwali Mehndi Designs, Eid Mehndi Designs to Full Hand Mehndi Designs, Half Hand Mehndi Designs to Karvachauth Mehndi Designs, Mehndi Designs for Foot to Pakistani Mehndi Designs and so on and so forth. Like this there are myriads of designs available to choose from. And that's the benefit of this era.
In Indian weddings the significance of the mehndi ceremony has grown in status. Gone are the ways when mehndi was celebrated in the presence of few attendees of family people. Now Mehndi is celebrated with huge pomp and bang. Couples now want to celebrate every occasion with full zeal and enthusiasm and they leave no stone unturned to do so. DJs, music, dhols and what not are arranged for celebrating the event. Even brides go for special attires unlike old days when brides used to wear old clothes to prevent them from mehndi stains. Traditionally intricate designs with the groom's name were applied but today brides have a lot of options available to experiment from Arabic designs to Indo-Arabic designs that too mixed with shimmer pastes. Also, these days semi-precious stones are embedded in the mehndi design. Still, the traditional way of writing groom's name on bride's mehndi is prevailing because in some areas or cultures, during the post-wedding celebrations groom is made to search for his name in bride's mehndi design, just for making the environment light and playful for the new bride at new home.
Mehndi as Tradition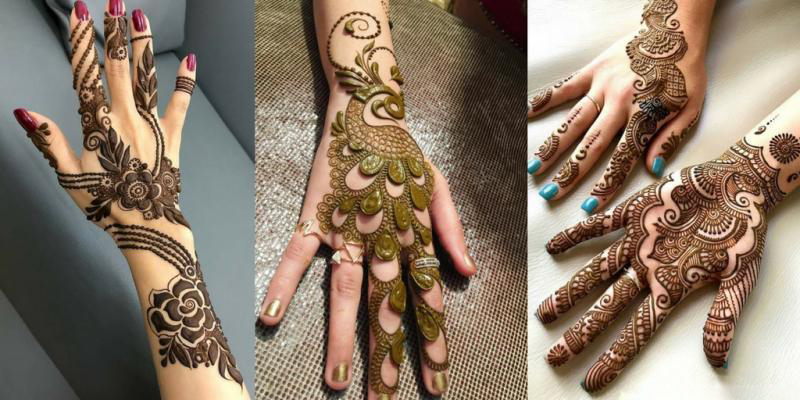 Different races have different traditions. And India is the nation of diversity, one can witness sundry of traditions in India.
Among many traditions seen in Indian weddings, one of the most important traditions is the mehndi ceremony. Mehndi ceremony is the day/night function in which mehndi is applied on the hands and feet of the bride and other women present in the wedding. This is a pre-wedding celebration, quite often the festivities of wedding begins with mehndi ceremony itself.
In certain traditions, applying mehndi is even compulsory for the grooms, the design which will be used on groom's hand will be subtle and only a bit, just a token design of mehndi will be applied. Whereas, the bridal mehndi design will be a very elaborate pattern done on her hands and feet, half of bride's hand and feet are covered with beautiful mehndi art. Applying mehndi on bride's and groom's hand is considered 'Shagun' in Indian systems.
Significance of Mehndi Application in an Indian Wedding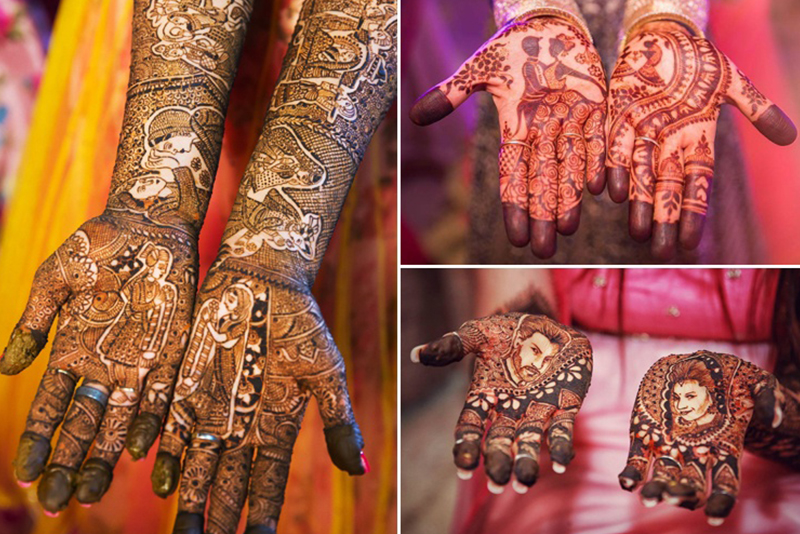 Application of mehendi on the hands and feet of the bride and the groom before the wedding is one of the oldest traditions in Indian wedding system. The ceremony involves an elaborate application of mehendi designs or patterns on the bride's hands and feet. It is believed that applying mehndi is one of the sringar in the solah sringars of a newbie or bride to-be. So far groom is concerned, only a tinch or a mere token of mehndi is applied as the mark of good omen.
This tradition of mehndi application is not just famous in India, but also it is followed in many neighboring countries such as Pakistan, Bangladesh and Nepal. Mehendi is not just popular in Hindus, in fact, it is popular among Muslims too. As per the Islamic literature, Prophet Muhammad used to apply mehendi for dying his beard. Also, he administered its uses to those who used to be unwell back then.
It is believed that Mehendi represents the holy bond of matrimony and is therefore, it is considered a shagun (sign of good fortune). It also signifies the love, compassion, and affection between the couple and their families.
Furthermore, the most important reason besides bestowing beautiful color to the hands is, mehndi is known for its powerful medicinal properties. Weddings are stressful events. More often than not, the stress of the wedding can even cause headaches and fevers. No wonder why brides and grooms start to feel anxious and nervous it is because as the wedding day approaches, the excitement combined with nervous anticipation takes its toll on the bride and groom. This is one such situation where application of mehndi helps to prevent that level of stress for mehndi leaves cool effect on the body and keeps the nerves calm. And that's the reason mehndi is applied on the hands and feet.
Also, mehndi is an antiseptic agent, it provides couples the protection from viral diseases. Such diseases are totally unexpected and undesirable, can occur just before the wedding due to over stress and maybe because of other reasons. Mehndi being a medicinal herb works as a strong shield against those viral dis-eases.
Mehndi has healing properties too, in case of any cuts, burns or scratches of minor nature, which the couple might sustain during the course of their wedding because of so many rituals and customs, mehndi can heal all those easily.
Last but not the least, mehndi improves blood circulation in the body and also enhances general health.
It is said that the initially practice of applying mehndi started in ancient times, in order to protect the couple from various illnesses and stress and keep them healthy.
Here are some popular beliefs associated with this tradition:
In India it is believed that the darker the color of the mehndi on a bride's hand the deeper the love will be between the would-be-couple.
Also, some says the more dark the color of the mehndi is on the hand of bride, the more understanding and love will be there between the bride and her mother-in-law.
Some says the longer and the darker the mehendi retains its color, the more auspicious it is considered for the newly weds.
Mehendi is also considered a symbolic representation of fertility in brides.
Most importantly, mehendi is known for its medicinal properties world-wide. Its leaves are good for the growth of nails. Also, mehndi has a cooling effect that helps in soothing stress, headaches and fever.
Chances are, mehendi helps bride and groom relieve all their wedding stress. Also, it provide them protection from viral diseases before the wedding.
However, there is no proof for how authentic these beliefs are, still, these beliefs make the mehndi ceremony a much anticipated and charming tradition.
The Mehndi Ceremony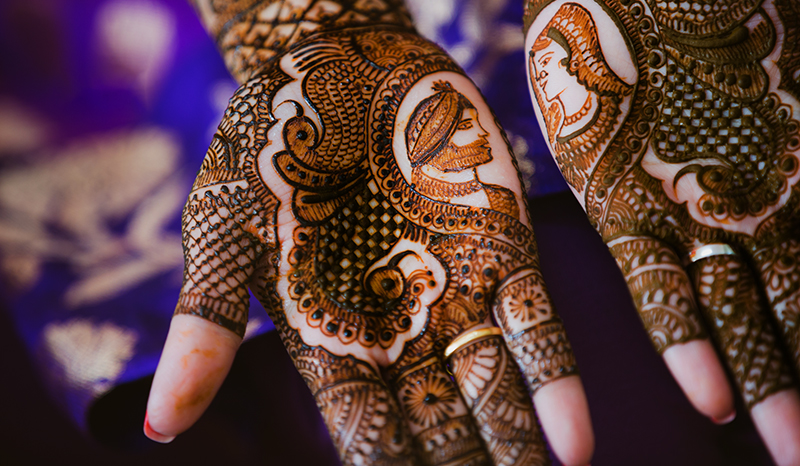 Mehendi ceremony, name says it all is a colorful, plentiful, enchanting, and full of fun, music and dance celebration. Different families in different cultures have different customs and they all celebrate it their own ways and customs, but all in all the motive is always one, that's to have fun unlimited! Most often, the celebration takes place at night, but few families do celebrate it in the afternoon too, mehndi ceremony is one of the pre-wedding ceremonies, mostly held a day before the wedding. It is one of the most important occasions for both the families of bride and groom, a very much valid reason to have loads of fun combined with DJ, music, dance and delicacies.
Mehndi not only leaves beautiful rich color, but also leaves a beautiful smell, which remains for days, and helps boost the romance between the couple in the initial days of wedding.
Mehndi ceremony is these days celebrated in a grand way, huge function is organized to celebrate the occasion sometimes clubbed with sangeet night. Traditional dhol is played, DJ's are arranged, music and feast are also imperative now along with the dance performances of attendees. If the wedding is a destination wedding than the mehndi is also celebrated together by Bride and groom like Anushka-Virat, Deepika-Ranveer did at their weddings.
To pan out…
Mehndi not only lends beautiful rich colors but also adds to the festivities of the wedding. The celebration starts with the Bang with mehndi itself. A celebration full of relatives, friends music, laughter, food, fun, and dance performances.
Enjoy Your Mehndi……. ☺ ☺