Your wedding is already full of so many tasks, but you have a significant thing to do even after your wedding – choosing photos for your wedding album. Choosing photos for your wedding album may seem overwhelming. But if you follow the right approach, you may not feel that way. Here we share steps to choose photos for the wedding album. Trust, following these steps, will help you have a fantastic wedding album in the end.
Let's get started……
1. An album that tells the story of the 'BIGGEST' day of your life
It is important to select those pictures that help you tell your wedding day's story subtly. This means your album will be a right blend of photographs covering all the aspects of your wedding, such as getting ready images, portraits, family, wedding parties, group shots, first dance, etc. All your pictures should be in a way that tells the perfect story of your wedding day.
2. Avoid cluttering your album
You may want to have too many pictures of your wedding on your album, but that would not serve the purpose. The purpose here is to have a perfect album that tells your story in a balanced and subtle way. Having too many pictures will simply make it look cluttered, which is not a great idea.
3. Choose the best ones
There will be thousands of pictures of your wedding, but not all will be perfect to house in the album. So, the rule of thumb to have the best wedding album is – leave all blurred, duplicate, and not so great images. This will help you have fewer pictures to choose from. It will save both your time and effort.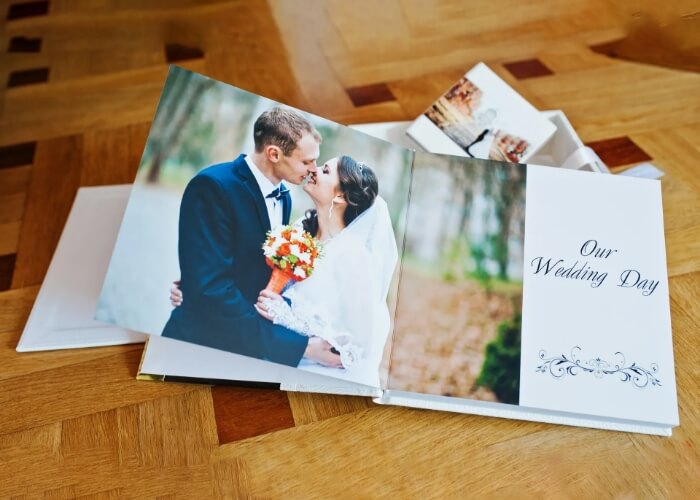 Related: In This Digital Era, Is It Still a Necessity To Print Wedding Albums?
4. Don't be in a hurry
This is very important. Of course, you will have too many other things to take care of, but this is also important. Meet your photographer when you have plenty of time as this process will take time, and yes, a lot of patience.
5. Do not delay the procedure
Some couples keep delaying choosing images for their wedding album. This way, they only pile up work for themselves. Choosing your photographs for the wedding album should not be delayed for a longer time. Gradually you start losing interest. Your wedding album is the keepsake of your wedding; delaying it is not wise. It would help if you got this done immediately after you come back from your honeymoon. Of course, your family and friends would want to see your wedding pictures.
6. Make it a unique blend
Wedding photography has evolved immensely over the past few decades. Gone are the days when almost all the images in the Wedding albums consisted only standard shots. Today, it is more of a story. It should flow naturally. And the best way to do so is including shots that are candid or less posed.
7. Focus on MOST IMPORTANT
While choosing the photos, you may think that you 'should have a picture of XYZ in there,' but that's not needed. You should focus on the MOST IMPORTANT ones, the ones that you love. Your wedding album is about your wedding, and it is for you. You don't have to please everybody else. Choose the ones that you actually adore. You should not create your album under any influence. Having an image somebody who you don't like doesn't make any sense. You are going to look at your album again and again. Your album should remind you of all the best things about your wedding. So, make it worth it!
8. Focus on QUALITY, not quantity
You don't need to have all of the pictures clicked housed in your album. Instead, you should focus on quality. Have the ones that you love the most. Having too many images will make your album look bulky and mundane.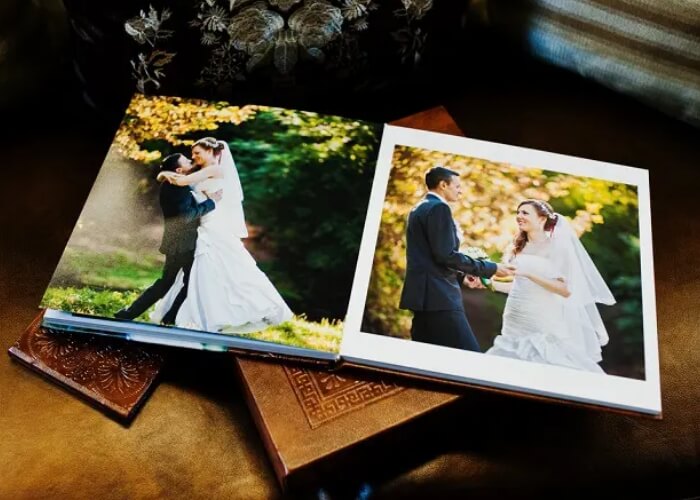 9. Add extra spreads for additional images (if needed)
Adding extra spreads will allow you to add additional images (if any). If you have some extra shots of your guests at the reception or extra photos of the dancing. If you don't need it, then forget it!
10. Arrange it well in the right order
Arranging your album will take some time, but it will be worth it. Spend time organizing your photos in the correct order. Avoid putting pictures randomly. Unorganized wedding albums don't look good. They make it hard for others to develop interest or connection. Even you would not like seeing it if it is not properly arranged. The best way is – try not to mix up all events on the same page. For instance, you can't have your getting-ready pictures on the same page as guests arriving for the ceremony. It's better to arrange your album in chronological order.
11. Have portraits in the first and last page of the album
Make the best use of your portraits. Have them arranged in the first and the last page of your wedding album!
12. Avoid doing it alone
It is vital, involve your partner also in the process. Not only will it make the process easier, but also, your partner will feel that his/her voice matters. Your partner may have his/her choice of photos in mind that he/she would want to have in the album. Moreover, your wedding album is about you TWO, then surely both of you should be part of the whole process.
Here are 23 MUST-HAVE shots in a wedding album
1. The bride's outfit 2 – 3 shots
Of course, everything related to your wedding is essential, and your wedding dress is one of them. You will definitely need a picture of your dress! Have at least 2 – 3 shots, one while it is on a hanger, one solo, and full-length portrait that shows everything you love about it.
2. The bride's shoes. 1 – 2 shots
Like your wedding dress, your wedding shoes should also be captured. After all, you have spent hours finding the perfect pair of wedding shoes. You can have at least one shot of your shoes and one photo of both pairs (yours and your partners).
3. Details. 6 – 8 shots
All the elements of your wedding should be captured for your wedding album. This includes your wedding stationery (invitation, menu, etc.), boutonniere, jewelry, bouquet, other accessories, venue décor, decor items, signage, rings, ring pillow, etc. The best way is to have a list of MUST-HAVE shots in advance and let your photographer know about them.
4. Getting ready shots. 6 – 8 shots
Getting ready shots are very important. Split them in half, i.e., 4 of the bride's when she gets ready, and 4 of the groom when he gets ready.
5. First look. 1 – 2 shots
Some candid first look shots will definitely add to your wedding album. Let the photographer capture your reactions upon first seeing each other in your wedding finery—a perfect keepsake of a memorable and emotional moment.
6. Bride walking down the aisle. 3 – 4 shots
These are essential shots and should not be missed at all. Besides, pictures of you two walking back up the aisle as newlyweds should also not be missed.
7. The exchange of rings. 4 – 5 shots
Another critical moment that can't be missed at all is while you exchange rings. Get at least 4 to 5 pictures of yours while exchanging the rings.
8. First kiss as a married couple. 2 – 3 shots
Oh, how can you even think of not having your first kiss on your album? The moment that you will cherish all your life.
9. Ceremony shots. Up to 8
You will want to have a few images of your ceremony to be represented in your wedding album.
10. Couple portrait. 8 – 10
You will need some portraits to decorate your walls, and some to go to your wedding album. Try to have candid and less posed pictures. They look good. Also, if you have any pets, you can have a few shots with your pet as well.
11. Family. 6 – 8 shots
Of course, your family plays an instrumental role in your wedding. You would definitely want to have some of their pictures in your wedding album. Make a list of the relatives you wish to have represented in your wedding album and give it to your photographer in advance.
13. Wedding guests. 6 – 8 shots
Your wedding guests have taken time from schedule to be part of your big day. Now it's your turn to let them know that you care. Make sure you get their photoshoot done before they leave for the reception area. Later they will get busy drinking and eating; then, group shots will be difficult.
14. Reception venue. 5 – 6 shots
You will want to have the full-room shot of the reception venue once it's ready and empty. Besides, ask your photographer to take close-ups of wedding reception décor. Everything from table centerpieces to place settings, drinks to food, should be captured.
15. Wedding guests arriving. 4 – 5 shots
You will surely want to have a few shots of your guests entering the venue, especially the family, bridal party, groomsmen, and few others.
16. Couple entry. 2 – 3 shots
A couple's entry makes for a MUST HAVE wedding shot. Make sure you enter in swag!
17. First dance. 2 – 3 shots
Your first dance pictures are essential; do not miss to capture this classic moment.
18. Candid shots. 6 – 8 shots
Candid or less posed pictures of you and your guests enjoying the day will simply add to your wedding album. Ask your photographer to click some relaxed and more natural shots of you and your guests. You can also have some posed group pictures.
19. Guest dancing. 5 – 6 shots
Of course, you would want to have some pictures of your guests while having fun at your wedding.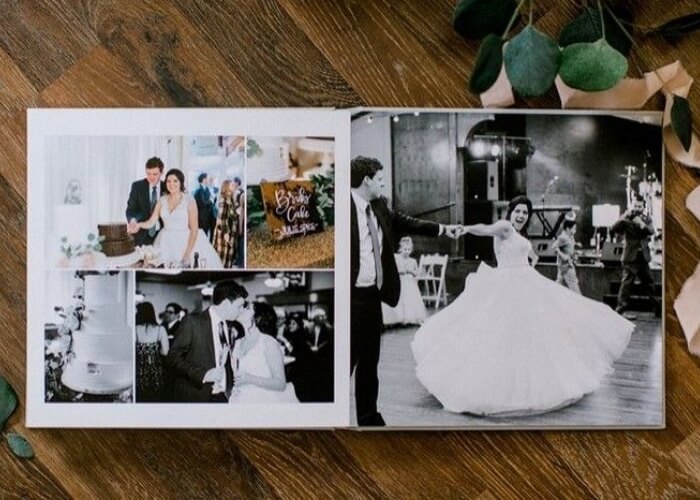 20. Portrait of newlyweds. 4 – 6 shots
Let your photographer have some portraits of you and your partner during the reception also.
21. Speech shots. 5 – 6 shots
Yet another not-to-be-missed moment.
22. Wedding cake. 4 – 6 shots
You did so much or search before finalizing your wedding cake, don't let your effort go into vain. You would surely want to have some photos of your wedding cake. Let your photographer capture just the cake before the cake cutting. Also, the wedding cake cutting shots should not be missed at all.
23. Couple's exit. 3 – 4 shots
Make your exit as dramatic as you want to have the best shots of the day.
Summing it up
That is all…. These are the tried and tested steps on how to choose photos for the wedding album. It may seem taxing at first, but you will certainly have a perfect wedding album if you will follow these steps.
Have a perfect keepsake of your day!!
Happy Wedding…… ☺ ☺