Are you planning to get hitched soon? The first thing you need to consider is the best wedding season to have a perfect wedding and with a perfect wedding date. This is crucial as based on that you can look for available venue options, wedding photographer, wedding caterer, invitations, and so on so forth. There is a lot to plan for your wedding.
Finding the right wedding season and dates can be a task sometimes. To find a right wedding season and dates, you need to consider the choice and preferences of your partner and yours too. Then you need to consult a pandit for finding a shubh muhurats, in a particular wedding season, then you have to match it with weekends, venue availability and more! Basically, too much to do before planning your wedding. But you need not to worry, in this article we will tell you best wedding season, just to help you make your best choice for your wedding.
► Indian Weddings
Weddings in India vary place to place, region to region, based on the religion and the personal preferences of the bride and groom. Indian weddings are festive occasions, and in most parts celebrated with full zeal and enthusiasm. People spend lot of money on extensive decorations, themes, dance, color scheme, music, costumes, delicacies, ceremonies, and rituals all that depend on the religion of the bride and the groom, and their preferences. According to a study, India celebrates about 10 million weddings per year, of which about 80% are Hindu weddings.
Ideally in Hindu families, it is the family panditji (Astrologer) who decides marriage dates. However, there are some millennial couples who look for comfort rather than blindly adhering to traditions. These couples look for suitable dates that allow them good enough time to prepare for the wedding and make all arrangements, and at the same time, are also lucky wedding dates of 2023. This article will particularly help all such couples!
Knowing all the possible auspicious dates for marriage in 2023 will help you understand and decide the timing, and season in which you wish to get married and plan your leaves for the wedding week accordingly.
► The Theory behind Wedding Seasons in India
There are different practices followed in different parts of the country. Indian weddings dates and wedding season especially those in Hindu community are technically based on the planetary positions and stars. There are certain parameters followed and looked into while fixing the wedding dates in Hindu communities. Basically, the positioning of the planets such as Jupiter, Venus, Saturn, Mars and Mercury along with their degrees with respect to Sun is taken into consideration.
More often than now, Indian wedding season starts in the month which has a larger number of auspicious dates for marriage in it. These dates are declared by a Hindu Astrologer or Pandit. Most often Hindu weddings do not happen in August, December- January, and March- April. In North Indian states marriage season starts in the Month of September and Ends in the Month of February. Whereas in South India, weddings happen throughout the year. The wedding date and time in Hindu Communities are suggested by astrologers.
Also, weddings do not happen in rainy season, it is said that during this period Lord Vishnu is in sleep, and hence the wedding season stats only after the month of Kartik, when the God wakes up. Furthermore, the summer months of Vaishakh and Jyeshtha are considered the best months for marriage in the Hindi belts of the Gangetic plains, and you will notice that maximum weddings happen during this season.
► Indian Belief System
Indian weddings are considered auspicious events in Hindu traditions. However, lately people have started to believe that every season can be a wedding season, as a wedding is representation of union of two souls and their love. But, as per our tradition wedding in a correct Muhurat also plays an important role in the healthy relationship of the two people. As it is believed that planetary position or Nakshatras at the time of wedding matters a lot. Hence, it is always good to choose the right wedding date for your nuptials than choosing any date randomly.
Best Indian Wedding Season
Well, the season for getting hitched vary from person to person and their personal choices about the wedding. Every bride and groom has their set of priorities and dreams for their wedding which they definitely prefer before choosing their dates and season to get hitched.
Though, there is no wrong time to affirm your love for your partner, but when choosing a month for your wedding you should consider the season. September, October, November, December, February, March and May are considered the months with the best weather to get married, due to several reasons including the weather condition. Your wedding's season will shape its atmosphere everything from the venue to the wardrobe. For an instance satin outfit for December indoor wedding and on the other hand a net lehnga when you are getting hitched in May and the beautiful outdoor venue. It is absolutely up to you and your partner to-be, how and what you season you choose for getting hitched. Very much depends on the character and liking of two people.
Still, to make your choice easier, below are the tips to decide wedding season for getting hitched this year.
Keep reading………
► The Favorable Climate
An ideal wedding season in India very much depends on the climatic conditions in the country. Of course couple's would definitely don't want themselves and their guests to 'sweat' about runny makeup or have heat waves spoiling their wedding event or the pool party. Well, there are several things a couple can think of before choosing the wedding date. These days' destination weddings are too much in fashion and if two are willing for a destination wedding than they can get hitched at any exotic place with an ideal climate. For an instance, for a wedding destinations like Shimla, Mussorrie, Chopta, Rishikesh and other hill stations are ideal for a wedding in summers. And cities like Delhi, Mumbai, Kolkata, Jaipur, Udaipur, Jaisalmer, Kerala, October to March can be the most preferred wedding seasons because of the mild climate in these places during these months.
► The Favored Dates
I know one someone who was a die-hard romantic his only wish to get hitched on the Valentine's Day, and he did it. If you also think you are among those romantic couples then this is one such date for you. If you are a traditional couple by nature than Akshaya Tritiya is the most favoured date in Hindu communities as this day is considered most auspicious day for getting hitched. This date can be selected even without an astrologer's consultation. Also, this day is not fixed, every year date will be changed that has to be considered.
Also, other dates can be the date when two people met for the first time or if you are a fan of some star couple than their wedding date can be your wedding date too… All up to you!! ☺ ☺
Some other popular wedding dates that are almost becoming a wedding season these days – Friendship Day (first Sunday of August), New Year's Eve, friend's anniversary, parent's anniversary, and sibling's anniversary, etc. Think it and choose it!!
► Avoid the Exam Season
Indian weddings are full-fledged festivals in some sense. Any Hindu wedding will at least continue for a week and everyone's attendance is like mandatory. One can't imagine a wedding without their cute cousins, nephews and nieces running and playing around! That would be very sad for that matter? So, make sure that your wedding dates are not clashing with school and college exam dates, it is very important to consider. And, that is one of the reasons March and April are the least favored months for weddings in India.
The best you can do is take few dates from your officiant convey them to your relatives and get affirmation from them about their children's' exams before fixing your wedding date. After all, it is a great delight to watch kids hitting the dance floor, when the Wedding DJ hits the music. Also, more important point to think is: who is going to be beside you when you will be heading towards your stage.
► Holiday Season
Summer holidays are most used holidays in India for throwing parties and even planning a wedding. Mostly in summers people keep themselves free as their kids also have vacations. A wedding during the summer holidays, will have you have all your near and dear ones of course! In fact, a holiday season is also called a wedding season in India. You ask why? Everybody holidaying and on top of it a wedding in family is planned it will just double the fun! The only which can seem troublesome is high rate during summers, but not worries you can always ask your vendors for best deals. For an instance if you are booking a beach resort for your wedding venue, you can always ask for holiday discounts. Also, you can choose a weekday as weekends are very high on demand for wedding seasons.
Off-Season Weddings
In India there are few months which are certainly known as the off-season wedding months, due to some Nakshatras and Hindu Vedic Astrology, so normally no or few auspicious dates are there. However, if you are among those who not concerned about the season or off-season weddings, then you can save a lot on wedding expenses by getting married in those off-season months. Plan your wedding around the months of March or early April to get huge discounts on almost all the wedding services.
Hiring top wedding vendors from wedding catering services to wedding decoration vendors, wedding photography to wedding venue all you can get at very affordable prices. That's the biggest plus of the off-season wedding, you can take advantage of rates and can have a grand dream wedding that you might not be able to afford otherwise!
► Traditional Wedding Dates
Well, in India no matter how advance we all become the rituals and the system which we have been following is still in roots. Still, there are so many coupes who like to take the traditional route when it comes to choosing their wedding dates.
India is a country of diversities, here no set pattern is followed because we have multiple religions in our Nation. And each religion is free to follow its customs, every religion in India is free to follow its rituals and systems, that's the beauty of our Nation. Below are different communities of India with their criteria to decide major wedding season in India.
Here we go…..
Hindu wedding season: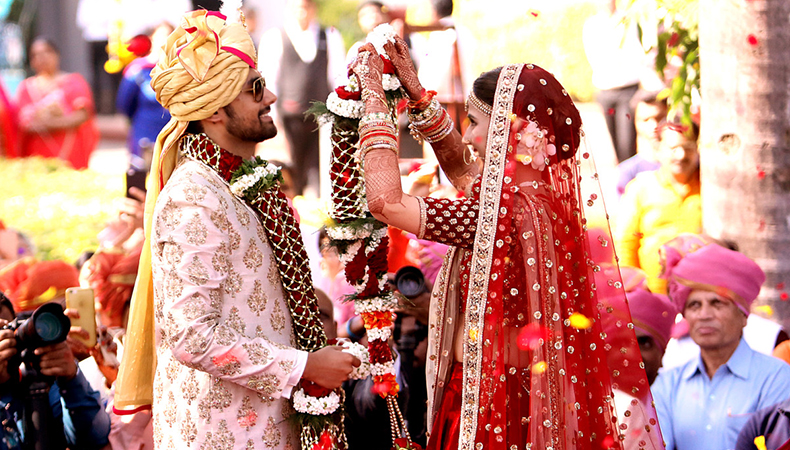 As discussed earlier, Hindu wedding season very much depends on planetary changes. Moreover, different regions have different belief system, the most popular months considered for wedding season according to most Hindu belief system are October to December, mid-April to May. Weddings do not happen in rainy season, as rainy seasons are not considered favorable for weddings.
Furthermore, the dates and months vary from region to region. Like in South India throughout the year wedding can happen. Whereas, in Northern parts wedding happens only in selected months as per the astrologer's instructions.
Sikh wedding season: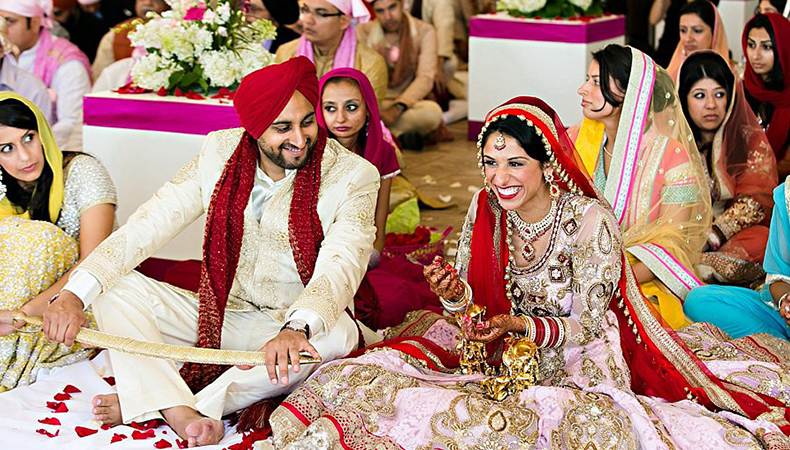 In any Sikh wedding, usually, the dates are decided by the family along with the bride and the groom, depending on their ease, choice and preference. In Sikh religion it is believed that every day is a sacred day, and they don't believe in astrological aspects for deciding a Sikh wedding date.
Islamic wedding season: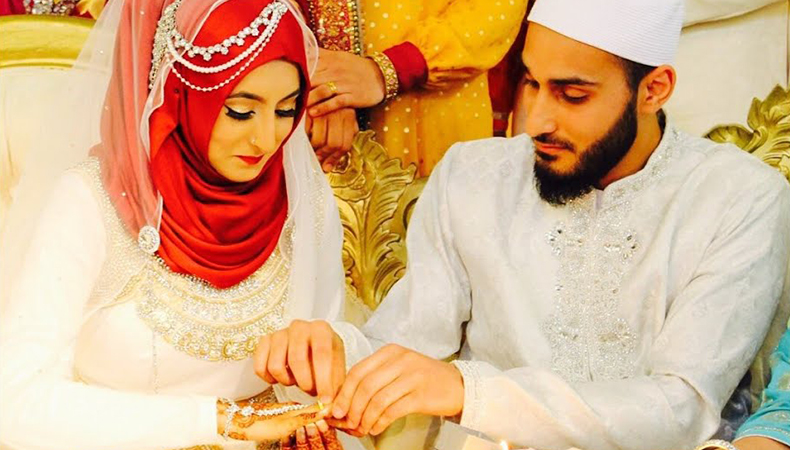 Here they have varied thoughts, some people believe every day is a sacred day for getting hitched. Whereas, some prefer not to get married during the first month of Muharram and 8th of Rabbi-al-Awwal, as these days are considered as mourning days.
Christian Wedding Season: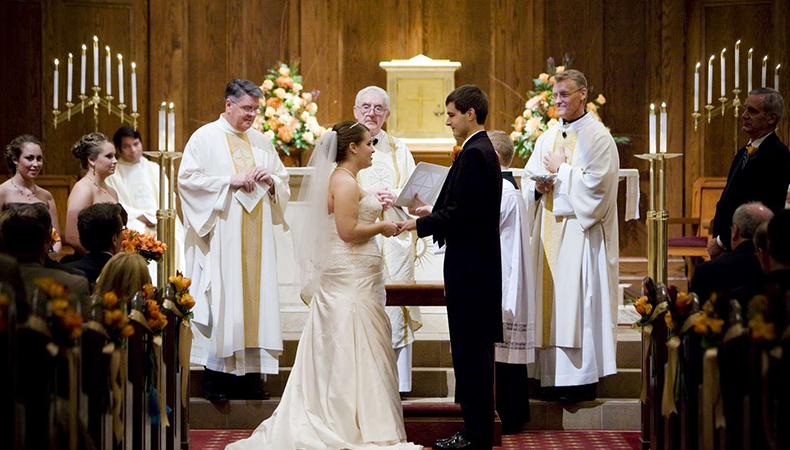 Christianity, follows no strict rules for getting wed-locked. Sometimes you may see them avoiding the Sundays before Christmas, Easter, Good Fridays or the period of Lent. However, there are some couples who choose their wedding date on the feast day of their favorite Saint.
Besides wedding season another most important thing which is considered is muhurat which is decided by the Pandit of the family. Here is how the Muhurat is found out
How Is Muhurat Decided in Indian Wedding?
Wedding astrologers or a family pandit is responsible to find out right muhurat for the couple's marriage in India. The Muhurat will be found out according to the positions of the planets and the Sun. The Shubh Muhurat or the auspicious time and dates which are given by the pandits are considered auspicious to carry out any ritual or puja, or any major life's event like a wedding. More often than not, irrespective of the caste or culture of the bride and groom in a HIndu tradition, they get married in these auspicious dates only. And all the rituals are performed during the fixed Muhurat in Indian wedding.
In addition, there are some generic muhurats also, for which couples have to show their kundalis to their pandits and get the right date and time for their wedding. Not necessarily all the muhurats are fit for all couples. So, based on the couple's kundali pandit tells them a particular date and time to go ahead with their wedding rituals.
To pan out…
Wedding season in India means a festive season! A season and a reason to have lot of Fun, Food, Music, Dance, Masti, Games…all that in one event! So, your wedding is once in a life time event, whichever way you want to make it happen….. Let it happen your very own way. Just that, make sure that each one in family have their consent for a particular date because no celebrations is complete without the loved ones. Undoubtedly, your wedding is the union of you two but at the same time two families are also getting united. Happy a happy wedding….. With all your family, friends, near and dear ones!!
☺ ☺