Everyone talks about the bride and her looks, but hardly people talk about mommy and mommies-in-law. Indian weddings are full of razzmatazz, making each person coveting to look perfect at the event. Undoubtedly, the most ballyhoo dress is bound to be the bride's dress at the wedding; however, mommies too deserve to look their best at their son's wedding.
Whether it's an intimate wedding celebration or a big fat wedding, you deserve to have your mother of the groom outfit moment that makes you feel voguish and poised.
When shopping for the perfect mother of the groom dress, make sure you see what silhouettes work best for you. Whether you're looking for plushness for an intimate wedding celebration or searching for glitz and glam for a big fat wedding, we've listed down some unprecedented outfit ideas for mothers of the grooms to suit any style and budget.
#1 Jade Green Anarkali Suit for that Explicit Look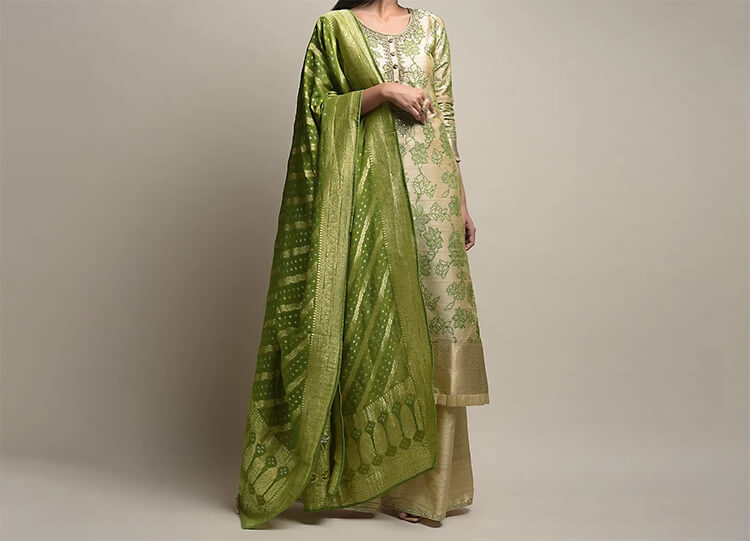 While floor length Anarkali may seem peculiar, being an option for the mother of the groom to wear on the wedding; however, rest assured that this is going to be the best of the rests. She will look absolutely flattering in this beautiful jade green Anarkali suit in silk with weaved buttis and honey yellow banarasi dupatta.
#2 Spice Your Look Up with this Gold Beige Palazzo Suit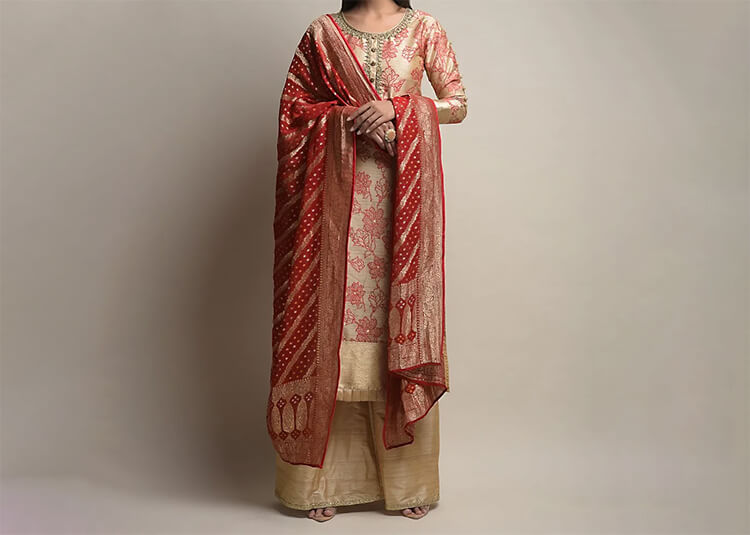 Palazzos are all the go these days and look exceptional on women of all ages. If you're coveting an effortless outfit, then this Gold Beige Palazzo Suit is apt for you. Easy to wear and carry. This gold beige palazzo suit with woven floral jaal and green dupatta with bandhani and brocade design will make you feel stylish and confident.
Also Check: 6 Top Places to Buy Bridesmaid Dresses Online
#3 Go Modish with this Gaurav Gupta's Pre-Draped Embroidered Saree Gown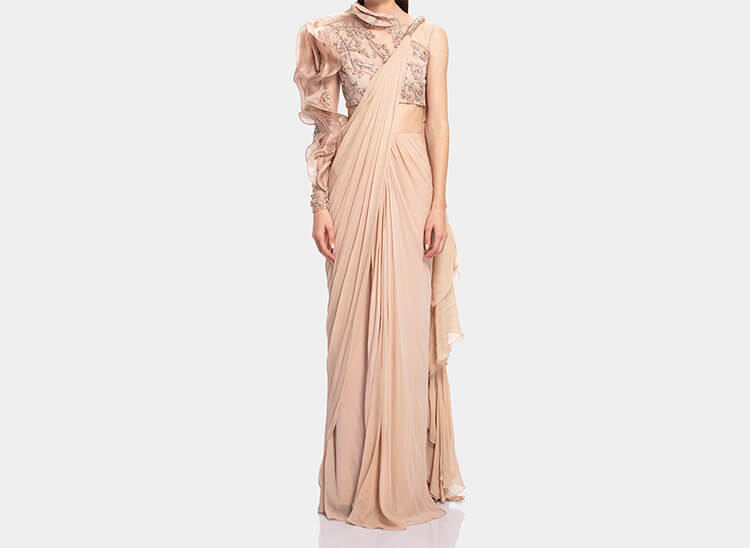 For moms searching for Indo-western outfits for mothers of the grooms' moment, then you should definitely go for this. A saree gown is a perfect way to Indo-westernize your look for a cocktail or reception. You're going to rock the party with this dress! A perfect outfit to look half your age!!
#4 Ditch the Dupatta with this Edgy Nakul Sen's Jacket Lehenga Set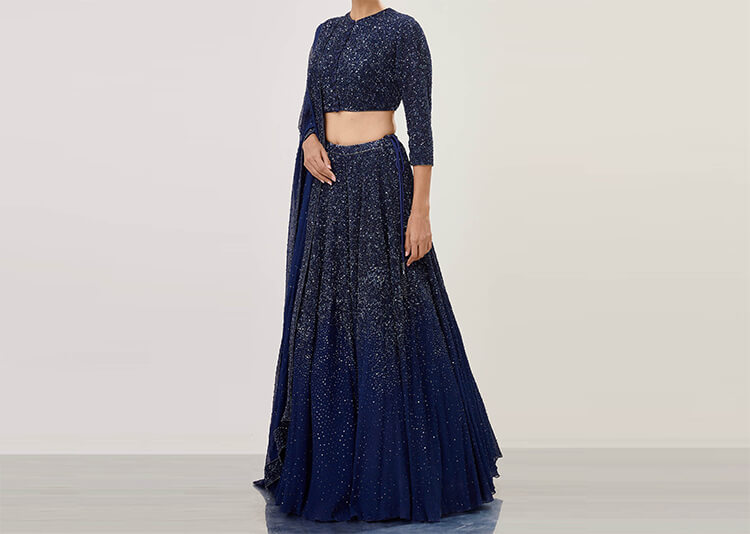 Sparkly and sublime, this super chic, edgy, and modish jacket lehenga is for all the fashion-forward mommies. This is going to be an amazing choice for the BIG day to flaunt your extraordinary way!
Look super confident with this regal ivory sequin embroidered tunic paired with a teardrop printed jacket and white flared skirt!
#5 Exude Simplicity with Nakul Sen's Floral Embroidered Saree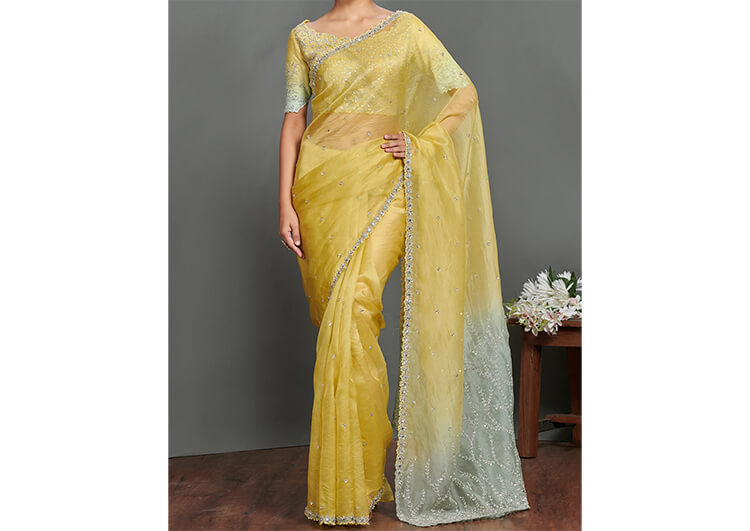 If you don't want to overdo anything, then this Purple saree with floral embroidered motifs is a perfect ensemble. This saree is super comfy, easy to carry, and very stylish. It comes with a sequins embroidered blouse that just add to the overall look!
#6 Add Pizzazz with Lehenga Suit
Let the bridal party know how extraordinarily stylish the bride's mom-in-law is! Add pizzazz to your look with this beautiful peach net designer embroidered lehenga suit with a jacket. You're sure to look ten years younger than your age.
Also See: How to Travel with Wedding Dress
#7 Add Opulence with Kanjeevaram Sarees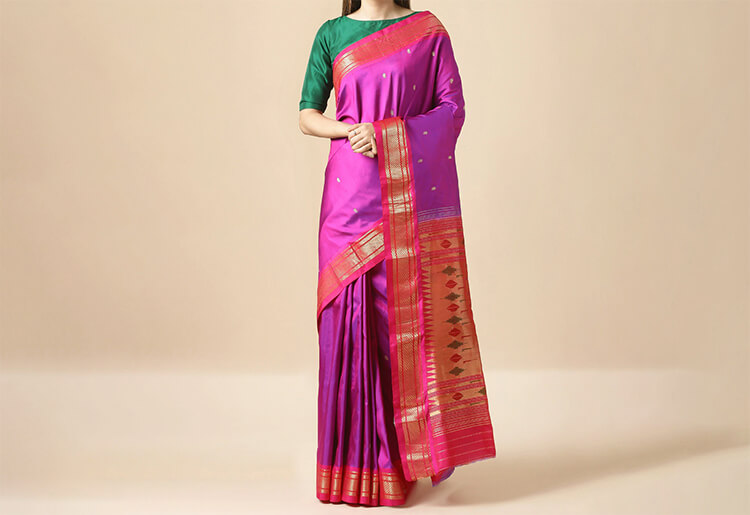 Created by the Kancheepuram District of Tamil Nadu's master-weavers, each Kanjivaram silk saree incorporates traditional artisanal techniques. Ethnic and modish, times and versatile, this lush gold Kanjivaram saree will be an apt way to flaunt an opulent look at your son's wedding.
Embellish this with a heavy temple jewelry set.
#8 Go Offbeat with Sharara Suit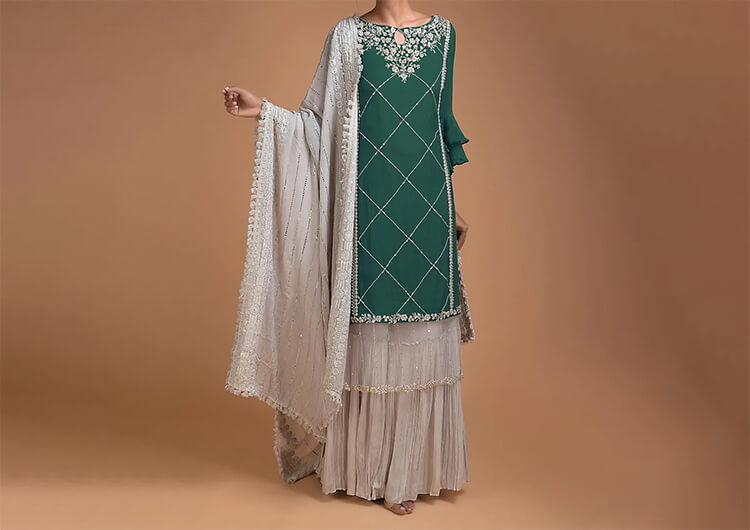 You can't go wrong with an offbeat sharara suit at your son's wedding. A very cool and versatile outfit option for the groom's mom. This banana yellow sharara suit with floral print and sequins and thread embroidery is apt for that mother-of-the-groom dress moment.
#9 Banarsi Saree for Timeless Look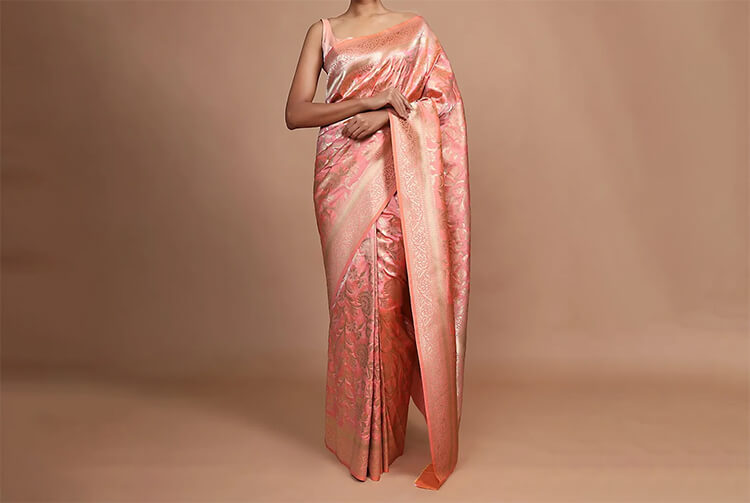 Banarasi sarees are simply timeless sarees! These sarees look perfect no matter what the occasion. You can wear it on the day of your son's wedding day or flaunt your banarasi look at the wedding reception. This beautiful pink banarasi silk saree with weaved floral buttis is apt for that elegant and classy look.
Jazz it up with the right matching jewelry, and you're all set to have your mother of the groom moment!
#10 Vogue Look with Forest Green Plain Skirt and Blouse with a Draped Pallu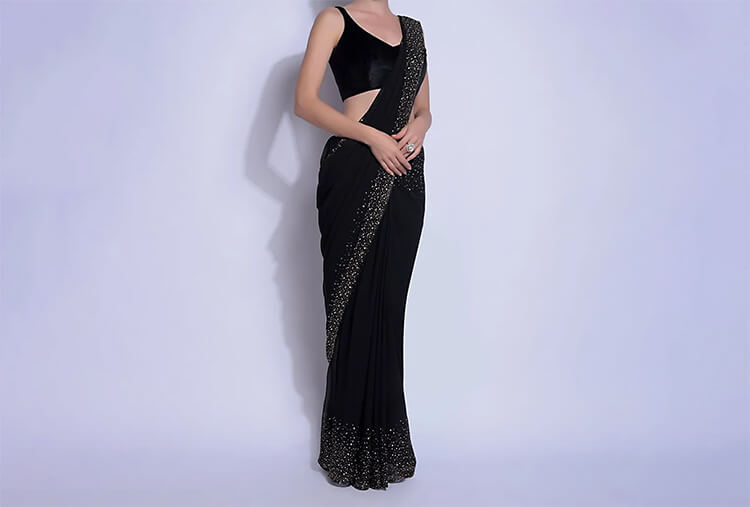 Go modern with this forest green plain skirt and blouse with a draped pallu dress. This is apt for all the fashion-forward mommies; if you're one, then go for this one!
Congruous with a Cocktail or wedding reception, this outfit is all you need for the mother of the groom outfit moment!
Shopping FAQs
Now it's time for some shopping FAQs, ladies! Here we go…..
Q.1. When is the best time to shop for my mother of the groom outfit?
Well, it's recommended to start shopping for your dress six months prior to the wedding. This way, you'll have time for alterations and avoid any last-minute chaos.
Q.2. Is there anything specific to consider when I shop for my dress?
Of course, you'll need to consider the venue, season, your body type, and personal style. These three things will play a key role while you shop for your dress. Besides buying a season-appropriate outfit that complements the wedding's color palette, you need to pick silhouettes and colors that celebrate your body type and match your personal style.
Q.3. What colors should I avoid wearing?
There is no hard and fast rule as such; however, you should avoid wearing bright red or any hue that might resemble the bride's wedding outfit or groom's suit.
Q.4. Shall I seek professional advice for making the best choice?
Well, it's not compulsory to take professional advice. However, if you're not able to make the decision, then it's good to go with professional designers. You can also consider taking your friends or family members while you go shopping.
Q.5. Shall I shop online or offline for my mother of the groom outfit?
It is absolutely up to you! These days everything is available online. If you have time constraints or if you're getting better options online, then go online. If you're one of those who want to have that touch and feel the effect, then offline stores are better options. All you have to make sure is you're not making a hasty decision while shopping for the outfit.
Moreover, it doesn't matter much where you buy your dress from. Even online shopping portals also give your trial option these days. So, if you don't like the dress you always have the option to return it. But make sure you start your shopping at least six months before the wedding.
FINAL THOUGHT…
So, these are the best 10 outfit ideas for mothers of the grooms. You can choose any outfit of your choice; make sure it matches your personal style and body type. Your son's wedding isn't special only for your son; it is, of course, special for you too. You deserve to rock your looks at the wedding!
Be confident, be stylish, and look your best on the BIG day!!