Hardly will you find people or couples, who has never dreamt of a destination wedding. Weddings make for the big events in one's lifetime and hence deserve to be celebrated with grandeur and exclusivity. After all, it is a once in a lifetime event for every couple! All of us want our wedding to be the most memorable one.
Lonavala and Khandala are amongst the most favored locations especially for couples who are living in Mumbai or Pune or maybe in and around Maharashtra, because they are close by. The best part is both the place are heavenly and make for a perfect place for a destination wedding. There are plenty of destination wedding resorts in Lonavala and Khandala as well. You can choose either of the places because both are unique in their own ways.
Here in this article I am sharing with you the reasons, you should consider Lonavala or Khandala for your amazingly romantic destination wedding. Though many couples got hitched here, but the most famous couple amongst all was Shilpa Shetty and Raj Kundra. Yes, both of them tied knot in mesmerizing Khandala and wrote their beautiful love story amidst beautiful scenic views.
LONAVALA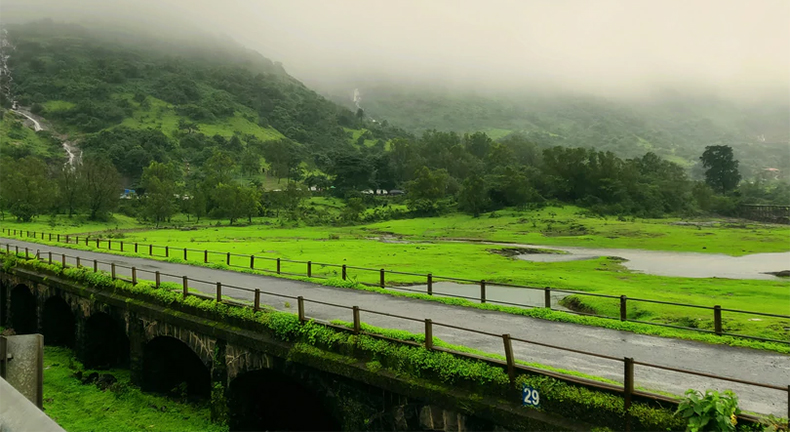 Lonavala is a beautiful hill station in the state of Maharashtra, it is surrounded by green valleys and mesmerizing beauty. It is full of places to visit such as the Karla Caves and the Bhaja Caves (ancient Buddhist shrines carved out of the rock), they feature massive pillars and intricate relief sculptures. South of the Bhaja Caves stands the imposing Lohagad Fort, with its 4 gates. West of here is Bhushi Dam, which is known for its beautiful scenic view during rainy season, water overflows onto a set of steps here in Bushy Dam.
KHANDALA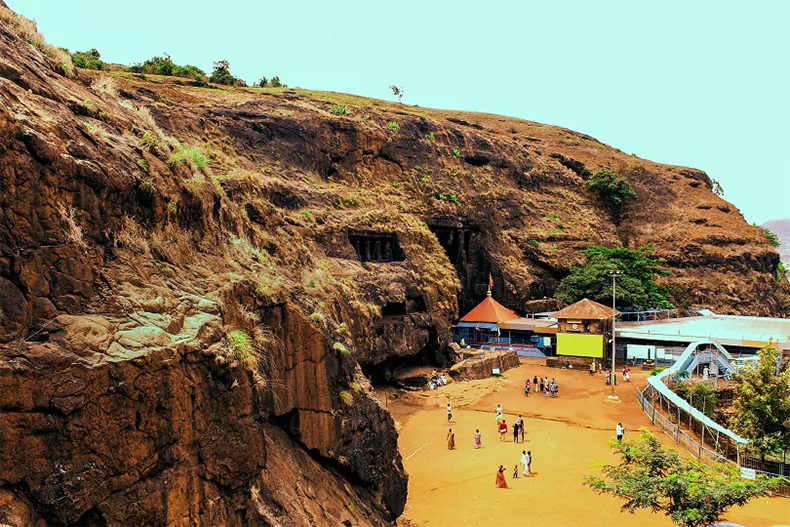 The most enchanting and romantic hill station in the Western Ghat Mountains of Maharashtra, western India is Khandala. Khandala is home to amazingly beautiful spots including Sunset Point and Rajmachi Point, with views of Rajmachi Fort and falls. Kune Falls is a 3-tiered waterfall sits in a dramatic valley. Waterfalls here surround the Tamhini Ghat mountain pass. In the east of town, lies the Bhaja and Karla caves, which are ancient Buddhist rock-cut shrines featuring intricate carvings and pillars.
Moreover, they are very close to each other, it just takes 15 minutes to reach Khandala from Lonavala market. And one can commute easily. Here are the top reasons why you should plan your destination wedding in Lonavala or Khandala
Most heavenly resorts available
Lonavala is one of the most beautiful hill stations in the country and the place is full of amazingly beautiful resorts to get hitched. One can find any kind of place here from a luxury private resort to budget resorts, five star hotels to budget hotels to celebrate their dreamy wedding here in the hill station. Couples can easily find and book a place in their budget.
Natural beauty
Place is famous for its beautiful natural waterfalls, caves, sights, and greenery. Especially during rainy season Lonavala and Khandala are the most admired places in the country. They look mesmerizingly enchanting during rainy season. You will find greenery and scenic views to die for.  What else you would ask for in your wedding than such an enchanting natural backdrop for a ceremony amidst natural beauty.
Hills all around
Lonavala or Khandala makes for a perfect wedding destinations in India. Both the places are surrounded by beautiful mountains. Lonavala and Khandala are some of the most beautiful and sought after hill station in the country. The grandeur of the location make Lonavala and Khandala such a perfect location for an intimate or big fat wedding ceremony.
A perfect break for your wedding guests
We all understand how difficult it becomes to keep your guests engaged in a wedding. Taking care of guests is one of the tasks in a wedding, and if something goes topsy turvy, they are annoyed for many, many years. And you really have to look after them, there has to be someone always looking after and taking care of them. But if your wedding is planned in Lonavala or Khandala, almost all the sightseeing places here lie in close proximity, and your guests will have enough reason to hop from one place to another by local "Autos" or Cabs.
Also, there is a beautiful MTDC picnic spot in Lonavala where they can keep themselves engaged for the whole day. Otherwise, they can visit nearby places, such as Khandala, Pune, Mumbai, Matheran, Katraj, etc. Or Lonavala market is a beautiful miniature market, where one can get almost everything. Now even theaters are also there to enjoy the latest Bollywood movie. Or even your guests' can savor on Maharashtrian cuisine. However, Pune is the best location if one wants to try out Maharashtrian cuisine, and it's not very far.
Perfect place for relaxation
Lonavala or Khandala, wherever you have planned your destination wedding, both make for a perfect place for relaxation. And why not, after all you must be tired of hectic wedding planning journey, you would surely seek some time for relaxation. And, most of the five star hotels in Lonavala and Khandala offer wide range of excellent venues with spas, modern amenities, and beautiful front views. You can relax for a while here in Lonavala or Khandala and de-stress yourself completely before the D-Day.
A perfect honeymoon destination
Believe it or not these two beautiful hill stations of Maharashtra has always been the most sought after honeymoon destinations for newly-weds. Getting hitched in Lonavala or Khandala gives you a wonderful reason to honeymoon here and enjoy each other after your wedding. You can simply extend your days and honeymoon in Lonavala and explore the hill station. There are many places nearby that you can add to your list, such as, Matheran, Panchgani, Mahabaleshwar, Alibaug, Mumbai, Pune etc. This is going to be a perfect honeymoon destination for nature lovers.
Well! Let's explore more details on few other important aspects as well when you are planning your destination wedding in Lonavala or Khandala
THINGS FOR WEDDING COUPLES & WEDDING GUESTS
One can enjoy the hills stations to the fullest. If yours is going to be an intimate wedding in Lonavala or Khandala then you can reach here a few days before the wedding. In fact a destination wedding in Lonavala or Khandala gives you a great reason for excursion in the town. You and your guests (which includes your family and close friends), can enjoy each other here and spend a lovely time before and during the wedding.
You can plan a day trip to the nearby places with your guests, nearby are Nagphani woods to visit, or you and your guests can admire the nature's vastness at Ryewood park, or simply admire the architectural magnificence of Lohagad Fort, or simply spending some quality time at sunset point will be more than required, trek to Rajmachi Point is something which only adventure loving couples would admire etc. Like this there are many activities which one can get indulged into.
And yeah, don't forget to buy Maganlal's chikki when in Lonavala, the place is famous for it. And you will find varieties of chikki here in the town. Almost in all flavors.
LEGAL REQUIREMENTS FOR MARRYING IN LONAVALA OR KHANDALA
As such there are no legal requirements for getting hitched in Lonavala. However, one can get their marriage certificate from the state government. Which is applicable for only Indians and other couples from other countries, can get hitched here in the town without any hassle. Indian couples will go by the rules followed throughout the country as per their religion and caste.
However, couples from outside should contact the Indian embassy in their home country or their country's embassy in India to understand up-to-date legal requirements.
THE MAHARASHTRIAN CULTURE
Throughout Lonavala and Khandala you will find Marathi speaking people. Though they can speak Hindi also, and a little bit of English. People in Maharashtra are helping and amiable. Lonavala and Khandala are tourist destinations and the majority of the local people who are not involved in the tourist trade, they do not mix with the tourist visitors, and like to live in communities maintaining absolute privacy.
Though, people from almost all the parts of the country can be found in Lonavala, but mostly Gujaratis and Marwaris are found. Ganesh Chaturthi is celebrated in every part of Maharashtra with great pompous and show. If your wedding is taking place during Ganesh Chaturthi, you will see how grand the festival is considered here. Preparation starts even many days before the festival and almost everywhere it will be decorated with lights, flowers etc.
THE MAHARASHTRIAN FOOD AND DRINKS
Though, one can get any kind of food in Lonavala or Khandala but savoring on traditional Maharashtrian food will be heavenly experience. A traditional Maharashtrian or Marathi cuisine has distinctive attributes, while sharing much with other Indian cuisines. Traditionally, Maharashtrian food is considered to be more austere than others. Maharashtrian cuisine includes mild and spicy dishes. Wheat, Lentils, Rice, Jowar, Bajri, Vegetables, and Fruit are dietary staples. Often, peanuts and cashews are used to cook vegetables here. Meat is also used largely in the place.
Distinctly Maharashtrian dishes include ukdiche modak, aluchi patal bhaji and Thalipeeth.  Other famous Maharashtrian dishes are: Vada Pav, Pav Bhaji, Puran Poli, Misal Pav, Ragda Pattice, Bharli Vangi, Srrekhand, Sabudana Khichdi, Poha, Rassa, Sol Kadhi, Maharastrian Kadhi, Pithla Bhakri, Aamti, Bhel Buri, Basundi, Bombil or Bombay Duck, etc.
WEDDING COSTS OR BUDGET
The cost of your destination wedding in Lonavala or Khandala will depend on several factors, these factors are:
Location
Type of property (Five star hotel or private resort or budget hotel or budget resort)
Type of wedding (intimate or big fat)
Transportation
Accommodation (depends on how many days event it is )
Decoration and Catering
Guest Capacity
Wedding Photography
Other Supporting Arrangements
Let's get inside a bit more deeply
Destination weddings in Lonavala or Khandala can be as luxurious or as basic as one would want. The locations have innumerable options to choose from. In fact, one can always find something that would fit their wedding financial budget.
More often than not, while planning for an outstation wedding major part of the budget goes in transportation and accommodation of the families and guests. But the best part is, Lonavala and Khandala offers accommodation for all from five star properties to budget hotels. Usually, hotels in Lonavala start from as low as INR 4500 per night and can go up to as high as INR 20000 per night.
For instance, if you book hotel rooms for  2 nights and 3 days, so the average cost per guest for the hotel would cost you close to 6000-8000 INR per day, which includes food, stay and taxes. However, the cost of alcohol is not included as it would depend on actual consumption and is variable.
Besides hotel accommodation and transportation, another major chunk of the wedding budget goes on booking the perfect wedding venue. There are many venues in Lonavala and Khandala to suit everyone's budget and needs. The cost for the venue starts from 3,00,000 INR and can go up till 20,00,000 INR (it doesn't include catering)
But, if you hire a professional wedding planner, they can help you in getting best deals or amazing discounts on venue booking, as they have contacts with the vendors. As the wedding industry is flourishing and couples are willing to make their special day more special, there are many wedding planners have risen up in the town. And they do their job perfectly and efficiently. These wedding planners can help you have any kind of wedding and that too in your budget.
However, the cost for food, venue décor, etc. will depend entirely on the choices and preferences of the couples. The minimum cost for a wedding in Lonavala or Khandala (which includes stay, food, venue, gifts, shopping, taxes etc.) will be somewhere around 25,00,000-30,00,000 INR.
BEST HOTELS OR RESORTS IN LONAVALA & KHANDALA
Dukes Retreat Khandala
Upper Deck Resort Khandala
Citrus Hotel Lonavala
Cloud 9 Hills Resort Lonavala
Fariyas Resort Lonavala
Krushnai Resort Lonavala
Upper Deck Resort Pvt. Ltd Lonavala
Della Adventure Resorts Lonavala
Govinda Resort Lonavala
Imperial Grande Lonavala
Resort Silver Hills Lonavala
Highland Resort Lonavala
Sunshine Resort Lonavala
Obetel Grande Resort Lonavala
The Blue Lagoon Resort
Each of these resorts presents one of its kind views and the services are top notch in the town. If you will make all the bookings well in advance you can easily get some best deals and save a lot.
WEATHER AND CLIMATE
The climate in Lonavala and Khandala is tropical. When compared to winter, the summers have much more rainfall. The average annual temperature in Lonavala and Khandala is 26.4 °C. And the average annual rainfall is 1050 mm. From October to February, Khandala and Lonavala experience a minimum temperature of 12°C. Whereas in summers, the maximum temperature rises up to 32°C. However, Khandala and Lonavala experiences moderate temperature throughout the year, and both the places have beautiful environment, which make the places most sought after amongst tourists and wedding couples.
The best time to get hitched in Lonavala or Khandala is anytime of the year. Yes, the places have moderate climate, which makes them good locations for destination wedding throughout the year. However, monsoons are best, which starts from the month of June and continues till the month of August. Khandala receives heavier rainfall and looks mesmerizing.
HOW TO REACH
Reaching Khandala or Lonavala is no problem. Both the stations have railway stations. However, if you plan to come by Air then Mumbai Airport or Pune Airport are the nearest Airports to reach here. And if you plan to come by train then also, you will have to catch trains from your respective stations till Mumbai or Pune and from there you can take connecting trains. For instance, if you are coming via Mumbai then from Mumbai railway station you can take trains to Pune, and get down at Lonavala or Khandala.
Lonavala and Khandala actually lies on Mumbai-Pune highway. Also, not every train stops at Khandala so sometimes you need to get down at Lonavala railway station and take auto or cab from there to reach Khandala. Locally you can find taxis and cabs, transportation is not a problem in the place. But make sure you book your tickets well in advance, especially if you are getting hitched in summers as these places are well known tourist destinations, besides they are also known for nearby colleges for higher studies, and are crowded in summers due to admissions and tourists.
There are many flights available from almost all the countries of the world to reach Mumbai, the city of dreams. If you think your wedding is already planned for Lonavala or Khandala, then you should book tickets well in advance, you can get great discounts on your airfare. Locally cabs, autos, private taxis are available to travel.
To conclude,
There is no doubt that Lonavala or Khandala make for a perfect wedding destination for all those who are looking for the most romantic destination wedding. Couples have a lot to explore and make their wedding a perfect fairy-tale wedding to cherish all their lives. Your wedding pictures will also be perfect in the location. As, here you will have the most beautiful and scenic backdrops for the couple photography.
Lonavala and Khandala are great destination for an intimate destination wedding, even your guests will love your idea of getting hitched there. So, think not, just plan your wedding in Lonavala or Khandala which ever place you like the most. Both are extremely and equally beautiful and picturesque locations in the country. Give any of them a shot. Make your wedding an unforgettable event to cherish all your life…
Clock is ticking, do not wait anymore just start planning for you wedding and enjoy it to the fullest.
Happy Wedding ☺ ☺