The moment you get engaged, the planning for the wedding starts. Your engagement is a significant step as it signifies a new beginning in your life. Not only brides-to-be but also groom-to-be need to be indulged in wedding planning so as to create the wedding of your dreams. When it comes to wedding planning, everything from wedding décor to wedding band plays a crucial role. The wedding band is one of the most important pieces of jewellery that you would buy for your significant other. It signifies union and bond. If you want a unique ring for your partner, then a puzzle ring is ideal.
Puzzle rings are in trend these days. There was a time when there weren't many options when it came to selecting a wedding band. But today, the market is swamped with amazingly stylish rings you can buy for your significant other.
Puzzle rings are stunning pieces of jewellery with a long and legendary past. They've been around since the 16th century, and they're still a great choice for wedding bands.
Whether you want to gather information about puzzle rings or want to buy a unique ring for your partner, this guide will help you with your endeavour. It has all you need to know before buying a puzzle ring for the female partner or male partner.
So, let's get started…
Table of Contents
What exactly is a Puzzle Ring?
Puzzle rings, also known as "Harem rings," or "Turkish puzzle rings," are a unique piece of jewellery that is made of interconnected bands. These rings can be used as wedding bands.
These rings are made of a number of connecting bands, such as 4, 6, and 12 bands. These bands fit together in such a way that they give the appearance of being a single ring. The ultimate design will be one of a kind and distinctive. The ring appears to have a complex and textured design; nevertheless, if you take the ring off and play with it, the design begins to fall apart.
Puzzle rings are usually made of expensive metal, such as gold or silver. They can have anywhere from two to twelve bands joined to one another and forming one ring. These rings can be used as puzzles. Like a real puzzle, parts of the puzzle rings can be taken apart and then put back together again. The difficulty level grows with the increase in the number of bands in a ring. Puzzle rings make for perfect wedding bands, especially for those who love solving puzzles.
If you're looking for a unique ring for your partner, then a puzzle ring is the best option. Most couples opt to use them as wedding bands due to the symbolism associated to them. Puzzle rings are aesthetically pleasing, and they, of course, leave a lasting impression on the recipient. These rings come in many different shapes and sizes.
Where the Concept of Puzzle Rings Came From
The history of puzzle rings is substantial and replete with numerous tales and legends. There are several theories surrounding puzzle rings. Some say the ancient Egyptians invented it, while others say the Chinese did so some 2000 years ago. It's also commonly believed that the puzzle ring was first worn as a wedding band by the Sheikhs of Arabia.
They've been around since the 16th century. The concept of puzzle rings is strikingly similar to that of gimmel rings. Gimmel is derived from the Latin word 'gemellus,' which means twin. Gimmel rings consist of two or more individual hoops that are joined by a split shank and worn together. Historically, Gimmel rings were used as engagement and wedding bands in Mediaeval Europe.
There are many kinds of puzzle rings available, but the most typical ones have four, six, or even twelve bands. These bands are connected to one another to form one big ring, creating a distinctive pattern that stands out. The best thing about puzzle rings is that they can be disassembled and then reassembled, just like a real puzzle.
These rings are frequently referred to as "Turkish wedding rings" or "harem rings." There is an interesting story behind these rings. The very first puzzle ring was made by an esteemed aristocrat. He gave it to his wife as a wedding band. He did this so that the ring would become intractable if ever removed from her finger. Therefore, if her wife ever chooses to be unfaithful, she would have to remove the ring before meeting with her lover, and her husband would know immediately because the ring would break apart. However, modern puzzle rings can be easily removed without any damage to the bands.
Aside from being used as wedding band, puzzle ring is also used as symbol of pride in some countries. Military veterans in Finland, Norway, and Sweden often wear these rings. In Norway, they are famously known as Lebanon rings. People who serve in United Nations Interim Forces in Lebanon (UNIFIL) wear this ring as a badge of honour.
Puzzle Ring Significance
Puzzle rings are extremely symbolic pieces of jewellery. That's the reason they have gained so much traction in the past few decades.
When it comes to the significance of a puzzle ring, it signifies different things for different people. Some people prefer puzzle rings over simple wedding bands because they represent connectivity. As we know, puzzle rings are made of interconnected bands. These interconnected bands stand for connection. Connection with your new family, husband, and others around.
In addition, the number of bands on a puzzle ring might be interpreted to reflect different eras or phases in a person's life. These phases include the past, the present, and the future; the body, the mind, and the spirit; or a husband, a wife, and their children.
Conquering the obstacles that life throws at you is another symbol represented by puzzle rings. Puzzle rings are comprised of separate bands that interlock to make one, signifying two individuals becoming one. As a wedding band, this ring signifies a union, a lasting bond. Likewise, there are several things that a puzzle ring can signify.
You can buy a puzzle ring for your female partner or male partner for any reason outlined here. You can even buy it for no reason. Yes, if your partner loves solving puzzles or taking challenges, then surely this is the perfect wedding band for her or him. It's always good to think outside the box when it comes to creating lasting wedding memories.
Why Choose a Puzzle Ring Over a Normal Wedding Band?
Undoubtedly, puzzle rings look incredibly stunning. They make for great wedding bands for modern couples. The best thing about these bands is that they are very pocket-friendly options compared to regular wedding bands. It is because these bands do not include any gemstones, which results in a lower price. Therefore, if you are looking for a unique ring for your partner, a puzzle ring is your best bet!
Considerations to Make Before Purchasing a Puzzle Ring
Unlike regular wedding bands, puzzle rings are a little trickier to find. Hence, it is crucial that you keep the following considerations in mind when buying a ring for your partner:
1. Style
A wedding ring, whether a regular wedding band or a puzzle ring, should reflect your partner's personal taste and style. Each person is unique and so are his/her tastes and preferences. So, when searching for a puzzle ring for a female partner or male partner, it is important to look for a piece that suits your partner's style the best.
2. Functionality
The majority of married people wear their rings constantly. Puzzle rings, which are constructed of numerous interlocking bands, are prone to causing skin irritation and itching in some people. So, it's important to buy a metal that your significant other can wear regularly.
Also, make sure that the ring does not have too many bands interconnected. It is because the greater the number of bands, the higher the degree of discomfort for the wearer, especially if your significant other likes simple things.
3. Metal
More often than not, puzzle rings are made of expensive metal, including gold and silver. Buy the one that suits your budget. Also, be sure the metal you purchase won't cause any allergic reactions or skin irritations to your significant other. It is because some metals, especially silver doesn't suit many people.
4. Maintenance
When buying a unique ring for your partner, consider the maintenance part as well. Puzzle rings may require more upkeep compared to regular wedding rings. You should opt for rings made of materials that last a long time so you don't have to worry about damage that occurs over time. Aside from that, opt for a simple design that is easy to clean when needed.
5. Cost
Puzzle rings are a great alternative to conventional wedding bands. And the best part about these rings is that they come at pocket-friendly prices. This is because most of these rings do not include any expensive gem, such as diamonds. Choose the one that complements your partner's style and your budget well.
6. Size
Puzzle rings are often available online. Finding the right size ring for your wife-to-be may be a difficult task. However, you can look for a platform that sells customized puzzle rings. Make sure to look into every detail prior to placing your order because once ordered, it will be very difficult to exchange or return the ring.
7. Seller
Know that puzzle rings are not easily available, especially if you tend to buy jewellery from a local retail store. Only renowned brands, such as Tiffany and Co., Hillier Jewellers, Olivela, Puzzlering.com, etc., sell puzzle rings. Aside from that, Amazon.com and Etsy also provide you with puzzle rings at affordable prices. Make sure to buy a puzzle ring from a reputable brand so that you can be sure of the quality of it. Look for a company that has a strong track record, excellent customer reviews, and good after-sales support.
How Much Does A Puzzle Ring Cost?
The cost of a puzzle ring varies based on several factors, including the brand, the material used in the construction of the ring, and number of bands it has. For instance, a silver puzzle ring with a minimal design will cost you somewhere around $80 to $100. Whereas, a gold puzzle ring with tiny diamonds throughout may cost you somewhere around $800 to $1000. In most cases, the cost of these bands is far lower than that of a conventional gemstone wedding band.
15 Classy Puzzle Ring Designs To Consider
Take a look at some of the most beautiful puzzle ring designs…
1. Twisted Rope Puzzle Ring
This twisted rope puzzle ring is made of high-quality sterling silver. It features four bands interlocking together, creating a one-of-a-kind puzzle ring design. If you're looking for a simple yet elegant puzzle ring for your partner, then this is the one.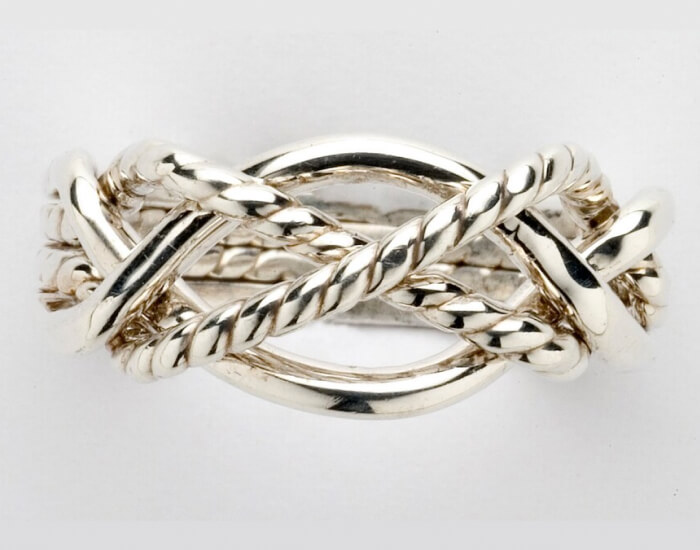 Available at: Etsy.com
$72
2. 2mm Diamond Russian Band
This beautiful puzzle ring for women features an intricate interlocking pattern that symbolises the indestructible union of two people. It has three bands interconnected to form a unique design. The band in the middle has glittering diamonds that make it look even more beautiful.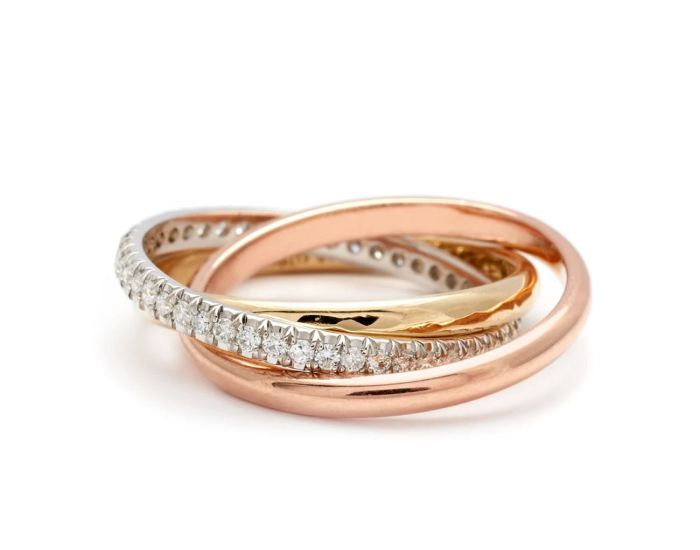 Available at: Templeandgrace.com
$1761
3. Women's Three-Tone Braided Ring
This gorgeous women's braided ring is crafted from three plain gold bands and has a very contemporary look. It is a meticulously crafted piece of jewellery that your wife-to-be love for sure. You can get this ring in 18-karat white gold, yellow gold, rose gold, platinum (600 and 950), or platinum.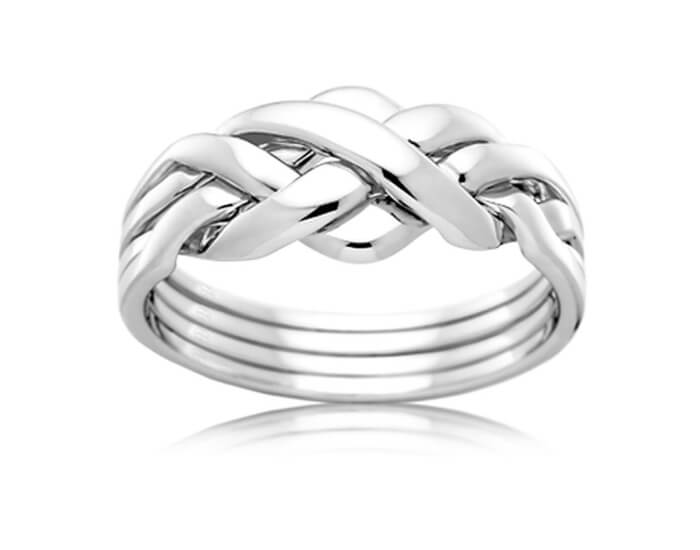 Available at: Templeandgrace.com
$880
4. Ladies Tight Weave 4 Band Puzzle Ring in Sterling Silver 4T
This cute and minimalistic puzzle ring is going to make for an excellent wedding band. The ring is made of high-quality sterling silver. It has four bands interconnected in a way that makes a gorgeous ring design in the centre.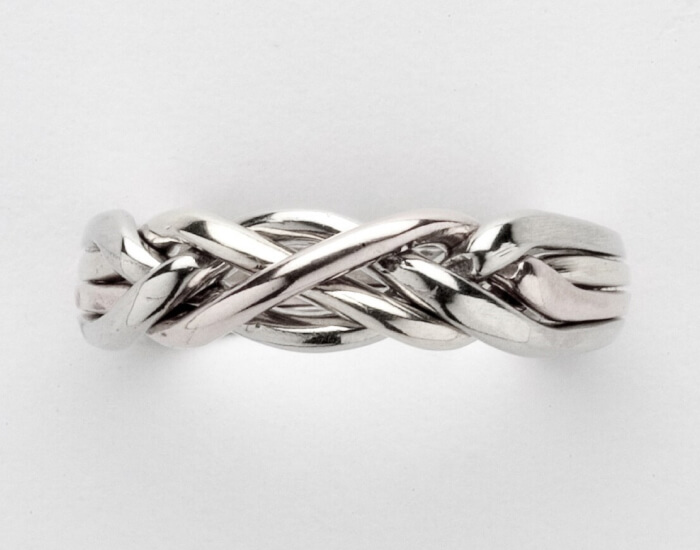 Available at: Etsy.com
$58
5. Paloma's Melody
This five-banded ring is a more modern spin on the classic puzzle ring design. Made of 18k rose gold, the flowing shape of this ring is highlighted by a singular band of pavé diamonds.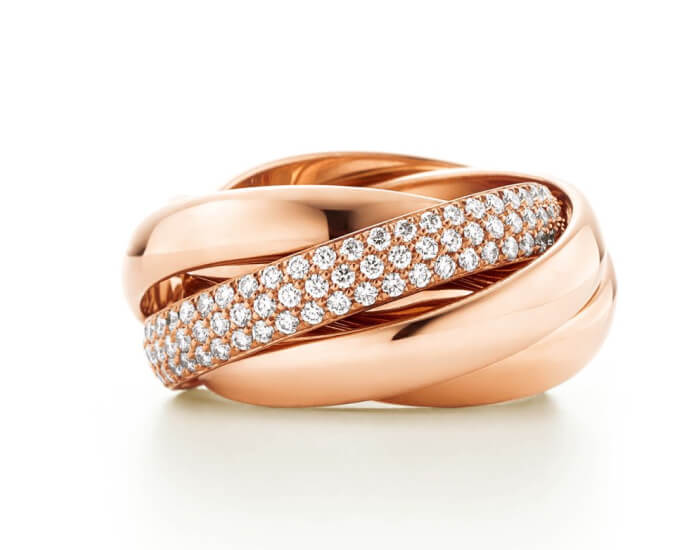 Available at: Tiffany & Co.
$13,500
6. Tree Colour Puzzle Ring
Tree colour puzzle rings are meant to make a statement despite their simple appearance. This braided puzzle ring with a yellow gold, copper, and silver finish is made of sterling silver. This beautiful piece of jewellery is the perfect way to show your future wife how much you care.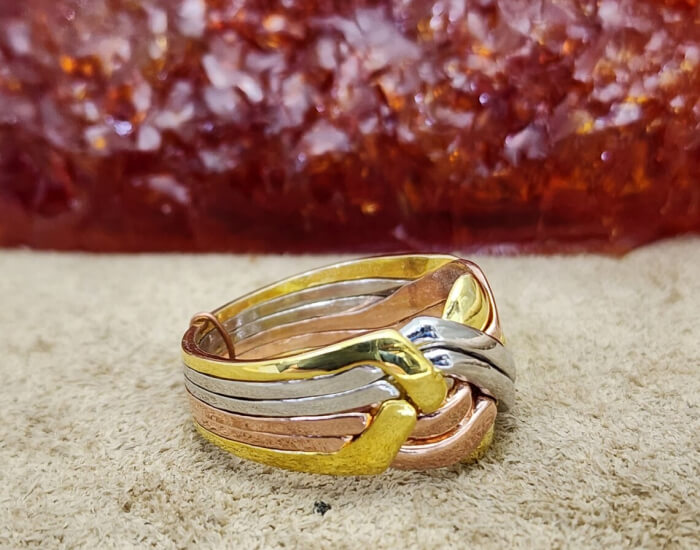 Available at: Etsy.com
$80
7. Yellow Gold-Plated Rolling Triple Band Crossover Ring
If you're looking for a minimalistic puzzle ring design, then this yellow gold-plated rolling triple band crossover ring is a perfect option. This ring looks cute and very elegant. The ring's three gleaming bands are beautifully interwoven to create a stunning design that your future wife is sure to adore.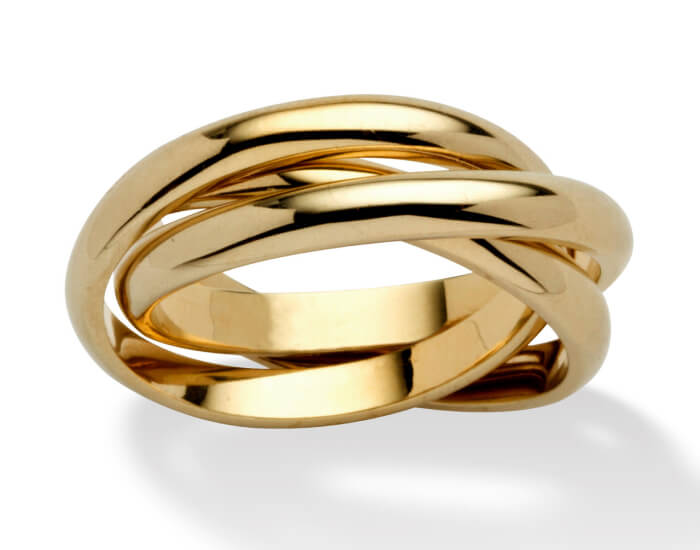 Available at: PalmBeach Jewelry
$29.99
8. Jigsaw Ring with 12 Bands
This 12-band puzzle ring will test your abilities to the fullest extent possible if you enjoy a good challenge. This ring falls apart just like a real puzzle. It features 12 bands, each band made of 14k solid gold. It comes in four different variations, including Yellow Gold, Tri-Colour Gold, White Gold, and Two Tone Gold. You can buy the one that fits your needs perfectly.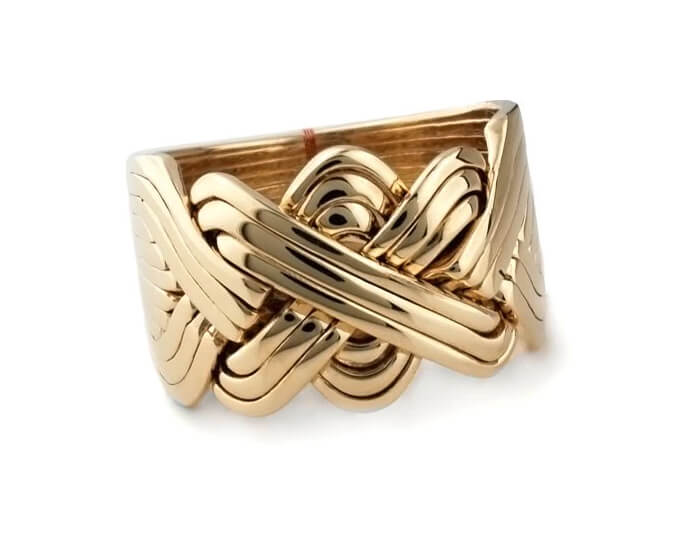 Available at: Puzzlering.com
$1297
9. Minimalist 2-Band Puzzle Ring
Those who are drawn to uncomplicated designs will enjoy this minimalistic puzzle ring with two bands. It presents a lovely and sophisticated design. It is available in both silver and gold. You can buy the one that fits your budget well.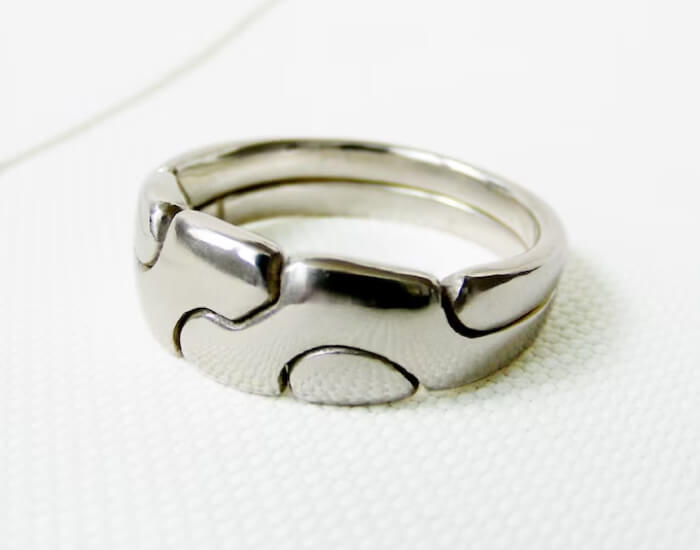 Available at: Etsy.com
$52 for sterling silver ring
10. Paloma's Melody – Two-band Ring
This is the puzzle ring to get if you want to wow your significant other with something classy. This stunning ring has a fascinating pattern made up of two bands that are interwoven wonderfully. One of the bands is set with small diamonds. This ring is made of 18K rose gold.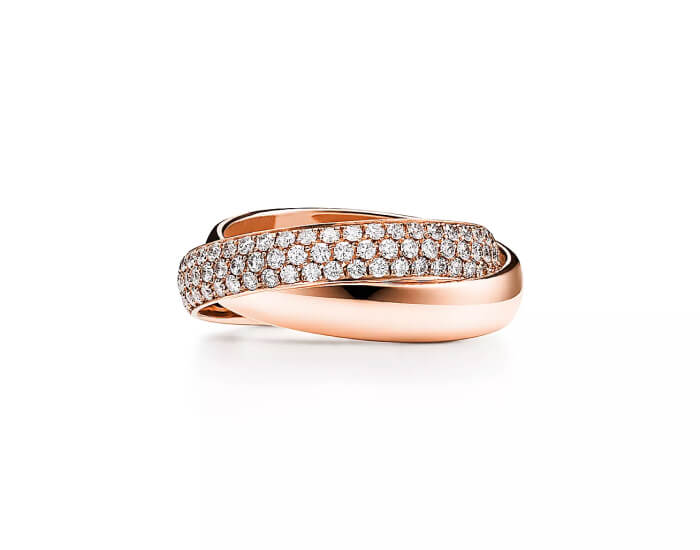 Available at: Tiffany & Co.
$9000
11. Four Band Puzzle Ring With Cute Little Diamonds
Make your special day even more memorable by surprising your beloved with a band that she will treasure forever. This exquisitely crafted puzzle ring, adorned with a stunning array of round diamonds, is sure to make her feel truly exceptional. This unique ring, designed by Paloma Picasso, is truly one-of-a-kind. It showcases four exquisite bands crafted from premium white gold. This ring is designed to come apart, just like a real puzzle. Although this ring is on the pricier side, it is well worth the money.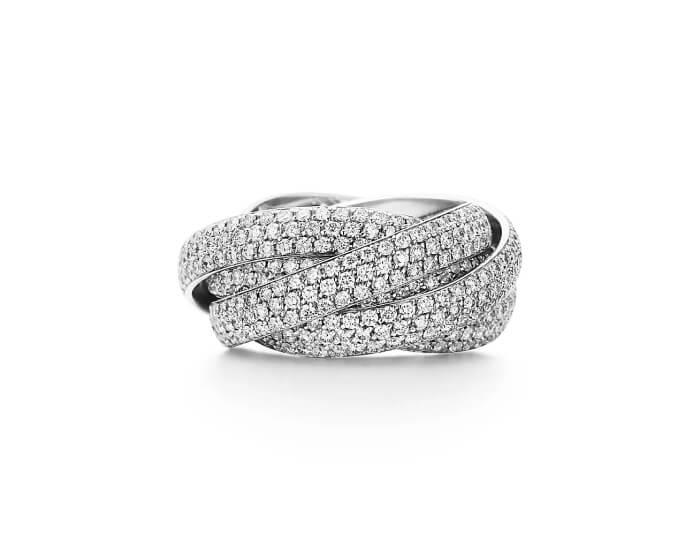 Available at: Tiffany & Co.
$40.500
12. Merging Romance Ring
This one features a unique puzzle ring design. With its pavé diamond accents, this ring is a great pick for the jewellery connoisseur. This two-piece ring can join or fall apart. Suitable for the man who would rather express his feelings with a wedding band than with words.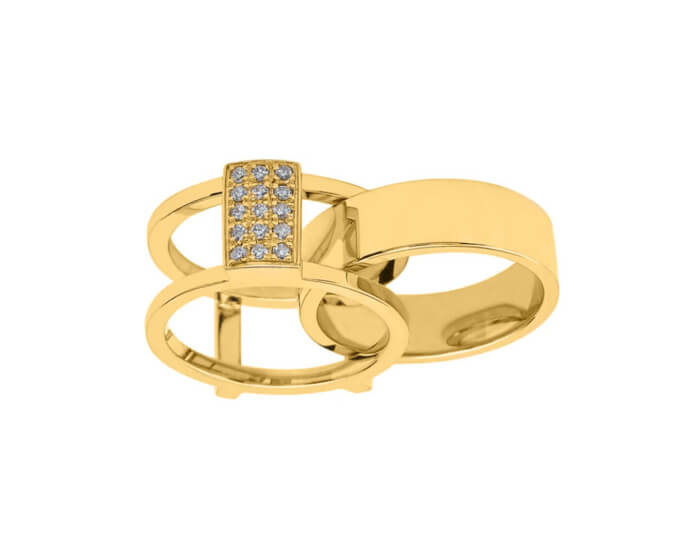 Available at: Etsy.com
$4089
13. Tungsten Puzzle Ring
This is a one-of-a-kind tungsten ring that features a fascinating puzzle design. This unique interlocking ring consists of two distinct pieces that elegantly secure together on your finger. This ring is made of silver sterling; you can get it customized as per your requirements. So, if you want to wow your wife-to-be with a unique wedding band, this is the one.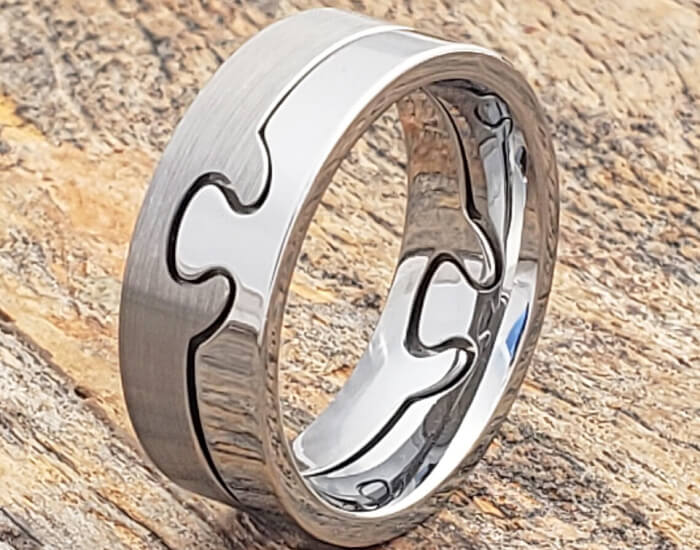 Available at: Etsy.com
$130
14. Leslie Paige Three-Band Puzzle Ring
Show off your one-of-a-kind sense of style with this stunning Leslie Paige three-band puzzle ring. It's a beautiful square-shaped puzzle ring with three bands. Each ring displays its individual allure with a stunning gold finish and cutting-edge style. You can have this ring created especially for your wife-to-be. This ring can be made to order; all you have to do is place your order well in advance, as the company takes at least 6 – 7 weeks to complete the order.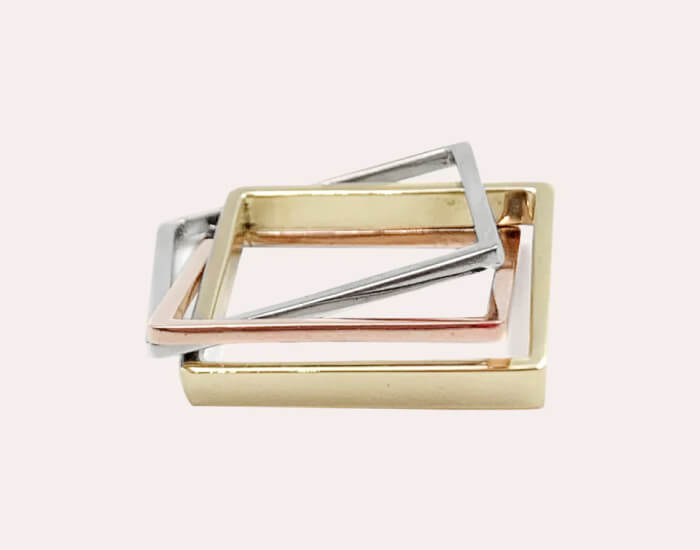 Available at: Olivela
$1100
15. Sterling Silver Puzzle Ring
This elegantly simple puzzle ring is the perfect way to show your future wife how much you care. Your minimalist partner will appreciate the simplicity of this unique wedding band for sure. This one-of-a-kind ring is crafted from.925 sterling silver and contains two rings that fit together like a jigsaw. The ring features contrasting shiny and matte metal bands.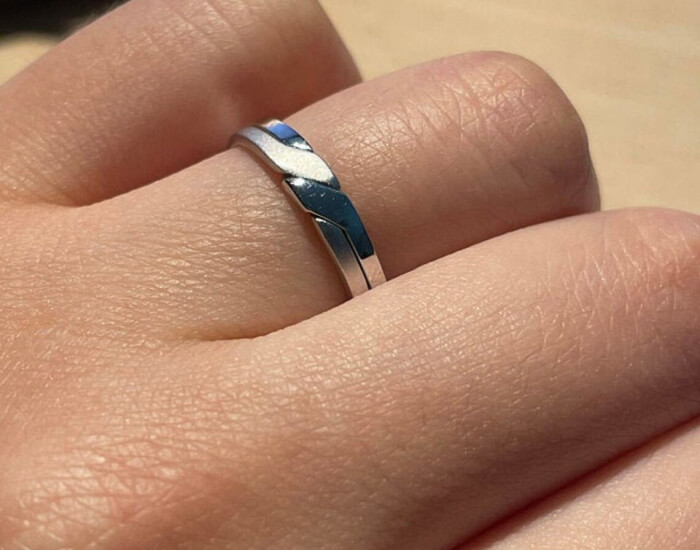 Available at: Etsy.com
$22
Wrapping it up…
So, there you have it: the complete guide for puzzle rings for your female partner. Hopefully, this article has been informative for you and will help you make an informed choice.
We're confident that the puzzle ring designs exhibited here will assist you in selecting the ideal wedding band for your special someone. Each band is handpicked with your specific preferences and budget in mind.
Make sure you keep your partner's unique taste and preferences in mind before buying this intriguing and one-of-a-kind accessory for her.
Let's now take a look at some frequently asked questions. Here we go…
FAQs
1. Where can I buy a reasonable puzzle ring for my wife-to-be?
There are many renowned brands, such as Tiffany and Co., Olivela, Puzzlerings.com, etc., where you can buy a puzzle ring from. Aside from that, Amazon.com and Etsy also sell these rings at affordable prices. You can buy a puzzle ring from any of these platforms but don't miss to read reviews before buying a ring. Also, look for the company's after-sales support policies because sometimes returning or exchanging an item, especially an expensive item like a ring, becomes a headache.
2. How to Take Care of a Puzzle Ring?
It's easy to take care of the puzzle ring. The same level of care should be given to your puzzle ring as you would any other expensive jewellery. Only when you're going to get indulged in some physically demanding activity, such as swimming, make sure to remove it for some time and keep it in a safe place. And if you tend to forget to remove it, then get it insured beforehand so that you won't have to worry about it getting lost or stolen.
3. Isn't it Mandatory to Buy a Conventional Wedding Band?
Well, there is no hard and fast rule when buying wedding bands. You can choose to buy a unique ring for your partner without having to worry about traditions. Also, a puzzle band is just as appropriate for a wedding as any other ring. In fact, puzzle rings make for excellent wedding bands. They look aesthetically pleasing and carry a symbolic meaning. Since these rings are comprised of separate bands that interlock to make one ring. This interlocking of bands very well represents the union of two individuals.
Thanks for reading the article!
Happy Wedding… 😊 😊