Well, this is crucial. Wedding photographs are the most important, they are quintessential part of any wedding. Just after the wedding if something is most awaited it is the pictures of the wedding and nothing else that matters. But how would you feel if your wedding photographer doesn't deliver your pictures even after paying the entire money and the time of delivery is also over? Of course, annoyed, the peskiest feeling of all in real-time.
However, some couples are really unlucky for that matter when they encounter such issues when it comes to their wedding photographs. If you are also facing such kind of problem then this article is surely meant for you. Keep reading…
What all you can do when your wedding photographer doesn't give you the photos and you've already paid in full?
1. First thing first, have you tried contacting the photographer? If you were asked delivery in 5 weeks and you have not yet got the delivery, you should contact the photographer in person. Even if you think you know the photographer well still the first thing you should do is to contact him and understand the real cause behind the delay. Because not every time the person is culprit, sometimes situations are. However, you should personally meet the photographer and know the reason, he might be having some real issues and that's why he must have not delivered your pictures.
You need to understand that photographers are also humans and they also have events good or bad occurring in their lives. If you find the event genuine, the cause is really true than you can spare him some more time, considering your past experience with him.
2. Next, if your photographer is not from the same town, then you could probably write him an email or contact him over the phone or via message. In most cases a phone call or an email does wonders. If still he doesn't respond you back then probably reminder emails can be sent, sometimes people are so stuck that they miss to reply. Actually in any case we have to consider his humanness first. Because there are certain tragedies which can cause problem in real in anyone's life. Be it you or he!
Another way out is, if you got this wedding photographer through some contact like vendor or friend than you can approach them and tell your problem to them. Chances are they can help you get your pictures by approaching him.
So, these are few steps which you can initially take when you think things are in control. More often than not, taking these steps only can solve the problem.
3. If still you think you have tried everything and no result has come yet, if you are extremely exhausted and tried every communication method, and you are still in the square one, than only contacting an attorney will do. Mostly, a letter from an attorney normally straighten the things right out. If they are looking forward to continue in the business, they will surely make it right.
4. But if you think that it has been long and still you are not getting your pictures than surely you have to move a little further to the next level and sue him in the court. I am sure you have signed a legal agreement with the wedding photographer before the wedding.
What is a photography contract and why it is important?
Presumably, we all are educated and we know how important it is to sign the agreement with wedding vendors to get the job done properly. The agreement which you had signed with your photographer with the help of that you can sue him in consumer court or as per the state laws in your country. The statute of limitations ranges between 2 and 10 years also it depends on the state and the type of contract that you had with the photographer. Make sure that the time period is not period yet expired, because if the period is lapsed than there's nothing that you can do other than, possibly, lodge a complaint. Which may or may not be effective!
All you need to do is to make sure that you have all the documentation regarding your agreement and proof of payment with you. This may take some time, and if you receive a judgment, you can retrieve your payment along with the case filing costs and, potentially, other damages.
Well, these are few thing which can do when your wedding photographer doesn't give you the pictures even upon receiving the entire money.
However, it is important that while booking your wedding photographer you do a lot of research initially and then only after getting proper assurance book him/her for the event. Also, not ignoring the importance of the wedding photography contract simultaneously. As a client, you should know your rights. And it is important that you get the terms of any photography job in writing. That's where your photography contract comes in.
You can trust your photographer and there is no problem in it as he may be your friend's contact, maybe in your relationship or maybe your vendor's contact. Whatever the understanding between two be, but sometimes misunderstandings happen and things can get messy. Here is why you should stress enough on a photography contract
Read on… For all the help you need in covering all your bases.
Why Do You Need a Photography Contract?
There are myriads of reasons you should have a legal photography contract in place before your wedding itself. First, of course, is the misunderstandings that is already mentioned.
More often than not, these are some honest mistakes, but they can still cause a lot of pain and loss, later once the job is done. Contracts are not only to set the stage for a legitimate and professional business transaction, but also to make your wedding photographer take his work and the entire the process more seriously. And contracts are really helpful in keeping the things and the process clear between both the parties i.e., the photographer and you because it has clear terms and consequences.
Having a contract in place also signifies about the image of a photographer as a professional in the industry. Lastly, having a photography contract signed will strengthen the trust between the photographer and you. At least both of you will know exactly what to expect from each other!
Since that you know why you need a wedding photography contract before the wedding itself. Here is, what should the contract say?
You may come across many, many photographers when you will search for one. It is important that you book only the one who is ready to take care of all your wedding photography needs. Also, before finding a photographer or booking one make sure that you yourself are clear with your expectation like what do you want, how many numbers of photographs you are looking forward, what kind of photography you want like candid or black and white or the mix of any two photography. Likewise there are several aspects to be considered while you finally book your photographer.
As soon as you're able to find the wedding photographer of your choice, meet him personally, do visit his portfolio, and make sure that you see his past work, if he doesn't share his work than ask for it. Also, if he doesn't ask for a photography agreement then you take initiative and ask for the same. Do not hesitate, contract is your right and to save few thousands can cause you pain later. Believe me…!!
What details a contract has?
1. Details like full Contact Information and Name of the photographer and the Client (you).
This may look obvious to you. However, having full name and contact information for both parties is indispensable. We live in the era of technology where people have less time to focus on important things and later they regret. You may find it easy to send a text message and say yes booked.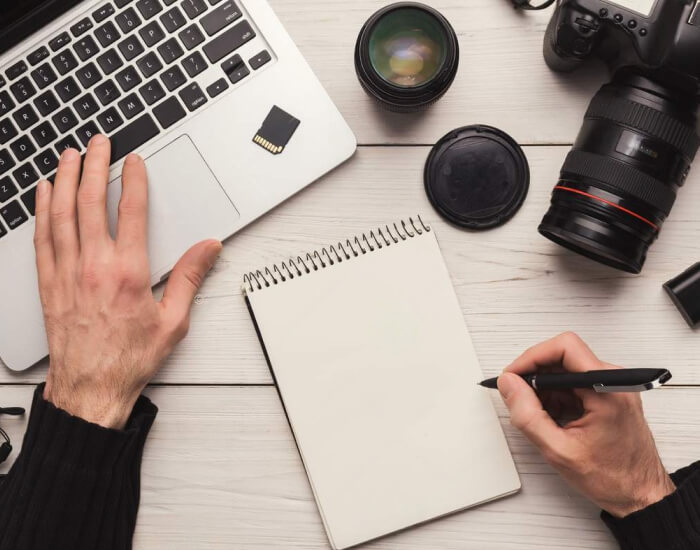 But, that doesn't go well when it is about your wedding photography contract, do fill all the details and get all the details full name, address and contact details of the photographer filled in the contract are a must. Photography contract is to clear that you two are signing as client and business. It is an official document.
2. Details like Start Date of Photography Contract and Shoot Date
It is very important point which has to be mentioned in the contract, as having a start date for the contract terms lets both the parties know when terms and the timeline is starting. There are certain situations wherein only a one-time job to be done. But in a wedding it is an event which goes for two –three days at least in India.
As a client it is your duty to tell your wedding photographer all the details and check that those details like shoot date, shoot start time and end time and the location are clearly mentioned in the contract.
3. Details like What Each Side Will Deliver
Another very important pointer to look into the photography contract is what each side will deliver. As, it summarizes things clearly and properly. It includes details like the financial total for the client (you) here, as well as what the photographer deliver in exchange for that payment.
Each photography contract differs, depending on the nature of the shoot as some shoots are only one-time shoots whereas some are longer shoots.
4. Details of Cancellation Policy
Here is where you should know when and how you can cancel, as well as what is the fee which you incur while canceling the contract. Clearly see if all the things are mentioned properly. Like what is he responsible for, what charges would be applicable on you upon cancellation, will you get a part of the deposit money or a part of it or not, or is that a non-refundable retainer, or can you use a retainer for a cancelled shoot to a future date to any extent?
Just check that this portion of the contract has all the aspects set accordingly. Also, do not forget to read it all.
5. Details of Liability Limitations
This is the section which usually talks about what should be done in case of damages. Or maybe the photographers inability to perform a job due to things beyond his/her control. This includes situations like illness, accidents, natural incidences, or digital loss like the files got ruptured.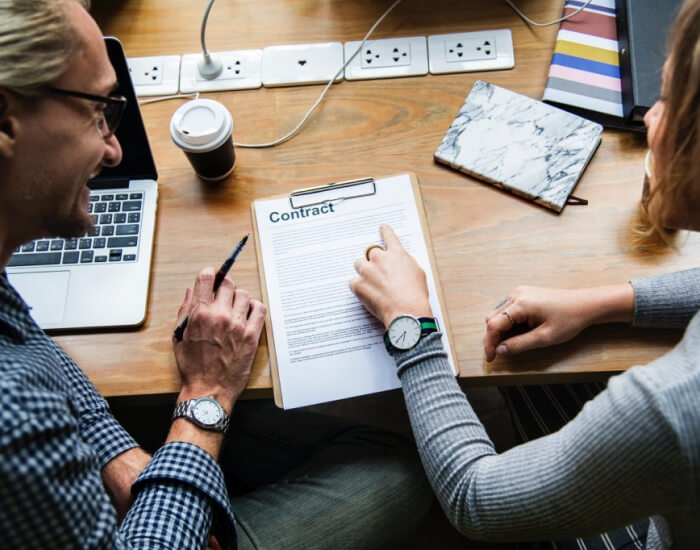 This section will contain information what the photographer will agree to do in these cases, and what you as a client can expect to receive. More often than not, such cases involve returning a retainer to the client, or finding a suitable photographer for a last-minute replacement for the wedding shoot.
6. Details of Payment Schedule
Well, it is very important to know that no photographer asks for full payment in advance and if yours is asking than the best idea is to chuck him and find new.
In this section of the contract you will find details regarding payment schedules, deposits and retainers. More often, there will be a breakdown of how and when you have to make payment. In most of the cases, a retainer is standard upon booking.
Like: it depends on the nature of the job, if the job is larger, then there will be several payments made at different points in the process. Also, make sure that the payment you are making via bank are not going to bounce because there will be a clause for that also in the contract. Do read it carefully, this will also save you from misunderstandings or delays later.
7. Details of Copyright Ownership and Transfer of Use Rights
This is a very important section in the photography contract because it could have a huge impact in the future in case of a dispute of any nature.
Mostly, photographers retains copyright and grant his/her client (you) use rights. This simply means that the photographer has the ownership over the photos and he/she will permit you to use them.
Here, either he may grant use rights for a fixed amount of time, as is typical with commercial jobs, or for the lifetime, depends absolutely on the photographer and your terms with him. Usually, for personal photos, one gets use rights for the life. This includes wedding photography, family photos, portraits, and others.
Because simply you are not going to use photos to make money…. ☺ ☺. However, sometimes a client may want to use the photos for an ad campaign or a product label. In such cases your photographer would want to look at getting more detailed with what rights you have and for how long.
In some cases, even the photographer can be comfortable in letting you use right in exchange for payment. But this usually happens in commercial dealing, so you being a couple need not to worry about all this…☺ ☺
8. Property or Model Releases
This is for the photographer, as he might need property and model releases to show the photos to the public. This is especially crucial today when we are in the culture driven by social media and online branding!
Basically, a wedding photography contract will not need this portion to be paid attention to. But if there is a portrait photography than it would be needed. Usually, the wedding photography is more of documentary style and the portrait photography is more for editorial uses (if any).
A property release is actually to show private property, such as a home or pet. Yeah, your pets are treated as property in these cases. In some cases, photographers choose to charge an additional fee if the client does not agree to sign a release.
Moreover, it is important that you and your photographer have open communication as open communication is key to have clarity and avoid disputes later. If you are going for portrait photography at your wedding too than make sure that your photographer has told you where he is going to use your images. Openness is mandate!
9. Details on Editing and Post-Production
This is also related to use rights! Basically, it tells on how a client (s) are going to use the images. Also, if they are allowed to apply any further edits to them. More often than not, most professional photographers in most cases will want to have total control over the look of the final photos. And it is done because it has a direct reflection on their brand. That is why they don't allow further editing of delivered photos. Also, in the same section there will be a mention of 'what type of edits will be included in the photographer's services.'
For an instance, your photographer may only do color balancing and basic edits, however, major manipulations like head replacements, background change, or removing extra item from the background all that may require an extra fee. So, you need to know this also beforehand in order to avoid any clash later.
10. Details of Extra Fees
Wedding photography has too many aspects all in all. It is not just wedding photography, it has too many elements to consider like extra editing, or major manipulation in editing, travel fee, food and accommodation charges (if it is a destination wedding or if the photographer you have hired is from different town), type of photography, additional pictures, album, pre-wedding shoot, permit fees for shoot location, extended shoot time, for outdoor pre-wedding shoot, late or bounced payments etc., all that will be included in this section of extra fees. Any extra service you will demand it will cost you and that price will be basically mentioned in this section.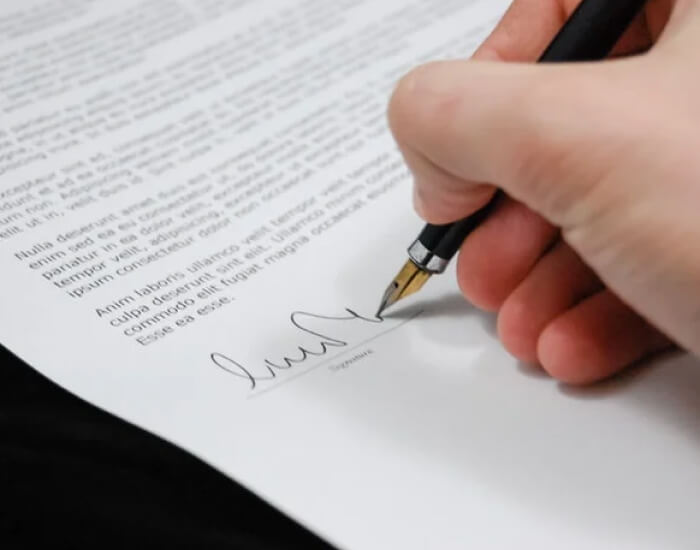 Some contract have this section some may not have, but it is essential that you know that there are extra payments also related to the wedding photography and that part you only have to see, not your photographer is going to take care.
Conclusion behind the Article
So, these are the pointers which clarifies why a wedding photography contract is essentially to be signed in the beginning itself so as to avoid any clashes in the future. Besides, contract there are other important things you should know before finally making your wedding photography booking. Always make sure that you are investigating and inquiring before hiring the wedding photographer or paying them the full and final amount, even if he or she is someone's recommendation.
Do not simply trust a photographer on the internet. Your wedding is once in a lifetime event and your wedding photographs are going to be a keepsake of your life's biggest event. So, make sure that do enough research first. Gather all the required information about every single photographer who you are considering to hire and then finally chose the one you think you can trust the most and he is fulfilling all your requirements.
Do not simply see the lowest cost and finalize for your wedding photography. More often than not, many people suffer later because they simply see a little lower prices and then without gathering information about the photography they hire the person and later either they compromise on quality, sometimes delays in delivery or quite a few times they struggle to even get their photographs leave about timely deliver.
Now… if they are not communicating with you and you've been trying? Get a lawyer, you will need one if you ever plan on getting anything from them.
Keep smiling…. ☺ ☺ be smart while you hire a photographer, rest your photographer will take