There is no doubt that Indian weddings are full of fun and enjoyment. Indian weddings are no less than a festival, as weddings are week-long celebrations in India. There are so many rituals and celebrations that are considered essential, such as the Haldi celebration, Mehndi Celebration, etc. And each ritual has its significance. But that doesn't mean that Indian weddings lack the fun part; in fact, couples these days focus primarily on the fun part. They hire professional wedding planners to take their weddings to another level and make it a memorable celebration for all. But not everybody prefers to hire wedding planners, come couples conceptualize their weddings to add personal flavor to it. They do everything from incorporating wedding games to other fun activities to make it total DHAMAAL!
Exciting Games for Couple & Guests in 2022 Weddings
1. Kite Flying
Kite flying has always been very popular in India since ancient times. It was one of the most played games in ancient India, all the kings and their queens used to enjoy kite flying. Today, people enjoy kite flying during special occasions, such as Dusshera, weddings, etc. You can also incorporate kite flying at your winter wedding. Trust, all your guests will enjoy this game. This is the perfect game to add to your pre-wedding rituals. You will not need to bother about your guests; they will be busy enjoying it. To make it more fun, you can conduct a kite flying competition.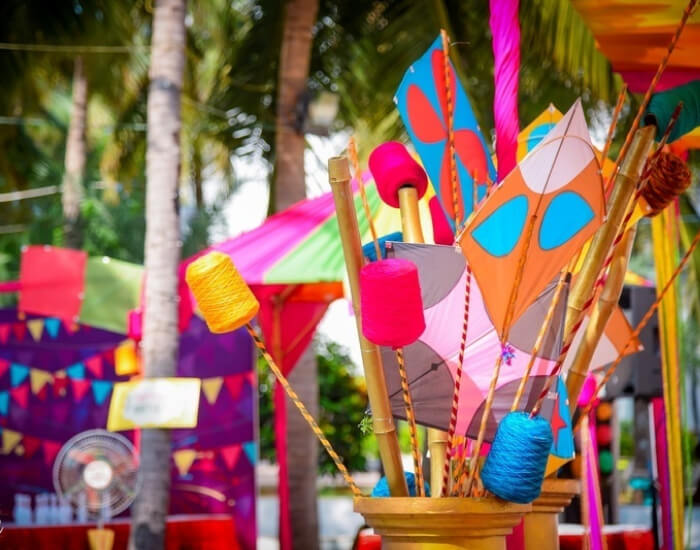 Pro Tip: Make arrangements for snacks and drinks for your guests to savor on. You can arrange for thandai, sharbat, samosa, sweets, and other eatables!
2. Antakshari
Another Indian Wedding Game that can't be ignored is – Antakshari. Antakshari may sound old-fashioned, but this retro game is enough to take your wedding to the next level. Of course, all your relatives will arrive a few days before your wedding. They should not get bored at all; Antakshari can be a big savior, trust me. When at night, everybody is gathered in one place, just divide people into teams and start playing. The best thing is you do not need anything to play this game. Only your knowledge of Bollywood tracks is enough! All your filmchi guests will enjoy this for sure!
3. Tambola
Trust me; this kitty party game can also be incorporated into your wedding. And it will make your guests have unlimited fun. It is a very engaging and exciting game. It has the quality of generating interest immediately. Even the ones who don't know how to play will start playing. Just arrange for the Tambola game and gifts for the winners. Let the most creative person be designated to call the numbers.
4. Passing the parcel
Yet another fun game, traditional yet unique! This is one such game that has been played for generations in India. A great way to take oldies down the memory lane. Moreover, it is an excellent way to involve everybody present at the event. Arrange the music system well in advance. Rules are very simple, just make everybody sit in a circle and have a small cushion to pass. Have a music keeper, take a pillow, and start playing. Whoever catches the pillow while the music stopped will perform something, like singing, dancing, mimicry, etc.
5. Game of Card
Card games are also very famous in Indian weddings. When there are too many people around, it already becomes celebratory, and if cards are added, then the fun level reaches the next level. It is super fun; you can play bluff, rummy, etc. to keep the celebration going on.
6. Dumb Charades
Like Antakshari, Dumb Charades is another beautiful game to play in an Indian wedding. The best thing is – it can be played by anybody, from your 10-year-old niece to your 70-year-old grandma. Divide people into teams and have them play Dumb Charades. See how light and lively the whole thing will become—a great way to de-stress yourself and others after a tiring day.
Related Post: 
7. Tug of War
Well, Tug of war has been played for years at Indian weddings. Earlier, people used to compete among themselves, but now the tradition has changed. Today, most couples prefer to host destination weddings. Both bride and groom's side people arrive a few days before the wedding. Incorporating Tug of war in a destination wedding will add to the flavor. You can have both the bride and groom side participating in the game. You will be mesmerized to see the level of competition both teams will have.
8. Treasure Hunt
Treasure hunt games are very interesting and engaging. Not only do these games add fun and enjoyment, but also they take any party to another level. All you have to see is you have enough space to organize the game—the bigger the area, the better the experience for all. Rules are simple: prepare a bunch of treasure hunt clues or riddles, hide them in various places throughout your wedding venue/location. Divide the guests into groups, name each group. Hand over the first clue card to each group of guests, which has a riddle on it, leading them directly to the next puzzle. Likewise, they will continue to search next clue cards based on the one they have, leading to some exciting prize, surprise, or treasure at the end!
9. Truth & Dare
It's not just a game for college-goers, you can add it to your wedding too. This can be played at your bachelor's and bachelorette party. Take a bottle and just start tossing!!
10. Giant Jenga
It is a classic block-stacking game that has gained popularity in the past few years. Get or create a life-size set of blocks that friends and family can build and destroy and enjoy playing it. This new-age Indian wedding game is perfect for playing on the day of the Haldi ceremony.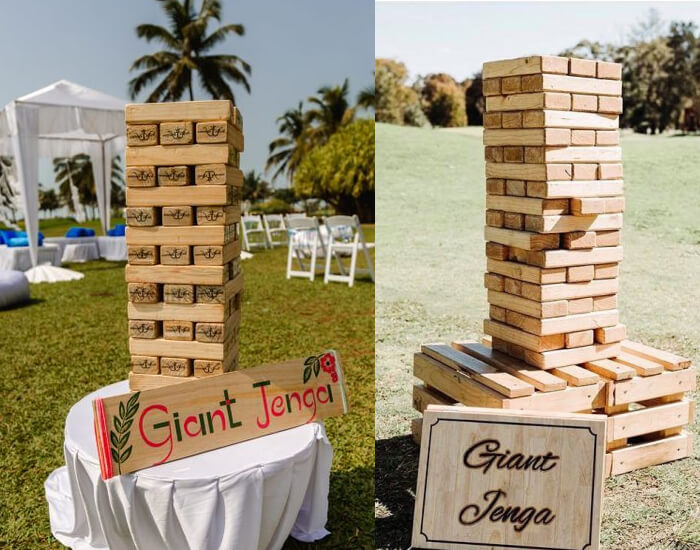 11. Musical Chair
This age-old game still holds the same charm and warmth. It is one such game that can be played on any occasion, from a birthday party to a wedding celebration. It is a very easy, lively, and engaging game. When all your male guests are busy enjoying drinks, you can have all the ladies playing musical chairs. Of course, why should men only have all the fun… ☺ Arrange for chairs and music, and a person to operate music, and you are all set to have unlimited fun!
12. Hula Hoop
Another fantastic game for all age groups is Hula Hoop. You can have a hula hoop corner during your Mehndi celebration so that all your guests can enjoy playing.
13. Ping Pong Beer
A great game to play during cocktail hours or bachelor/bachelorette party. It is a drinking game in which players attempt to throw a ping pong ball into beer cups. This game has become an integral part of pre-wedding functions.
14. Gigantic Tic-Tac-Toe
A perfect fun game for any age group! Just arrange a life-size version of the game so that everybody can enjoy it at a higher level. For matching it with the wedding theme, you can have kisses and hearts in place of Xs and Os.
15. Karaoke
This is a one-of-its-kind wedding game that simply adds fun to any wedding—a perfect game for your cocktail night. A combination of a bubbly drink with karaoke will make your cocktail night super fun. You will love to see your guests singing to their heart's content while others are hooting and cheering them with their drinks.
16. Juta Chupayi
It is a MUST HAVE game at an Indian wedding. 'Juta Chpayi' is an old yet entertaining game for the bridesmaids to have fun to the fullest. The bride's sisters and squad steal the groom's shoes and then ask for money or gifts against the shoes.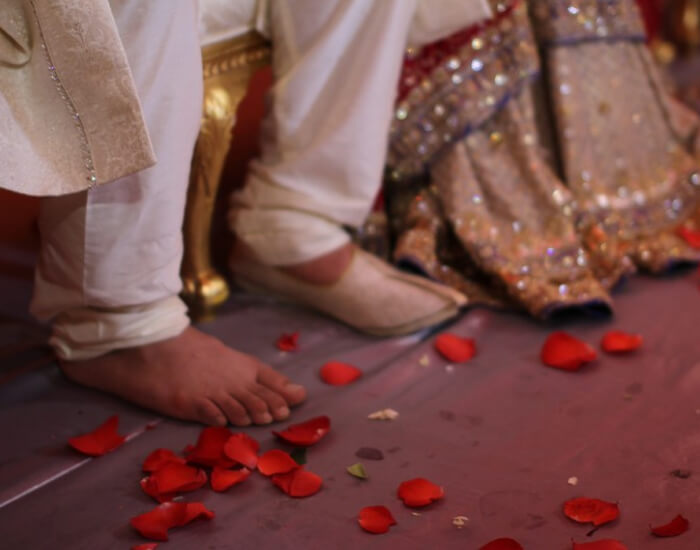 Also See: 
17. Name the Correct Family Member
Another retro game that has been played by our parents and grandparents. It is a nice way to add some old charm to your wedding. A little bit of preparation can make your wedding event a grand celebration. This is the game meant for the bride and groom, as their knowledge about each other's family member is tested here. Mostly, brides win! Just get your riddles about the family members or a projector and laptop ready well in advance. For the riddles, you can also use some photographs of family members from both sides and ask the couple to guess who the person is.
18. The Shoe Game
The shoe game is not an Indian game; it is originated in western countries but has gained popularity in Indian weddings. It is becoming one of the couple's favorite games to play after the wedding at the new house or at wedding receptions. In this game, the bride and groom asked to take a seat back-to-back in front of all their guests. And as the name suggests, both the bride and the groom will hold one of their shoes and one of their partner's shoes. The coordinator acting as host will ask a series of questions to the couple, for which the answer is either "the bride" or "the groom." The bride and groom can only answer by holding up the shoe of the correct person. For instance, if the question was "Who proposed first" and the groom's answer, they should both hold up the groom's shoes.
The game will last about 10 minutes, having a series of 20-30 questions being asked. Just prepare an amusing question set that can keep the atmosphere light and lively. All the questions asked must be related to the couple's personal life, which involves both of them. Like:
Who said I love you first?
Who is quicker to anger?
Who made the first move?
Who has better handwriting?
Who likes partying much?
Who dresses better?
Who is the better dancer?
Who is more romantic? Etc.
Likewise, the coordinator or bridesmaid can form a series of 25-30 questions to add some fun element to the wedding reception.
19. Paper Dance
Paper dance is one of the most romantic Indian Marriage games of all time. Paper dance got fame from defense parties and events. This dance is ubiquitous there. Besides, it is commonly shown in Bollywood and Hollywood movies also. You can have this incorporated in your wedding reception. All your guests would love to participate in this dance—an excellent way to give your guests a feel of Page 3 parties.
20. Buff Quiz
Another fantastic wedding game to add to your wedding is Buff Quiz. This is an excellent game for a wedding reception with a small gathering. Prepare multiple choice questions or fill in the blanks or true/false about the bride and the groom in advance. Place the question sheet at each guest's table. The coordinator or the emcee will then ask the guests to fill out the questionnaire whenever they like, and later, the emcee or the coordinator can read out the answers. Who so ever wins can take away the gift.
21. Untie the Knots
Another traditional wedding game that couples can incorporate in their wedding to add some retro touch. In this game, a string is first dipped in water, and then 4-5 tight knots are made in it. Then the couple is asked to untie the knots with their non-dominant hand. For example, if the groom or bride is a lefty, he/she will be asked to untie the knot with the right hand or vice versa.
Basically, both of them have to use their one hand only to do the needful; it is played to check the coordination between them. An excellent way for couples to build a tie while untying the knots.
22. Ring Fishing Game
Ring Fishing or Ring Rasam Game is a traditional Indian game usually played after the bride reaches the groom's place. The couple is presented with a deep dish or big bowl filled with milk, turmeric, and rose petals. Their wedding ring is then dropped into the bowl, and the bride and groom are then asked to search the ring with one hand each. It is said that whoever wins this game gets the bragging rights to overpower the significant other in the marriage!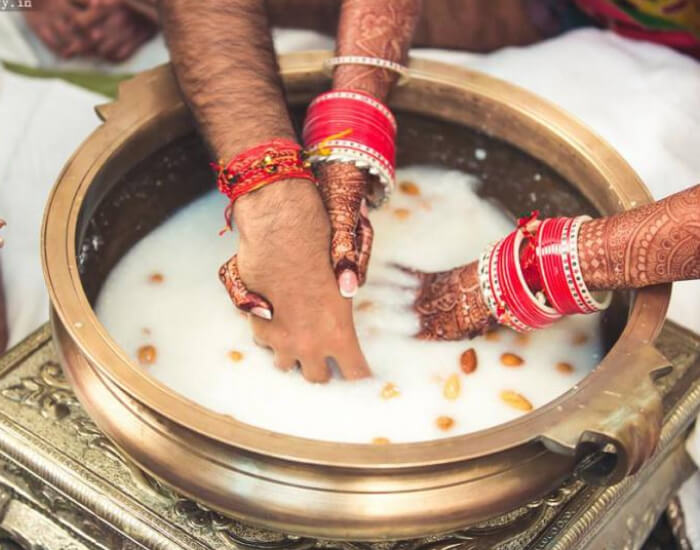 23. How Well Your Know Your Wife
It is another age-old Indian wedding game that all the couples present at the wedding can play. All you have to do is collect married ladies' belongings and arrange them on a tabletop. Men will then pick the item that belongs to their wives and take it to her. See who knows his wife well. Don't miss to giveaway a keepsake to the winner. You can give anything from cookies to a personalized gift item.
24. Rapid Fire Game
It is a great wedding reception game for the newlywed couple. Let the host or emcee ask questions to the new bride and groom. As the name suggests, the couple would be made to answer rapidly within a fraction of seconds. Ensure the host or the coordinator can keep the flow enchanting so that the fun element doesn't miss!
25. Photo Booth
More than a game, photo booths are activity stations. Actually, you can have your guests occupied in some enchanting activity so that they complain less. And a photo booth is a nice way to keep your guests engaged. They will love to click their pictures. You can also have some fun props, like glasses, ornate frames, mustache sticks, etc. Photo booths have become a new sensation, so getting a photo booth won't be a problem. You can hire any photo booth vendor that fits into your needs.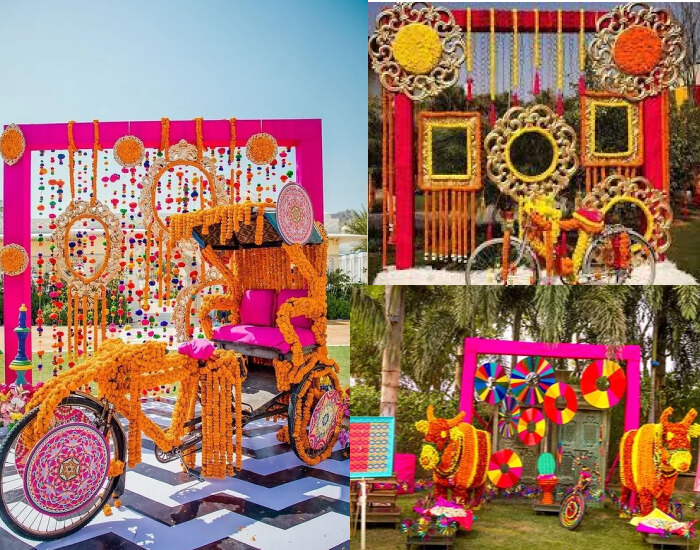 Summing it up…..
Hope this post helps you decide the games for your wedding too. These 25 Wedding Games are very popular in Indian weddings. Besides these, you can even have dart the balloon, activity wheel, etc. to make your wedding fun and entertainment for all your guests. You can incorporate these games on any day of your wedding, from the Haldi ceremony to the wedding reception. Not only incorporating wedding games will add entertainment and excitement to your wedding, but also they will take your wedding to another level.
Moreover, these wedding games are perfect icebreakers; having them at your wedding will make you worry less about your guests. Yes, because your guests will have some activity to indulge in and have a lot of fun.
Happy Wedding… ☺ ☺