Weddings are no more static, today, a wedding is not just an event full of ceremonies. It has much more to offer than delicious delicacies, music, etc. to the guests. Now a wedding can be a complete package full of fun, enjoyment, food, dance so on and so forth. These days' couples love to start their marriage with fun games, which make the whole environment more cheerful. Believe it or not, wedding games are great ice-breakers, and almost every wedding guest becomes part.
Wedding games are an excellent way to engage people who otherwise stay scattered here and there during the wedding. They simply lit up the celebratory spirit of the event. If you are planning to make your wedding a complete fun and memorable event, then this post is for you. Here is a list of the best wedding games for all those who are looking for ideas to make their wedding more happening.
1.

The Shoe Game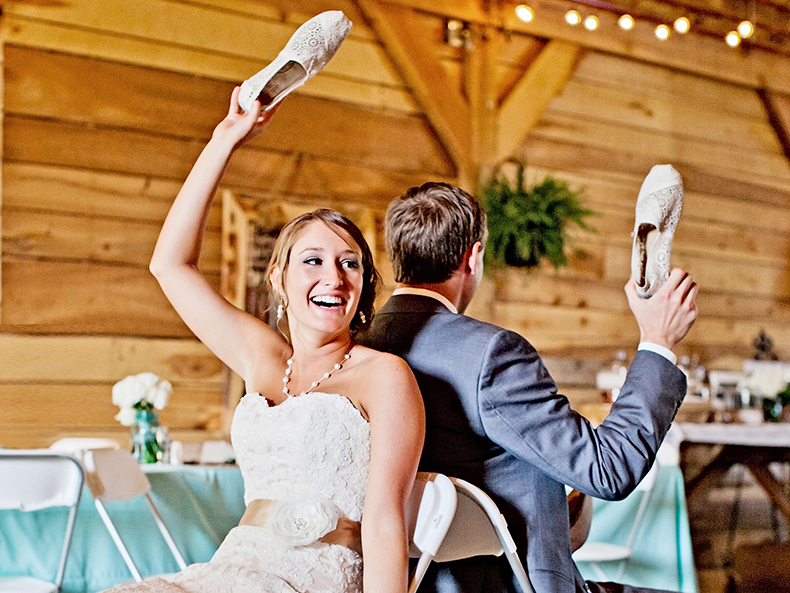 This game has its origin in western countries but now it is gaining popularity in Indian weddings too. It is becoming one of the couple's favourite games to play at wedding receptions. It is one of the best wedding games that will make your guests go crazy.
Rules to play the Shoe Game at the wedding reception:
Make the bride and groom sit on chairs with their backs towards each other.
Both the bride and groom should hold one of their and one of their partner's shoes in both their hands.
The Emcee or host or the bridesmaids shall ask questions to the couple. To which the answer must be either 'bride' or the groom'. The couple won't be allowed to speak, they will have to answer the questions by raising a shoe. For instance, if the answer is the bride, then both of them will raise the bride's shoe and vice versa.
The maximum tenure of the game is 10 minutes, which includes a series of 20-30 questions being asked.
All you need to do is prepare the question set amusing and well in advance. All the questions asked must be related to couple's personal life which involves both of them. Like: Who proposed? Who is more likely to do household tasks? Etc.

2. Mr. & Mrs. Game
Another excellent wedding game is Mr. & Mrs. Game. A fantastic game to play with the couple on their reception. It is also an indoor game that will keep your guests well-entertained and wholly occupied.
Rules to play Mr. & Mrs. game at the wedding reception
Pick a selection of questions, maybe 20 to 25 in all, (we have a separate article on Mr. & Mrs. Quiz questions, you can refer the same). The questions listed should be amusing and must be related to couple only.
Take printouts of the questionnaire, make sure you take two copies and give one copy of questions to the groom to answer honestly. Ask him to send his honest answers. Also, make sure that you keep his answer secret from the bride.
You can give the second copy of the questions to the bride at the hen party and ask her to answer them before the groom reveals his answer.
After each answer given by the bride, reveal the groom's response to see if it's matching or not. It is up to you, you can either ask the bride alone or you can have a team to take care of that.
This game will simply fill your guests with absolute excitement and fun. The best thing is you can make Mr. & Mrs. Game as exciting as you want.

3. Bride and Groom Trivia Buffs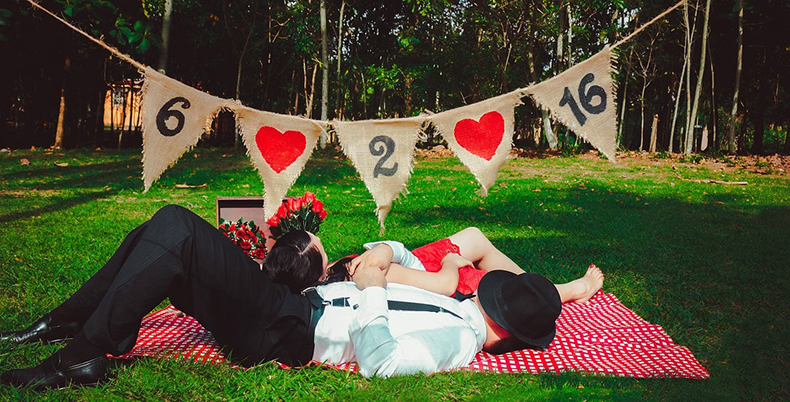 One more super exciting game for wedding reception – Bride and Groom Trivia Buffs. It is an engaging game which will keep your guests engaged and entertained. Moreover, it is an ice-breaker game that will make your guests to make friend with other guests immediately.
Rules to play Bride and Groom Trivia Buffs at the wedding reception
Prepare a multiple choice questionnaire or you can choose to have fill in the blanks or true/false as well. The questionnaire should have questions about the bride and the groom
It is important to prepare the questionnaire well in advance and get too many printouts of it.
Place the question sheet at each guest's table or place.
The coordinator or the emcee will ask the guests to fill out the questionnaire whenever they like.
The emcee or the coordinator then read out the answers. Who so ever get the maximum right will win and can take away the gift.
An excellent wedding game to help your wedding guests have a great time. This game will transform your wedding into an enchanting event.

4.

Romantic Paper Dance
Each guest at your wedding will be thrilled by the thought of romantic paper dance. This is going to be delightful wedding game which none of your guests would say NO for. In fact, it is going to be great opportunity for your guests to have some romantic time with their partners. So, do not hesitate to add this one. It is one of the easiest wedding games.
Rules for Romantic Paper Dance at the wedding reception
Scatter sheets of newspapers on the floor and ask the respective couples to step on them in pairs.
Put on the music and let the couples dance for a minute or two on the paper. The couple will be out of the game if any of them steps on the floor while dancing.
Now, stop the music, and ask couples to fold the paper into half. Again put on the music and let the couples dance for next one or two minute. Make sure you keep an eye on everyone's feet to check if anyone steps on the floor.
Carry on this way by refolding the paper to the minimum size. The couple that will manage to stay on the paper, will be the winner. Let as many couples as possible play this beautiful game.
You can make all the couples including the bride and the groom to dance on a piece of paper, which they keep folding after every song is finished. So, the smaller the paper, the closer couple is likely to get! Isn't it romantic and cute!

5. Wheel of Activities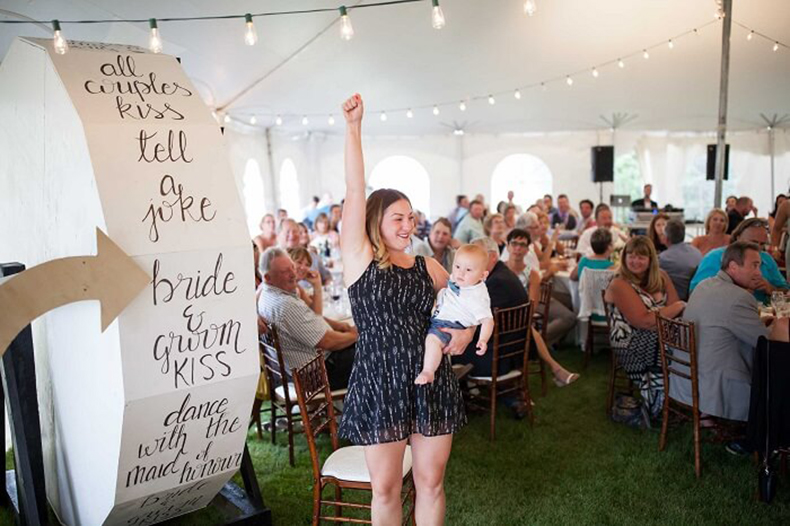 This is just like truth and dare; however, the pattern to play this game is a tad bit different. This is going to be an engaging wedding game which will keep your guests enthralled. Also, it is very creative, you can create a custom wheel according to your wedding theme.
Rules to play Wheel of Activities game at wedding reception
Create a custom wheel of activity according to your wedding theme. Add some romantic or daring activities in the wheel of activities, like "Pick someone to Kiss," "Your Best Dance Moves," and "Bride and Groom Kiss."
Your guests can be divided in teams according to their tables or howsoever you want to separate them in teams.
Once the game begin, emcee or the coordinator will ask guests from each table to come and spin the wheel of activity. Whatever activity they will be assigned they will have to perform.
Make sure you add some entertaining activities in the wheel so that your guests can enjoy the game entirely.
The game of wheel of activities will encourage more and more guests' participation at the reception. This will help you have some relaxed time, which you would spend in taking care of your guests otherwise.
Related Post: Creative Ideas for Outdoor Wedding Lawn Games
6.

Who Knows His Wife Well
Another Indian wedding age-old game to add fun to your wedding. It is not just meant for the couple but other family member can also enjoy it equally. This is beautiful wedding game for all the wedding guests.
Rules to play Who Knows His Wife Well game at wedding reception
Divide couples into male and females.
Now the coordinator or emcee will ask all your married ladies' to bring their belongings and arrange them on a tabletop.
Then the men will be asked stand near the table and look at all the items on the table. They will then pick the item that belongs to their wives and take it to her.
The one who collects maximum right items of their wives will win. Make sure you arrange for goodies for the winners.
This is an amazing game that will keep your wedding guests entertained at the reception. It is a nice game that will have all your guests involved.

7. Dumb Charades
One of the most enchanting games which can be played in any occasion. The best thing is you don't need to prepare too much for this game. All you have to do is give some impromptu songs to people and let them tell the name in sign language.
Rules to play Dumb Charades at wedding reception
Divide the guests into two teams at the max. Give teams' cute names.
Keep a score board with the name of the teams ready so that scores can be maintained team-wise.
Now, let the emcee or the coordinator call one person from one team (say team A) and let the opponent team (say team B) give them a movie name.
After receiving the name of the movie, the team A member will in-act and try to tell the name of the film in signs which his/her team member will try to identify.
If the team A members are successful to recognize the name, they will score points for the same. Likewise other team member will come and Team A people will give movie name to him/her.
You can continue this game as long as you want. Because you will never get bored of this! The feel of victory in other team upon guessing the right answer is beyond words. Go speechless and play and make each and every guest play dumb charades at your wedding!!

Wedding Games for Kids
1. Dart The Balloon:
This is going to be downright fun for your young wedding guests. All you have to do is set up a dart station or a large canvas and attach balloons filled with paint on it. Make sure that the set-up is kept at a safe distance. Encourage and involve all your young friends and family members to throw darts at the canvas which will pop and splatter the paint inside the balloons. It is one-of-a-kind game which will simply add fun to your wedding and keep your little guests busy and occupied.
2. Set Up A Video Game Station:
Undoubtedly, kids love video game stations, especially boys. They specially go to café and other junctions to play video games. Let them enjoy video game at your wedding. All you have to do is have a video game set-up at your wedding. Also, have some goodies or small prizes for winners along the way, these prizes can be used by them as the keepsake of your wedding. Don't worry you don't need to coordinate with the vendor, it can be taken care by your friend. You can ask your tech-savvy friend to make all the arrangements and see how happy your little guests would be.
3. Dance Competition:
Let your little champs have a small competition at your wedding. Trust, this is going to be an amazing activity at your wedding. Already you will have less guests due to the lockdown. This means more time to enjoy games and other activities. So, leave no stone unturned, just give your little champs to show off their best moves. We all know how smart kids are these days, they are no longer shy. They would gladly participate in the competition. All you have to do is let them and their parents know in advance about the game so that they can prepare accordingly. Take their songs in advance and store them in one place in the series these kids will dance. Make sure your stage is big and good looking, kids are very choosy, I tell you!
4. Fancy Dress Competition:
You can also think of organizing a small fancy dress competition so that kids in your family are excited. Because of lockdown kids are unable to attend school and meet their friends. Fancy dress competition at your wedding will make them happy. They will surely like the idea as they themselves want to do something that can remind them of their good school days. Your wedding is a great opportunity. All you have to do is create a theme for the competition and inform their parents beforehand. You can choose a theme that is more relatable to your wedding. Like, a kid playing role of groom-to-be, somebody playing role of the bride etc.
5. Skit:
Prepare a skit for your wedding matching with the wedding theme. Involve all the kids of your family to play a role in the skit. You can have kids playing groom's role, bride's role, mother-in-law's role, likewise there are other family members. Let all the kids have fun while acting these roles in the skit. Make sure you give them proper dialogues. Or you can make it a musical skit, it will be more fun for all of you.
6. Set up a Coloring Station:
The best way to keep kids occupied for hours is coloring activities. Embellish each child's place setting with a wedding-themed coloring book and box of crayons just for them. Or providing kids' with dedicated table covered entirely in butcher paper so that kids can draw directly on the table. All your nieces and nephews will be busy and your sisters and sister-in-laws would be able to enjoy thoroughly.
7. Ring your item:
This is one of the best games for the kids. Kids love to ring their favorite items. Trust, they will be tempted to get their favorite item. Easy for all age-group, and the excitement and happiness it brings to any kids face upon winning a prize or gift is worth it. All you need to do is make several big wedding rings of cardboard or steel and keep small goodies as gifts. And encourage all your kid guests to throw a circle or ring around their favorite item and have fun. Even your adult guests would not hesitate to take few shots.

AND FINALLY….
These are the wedding games that you can incorporate in your reception. Incorporating these games will simply transform your wedding to a joyous event. All you have to make sure is all the lockdown rules are followed by your and your wedding guests.