25th Anniversary is the best time to celebrate with love and laughter with your partner. So the cake has to be as unique as the occasion.
Celebrating the 25th wedding anniversary is a fabulous event in any couple's journey. However, the togetherness of 25 years needs a lot of love, patience, and understanding between the couple to cross the milestone. It's a blessing by the almighty to keep them healthy to witness the day.
So, to cherish the accomplishment of the 25th anniversary deserves a celebration with near family and friends. So the 25th wedding anniversary cake has to be as memorable as the occasion.
How can a cake make the anniversary memorable?
A 25th anniversary is a memorable event for any couple. It has to be joyful, you can surprise your partner with a cake at midnight, and it will be the best start to your special day.
The 25th wedding anniversary cake has many flavors and colors, just like your life. The beauty of the cake is that you get a lot of variety, like fondant covered or a creamy and velvety cake. Always order a flavor that is your partner's favorite to make them feel special.
1. 3 Tier Silver Chocolate Cake
Make your 25th wedding anniversary cake that will be remembered for a long time with this 3-Tier Silver Chocolate Cake. The delicious party-perfect cake is covered in a stylish chocolate fondant and paired with traditional chocolate buttercream. Ideal for the silver jubilee anniversary, it's certain to be a sensation at the party.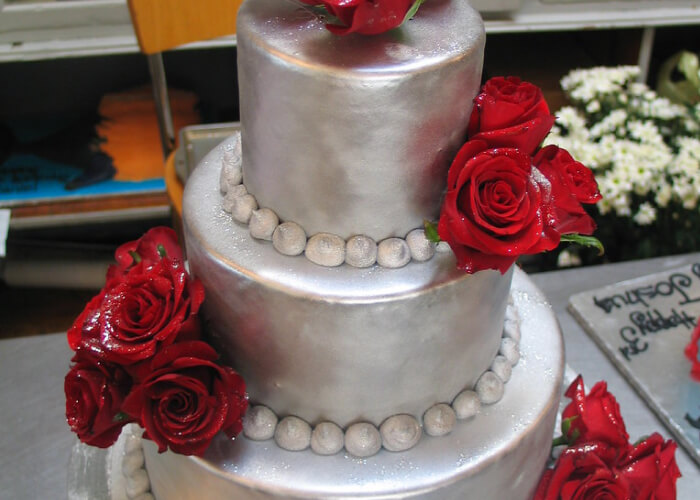 2. Lovely Dovey Cake
Celebrate your anniversary with this moist and smooth Red Velvet Cake designed to celebrate your event. In honoring your lovely journey, this Lovey Dovey cake is the finest option with a flavor of fascinating red velvet.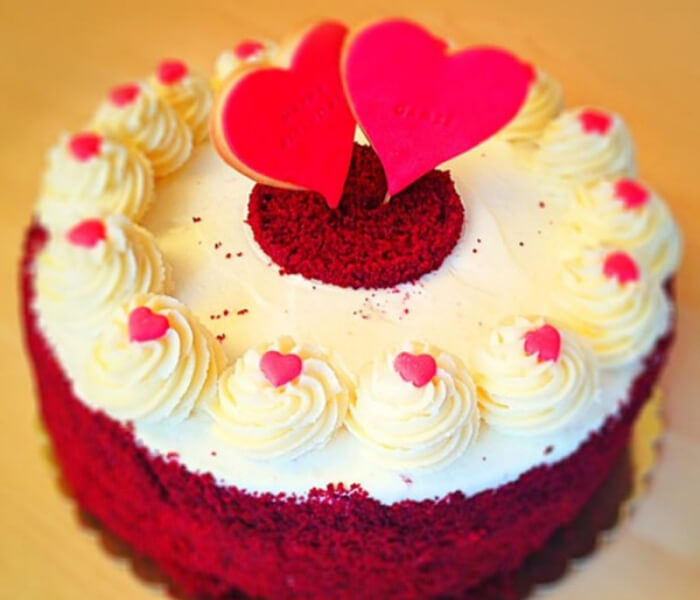 3. Love Is In The Air Cake
Amaze your partner with this particular cake on your special day. It is the best 25th wedding anniversary cake for you and the guests. To make your partner's day extra special, stun them with this vanilla fondant cake with three tiers. You can customize the cake as you want and extend it to 4 tiers if your guest list is extensive.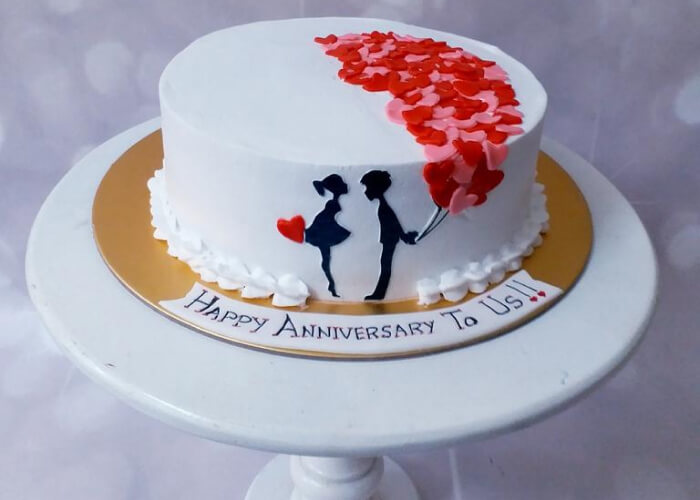 4. 3 Tier Chocolate Cake
Planning a special occasion can be easy when you have unique anniversary cake ideas. The day is exceptional for you to enjoy with your family and friends. So celebrate your day with this super delicious 3 tier chocolate cake that will be a sure shot hit at your 25th wedding anniversary celebrations.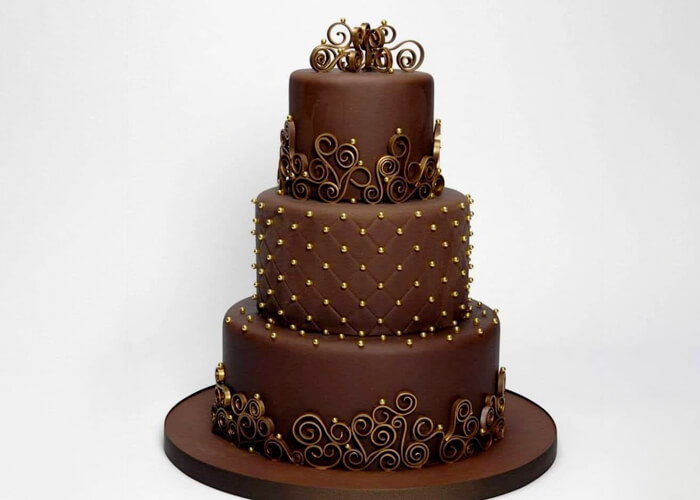 5. 2 Tier Vanilla Rose Cake
A 25th wedding anniversary cake will be served in a striking design crafted with premium components. This is the best option if you love to taste regal style, as you have a two-tiered vanilla cake. Your spouse and the guests alike will love the cake.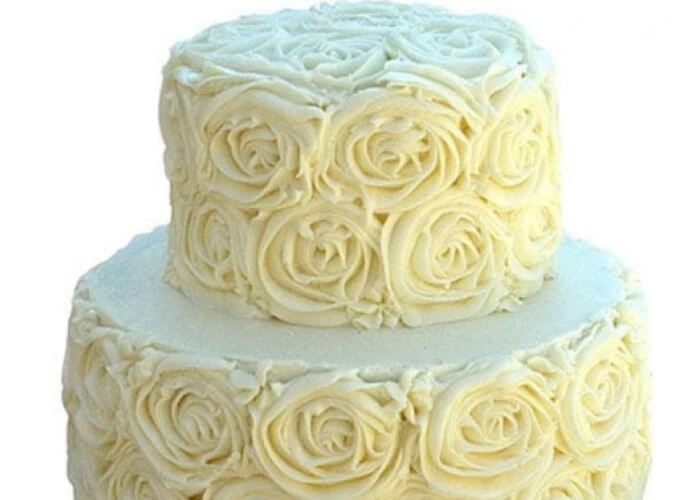 Related Post: Best Ways to Add Flowers to Your Cake
6. 3 Tier Chocolate Truffle Cake
Many of you like to celebrate our day with class and elegance; nothing can beat the fineness and grace of this Chocolate Truffle Cake. You can celebrate with your buddies and relatives the flavors this cake offers. It is an ideal 25th wedding anniversary cake.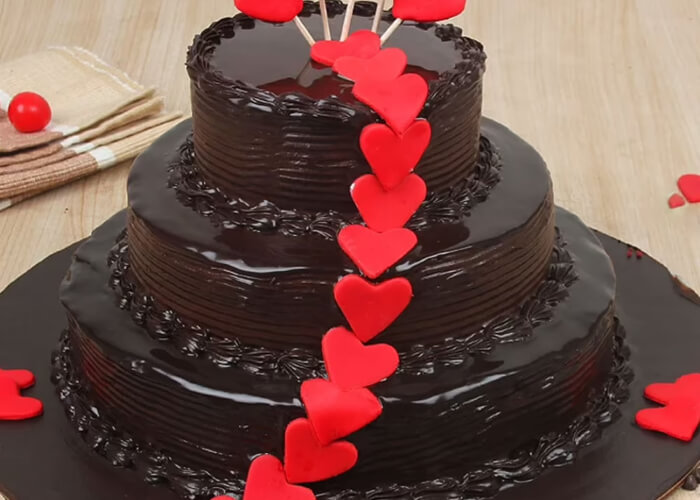 7. Cake For Your Love
to celebrate your 25th anniversary, you require to demonstrate your love perfectly. The heart shape cake with a light and pleasant flavor of vanilla, and "I Love You" is written on the top, making it the best choice for the 25th wedding anniversary cake.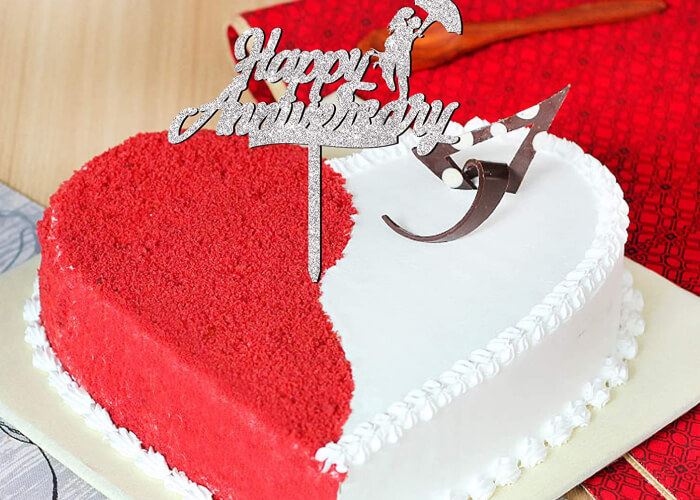 8. Kit Kat Cake
If you want your wife to smile, this is the best option. The tasty treat of this 25th wedding anniversary cake will make her feel special. Chocolate gems with cherry and cream stuffing make the cake extraordinary. A great taste with excellent design is the feature of this cake.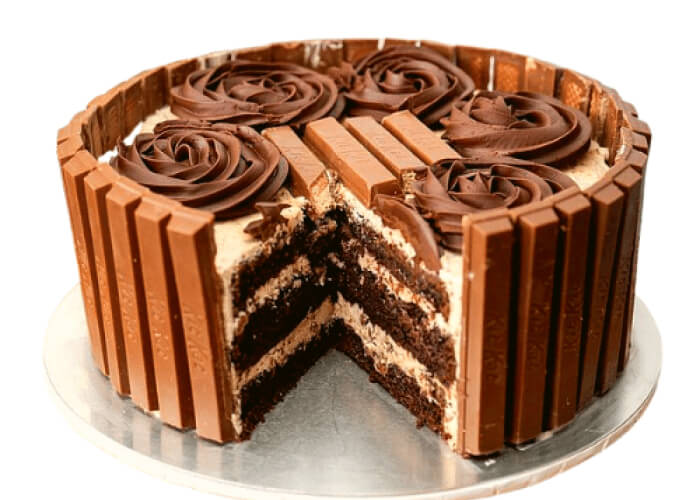 9. Photograph Cake
Photograph cake is ideal for the grand celebrations of your wedding anniversary. The concept is familiar, but it is not that old either, and it will be the best surprise you can give to your partner. In addition, the cake can be ordered in any flavor with your picture on it, which makes it a unique 25th wedding anniversary cake.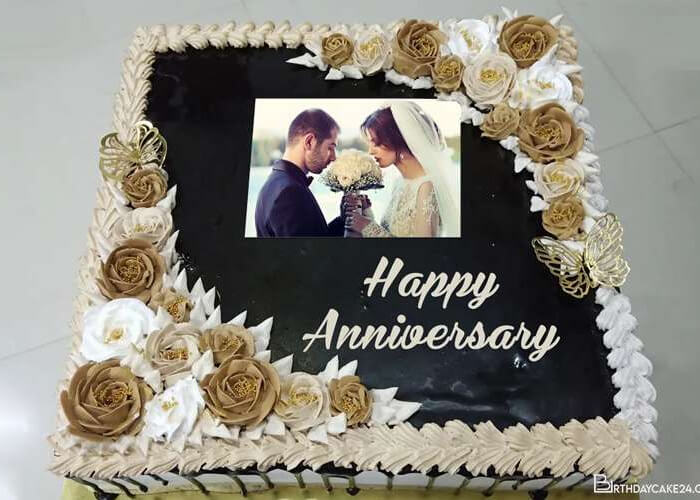 10. Almond Cake
Almonds add a completely different flavor to your anniversary cake. The crunchiness of almonds and the taste of chocolate combine to form a delicious cake you get for your special day. You can get almond cake in chocolate and vanilla flavors for both vanilla and chocolate lovers. Almond cakes are also in dry variants, making them a unique 25th wedding anniversary cake.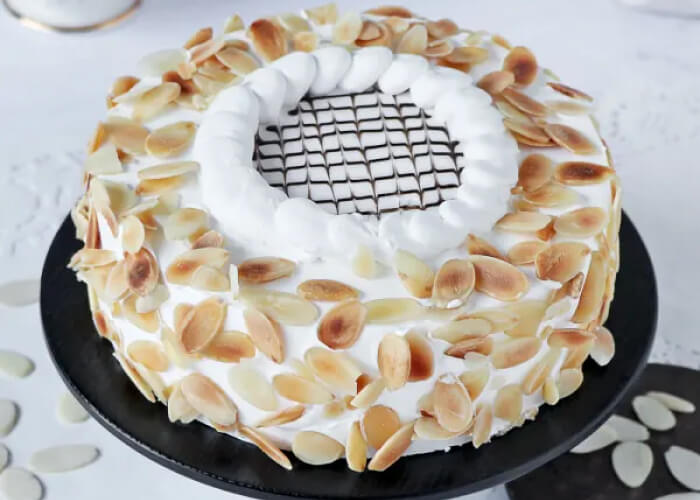 11. Carrot Cake
Carrot cakes are authentic delicacies for your special occasion with the perfect sweetness. Combining a moist carrot base with carrot cream will make you fall for the flavor. The cake tastes and looks great, making it a great 25th wedding anniversary cake.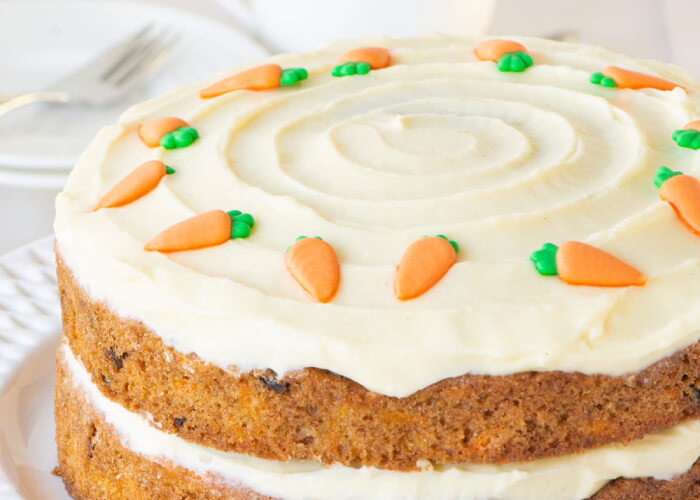 12. Lemon Cake
Lemon cakes can be tasty and refreshing at a similar time. The zest of lemon adds a tangy flavor to the cake, making it more delicious and tempting. The cake is perfect if you want to try something different on your special day but buy it from a genuine store to get the natural flavor. Your partner and guests will love this cake.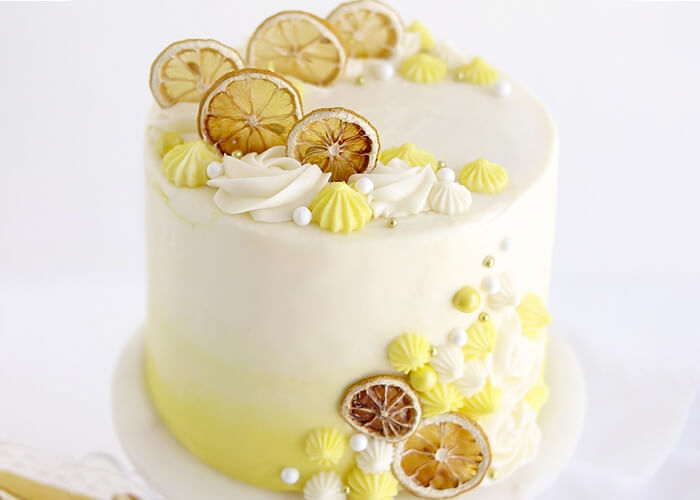 13. Black Forest Cake
Black forest cakes are the perfect combination of vanilla, cherry, and chocolate. The cake has a bit of all, with vanilla flavor on the base and a bit of chocolate and cheery on the top. The black forest cake can be customized into chocolate if you have a liking for chocolate. It's your special occasion, and the cake perfectly suits the event.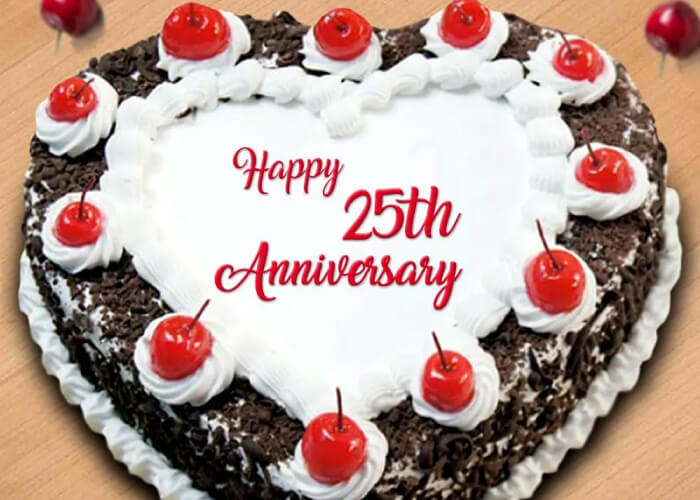 14. Fruit Cake
An authentic fruit cake is excellent for a 25th wedding anniversary cake. You can opt for all in one cake with fruits like grapes, apples, kiwi, strawberries, and pineapple. You can also go for a single-flavor cake like pineapple or strawberry cake. You can even customize the cake with the preference of your fruits.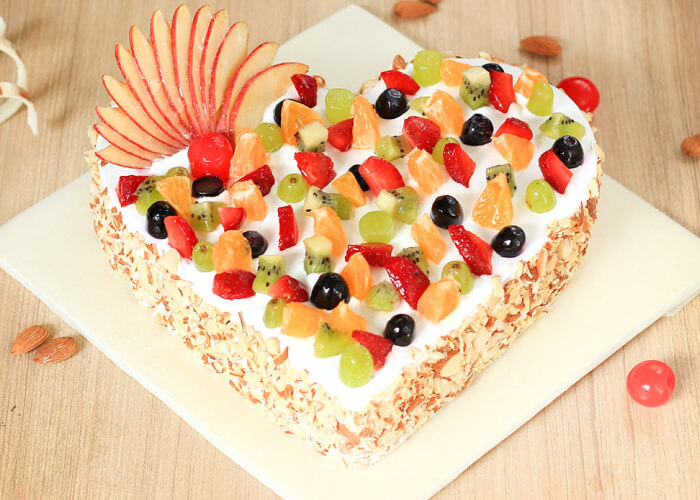 Also See: How to Freeze Wedding Cake
15. Vanilla Caramel Cake
Adding a drizzle of caramel to the vanilla cake, and your 25 wedding anniversary cake is prepared. Caramel gives a special wrench to your anniversary cake, making it more mouthwatering and delicious. Caramel is an ideal icing for nearly every cake that enhances its taste.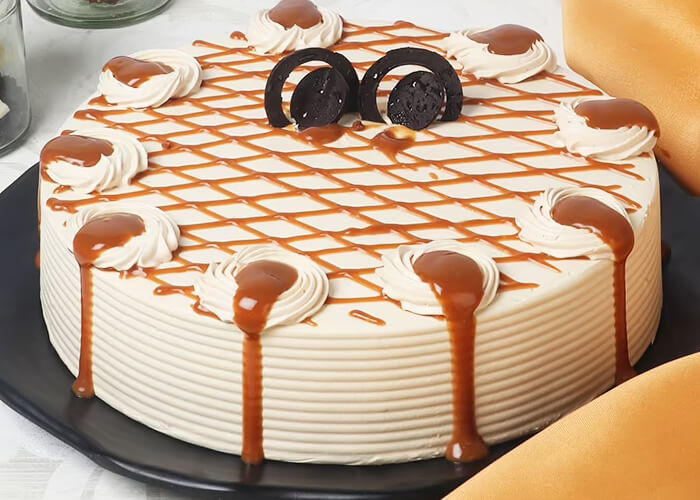 16. Chocolate Red Velvet Cake
Have a twist in your red velvet cake by adding chocolate to it. This is an ideal 25th wedding anniversary cake because it has the luxury of chocolate and a red velvet cake taste. This cake is best for you if you are a fan of chocolate and the red velvet flavor.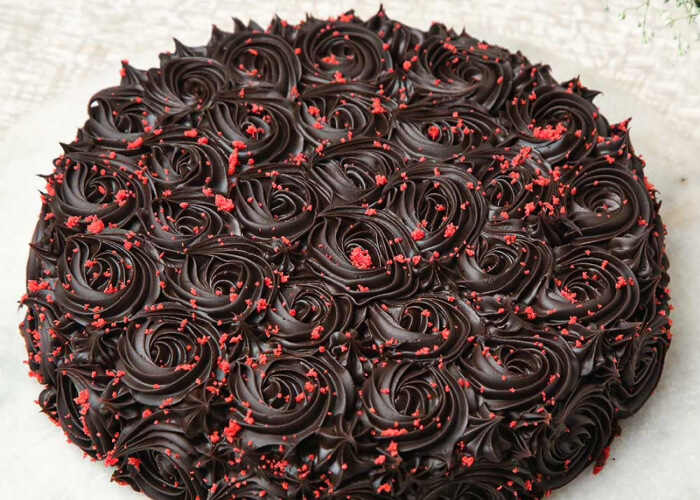 17. Butterscotch Cake
Butterscotch cake is an excellent idea for your 25th wedding anniversary cake. The cake is simple but appealing; you can feel the taste of butter combined with caramel. The taste is too good to resist.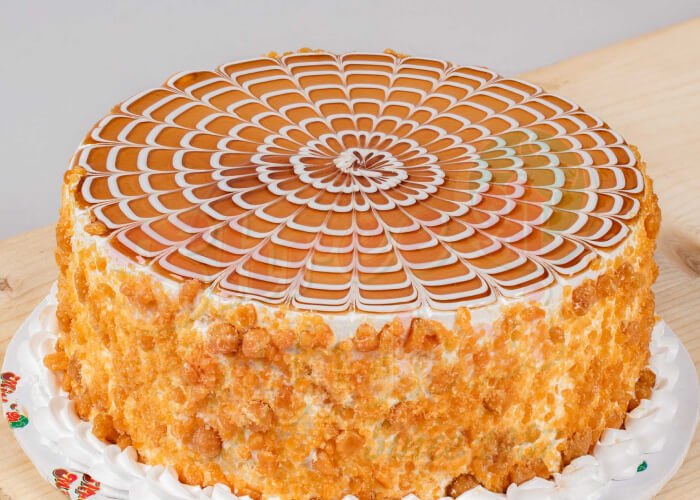 18. Hazelnut Chocolate Cake
Hazelnut cake is a good choice for your anniversary as it tastes and looks outstanding. You feel the hazelnut flavor in every piece, and if you are a hazelnut fan, this cake is especially for you and will make a perfect 25th wedding anniversary cake.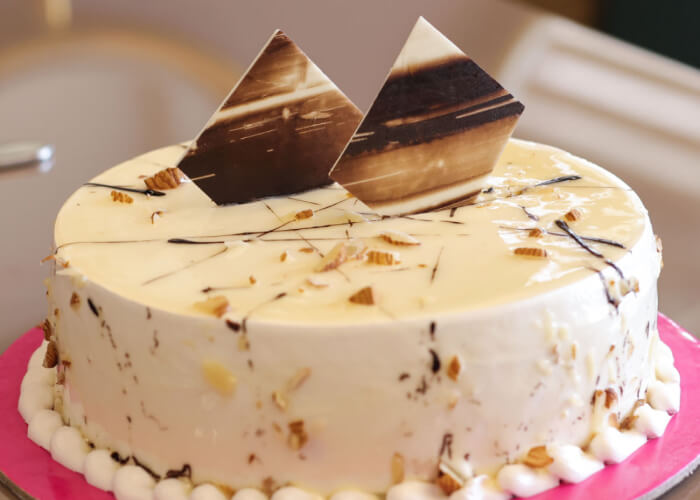 19. Heart-Shaped Photo Cake
Make your loved ones feel special on the ultimate day of celebration with a personalized heart-shaped photo cake. This is the perfect manner to keep the remembrance lasting! Perfect for a 25th wedding anniversary, the heart-shaped photo cake looks so pretty in the picture.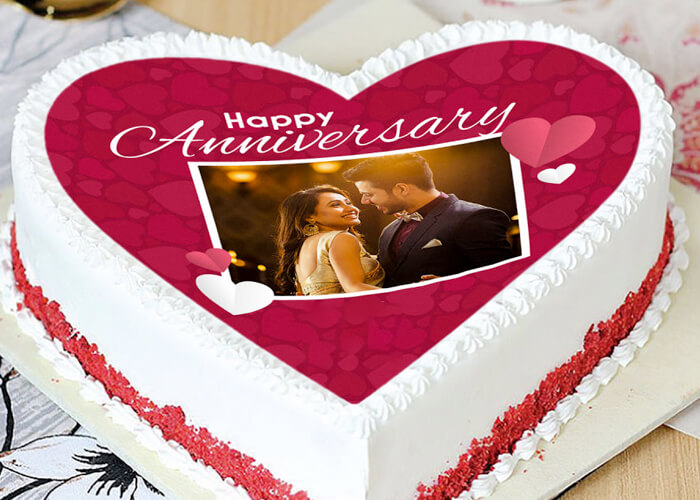 Remembering the most memorable day of one's life is a great way to celebrate Silver Jubilee. You can do this through a personalized cake with the couple's first names, birth years, and some personal or traditional icing decorations. The heart shape adds a whimsical finish to the photo cake.
FAQs
1. What should be written on the 25th wedding anniversary cake?
Here are a few quotes that be written on the cake
1 Cheer to one more year of togetherness.
2 Wishing a perfect partner a joyful day.
3 I will love you forever.
4 Happy 25th anniversary.
5 Love you for numerous more years to follow.
2. What is an ideal 25th wedding anniversary
gift for my wife?
Here are some ideas
1. A customized photo heart-shaped wooden plaque.
2. A unique anniversary wall clock for your wife.
3. Pesnolized canvas poster art.
4. Personalized throw pillows.
5. You can gift silver jewelry to your wife.
6. You can gift her a romantic holiday with you and her.
3. Which are the best flavors of cake for the 25th wedding anniversary?
The best flavors preferred for the 25th wedding anniversary are red velvet, coffee, vanilla, and strawberry. You may also opt for personalized cakes.
Which shape of the cake is ideal for a 25th wedding anniversary?
A heart-shaped cake is best for the anniversary celebration. The heart is a symbol of love that will make the anniversary special.
Conclusion
While selecting your 25th wedding anniversary cake, make sure that the cake looks great and tastes delicious but also symbolizes your genuine love and pure association. Make your big day memorable by choosing a cake that everyone loves. We hope our blog on the best ideas for silver jubilee 25th anniversary wedding cake is useful to our readers. So go ahead and get the best cake for your anniversary from the above list.