The golden anniversary is one of the most significant milestones that couples may achieve and one that deserves to be commemorated. The 50th year, just like gold, represents the value of all the memories and experiences the couple has shared throughout their marriage, both good and bad. And to celebrate it, one great way is to refresh everything through one single video. Aside from gathering all their best photos, keepsakes, and souvenirs, there is no better way to honour their marriage but to share it with the people who mean the most to them.
The words and heartfelt wishes from family and friends are guaranteed to bring smiles and tears. Wedding anniversary video making could seem intimidating at first, given that it takes time and effort to produce a good one. What's more, not everyone has exceptional editing skills, which means that you may need to hire an expert and pay him a premium to complete the task. But thanks to the internet, there are several platforms and businesses that you can rely on.
Celebrate is a video maker that specializes in creating the best gift for your loved ones. All you have to do is to invite your family, friends, or someone special to send a short video greeting. And all of the collecting, sorting, and storing is done by the team. You add your personal touch using the simple tools provided, and in an instant, you'll get the most heartwarming and most touching gift you can ever give to someone no matter their distance.
So whether you want to create a video greeting for a birthday, wedding, graduation, anniversary, work promotion, or even for expressing thanks to someone or something, Celebrate has everything customized and done according to your needs and preference. What's also interesting about it is that you can get started for free and only pay when you are ready to share your first video.
Tips on How to Create the Best Wedding Anniversary Video
One of the most thoughtful and poignant gifts you can give your parents, friends, or loved ones for their wedding anniversary is a video greeting. It is a one-of-a-kind, personalized gift that they can watch whenever they want and keep forever. Despite the fact that they'll need a box of tissues on hand, they'll have a lingering smile on their faces. Thus, here are some tips that you can follow to assure that you make the best video ever.
♦ Include a touching quote
Sometimes, it can be difficult to find the right word to say when you are full of things in your head. And with this, reading a heartwarming quote out loud can be a total help. You may find lots of anniversary quotes on the internet that are not only heartwarming but also hilarious and encouraging.
♦ Choose Who You Want to Include in Your Wedding Video
There's a saying that goes "The more the merrier", and apparently, this line goes well when creating a wedding video. Your parents will surely appreciate it when there are a lot of people who will remember that special event in their lives. You can even invite a variety of surprise guests to send their own happy anniversary video clips besides family and friends.
♦ Add some Key Moments
A 50th wedding anniversary is a great way to take your parents on a trip down memory lane. It can include cameos from friends and loved ones, as well as notable moments from their lives together.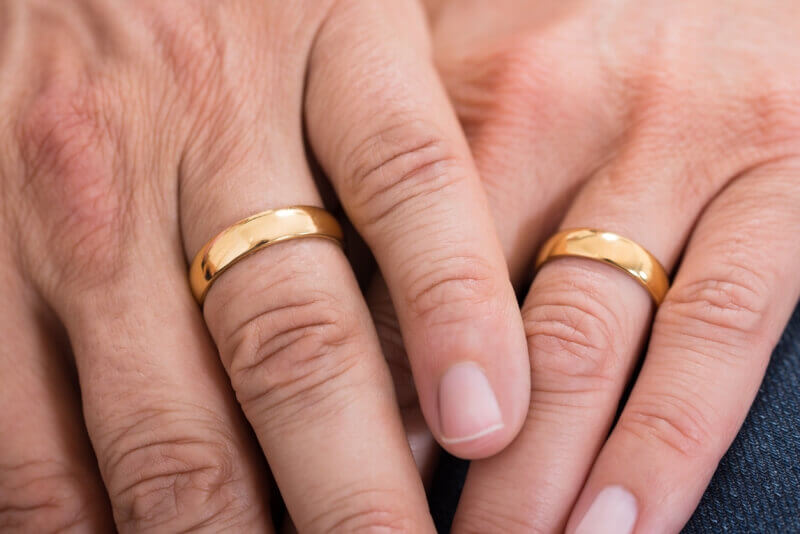 You can also encourage other attendees to contribute a share of their memories, and inside jokes about how they met the happy couple, as well as old images that are generally amusing. Bring back fond childhood memories, a beloved family vacation, or another unforgettable event. You might simply recite a poem or quote if you don't want to stand in front of the camera.
♦ Tell them How Much You Love Them
If your parents lasted this long, you may say that they are really sweet, loving people. And showing affection is surely one of their love languages. If you want the perfect wedding anniversary video, don't forget to tell your parents how much you love them and how they mean to you. Make it a point to thank them. Emphasize their importance and acknowledge the things they taught you.
Video Message for Wedding Celebrations
With Celebrate, everything is possible. You can send your marriage anniversary video wishes as if you are present in the event. Can't make it to that special day? No worries because you still have plenty of time to catch up and send your parents your best-wishes video. Astound them with a high-definition film that chronicles their love journey from the moment they met to having their dreams succeed and until now that they have a big, happy family. Make them laugh and cry at the same time and they will never forget this special day for the rest of their lives. So for instance if you want to create a video and send your wishes for a wedding shower, you will just need to go to their official website and get started. After you've sent your video, you will just have to wait until the wedding celebration takes place.