If you have spent about 50 years of your life together with your spouse, then this calls for celebration. Fifty years anniversary, also called a golden jubilee, is a special occasion for a couple. 
You can decide to make your celebration either big or small; this depends on your budget. Your children will definitely want to celebrate you by throwing a large party for the number of years you have spent together with your spouse. The reason for this celebration is to celebrate the 50 years of love, understanding, patience, sacrifice, unity, longevity, etc. Such an occasion needs to be celebrated in a grand style. There are different ideas that you can pick from while planning your 50th wedding anniversary.
More often than not, couples do not really want to throw a party to celebrate such an important moment. However, sometimes their children will want to make this day memorable for you and your spouse. It's important for you to make proper plans and arrangements to make your day exceptional. 
To help you make your special day extra special, we've compiled a list of tips to make your 50th wedding anniversary party.
So, without any further ado, let's get started…..
Table Of Contents
Before we proceed, it's important to know what a 50th wedding anniversary means and how to prepare for it..

➢ What Is a 50th Wedding Anniversary?
The 50th wedding anniversary is generally known as a golden jubilee celebration for both couples. This celebration is not so common with some couples. For this reason, many married couples look forward to celebrating this number of years together. A general symbol for 50 years of celebration is gold; thus, the name.
A journey of 50 years together with your spouse is not child's play, and it calls for a big celebration. Not all couples stay together for such a long time. So, if you're one of those lucky people, a Golden Jubilee celebration is a MUST.

Also See: 50th Wedding Anniversary Wishes, Quotes and Messages
➢ Ways To Celebrate a 50th Wedding Anniversary
Your golden jubilee anniversary is what you should celebrate in a grand style. It is a special moment in your life that you should be looking forward to experiencing once you are married. To celebrate your 50th wedding anniversary, you need to give it your best.
If you have the support of your family members and children, then it's a great thing. You can choose to have it big or small; it all depends on you and your budget. It's a good thing to celebrate such a moment of your life with your spouse. This should be a moment that can never be forgotten for a long time once you decide to celebrate it.
To celebrate this moment, it's better you plan it well to avoid any disappointment on that day. Allow your children and grandchildren to be a part of this special moment of your life. To start your celebration, you can begin by first displaying the pictures of how you started with your spouse. Your favorite songs can also be played on that day. 

➢ Different Ideas For a 50th Wedding Anniversary
When making plans on how to celebrate your 50th wedding anniversary in a big way, it's important for you to have an idea of how to prepare for it. You will find a compiled list of different ideas that you can follow while planning for this celebration here.
The following are the ideas you need for a proper golden jubilee celebration:

#1. Get a Venue 
This is the first idea that you need to consider while planning for your 50th wedding anniversary. It's important to have a venue booked in advance for that day. Any venue you go for ought to be of a good standard and also large enough for your guest. Moreover, your venue should be convenient for your guest and also be able to occupy a large number of guests.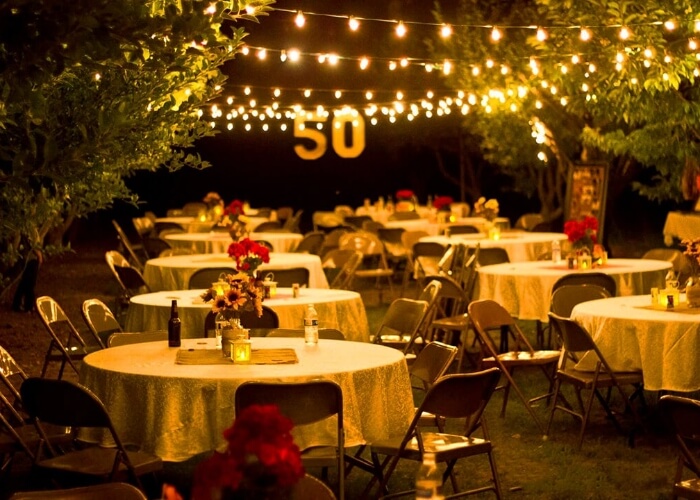 It's very important for you to get a venue in advance to have a memorable and amazing wedding anniversary celebration. The following should be put in place while deciding on a venue:
Know the number of guests. It's important for you to know the number of guests you are expecting or those you will be inviting for your anniversary. 

Decide on the type of celebration. You should know how you want the party to be, either large or small. If it's large, then you can consider using a banquet hall or lodge ballroom. 

Decide on the type of venue. You should also consider how you want the venue to be if it's an outdoor celebration or a hall. The choice is yours to make. The only thing you should consider if you are going for open space is to ensure the weather is favorable enough. 

Make an advance booking. Make sure you book the party venue before the date. 

Accommodation arrangement. You should also make a provision of accommodation for some of your guests who are coming from other towns. 

Know things in advance. Some venues do not allow the use of alcohol, so you need to be sure if the venue you are going for accepts alcohol. 

Rent a location that is easily accessible. Do not make it difficult for your guest to locate. Make sure the landmark is well known.
#2. Invitation Cards
This is also an important aspect of the planning process. Your invitation cards should be designed and given out to your guest. When you invite your guest with an invitation card, this makes it more official.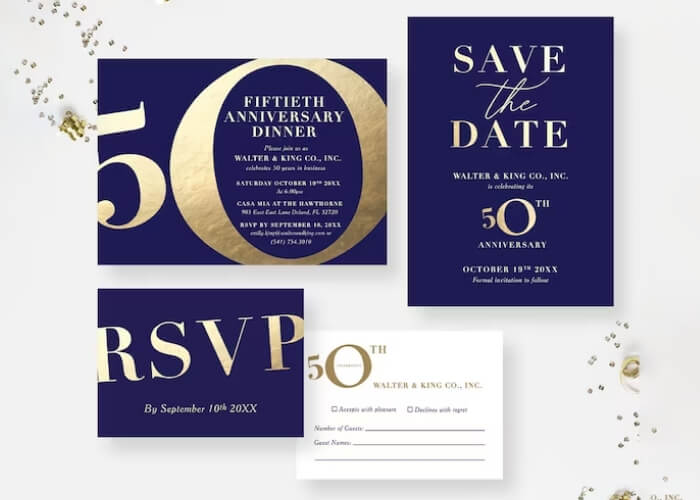 You may decide to either print your pictures on the card or leave it plain. What matters are the names, date of the event, and venue! All the necessary information should be included on the invitation card. The color of the day and a dress code (if any). Also, make sure to send a personal text or make a call to your close relatives after sending invitation cards.

#3. Decorations
It's obvious that you need to get the venue decorated since it's a golden jubilee celebration. You can get the venue decorated in white and gold, although a perfect color match for such a celebration is gold. Blending it with other colors will help you elaborate the décor a bit more. Gold color decoration gives a venue a glamorous appearance.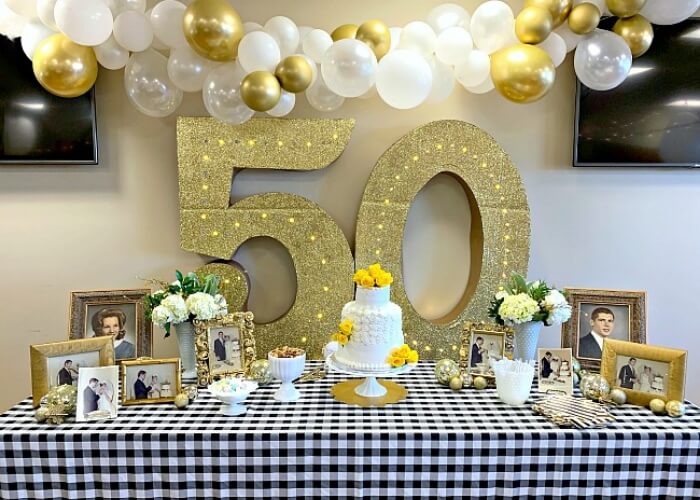 Your cake can also be decorated in white and gold as well, just to add more beauty to your day. To get the best decoration on your 50th wedding anniversary, you should consider the following:
The choice of color that suits what you are celebrating should be mixed with some colors like white, peach, violet, cream, or purple. 

The major color should be gold. You can have other colors as well to add an element to the overall décor. 

You can have your chairs, tables, curtains, ribbons, and any other items in gold color.

Your pictures can be fixed in a golden frame, although it's not compulsory. 

If you are opting for an outdoor space, make sure to add some gold to the overall décor. If you don't want to overdo it, then just add a bit of gold color to the overall décor. For instance, decorate the walkway in gold. 
#4. Arrangements for the Guest
For a 50th wedding anniversary party, you will definitely be expecting a large number of guests, especially when you're hosting it on a large scale. You might have to invite some of your outstation relatives or friends. Make sure to have proper arrangements for them so that they feel welcomed and well greeted.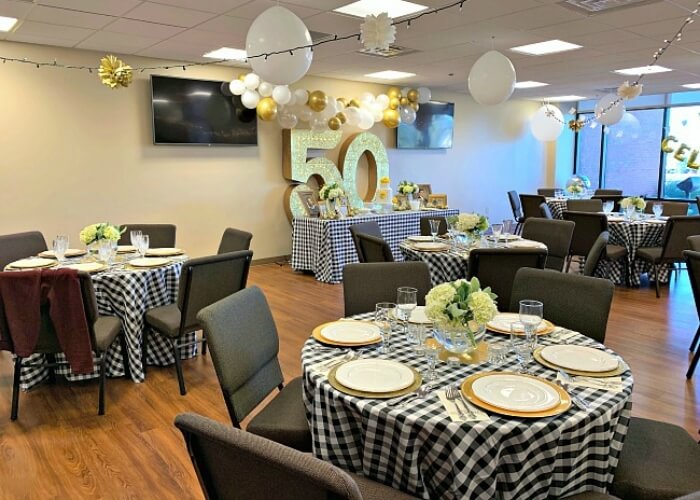 And if your budget is not on the lower side, it's better you limit the people you will invite. Inform your guest on time so they can make plans before the celebration. 

Also Read: How To Make A Wedding Guest List
#5. Creating Slides of the Couples Pictures
This is also another idea you can consider as you make plans for your 50th wedding anniversary. A compiled picture of you and your spouse can be displayed on a slide. You can have all the best pictures of your life or from the times that you have spent with your spouse from day one till the present.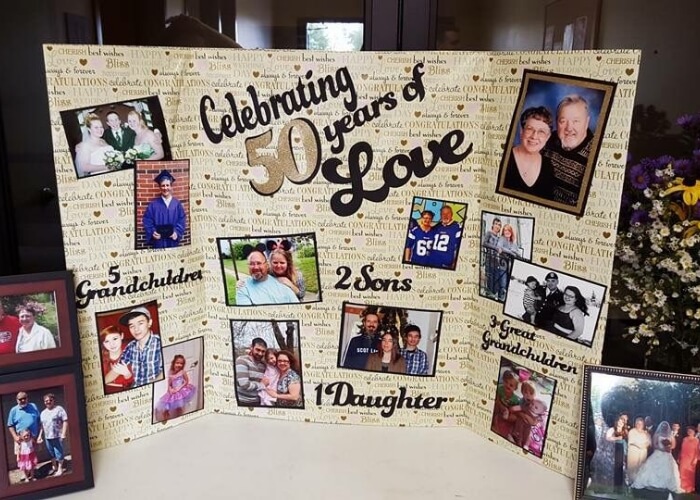 To make it more delightful, you can even have a short drama performed on the stage for your guests. The idea is to make your day even more fun and exciting. There are various ways you can add fun to your anniversary celebration.

#6. Drinks and Food
Drinks and food are yet another important aspects of your 50th wedding anniversary celebration. There is no way you can invite friends and families to be a part of the celebration without making arrangements for food and drinks.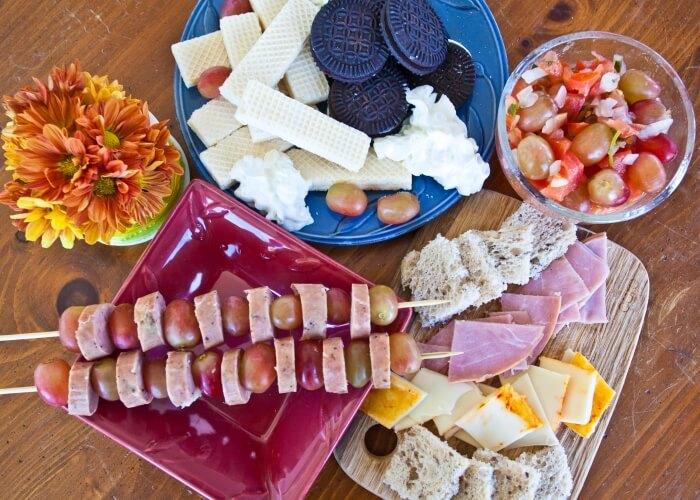 This is one thing that should be arranged for while you make your plans. You can get a caterer to take care of the cooking for your guest. And if the budget is a constraint, then you can have your family members cook for the party. Make sure everything is taken care of in advance so as to avoid any last-minute chaos. 

#7. Game Ideas
Fun is an essential element in making your celebration memorable. And what else could be better than games?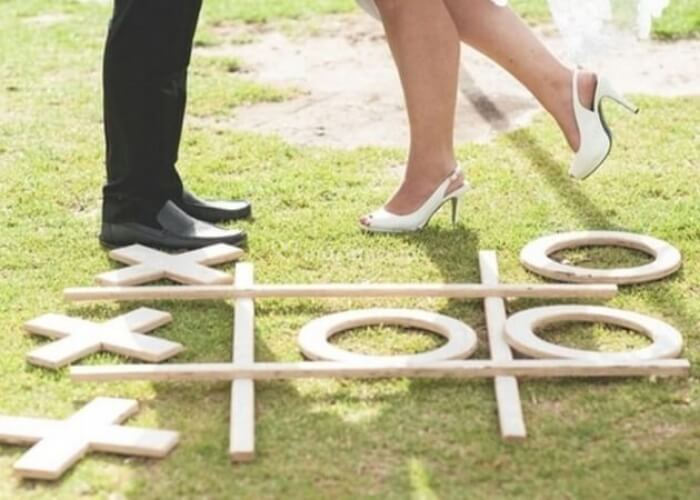 Incorporating exciting games will make your celebration even more entertaining. Your guests would love to be part of the games and enjoy them thoroughly. You can have games for both couple and their guests. There are numerous party games, such as giant Jenga, toss rings, etc.

Also See: 25 Fun Indian Wedding Games Ideas for Couple & Guests
#8. Make a Toast
A toast to long life and prosperity is also an exciting part of your 50th wedding anniversary. A toast is usually made to add a little bit of fun to your day. The toast is made with your friends and family. Your children can even give a toast speech on your behalf.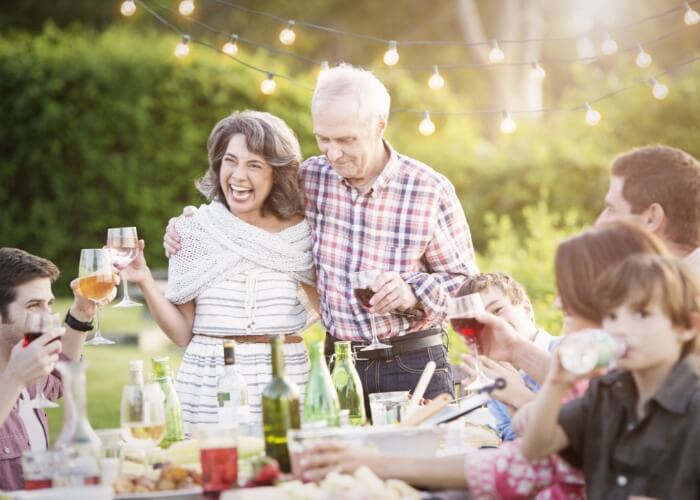 The speech can be prepared before the day if you are not sure who will take the speech. You can also get a professional to make your speech for you. 

Also Read: Top Short and Sweet Toast Quotes
#9. Gifts
Once your celebration is over, you can create a moment for your guest to give you a gift. These gifts are given as a form of appreciation from your families and friends.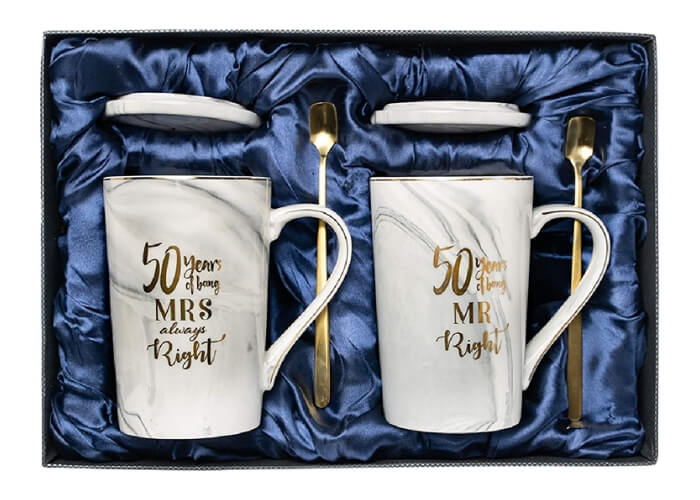 Aside from that, you can also give your partner a thoughtful gift to make the day extra special. Some of the best gifts that you can consider giving to your partner include: 
A picture frame of you and your spouse. 

A customized champagne bottle for your partner. 

Cute lovely gold earrings for your wife. 

Gold jewelry for your partner.
Wrapping it up… 
So, this is all about the 50th wedding anniversary celebration. You can utilize this guide to organize an exciting 50th wedding anniversary party. With the ideas mentioned above, you can be certain that your 50th wedding anniversary party can be as beautiful the way you want it. Do not spend more than your budget, but be open to receiving any funds that might come from friends and well-wishers.
Make sure you enjoy the celebration fully because it's once in a lifetime experience which will never be repeated. Make the most of this event and follow all these ideas. Everyone knows that a 50th wedding anniversary party definitely calls for a big celebration.
Also, remember to share this beautiful moment of your life with everyone who matters to you. Doing so will create lasting memories for you, your spouse, and the guests who attend your celebration. 
Frequently Asked Questions
Is There Any Best Gift You Can Give To Couples Celebrating 50th Wedding Anniversary?
No! There is actually no specific gift that you can give as a gift. Whatever gift you feel is proper and will be appreciated is welcomed. Just ensure that any gift you give is something worthy and thoughtful.
What Does 50 Symbolize?
The number 50 simply symbolizes wealth and power. It's a golden jubilee celebration. Also, it symbolizes love, wisdom, passion, courage, and compassion.
 Is It a Must To Celebrate a 50th Wedding Anniversary?
No! This is actually not compulsory for you to celebrate your 50th wedding anniversary. If you have a proper budget and you want to commemorate the occasion, then it is not a bad idea.
Which is the 50th year anniversary flower?
A 50th wedding anniversary flower that can be used during this celebration is a Yellow Rose. A yellow rose is a symbol of love and joy shared.
Happy Wedding… ☺ ☺