Wedding anniversaries are special occasions for every couple! They are the reminders of the BIGGEST DAY of their lives. No matter whether you are together for one year or 25 years, your Anniversary makes for a special celebration. There are many ways you can celebrate the togetherness, love, and bond that you share with each other.
And one of the best ways to express your love is – anniversary wishes for husband. It is the best way of reminding your husband just how much he means to you. It is not always necessary to buy an expensive gift item for your husband, sometimes anniversary quotes for husbands can do wonders.
You can just make your day unique and memorable with the beautiful anniversary wishes for the husband. Whether you're looking for a lighthearted note to make your husband smile or a message, including a severe testament to your relationship, these anniversary quotes for a husband are a great way to celebrate and speak your heart out!
Here we have listed 51 beautiful anniversary wishes for husbands that you can consider to jump start your special message for him.
Let's get started….
Heart Touching Anniversary Wishes For Husband
1. My love for you is beyond words. I love you to the moon and back. Happy Anniversary, My Love!
2. Love is the most precious thing that you been giving me all my life. I love you not because of who you are but because of how you make me feel! A happy 25th anniversary, my dear husband.
3. This Anniversary may be a reason to celebrate the BIG day of our lives. Still, in reality, every day of my life is the biggest celebration, as you make me feel unique and precious every moment. I love you to the moon and back. Very Happy Anniversary my love!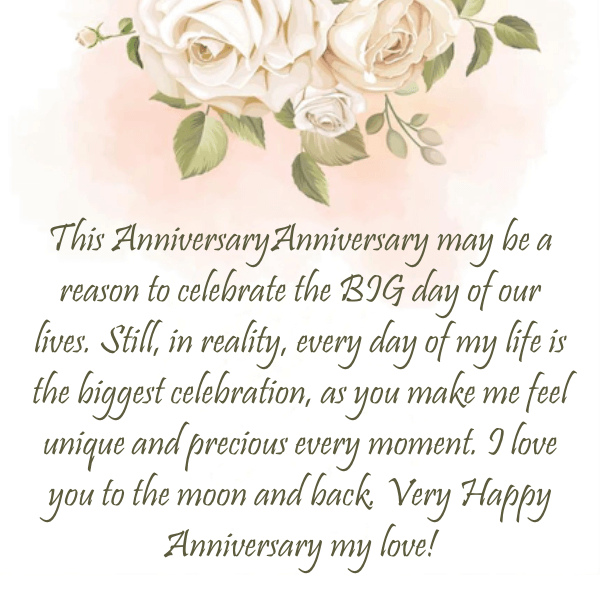 4. Wedding anniversaries are not just about parties, music, gifts, and fun. But it is about the time, love, struggle, and hardships that we face together. Happy Anniversary to my dear husband!
RELATED:
5. Here's to the love of my life. Every moment of my life, I feel special and precious as I am the wife of such a wonderful man. Happy Anniversary.
6. Whenever I look back to all the memories that we have created and the time that we have spent together and I wonder there is no photo frame big enough to have our beautiful memories saved together. Happy Anniversary My Partner!!!
7. I can't imagine my life without you; it completely revolves around you just like all the planets revolving around the sun. Very happy anniversary my love!
8. You are my sun, as you give me light in the darkest hour of my life. And you are my moon, as you give me comfort when I need it the most. I love you. May we always remain like this – together and happy! A very happy anniversary.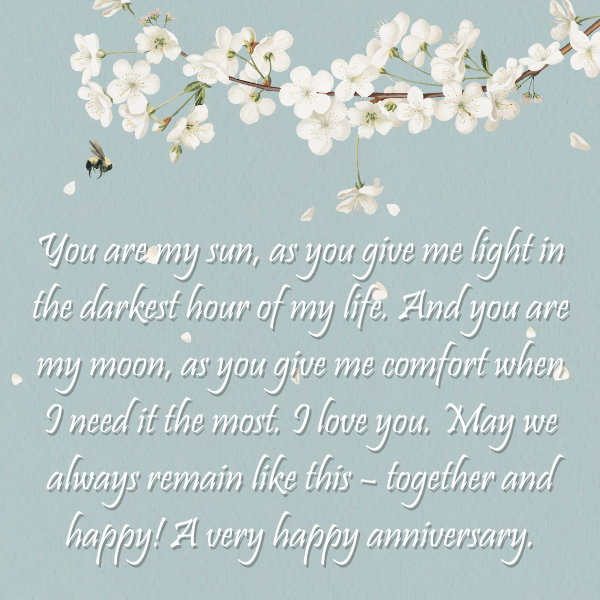 9. Undoubtedly, we have gone through many ups and downs in our marriage, but all that made our life stronger and better. I love you, my life, and I am the luckiest to be your wife. Happy Anniversary.
10. I never looked for a perfect marriage; what I looked for was always an adventurous beginning that two people took of finding love! Happy Anniversary, my love.
11. Out of the millions of questions about the meaning of life. I chose to answer only one, and that's YOU, my love. A very happy anniversary to you.
12. Our Anniversary is a very special day for me for this is the day when I got you in my life forever and ever! A very Happy Anniversary.
13. No matter how tough life gets, no matter how nasty it becomes, but having YOU in my life as my life partner makes every hardship worth it! Happy Anniversary.
14. This was the day when you not only stole my heart forever but also you stole me forever! I love you, my sweetheart! Happy Anniversary!
15. You are everything for me. I love you. Happy Anniversary!
16. No matter how many times we fight in a day, the love that we share is incomparable! I love you! A very happy wedding anniversary, my love!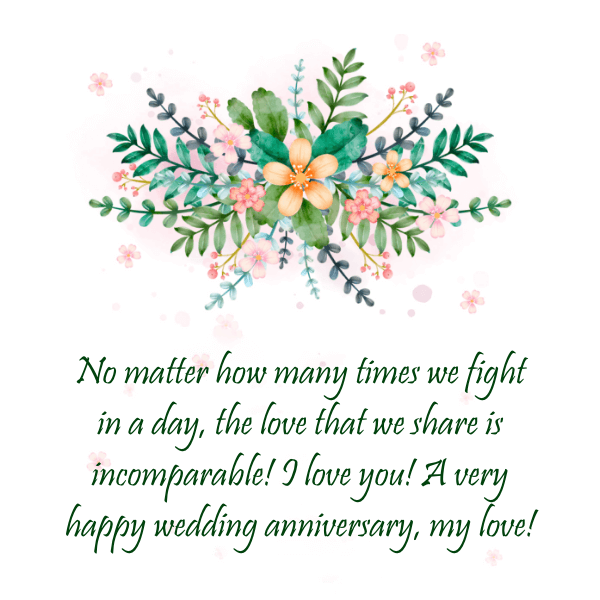 17. Even after 25 years of our marriage, I can't believe you are mine. I am so lucky, and I feel grateful to be your wife. Happy Anniversary!
18. My life with you can be described in just two words. Beautiful memories and priceless moments. Happy Anniversary to you, My Love!
19. I still wonder how two different colors get blended together so perfectly, as the same way we two got blended! Wishing you a very happy anniversary.
20. No matter how imperfect I am, you always made me feel so perfect. No matter how many mistakes I do, you always made me feel the best. I am very grateful to you for your endless love and support. I don't know how I will thank you in this life alone. Happy Anniversary, my dear!
Related Post:
21. My dear husband, this Anniversary I just want to wish us many more years of togetherness and happiness! Happy Anniversary!
22. All the hardships, harsh realities, problems, bitterness, and failures are bearable because I have YOU standing by my side. My love. Wishing you a very happy anniversary, my dear husband.
23. Like the sun is to a blooming flower and a hummingbird is to the hibiscus and moth is to a flame, we are to each other – utterly inseparable. I wish you a very Happy Anniversary!!!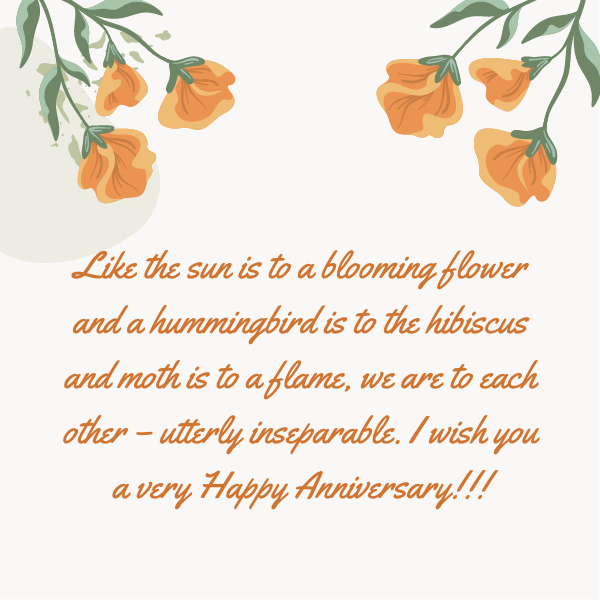 24. Each day I spent with you is like forever, and each day that I spend without you is like never! I Love You To The Back And Moon! Happy Anniversary.
25. Our wedding anniversary can be a momentary celebration, but our marriage is a lifetime one. Happy Anniversary, my husband.
26. Our marriage is so perfect that all it signifies are the magical things in this world. Happy Anniversary, My Love.
27. With each coming Anniversary, the bond and connection that we share become stronger and better! Happy Anniversary!
28. I am very lucky to have you as my husband. Thanks for always being there for me, by my side. You are not only my partner but also my best friend. I love you from the bottom of my heart. Wish You A Very Happy Anniversary.
29. The very first moment when I saw you, I knew we were meant for each other. You are my everything, my confidence, my pride, and my strength. You are mine and always will be. Happy Anniversary!
30. All the morning teas and evening talks that we share together have become an eternal part of my life. I love you so much! Happy Anniversary, My Love!
Happy Anniversary Quotes For Husband
31. "Every heart sings a song, incomplete until another heart whispers back. Those who wish to sing always find a song. At the touch of a lover, everyone becomes a poet." –Plato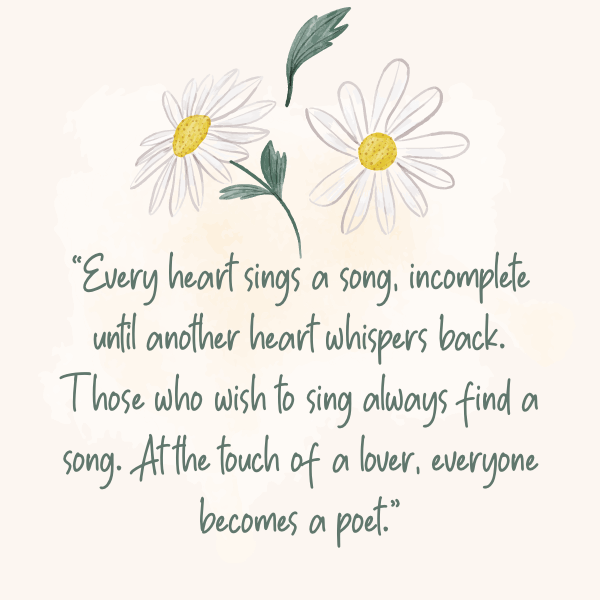 32. "Every day, I discover that I love you even more, and in this infinite universe, I will love you till the ends." -Alicia N Green
33. "The best love is the kind that awakens the soul; that makes us reach for more, that plants a fire in our souls and brings peace to our minds. That's what I hope to give you forever." -Nicholas Sparks
34. "We are all a little weird and life's a little weird, and when we find someone whose weirdness is compatible with ours, we join up with them and fall in mutual weirdness and call it Love." – Dr. Seuss
35. "A strong marriage rarely has two strong people at the same time. It is a husband and wife who take turns being strong for each other when the other feels weak." – Ashley Willis
36. "The real lover is the man who can thrill you by kissing your forehead." -Marilyn Monroe
37. "So, I love you because the entire universe conspired to help me find you." -Paulo Coelho
38. "He had beautiful eyes. The kind you could get lost in. And I guess I did." -S.B.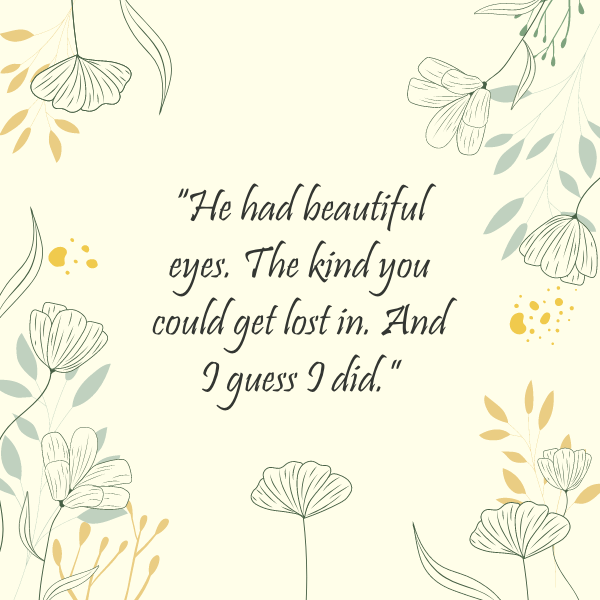 39. "You will never age for me, nor fade, nor die." – Shakespeare In Love.
40. "He's more myself than I am. Whatever our souls are made of, his and mine are the same." -Emily Bronte.
41. "Without you, today's emotions would be the scurf of yesterdays." – Amelie.
42. "I love you very much, probably more than anybody could love another person." 50 First Dates.
Related: 12 Best Wedding Return Gifts Ideas
43. "I have crossed oceans of time to find you." – Bram Stocker's Dracula.
44. "I would rather share one lifetime with you than face all the ages of this world alone." – The Lord Of The Rings.
45. "I love you. You complete me." – Jerry Mcguire.
46. "I want all of you, forever, you and me, every day." – The Notebook.
47. "I think I would miss you even if we would've never met." – The Wedding Date.
48. "There is no end to a wedding anniversary when love is always full and growing each and every day." – Byron Pulsifer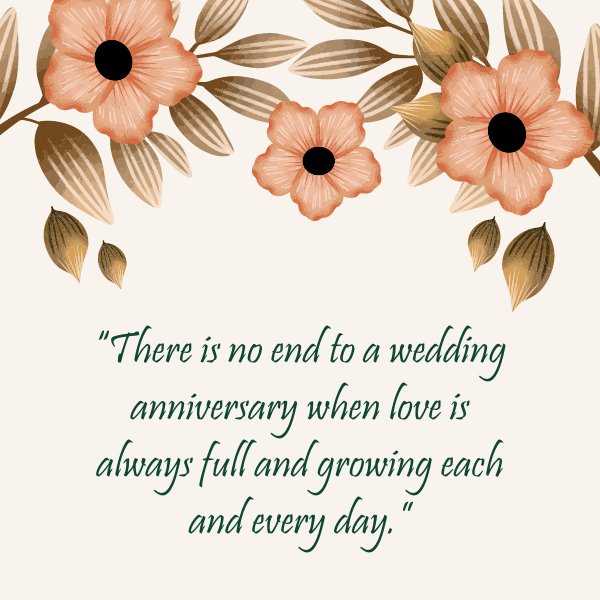 49. "Love is composed of a single soul inhabiting two bodies." – Aristotle
50. "Those monumental anniversary celebrations aren't what ultimately determine the actual direction of our marriage. Rather, it's the here and now. It's those daily decisions we make individually and together that influence how our relationship actually fares in the long run." – Ashleigh Slater
So, these are the 51 anniversary wishes for husband that you can consider using to kick start your celebration! You can use these anniversary quotes for husband in several places, like anniversary messages or anniversary greeting card. Enjoy Each Moment!