Being invited to a bridal shower means getting bridal shower gifts for the bride-to-be. If you're clueless about what to bring, then some helpful bridal shower gift ideas might be just what you need. Even though this is a pre-wedding event, bridal gift ideas often focus on the bride and not on the couple, so something personal would be most appropriate as opposed to household items or couple's gifts.
A most coveted wedding gift would be a bride to be subscription box; the one gift that keeps on giving. However, if you are on a budget, there are so many options for what you can get. From personalized silk robes, to spa gift cards and even more personal items, you can browse our list for the best bridal shower gifts for the bride.
Personalized items are usually the best gift ideas for bridal shower. If you're looking for something truly unique, have a look at our rundown for bridal shower presents any bride would adore.
1. Personalized Makeup Bag
Top on our list of bridal gift ideas is a unique makeup bag. A girl can never have too much of those, and any bride to be would appreciate a chic and handy makeup bag. It could be personalized with a monogram, a name or initials, or even embroidery. Whether faux leather or real leather, a cute, good looking bag is always a good idea.
2. Personalized Satin Robes
Satin robes for a bridal shower present can come in handy for wedding day preparations, but they can also be used afterwards. A luxury satin robe is a great idea for a bride to be, and in many instances it's even a must-have. Personalize it with the bride's name, her initials or her wedding date, and you have a spectacular gift.
3. Personalized Clutch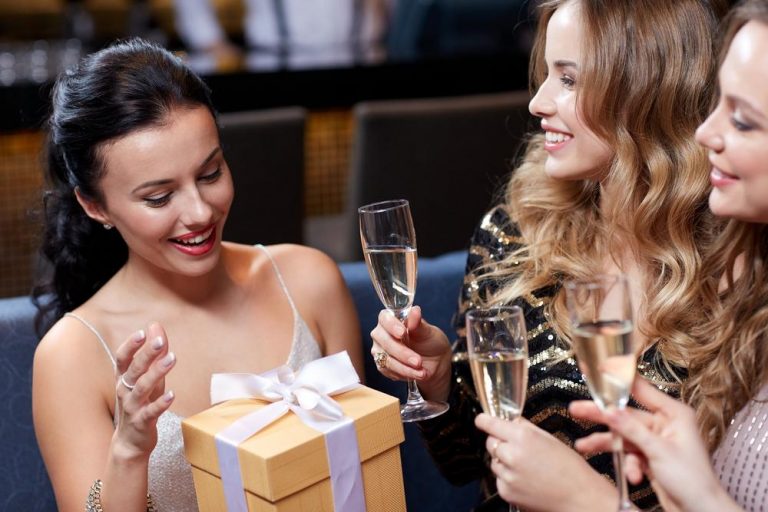 You could choose to get leather if you'd like a muted and subtle stylish look. Or, you could get an acrylic clutch for a modern-vintage style. This is one accessory the bride would love to take to events, and it could double as a makeup bag. Have it monogrammed with her initials, and it's set.
4. Elegant Platter
A genius idea for a bridal shower gift is a signature platter. Whether it's a modern or vintage style, this is a timeless gift that will be used over and over and could even become a family heirloom. Engrave or stamp it with the identity of the couple for a gift the bride to be is sure to appreciate.
5. Lux Sleep Collection
A collection of luxurious silk items that help enhance sleep would be a thoughtful bridal shower gift for the bride. You cannot put a price on better sleep, especially during stressful wedding planning. A gift she might not think of for herself, it would definitely be appreciated.
6. Pajama or Lingerie set
Some other things you can never have too much of are lingerie and pajamas. In fact, the more the better. So, if you're looking for nice things to buy, consider a lingerie or pajama set that you would approve of.
7. Personalized Wedding Hanger
A wedding hanger is something that a bride could overlook or forget, especially a personalized one. The wedding dress would be the most important item of the day, and a custom wedding hanger would be perfect for hanging. It would also look great in the wedding prep photos.
8. Personalized Throw Pillow
No need to worry about running out of ideas for shower gifts for her. An elegant throw pillow will always be appreciated. A soft and chic pillow personalized in classy calligraphy would be perfect.
9. Stud Earrings
Sparkling stud earrings can be a brilliant choice for gifts for a bridal shower. These can be rocked at anytime before, during or after the wedding.
10. A Cookbook
One of our bride-to-be present ideas for a bride who loves to cook is a cook book. A useful gift that can be used by the couple, it's a long-lasting item that will be appreciated long after the wedding is over.
11. Silk or Lace Chemise
If you'd prefer a more personal gift for bride to be, then a sexy chemise might be on the cards. This flirtatious gift could be silk, lace or even chiffon. You could get it in her favorite color or neutral white. Perfect for the honeymoon, wedding night, or any special day.
12. Personalized Cutting Board
Another gift for a bride to be that just loves the kitchen, a cutting board is never a bad idea. Whether to be used as an actual chopping board or a charcuterie board, its versatility makes it a great gift.
13. Unique Apron
One more gift for the lover of cooking or baking, is a personalized apron. A most modern option with a unique design would stand out and be much appreciated.
14. Pendant Necklace
Whether you choose rose gold, sterling silver or yellow gold, a pendant necklace will always be welcome. Any bride to be would adore such a gift, and you can always go one step further by personalizing it.
15. Bridal Gift Box
A unique bride to be gift that any celebrating girl would love is a gift box of bridal goodies. Cute and lux items such as scented candles, spa essentials, lush towels, perhaps even gourmet sweets and more.
Don't get stumped looking for the right bridal shower gifts. Surprise your bride to be with any one of these unique choices for that special girlfriend.
Author: Anastasia Beluschenko, with a specialty in wedding dresses, joined Wedding Forward over five years ago. She knows everything about wedding dresses from styles to trends, fit, and designers. Her great sense of style makes it easy for her to expertly predict the newest and hottest wedding dress trends. For leisure, she loves court tennis and stretching.