A wedding is a once-in-a-lifetime event for all, irrespective of the culture you belong to and the religion you follow. Each culture has its unique symbolism. Wedding is not just the day to exchange wedding vows
and rings; it is more than that.
No matter what culture you belong to, every bride wishes to look her best at her Wedding. And in this post, we are sharing some of the most dazzling traditional wedding dresses from around the world.
Let's get started…
1. Indian Wedding Attire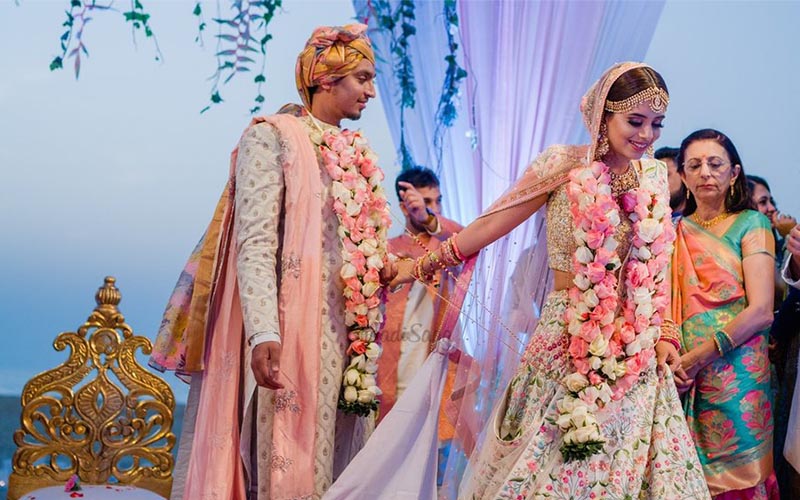 Indian weddings are week-long opulent affairs that include a variety of rites and customs such as the Mehndi Ceremony, Sangeet, and Haldi Ceremony, among others. Everything about the wedding, from the bridal dress to the decorations, speaks of its grandeur. Indian weddings are noted for their spectacular hues, which have a lot of importance in the bride's clothing. Red, Pink, and green are typical hues representing power and strength, prosperity, wealth, and a new beginning.
Brides in Indian culture frequently wear pink or red wedding lehengas or sarees. These lehengas or sarees are heavily embroidered with Zari work. In addition, the Indian brides adorn beautiful gold jewelry from top to bottom. Grooms wear Sherwani in either matching or contrasting hues to the bride's outfit.

2. Mongolian Wedding Attire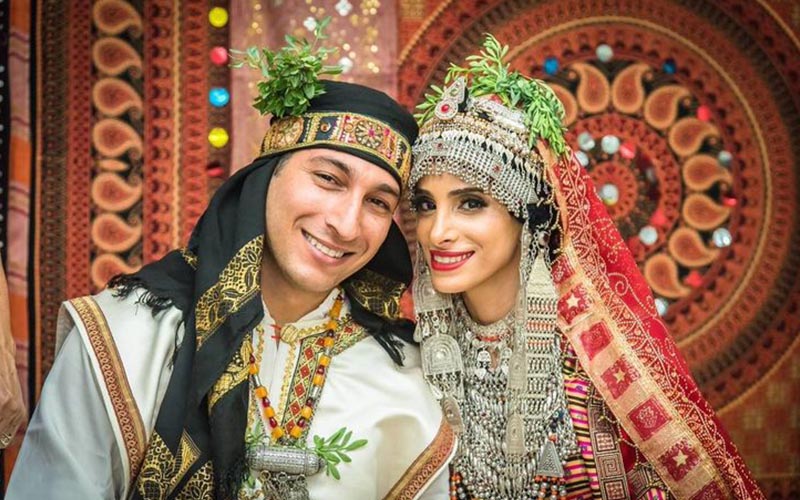 The bride and groom each wear a "Del," a traditional Mongolian wedding attire. A Del is a type of patterned garment worn by Mongols and other nomadic tribes in Central Asia for ages. The groom wears a darker color, while the bride wears brighter colors in Mangolian weddings. Del is made of high-quality fabrics that have a lovely blend of silk and cotton.

3. Malay Wedding Attire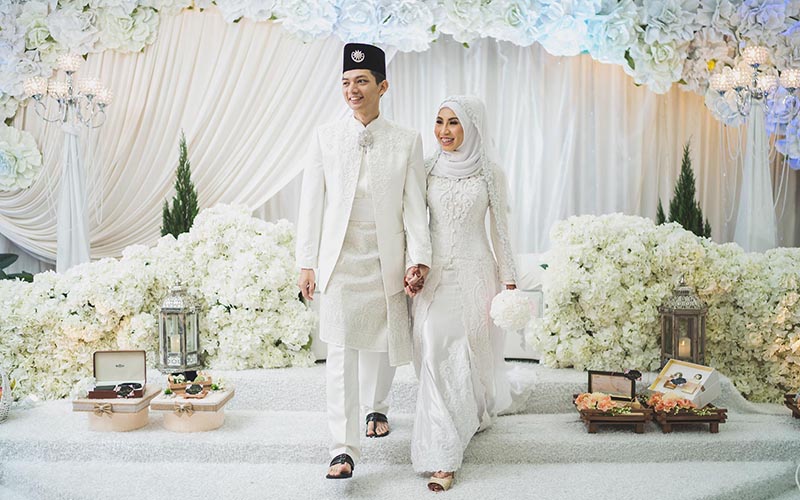 A Malay wedding is a royal occasion. It is separated into two parts: the Akad nikah, which is the marriage contract, and the bersanding, or enthronement ritual, which is the family celebration. The bride and groom look like king and queen, clothed in elaborately decorated apparel.
The groom wears the traditional Malay Baju Melayu, which comprises of a long-sleeved shirt and trousers and translates as "Malay shirt." He wears tanjak, which is a form of woven silk fabric that he wears on his head. He also wields a keris, which is a dagger.
While the Malay bride wears an embroidered baju kurung, a traditional Malay women's attire. This attire, consisting of a long-sleeved blouse worn over a matching sarong, is frequently synchronized with the groom's dress. The baju kebaya is a modern variant of this clothing. The Malay brides also covers their hair with a tudung, a hijab or headscarf, and a selendang, an embroidered and beaded shawl, which she wears over the tudung. On top of the shawl, the Malay bride wears a crown that denotes her prominence for the day.

4. Nigerian Wedding Attire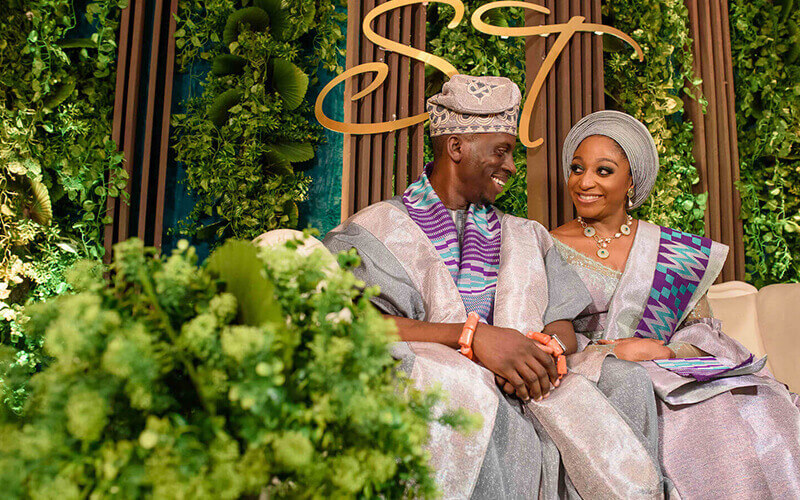 Nigeria is a large country with more than 250 ethnic groups, each with its own unique wedding day traditions. As a result, wedding ceremonies vary by geography, religion, and ethnic background. However, one of the most well-known pertains to the Yoruba. Yoruba brides in Nigeria wear "Aso Oke," a finely woven cloth. The material is highly appreciated and intended to exhibit a high level of taste. A lacy, long-sleeved shirt, waist wrap, shawl or sash, scarf, and veil are common elements of the bride's ensemble.

5. Japanese Wedding Attire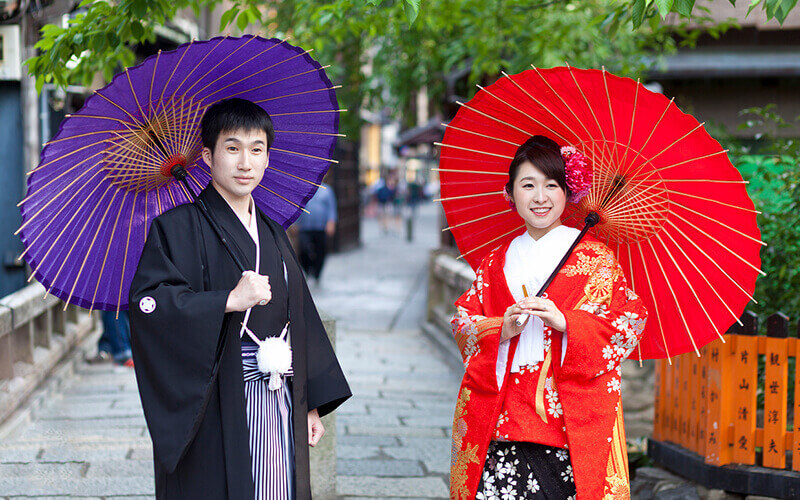 Another wonderful traditional wedding dress is of Japan. Wedding customs vary according to religion in Japan. The bride wears a spotless white kimono for the ceremonial ritual in a traditional Japanese wedding that represents purity and virginity. The Japanese brides wear a crimson kimono to represent good luck once the ceremony is over.
6. Pakistani Wedding Attire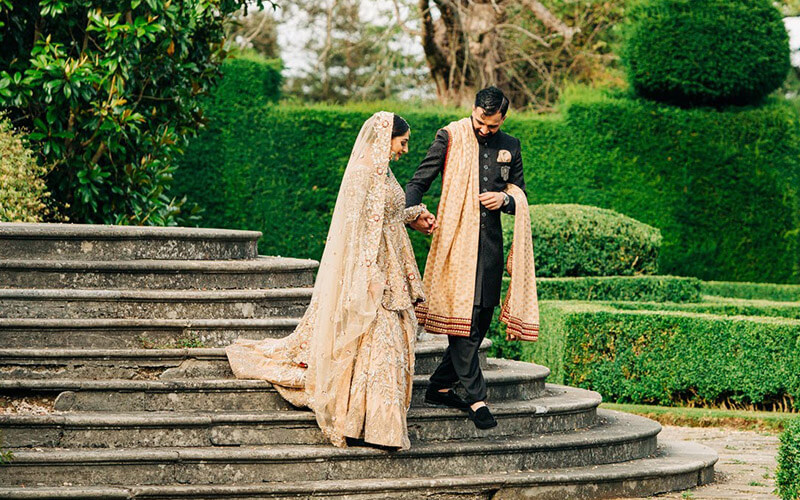 More often than not, Pakistani brides wear vividly colorful Gharara (a typical Pakistani tunic) along with a veil. Brides are frequently seen in gold, red, yellow, pink, or purple attires with glittering embellishments.

7. Kazakhstani Wedding Attire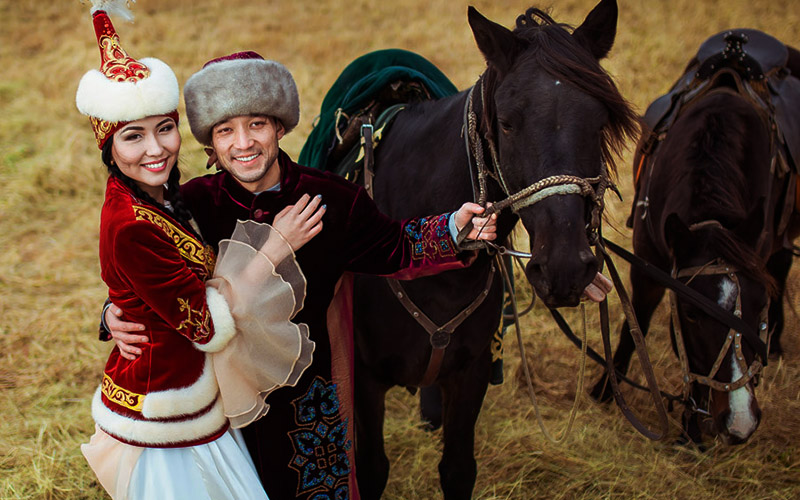 Traditional Kazakh brides generally wear a "Saukele" headgear as well as a facial veil at their weddings. The Saukele is usually prepared well in advance of the girls' marriageable age.

8. Tibetan Wedding Attire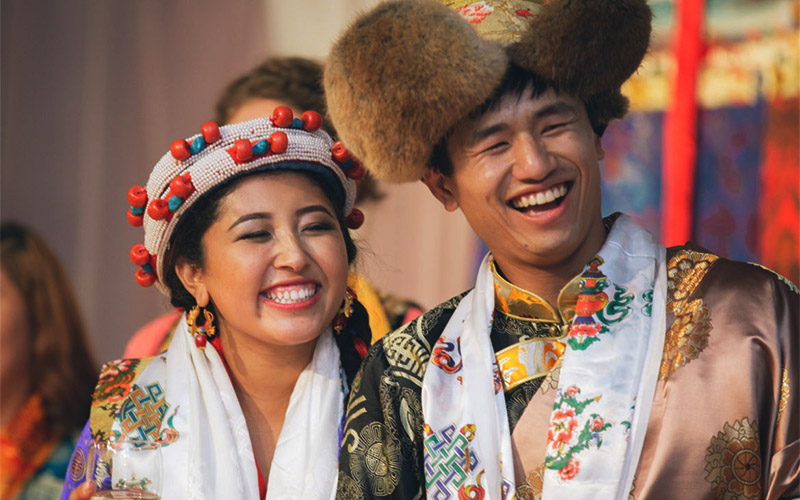 In Tibet, brides wear a layered white wool dress with colorful aprons on top. Some people may prefer to wear a robe instead of an apron. Often Turquoise and Pema Carnelian Agate Beads are used to embellish the dress.

9. Romanian Wedding Attire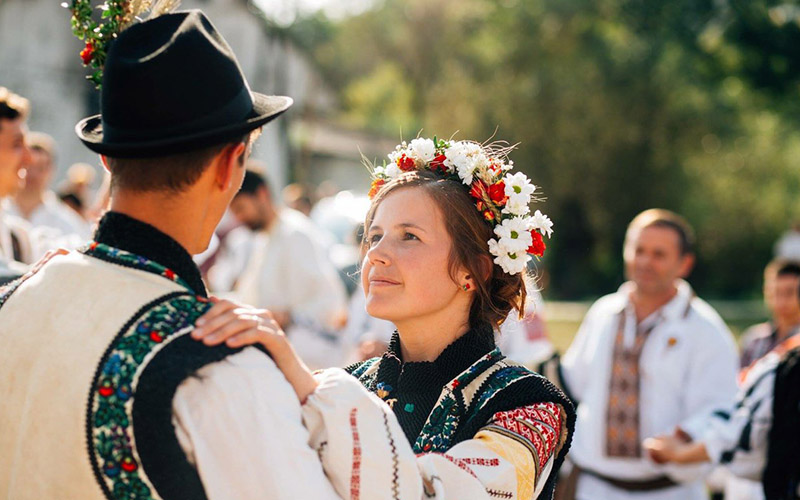 Traditional Romanian weddings are more likely to take place in small villages than in larger cities, and they are frequently occasions for the entire community to gather together in celebration.
Romanian brides wear 'fotă", a traditional bridal skirt that is ornately adorned and made of cotton or wool. The 'maramă' is another eye-catching feature of the bride's wedding gown. Indeed, the hat is an important aspect of the wedding ceremony because it typically signifies a young woman's marital status. Head covering varies from one region to another. For example, the bridal headwear in the Oaş region is particularly extravagant, with hats adorned with a plethora of brilliant beads.

10. Ghananian Wedding Attire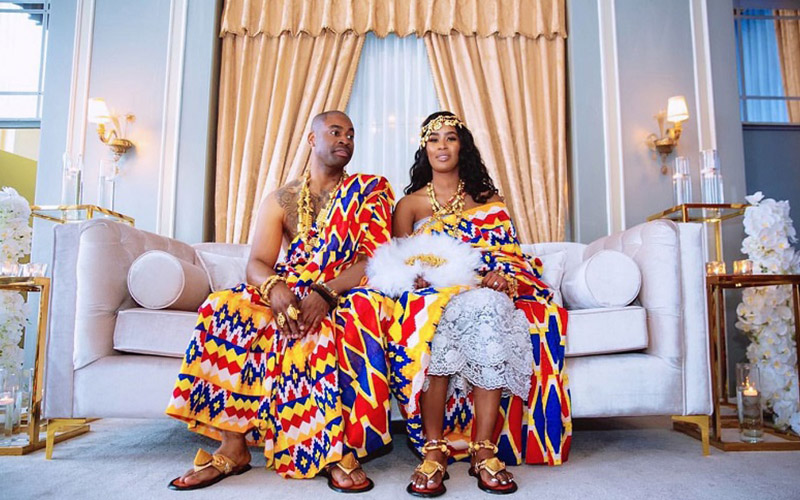 Traditional Ghanaian weddings are frequently bright and colorful, with each family's particular clothing pattern included in the bride and groom's wedding attire. Ghanaian brides are frequently glistening in yellow and gold attire made of the traditional kente cloth, initially intended for kings. Kente is Ghana's traditional cloth, which comes in a wide range of colors and patterns, each with its own meaning. Some brides prefer wearing a Kente type, while others choose clothes in other colours, such as white and gold.

11. Scottish Wedding Attire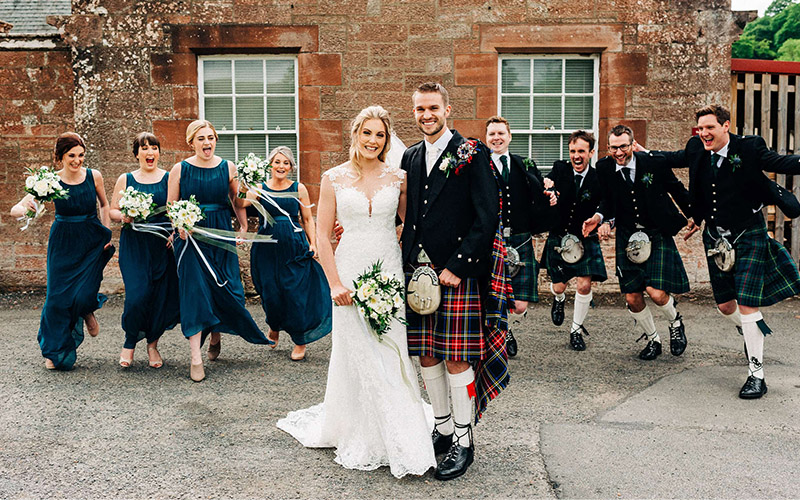 Traditional Scot brides used to wear an "Arisaid," a traditional Scottish wedding gown. Prior to the reign of Queen Victoria, Scottish brides may wear any color dress they wanted as long as it wasn't green or black – as green is connected with fairies, whereas black is associated with mourning in Scotland. Nowadays, the bride wears a white, ivory, or cream-colored wedding gown along with Tiara or flowers in a traditional Scottish wedding. Tiara or flowers should include heather or perhaps a thistle or two. While the groom wears full Highland garb, including a kilt, sporran, hose, jacket, shirt, bow tie, and gillie brogues (shoes). His sgian dhubh (small black knife) will most likely be tucked inside his hose.

12. Chinese Wedding Attire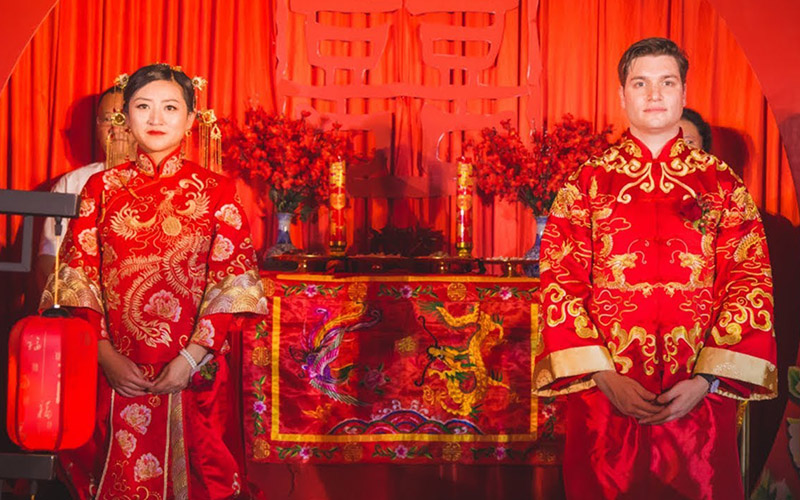 China, unlike the rest of the world, has its own unique wedding clothing. In general, Chinese wedding attires are based on the themes of good fortune and happiness. Red is the main color in Chinese wedding attires, as it is associated with good fortune in China. The red color is said to ward off evil spirits in China. Besides, dragon, phoenix, crimson, and gold are the essential aspects of Chinese wedding attire and adornment as they bring good luck and happiness.
Brides in different regions wear different outfits. For example, Northern Chinese brides wear a one-piece garment called "Qipao," which is mostly red and embroidered with exquisite gold and silver designs. While Southern Chinese brides wear two-piece dresses called "Qungua" or "QunKwa," which are ornately embroidered with gold dragon and phoenix and are known in modern China as "longfeng gua," or dragon phoenix cloak.

13. Polish Wedding Attire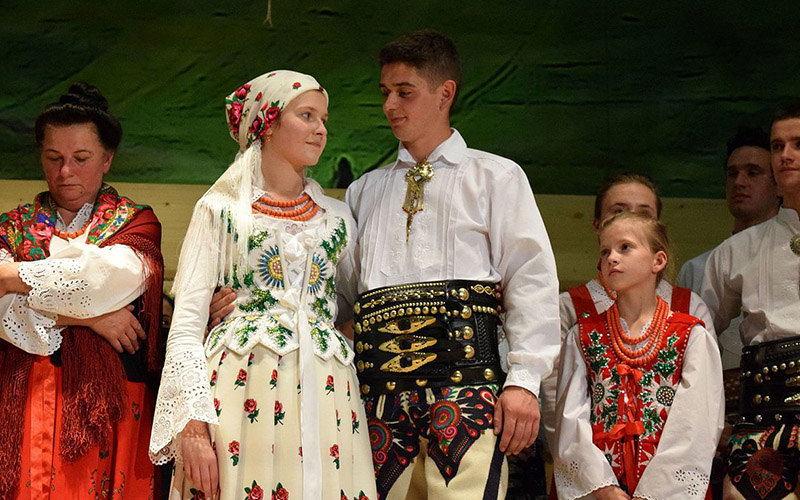 Polish bride and grooms have a variety of wedding clothing selections to pick from at a Polish wedding. Modern Polish brides can wear a white dress with white shoes and a veil (known as a welon) in the European manner. On the other hand, more modern Polish brides can opt for colors like sand, champagne, and pale gold are available.
Many brides, however, choose to follow tradition by dressing up in traditional Polish wedding attire. Most traditional Polish weddings are devoid of jewelry. Instead, they wear embroidered clothes, flowers, and ribbons, along with hats and headdresses. Polish brides are not permitted to wear open-toed shoes since legend has it that their future fortune will fly from their toes if they do.

14. Indonesian Wedding Attire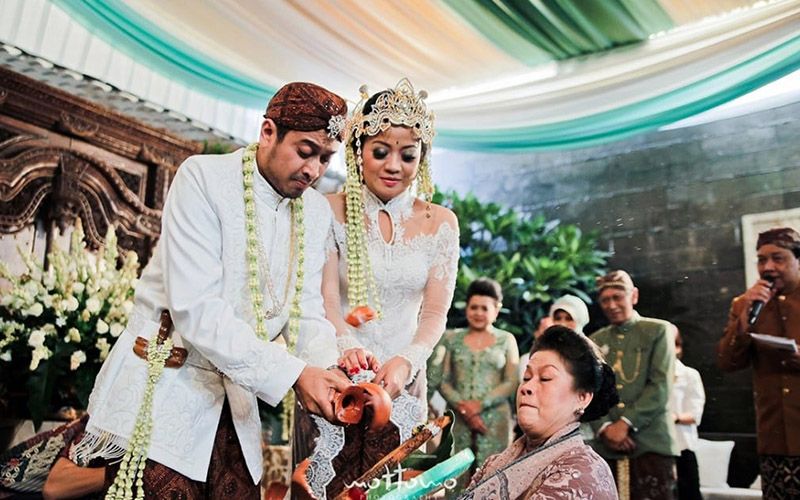 There are various ethnic groups in Indonesia, but the Javanese are the most populous, accounting for more than half of the population. The most widely recognized Indonesian costumes are batik and kebaya. Indonesian weddings are held in three parts, namely, Siraman, Midoreni, and the wedding ceremony. The bride gets bathed in fragrant water by her family during the first. She must stay inside during the evening on the second day and receive friends and family before dressing in an ornate batik cloth that overlays a decorative shirt and wraps around her waist on the third day.

15. Yakan Wedding Attire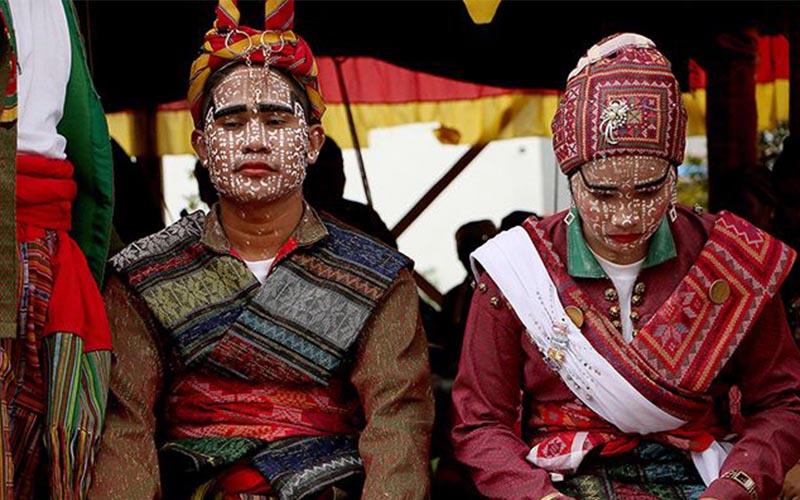 The Yakan are a Muslim ethnic group who live on the tropical island of Basilian. Yakan people are known for their stunning Technicolor geometric weaves and distinctive facial decorations utilized in their ancient festivities, which are found in the Sulu Archipelago in the Philippines' most southern region. Their weddings typically include two rites, one Islamic and the other pre-Islamic. Both the bride and groom wear Tanyak (face paint) during the ceremony.
Grooms wear Yakan Sawal, striped trousers with zig-zag, and diamond patterns made from bamboo fibers, and Badju Yakan designed to match the trousers and Yakan Pis (headscarf). In contrast, brides wear Sakan Pinalantupan (sash) and Batawi (hand-made buttons worn on women's jackets).

16. Hungarian Wedding Attire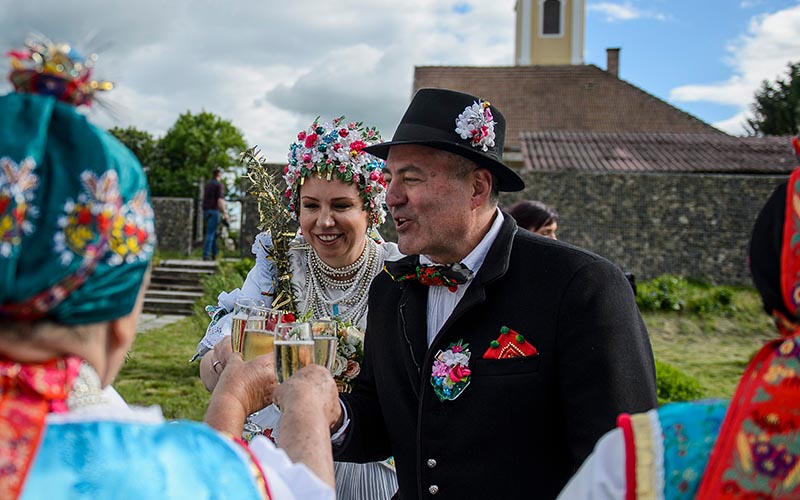 Hungarian weddings are vibrant events. Traditional Hungarian bride's outfit usually consists of an embroidered garment with floral motifs and three brilliant colors. Hungarian brides usually wear a lot of underskirts and a headdress with wheat weaved into it.

17. Korean Wedding Attire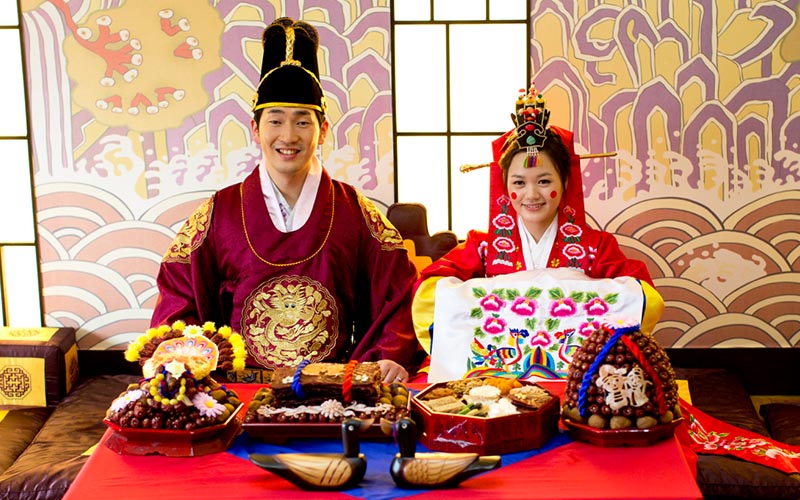 A Korean wedding is a vibrant yet traditional event. For half of the ceremony, the bride and groom may wear a white bridal gown and a suit, and then they change into Hanbok, a traditional Korean clothing style that dates back thousands of years. Hanboks are made of silk. Hanboks are sometimes personalized for special occasions like weddings, with brides choosing pink or purple hues for the ceremony.
Bride wears a wonsam, an ornate upper garment embroidered with motifs in silk thread, and a voluminous skirt called a chima during the paebaek, or formal Korean traditional Wedding.

18. Norwegian Wedding Attire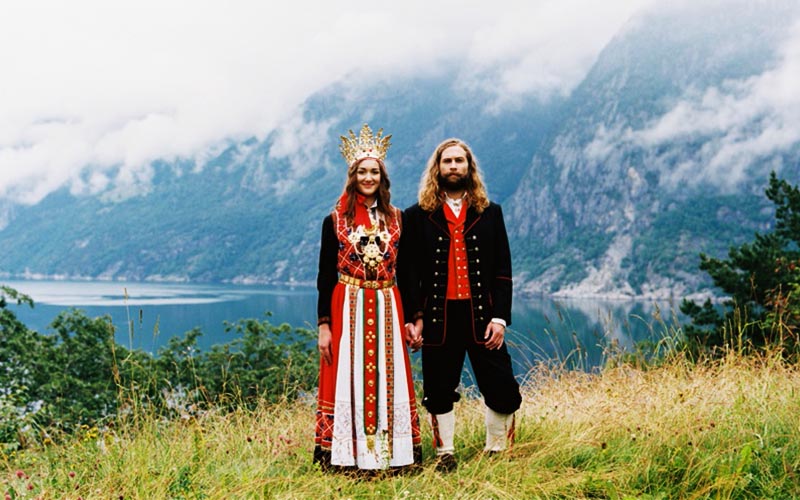 Bunad, a traditional Norwegian wedding attire, is worn by the bride in Norway. The gorgeous Bunad – folk bridal costume includes the bridal crown. Bunad can also be worn to other events, such as christenings.

19. Bhutanese Wedding Attire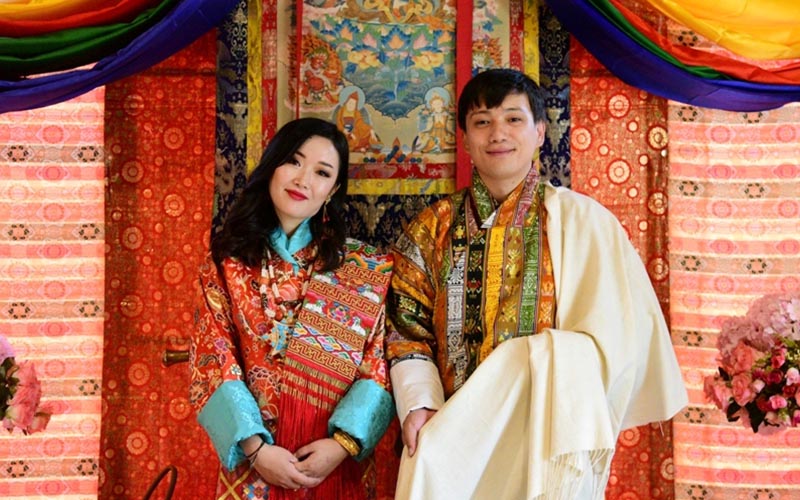 Bhutan has a highly distinct custom in Bhutan marriage since it is heavily inspired by Buddhist traditions while yet maintaining traditional ways of living. The wedding ceremony in Bhutan is more than just an exchange of vows and rings; it includes a series of religious rites performed by Buddhist monks and lamas.
Grooms wear "gho" in Bhutanese traditional clothing. Men wear a tego, a white jacket with long, folded-back cuffs, under the gho, while brides wear "kira," a rectangular piece of brightly colored cloth wrapped around the body. The kira is secured at the shoulders with elaborate silver hooks known as koma and a silver or cloth belt at the waist.

20. Sri Lankan Wedding Attire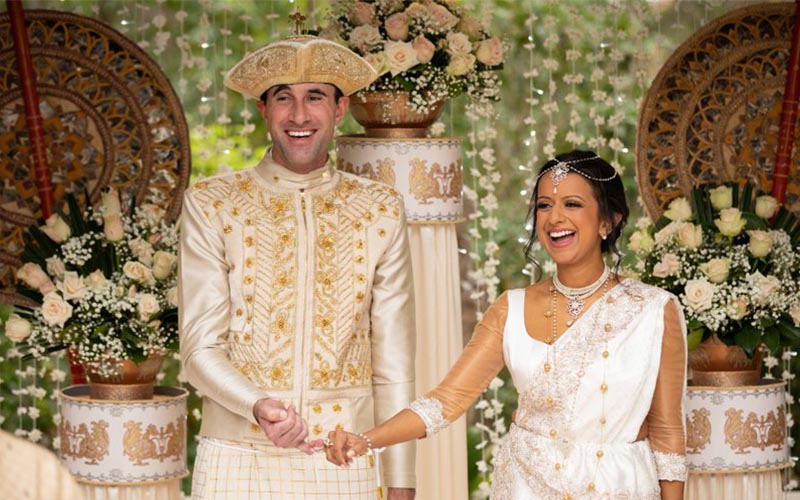 Srilankan brides wear "osariya," also known as the Kandyan saree, at their weddings. Kandyan sarees are heavily embroidered silk dresses – a peplum-style ruffle around the waist and a longer blouse are common features of these dresses, giving them a modest look.

21. Peruvian Wedding Attire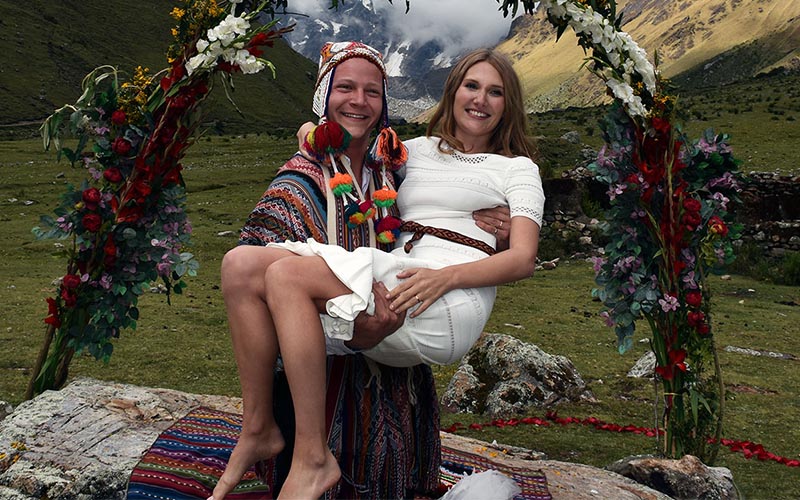 Peruvian weddings are vibrant and colorful. Peruvian wedding outfits are often bright and include woven cloaks and hats adorned with tassels and reflective material. Brides wear a multilayered skirt that features geometric shapes outlined in red, yellow, blue, green, white, and other colors at their weddings. However, many modern brides are now adopting white dress styles, but those in the countryside continue to uphold older traditions.
Wrapping up…
So, these are the 21 traditional wedding dresses around the world. All of these outfits represent not only the culture to which they belong but also their splendor.
Happy Wedding… ☺ ☺