Do you have your wedding coming up soon and are still indecisive about what necklace design to go for? You've seen a bridal necklace design that you like and want to see more of that style! But hold on, what exactly do you name this style of necklace? In other words, is it a guttapusalu, a Navratna or Rani Haar?
Wedding jewellery for an Indian bride can be a bit puzzling, to be honest, if you are one such person who is well-versed with the Solah Shringar, well Congrats! You must know it by now that – The Haar, a necklace, is one of the solah shringars.
The bridal necklace is one of the most important elements of the appearance that the bride will be wearing for her D-Day. They don't need much more than a dazzling necklace to complete their ensemble for the big day. There is an infinite variety of choices available for bridal necklaces, as well as a variety of ways to wear them. They should all have a refined and alluring appearance and possess the characteristics that make them stand out.
Are you having a hard time deciding on a wedding necklace? Don't Worry! We have got you. The article below is to clear your confusion and to give you a big picture of the bridal necklace designs.
Here are 17 of the most popular styles of bridal necklaces you can wear on your big day.
1. Choker Necklace Design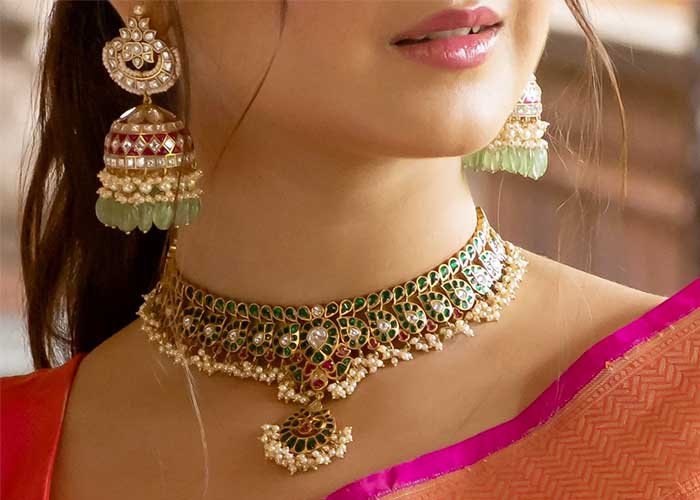 Lately, this bridal necklace design that is worn snugly wrapped around the neck has had a resurgence in popularity. Not only is it simple to layer with longer neckpieces to produce a heavier look, but it is also your best bet for current blouse silhouettes. This is because longer neckpieces generate a heavier effect. Chokers with a wide band and Hyderabadi chokers with gemstone drops are two examples of designs that go particularly well with traditional clothing.
2. Collar Necklace Design
This is a look that can easily be adapted to both classic and Western aesthetics; it can be jewel-encrusted or artistic, contemporary or ancestral, and so on. A popular style of necklace that resembles a collar and gets its name from the Sanskrit word hansuli, which means collarbone, the hasli is fashioned out of ornate components that are linked together using stone beads. The hasli also has some indications of kundan necklace craftsmanship dotted throughout at various points.
3. Aadh necklace Design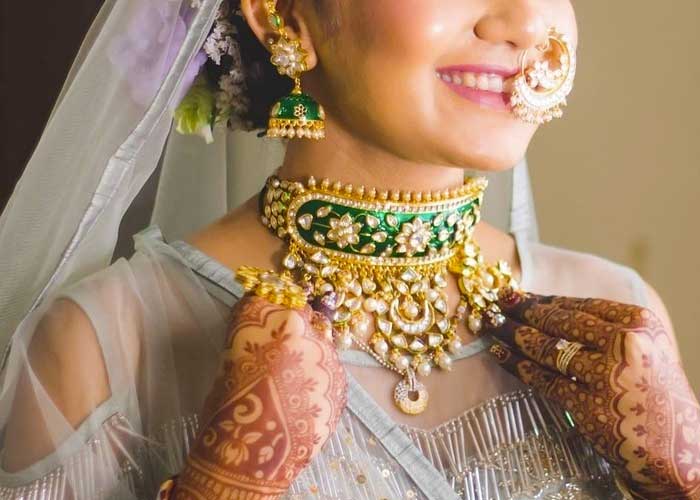 This Rajputana style is popular among brides from the state of Rajasthan. It consists of a choker that is tied to a shower of jewelled patterns and is known for its ornate and elaborate appearance. It comes attached with beautiful motis. It is considered one of the best necklace designs for wedding. So, if you're looking for something royal and elegant, this is the bridal necklace design for wedding you can opt for.
4. Bib-style Necklace Design
This bridal style drapes over the chest like a net adorned with valuable stones; hence, it works best when paired with attires in solid hues in to achieve the ideal marriage of opposites. It can be the best choice if you're looking for a unique marriage bridal gold necklace design.
5. Gulband Necklace Design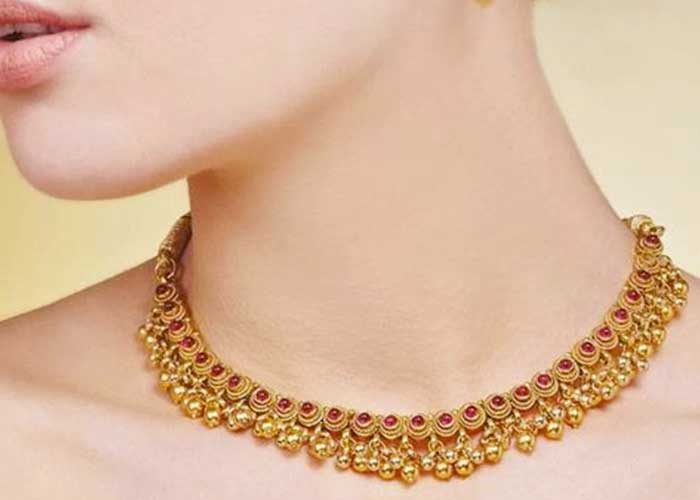 This particular necklace is an offshoot of the traditional choker, and it is also known as the princess necklace. It is worn just above the collarbones. Due to the intricate nature of its design, it is typically an excellent match with high neck blouses in addition to plunging necklines. If you're looking for a unique bridal look, this necklace design for wedding is the best one.
6. Rani Haar Design
As its name suggests, this piece of jewellery from Rajasthan is a royal and stately-looking piece that would be appropriate for a princess wedding. Anushka Sharma, Priyanka Chopra Jonas, and Deepika Padukone were all seen opting for this style for their marriage ceremonies, and the long piece it can also be used to dress up simple anarkalis and lehengas after your wedding too. Not only is it a fitting choice for the wedding day of a bride, but it has also been seen being worn by these three actresses.
7. Ladasnecklace Design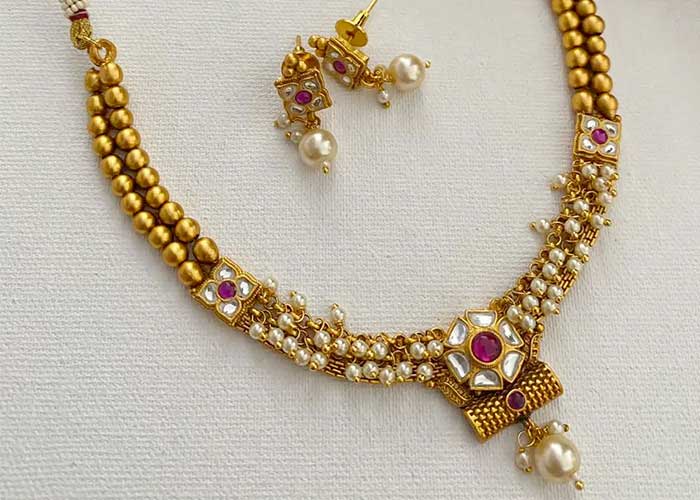 Ladas are layered necklaces that were popularized in the past by the Nizams of Hyderabad. These bridal necklace designs can be fashioned with pearls, polki, or even diamonds, although the former option is by far the most common. The satlada, which is a seven-layered variation of this necklace pattern, is typically worn at weddings. The panchlada, which has five layers, and the teenlada, which has three layers, are both scaled-down versions of the satlada that are worn at different types of traditional rituals.
8. Kanti Necklace Design
This piece has its origins in Gujarat, and it is traditionally made up of a band that is laced with gold and gems and features an exquisitely designed tikda or pendant. However, it is also possible to make this piece with diamonds. The fact that this necklace style is based around an element that is quintessentially old is what gives it the status of an heirloom.
9. Lariats Necklace Design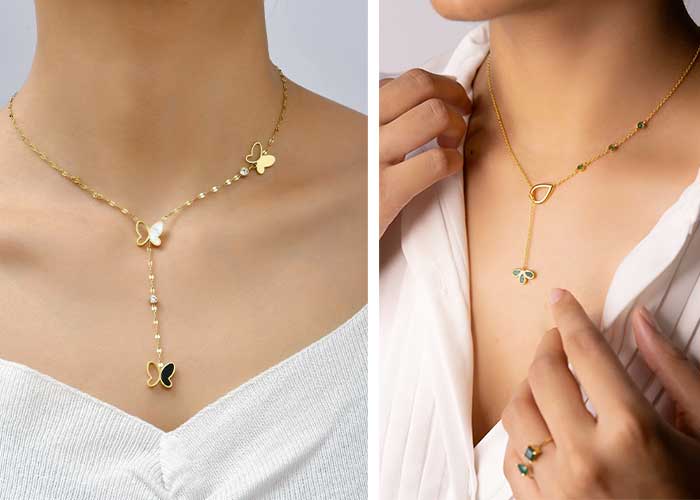 You don't need to have a set amount of traditional necklaces in your bridal trousseau; rather, a few contemporary additions would serve you well for accessorizing your western outfits as well. The lariat necklace is a design that is up to date, fashionable, and easy to transport, which makes it an obvious choice for occasions such as having lunch with your in-laws or attending your sister-in-baby law's shower. If you want to make the biggest impression, choose jewelry that features both pearls and rhinestones.
10. Kasu Mala Design
It is impossible to deny that South Indian jewellery is becoming increasingly well-known in the mainstream perception. The kasu mala, which is a neckpiece that is made up of a collection of gold coins, is a fashion that you should consider including in your trousseau. You can wear it to the events leading up to your wedding, or you can pair it with a Benarasi tunic for your very first dinner party as a married woman.
11. Satlada Necklace Design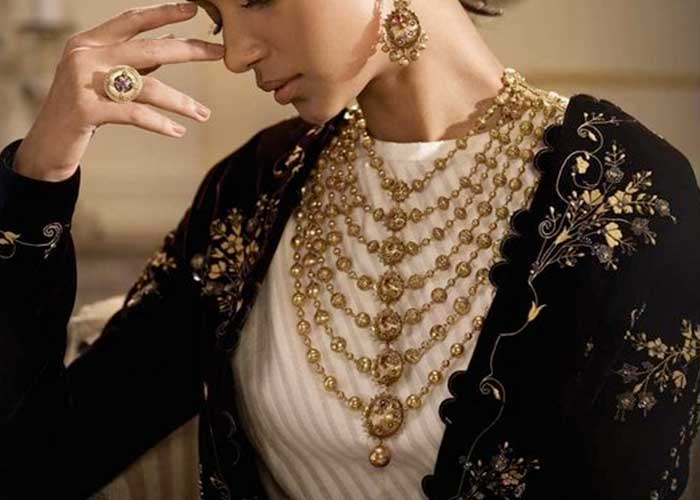 In a classic sense, a Satlada may be categorised as a kind of Rani Haar. But it's got a fairly unique aesthetic! Since Sabyasachi first started dressing his models in it many years ago, it has been another style that has gained a lot of popularity in recent years. There are seven woven or linked layers of pearls or diamonds that make up the Satlada. Panchlada, which means "five-layered necklace," and teenlada are the names given to the more diminutive variants (3-layers).
12. Navratan Necklace Design
The fact that Mira Rajput Kapoor wore it on her wedding day to Shahid Kapoor is often credited with contributing to the garment's rise to fame. After this, Masaba Gupta wore it to her sangeet, and ever since then, we've seen Navratan jewelry popping up everywhere! Pearl, emerald, ruby, red coral, yellow sapphire, diamond, blue sapphire, cat's eye, and hessonite are some of the precious and semi-precious gems that are set in this vibrant necklace. Other jewels include hessonite and cat's eye.
13. Guttapusalu Necklace Design
The bottom of this piece of South Indian jewellery is adorned with pearls, diamonds, emeralds, and rubies respectively. It is made of gold. This is a very long necklace that looks strikingly similar to the Rani Haar, but has its own undeniable charm. So, if you're looking for a stunning piece of jewel, this is the one for you.
Related Post: Choosing your Bridal Jewelry
14. Chandbali Necklace Design
Chand means "moon," as the name suggests, and Bali means "earrings," which emerges in crescent moon-shaped earrings that are set elaborately with crystals and trimmed with small pearls. Chand and Bali are also Hindi words. The appearance of a crescent has, for many years, been associated with good fortune. The Chandbali Necklace is a design for a shorter necklace that covers the area around the top of the neck and adds a wonderful touch. Because it can be worn with a variety of different long gold necklaces, this design has gained a lot of popularity among brides.
15. Bridal Gold Necklace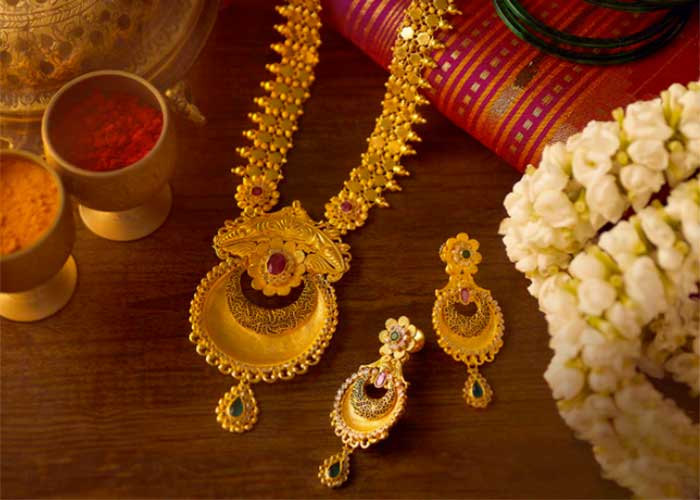 If you want to go for something sober and simple, then get a bridal gold necklace. Gold is quite popular in Indian weddings. The best thing about gold necklaces is that you can get them in any design. You can even customize your gold necklace according to your choice. Many jewelers sell already designed gold necklace set for brides to help them make the best choice.
16. Small Diamond Necklace
If you don't want to overdo in your wedding, then small diamond necklace is the best choice. A small diamond necklace can go well with your reception attire, such as a floor length gown. The best thing about these necklaces is that you can easily carry them even after your wedding as well.
17. Kundan Necklace
Kundan is a type of jewelry that is traditionally crafted out of gold and wax. The word "Kundan" refers to highly refined pure gold, and the material most commonly used in Kundan jewelry is pure gold that has been karat-graded to 24k. Kundan jewelry has a history that stretches back more than two thousand and five hundred years, making it one of the oldest types of jewelry in India.
Since it is one of the oldest jewellery crafts in India, the origins of Kundan jewelry may be traced back to the time of the Rajputs and Mughals.
This fashion was introduced to the nation several centuries ago, and it found great success there thanks to the patronage of the Mughal emperors. After that, several royal dynasties in India successfully adapted it to their needs. So, if you're opting for a Rajputana look at your wedding, Kundan bridal necklace design is for you. You'll fall in love with the artistic sophistication of the jewelry that will simply add to your look.
Wrapping it up…
So, these are the 17 best bridal necklace designs for you. Every bride's dream is to look the best she can on her wedding day. Make sure that any piece of gold jewelry that has been specifically picked for the bridal collection lends the bride an air of refined sophistication.
All the efforts are put together to make the bride appear absolutely breathtaking on her big day. Because of the exquisite craftsmanship and artistic sensibility of designers, each piece of gold jewelry is an excellent option for use at any significant occasion, especially your wedding.
Hopefully, this article has been informative for you and will help you choose the best necklace design for your wedding.
Happy Wedding… ☺ ☺