Every bride on earth has a desire to look her best on her wedding day! That perfect look is nearly impossible without the perfect jewelry, as wedding jewelry makes that dream of looking best at wedding come true by giving an amazing affect to the overall look of the bride. Not only this, in fact, every bride desires to wear jewelry which is unique, different and enchanting that can make her look different and gorgeous.
Bridal Jewelry
Undoubtedly, wedding jewelry is an integral part of the bridal look. Wedding is a once-in-a-lifetime event for the couples, and for a girl it is the day when she will look absolutely her best and different from all the other days of life. The look which a girl gets on her wedding is undoubtedly once-in-a-lifetime look for her. She has an amazing spark on the day of her wedding which is unique and beyond explanation. So, for that perfect and unique looks it is crucial that you choose the right kind of jewelry.
However, choosing bridal jewelry can be copious. As, there are myriads of styles and jewelry options available to choose from. Hence, it becomes a little difficult to choose the right kind of jewelry based on your wedding attire and your skin tone. But, one has to be very prudent while choosing her wedding jewelry as your wedding is the biggest day of your life, so you cannot leave any stone unturned to get yourself the perfect jewelry. Your goal should be to find the right jewelry items that complete your look as well as add elegance to your beauty.
Getting the right necklace matching your attire, matching band or earring is a task in itself. Your aim should be to get authentic and exquisitely crafted jewelry that too in your budget. However, while choosing jewelry brides often get confused and find it really difficult to get the right jewelry items for their wedding.
Few quick pointers:
Before moving ahead to our tips, make sure that you plan your jewelry beforehand. As whatever you will order it will take time to be ready. Also, you may want to alter some design or some pattern in your jewelry matching with your attire, that again takes time. So, it is always recommended that you to start planning your jewelry as soon as the wedding date is fixed.
Also, next very important point while choosing jewelry is to set a budget and plan your jewelry according to that, so that tomorrow you don't face any financial crunch due to over expense. And you know your wedding is already a pricey affair.
Next very important point while going for a jewelry shopping is buy jewelry items only from a trusted jewelry shop which do give proper certificates of the jewelry you buy. It's important for many reasons, and one is if tomorrow you may need to sell it off you will surely need the certificates to authenticate the same.
Pick up some reputed jewelers who will be able to understand your needs and will offer you the best from their finest collection. Also, make sure you do not buy your jewelry in one go. First see the designs and make sure you like their designs and patterns if you don't then there are many shops to look for your jewelry.
Here are 30 best tips for you to consider while you choose your bridal jewelry to get the most stunning look on your wedding day:
1. Understand 'Less is More'
First thing first, you need to understand that sometimes "Less is more" and your wedding jewelry is one such case. You don't need to over-do your wedding jewelry. As, your wedding attire is equally important and you cannot just outshine your wedding attire; rather your jewelry should perfectly blend with your wedding attire to have that perfect dreamy look which you have always desired.
2. Consider Matching Your Jewelry With Your Dress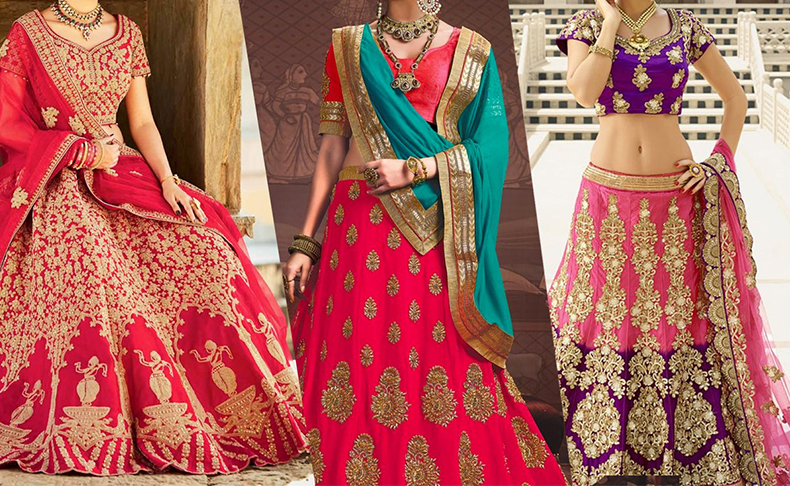 While choosing your wedding jewelry you should also consider the fabric of your wedding attire. More often than not, brides get confused about which color to choose gold, or platinum, or rose gold, then it is better you go for jewelry based on the color of the fabric of your dress. For an instance if your wedding dress is hues of pink, then rose gold can perfectly blend with your attire. Or if the wedding attire is in soft colors of white then opting for platinum or silver pieces will be most preferable. In case of ivory shades gold jewelry can justify the look better. So, make sure you choose your bridal jewelry which goes well with your bridal dress, thereby adding to the gleaming effect of your personality.
3. Consider Neckline of Your Attire
It is one of the most important pointers while you plan your wedding jewelry, especially your neck piece. If your neck piece is not aligned with the neckline of your attire then the whole beauty of the dress and your neck piece will go into a toss. As, the neckline of your wedding attire is the deciding factor for the kind of neck piece you are going to wear on the day. For an instance, a choker or a short necklaces are proper for the wedding attires with a strapless neckline or sweetheart necklines. Also, if your wedding gown has an ornate neckline, you can always go for a chandelier earrings and fresh flowers for your hair. Wear a small bracelet, bangle or a cocktail ring to complete your look.
4. Your Earrings Should Match With Your Hair style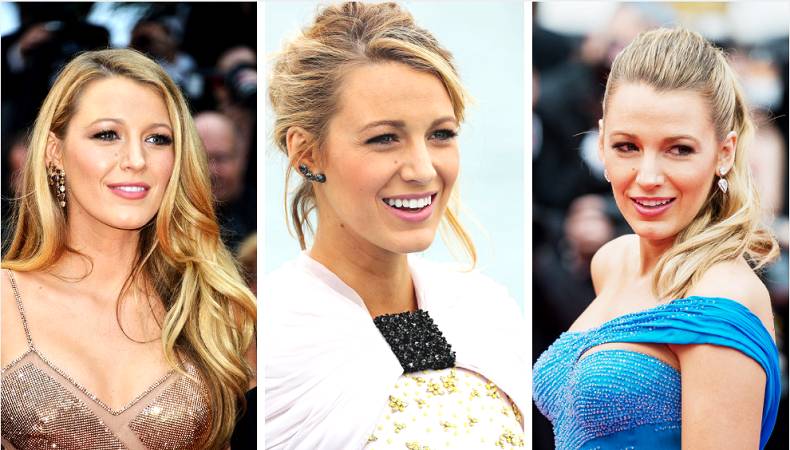 Another very important factor while you choose your wedding jewelry is your hair style in your wedding. Basically before buying matching set of your necklace and earrings, you must keep in mind your hair style and visualize whether your earrings will go with your hairstyle or not. Well, there are millennial brides who do not have much idea about their hairstyles also at their wedding, in such cases a bride can first meet her hair stylist to be and brief her about her wedding. Accordingly she can get the idea how her hairstyle is going to be at her wedding. Or otherwise you can research online and see which look you want to opt for, at your wedding, accordingly you can see the size and designs of your earrings for your wedding day. Also, if you want you can try dummy earrings with hairstyle beforehand to get a clear picture.
5. Too Many Colors Are Not Advisable in Wedding Jewelry
You may love too many colors in your life, you may be very fond of colorful things but that doesn't matter that your wedding jewelry should also be very colorful. Choosing too many colors for your wedding jewelry is not a wise decision. You should always choose a jewelry with a single or may be bi-color that perfectly blends with your wedding attire. More often than not, multicolored jewelry is not good for bridal look as it makes the whole look messy and the entire attention even in your bridal pictures will be on your jewelry's color rather than you as bride. Thus, it is better you immediately chuck the idea of jewelry studded with several different gemstones and get the simple wedding jewelry which will give you perfect bridal look.
6. Your Jewelry Should Be Highlighted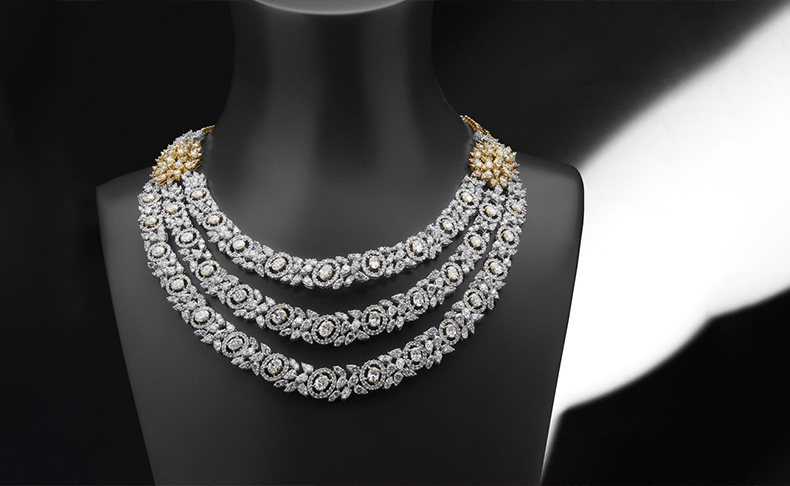 While you choose your wedding jewelry make sure your jewelry get highlighted by your wedding dress instead outdoing it. Also, the metals of the jewelry should be chosen keeping the color of the dress in mind. Your wedding pictures will also be affected positively or negatively if your choice of metal for your wedding jewelry is not perfect. So, make sure you choose your wedding jewelry that gets highlighted by your wedding dress and not get dimmed by the dress. Metal chosen should go well with the matching colors of the bridal dress.
7. Too Many Items Are a Bad Idea
Wearing too many jewelry pieces on the day of your wedding is strictly a NO. As wearing too many jewelry items will make your entire look messy. It will look as if you wore everything and anything you got from the market giving you a messy look on your wedding which is not a wise decision of course. So better try to choose one shorter necklace and one bigger that will highlight your entire look and will go well with a heavy pair of earrings and other ornaments.
8. Wearing Too Many Metals Together is Highly Unwise
Well, you may be fond of many metals but again that doesn't mean you will wear all of them on your wedding. Or because the bridal jewelry is available in a variety of metals with a lot of trendy designs you chose to go for all the metals. That will not make any sense, trust me! If you doubt than just for a moment imagine yourself wearing all the metals and how you look at your wedding. I am sure you got the answer.
So, it is better you go for a maximum of two metals for your wedding day, however, one is also good. Wearing too many metals will spoil your entire look which you will surely regret later. Be it your ring set you are looking for, try to minimize your metal choice to one or maximum two, not more than that. Too many metals will create huge confusion in your overall look.
9. Consider Buying Detachable Heavy Jewelry Pieces

We all know that the jewelry we wear on our wedding is hardly used after that. And the reason is obvious that the jewelry pieces made for weddings are generally too heavy to wear. So, it is better if you choose a detachable jewelry pieces, which you can detach later according to your requirement. Today, it is easier to get detachable jewelry items as their demand is rising and due to which such pieces are readily available in the jewelry shops especially neck pieces and earrings.
10. Consider Matching Jewelry According to Your Wedding Ceremonies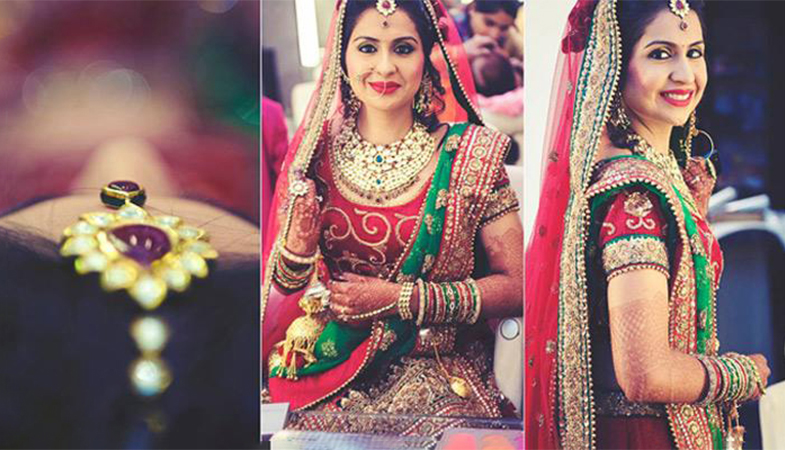 Indian weddings are full of ceremonies. No Indian wedding will complete without having functions like Mehandi, Sangeet, Haldi and Reception. So, it is essential that you choose your bridal jewelry according to the functions and ceremonies. For an instance; you can choose lighter jewelry sets for your mehndi, sangeet function and the heavier ones for the wedding and reception as they are the main functions of course and you should look your best in them.
11. Consider Buying Trendy Designs
Well, it is also crucial that you choose designs which can be used later after your wedding also, as the jewelry we wear on wedding is not used most often. So, the best you can do it choose some trendy designs, designs which are always in trend and can be wore anywhere in any occasions. Because if you will choose something latest it may be outdated or out of fashion after sometime, then there is no point spending so much money on only for one day. Wise are those who keep even their future requirements in mind. As, your wedding is a one day event, but your jewelry, you may need it many a times afterwards.
12. Consider Utilizing Your Mother's Jewelry For That Classic Touch
The truth remains that old is always gold! So, if you are looking forward to a traditional bridal look at your wedding then nothing can be best than wearing your own mother's wedding jewelry. However, if you want you can get those jewelry altered according to your need and desire but most often it is not needed. As the old jewelry designs were always unique and beautiful. They will add value to your overall look for sure. Just some polish and touch up will do the rest. A wonderful way to get a perfect traditional look at your wedding. Even your guests will not be able to keep their eye off, of your beautiful look.
13. Consider Buying Diamond Studded Gold Jewelry
Well, it depends on your budget too however, but buying mixed jewelry of gold and diamond is much in trend these days. Also, it gives a good classic effect. Most importantly diamond studded gold jewelry one can wear in any occasion even after the wedding also. As these jewelry though heavy but do not give that effect all in all.
14. Maang Tikka Should Be According To The Size of Your Forehead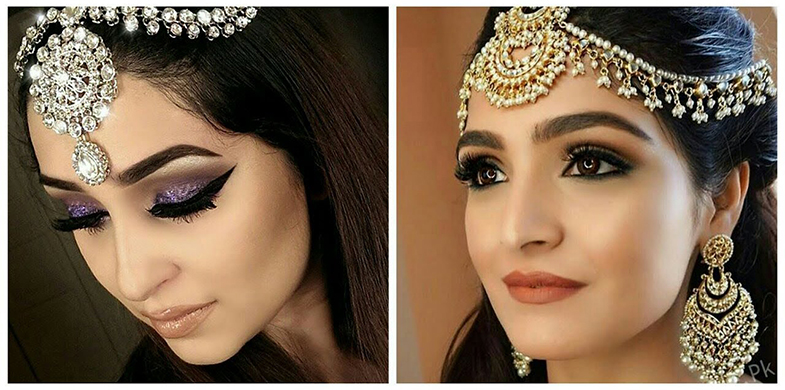 Yes, it is very important! Maang tikkas in some part of the country are to be wore compulsorily by the brides. And if it is not compulsory in one's tradition then also brides love to flaunt maang tikka as it just adds that extra flavor to the look of the bride. However, it is important that while choosing your maang tikka you consider the size of your forehead. Because a heavier and bigger maang tikka will never suit a bride with smaller forehead and vice versa. Bride with larger foreheads looks good with bigger maang tikka and small and delicate one goes well with brides having smaller foreheads.
15. Your Nath (Nose Ring) Should Go With Your Personality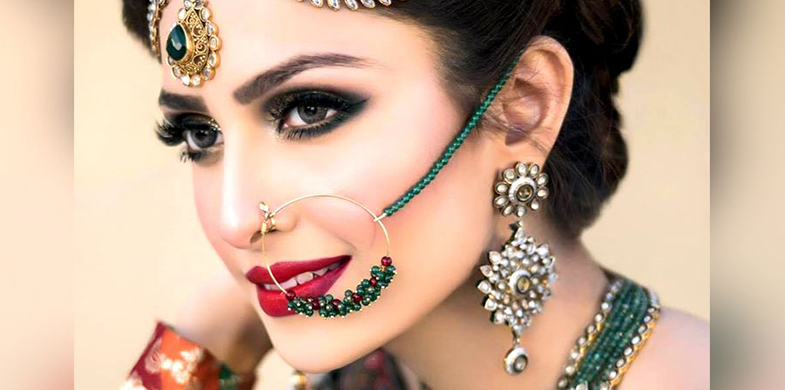 In some regions in India like Uttarakhand and Himanchal Pradesh bigger naths are wore by the brides. Also, it is compulsory in these traditions to wear nath. If it is not in your tradition and still you want to wear nath on your wedding then make sure you choose a nose ring according to the shape of your nose and face, so that you get that elegant look at your wedding, without looking awkward. Because if you are not habitual of wearing naths suddenly you will wear it, it may or may not look good so better you try it beforehand.
16. Go for A Slim Waist Band
Though waist bands are not at all compulsory especially in lehnga people avoid wearing it. Waist bands however, looks beautiful in saree. If you are wearing saree at your wedding then go for a slim waist band as it will give a heavenly touch to your bridal look. Waist band will not only helps in covering your bare torso, but also it will make your waist look slimmer and more attractive.
17. Go for Designer Bangles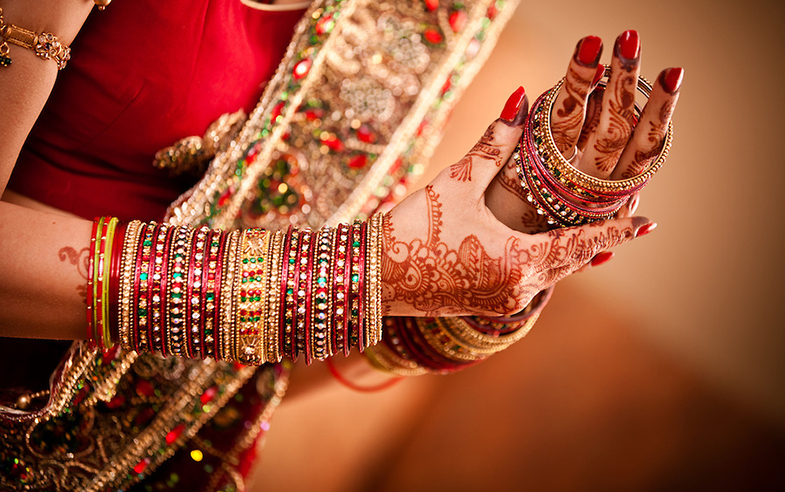 Going with gold bangles entirely will look old fashioned now, as today there are variations available in the market from gold bangles studded with diamond to gold bangles studded with precious stones. So, it is better to go for something unusual at your wedding and buy gold bangles studded with precious stones, which will not only go with almost every kind of attire, but also will give your personality a gleaming look.
18. Go for a Bigger Designed Ring for Middle Finger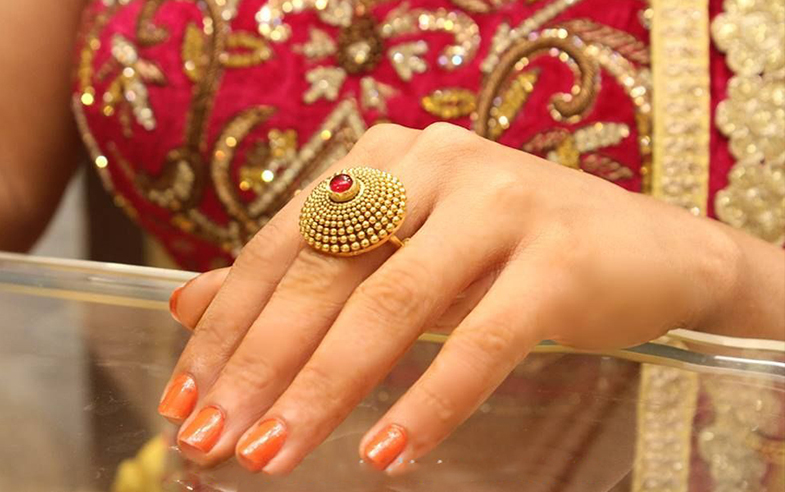 Why you ask… Well, at your wedding you are no less than a princess, so to look like one, it is kind of must to wear a grand designed colorful ring in the middle ringer. It will give your look an instant glam.
19. Go for Matching Anklets and Toe Rings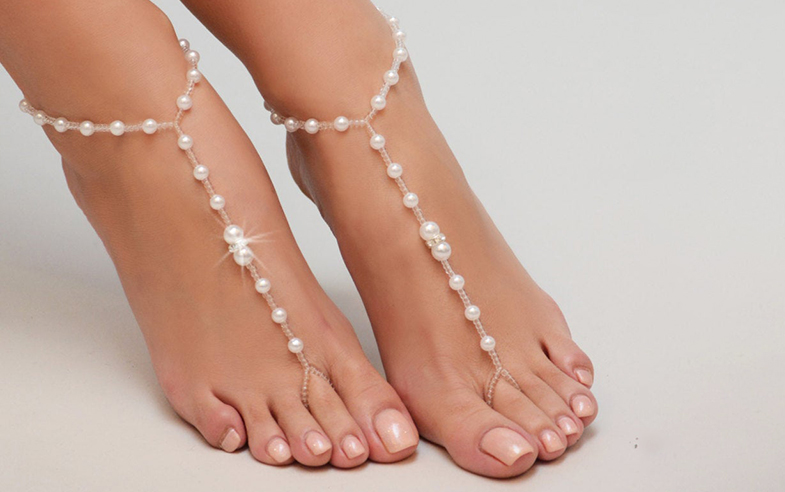 We all know how important toe rings and anklets are in some of traditions in India. Even if it is not compulsory people do wear it. Wearing toe rings and anklets are considered auspicious in Indian tradition. Besides, toe rings and anklets give a stylish touch to the bridal look. These days, a wide array of toe rings and anklets that too with myriads of colorful designs and patterns are available in jewelry shops including the studded ones. You can choose the ones which perfectly suit your wedding attire and add to your bridal look on the day of your wedding.
20. Go for Light Weight Earrings with Heavy Look
On your wedding already you will be wearing very heavy lehnga or saree, which will be difficult to manage. And if you will wear heavy weight jewelry especially earrings that will be very difficult for you to handle the weight that too for a long time. So, it is recommended that you wear light weight heavy looking earrings during the entire ceremony, thereby avoiding any kind of pain and stress caused by heavy earrings. Make sure you check your earrings and their weight beforehand, thereby avoiding any discomfort later.
21. Go for Matching Metals with Your Dress
There are so many variations in the market like silver, gold, platinum, and so on. But you should always choose your wedding jewelry metal matching with your bridal attire. Like; if your wedding dress is white: Platinum or silver pieces will perfectly go with your attire. Whereas, if your gown is ivory in shade Gold metal jewelry will enhance the look best way. Likewise, you can match your dress and the metal of the jewelry accordingly.
22. Metal of Your Jewelry Should Go with Your Skin Tone
We all are born with different skin tones. Hence, it is very important that you should consider this point before you plan your wedding jewelry. Because, it may happen that some jewelry piece is very beautiful but somehow it doesn't go well with one's skin tone. Here are few tips to choose jewelry according to your skin tone.
Bridal Jewelry for Wheatish Skin Tone
Well, wheatish skin tone brides can go for a Kundan bridal jewelry set, or stone jewelry, or platinum jewelry sets as they are most suitable for the wheatish complexion brides. Because the complexion may hide your natural beauty, so a Kundan jewelry or colorful stone jewelry will highlight your looks.
Bridal Jewelry for Dark Skin Tone
Brides with dark skin tone can go for a classic yellow gold or rich rose gold or gold with heavy work of pearl, as it looks stunning in dark complexion. Also, brides with dark complexion can go for the traditional gold color as the spark of Gold bridal jewelry will enhance the overall look of the bride.
Bridal Jewelry for Fair Skin Tone
Brides with a fair skin tone always have a benefit as any color or any metal can go well with their skin tone. However, a fair bride looks more adorable in diamond or pearl jewelry. Though the diamond jewelry is not specifically meant for a particular skin tone but yes, it however, looks perfect on the fair skin tone bride. It will enhance the beauty of your neck. Make sure all your jewelry from neck piece to earrings, rings to bracelet, and other ornaments are in the same metal and matching.
23. Your Bridal Jewelry Should Go with Your Face Shape or Type
Again, it is crucial that you consider your facial shape before you go for your wedding jewelry as different face shapes looks good in different designs. Simply not one size fits all! Hence, it is very important that you consider this point before you plan your wedding jewelry. Because, it may happen that you may like some jewelry item so much but somehow it will not go well with your face cut. Here are few tips to choose jewelry according to your face type.
Bridal Jewelry for a Round-Shaped Face
Brides with round shaped face should go for a long necklace especially which has diamond or pearl strands. As, the long necklaces below the neckline suits best on the brides with round face shape. Also, with long neck piece bride should go for long earrings. As they will match perfectly and will gel with your face shape as well. There is a new trend of lariat necklaces, which you can try as they look stunning. Also, these neck pieces or earrings you can wear even later after your wedding also.
Bridal Jewelry for a Heart-Shaped Face
Brides with the Heart-shaped face will have narrower chin area, so in this case long earrings can go well. Whereas, the shorter necklaces with heavy work or chokers will give a certain amount of roundness to the bride's face. Long earrings such as Danglers and teardrop earrings can help one to cover the narrower area and fade the jawline. And shorter necklaces or chokers can be of any type of metal like diamond, gold, platinum, etc. But avoid wearing small earrings and studs.
Bridal Jewelry for a Rectangular-Shaped Face
Brides with rectangular shaped face can choose high neck jewelry for their wedding. As such jewelry perfectly goes with their face cut. For light jewelry one can carry Choker-style necklace. As choker-style necklace looks perfect on rectangular shaped face. For earrings the short, soft or round earrings can do the needful. But, make sure you do not wear hard angles shape earrings such as rectangular and square earrings.
Bridal Jewelry for an Oval-Shaped Face
Brides with oval-shaped face has a benefit of exploring a lot of jewelry ideas. The best part is an oval-shaped face bride can get her desired jewelry without any fear. Any kind of earrings from the big hoops to danglers, Jodha style earrings to papal leave shaped earrings can go well with this kind of face cut. They look beautiful in any case and in any type of jewelry items. However, long earrings are okay but going beyond that will look a little odd, so see before you choose them.
24. Go for the Jewelry in Which You Feel Comfortable
While choosing jewelry you will come across thousands of designs and patterns and definitely you will like most of them. But, while making a purchase besides considering all the above points, it is crucial that you do not ignore your comfort. As your comfort factor is most important for what  you are going to wear for long hours on the day of your wedding. So, you should do a thorough planning and be careful while you select your wedding jewelry. Your comfort matters the most!
25. Don't Be Confused
More often than not, brides upon seeing so many options get confused, which is of course not good. So, if you find yourself stuck in choosing your bridal jewelry, then the best you can do focus your search. Look for a piece that you adore the most and would want to invest in, and wear that. If you still think you are confused then read all the above points one more time, it will help you get your favorite and most adorable piece.
26. Go with Your Budget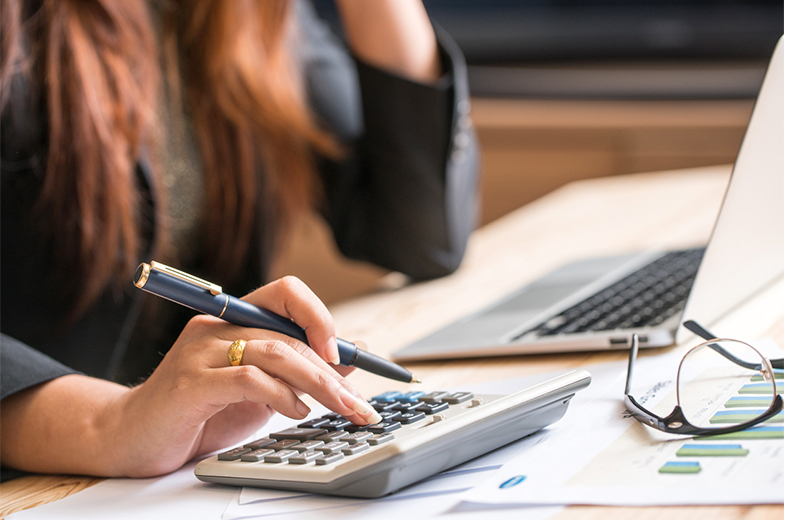 Your wedding jewelry is what you may not wear later after your wedding. Hence it is important that you do not over spend on it and stick to your budget. As your wedding is already a pricey affair and spending fortunes on your wedding jewelry will add to your wedding expenses. So, when planning a wedding budget it's always important spending money where it matters the most to you and will have a significant impact on your big day. If you always have been dreaming of buying a diamond bridal jewelry, then you should follow your dream if your budget allows to do so. Make sure you work out your priorities and your budget before you go for jewelry shopping. So be wise while you spend on your wedding jewelry as it is important!
27. Don't Buy in Influence
Yes, in Indian wedding system lot of people go for shopping with you. But still it is important that you don't buy anything under somebody's influence. As, you may not like the design or pattern later which will leave you disheartened and it is not good for bride to be disheartened at her wedding. So choose for yourself and go by what you like the most. However, you may take suggestions from other but the final decision and choice of bridal jewelry should be yours in particular.
28. Go a Little Slow
Your wedding jewelry is very important and it is crucial that you allow yourself a nice time to buy your bridal jewelry as shopping done in hurry can lead to regrets later. Better you spare a nice amount of time for your jewelry shopping considering all the above mentioned pointers.
29. Avoid Experiments
Though experimenting is good, but not every time and everywhere. Your wedding is once-in-a-lifetime event so it is good that you don't experiment on the day itself. Sometimes mismatching can mess everything about your look. So, better keep experiments for later days and occasions and go with the trends and pattern as it will help you have a perfect look on your wedding.
30. Be Yourself
Lastly, while choosing your wedding jewelry the most important thing you have to consider is YOU. As you are going to wear all those jewelry pieces. Your jewelry should be such that it reflects your true personality. If at all you feel uncomfortable wearing big, chandelier earrings, then what is the point buying them. If you love some simple jewelry and want to wear the same on your wedding then go for it, after all it is your day and you have all the right to choose for yourself for your day. Going with your comfort and your choices will help you feel confident on your wedding and that's really important and the best accessory of all. So be yourself…
Quick Conclusion:
Your wedding jewelry completes your bridal look. No woman even normally goes without jewelry, how can a bride go without that in her wedding. No bridal lehenga or any other bridal attire is ever complete without the jewelry. The shimmer of gold and the spark of stones help enhance the beauty of the bride and complete her perfect bridal look.
The fact remains, jewelry gives a woman adorable look especially for a bride it gives an amazing and unique look, also, it is an important part of human culture. Make sure there is no mismatch of jewelry as it can ruin your bridal look completely. Also, you must know that not all outfits are suitable for all body type, same ways not all types of jewelry are suitable for all skin tones, body types and face types. So, choose your bridal jewelry wisely.
A Bridal look is incomplete without the perfect bridal jewelry. So, while going for your purchase make sure you give it a nice thought and good time. Jewelry shopping should not happen in hurry as you may end up buying something which may not suit your look later. No point in doing so. Spend time, do a lot of research to get the best and the perfect bridal jewelry for yourself. Never buy under some influence especially when you are not liking something. Your jewelry possess a power to affect your whole attire and your bridal look at your wedding, which will attract the other's attention as well including your spouse to-be.
I think these pointers are enough to help you buy a perfect piece for yourself. Choose wisely and diligently for your wedding!!
Happy Wedding!! ☺ ☺