Modern weddings are different from traditional weddings in every aspect. There was a time when couples had to follow a standard format in order to get wed-locked. Today is the time to explore and implement new ideas to make a wedding fun for all. A Camo wedding is one such wedding type that you can consider to make your BIG DAY even more special.
Presumably, some of you must be hearing this camo wedding concept for the first time. A camouflage wedding, popularly known as a camo wedding, is one of the popular wedding formats these days. A lot of people are planning their wedding celebrations in unconventional ways. They come up with outside the box wedding ideas.
If you want to make your wedding an unforgettable event for all, then a camouflage wedding is for you. You might be wondering what it is exactly; worry not. Just read this post.
In this post, we shall discuss everything about camouflage weddings; take a look…
Table of Contents
What is Camo Wedding?
A camouflage wedding, popularly known as a camo wedding, is one of the newest wedding ideas among couples. As the name says, these weddings incorporate camouflage colours to make the whole event memorable for all.
In such a wedding, couples use camouflage as a motif in their wedding, from their wedding decoration to the wedding cake and wedding attire. However, it may be challenging to track down the appropriate accessories to put this look off well.
A camouflage wedding can be the ideal choice for you if you have connections to the armed forces, enjoy hunting, or simply adore spending time in nature. You can make your wedding extra special by having some outdoor activities, such as hunting, fishing, etc, planned for the day.

What Colours Work Well with Camo Wedding?
Camo is more about the colour combination that you utilize on your wedding day. The vast majority of people have the misconception that camouflage can only be done in one colour or pattern. Camouflage is a popular choice for wedding themes, and there is an almost endless variety of colours and patterns that you can use, from 3D images to various types of vegetation and landscape, and more.
Majorly greens and browns colours are pretty famous in camo weddings. Aside from that, there are many different types of camouflage, including military woodland camo, digital camo, hunting camo, tiger camo, predator camo, urban camo, pink camo, desert camo, and snow camo.

Top 7 Camo Wedding Ideas
Take a look at the list to host a stunning camo-themed wedding:
1. Camo Wedding Invitations
There are numerous camouflaged-themed wedding invites on the internet that you can get some inspiration from.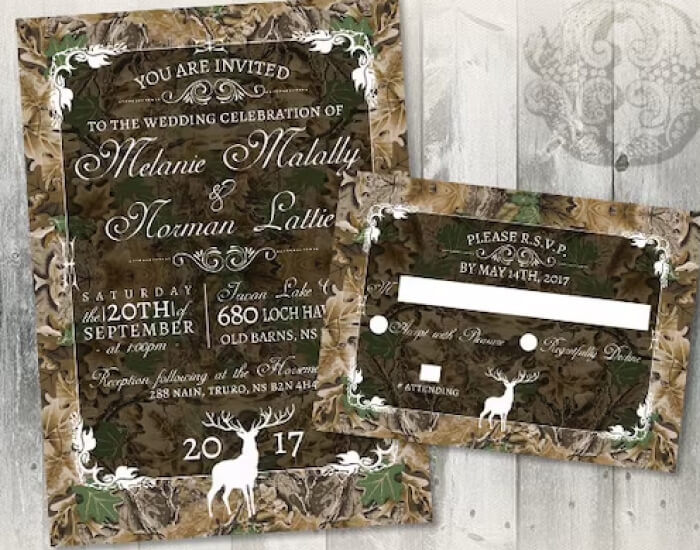 Your wedding invite is the first thing that your guests will have prior to your wedding. It will give them an idea about the overall theme of your wedding. Therefore, make sure to communicate the right tone of your wedding through the invites to the guests.
Get your invites printed in a rustic or country style. In keeping with the concept, you might also handcraft and personalize invitations to use a camouflage pattern.
2. Camouflage Décor
The market is swamped with camouflage wedding decoration items. All you have to do is to get some inspiration from online portals and decide what suits you the best. There are myriads of high camo centerpieces available online.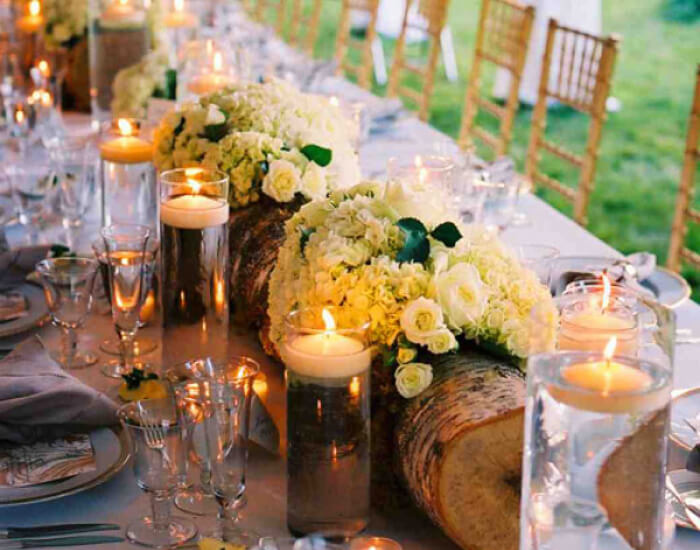 Aside from that, consider using subtle and elegant camouflage wedding colours to decorate your tables. Also, add camo candles to your centerpieces. You can even consider using LED camo candles to take your wedding décor to the next new level.
In addition, camouflage table runners can be used to give an elegant finishing touch to the overall décor. Real trees and plants are also a great option to add an element to your wedding and create a rustic atmosphere.
PRO TIP: If you are on a limited budget, then try utilizing natural elements, such as nests, baskets, and wooden decors. Doing so will allow you to save money and have a stunning overall decoration that your guests will love for sure.
3. Camouflage Wedding Bouquets and Boutonnieres
As said earlier, a camo-themed wedding incorporates greens and browns as the major colour combination. The use of camouflage in the form of boutonnieres and bouquets is an excellent way to complement your wedding theme.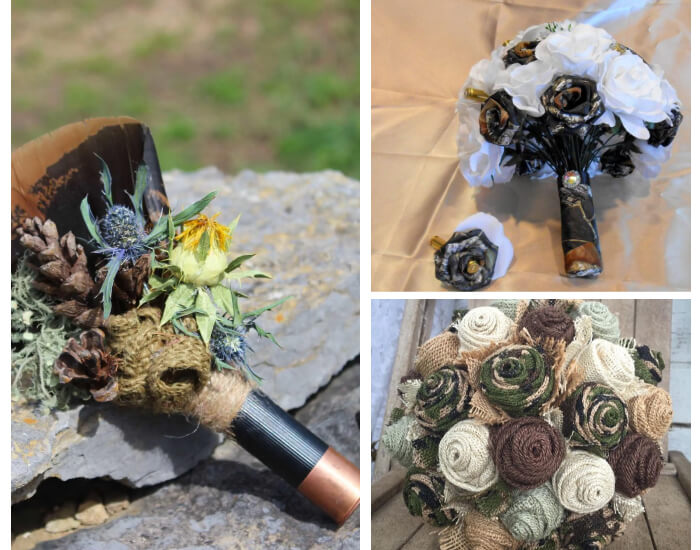 You can use camouflaged flowers, leaves, and birch for your arrangement, as well as pink camouflage ribbons for the flower stems. So far, boutonnieres are concerned; they should be designed using the same colour palette as the bouquet for the perfect match.
4. Camouflage Wedding Food
Food is one of the most important components of any successful wedding. You must consider all your guests' dietary requirements in mind while you design your camo food menu. Camo wedding food may include more greens, such as salads, juices, energy drinks, etc. Aside from that, you can have meat items, such as chicken, beef, and fish, along with a variety of sauces that can make for excellent food for your camo wedding.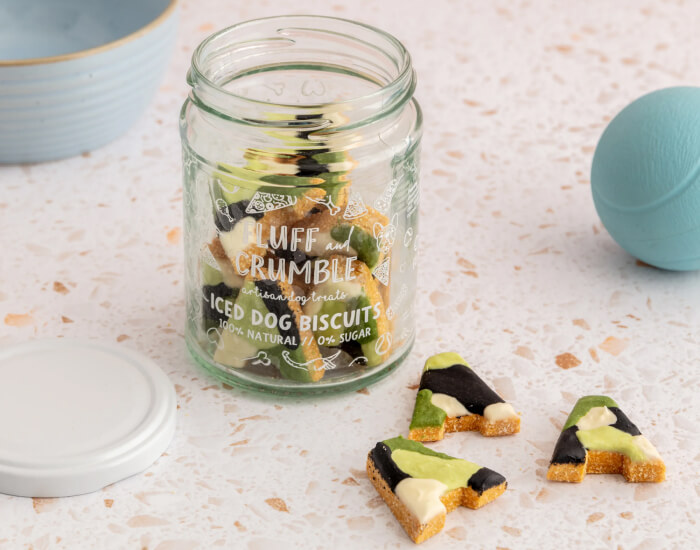 We suggest talking to your caterer prior to your wedding about your camo food options. A reputable caterer will help you choose the best food items for your wedding that your guests will surely like.
Aside from the food items, it is essential that they are arranged in a proper camouflage way. Whatever you include in your wedding food list, it should reflect your wedding theme. Ask your caterer to present all the dishes in accordance with your wedding theme.
5. Camouflage-inspired Cakes
Hosting a camouflage wedding without a camouflage wedding cake is next to impossible. Of course, your wedding cake is a primary item at your wedding. It should be camo-inspired, for sure.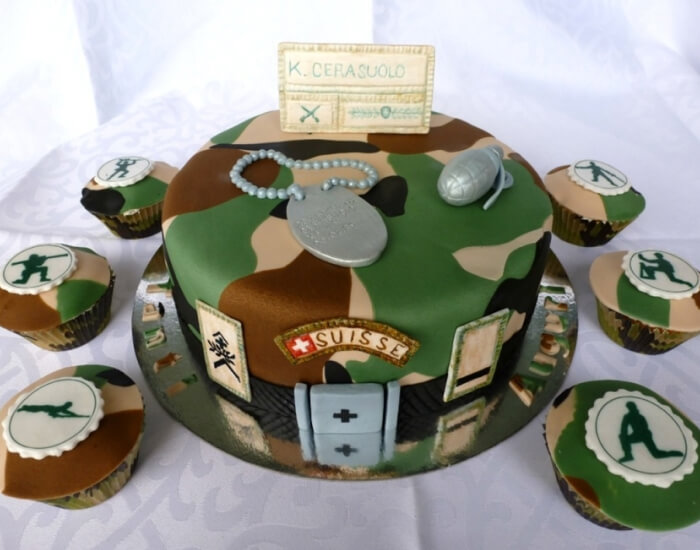 Ask your baker to decorate your wedding cake with components connected to camouflage, such as hunting-themed toppers, wood stumps, artificial leaves, and trees. Aside from that, ask your baker to use a wooden cake stand; it will be a perfect match for the day!
6. Camouflage Wedding Dress
There are numerous ways you can flaunt your unique style at your camo wedding. You can choose to wear a white and camouflage wedding dress. The market is flooded with unique camo dress ideas for your wedding.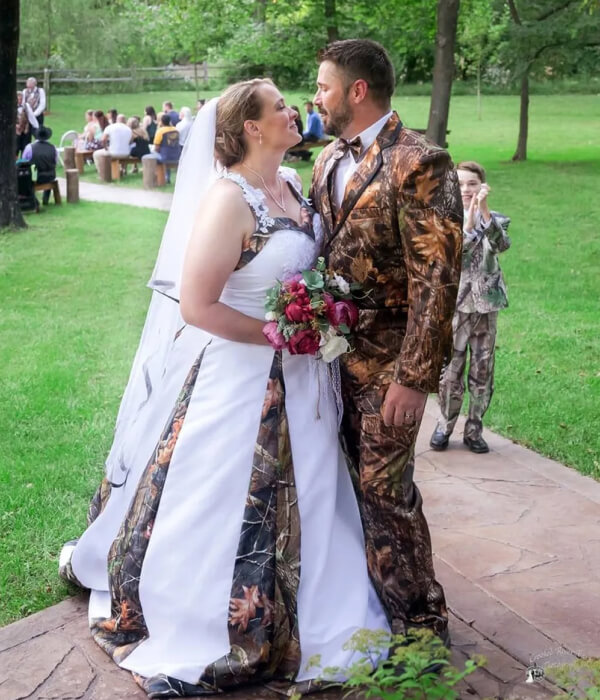 You can opt for a fascinating ball gown that features camouflage prints and accents. Pick one that has camouflage prints on white tulle on the underside. This pairing brings together a dash of the classic style with a vibrant splash of colour.
Aside from that, a strapless or halter white wedding dress with camouflage slits and embellishments is yet another way to flaunt your style. Then there are white dresses with empire waists and camouflage bodices that you can consider donning at your wedding. Camo dresses are ideal for women of all shapes and sizes.
In addition to a beautiful camouflage wedding dress, make sure to invest in the right accessory. It will help you look your best at your wedding.
7. Camouflage Wedding Favours
Last but not least, wedding favours play a crucial role when it comes to hosting an unforgettable camo wedding. You have the option to buy either camo-inspired wedding favours or buy a gift and wrap it in camo style. All you have to make sure of is that your wedding favours reflect your wedding theme very clearly.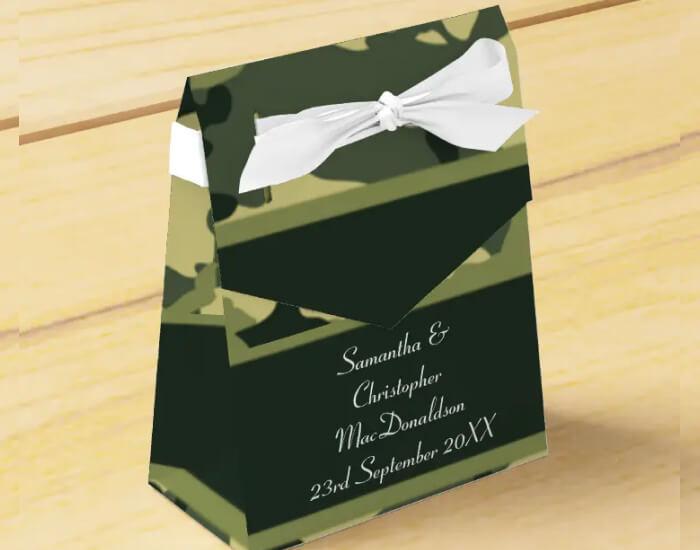 You can use brown colour jute bags to gift wrap your wedding favours. Even live plants in a wooden pot can make for a perfect camo wedding favour.

The Bottom Line…
So, these are the ways you can host a stunning camouflage wedding. It just needs a little bit of creativity and effort to create a memorable BIG DAY!
There are many different components that you can combine to create a cohesive look for your camouflage-inspired wedding theme. It doesn't matter whether you choose to employ green camo wedding ideas, brown camo wedding ideas or pink camo wedding ideas, or white camo wedding ideas. You can incorporate a camo palette in almost every aspect of your wedding to make your day special.
Adding a touch of the unexpected and the novel with camouflage-themed wedding decorations will make your special day one that won't soon be forgotten.
No matter what kind of wedding you plan to host, just be happy and enjoy it to the fullest!
Happy Wedding… 😊 😊