Welcome to the engagement toast examples blog! Here you will find ideas and tips from experts with years of experience on how to craft your own engaging, heartfelt speech for any special occasion. Our selection of samples contains formal, sophisticated language appropriate for most occasions so you can impress family and friends alike with an engaging introduction that best fits the couple's background.
We have tailored our writing style specifically for engagement celebrations to make writing meaningful words that truly touch hearts easier than ever—so start crafting your perfect speech today!
Who makes a Toast to the engagement party?
Hosting an engagement party is a great way to celebrate the happy couple and their promising future together. The hosts and any parents or friends of the engaged pair can make it even more special by creating memories that will last for years to come! Toast-making is one activity everyone can enjoy – who doesn't love sharing the good news through a celebratory glass?
With just a few simple tips on how to craft beautiful short speeches or meaningful messages with each toast comes often forgotten but much appreciated moments at gatherings like these. Whether you are simply wishing them luck and happiness down the road or lightly embodying your advice from personal experiences; there's no better feeling than connecting over something so intimate yet joyful!
When does the toast take place?
Toast is a special event that celebrates an important milestone or accomplishment. When planning your toast, it's essential to consider all of its elements and the timing which will make it truly memorable. Typically, if you're having dinner with friends or family, before proposing a toast, then plan for the time during appetizers so everyone has sipped on their drinks in preparation for raising glasses together.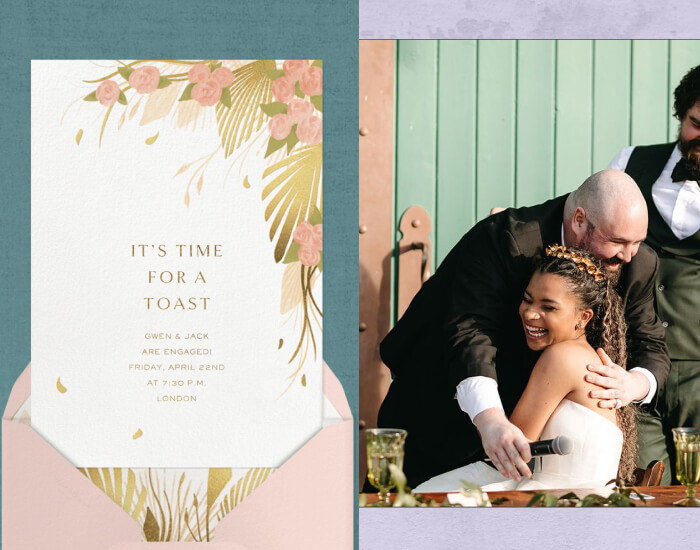 If hosting something more formal such as a banquet hall celebration or a party, give guests a few minutes after they take their seats to mingle and adjust themselves into comfort before motioning them towards lifting one last glass at the dessert course. Timing plays a huge role in creating a good energy atmosphere throughout any gathering; following these tips, make sure yours come off perfectly polished!
Tips and tricks for a perfect engagement toast
First off, keep your words short but powerful. Focus on saying something heartfelt to make both families feel welcomed and respected. Avoid jokes or embarrassing stories, as this could ruin the moment for everyone involved!
Secondly, try to ramble only a little; remember: stick to about 2-3 minutes max when giving an engagement toast so it stays short-winded – lose your audience's attention fast if you bore them!
Lastly, feel free to rehearse before delivering your speech. This allows for time management – identify potential awkward pauses by using note cards as reminders during delivery in case nerves get the better of you at any point during proceedings!
Brainstorming before writing the speech
Brainstorming before writing a speech for a toast is an important step in the process. As experienced professionals, we understand that this is more than selecting words.
It's about finding the correct stories and facts to tell your audience why they should listen, crafting those into something unique and memorable that you can deliver confidently while connecting with them emotionally.
Taking time beforehand to think through what you want to say, breaking down each topic point by point, and visualizing how it will sound on delivery ensures every detail is thoughtfully considered. Hence, everything stays on track during the actual toast!
Engagement Toast Funny
A good engagement toast can make an event unforgettable.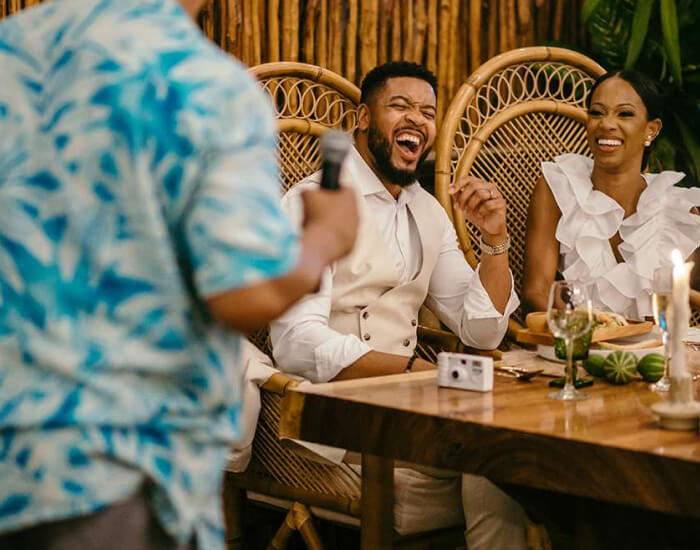 Here are some funny quotes you can use as a comical way of wishing the couple in love best wishes and congratulations on their commitment:
"Congratulations! I wish you two all the luck in the world…but not too much – this is your particular time, after all!
Love may be blind, but marriage is definitely quite a hoot.
When things get tough (and for sure they will), just remember that laughter brings its skills.
If Life gives lemons, don't forget to add wine & grab opportunities with 'both hands.' That's how couples really win.
It takes courage to stand up together amidst society's pressure—so keep stealing those romantic glances at each other without guilt or worry.
To successful relationships, let us raise our glasses. May strong foundations form through true communication
May yours always remain 'crazy' enough… only then do people know its eternally happy family!!"
Life is short—may today's privacy turn into tomorrow's security blanket
Make every morning count, even if coffee means more than cuddles sometimes!
Cheers to understanding which works like magic when words aren't enough!
Short engagement toasts
Engagement toasts are a beloved tradition in which well-wishers express good wishes to the engaged couple. Every toast should be unique, thoughtful, and warmhearted. With so many options out there for engagement toasts, it can quickly become overwhelming;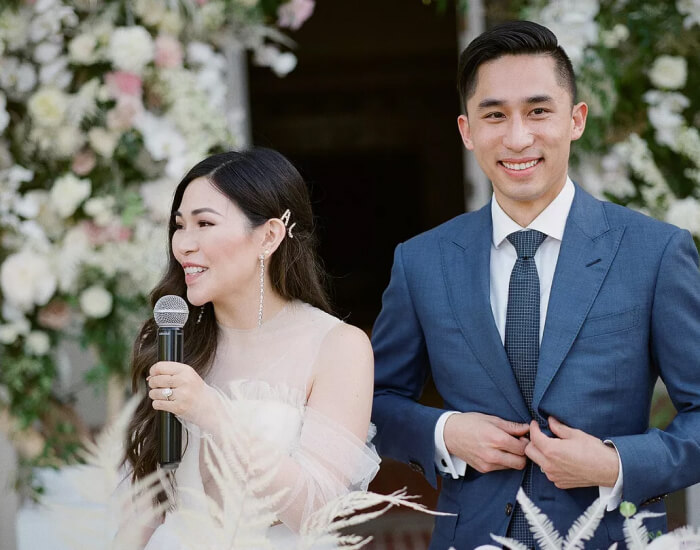 Here are a few short quotes that you may find helpful when preparing your toast:
May all of Life's joys illuminate your path
Here's to love – old or new – May it always burn bright and true.
"Cheers to lifelong happiness!"
Wishing the two of you lots of laughter together!
Love gives us hope even in tough periods.
Let nothing ever break the love between you two!
To a fantastic journey ahead full of adventure!
"Congratulations on this beautiful occasion! Wishing endless blessings upon both of you."
Two hearts become one beating heart today.
"Many congratulations on such a special milestone! Here's wishing every day is as joyful & loving as today is now. A heartfelt big cheers !"
Cheers To An Unforgettable Adventure Together
More magical moments like this one for years moving forward
Love completes our lives throughout time
Congratulations On True Happiness That Lasts Forever 15) One Of The Greatest Gifts Life Can Offer
Engagement party toast from the couple's friends
1. Today, we celebrate the union of two special people. As friends and family, it is an honor to be part of this lovely event. We offer our warmest congratulations on their engagement – may they enjoy each other's company throughout their years together; cheers!
2. We toast the new couple, wishing them many years of happiness and fulfillment as partners in Life's journey! May every moment between them be filled with tenderness, laughter, learning, and shared love!
3. Let us share some words from great minds: "It takes courage to love but pain through which true love grows (Osho). The most precious gift any couple can receive is unconditional support when challenges arise- keep your relationship strong by remembering you will always remain beloved souls connected by your hearts. Here's hoping all these sentiments prove true tonight; here's raising a glass with wishes made bright. Cheers!
Engagement party toast idea for the bride's parents
1. As the bride's parents, we are beyond blessed to be here today with all of you. We have watched our daughter blossom into a beautiful young woman, and we feel honored to be part of this special day celebrating her engagement.
2. On behalf of our family, let us offer an engagement toast in celebration! May your union bring endless joy and blessing over your lives – may every step forward lead you closer together as husband and wife. Let it never diminish love's flame, but burn only brighter each year after year!
3. May Life grant you patience and tenderness towards one another – that both kindle admiration for each other through mutual respect & trust, on which even trials will strengthen their bond further than they thought possible.
4. Here is hoping that what lies ahead brings nothing less than happiness within- Happiness found by two hearts intertwined amidst Life's unforgiving storms: A paradise perfectly fit for them alone like honeybees caressing soft petals amongst cheerful blooms around- created from loving moments shared between them exclusively under light-filled skies above.
5. Let us raise a glass in honor and good cheer – Here's wishing these newly engaged healthiness, peace, fortune, and prosperity throughout the years! Congratulations!!
Engagement party toast idea for grooms parents
1. Today marks the special day for our son and his beautiful bride-to-be as we come together to celebrate their long-awaited union. We want to offer them a heartfelt toast of congratulations on this joyous occasion!
2. This engagement is the start of two families becoming one, a joining that holds so much beauty in its promise! Our new family will be even more vital when united by love and compassion – something these two share deeply. It's no surprise they fell in love at first sight after all these years apart.
3. It is truly an honor to witness such devotion between our children today, especially since it was evident from day one how well-matched they were destined to be together always. May your journey through Life bring you only happiness, and may you never forget the inner strength that led you here today–for it shall shine brighter than any celebration imaginable.
4. As parents, we wish for nothing more but success in love for both our children—may their dreams become a reality throughout all aspects of their lives now as would be husband & wife taking this next step in their relationship Togethernessis what sets us free —it's where true happiness begins. Let us raise a glass with many cheers toward the riches of Life.
Engagement toast speech idea for the groom to be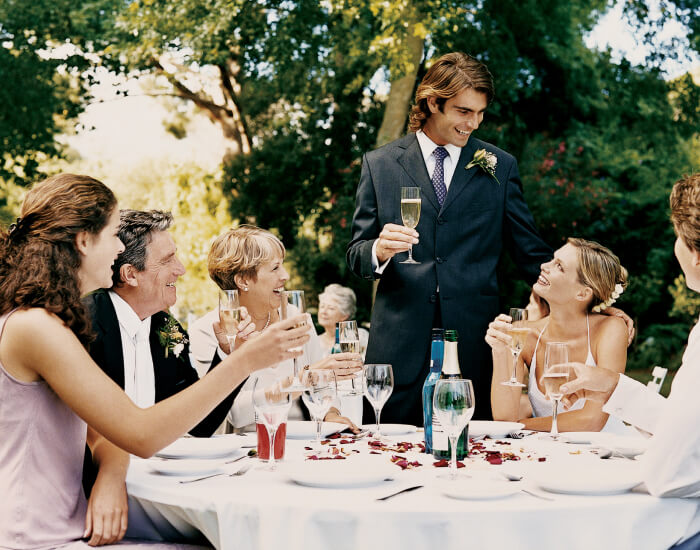 1. Today is a beautiful day. Today, I am here to give an engagement toast on behalf of my fiancé and myself; I would like to thank each of you for attending this lovely event in our lives – it truly means so much!
2. I want all of you present today to know that getting married has been something we have both liked and dreamed about since we first met; as such, having everyone's support at this momentous occasion makes us feel blessed beyond measure. Your presence here symbolizes your love and commitment towards us -two separate souls now united by marriage- which fills our hearts with immense joy.
3. Being engaged marks the start of a beautiful journey full of promise, adventure, and discovery, where two people join their hands in unison forever more. As difficult times come but also go away quickly into memory, we will look back upon them, remembering how strong we remained through thick or thin, always staying connected-hearted regardless of what Life threw our way. We owe all these blessings bestowed upon us by none other than yourselves!
4. Our friends, family, colleagues ..all those sharing today's unique celebration along with all future ones, expressions of gratitude don't comprise our heartfelt appreciation yet still stand. Therefore, once again, THANK YOU ALL!!
Conclusion
Engagement toast examples provide the perfect opportunity to celebrate a beautiful couple that will be treasured for years. Delivering an engagement toast is something of an art form and requires you to create memorable words that express your genuine emotions about the couple on their special day.
Guests can easily craft thoughtful messages tailored for any occasion through our extensive collection of professionally written engagement toast examples. Our experienced team has collected suitable materials from multiple sources so that everyone can feel unrestrained sweeping emotionality or humor, depending upon what's most appropriate!