Winter is considered the most beautiful seasons amongst all. More often than not, couples prefer to get hitched in winter season. Winters are unquestionably one of the best times to get married. Couples prefer winter over other seasons for most people like this chilly-willy weather. It is in fact the best season for a glistening hair and ravishing skin, your makeup doesn't run with sweat. Amidst romantic ambient, getting wed-locked is just amazing. Everything is so beautiful, and perfect in winters that it makes for the best time to tie the knot.
Choosing a winter season for weddings is implicitly a nice decision, yet, you gotta make some wise decisions considering the wedding venue, decor, lighting, guests and several other aspects to ensure that your winter wedding is going to be a fabulous one for everyone who is going to be a part of it.
If you are also planning to get hitched in winters and just looking for some expert advice, to host a great wedding reception in winter, then this post is meant for you. Here are some fabulous winter wedding reception ideas.
Here we go…
1. Send your guests wintery wedding invitations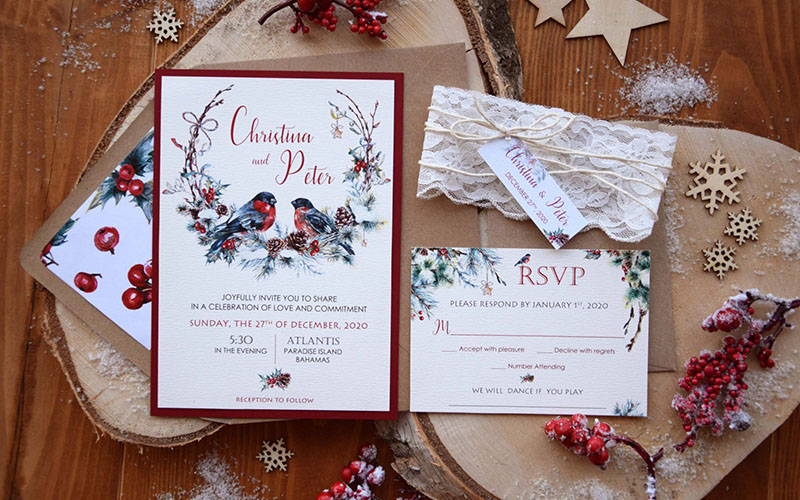 Make everything at your wedding more relatable. Like you can send wintery wedding reception invites to your guests. It will be a great idea to begin it with the invites, so that your guests will have an idea of your wedding reception theme. You can use an icy color combinations like white and silver or blue and grey to create your wedding invites. To make it extraordinary and gorgeous, you can even throw on a snowflake graphic or two on your invites.
2. Be creative with lighting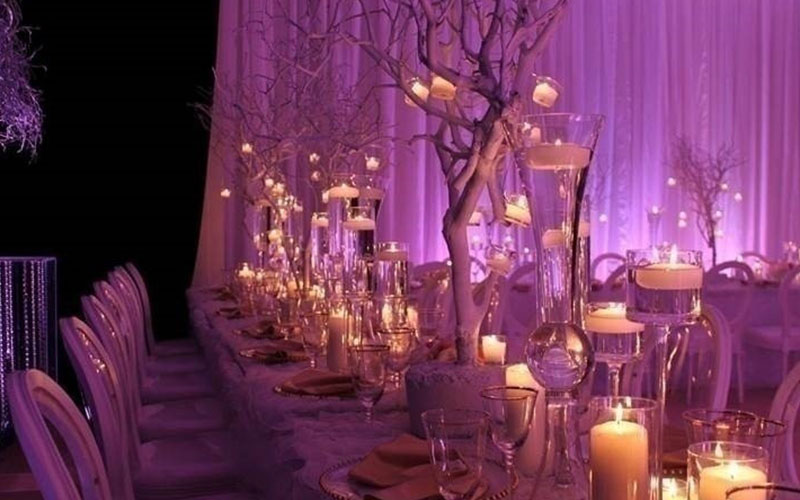 Lighting plays an indispensable role whether it is about your photographs or about the styling and ambiance of your venue. In winters you don't get lights as in summers, in winters you need to use different types of lighting throughout your wedding event in order to avoid the darkness and gloominess from the venue Tell your wedding planner to be more creative with lighting, there is a lot to add to the décor of the wedding reception venue by just using a blend of candlesticks, chandeliers, dreamy fairy lights, pillar candles, and Edison bulbs. Stick to warm white tones to create a gorgeous, twinkling effect. Candles will help you bring physical warmth to a space that will not only create a warm and cozy glow but also make your venue look welcoming at night.
3. You can have a wonderful flower décor in your winter wedding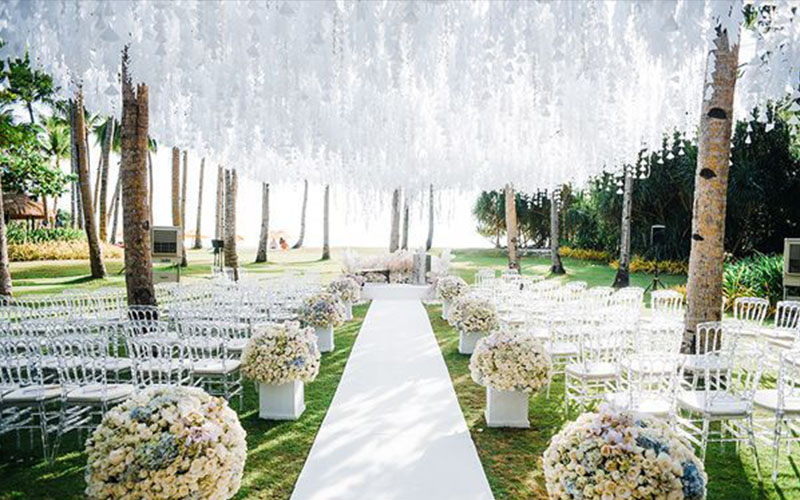 Winter is the time of beautiful flowers, it is the season when one can get some of the best flowers – both Indian and exotic, you have a lot to make the most out of flowers for decoration. Also, they stay fresh for a prolonged time, because of the winter season and weather conditions. Hence, you have the privilege to make good use of the flowers and have an enchanting, and elegant looking wedding to yourselves. Choose season appropriate blooms such as Anemone, Roses, and Carnation then mix them up with a riot of foliage such as spruce branches etc., to have dramatic shades against natural greenery and woody shades. Also, make sure that the flower décor takes place on the day of the wedding itself in the morning may be as the moisture can spoil the entire décor if done a day before.
4. Consider outdoor wedding reception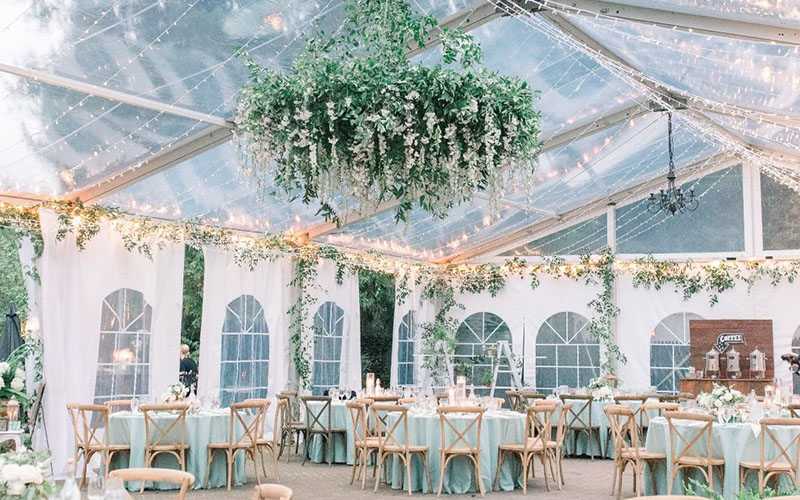 The Winter season offers you a great opportunity to celebrate your reception outdoors. No matter how much you are tempted to host your wedding reception indoors because of the temperature that drops to below zero sometimes. But believe you me, hosting your wedding reception in a winter wonderland is a straight away fabulous idea. Outdoor receptions simply add to the fun, and once all your guests will hit the dance floor, all their colds will also go away. Pro tip: You can arrange for a campfire at your reception party, and dancing around that with some live performance make your whole event a great ceremony.
5. How about snow flaking everything?
Yeah, snowflakes really look wonderful, especially when used in winter weddings. You can easily you're your wedding reception venue with some sparkling snowflakes. Snowflakes can be used as reception centerpieces, dessert table décor, placeholders, and in anything and everything in between. Snowflakes will add to the overall décor of your wedding reception, perfectly going with the theme.
6. Decorating branches and trees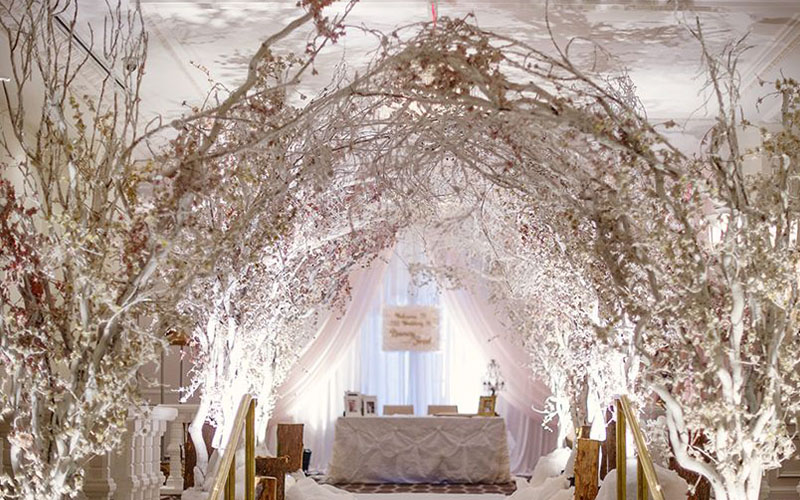 Winter season is a perfect season for hosting a reception as trees and branches also look wonderful during winters. And if you decorate them lighting, the whole wedding décor will simply look awesome. Tree décor actually add to the warmth and coziness in the whole event.
7. Branch decor
Another very beautiful idea to add to your winter wedding reception is to add some bare branches to your wedding reception décor. The overall addition of branches in your reception venue will make it look gorgeous in winters.
8. Feed your guests with luscious delicacies of winter season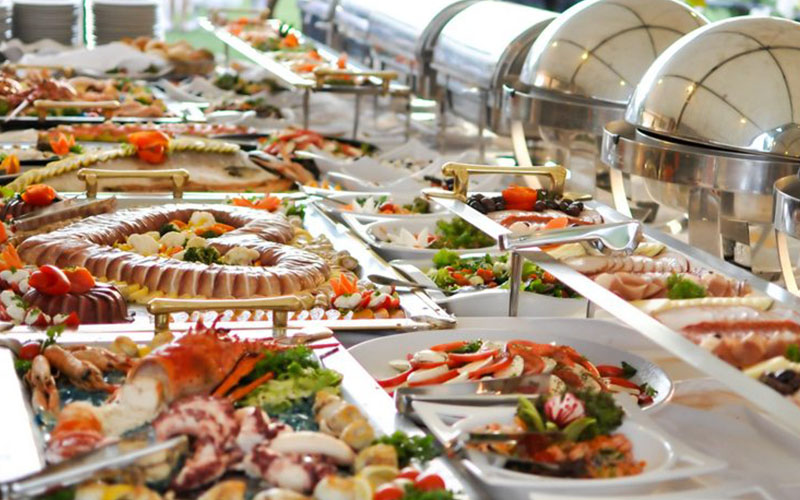 Winter is not just romantic or cozy season but when it comes to food and varieties there is no other season than winter for that flavor and delicacies. You can have an opulent food fest in your winter wedding. Work with your caterer to plan a meal that is warming and seasonal – you menu should not consist of food items that is heavy and stodgy, there are some great seasonal options at this time of year for your to get creative. You can have luscious food items in your wedding in winters like a smoking cup of soup or a hot choco lava cakes etc. Also, puddings should be omnipresent in the wedding venue.
And yeah, don't forget to give your guests a dose of tangy food and snacks like Cheese Balls, Pizza, Spring Rolls, and Pasta at your wedding reception. Make sure your guests are able to satisfy their sweet tooth after all those savory foods. Remember that winter is the season for food lovers to enjoy, your guests will definitely enjoy the delicacies served at the wedding reception. Make sure that your whole menu is about winters. Let your guests enjoy the taste of luscious food items served at weddings.
9. Keep your wedding guests warm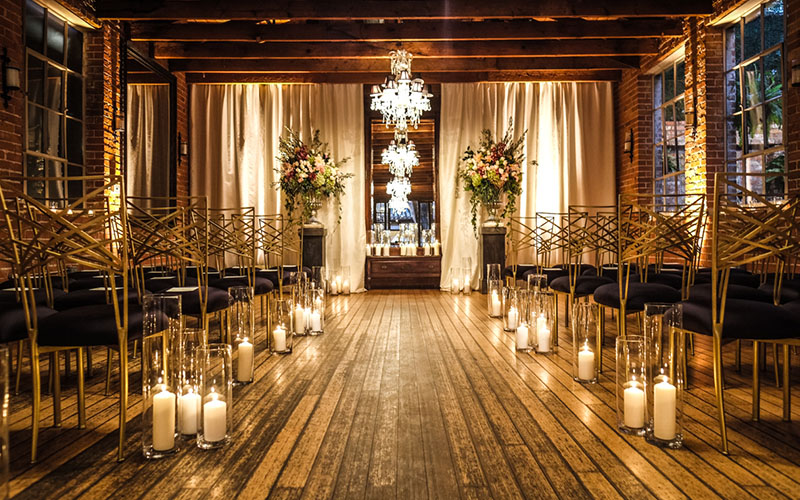 Your guests are most important, they come first. So, it is recommended to have a tea/coffee counter throughout the wedding reception for your guests' convenience – to keep them warm and have something hot for them at all times. Also, you can plan to have more warm hot snacks running during the whole event to have your guests peck.
If you are looking for a destination wedding reception, make sure that all the guests' rooms are well equipped with the heater facility that will allow them to stay warm. Also, let your hotel management staff be pre-informed to keep extra essentials like extra blankets, water kettles etc. for them, that will keep the guest feel comfortable in the room. You can have customized hampers in the rooms considering your guests' convenience, it will add to the comfort factor.
10. DIY candy bar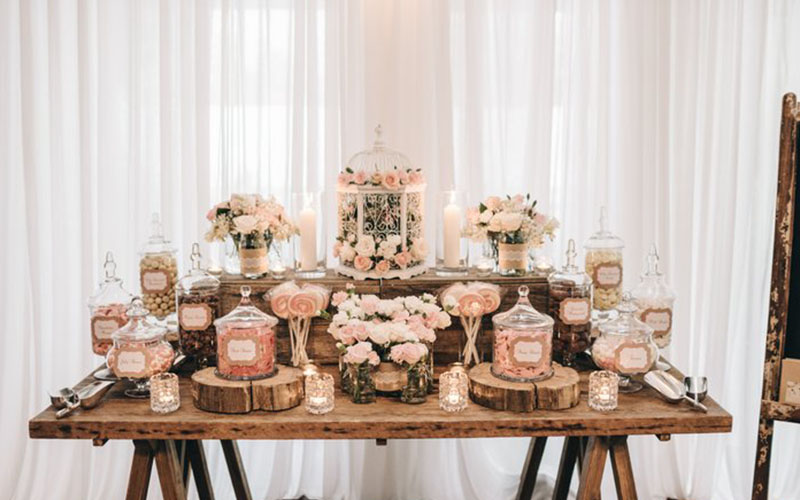 Another fantastic idea to make your wedding reception in winter is DIY candy bar. Simply make your dessert area or table extra festive. For that you can use tiny trees, snowflakes, or using icy color scheme in your winter wedding reception will also look gorgeous.
11. DIY table numbers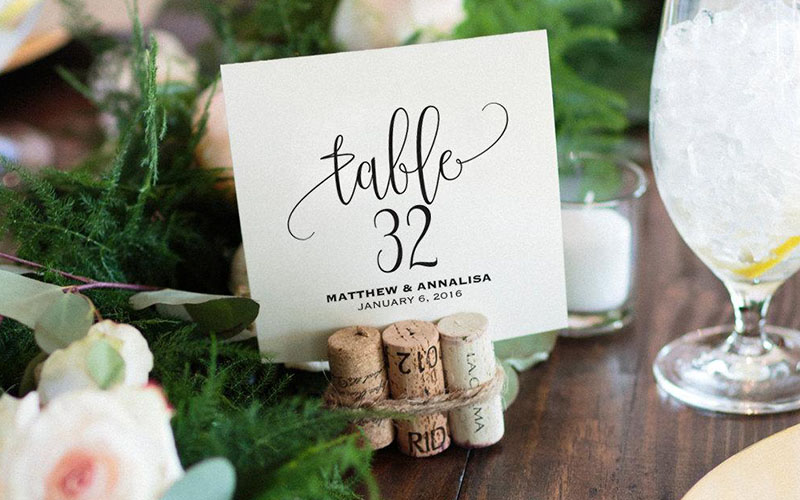 The table numbers which you will assign, you can have them in a wintery theme, so that they match perfectly with the venue, décor, and ambiance. All you need is to be extra creative.. ☺ ☺ You can DIY table numbers using any element that matches well with your wedding reception in winter and have them at your wedding reception.
12. Festive themed wedding reception venue décor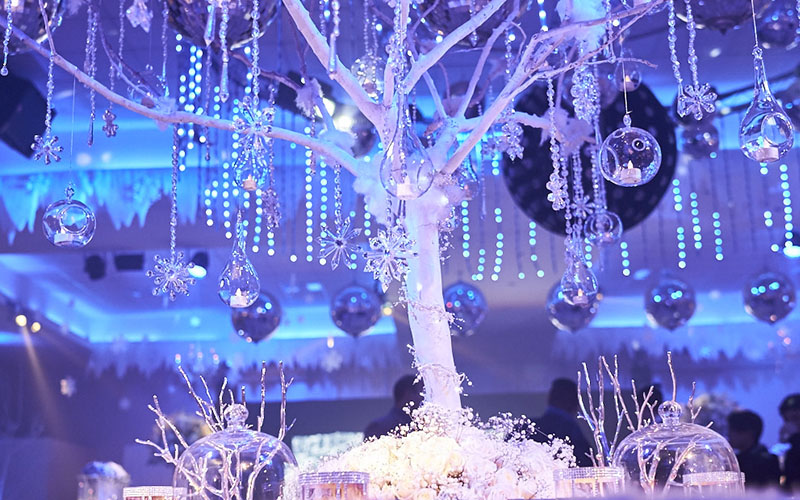 We all know that winter is the perfect time for almost all the major festivals across the Globe, every region and every religion celebrates its major festival in winters. Hence, you can also decide to have a festive theme wedding reception in winters. Like you can choose your favorite festival and using elements of that festival you can create your reception theme.
You can either DIY a few things to make your reception venue look stunning or if you want you can buy or rent décor items. Your venue décor will play an important role in your festive themed wedding celebration. Because your wedding will be the first thing your guests will encounter. Choosing a barn, a restaurant, or a resort with an outdoor seating area or a garden will allow you give your venue a nice décor. You can easily arrange for décor items, such as flowers in wooden crates, lanterns and lots of lighting, hanging candles, chandeliers etc.
13. Let the lanterns add to the glow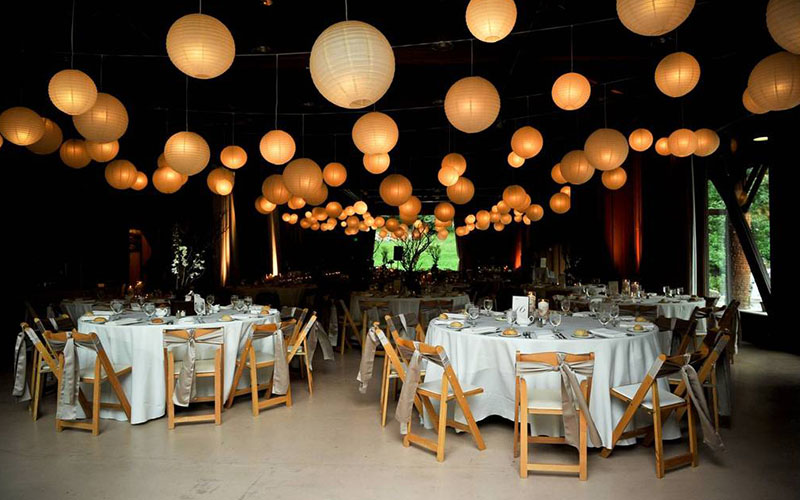 Instead of having harsh fluorescent at your wedding reception, why not try illuminating your reception venue with some glowing lanterns. Believe it or not, these lanterns simply look gorgeous and make the whole ambiance look romantic. And your wedding is already a romantic affair… Right?
14. Arrange for a live performance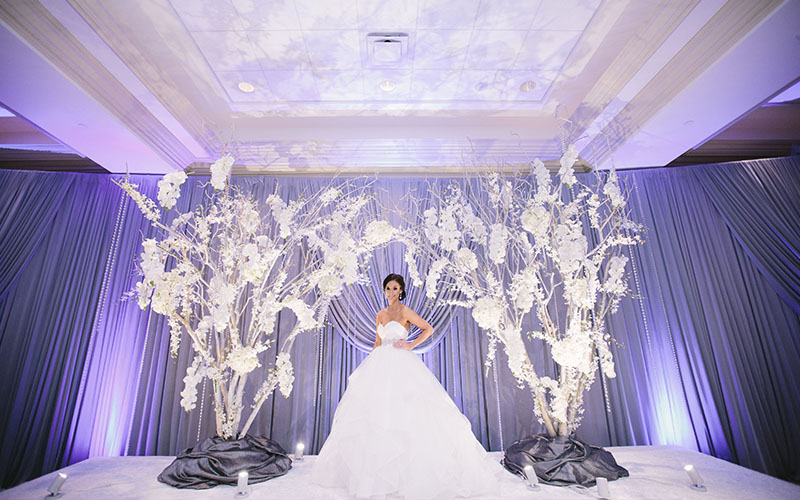 Arranging for a live performance will add to your wedding reception in winter even more. If you love music and your wedding is also an intimate celebration then you have enough reason to arrange for some live musical performance. Your guests will also enjoy your wedding reception to the fullest. All you need to do is arrange for the floor seating (use lots of cushions, lights, candles, and lanterns) and let your guests enjoy the performance with a glass of wine.
15. Customize your wines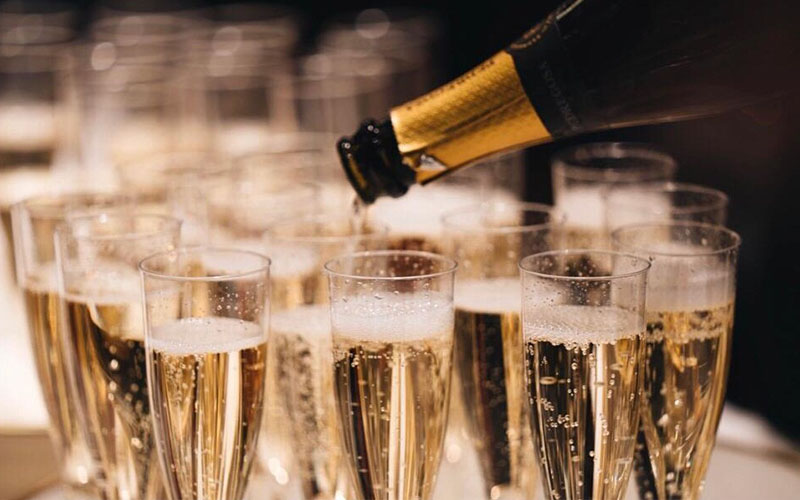 Another idea to make your wedding reception unique and fabulous is to have some customized wines at your wedding reception. Or, you can try having signature cocktails at your wedding reception in winters. Have signature cocktails, especially the ones which go well with your wedding reception theme in winters. Serving one or two delicious customized drinks will add to the uniqueness of the whole wedding reception. It'll make your reception feel so personal. Make sure you select drinks that are palatable for a wide array of people.
16. Customize your wine glasses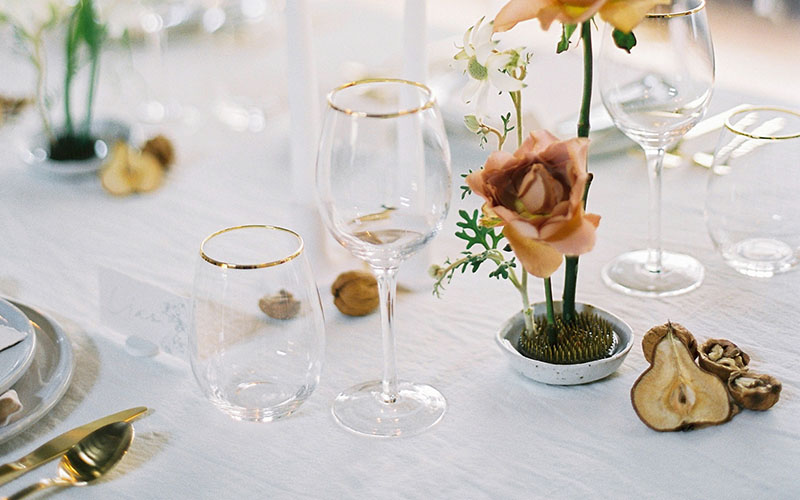 If not wine than consider customizing your wine glasses matching with your wedding reception in winters. Your guests will love the idea of customized wine glasses at the reception. Just try!!
17. Place cards on the reception table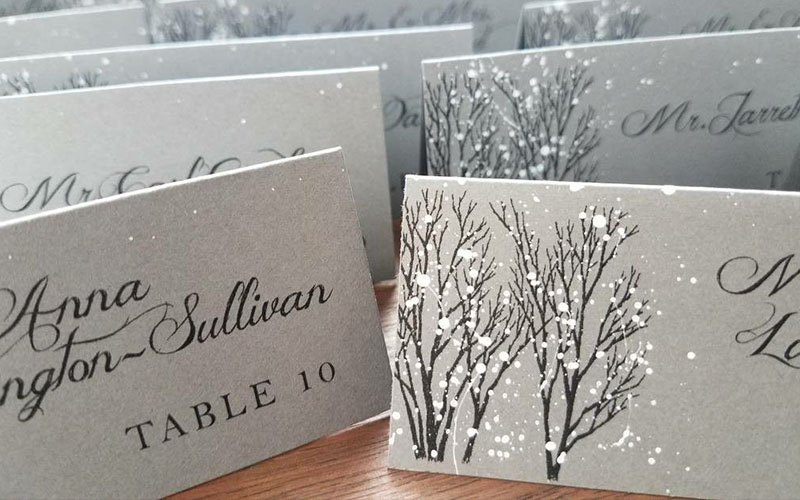 Though some brides love to add extra elements (favors, knick-knacks, signature drinks, etc.) with the table cards, but if you do not want to spend too much on your wedding, just having snowflakes on the table will suffice. Similarly, at the entrance just place a table with escort cards to let your guests know where they'll be seated in the reception. Design your cards for reception tables that matches with the theme. Sync them with the color of your wedding theme. You can also have cards with your guests' pictures. They can use it as a keepsake later. Or you can try sparkly place settings at your wedding reception – a sequins tablecloths will not only create a warm glitter glow, but also it will look elegant all in all.
18. Wedding favors
There are myriads of options to choose from for your wedding favors. But giving your guests something that will remind them of your amazing wedding even after ages will be a perfect gift for your wedding guests. Besides, homemade items like cookies, brownies, candles, etc. make for wonderful wedding favors. Or, you can even consider giving your guests a nice winter live plant. These are basically less fussy favor options that almost everyone will adore. The idea is to give something that your guests won't leave on the table.
Or if you are looking to add to the PIZZAZZ then hot chocolate favors in winters will be a perfect choice. You can gift your wedding guests with some DIY hot chocolate kits or chocolate goodies at the end of your wedding reception will be a perfect idea. These are easy winter wedding gift ideas and are perfectly cozy, wintery treats that can be enjoyed by all ages.
19. Enjoy your wedding reception to the fullest
Enjoying your wedding reception is of utmost importance, as your wedding is a once in a lifetime event. Do not take any stress… Enjoy every bit of your reception from entry to exit. Live every moment never forget that this is the moment you have been waiting for so long. So, just enjoy and have a lot of fun, this day is not going to come again. Trust me!!
20. Make an unforgettable exit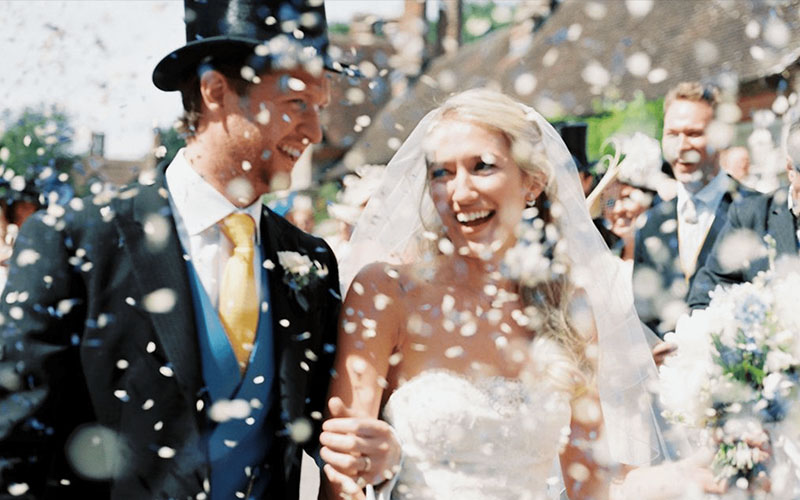 Everyone wants to enjoy your wedding night to the fullest, nobody wants it to end, but we all know that it has to, so make sure you go out on a high note. Make your exit an unforgettable one. Plan for a fun and festive farewell, such as; you can arrange for a firework show, or sparkler exit, or even a confetti send-off! Your wedding guests will love it. Also, it will make for some gorgeous photos of your wedding that you will cherish all your life.
To pan out…
So, these are some ideas for making your wedding reception in winters fabulous. Believe you me, winter is the perfect season to tie the knot with your spouse to be. Also, winters give you opportunity to have a great honeymoon as well, as you will have plenty of options to go for your honeymoon.
Just a piece of advice: In winters weather can go unexpectedly opposite of what you thought it may rain even though you didn't plan anything for that it is good that you have few umbrellas stocked for yourself and for your guests' to have a smooth movement of them and yours as well in the reception. Make arrangements of heaters, blankets, stoles, and other comforters for yourself and your wedding guests. Especially at a wedding reception venue, make sure enough heaters are placed at seating area to keep you and your guests' warm at the wedding.
Undoubtedly, winter is the best season to get wed-locked it's just you have to be extra careful, which you can be for sure after all it's your wedding!! ☺ ☺
Happy Chilly-Willy Wedding… ☺ ☺