Although it seems depressing initially, a honeymoon at home gives you all the alone time you have needed with your bae. Try these DIY honeymoon at home ideas to make the boring lockdown into everything you wished for.
Marriages this year have turned out to be simply nightmares. From looking for the best honeymoon destinations, couples have moved to search for how to celebrate honeymoon at home ideas with a stay at home honeymoon ideas. Some have even moved to best dating sites review for some online couple fun. No grand wedding affairs, no celebrations, and the worst of all, the dream honeymoon stands canceled. All plans to visit various exotic locations, trying new experiences with your better half, enjoying the sun in teasing bikinis now are on hold. All credits to the COVID-19, our lives have been turned upside down.
But although the pandemic is making you have a honeymoon at home, there is no reason not to have fun with it. If everything else can co-exist with the pandemic in an alternate form, why can't your honeymoon as well? And especially when you know the phase of newlyweds will never return. Confused, are we? Have you ever heard of the stay at home honeymoon ideas? Honeymoon at home can be fun and made equally exciting because doesn't matter what it is the couple that remains the two most important thing isn't it? Follow the simple tips we have stored for you for a quick yet sexy DIY honeymoon at home package!
1) Change The Decor
One of the easiest honeymoon at home ideas can be tried by changing the home decor. Your home looks boring because it is the same you see day in and day out. However, that is not the case with a honeymoon suite. Is it? The decor is created to set a romantic mood. The rose petals, the swans with the towel, the fragrance, the lights, and let's not forget the unique gift basket, which will become your honeymoon at home gift basket for the Corona times. Think about how little elements make your mood romantic. Ever thought of trying it? No? Well, it's time to try it now.
2) Go Fancy At Home With Dine & Fine Wine
There can't be an any better way to show love in a DIY honeymoon at home than preparing breakfast or a romantic dinner with candles or fairy lights for your partner. Food is a typical love shared by any couple, be it sharing icecream, or a full-on meal, food can lead to many things. Although known as the ideal way to celebrate anniversaries at home, no one says it can't be used as one of the honeymoons at home ideas.
3) Lingerie At Home
One of the best things about a honeymoon at home is that there is no dress code, especially if you two are stuck alone. While many couples complain about the work from home, our suggestion would be to use the same factor in your favor. It is the perfect opportunity to turn the teasing game ON. Ever imagined giving your partner sweats with a striptease while he or she is on a call conference? Well, this may be the best time to reveal that naughty little side of yours with an innocent face. Wearing lingerie at home in summers can't be illegal, can it?! Especially when you are looking for how to celebrate a honeymoon at home!
Related: For Brides on Honeymoon: Here are The Tips for Low Maintenance Makeup
4) Massage Therapies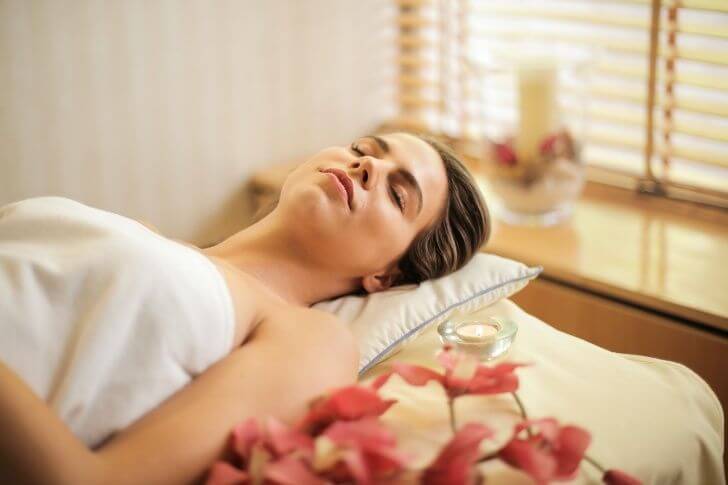 While the mornings can be used for the tease, a spa at-home treatment for your baby using a honeymoon at home gift basket can't be bad for the night. How about turning yourself into a masseur for the weekend? One of the sexiest DIY honeymoons at home ideas has to be giving a massage to your partner. Because, after all, who doesn't dream of a massage with a happy ending?! Well, your honeymoon at home is the time to make this dream come true.
5) A Romantic Bath
Do you think we won't consider those who can't create magic with their hands on their partner's body? We suggest them to try a simpler relaxing method. And that requires you to use a honeymoon at home gift basket full of bath bombs, essential oils, fragrances, and candles. Nothing can be a better alternative to a massage than a bathtub. And in case you don't have one, try a shower date.
Related: Money-Saving Tips for Your Honeymoon
Although it seems depressing initially, a honeymoon at home gives you all the alone time you have been needing and planning. The location might not be the one dreamt for; it is the togetherness that matters, isn't it! Our DIY honeymoon at home ideas along with your creative mind can make everything as you wished for, just don't give up yet!
But before you go ahead, don't leave without telling us which one of the DIY honeymoons at home ideas are you going to try first?
About the author:
Sherry is a consultant and been involved in many successful projects with a range of companies throughout the country. She enjoys researching, discussing, and writing on the topics of relationships, weddings, and dating. When not absorbed in the latest gripping articles, Sherry loves cooking, doing sports, and otherwise spends far much time at the computer.