Planning a wedding is an exciting yet overwhelming task- from selecting the venue, hiring vendors, and sending invitations to finalizing the guest list, deciding on a theme, and creating a seating chart. But apart from these usual preparations, one of the decisions couples have to make is whether to hire a band or DJ for a wedding live music.
Incorporating live music adds an extra level of magic to the celebration, making it a popular choice among soon-to-be-wed couples. Live music also sets the mood, creates a unique atmosphere, and provides good entertainment.
Suppose you're looking to hire a band for your big day. Here's a quick guide to help you plan a wedding with live music:
1. Decide On What Kind Of Band You Want
There are different types of wedding bands you can hire for your wedding. As a good start, consider your and your partner's music preference to find a band that best suits your taste or the vibe you want for your wedding. Moreover, it can help to know the average cost of wedding bands to help you make the right choice.
You can hire a traditional band, jazz ensemble, or string quartet, depending on what type of music and mood you want. For example, a string quartet may be a good option for a soft and romantic ambiance. On the other hand, you can have a jazz ensemble if you want danceable beats and an upbeat atmosphere for your wedding reception. You can also get a band that plays pop, rock, or other music genres to provide fun entertainment for your guests.
2. Determine Where The Band Will Be
A wedding has two parts: ceremony and reception. When hiring live music, determine where you'd like them to be. You can choose them to play as you walk down the aisle or let them be the life of the party.
Alternatively, you can let the band play on both parts of the wedding. After all, having non-stop live music at your wedding can help make your big day more fun and memorable. However, you may have to pay more if you hold the ceremony in a different location.
3. Check If The Venue Has Enough Space
A live band can take up ample space in your venue. Aside from the number of performers or band members, you also have to consider the band's musical instruments and other equipment and gear, like amplifiers and digital mixers, to name a few.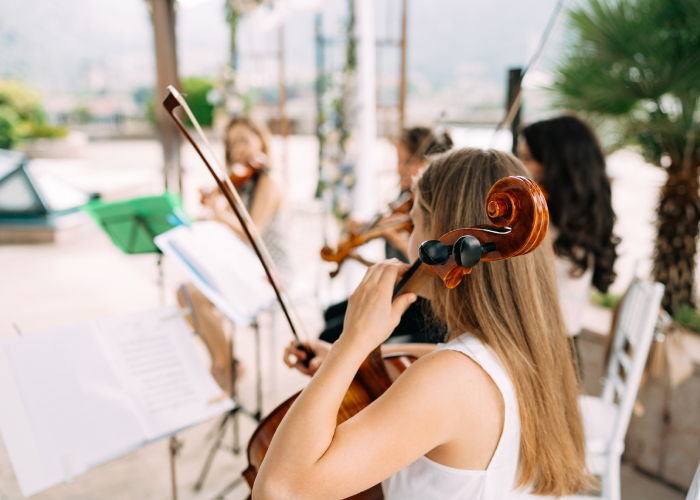 In addition, while a stage is not required, having one can give the band a good space to perform. So, before hiring one, ask about the band's gear and equipment to help ensure your wedding venue has enough space for your band to set up.
4. Confirm If The Venue Has Enough Power Supply
Electric musical instruments, a Public Address (PA) system, and speakers consume power to operate and make a sound. While it seems small, a gathered number of instruments can consume much energy. That said, ensure the venue has enough power to accommodate all the equipment the band will need.
To do this, inform your venue coordinator about how many instruments the band will use and their voltages. Sometimes, you'll have to pay an additional energy fee for a live band, which can be standard or run by the hour.
5. Check For Any Sound Restrictions
Whether you have an outdoor or indoor wedding reception, always check with your venue about sound restrictions or policies. For instance, there may be rare instances wherein a place has a strict rule about up to which volume the live music can be, as some wedding venues like to keep the area peaceful and secluded, so they discourage loud noise.
6. Provide Protection For Outdoor
Outdoor weddings are great for maximizing good views and fresh air. However, one of the biggest challenges of celebrating your wedding reception outdoors is the weather. Aside from providing shade and coverage to your guests, you also have to ensure the band members and their instruments are protected from the weather, as it can damage their equipment, whether harsh winds, rains, or scorching heat.
To help you address this dilemma, prepare a backup area where your live band can perform should the weather become unpredictable. You can set up a tent to give them shade while playing.
7. Allot Enough Time For The Band To Set Up
Live bands don't just arrive in the area, place their instruments, and get ready to play instantly. The band needs enough time to set everything up to ensure a smooth performance. They need to prepare their equipment and attach them to speakers. And during their setup, they also need to do a test run or sound check to see if the volume is clear and even.
That said, give your band enough time to set up their instruments before the event. You can give them at least an hour before the ceremony or reception starts so they can prepare. After all, rushing the band members can affect their performance and influence the overall vibe of your wedding.
8. Inform Them About The Theme
While there's no rule that weddings should have a wedding theme, having one can make your ceremony and reception cohesive; from the venue decorations to the dress and tie colors, a well-coordinated wedding can influence the overall vibe of your big day. However, having everything follow the theme, apart from your wedding band, can be frustrating.
That said, don't forget to inform your band about your motif to avoid theme mismatch. Let them know what kind of outfit they should wear. Inform them if your wedding will require formal wear or color-coded outfit.
Wrapping Up
Your wedding is a magical day that symbolizes a new chapter for you and your partner. And what better way to make the celebration more memorable is by hiring a band and having live music in the background? Live music brings more life and energy to the party while complementing the vibe you want for your wedding. And to help you plan your day with a wedding band, this post has outlined tips to help you get started.