Like wedding is once in a lifetime event, wedding photographs are also once in a lifetime captured moments! Every couple these days looks for an extraordinary and unique wedding photography, unlike the olden days. Today, couples want everything from wedding venues to wedding attire, wedding cuisine to wedding photography unique and exceptional. One such way of making your wedding photos look mesmerizing and unique is colorful and exciting smoke bombs.
Smoke bombs are an exceptional way of adding a dramatic effect to your wedding pictures. They simply make the whole picture look beautiful and exciting. Smoke bombs not only add a stunning background to your pictures, but also they make your pictures look unusual.
If you are also planning to have some dramatic effect in your wedding images with smoke bombs on your wedding, then here is a complete guide on how to use smoke bombs in your wedding photos.
Don't worry, these colorful smoke bombs are totally safe, they simply emit a non-toxic colored smoke that just fills the air and helps you to create the most captivating photos. Let's see how to use these colorful grenades…
Here we go…
1. Consider your wedding venue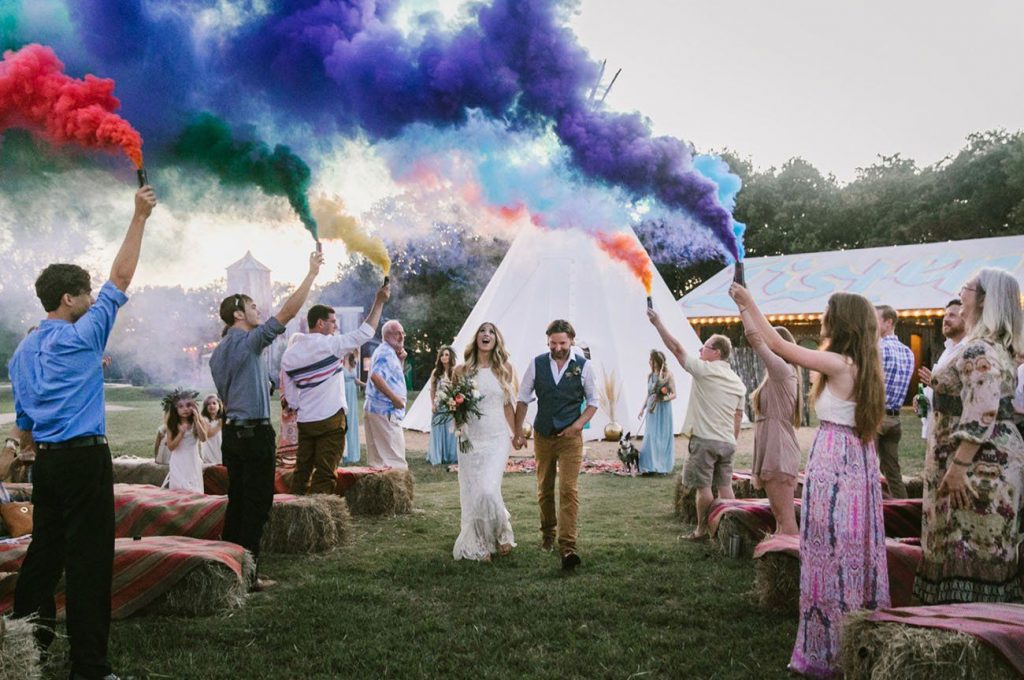 First things first, before you actually plan to use smoke bombs at your wedding, you need to consider your wedding venue. This is however, one of the most important determining factors for using such an element in your photos. Smoke bombs look cool in an outdoor wedding set up. Using smoke bombs in an indoor set up can cause issues like irritation in eyes and throat, etc. Therefore, indoor locations are not meant for using smoke bombs. And if the venue is too compact then BIG NO to smoke bombs.
So, if you are set to host your wedding outdoors, then using smoke bombs for your wedding pictures will be a great idea. You will get breathtakingly beautiful pictures of your wedding.
2. Permission from your venue
Whether it's an indoor wedding or an outdoor one, for using smoke bombs for your wedding pictures you will need to take permission from your wedding venue. The thing is – colored smoke bombs may leave behind the stains, and no venue would want to deal with those colored stains later. So, they may not permit you to use smoke bombs at the wedding. However, some properties may still allow you to use them. So, you need to ask this before you buy smoke bombs to use.
3. Talk to your wedding photographer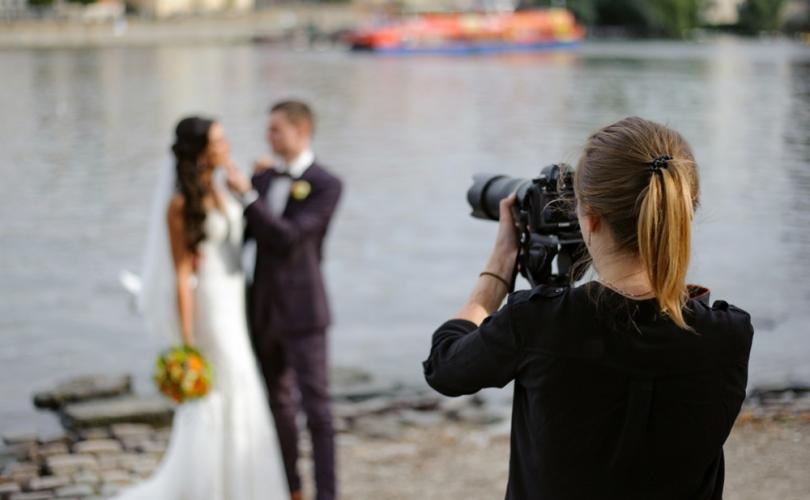 After your venue, the second most important step is to talk to your wedding photographer before planning to use smoke bombs. Your wedding photographer should feel comfortable and should have no problem using smoke bombs. Remember that not everybody is so skilled to capture those candid moments with colored smoke bombs. Make sure your photographer should be prepared to capture those moments.
4. Weather also matters
Yes, it does! These grenades are non-toxic, but they can pose a threat during dry and humid climate. Besides, there is no point in using smoke bombs in the rainy season, it will all go to waste. If it is too windy then again it is going to be a problem. So, it is important that you check weather conditions before you use smoke bombs in your wedding photos. We would suggest you use a cool burn, flameless smoke bomb if the weather is super dry and hot.
5. Check the wind direction.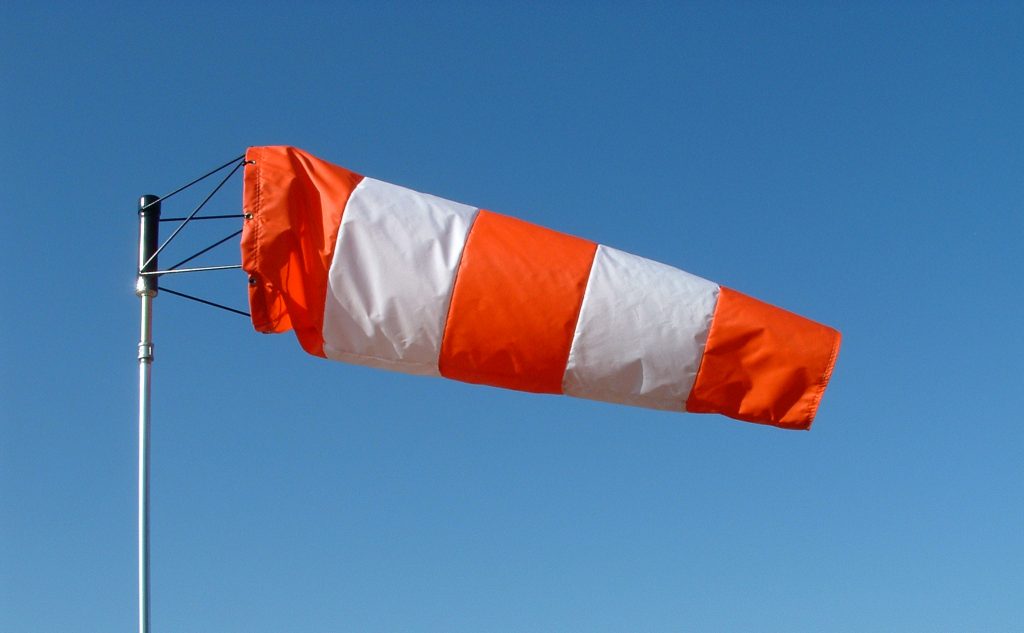 It is crucial, believe you me. Of course, you would never want to get stained with smoke bomb colors in your wedding attire. So, we suggest you check which way the wind is blowing before you actually start the smoke bomb. All the vibrant colors should create a dramatic effect for your photos and not cover your faces.
6. Assign somebody to move the smoke bomb around.
If you will try to move the smoke bombs then it may affect your wedding photos, it's better to have somebody to do the needful without you getting distracted. Because if you get distracted your photographer won't be able to capture the moment properly.
7. Don't get too close
Smoke bombs leave behind residues or stains. So, it is important to not get too close while using them. Of course, you will never want to stain your beautiful wedding attire with smoke bombs. Therefore, it is crucial that you maintain proper distance from them. Besides, getting too close to them can cause irritation in your eyes or throat, which is again a problem. Of course, what is the point when you won't be able to open your eyes for your remaining pictures? So, the best way of using a smoke bomb in wedding photography is to have that effect swirling behind you in the backdrop. And if you yourself use the smoke bomb, then make sure you don't bring it too close to your face or clothes.
8. You need to act quickly.
Smoke bomb's burn time is too limited, like 1 minute to 1.5 minutes. So, if you really want to have beautiful images, you have to be very quick. Yeah, your pose should be pre-decided before you actually burn the bomb. If you take time to pose then you may end up losing the colors of the smoke bomb.
9. Go with vivid and vibrant color smoke grenades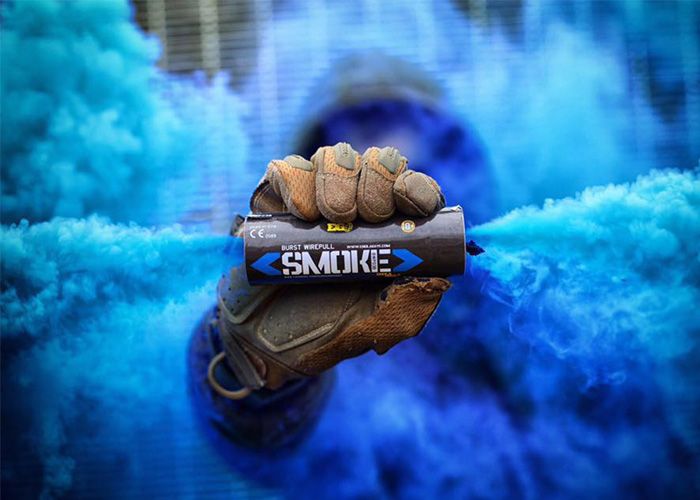 If you really wish to use smoke bombs for wedding photography, then it is advised to go bold and vibrant with color smoke bombs. The effect that vibrant color bombs will create, you will not get that effect with the basic white and grey smoke bombs. You can even choose the colors matching or contrasting with your wedding theme, so that you can get the most spectacular pictures of your wedding. You can consider buying vibrant colors like, greens, oranges, blue, pink, and yellow. All these colors really make a photo worth it!
10. Avoid using them in dry fields or nearby paper
While you use smoke grenades, make sure that you don't use them in dry fields, nearby paper or any other material that can catch fire. Yes, it is very important that you take proper precautions while using smoke grenades. Also, it is advised to keep water handy to extinguish any rogue sparks.
11. Buy some for practice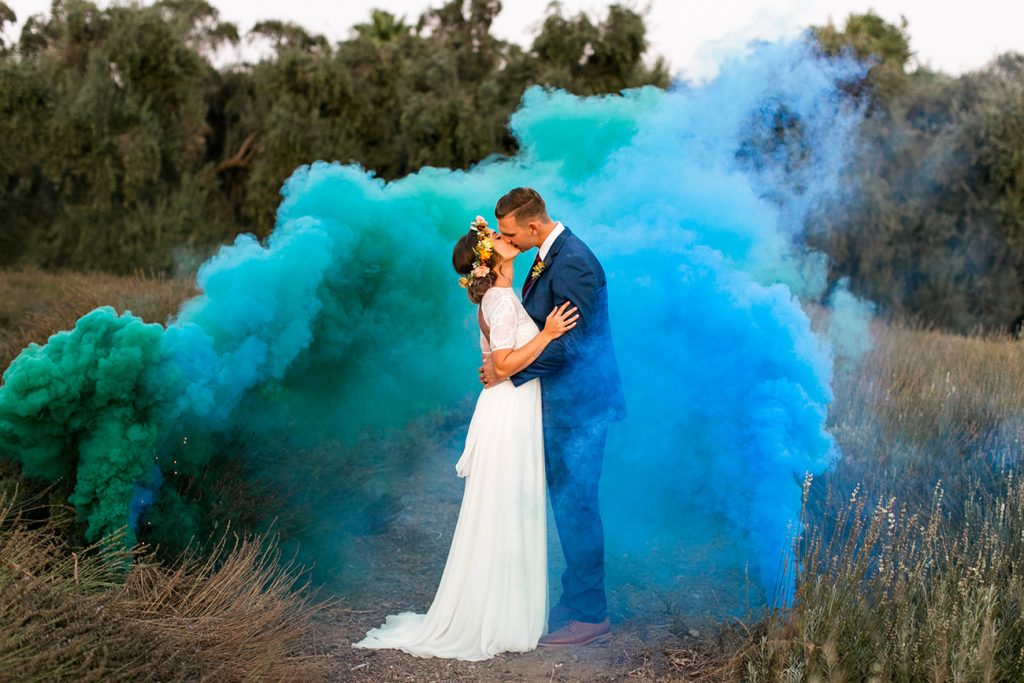 Last but not least, as said earlier, smoke bomb's burn time is limited! So, it is advised you buy more than the required number. As some of the bombs will be used for practicing only to ensure the perfect shot before your photographer actually starts capturing. And of course, you would never want to run out of color bombs in the middle of the wedding shoot.
To pan out…..
Follow these tips while you use smoke bombs for wedding photography, and you are set to get the most stunning pictures of your wedding! Do not hesitate to go bold and vibrant while choosing the smoke bombs! They really make for perfect wedding pictures!
Happy Wedding & Happy Shooting….. ☺ ☺