As the wedding industry continues to evolve, couples now have a new option for their special day – incorporating technology into every aspect of planning and execution. Wedding tech is revolutionizing how weddings are planned by allowing couples to create an unforgettable experience with ease and convenience.
From selecting vendors online, creating stunning invitations that can be sent directly from your computer, tracking RSVPs digitally in real-time, all the way up through live streaming so everyone can be a part of it no matter where they may reside – there's something for any couple wanting to make their big day truly extraordinary! Let us help you explore the possibilities available today for bringing more technological elements into your event while maintaining its heirloom feel. In this blog, we go through "Wedding tech: Incorporating technology in your wedding planning and day."
What are the advantages of incorporating technology into your wedding
Technology is rapidly changing the way couples plan and organize their weddings. Incorporating technology into your wedding can make a huge difference in making it memorable and enjoyable for you and your guests.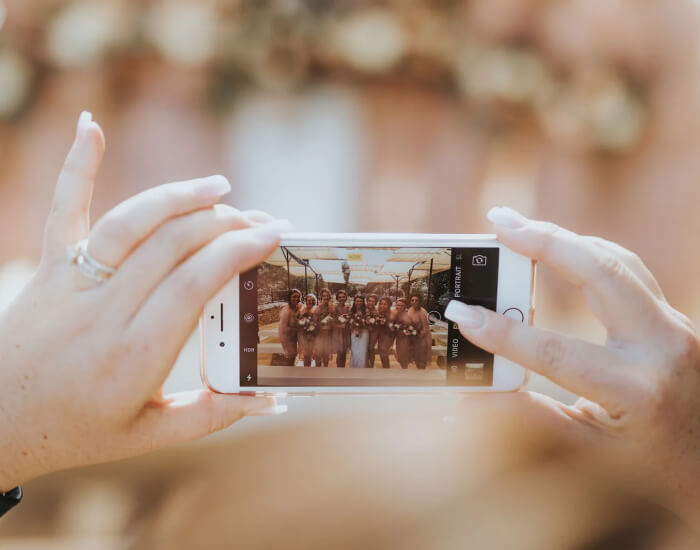 Technology helps create a fantastic atmosphere by allowing you to customize different aspects of the event according to your preferences, materials being used are more durable, and budgets are easier managed with real-time data tracking options available online or through apps on devices like smartphones, tablets, etc.,
You can add personal touches, such as interactive photo booths via digital platforms, which ensure everyone has something unique that they'll remember long after the big day ends. All these advantages will help reduce stress during planning, so instead of worrying about details, enjoy yourself!
1. Virtual wedding planning
Wedding tech is here to revolutionize the wedding planning procedure. Now, couples can connect with industry professionals from all over the world in an effortless virtual experience. This cutting-edge suite of digital tools enables engaged partners to take control and stay organized while creating their dream day without ever having to leave their homes.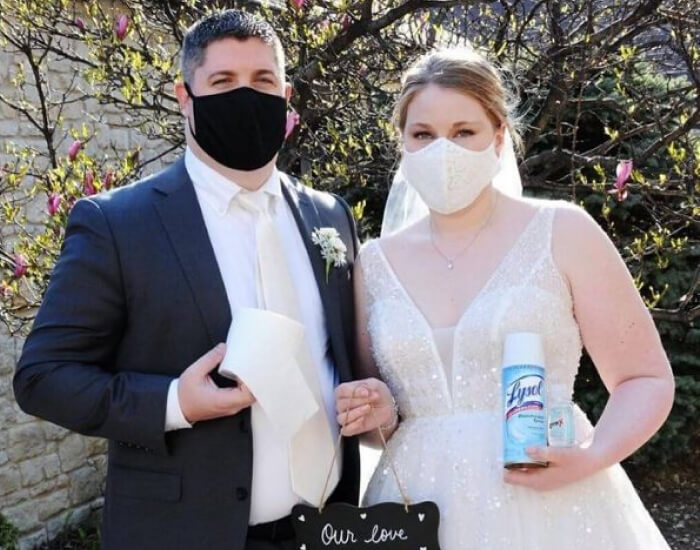 With up-to-date advice on trends, etiquette, budget management, and more – professional wedding planners are now available when needed! Weddings can be planned in an innovative way for couples to ensure they plan out every minute detail together quickly and conveniently without compromising quality or value.
2. Digital wedding invitation
Digital wedding invitations – the perfect way to make your big day even more special. With sleek, easy-to-use design features and sophisticated options, you can create a unique invitation for the most important people in your life.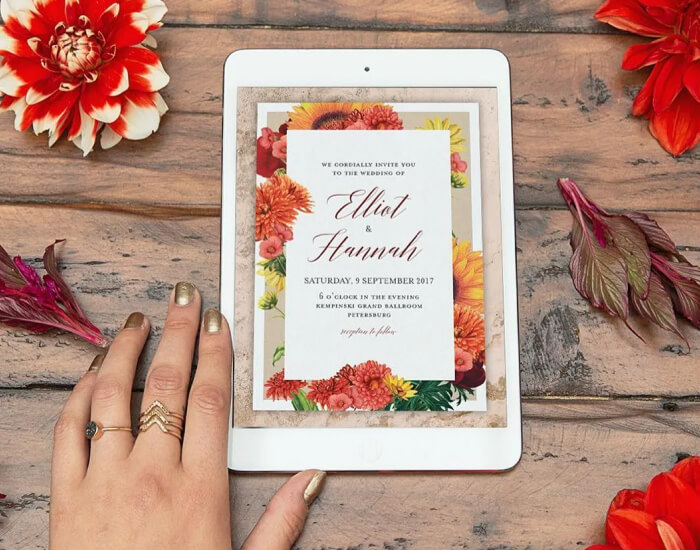 Plus – no need to worry about addressing envelopes; it's all taken care of for you digitally. Whether you're planning an intimate gathering or a grand celebration – let technology help make those magical moments unforgettable!
3. Interactive wedding previews.
Wedding tech is evolving, and interactive wedding previews are the latest addition. These captivating digital experiences allow engaged couples to explore their dream venue in 3D before they decide on it, all without leaving their home!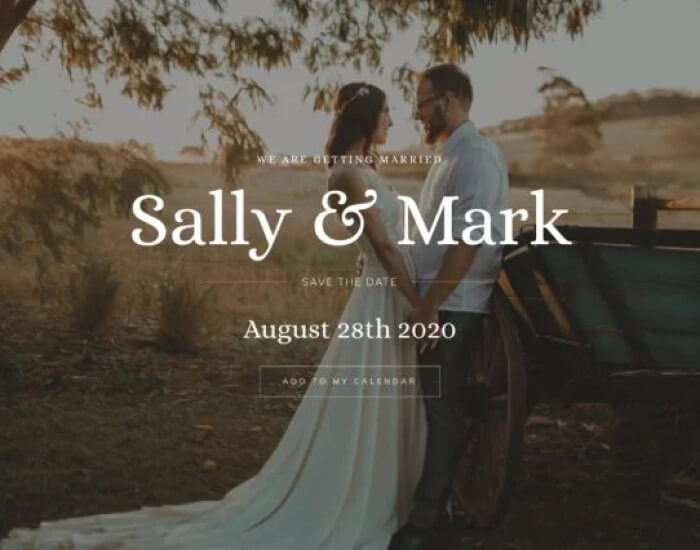 With realistic graphics and an inviting atmosphere, this cutting-edge technology makes researching potential media easy, informative, and fun – providing a convenient way for partners to plan out essential details while exploring different looks in real-time. Take advantage of modern bridal tech today – get inspired, and find your perfect venue online with virtual previews that make selecting one stress-free from start to finish!
4. Virtual dress selection
Wedding tech is bringing weddings into the 21st century with a virtual dress selection. Using an interactive and user-friendly platform, brides can now browse hundreds of gowns from top designers worldwide to find their perfect dream wedding look. With detailed photos and accurate sizing information for each garment, couples have peace of mind knowing that they are selecting only the best options available for their special day.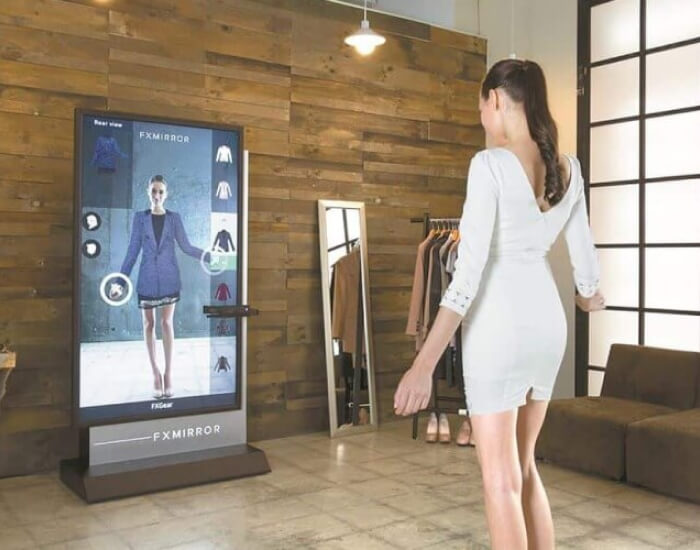 Plus, thanks to quick delivery timescales via a secure checkout system – you don't even need to leave your home! Virtual dress selection technology makes it easier than ever before to create unforgettable memories while feeling confident in finding 'the one without any stress or hassle.
5. Robotic Bartender
Have you ever attended a wedding and wondered what it would be like to have a robotic bartender? Introducing cutting-edge technology, your guests can experience the future of events with an automated drink maker. This revolutionary device is sleek in design and adds fun for everyone in attendance.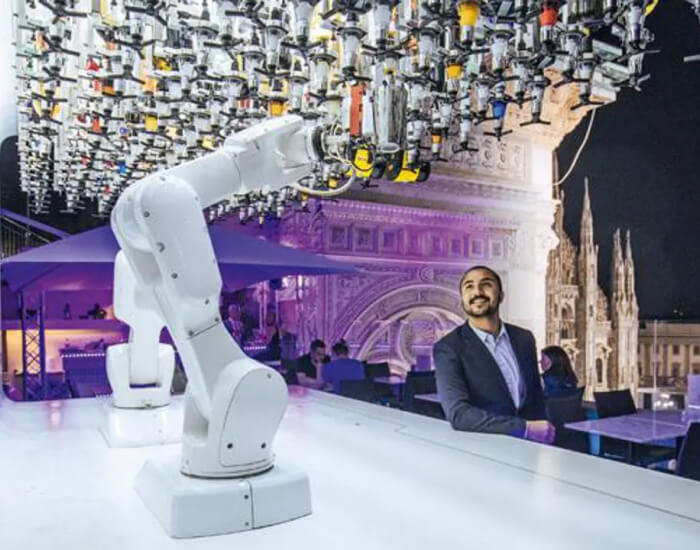 Forget about lines at bars or waiting around for drinks – now all that's needed are voice commands! Offering convenience and entertainment, hiring this hi-tech bar assistant could make any event one step ahead when modernizing a wedding.
6. Wedding drones for videos and photos
Drones provide access to a unique aerial perspective that makes for incredible wedding photography and videography. For couples looking to capture every moment of their special day from an elevated view, drones can help them do just that in stunning detail with professional quality footage. Couples can choose the exact angle they want to be captured and any additional features like slow-motion shots or drone panoramas, all while getting creative with the most exciting medium available today: aerial video!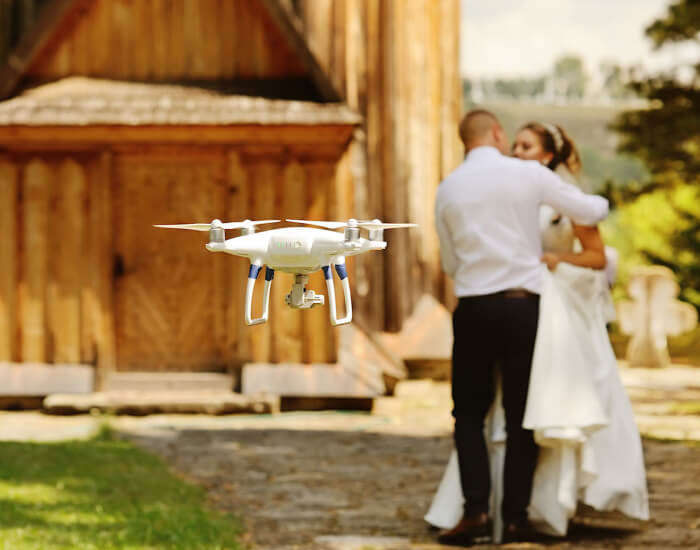 With custom flight paths created and managed by professionals, you'll be sure to get beautiful photos and videos without worrying about privacy laws or regulations. Get ready for some genuinely one-of-a-kind memories on your big day with wedding tech provided by high-flying drones!
7. Capture Wedding Moments With a Pro Bridal Bouquet
Create magical memories using cutting-edge technology designed to showcase your wedding in all its glory. The Pro Bridal Bouquet is an innovative gadget that turns traditional bouquets into devices capable of capturing vivid footage and audio clips in stunning detail – perfect for immortalizing your big day!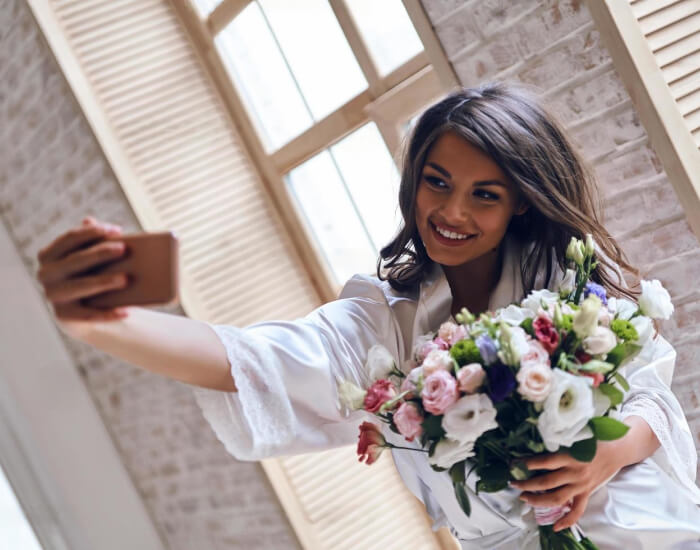 This efficient tool can also be used outdoors or indoors, so you never miss any special moment as you celebrate together on this joyous occasion. Enjoy professional quality visuals without missing out on essential memories; get ready to savor them forever with the Pro Bridal Bouquet!
8. Wearable technology
Wearable technology has become an increasingly popular choice for weddings. From smartwatches to light-up dresses, options are available to wow your guests and keep everyone connected during the celebration. Not only can they provide helpful information like estimated arrival times or last-minute changes in plans, but they also add a unique touch of tech sophistication that you won't find anywhere else.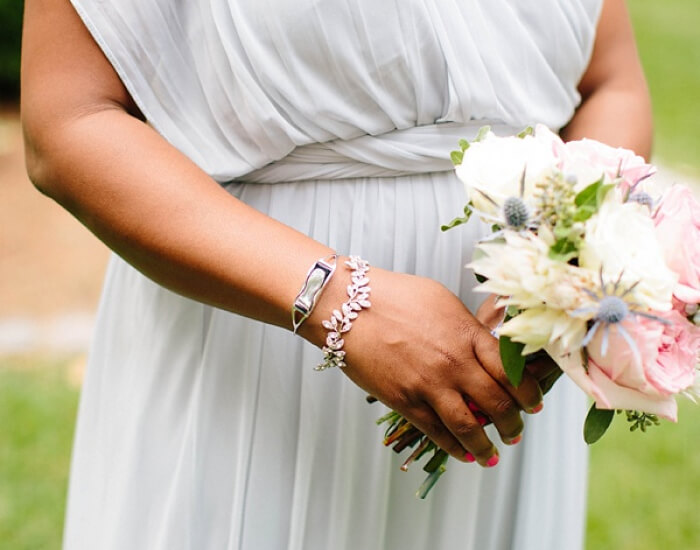 Whether you go modern with fitness trackers or classic with jewelry pieces embedded with LED lights – wearable technology is sure to be charmingly delightful at any wedding setting!
9. Charging stations
Modern weddings are all about high-tech convenience. Charging stations allow guests to stay connected throughout the ceremony and reception, which is a welcome treat as phone batteries drain quickly during special events. The sleek design of these hubs blends into any décor while adding a modern chic look that will compliment your wedding perfectly!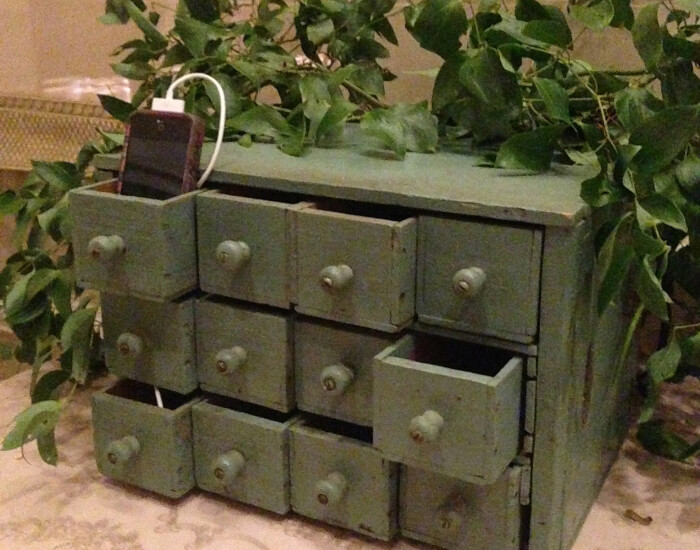 Compact yet powerful, each station can charge up to four devices simultaneously at lightning-fast speeds, so you won't have to worry about running out of juice anytime soon! With this hassle-free system at just an affordable price point, what more could you ask for? Invest in charging stations today – it's one tech upgrade everyone can agree on!
10. Hashtags
Wedding tech is becoming a popular addition to weddings. Hashtags are one of the most widely used wedding technologies, and they can take your event from ordinary to extraordinary. By creating a unique hashtag for your special day, you make an easy way for guests to share their experiences on social media sites like Instagram and Twitter while giving you access to photos they took at the event even after it has ended!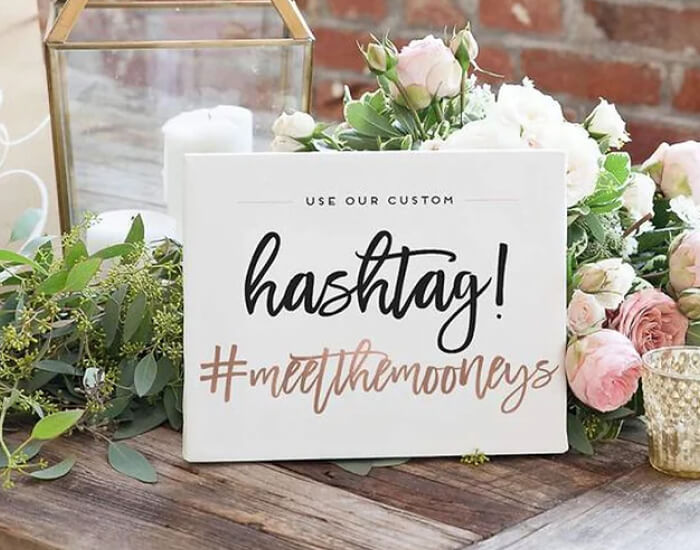 With this technology, not only do couples get extra documentation of their big day without having someone designated as the official photographer, but others in attendance can be sure that every moment is heard and remembered.
11. Wedding robots
Wedding robots are revolutionizing the wedding industry and changing how couples handle their big day. From dancing bots to video-streamed ceremonies, these modern devices allow for a personalized experience that can be enjoyed by both guests and family alike. Using this tech also helps reduce stress levels, as robotic assistants help coordinate vendors, track budgets and manage RSVPs in real time from any device or platform.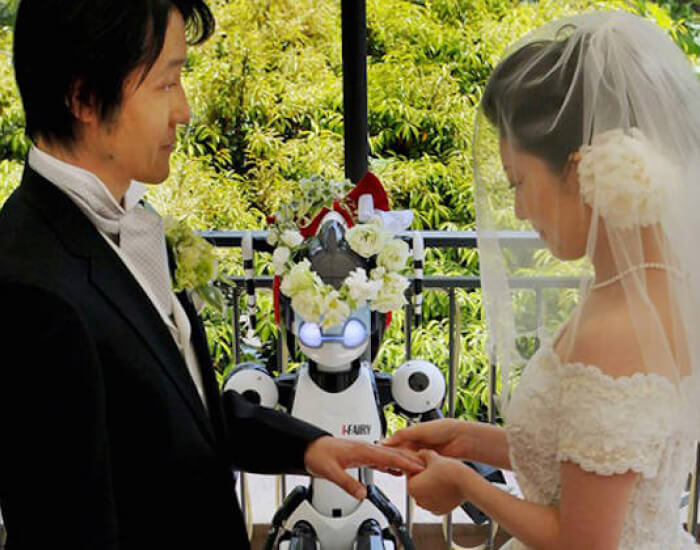 As robotics progresses with artificial intelligence (AI), expect even more amazing features, such as problem-solving capabilities during line dances or managing large crowds on busy nights at your reception venue!
12. Virtual photo booth
Virtual photo booths are the perfect addition to any wedding, adding a unique and modern touch. Our innovative technology turns your event into an unforgettable memory with fun props, animations, and special filters that can be used to capture perfect images of you and your guests. With customizable frames for each picture taken at our virtual booth, every guest will have a set of photos they'll always remember!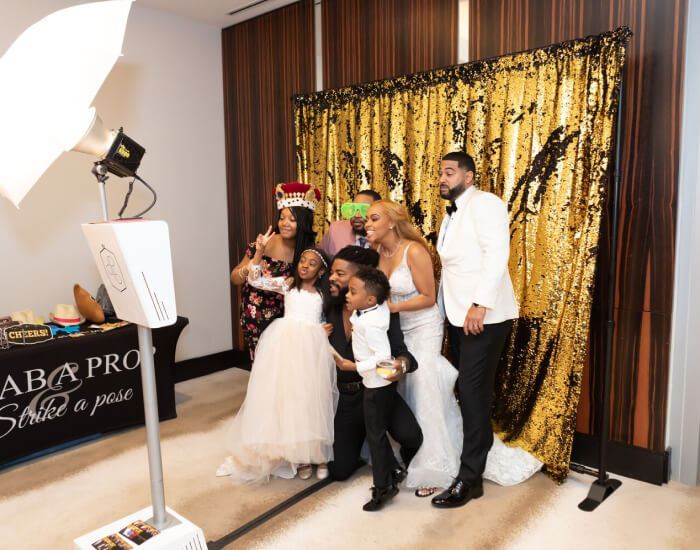 From personalized messages on each frame or even branded logos visible in each picture – all these extra details don't just make it visually stunning; but also provide the ultimate shareable party favor allowing everyone to relive the experience through social media long after the celebration is over.
13. Wedding cake light projection
Wedding cake light projection is a unique technology to make your wedding day even more special. This state-of-the-art feature displays an impressive, multi-colored lighting design that graces the cake and enhances its appearance. It can be tailored to clients' vision and customized with personal messages or images for thematic wedding celebrations like birthdays, anniversaries, etc.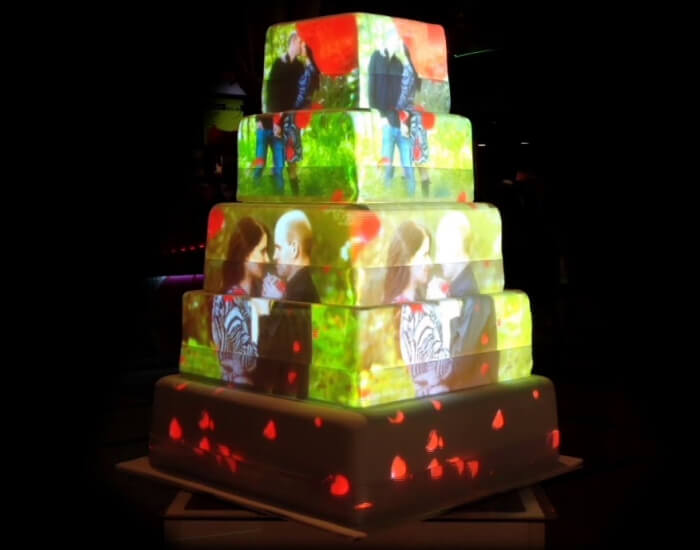 Wedding Cake Light Projection offers different levels of illumination intensity, ranging from subtle soft glows to vibrant beams of dazzling colors – making each event look exceptional! Plus, it's easily installable thanks to wireless and battery-operated options available in several sizes ranging from small plates to large cakes. So if you're looking to add extra glamour on your big day, consider this fantastic tech today!
14. Wedding streaming
Wedding tech is an exciting new way to capture and share your special day with friends, family, and beyond. Professional streaming services allow you to experience every moment of the ceremony in real-time from anywhere worldwide – even if you cannot be there physically yourself.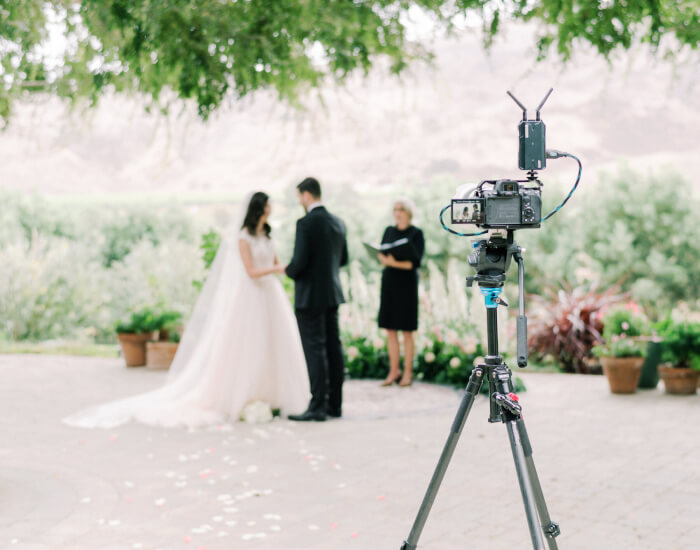 With audio/visual quality at its finest, feel connected more deeply than ever while watching this special occasion unfold through the reliable digital platform. Wedding streaming has never been easier!
15. Crowdsourcing the Reception Dance Floor
Wedding tech is revolutionizing traditional events, and one of the most popular trends for couples who want to add a bit of pizzazz to their reception dance floor is crowdsourcing. With a few clicks, you can generate an integrated playlist explicitly tailored for your wedding party. Whether you choose current chart-topping hits or timeless classics from past decades, our innovative technology allows everyone in attendance – regardless of age or music tastes – to mark those special moments with songs they know and love!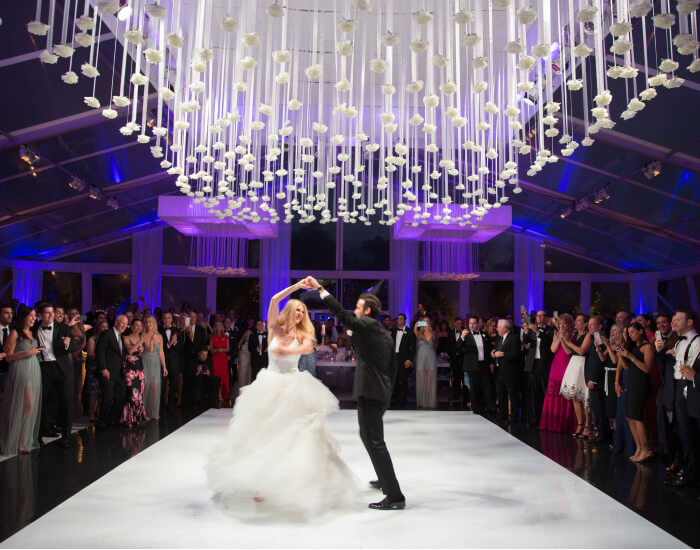 And be sure not to miss out on any requests; upload personal favorites straight from Dropbox™ so friends and family can take part too! So get ready: it's time for some serious dancing – thanks to this groundbreaking new feature at your wedding celebrations.
16. Wedding exits with driverless cars
Wedding tech is advancing in surprising ways—and a driverless car exit could be the next big thing. By incorporating innovative technology into your special day, you can create an unforgettable send-off at the end of your wedding reception.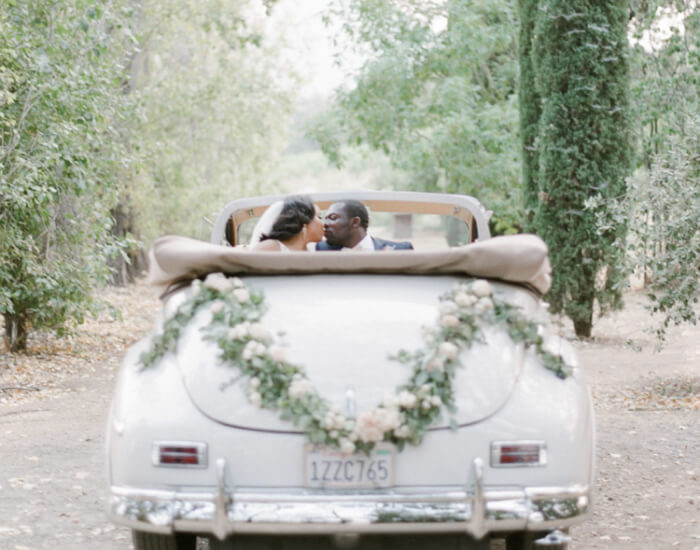 Your guests will be amazed as they watch two autonomous cars pull up to take you away on your honeymoon! Enjoy this modern and luxurious way to get from point A to B while ensuring everyone gets home safely without worrying about having a designated driver or cab fare. Let automated vehicles add something extra special for lasting memories that no one else has experienced yet – it's time to step out in style with these unique chauffeurs!
In conclusion, incorporating technology into your wedding planning and day can be a great way to add convenience and efficiency. Technology simplifies the process of being organized while providing an elegant touch that will create lasting memories for years to come.
With its many benefits, tech has revolutionized weddings like never before – now is the time to take advantage! We hope this blog on "Wedding tech: Incorporating technology into your wedding planning and day" is useful to the readers.