Rajasthan –  The Royal Crown of India
Rajasthan, India's archetypal land of Maharajas and Medieval Forts, Palaces and Deserts. It is famous for its Folk Music, Colorful Attires, National Parks, Vibrant Culture, Sand Dunes, and Kaleidoscopic Festivals (You can get more information from Wikipedia link here). This beautiful and colorful state with its vibrant culture is really a jewel in India's crown. Due to its vibrant culture and regal opulence, Rajasthan has become one of the leading trend for destination wedding in India. If you are planning a Royal Wedding or a Maharaja Style Wedding then Rajasthan is the perfect destination.
Owing to it's rich royal heritage, Rajasthan has an endless choices to make from. Be it a palace wedding to or a fort wedding, wedding in a Haveli or outdoor lawn wedding. Rajasthan has myriads of palaces, forts and havelis which serve as ideal venues for a romantic royal style weddings.
Rajasthan is known for its best castles and palaces across the country. The magnificence of Rajasthan and its palaces and stunning venues make for a perfect dream weddings. In recent years Rajasthan has achieved the recognition of being a prime location for destination weddings in India. If you are also planning to tie knot in this princely state, then this article is for you. I am sharing all the good reasons for why should you consider Rajasthan as a destination for your wedding:
1. Rajasthan is full of choices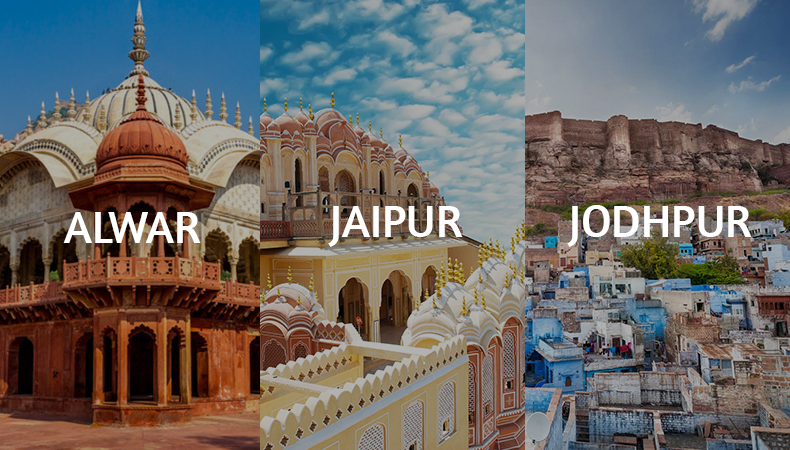 Yes, when we talk about Rajasthan the first thing comes in mind is, which city of Rajasthan to choose. As, every city in Rajasthan presents you with lots of choices. I believe Rajasthan is the only place which offers maximum options for your wedding. The best cities of Rajasthan for getting hitched are:
Alwar

Besides being famous for its schooling, Alwar City Palace, BalaQila fort, Sariska Tiger Reserve, are gaining popularity as one of the best wedding destinations in Rajasthan, India. It makes a perfect destination wedding location.

Jaipur


Jaipur, the capital city of Rajasthan, most commonly known as pink city of India, is a beautiful place for getting hitched. The place has always been famous for its tourism, but now people are opting it for their destination weddings too.

Jaisalmer


Jaisalmer, an another beautiful city in Rajasthan, is full of amazing hotels and palaces. Perfect location for hosting a royal wedding away from your home town amidst the scenic beauty and palaces around. Just imagine a romantic wedding amidst sand dunes as backdrop. Beautiful Jaisalmer!

Jodhpur


Famous for its mesmerizing history, it is making a perfect location for destination weddings in India. Jodhpur is also full of palaces, forts, havelis, five star hotels, and wedding lawns. If you have always dreamt of tying knot in some beautiful palace, in an absolute royal set-up to feel like queen and king like Priyanka and Nick. Then Jodhpur is the place for you!

Khimsar


You must have heard about the place, if not, then let me tell you that the place is simply amazing to get hitched. The untouched beauty of Khimsar will not only provide you peace and tranquil, but also you will have an unforgettable wedding experience here. It is a less explored place for a perfectly romantic destination wedding.

Mount Abu


A beautiful hill station in Rajasthan, and one of the most beautiful locations for your destination wedding. The lush Mount Abu Wildlife Sanctuary is the highlight of the region, a famous tourist destination, gradually gaining popularity as wedding destination in recent years. Station has many beautiful temples to see. Your guests will have enough to see around and stay busy in exploring the city. A perfect location for a perfect destination wedding.

Udaipur


Commonly known as the city of lakes and palaces, makes it a perfect wedding destination. Udaipur is one of the most romantic cities in India. If you doubt then let me tell you many Hollywood biggies have got hitched here. Rajasthan tourism have already been attracting international tourists for decades now and recently Udaipur has emerged as one of the most popular destinations in Rajasthan for hosting destination weddings.
2. The feel of Royalty
The wedding in Rajasthan will be a grand affair featuring pomp, glitz, and grandeur comparable to the ways of the mighty Maharajas and Rajputswho once reigned over the land. Getting hitched amidst much pomp and mirth, a royal wedding in Rajasthan is indeed a social and genuine byzantine affair. Your wedding in Rajasthan would be soaked in regal charm; perfect feel of royalty. Rajasthan makes for a perfect royal destination weddings.
3. Developed and less crowded
Cities in Rajasthan are well-developed and well-organized. The inhabitants here in Rajasthan are very good, decent, helping and well-behaved. You can get the best hosts in Rajasthan who can help you have the most wonderful wedding of the season away from home town. Also, Rajasthan is comparatively less crowded and a peaceful place to get hitched.
4. It is well connected
Rajasthan is well connected to almost all the big cities by air and almost all the big and small cities of India by rail and road. So, transportation is not a problem. Also, the local facilities are good enough. There are many private travel agencies who can help you with your bookings and local transportation. All you need is to contact them and tell your requirements in advance. Or else if you have already hired a professional wedding planner then you need not to worry.
5. Rajasthan has it all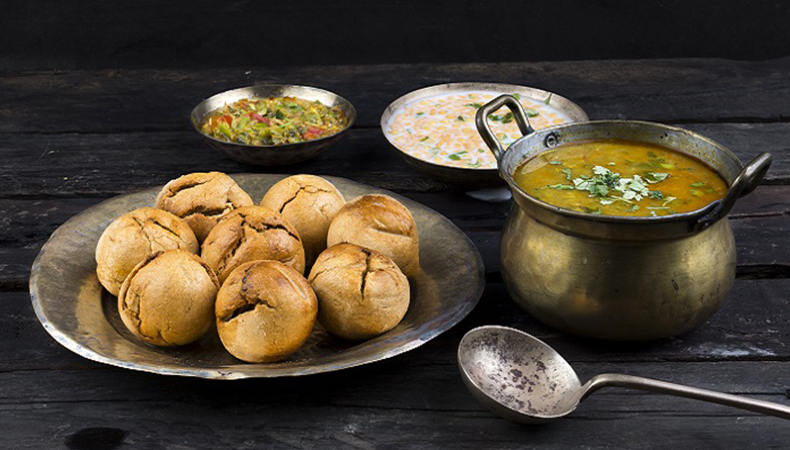 What all you need to make your wedding a perfect event for your life, Rajasthan has it all. Besides royalty you can experience much more in Rajasthan. Evenings are mesmerizing in the place, you will fall in love with evenings here. Delicious local cuisine of Rajasthan makes the place more popular, perfect place for your foodie guests to savor on different delicacies here. Also, your shopaholic guests will not be able to resist themselves from shopping the colorful home décor items and beautiful bandnior bandej dresses and Rajasthani Mojri.
6. Place has something for everyone
Place has something for everyone, whether you love to travel alone or with your family, whether you came here for an event or for excursion, to attend a wedding or to get hitched the place is for everyone. Though the place is famous for its royal properties and premium hotels but it also offers low-budget hotels and guest houses for people who have budget constraints. And there is a lot one can do and explore, your destination wedding in Rajasthan will be a great reason for your guests to explore "RANGEELO RAJASTHAN."They will thank you for inviting them.
7. Full of wedding planners and wedding vendors
Planning a wedding is already a task, and if you chose to do it on your own then a lot of things have to be taken care. Planning a wedding is not easy, and the task becomes critical when the set-up is in some different city or country. But in Rajasthan you have to worry about nothing as the state is flooded with many wedding planners and wedding vendors. Whether you chose to hire a professional wedding planner, you need not to worry just research and hire the best. Or if you are doing things on your own then there are wedding vendors to serve you with everything from wedding venue to wedding catering, wedding photography to wedding décor. You can even get customized wedding packages according to your choice, preferences, and budget for your destination wedding in Rajasthan.
There are many wedding agencies or planners in almost all the major cities of Rajasthan, who can help you book your wedding venue, arrange hotel accommodation for your guests, take care of catering, décor etc. Also, they ensure that all your and your guests' needs are met at all times.
8. Cost of hosting wedding in Rajasthan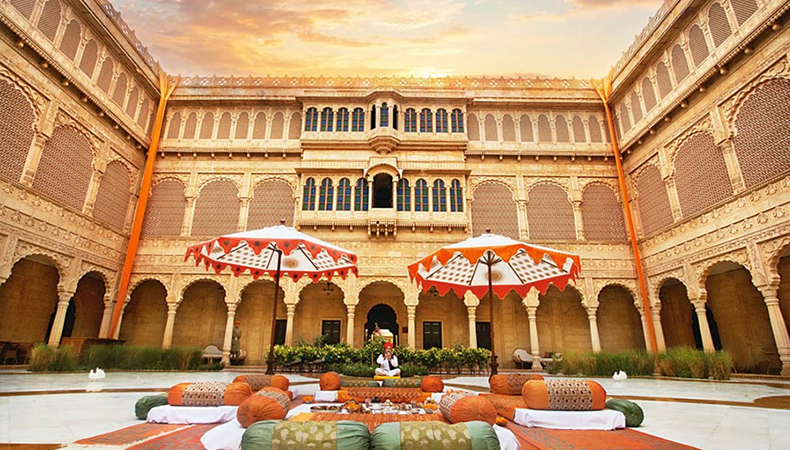 Well, the cost of hosting a destination wedding in Rajasthan vary based on location, venue, wedding theme, facilities, number of guests, wedding menu, wedding decoration etc. Rajasthan is very welcoming and hence cost of hosting a wedding in Rajasthan may range between 15 Lakhs to 60 Lakh. For instance, a budget wedding in Rajasthan will cost you 15 – 20 Lakhs, whereas a mid-range wedding will cost you 30 – 35 Lakhs and for a lavish wedding there is no limit as such but still it can be taken care in 60 Lakhs. There are many luxury hotels, palaces, resorts, budget hotels in Rajasthan. Besides, you can opt for an off-season wedding in Rajasthan to get the best deals.
9. Endless opportunities for your guests
Rajasthan presents endless opportunities for your guests also. Your guests will be busy enjoying the beautiful and colorful Rajasthan and its culture. They will have enough to explore when in Rajasthan. Activities your guests can involve themselves are; they can visit national parks, visit forts and palaces in the town, indulge in some enchanting shopping, can savor on local street food items, or just a leisure walk in the city and so on so forth.
10. Perfect location for most romantic wedding photos
Place is full of beautiful and scenic views, forts, palaces, gardens, sand dunes, all these make for a perfect wedding album. You can have the most beautiful and mesmerizing wedding picture of yours, which you will cherish all your life.
11. Place has some seriously romantic and royal wedding venues.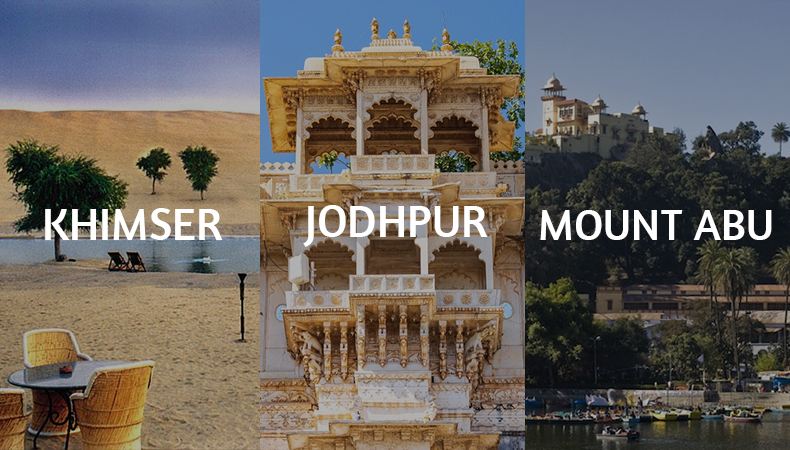 For a proper royal wedding Rajasthan is the place as it has some seriously romantic and royal wedding venues. Here is a list of wedding venues in each city;
ALWAR : Neemrana Fort Palace, Hill Fort Kesroli, Tijara Fort Palace.
JAIPUR : Alila Fort Bishangarh, Sujan Rajmahal, Jaipur, Taj Rambagh Palace, Jaipur Marriott Hotel, Jai Mahal Palace, Samode Palace & Haveli, Hari Mahal Palace, Neemrana Fort Palace.
JAISALMER : Suryagarh Palace, Fort Rajwada, Gorbandh Palace, Jawahar Niwas and Narain Niwas.
JODHPUR : Umaid Bhawan Palace, Fort ChawaLuni, Raj Bagh, Vivanta by Taj – Hari Mahal, Jasol Heritage, Mehrangarh Fort.
KHIMSER : Khimsar Fort & Dunes,
MOUNT ABU : Cama Rajputana Club Resort, Hotel Hillock, Hotel Hilltone etc.
UDAIPUR : The Oberoi Udaivilas, The Leela Palace Udaipur, Jagmandir Island Palace, Chunda Palace, Taj Lake Palace, RAAS Devigarh, The Lalit Laxmi Niwas Palace, Fatehgarh Udaipur, Udai Kothi, City Palace, Udaipur Lake Palace.
Whether you are looking for an intimate wedding or for a big fat wedding, Rajasthan is the perfect place. Several venues in Rajasthan can even accommodate 1500+ guests. So, if you are planning a big bash then you have many options to choose from.
12. Place offers variety of food to savor on
Rajasthani cuisine, influenced by Rajputana culture, is said to have its own stand among all types of cuisines in the world. However, the food in Rajasthan is bit spicy, still it is liked by almost everyone. The place offers almost all kind of food items from across the world, but the taste which Rajasthani food has – no food can have. Being in Rajasthan and not enjoying Rajasthanicusine especially Rajasthanithali is not justifiable. Destination wedding in Rajasthan will give you and your guests an opportunity to slurp on the traditional cuisine of the place, which includes; Dal BatiChurma, MawaKachori, Laal Maas, MirchiVada, Mohan Maas, Gatte, Kadi, Ghevar, Kalakand, Chaaj, Jaljira, Malpua, various chutneys, Ker Sangri, AamLaunji, Mohan Thaal, etc.
13. Best time for saying 'I Do' in Rajasthan
October to March is considered the best time to get wed-locked in Rajasthan as during these months the temperature is at its lowest level. Also, it is a good time to enjoy some adventure activities and festivities of the place. However, the place is hot between April to June, and if your wedding is planned during these months you can simply head to Mount Abu for your summer wedding to get the best wedding experience. From July to September the place experiences rainfall which are not so heavy though. The weather in winters is splendid and pleasant and best to host either an outdoor lawn wedding or evening royal wedding or maharaja style in a palace or fort.
15. Ideal for hosting your pre-wedding celebrations or rituals
In Rajasthan you have many options to organize your pre-wedding celebrations. You can go for a three day wedding package to five days wedding packages. Also, you will not regret your decisions to start your wedding bash from this beautiful location of India. Rajasthan offers venue for every kind of wedding celebration from your sangeet night to wedding reception. Choose the one you like and go ahead with your wedding functions.
16. Blend your royal wedding with your royal honeymoon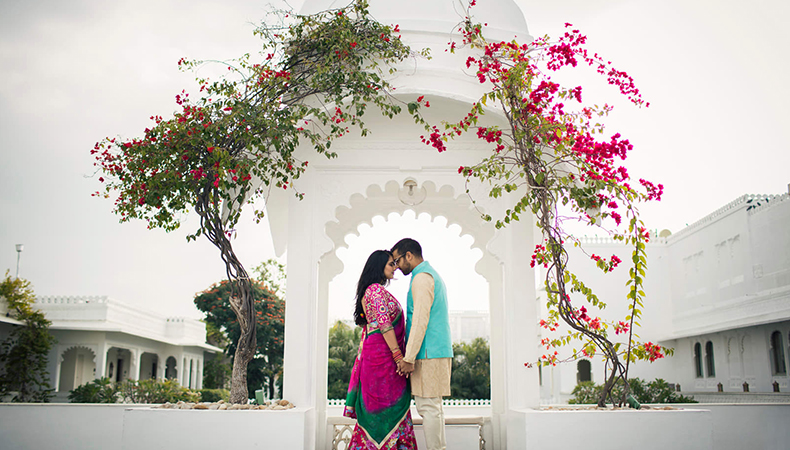 Rajasthan is not only good for hosting a destination wedding, but also it is the place to have ideal holidays with your significant other. You can start your honeymoon next day after your wedding and enjoy lavishly with your partner. Rajasthan is a beautiful and most romantic place, where you can enjoy to your fullest. Also, this way you will be able to save on logistics, time and efforts which you will put to fly to some other destination.
Here in Rajasthan you can shift to some other hotel or even to some other city. So, say you got married in Udaipur you can honeymoon in Jodhpur, Jaisalmer or any other city of Rajasthan. All you have to do is simply bid adieu to all your wedding guests and start honeymooning…
To conclude…
I hope these reasons are enough to support your decision to get hitched in Rajasthan in the most royal manner. Enjoy the beauty, color, folk music, vibrant culture, food, forts, etc.
IMPORTANT TIP:
Just make sure you book all your wedding vendors or the wedding planner well in advance. The state is very-well recognized wedding destinations in India. So, getting last minute bookings will be very troublesome and difficult. Also, book your tickets (air or rail) in advance as the place is one of the known tourist destinations of the country.
Thanks for reading
Happy Wedding in RANGEELO RAJASTHAN
☺ ☺