Pre Wedding Skincare for Grooms? Yes, you read it right. In this post, we will throw light on the skincare routine for grooms.
Yes, it does sound peculiar because people rarely talk about it. You'll find a long list of bridal skincare, but none for grooms. That was the thing of the past when only brides were supposed to look flawless. Today, even grooms deserve and desire to look their best at their wedding.
So without any further ado, let's get started…
Here we go…
11 Pre Wedding Skincare Tips for Grooms
Get perfect skin before the D Day with the following nine pre wedding skincare tips:
1. Drink More
Ohh…. No, no, hold on! Don't get me wrong. I'm talking about water (& juices) here. Yes, drink more and more water and juices. Drinking water keeps you hydrated; plus, it flushes out toxins from your body. Flushing out toxins from the body results in flawless skin. Water keeps your body hydrated and refreshed, and it also helps to maintain the elasticity of your skin. People who drink a lot of water have fewer scars, wrinkles, and soft lines, and they don't show as many signs of aging as those who drink a small amount of water.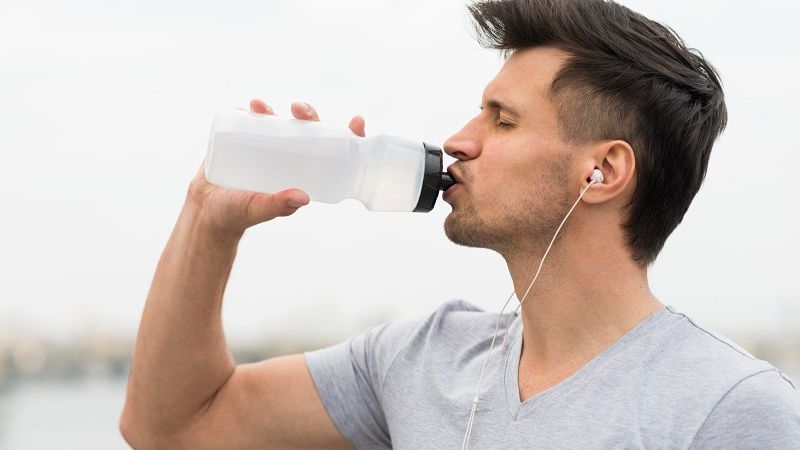 Drinking juices as a skincare regime will help you have flawless and spotless skin. You can have any juice; however, having orange, pomegranate, or green apple juice is recommended. They are high in vitamin C, enzymes, and antioxidants, which help heal and brighten your skin. In fact, this vitamin acts as an anti-inflammatory agent, reducing acne and dark spots.
2. Eat Healthy
Well, this is again a very important aspect of looking good at your wedding and beyond. In order to have flawless skin on D day, it is vital to eat nutritious food. Optimize your nutrition with antioxidant-rich fruits and vegetables, healthy fats from oily fish and nuts, and a varied and balanced diet to care for your skin. Healthy and balanced dies provide you with optimal levels of nutrients essential for radiant skin, such as beta carotene, vitamins C and E, zinc, and selenium.
Also, eating healthy is not just enough; you'll have to avoid eating junk food. Junk food does no good to your body. It, in fact, affects your body adversely. The majority of these junk food items are high in carbohydrates. Carbohydrate-rich foods cause blood sugar spikes, and these sudden increases in blood sugar levels may cause acne and blemishes, which is not a great idea at all!
So, inculcate the habit of eating healthy – for life. This is not something that you will be able to reap the benefits of in a short period of time. But, if you haven't already, your wedding is a good place to start. Always adopt the ground rules of good health, such as no late nights, light dinners, fresh foods, regular check-ups, prompt medical care, drinking plenty of water, maintaining good digestion, avoiding junk/processed food, eating a balanced diet, and so on. Also, in your last-minute attempt to lose weight, avoid crash diets.
3. Give Some Movement to Your Body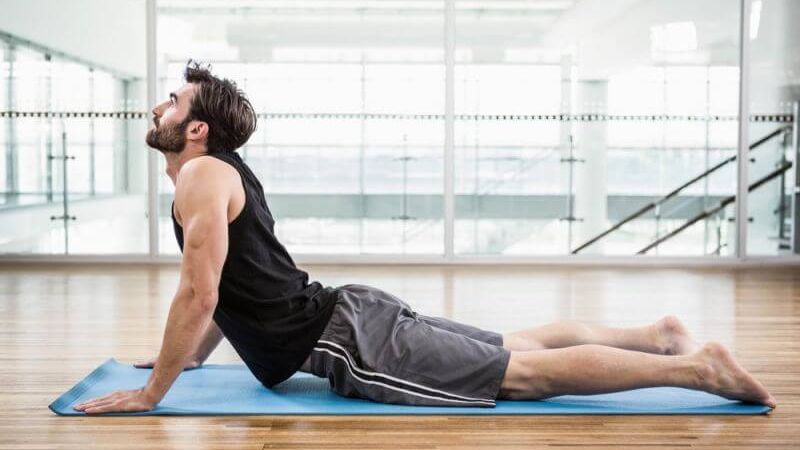 Exercise! Yes, exercise is also important when it comes to having healthy and flawless skin. Unquestionably, exercise is beneficial to our bodies, but did you know that it also has a positive effect on our skin? Exercise helps tremendously; it nourishes and maintains the vitality of skin cells by increasing blood flow. Blood transports oxygen and nutrients to all working cells in the body, including the skin. Blood flow, in addition to providing oxygen to our body, aids in the removal of waste products, such as free radicals.                                                       
You can perform or indulge yourself in any kind of exercise, such as Gym, Yoga, etc. Yoga is said to offer more significant benefits.
Related: Bridal Health Regime Before The Wedding
4. Do Yoga
Practicing Yogasanas on a daily basis can help you achieve clear, flawless skin. Yoga can help you keep your skin looking young for a long time. There are numerous yoga poses that can help you maintain flawless skin for a long time. If you want to look young, charming, and youthful all the time, incorporate Yoga, Pranayama, and meditation into your daily routine.
The Lion Pose (Simhasana), Standing Forward Bend Pose (Uttanasana), Warrior Pose (Virabhadrasana), Downward Facing Dog (Adho Mukha Svanasana), Plough Pose (Halasana), Yogic Bow Pose (Dhanurasana), and Corpse Pose (Savasana) can all be extremely beneficial. It only takes 15 minutes of your day to perform all of these poses, but the benefits are long-lasting.
5. Practice Pranayama and Meditation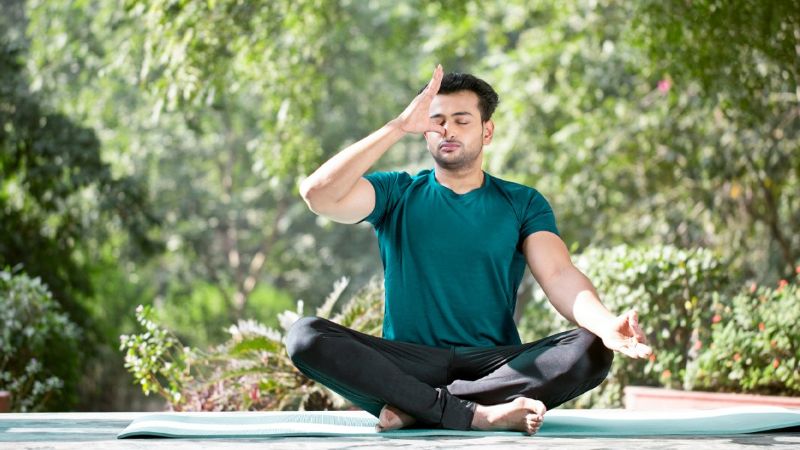 Believe it or not, 10 minutes of Pranayama and meditation can change your skin tome dramatically. There are many ways to achieve beautiful glowing skin, one of which is Pranayama and meditation. It imparts a natural glow to the skin and aids in the maintenance of a healthy skin texture. Yoga, when combined with Pranayama, has been shown to have a positive effect on the skin. Yoga can help you achieve clear skin and a warm natural glow, while Pranayamas and meditation can enhance the effects.
Pranayama is a fantastic breathing exercise for general health. It aids in the release of any anxiety and positively strengthens your energy. Pranayama is an excellent way to energize both the body and the mind at the same time. Pranayama also helps to clear any energy blockages. People practice Pranayama to calm their minds and regulate their life energy or prana and for glowing skin. Pranayama practice on a regular basis purifies the blood and increases the supply of oxygen, all of which contribute to beautiful skin.
Practice Kapalbhati Pranayama (The Skull Shining Breathing Exercise), Anulom Vilom Pranayama (Alternate Nostril Breathing), Bhastrika Pranayama (The Bellow's Breath), and Sheetali Pranayama (The Cooling Breath) for glowing skin. Also, don't miss meditating after Pranayama.
Scroll down to read the next wonderful pre wedding skincare for grooms…
6. Cleanse, Tone, & Moisturize
CTM may seem bride thing, but these days it is essential for grooms also to look their best at their wedding. Begin by determining your skin type. Is it sensitive, overly oily, or excessively dry? Each skin type necessitates a distinct set of products and a distinct regimen of care. CTM is what you should look for once you've determined your skin type. CTM is an acronym that stands for cleansing, toning, and moisturizing. Say if you have oily skin, you should use a mattifying toner to close your pores, and in the case, you have dry skin, don't miss using moisturizer. Also, you must wash your face twice a day, no matter what.
And yeah, don't forget to make sunscreen a part of your pre wedding skincare routine. It is essential to start this cleansing routine at least three months before your wedding to achieve a natural glow when it comes to pre-wedding skincare for grooms.
7. Manicure Can Cure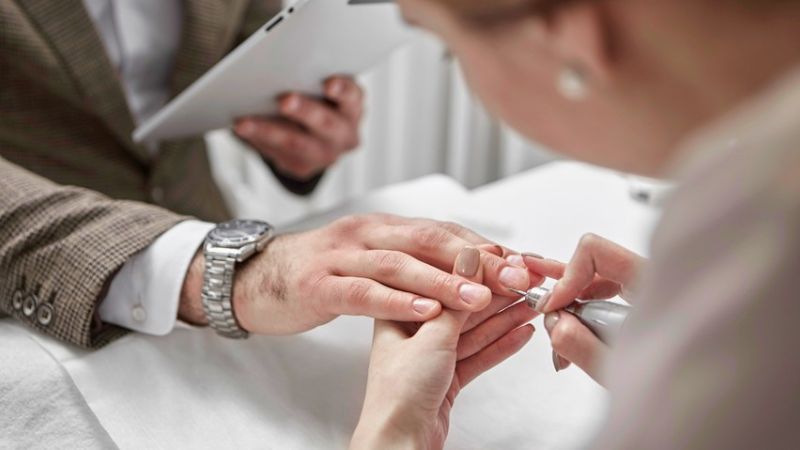 Wondering why?
Of course, to have neat and clean hands on the D day!
Yes, I'm very much talking about grooms only. Manicure is not just a bridal thing anymore. Even grooms need to have neat and clean hands to flaunt their wedding ring. Ragged cuticles and uneven nails may disenchant your bride-to-be. So don't put it off any longer; simply locate a reputable salon in your area and schedule a manicure. You should have it done at least twice or three times before your wedding.
8. Facials Can Add To The Glow
Who said facials are only for brides?
Long gone are those days when only brides used to get facials. Today, even grooms get facials, and for all the good reasons!
Of course, wedding planning is a very stressful task. Many a time, it takes a toll on your skin and mind. A good facial massage can help you have rejuvenating skin along with a relaxed mind. Make an appointment for a facial at least a week before your wedding! Instead of doing it yourself, go to a reputable salon. A facial will not only relax you, but it will also exfoliate dead skin, remove blackheads, and make your skin look radiant!
9. Get Your Hair & Beard Trimmed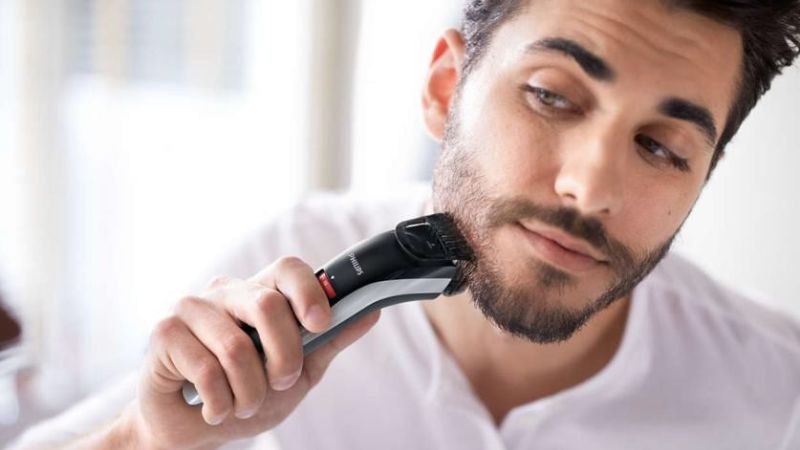 It is critical to plan ahead of time your haircut or style for your wedding. Of course, whether or not you want to wear a beard to the wedding is entirely up to you. However, you must decide on your final look well in advance. It's pointless to try and test your looks on the big day. It is recommended that you try it at least three months before your wedding. So, for your haircut and beard, go to a reputable salon. You can even consult with your hairstylist about your wedding look. They are professionals who can advise you on suitable fashion styles.
10. Don't Underestimate The Power Of Good Night Sleep
You will undeniably be pleased to learn that the girl of your dreams will soon become yours. You might have restless nights thinking about your future wife, and the time you'll spend with her. You may even want to spend your nights over the phone discussing your honeymoon and other plans with your future bride. All this is very natural, especially when your wedding is nearing. All of this is entirely natural, especially as your wedding approaches. But please accept my apologies for saying that it is not a good idea! Yes, you read that right: staying up late is not a good idea.
When it comes to pre-wedding skincare for grooms and brides, sleep is crucial. It is pointless to do all of the above if you are not getting a good night's sleep. A good night's sleep not only rejuvenates you but it also contributes to beautiful skin texture. After a good night's sleep, you feel refreshed and rejuvenated. So, take good rest before your special day and even before that to have that enchanting look at the wedding.
11. Happy-ness Can Extend Beyond Your Wedding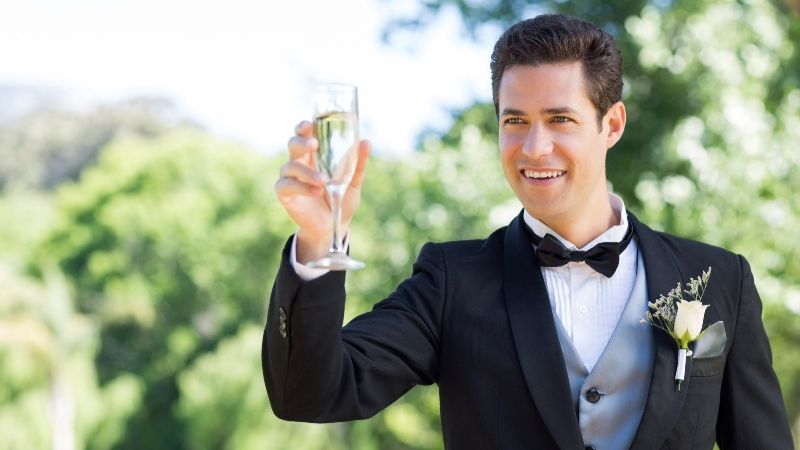 Finally, but inarguably, the most important aspect that extends beyond your wedding or the days leading up to it! Be happy today and every day! Believe it or not, happy people make excellent grooms for their weddings. So, instead of waiting to be happy, just be!
It's okay if some things aren't working out for you. It is OKAY that some people will not act in accordance with your wishes. It is not necessary to pay attention to everything. Simply be yourself, and be happy! It's your wedding, a once-in-a-lifetime event, so relax and don't stress about things you can't control! Remember that your skin's appearance is determined from within. Nothing will work out for you if you're not happy from the inside.
Wrapping it up…
So this is all about grooms' pre-wedding skincare. These tips should help you have great skin and look your best at your wedding. After you've done all of this:
Go ahead and put on that special wedding attire.
Look at yourself in the mirror with your head held high.
Close your eyes and give thanks.
Appreciate your best self!
Smile! You're all set to rock it!!
PS: For the best results, start this pre wedding skincare regimen at least six months prior to your wedding.
Happy Wedding… ☺ ☺