Much like the rest of the world, India is fast catching up to a post-pandemic era. 2023 has become a fresh start of sorts for businesses, governments and in this case weddings or rather wedding planners.
We've learned to wade through the ocean that is a combination of an economic crisis, the inability to travel much, getting accustomed to a remote work environment and what not!
But something not many people would argue about is the difficulty of planning a wedding, a Tamil one that too when faced with so many restrictions. You're probably in a tizzy just thinking about it.
Your worry ends here though. Although organizing a Tamil wedding in the current scenario is a difficult enough task, no one said that it was impossible. Instead of running around with little clue as to how to go about organizing your schedule, booking appointments, shopping and whatnot, the practical way to move forward would be to hire a wedding planner.
And if you're already ahead of us and have already begun making a list of all the possible people you should consider hiring, this list is sure to help you in your search.
Here's a look at some of the most important questions you should be asking your wedding planner in order to ensure you get your money's worth and a momentous wedding filled with fond memories.
1. Do you understand the tradition and culture surrounding Tamil Weddings?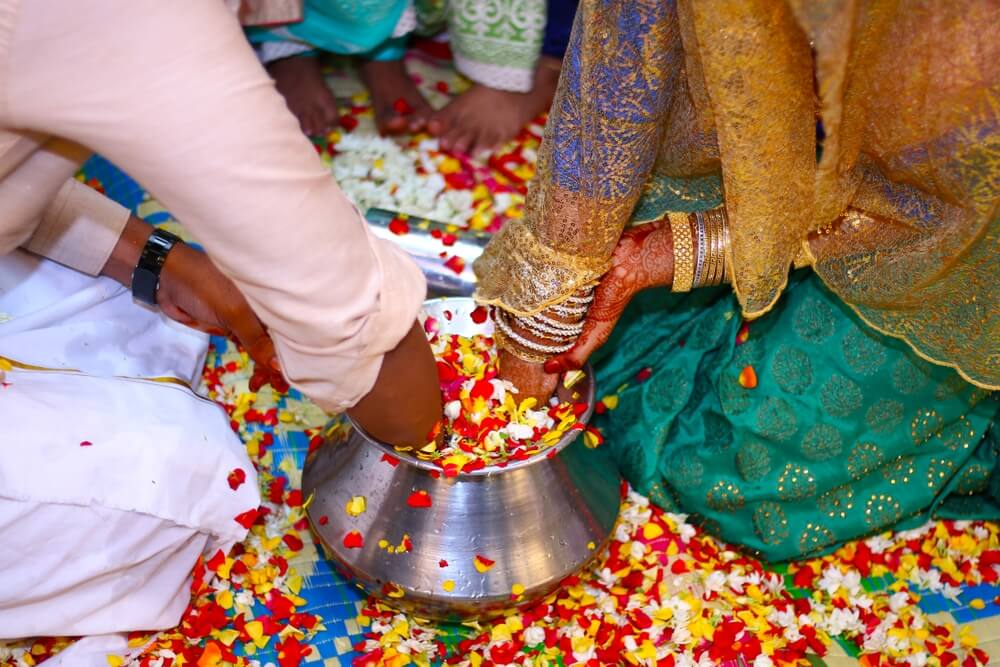 Image Source: https://eventfashion.net/event-planning/tamilnadu-event-planning/games-played-in-a-tamil-wedding/
Much like Indian weddings happening in any other state, Tamil weddings come with their unique set of rituals, much-avowed customs and tradition that has literally stood the test of time. Some of the rituals performed in Tamil weddings have been around for a few thousand years at least.
Taking all this into consideration you would have to think about how well you can assimilate all of all the pre-wedding, wedding and post-wedding rituals. Things would work best if you hire someone who has knowledge of said rituals in order to let everything run smoothly and to your liking.
2. What are our options with regards to the venue?
This question would vary and depend on whether you wish to have a destination wedding (in Tamil Nadu or someplace else). Would you rather have one at a wedding venue, a resort of some sort, or at a temple?
The best thing you can do if you're still undecided about the venue would be to ask the wedding planner what your options could be. If she or he is capable of handling a wedding with the current scenario, there are a hundred ways of going about it.
Yes, you may be eager to have the wedding of your dreams but do keep in mind that the ceremony falls within the boundaries of the state guidelines for the lockdown.
3. What can you do for us that is different?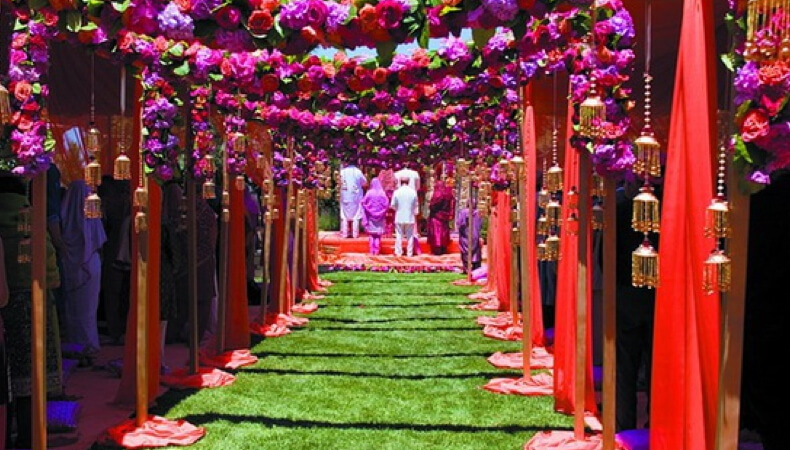 Image: Source
Just because your wedding happens to be in the middle of a pandemic, it doesn't necessarily mean that you have to stick to the ordinary way of doing things. Nor do you have to cut down to such an extent that your wedding ends up looking like the ten others before you.
Should you wish it, you don't have to resort to repetitive themes and use the same decor/props (of weddings gone by).
4. Can you accommodate what we have in mind within so and so budget?
Whether you want to keep it simple or do something that is utterly grand, letting your wedding planner know whether your ideas are possible within the budget that you have in mind would clear a hundred other questions that might arise later on.
Also, another thing you can do is quote a budget that is slightly lower than what you have in mind because sometimes you might end up having to make up for extra costs that could only accumulate along the way.
5. How many Tamil weddings have you planned?
At the end of the day, all that matters is that you're stress-free and don't end up fixing, organizing and planning micro and macro details of your wedding just because your wedding planner wasn't experienced enough.
It is important to know how well-equipped your wedding planner is with the nitty-gritty of Tamil weddings. Whether it is to do with the decoration, the venue, the outfits of the bride and groom, the make-up, the rituals, the pujas and whatnot, you don't want to end up having to do it all.
Must Check: How Wedding Planners Charge?
Wrapping up
As evidenced by the questions framed above, it is crucial to know a number of details without which you cannot have a well-planned, organized wedding that takes place without a hitch. But with these questions, you will definitely have a schedule, a calendar of sorts and a basic plan in place.
If you're just passing through or if you're someone who is eager to start this aspect of your life's journey, we've got just the thing for you. Head to our Tamil matrimony app so that you can begin looking for the one with whom you would someday wish to spend your life.