Many grooms with their friends prefer to go to some fancy club for their bachelor's party. I don't believe that its a perfect idea to celebrate the big night before the wedding. You gotta do something great something unique to celebrate your big night. Trust you me, there are many different ways the groom with his best friends can celebrate his "last night of freedom."
Of course, a bachelor party should be special; the way the groom actually wants it to be—after all it's his party! Yeah, your buddy is getting hitched. It's absolutely on you to throw the greatest bachelor party of all time for him. BACHELOR PARTY IS YOUR MOMENT, LAST NIGHT OF FREEDOM FOR THE GROOM (pun intended☺ ☺). This is the only point where the best man can show what show-stopping, party-rocking skills he possess. Think of something that the groom will enjoy and remember, not what you or your other friends want. Just plan a bachelor party keeping the groom's choice, preferences, and requirements in mind, without having to do anything dumb/illegal/injurious.
Well, before starting the topic, would you want to know where the idea of Bachelor Party came or originated from. I think you would want to know. Alright! Here we go…
THE ROOTS FROM WHERE BACHELOR PARTY CAME
Bachelor parties are basically from the 5th century. Back in the 5th century, Spartan soldiers used to celebrate the groom's last night as a single man with dinner in his honor and used to make toasts on his behalf. It used to be very different from today's typical celebration.
Back in 1922 the term "bachelor party" didn't even exist. In fact, "jolly old" party was the term first used to describe it in the Scottish publication Chamber's Journal of Literature, Science and Arts. In fact, it is known with a wide range of names, which vary from country to country, for instance if you are partying in the U.K., Canada and Ireland you will call it a stag party. Whereas, in Australia people call it as a buck's party.
More often than not, bachelor parties used to involve a black-tie dinner hosted by the father of the groom with toasts to the groom and bride!
Well, now moving on to the topic… Here are some of the best tips for celebrating a wonderful bachelor party.
TIPS TO PLAN BACHELOR PARTY
What kind of person GROOM is?
Yes, before planning a bachelor party for the groom, it is crucial to know the kind of person he is. You need to know his liking and accordingly you can prepare for the bachelor party.
What is the budget that you have for the bachelor party?
The budget of the bachelor party will help you have the party accordingly. Say if the budget is low, surely you would want to plan the party in the town, but if there is no constraint you can even plan a party outside town. I mean destination bachelor party to your groom's favorite place.
How about having a destination bachelor party?
Yeah, what's better than going literally to a new and exciting destination! Like destination weddings, destination bachelor parties are also trending. Groom with his best pals love to go to some faraway land to enjoy his bachelorhood. And why not, after all it's his moment, it needs to be special anyway. You can plan to go anywhere for the bachelor party. All you have to see is the pricing and of course the arrangements. But before that you need to know the answers for the following questions:
Is he a nature lover or a beach person?
Is he an adventure lover or would love to stay in the hotel?
What kind of adventure he would love to go hiking or snorkeling?
Likewise, there will be some question which will come, and you will need to find out the answer for them. Also, you can take references from all other friends about some of their favorite places for some ideas and then accordingly line up your top destination with the groom. You can also use the latest apps to do all the bookings and get the best deals. There are many such apps and online platforms like Airbnb, MakeMyTrip, TripAdvisor etc. where you can find out the best places to celebrate the bachelor party. Well, however you want to celebrate it, make sure it is worth remembering!! Here is a list of the best ideas for your bachelor party, just in case if you need any inspiration.
IDEAS TO HAVE THE BEST & UNIQUE CELEBRATION ON BACHELOR PARTY
1. Going on a Road Trip for the bachelor party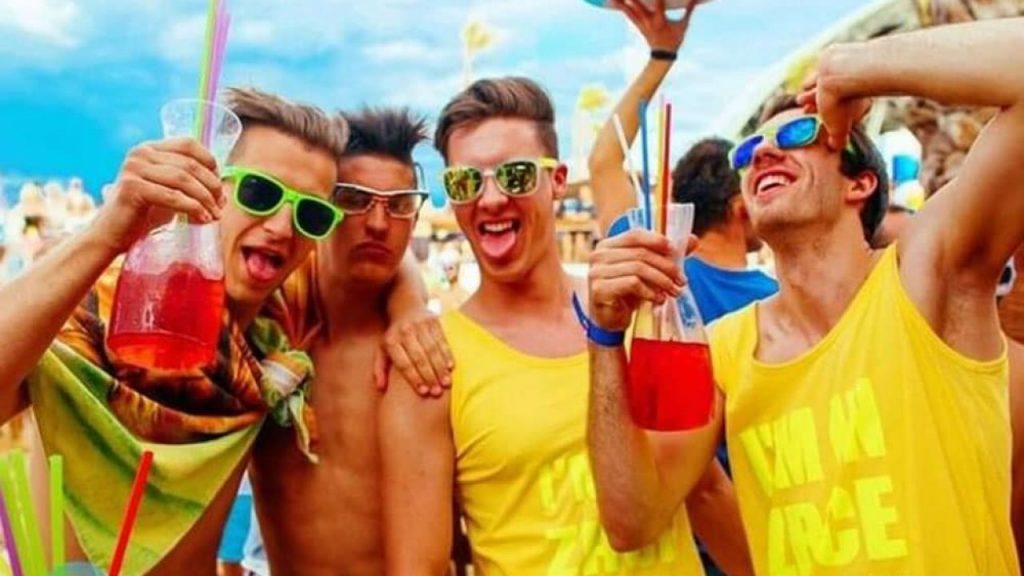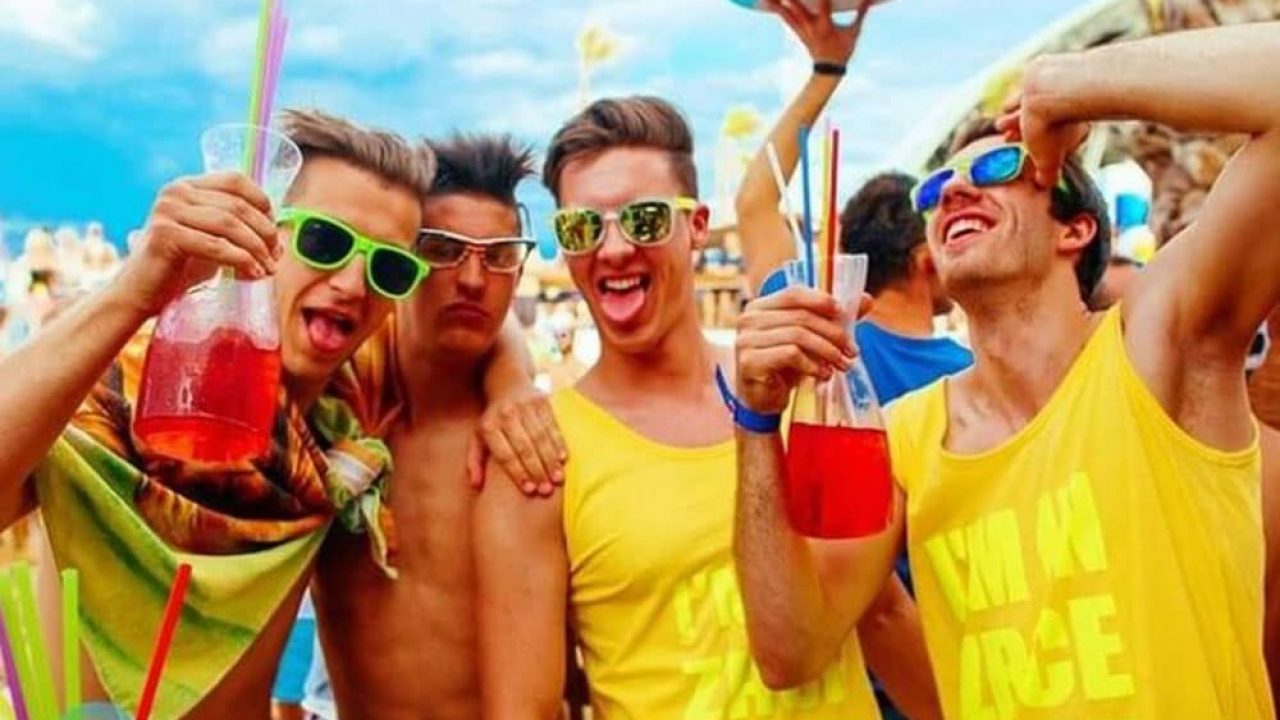 This is absolutely boys' thing you know. If the groom is also fond of having some fun time with his friends on the road, then definitely this is it for the party. All you need to do is gather all the boys and just hit the open road! But if you plan a road trip with some good destination in mind or the place where your groom would love to go, will make the whole trip memorable. Also, don't miss to stop along the way. A road trip will give you all the chance to relive all your old memories and have an amazing time together. Just visit all kinds of new places, and create some fantastic memories, which you can hold onto forever.
Road trips are always considered best options for having an amazing time, one can do a lot over a road trip, especially when you set off for some unknown destination. But if it is going to be a planned road trip to a particular destination, then just log on to an online app enter the route you plan to take, and know about the various stops and hotels along the way!! You can even know the estimated fuel cost with the help of these apps.
Also Read: 30+ Best Bachelor Party Destinations in the World
2. How about celebrating bachelor party in the Casino
If road trip is not in the cards due to any reason, another best idea of celebrating bachelor party is celebrating it in the casino. We all know Casinos are the places where one can have all the fun. Everything is available there, if you guys want to try your hand in some betting then that's also there. Groom and all his friends will have a wonderful time there at the Casino. To make it more special, you can plan a riverboat casino, it will be an amazing experience for all of you!!
3. A night out with all the besties on bachelor party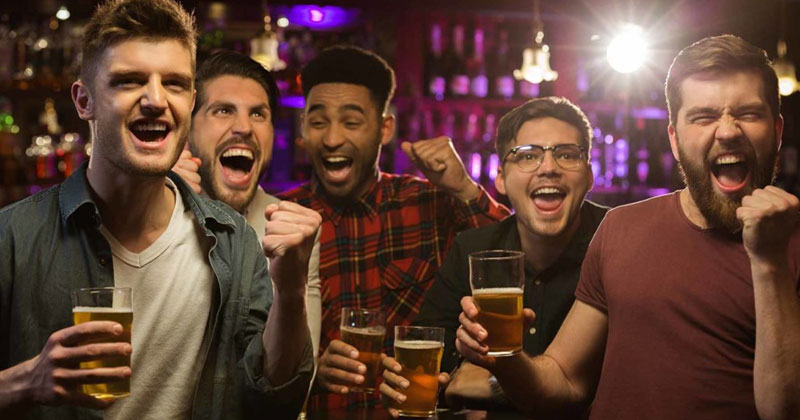 Going on a night out may seem a little orthodox for celebrating the bachelor party. But believe you me, if you will plan it beautifully, you will be able to have a rocking party. Just take a party bus, go for dinner, take your groom to his favorite place, and have a room reserved at some hotel or resort. Enjoy drinks, talks, each other's company and the night before the wedding. This is going to be an amazing time which you all will spend together. If you all are childhood friends then you can relive all your old memories by exploring all the places where you all used to go often.
4. How about having a Beachy Bachelor Party
Yes, beaches are for all the beach lovers!! If you think groom also loves beaches and his honeymoon plans are different then hit his favorite beach. He will love it!! Also, you don't need to rent a hotel to stay at, simply rent a beach house, it will be relatively cheaper than booking a hotel. That way, you will have some nearby place to enjoy, booze, and to crash after a long day in the sun.
5. DIY a whiskey tasting on bachelor party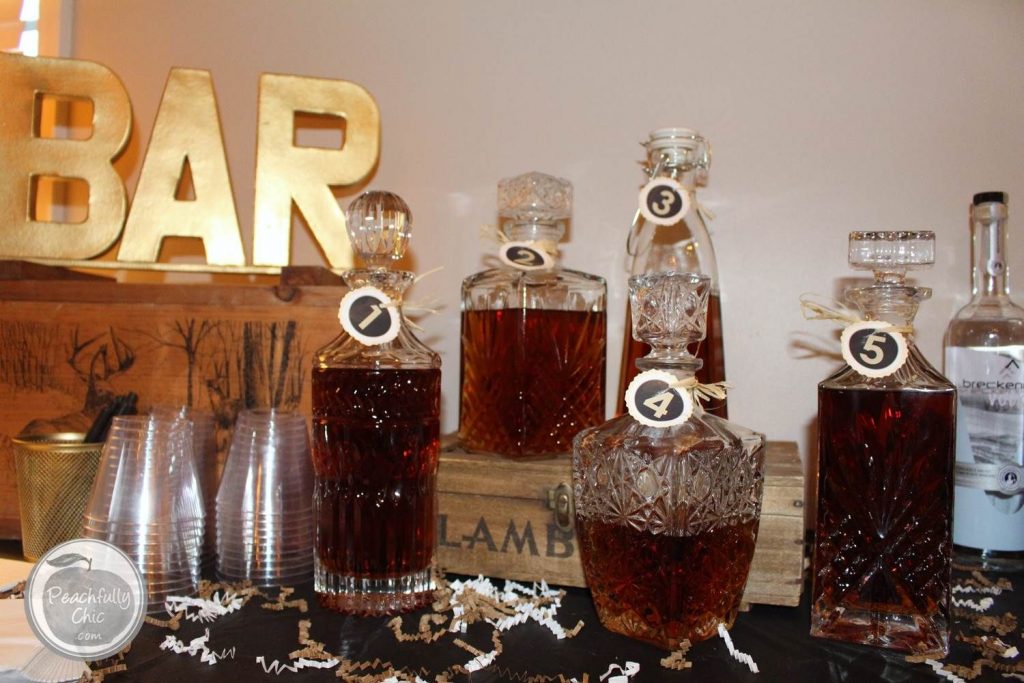 Well, the best man will have to see everything. For making is a budget friendly bachelor party, best man can even organize a whiskey tasting party at home or nearby location. You can do it in your own house or maybe in some other friend's house, just see no one is around. Invite all your friends to your place and organize everything. However, the quantity of whiskey you need will depend on the size of your party. Basically there is an equation to simplify your calculation, based on that you can plan how much wine you will need:
Number of guests at the party x 1.5 = Total number of bottles needed (Round up to the nearest even number).
Now, divide the total by two, so that you can get the number of different whiskeys to try, and purchase two bottles of each whiskey accordingly.
For instance, your whiskey tasting party will have eight guests: 8 guests x 1.5 = 12. If you have planned to buy six varieties of whiskey then you will need two bottles each whiskey, it means the total number of bottle needed will be 12. Also, arrange for the eateries according to your members at the party. For giving it a little pompous you can even arrange for a good music and arrange the bottles in a decorative way, which the groom will like.
6. Whiskey tasting in a more classy way
Well, if DIY is not your thing and you want to go for more classy arrangements, then arrange a private whiskey tasting bachelor party at some bar or hotel. Whiskey tasting is not only relaxing, but it is also a more cultured and classy way of celebrating the biggest night. If your groom loves the idea, then nothing could be better than this. It is absolutely perfect to celebrate the last day of bachelorhood!! There are many bars in bigger cities who book such type of event.
7. Go for Camping to celebrate bachelor party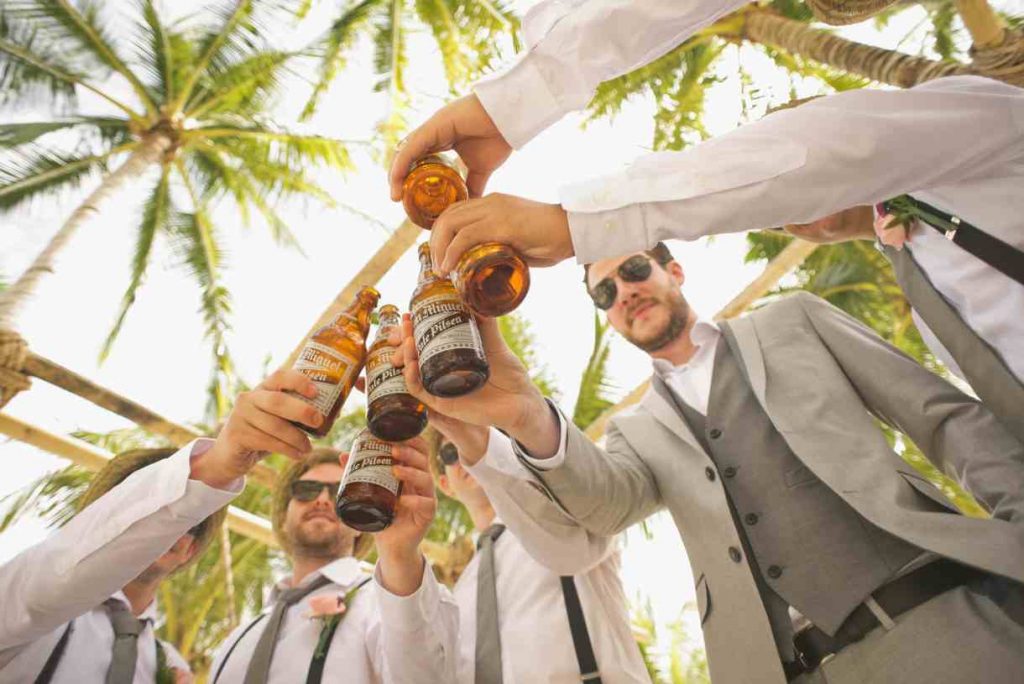 This is one of its kind bachelor party ideas. If the groom is more of an outdoor person, then go for camping. Camping will the perfect way to rejuvenate a little and have the best time with the besties. And this is not going to take troll over your pocket. All you have to do is arrange for the camping tents, campfire, booze, snacks, and some music. If you have somebody who plays guitar or love to sing then what else you would want to make your bachelor camping night perfect. Camping is the perfect way to have some relaxing time after those stressful months of wedding planning journey.
Moreover, if time is not a constraint and your groom and groomsmen are also adventurous, then consider spending the entire weekend out in the woods. You can even arrange for some rafts, fishing supplies, or hiking equipment and really enjoy the bachelor party to the fullest.
8. Go on mountains to celebrate bachelor party in an adventurous way
If beach or road trips are not your way, then why not to hit mountains? Mountains are really accommodating, and are always full of adventure activities. Perfect for people who love nature from core. Just check out for some mountain resorts, especially the ones which accommodate bachelor parties. More often than not, these mountain resorts offer great dining, entertainment, and adventure activities such as skiing, canoeing, canyoning, caving, climbing, hiking, hill walking, hunting, kayaking, rafting, water sports, snow sports, and horseback riding. You will surely have a great time there.
9. Go golfing for the bachelor party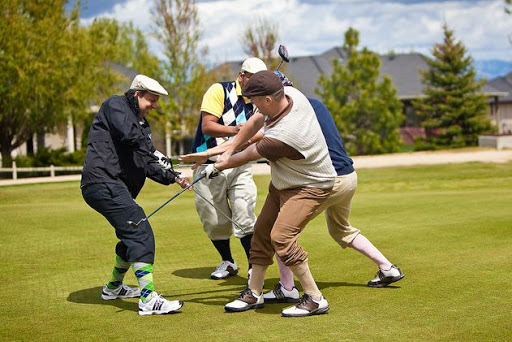 Gold is a classy game, game of high-class people. If the golfing is the game of the groom, if he is a fan of it, then nothing could be better than this game to celebrate the bachelor party. You can plan a full day party, as, many golf destinations are very much located close to resorts, nightlife, restaurants, and hotels. All you have to see is the playing level of everyone in the party and select a game that's going to be fun for all. And if some of your friends are not into golf, then no worries!! They can enjoy spending time with friends along with a few drinks.
10. Take a paintball challenge in your bachelor party!
Yeah! You heard me right, paintball challenges are gaining popularity amongst people. Also, there are many paintball facilities who offer bachelor party packages as they are becoming common amongst people. The best part of paintball is – it is an inexpensive way of partying and having a lot of fun with your friends. Just check out a paintball park nearby and get going! It is going to be an amazing way of celebrating bachelor party!! You all, especially the groom will be able to release all the stress of all those months, which he spent in wedding planning.
11. Go sporty for your bachelor party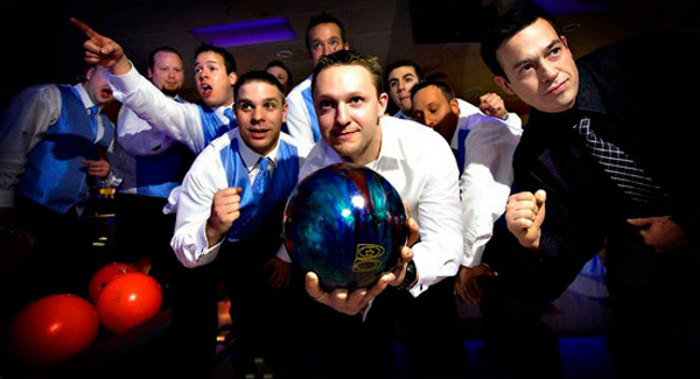 For all the sports fans out there, this one is going to be a perfect way of celebrating a bachelor party. There are a lot of options available for sporty people, who want to celebrate their bachelor party in a unique way. For having a sporty celebration you can hit some sport club. There are many sport clubs in big cities who offer almost all kind of games from indoors to outdoors. Or else if you want to go for some extreme sports like skydiving, paragliding, snorkeling, or river rafting, the plan that way. And to add an extra flavor to the party, arrange for boozing and sumptuous dinner. Well, most of the clubs even arrange for all this. You just need to inform your requirements to them.
12. Club your bachelor party with the bride's bachelorette party
Does this idea looks great to you? I am sure it does! Not only groom, but also the groomsmen and the best man would want to spend some time with the girls' party. Clubbing bachelor party with the bachelorette party is a great way to have a wonderful celebration with your besties.
This is going to be a really great idea!! Just check with the maid of honor and see if both the bride and groom are ready to have celebration together. All you have to do is to coordinate with the maid of honor and accordingly plan the combined bachelor party where all groomsmen and bridesmaids will be present. Even the boys' gang will have a wonderful reason and opportunity to bond with the bridesmaid.
Wrapping up……
Whether you want to go by the list above or have something different in your mind for the bachelor party, the idea is to have it the best way! Bachelor party should be killing and should be a mega celebration, which everyone could hold on to their lives. All in all, you just have to have a blasting celebration, and create wonderful memories of the day for the lifetime.
You can read our interesting article on Tips and Ideas for Bridal Bachelorette Party here
Party Hard….. Enjoy to the fullest…. Happy partying ☺ ☺