Shopping for a wedding band is one of the most exciting parts of the wedding planning process. This is where you can browse beautiful and luxurious rings that are perfect for you.
However, although the process is fun, it can also be quite overwhelming for some couples. Finding the right wedding band is not the same as buying other pieces of jewelry. For one, the pressure to make the right choice is heavier since you'll be wearing it every day for the rest of your life once you tie the knot with your partner.
So, to help you find the right wedding band and have a good shopping experience, below are some tips you can follow to ensure that you make the right decision.
1. Set A Budget
Before you start shopping for wedding rings, you should first think about your budget. Whether your budget is big, small, or somewhere in between, it's recommended that you set it early.
Having a hard limit on how much you can spend can help ensure that you won't go overboard and assist you in narrowing down your options.
Although there's no definite amount you must spend on wedding bands, it's best if you can factor in your wants and your personal finances. By doing so, you and your fiancé will be able to set a budget both of you are happy and comfortable with.
2. Narrow Down Your Choices
Because this is one of the jewelry pieces that you'll be wearing regularly, it's best if you can narrow down your choices early on before starting the search.
You should ask yourself a couple of questions such as:
Do you want the rings to be made from the same metal as your engagement rings?
Do you want it to be simple, stylish, or more unique?
Would you like it to have some diamonds?
Try to answer these questions early on so you can figure out what you're looking for before you start shopping. Also, it's a good idea to narrow down your choices early on.
Don't be like most couples who wait until the last minute to buy their wedding bands, which is a bad idea. If you want to have a ring that you'll have for a lifetime, you begin your search three to four months before your wedding. This is especially true if you're interested in customized wedding bands.
3. Think About Your Lifestyle
Many couples choose to wear their wedding bands daily. If you think that you're going to follow suit, then you must take into account your lifestyle when choosing the right ring.
If you like to go on outdoor trips, go to the gym regularly, or are always at work, you may want to opt for a durable wedding band that can withstand wear and tear.
You also have to keep in mind the maintenance of your jewelry. Note that the more intricate a piece of jewelry is, the more time and care you have to put into keeping it in good condition. But if you're not a big fan of extra upkeep, you may want to choose a platinum or gold ring which never fails to look good while being durable at the same time.
Also see: How to Keep Wedding and Engagement Rings Together
You want your wedding bands to be part of your daily life seamlessly and not something that you should be constantly worried about. So, be sure to think about the comfortability and practicability of the rings you're going to buy.
4. Make Sure That It Has The Perfect Size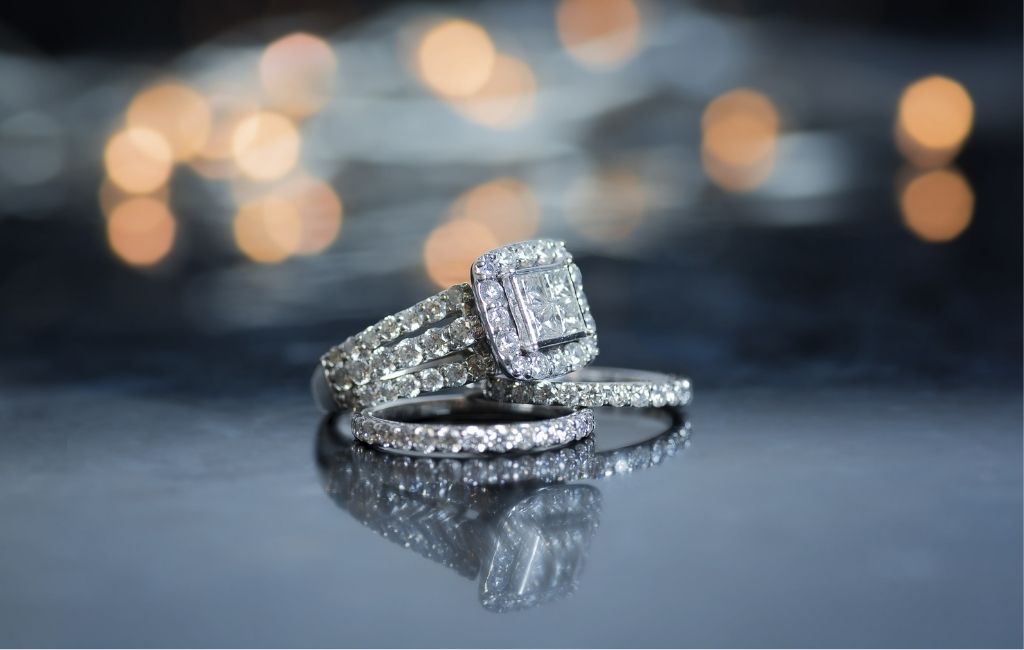 Of course, the wedding band must have the right size. But what you want to make sure of is that it fits perfectly on your finger. It's acceptable for other rings to be slightly big or little as you can just put them on another finger. But the wedding band must be only worn on your ring finger so it must be the perfect size.
To ensure that you get the perfect size when shopping, you should head to a jewelry shop together with your partner and ask them to measure the size of your ring fingers. Any shop can do this for free and only takes a couple of minutes of your time. With their extensive knowledge and experience, they can quickly suggest a ring size for you just by looking at your fingers.
You can also measure the size of your ring fingers on your own at home. Just remember though that your fingers can swell and contract due to heat, cold, etc., so make sure that you do the measurement when you're calm and your body temperature is normal. Wrap a string or paper around the base of your ring finger. Then use a pen to where the ends meet. After that, use a ruler to measure the string or paper.
Be sure to save the measurement on your phone so you can always remember it when you go shopping!
5. Match With Your Engagement Ring
This is rather optional but you can always try to match the wedding bands with your engagement ring. Wedding planners know how hard it can be to put a successful wedding so they want to help couples to find the perfect bands that match their engagement rings. Jewelry stores have started offering this type of service to couples, too.
You can visit a jewelry shop – it's better if you can go to the store where you purchased the engagement ring. You can ask them if they have matching bands in stock. You even have the option to customize the matching bands to suit your preferences. For instance, if the matching bands don't have diamonds, you can ask them to design the bands, so they, too, will have diamonds.
Final Thoughts
There are plenty of decisions to make once you decide to tie the knot with your partner. Planning for the wedding is already stressful enough, even without the process of finding the right wedding bands. Hopefully, these tips can help ease that process. Lastly, once you find one that you can't stop looking at, then you know that you've found the right one!