Flower jewelry is a classy and elegant way to express your love. Whether it be a gift for your significant other or a special day just because flowers are the perfect way to show your affection. With flowers being such a powerful symbol of love, it makes perfect sense to incorporate them into our daily lives through floral jewelry.
Flowers are a great way to show your love and appreciation, whether it is a new love or someone you have been with for years.
Nowadays, a lot of people consider flowers as the ultimate romantic gesture. If you've been looking for different flower jewelry ideas, you should check out the six types of jewelry. It will not only bring a lot of joy to your partner but also give you an excellent reason to start your love life.
So, let's dive in!
1. Rose Flower Jewelry
Rose is the symbol of love, courage, beauty and romance. It is one of the perfect gifts that you can give to your loved one. In today's fashionable era, rose jewelry is one of the most popular types of flower jewelry because it can be worn with just about anything. You can pair it with jeans and a t-shirt, or dress up in business casual attire and wear it with your slacks and shirt. It's also a great gift idea for birthdays and Valentine's Day! Rose jewelry is made from lovely flowers, and women love to wear them at weddings, birthday parties, and other special occasions.
2. Jasmine Flower Jewelry
Jasmine Flower jewelry is a great way to show your loved ones how much you care. Whether you're planning an anniversary or just want to surprise them with a gift they'll love, you must buy this jewelry. The Jasmine flower is a symbol of love, purity and beauty. You can see a lot of different types of Jasmine flower jewelry like Jasmine flower bracelets, Jasmine Flower necklaces, Jasmine Flower Rings and many more. It is a perfect gift for your loved one.
3. Plumeria Flower Jewelry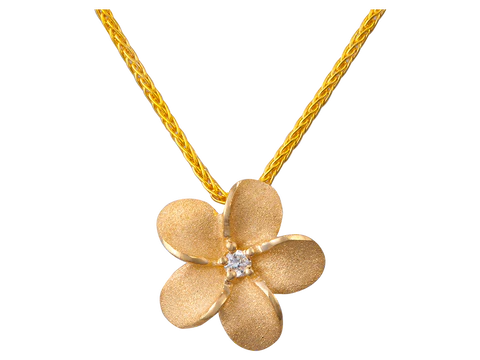 The Plumeria Flower symbolizes purity, health and beauty. Jewelry should be fun and functional, and it should make your loved one happy when she looks at it and makes her feel good about herself when she wears it. It is an ideal gift for your loved one, and if you're going to spend money on something, then it should be something that makes your loved one feel about the purity of your love. The color of the Plumeria Flower is beautiful and appealing. Additionally, the plumeria Jewelry will brighten up any kind of outfit your woman!
4. Orchids Flower Jewelry
Orchid flowers symbolize refinement, love, mature charm, thoughtfulness, and beauty. The orchid flower jewelry looks so elegant on women of all ages, sizes and colors. Nowadays, orchid flower jewelry is very popular among women, and you can gift it to your partner.
If you are looking for a gift for that special someone in your life, orchid flower jewelry is all you need. Orchid flower jewelry is versatile enough, and your women can wear it with almost any outfit! Your loved one could pair the orchid flower jewelry with jeans and a t-shirt, dress up in business casual attire, and also wear it with ethnic outfits.
Related Post: Tips For Choosing Your Bridal Jewelry
5. Lotus Flower Jewelry
Lotus flowers are charming as well as lovely. It is believed that jewelry should be enjoyable and valuable. It will make someone smile when she looks at it and walks with confidence when she wears it. The lotus flower is a symbol of purity. If you're going to spend money on jewelry, it should be both aesthetically pleasing and convey something about your love for your partner. That is exactly what Lotus Flower Jewelry does; it is striking, brilliant, and dazzling and looks fantastic on your woman.
6. Hibiscus Flower Jewelry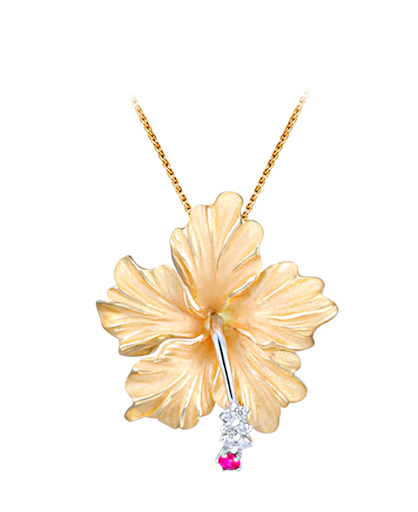 Hibiscus Flower is a symbol of good luck, vitality, and sunshine. You can gift hibiscus flower jewelry to your loved one as a good luck charm. Your loved one will look so beautiful by wearing this type of flower jewelry.
Jewelry made from hibiscus is growing in popularity. Hibiscus jewelry can be worn every day or on special occasions, and it will give your loved one a stylish appearance. Additionally, it is considerably less expensive than silver and gold goods, making it the ideal present.
To Wrap Up
When it comes to flower jewelry, it's not just about the look. It's also about the meaning behind them. You can choose from a variety of flower jewelry for the love of your life. You can even surprise her with one on an ordinary day as a token of your affection. Whether your loved one is wearing a plain white t-shirt or something a little more stylish, these flower jewelry pieces will match any outfit!