One of the most enjoyable aspects of wedding planning is selecting the right wedding bouquet. There are so many beautiful styles that choosing your favorites can be difficult. To get you started, we have rolled out the 15 most popular wedding bouquet ideas.
Here we go….
1. Posy Bouquet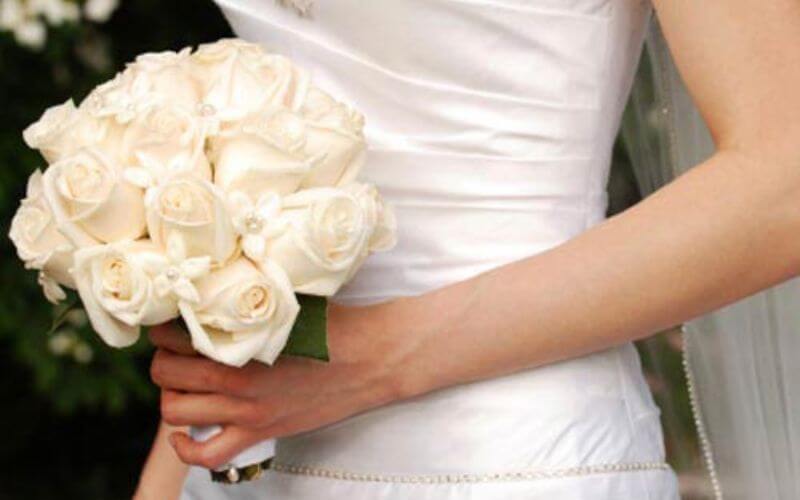 A posy bouquet is one of the popular choices for brides. As the name says, it is a small, round flower arrangement grouped in an unstructured way and tied, usually with a ribbon. Many brides prefer to carry just three or four of the same long-stemmed flowers, such as White lily-of-the-valley blossoms, which are available in May, are the most classic of all blossoms.
Tie a small posy with a wide sage green satin ribbon to make a divine little bouquet to wear with a lace gown. White peonies, sweet peas, hyacinths, ranunculus, and tulips are among the other springtime favorites. White Casablanca lilies are also an excellent choice for a dramatic bouquet.
2. Hand-tied Bouquet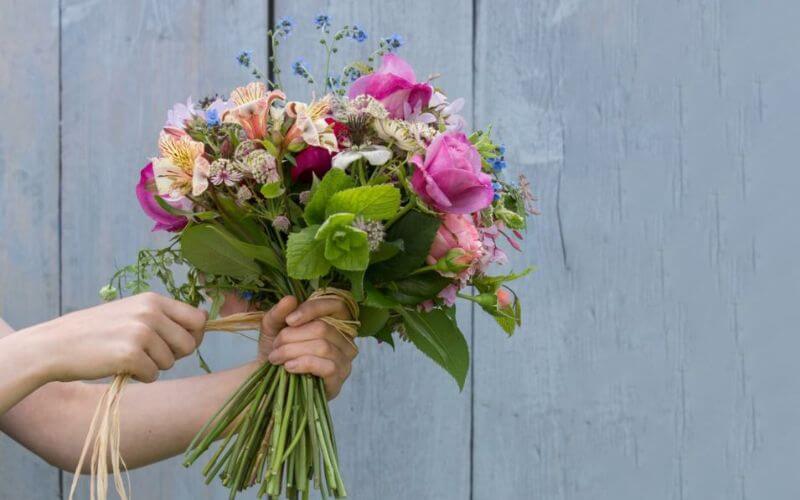 As the name suggests, Hand-tied Bouquets are a bunch of flowers tied together using a ribbon, string, wire, or a piece of fabric. More often than not, these bouquets are unstructured floral arrangements, giving them a perfectly rustic and bohemian look.
These minimalist bouquets are known for their casual appearance, which stems from the loose and slightly haphazard floral arrangement. You can easily DIY this bouquet, as it's very easy to make. All you need to do is gather a variety of flowers and tie them together – and you have your stylish wedding bouquet ready for the day!
3. Button Bouquet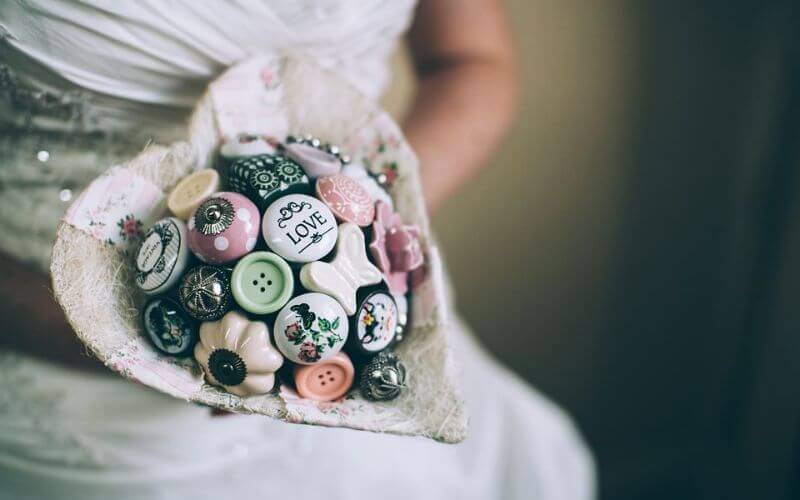 The button bouquet consists of 40 button stems, many of which are topped with stunning clear vintage glass buttons. You can create a button bouquet of your choice that complements your wedding theme. For instance, you can have all whites have a white-inspired button bouquet for your wedding. Or, if you want, you can use colorful button stems for a dramatic bouquet. This style looks classy and vibrant. These are the perfect choice for DIY enthusiasts because all you need is different kinds of button stems to create such a stunning bouquet. You can also buy button bouquets online.
4. Nosegay Bouquet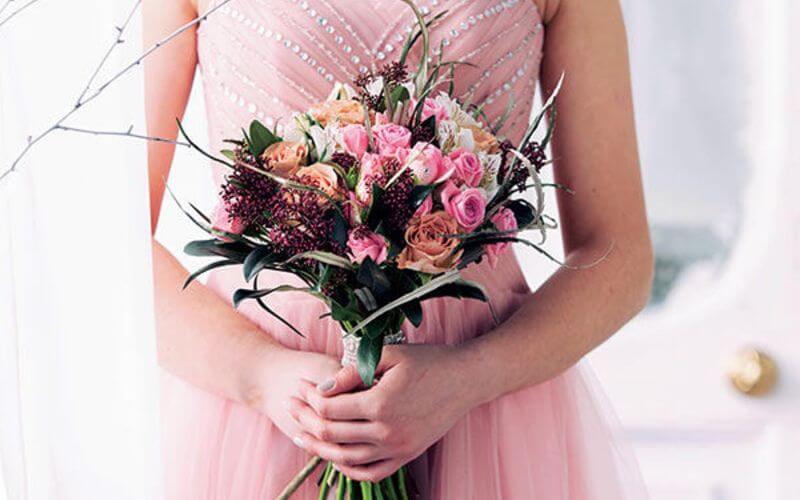 One of the most popular styles of wedding bouquets is the nosegay bouquet. A nosegay is a more structured bouquet made up of a small, tightly packed group of flowers that are all cut to the same length. The stems are tightly wrapped in ribbon or lace, and a stiff backing often supports the bouquet to give it shape. The term nosegay originated in fifteenth-century Middle English as a combination of the words nose and gay (the latter then meaning "ornament"). As a result, a nosegay is an ornament that appeals to the nose or nostrils.
RELATED: 11 Best Wedding Cake Alternative Ideas For The Couple
Traditionally, a nosegay bouquet contains only one type or color of the flower, though modern bouquets may deviate from this rule. A nosegay bouquet is distinguished by the presence of a large focal flower that draws attention to the floral arrangement. They look best when formed from a variety of flowers, such as daisies, roses, irises, and carnations with complementary tones. Nosegay bouquets are similar to posy bouquets in appearance, but nosegays emphasize greens. Greens are added around the contour of the flower cluster creating a beautiful border.
5. Biedermeier bouquet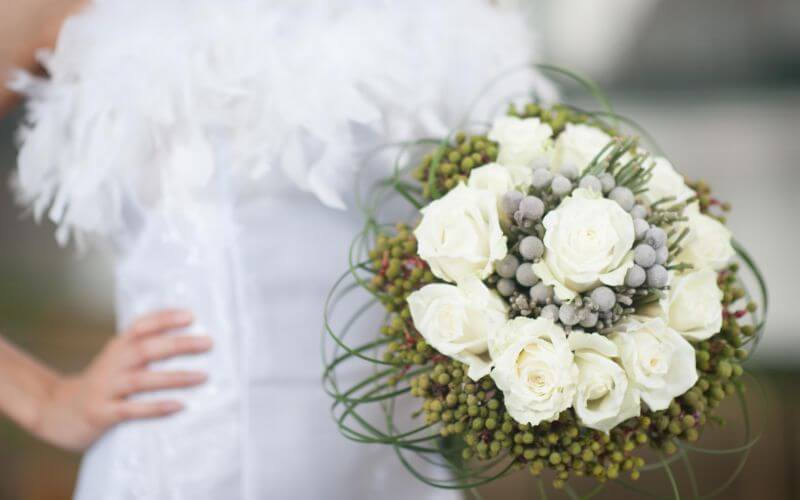 The Biedermeier bouquet is ideal for the bride who strives for perfection on her wedding day. It is named after a German-style of interior design and is structured similarly to a nosegay. It was created in Germany in the first half of the nineteenth century, during a period of relative prosperity and the rise of the middle class. A Biedermeier floral design is typically round or conical in shape, with concentric patterns in circles or spirals.
It is made up of various types of flowers that are arranged in such a way that they form rings of multiple colors. You can customize the Biedermeier bouquet to any size based on your preferences and tastes. You can get a simple two-layered bouquet made or as many as eight or ten floral rings forming a magnificent Biedermeier bouquet for the wedding ceremony. The Biedermeier bouquet looks best when created with orchids, roses, dahlias, and tulips bordered by vibrant green foliage or textured leaves and ferns.
6. Pomander bouquet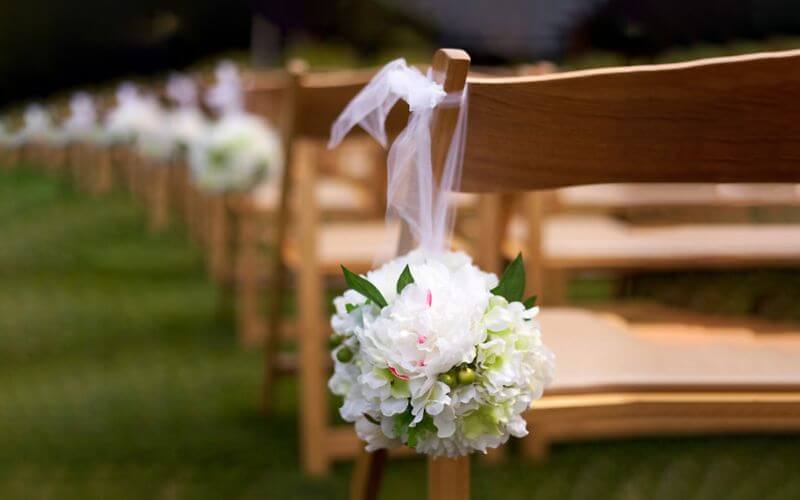 Pomander bouquets, also known as kissing balls, are a bit offbeat choice for a bridal bouquet. However, they appear romantic and youthful on a bride. Often Pomander bouquets are used for bridesmaids or flower girls.
They have a ribbon handle or a string so that the bride can carry it like a handbag. Gems and jewels are frequently used as an embellishment on or around the blooms in pomander bouquets. Pomanders are commonly made with gerbera daisies, carnations, roses, anemones, and sunflowers.
7. Cascade Bouquet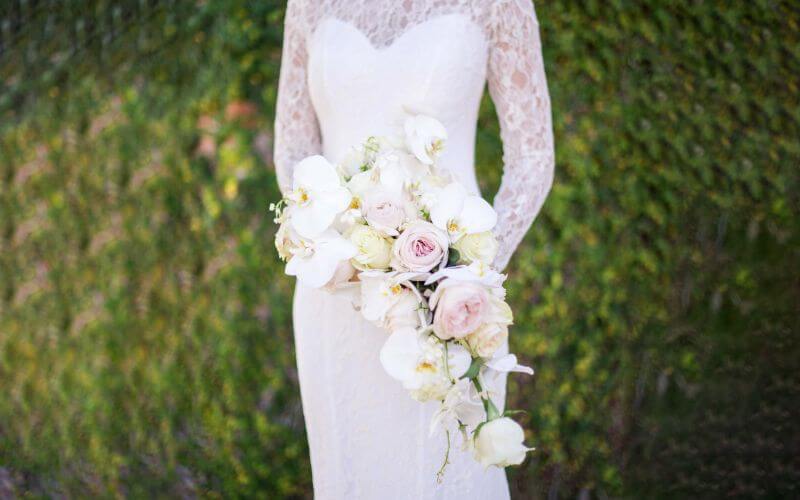 The cascade bouquet, also known as waterfall bouquet, is a very traditional and elegant form of a bouquet. The flowers are arranged to appear to flow over the bride's hands and tapers near the bottom. At the wedding of Lady Diana Spencer and the Prince of Wales at Westminster Abbey in the 1980s, it became popular as the arrangement of choice. This bouquet can be very large, but the smaller modern versions are often referred to as teardrop or trail bouquets. They have a beautiful mix of flowers, long trailing vines, and draping leaves, making a stunning floral arrangement that appears like a "waterfall" of flowers. They make a perfect choice for high-end destination wedding ceremonies or themed wedding parties.
Related: 7 Best Ways to Add Flowers to Your Wedding Cake
It is a perfect choice for brides looking for ways to make a strong style statement at their wedding. Their inverted teardrop shape looks spectacular against wedding gowns. Waterfall bouquets are typically hand-tied with floral foams, wires, and ribbons. They look best when created with bold and vibrant blooms such as hyacinths, lilies, dahlias, and garden roses and accented with Baby's Breath and various types of greenery, such as ivy.
8. Composite bouquet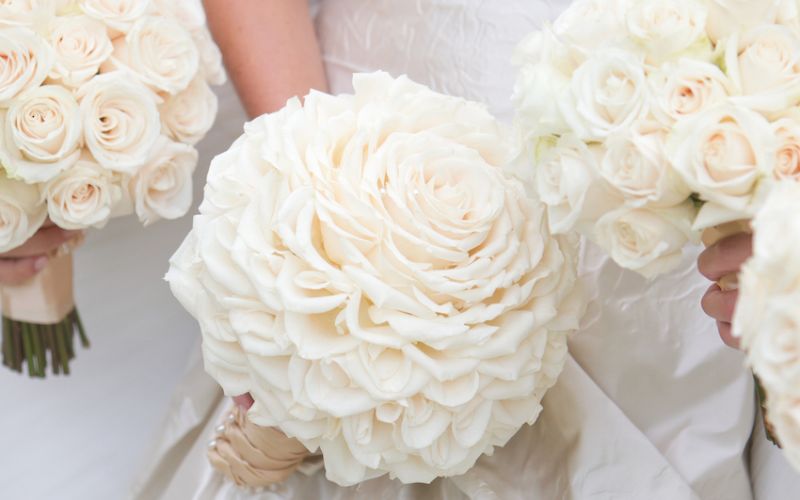 The composite flower bouquet is a game-changer! It is composed of hundreds of single petals rather than flower heads. The petals can be collected from any flower, but those with large and thick petals are preferred. These petals are then wired together on a single stem, giving the bouquet the appearance of a single, large circular bloom. This is a pricey option but can add both magnificence and elegance to your wedding celebration.
9. Basket Bouquet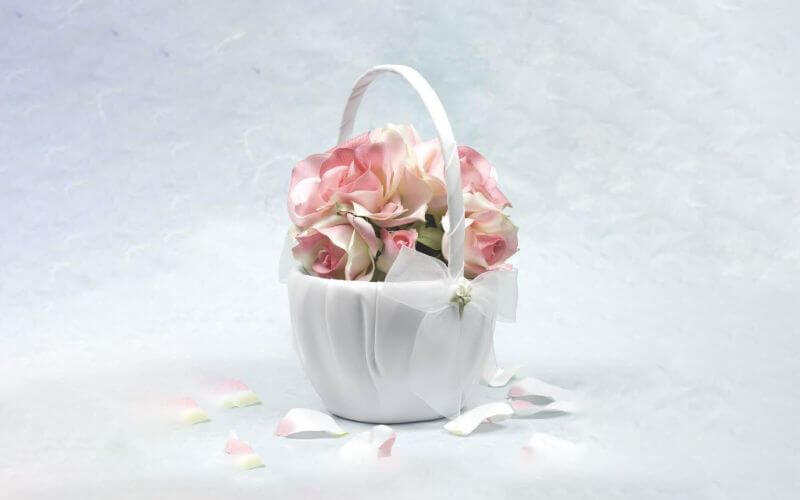 The basket bouquets are great for outdoor or garden weddings. They are treasured for their rustic appeal because the flowers are arranged in an oasis inside the basket, where they won't wilt as quickly as other bouquet styles. Basket bouquets are quite popular among flower girls and young bridesmaids because they are easier to carry than nosegays or posy bouquets.
A tussy mussy bouquet is a nosegay-style bouquet carried in a small vase made of metal, porcelain, or any other material that complements your wedding theme. Some tussy mussy bouquets come with a small chain to help you carry them. This bouquet is easy to display at your reception, and the vases make excellent thank you gifts for your bridesmaids.
10. Brooch Bouquet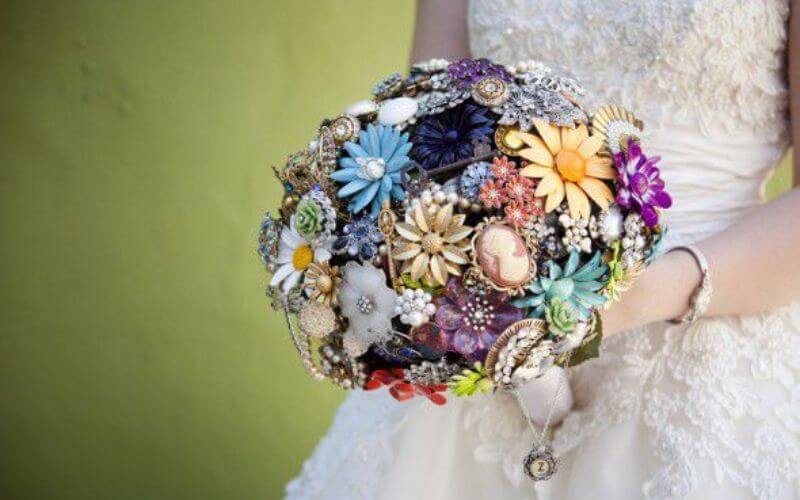 Brooch bouquets are a unique and modern way to add a touch of whimsy to your wedding. As the name implies, they just add glam to your wedding. The best part is you can incorporate everything from sequins and sparkles to sensational new color shades to your brooch bouquet.
Although Brooch bouquets are the latest trend, brides who adore the idea of vintage style can make them feel a little retro while being modish! One of the keys is to be creative with your color palette, using shades that go perfectly well with your wedding theme while evoking the look and feel of an antiquated era.
11. Presentation bouquet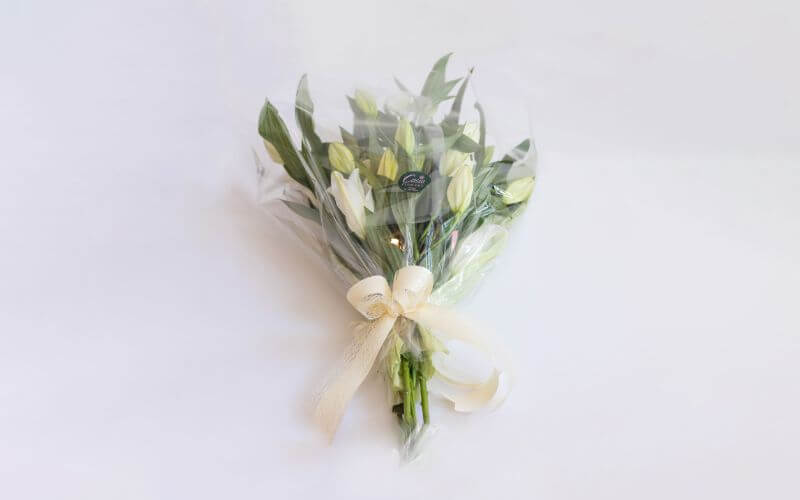 A Presentation bouquet, also known as pageant bouquets, is a popular choice of arrangement. They are commonly used in pageant competitions. It's a perfect choice for a glamorous bride to add a bit of drama to her wedding bouquet style.
These bouquets are rather large floral arrangements with crisp and decorous blooms evoking a lush and luxurious look. The overall size of the bouquet varies; however, the extravagance remains constant. For presentation, bouquets, orchids, delphiniums, calla lilies, roses, sweet peas, and various tropical flowers are commonly used to create pageant bouquets.
12. Tussy Mussy Bouquet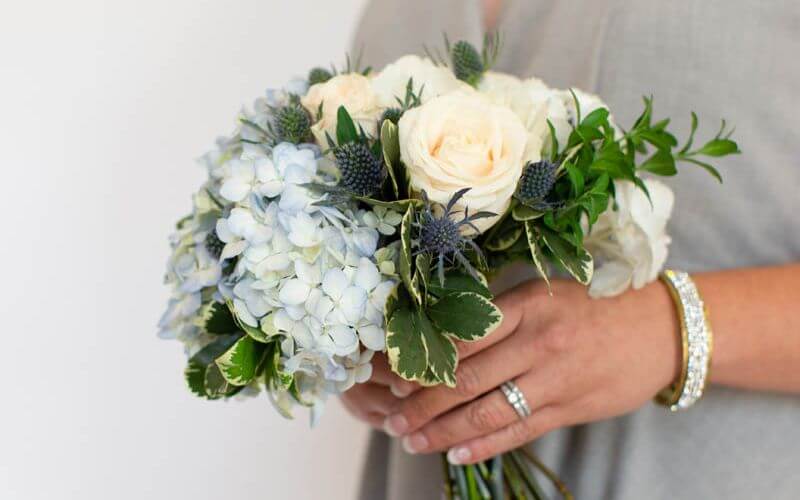 Tussie mussies, also known as tussle mussle bouquets, were introduced to England in the early 18th century and quickly became a fashionable accessory for young women. A tussie mussie is a small circular bouquet, similar to a nosegay, but it contains symbolic meaning based on the 'language of the flower.' Specific flowers represent specific sentiments. Tussie mussies are traditionally arranged in a cone- or cornucopia-shaped container made of silver or tin, with a chain attached to carry the bouquet.
13. Fan bouquet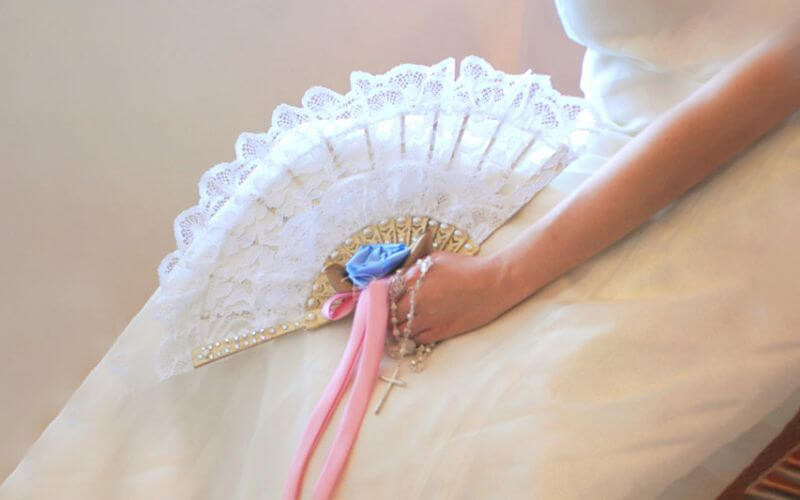 A fan bouquet, which consists of a simple plastic fan intertwined with flowers and leaves, is ideal for a vintage wedding, tropical wedding, or Asian-themed wedding. They are of two types; flower arrangements are arranged in an outward spreading pattern. The leaves and blooms are placed in a container resembling two Japanese fans placed side by side, creating a distinctive shape that stands out from traditional bridal bouquets.
14. Round Bouquets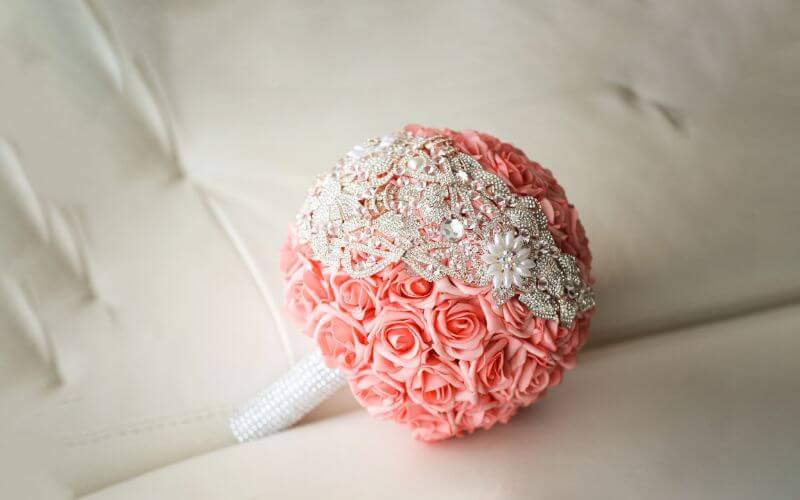 As the name suggests, round bouquets are round-shaped bouquets used on numerous occasions, including weddings. Any floral arrangement that is round in shape is referred to as a round bouquet, including Posy bouquets.
Round bouquets come in various sizes, flower shapes, and color combinations. Myriads of ferns, leaves and other greens are used in round bouquets; however, flowers are the main attraction. Any bulbous-shaped blooms, including dahlias, chrysanthemums, garden roses, ranunculus, and anemones, are used to make round bouquets.
15. Dried Flower Bouquet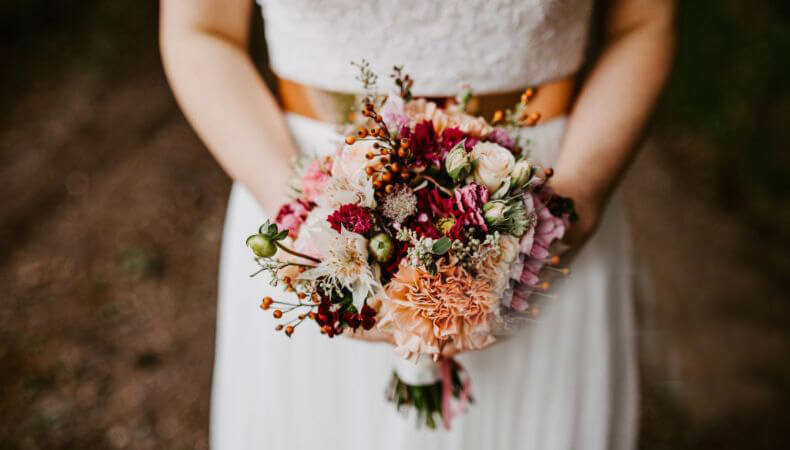 Lastly, we have dried flower bouquets. These bouquets are the hottest trend in the wedding industry. As the name implies, a dried flower bouquet is made of non-fresh dried flowers. Dried flowers are a novel way to preserve the beauty of a significant flower bouquet that may have sentimental value or simply if you believe it is a waste to throw away the fresh flower bouquet.
These bouquets are the perfect choice for vintage and modern wedding ceremonies. These are for experimental and trend-forward brides as they love incorporating unique textures to their wedding. The unusual blooms, dried grasses, seed pods, and other long-lasting botanicals make for a pretty impressive wedding bouquet that stands out.
Wrapping it up…..
These are the 15 best wedding bouquet ideas to get inspired by. All these wedding bouquets look classy, magnificent, and attractive. All you have to do is just be a little creative while giving instructions to your wedding florist. The best thing is all these wedding bouquets can be customized according to your wedding theme.
Happy Wedding… ☺ ☺