If you are looking for a romantic and magical wedding theme, then a garden wedding is a perfect idea. And spring can be the perfect time for a garden wedding because of the natural beauty and the freshness of the season. Besides, spring is the season of new beginnings and happiness. Here are some marvelous garden wedding ideas for you. These ideas will make your garden wedding perfect for you and your guests as well.
Here we go……
1. Area
You can host your garden wedding in your backyard or in your garden. Decoration of your garden wedding depends absolutely on you – how do you want to keep it; elaborate or simple. But the best thing is most of the decorations are already in place in the garden. All you have to do is look around the area where you are planning to host your wedding. The area where you are going to hold the ceremony should have a good backdrop, which you can either rent or use a grove of trees that are already on the property.
2. Decoration
Of course, most gardens are decorated automatically. If your garden is good enough to go with, then a minimal décor will be required. But if you are planning to have an elaborative one, then you can embellish the garden with fresh seasonal flowers or you can use everlasting silk flowers. You can create beautiful floral arrangements in a variety of containers from painted flower pots to tin watering cans. Fill them with rocks or sand matching with the theme. Or you can decorate the place with tulle fabric or paper lanterns or umbrellas etc. And if the ceremony is in the day time, make sure your guests are getting direct sun during the ceremony. In that case you can have a wooded area for your ceremony.
Also, don't miss to decorate outbuildings with ribbons, streamers, lighting, and tulle or any other material. It will help you create the right environment for your garden wedding.
3. Colors
You can go as colorful as you want in your garden wedding. Vibrant colors simply add to the celebration and to the garden wedding theme as well. Choose a colorful theme for bridesmaid and attendant apparel, you can choose hues of pinks, yellows or purples. You can even have all women and men tucking pretty spring flowers into their hair or lapels. Also, you can use the same colors to decorate the wedding reception area, like get your tables covered with bright color fabric, use colored-glass candle displays and lots of flowers and greenery around.
4. Lighting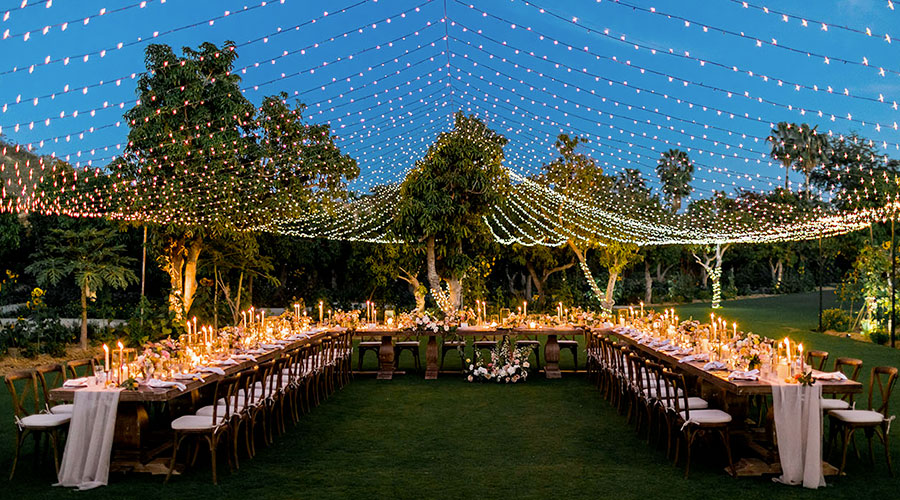 If you are planning to host a garden wedding at night, then right lighting can simply add to the décor. Just entwine twinkle lights on the already existing trees and sting pastel colored lanterns or paper lanterns from tree to tree. Besides, you can even use votive candles to make the ambience look beautiful. You can even use wide mouth canning jars filled with colored sand and votive candles inside to line paths. The whole thing will look whimsical.
5. Favors
For your garden wedding favors you can consider giving flower pots with live plants to your guests. It will make for a perfectly matching wedding favor. All you have to do is just set up little flower pots on the tables for your guests to take home as wedding favors. Make sure you decorate the tables with pastel tulle and sparkly accessories.
6. Logistics
Very important aspect to consider while planning your wedding in a garden. There will be several things that you will need to see before setting up everything, especially the electricity. Make sure you have arranged for the electricity for your garden wedding. You will need electricity for sure, even if it is your day wedding. Your musician will definitely need electricity, for their electric pianos, electric guitars etc. The DJ or the wedding band will certainly need electricity in fact a lot of it.
7. Catering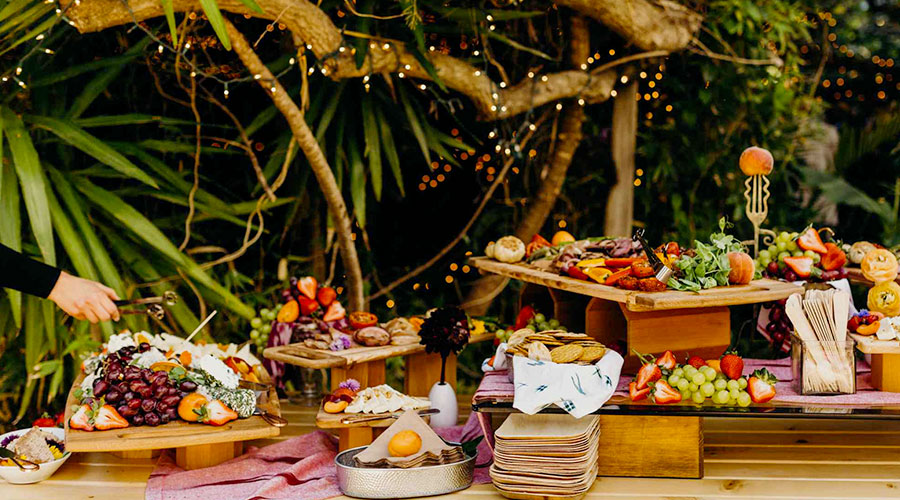 Whether you are planning to hire a caterer or getting ready-made food for your wedding, you will have to plan it way ahead. If you are getting a caterer for your wedding, then you will have to arrange a separate place for him and his team to take care of all your food requirements. Plan it carefully.
8. Season
Choose the right season for your garden wedding, as not every season is meant for hosting a garden wedding. If you are hosting a garden wedding in a rainy season, then make sure you have few people to immediately move things inside. Of course, you cannot predict when it is going to rain, so it's always better to have few people ready when it rains. They can move things like tables, chairs etc. indoors. However, the best would be to avoid garden weddings during the rainy season, especially if it rains heavy in your area.
9. Size
The size of your garden wedding will depend on the size of your garden (of course!). If you have a small garden, you cannot choose to accommodate too many guests in the area, and the whole celebration will be messed up. Yes, garden weddings are a wonderful option for hosting an intimate wedding or having a minimalist wedding. For big fat weddings you have to have a big place where you can accommodate as many people as you want.
Now, here are some ready-made ideas that will make you bookmark this blog till the day of your wedding. These Garden Wedding Ideas are so wholesome that they will leave you only to execution.
10. Garden Wedding Ideas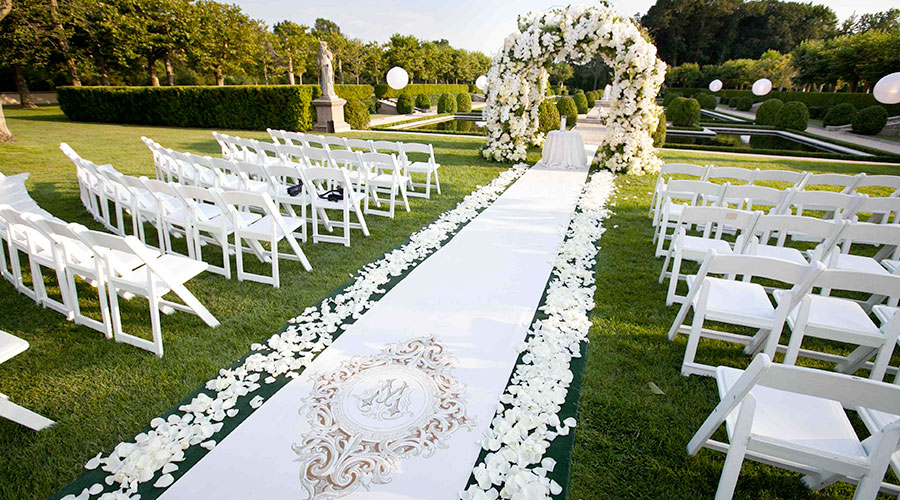 There's something very special about garden weddings. The details, the mood, everything just feels so aesthetically pleasing. People love having garden weddings also because they feel very intimate and romantic. The amazing thing about garden weddings is that you can organize them outdoors as well as indoors.
Bride working the theme
The bride can wear a floral dress that flourishes. Trust me, it will look fabulous at your garden wedding. If you wish to go with a classic bridal gown then simply wear a tiara or pin flowers in your hair.
Blend the guests in the theme
Attach the place cards on the stems of the flowers. That way the guests automatically get a flower for themselves and get mixed with the themes. You can also present them with floral tiaras for the ladies and floral bows and brooches for the gents.
Natural Arch
Use natural elements to make your arch. It could either have vibrant flowers or grass and leaves that blend with the garden.
Stand-out from other garden weddings
Flowers and leaves are something that you will find at every garden wedding. We suggest you include something very exclusive and unconventional like moss decor.
11. Indoor Garden Wedding Ideas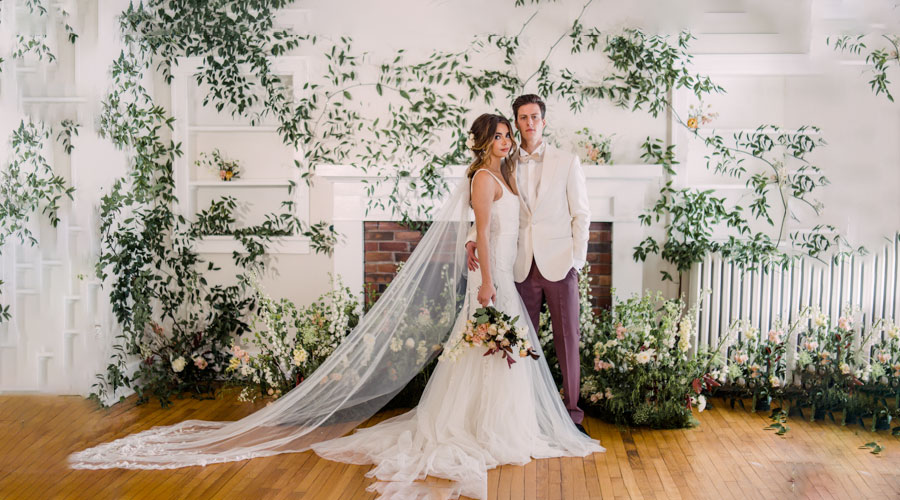 Don't have a garden or a backyard? No Worries. Here are some hacks to bring the garden indoors and have a whimsical indoor garden wedding!
Lush installation on the ceiling
Install flower blanket in the ceiling. It could be a hanging pattern or a flowing pattern. The ceiling fully covered with flowers is very gorgeous and romantic.
Pressed flowers decor
The pressed flowers might not seem very appealing but on the contrary, elevate your whole theme. The seating chart can be displayed on veils of pressed flowers. The same can be used in the wedding arch to coordinate the theme.
Fantastic Foliages
While flowers are timeless, Foliages are exceptionally elegant. You can use the foliage in your decoration like the arch, sitting area, welcome boards, etc.
Colorful Aisle
Spread colorful or single-toned flowers all over the aisle. it will surely make the bride feel like a princess while walking down the aisle.
Floral Tiaras

Offer the guest floral tiara which will mix the look of the guests with the garden theme. This will bring the whole garden theme together.
All these ideas look very attractive and dreamy. Wondering how much would it cost? We have prepared for you a Garden Wedding Budget that will give you an idea as to how much it will cost you approximately to have the wedding of your dreams.
12. Garden Wedding Budget
Well, before getting into the numbers, you should know that a wedding can cost however much you want it to cost. If you have a budget of your own then it is completely up to you to stick to the budget, spend even lesser, or go above and way beyond your budget.
When it comes to a garden wedding you save a lot if you own the garden or if your ceremony is organized in your backyard. Because you don't have to pay any rental. In addition, you are not required to choose from the preferred vendors. You can choose vendors according to your budget.
For a garden wedding, you can plan a budget starting from $2000 to $10,000. That is ideally how much you will require to plan a decent garden wedding. Now if you wish to have a luxurious garden wedding then there is no slab!
In a $10,000 budget, You can reserve $500 for the ceremony (license, officiant, rings). You can safely keep $1300 for the rentals (tables, chairs, tablecloths, lightings, buffet tables, bar, etc.) You can plan to spend $4500 on Food and Drinks and spend the remaining amount of $3700 on other things (invitations, bouquets, decoration, photographer, favours, etc.). Feel free to customize as per your needs.
We are not stopping just yet. Here are some Budgeted Garden Wedding Ideas that are big money savers.
13. Budget DIY Garden Wedding Ideas
Wooden Welcome Board

You can keep a simple and shabby wooden board with beautiful handwriting to welcome the guests. This gives the guests a warm welcome and they enter the venue with happy faces.
DIY Wedding Arch
To make your wedding arch look like a showstopper, it does not have been very expensive. Even a simply self-made wedding arch can uplift the look of your ceremony and at the same time add a personal touch to it. Use flowers, foliage, lights, lanterns, and everything aesthetically pleasing to decorate your wedding arch.
Elegant invitation cards
You don't need a designer to make your invitation cards for you. Just with a little bit of creativity, you can create an elegant invitation card. You can use designing applications like Canva to create a card that suits your theme. You can create invitation cards with rustic themes, complementary colors, and minimal styles.
Save on the Decor
Rustic materials and re-usable cute materials go well in a garden wedding. Use that to your advantage and create beautiful decor by keeping the flowers in steel buckets instead of expensive vases. You can also paint mason jars and glass bottles and use them as vases.
You can decorate the venue with white fabric like curtains and tulles. The whites go well with the colorful hues in the garden.
14. Innovative photography spots
Photographs preserve the memories of your wedding forever. It is very important to have nice photography spots. But you don't have to create any extra decoration for it. You can paint a frame on a mirror and keep it for the guests to click mirror selfies. It is very engaging and fun. You can use the wedding arch as a backdrop for the pictures.
Simple hacks like these can create a soothing garden wedding theme and make your garden wedding look splendid.
To conclude……
A garden wedding can be the most romantic and mesmerizing. A wonderful way to start a life together. Just enjoy and be as fun and whimsical as you want to be in your garden themed wedding! You are going to cherish all those wonderful moments of your life and so are your guests!