The marriage service is the most important part of the wedding day. The ceremony is where two individuals actually become married. The ceremony is where the cake is cut. And the ceremony is where Wedding Ceremony Script is read by the couples.
Most couples start to prepare for their ceremony at the last minute, especially their Wedding Ceremony Script. It should not be like this, though. Wedding scripts are important parts of the occasion and should be prepared in advance.
So, if you're getting married and wondering how shall you construct a modern wedding ceremony script, then read this post.
In this post, we have shared some of the best wedding ceremony script samples to make your BIG DAY Memorable.
Let's get started…
Table of Content
10 Tips To Write Excellent Wedding Ceremony Script
The process of writing the script for your wedding ceremony can be a pleasant and joyous experience, yet, the pressure to act and say appropriately may detract you. We don't want you to get detracted; therefore, we have rounded up a list of tips to follow.
Here are our tips to prevent it from being too much for you to handle:

1. Get an Early Start
It is not a good idea to write the ceremony for your wedding at the last minute. It is advised to get a head start on things as soon as possible. Start by conducting research as soon as possible throughout the process of arranging your wedding. This will give you plenty of time to uncover sources of motivation and create a unique and short funny wedding ceremony script.

2. Pick the Right Theme
When it comes to arranging a wedding ceremony, there are so many various types and themes to pick from. Therefore, you should make an effort to find one-of-a-kind components that complement your individual sense of style. Incorporate all these components to create a wedding ceremony script that is unique to the two of you as a couple.

3. Sit with Your Officiant
Officiants are in charge of the entire event and have the authority to legally wed the couple. They are considered to be the most significant persons at the wedding ceremony, even more so than the newlyweds themselves.
More often than not, experienced wedding officiants already have an outline for the ceremony. If you find writing a modern wedding ceremony script a task, you can sit with your officiant to streamline the process.
If you are going to have a friend act as the officiant for the ceremony, that friend will need some guidance from the couple regarding the elements they wish to have included in the service.
Whatever the case, make sure to have a brainstorming session with your officiant before you start writing the script.
Also Read: How Much Does a Wedding Officiant Cost?
4. Don't Put Off Writing Your Vows For Long
In the event that you choose to compose your own wedding vows, ensure that you not only spend sufficient time composing them but also rehearse how you will deliver them.
Your wedding vows are a pledge that you are making to your partner in front of your closest friends and family members for the rest of your lives. Therefore, it is vital that your script is significant and personal. Pick your words with care while writing your wedding ceremony script. Also, practice saying them out loud until you reach a point where you are self-assured and at ease doing so.

5. Begin with a Structure
Starting with a structure in your mind helps you be motivated throughout the script-writing process. Usually, the structure of a standard wedding script remains consistent, allowing the ceremony to flow at a steady pace. However, it's important to become familiar with the standard format first. Of course, once you get started writing, you're free to break the rules as you see fit or to create a script unique to you two.

6. Keep it Simple and Sweet
It is essential to keep your wedding ceremony script sweet, simple, and precise. While the couple should feel represented at this moment, it's important to keep your audience in mind, especially young children and elderly relatives. Consider, too, that everyone is on edge that day. Keeping the rituals and the script itself straightforward can let the couple relax and take it all in.
If your wedding does not include a religious service, you can keep the duration of the ceremony to no more than thirty minutes. If you wait much longer, your visitors may start looking at the time on their watches.
Make an effort to make your ceremony interactive if you want it to be memorable and exciting for everyone there. The best way to set your ceremony apart from others is to create a short funny wedding ceremony script. It will help you keep your guests entertained throughout the ceremony.

RELATED: Everything You Need to Know About Wedding Processional Order
7. Add Some Fun Elements
It is essential to inject some comedy into what is otherwise a very serious situation in order for the event to keep its vibrancy for as long as possible.
The ideal script for a wedding ceremony will have humorous moments that may be sprinkled throughout the service to lighten the mood and put the soon-to-be-married couple at ease.

8. Focus on the Two of You
Although the officiant will have the spotlight throughout their portion of the ceremony, the attention should be on the couple and their love story.
Include anecdotes about you two that everyone can identify with. Remember wedding ceremony is a chance to encourage everyone in attendance to reflect on and celebrate their own love stories.

9. Get Your Script Proofread
Before the big day, you should have your wedding script reviewed by a trusted friend or family member to ensure that it reads smoothly and that it comes off as genuine and unforced.
On what is most likely going to be the most significant speech you will ever deliver, it is never a bad idea to have a second set of eyes look it over and offer criticism and suggestions for editing.
Accept input to make this wedding script the best it can be; what seems ideal to you may not resonate with another person. Also, you can read the ceremony script aloud to a friend before the big day to get a sense of how it reads.

10. Get the Personalized Programs Printed
Wedding programs are a lovely addition. They're a great way to get your guests involved and keep them apprised of what's happening during the ceremony.
Do your homework to create a ceremony that honors your relationship and your beliefs while also honoring the beliefs of your partner.

Wedding Ceremony Script Outline
Each wedding ceremony script typically has the following sections, with the opportunity for additional customs and nuances.
Welcome: The officiant welcomes all relatives and friends and expresses appreciation for their attendance today.
Reading: 1-2 friends and family members perform a brief reading from a religious book or a beloved literary work.
Vows: Either by repeating after the officiant or by exchanging handwritten vows, the couple expresses their commitment to forever love one another.
Exchange of Rings: The officiant encourages the couple to exchange rings, blessing their union through the symbol of their commitment.
Conclusion and proclamation: Proclamation that the couple is now married as a result of the officiant's authority. The officiant announces them for the first time as a married couple and invites a kiss.

Wedding Ceremony Script Samples
Here are a few wedding ceremony script samples for you; take a look…

RELIGIOUS WEDDING CEREMONY SCRIPT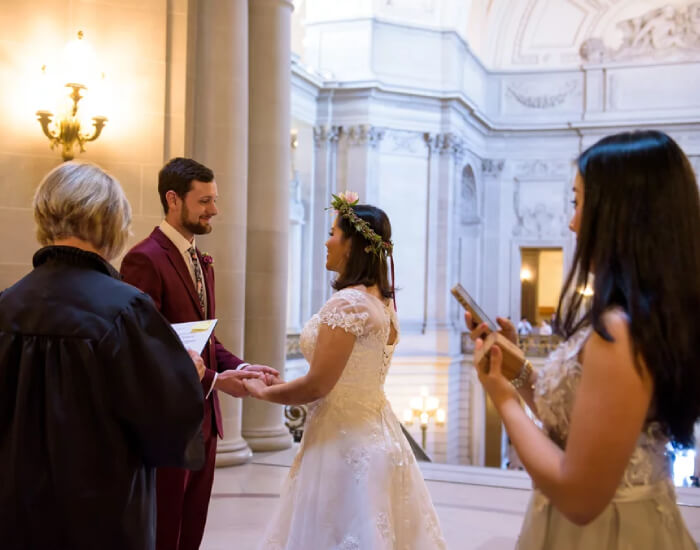 Officiant: Welcome!
Officiant: Everyone, take a seat.
It is with great pleasure that I greet you all on this, the happiest of days.
It is not by chance that you are all here today; rather, you were individually invited for a religious ceremony of NAME and NAME because you represent someone significant in their lives.
We have gathered here for a momentous occasion that will be unforgettable, not just for the happy couple but also for all of us who have been blessed to know and love each other.
Meeting the one who completes you is the defining event of your life. One who creates wonder and magic in the world.
The one with whom you have a connection so profound that it goes beyond friendship or love or any other kind of relationship you've ever had, and you simply can't fathom living without them.
About X years ago, NAME and I met and instantly clicked, becoming great friends [make fun of yourself if you're a buddy].
However, she/he met NAME, who is great, around X years ago.
Knowing the care and love these two have for one another, I consider it a great honor to be here today as a witness to their vow to spend the rest of their lives together as husband and wife.
Most of you here today are people I've had the pleasure of meeting before, but in case we haven't yet met, I'm [officiant's name], and I'm [officiant's brief biography, including how he or she is acquainted with the couple].
This is a Love Tale.
Officiant:
Both NAME and NAME have graciously requested that I omit any anecdotes from my speech that might be construed as being negative towards them and that I keep the tone of the speech light and appropriate for all ages, which I tried to do to the fullest of my capacity.
About X years ago, I found out that NAME and NAME were getting serious about their relationship.
For an outsider looking in on their budding romance, it was very evident that they make a great match since they complete one another.
They complement one another, and while they're both great on their own, they're even more powerful as a unit.
And the fact that they are stronger as a unit and as partners in crime is what has brought us here today to see their dedication to one another in the presence of people they hold dearest.
In reality, there is no single incident that adequately encapsulates what NAME and NAME mean to me, to each other, and to all of us. I wish I could give you a single anecdote about NAME and NAME that illustrates their connection and how they enhance each other's and our lives.
But what I do know is that they are completely devoted to one another, that they have each other's backs, that they inspire laughter and fresh perspectives in one another, and that time seems to simultaneously speed up and slow down when they are together. They support one another in ways that are both overt and covert but are always greatly valued.
My interactions with NAME and NAME have shown me that they have a genuine love for one another.
I always have a good time when I'm interacting with NAME and NAME, whether we're all together in person or in some kind of strange group messaging.
To every one of us, they bring out a sense of joy and contentment that I believe is a large contributor to why we hold them in such high regard.
I hope that they continue to provide joy and laughter to one another throughout their married life, just as they have brought joy and laughter to the lives of all of us who have the pleasure of knowing them.
Now, let's get right down to business…
Affirmations of Love.
Today, the sister of the Bride and the best man of the Groom will read some of their favorite poems.
(1-2 Readings)
Just look at one another and clasp hands [Bride and Groom].
Please repeat after me, [Bride].
(Couple repeats between each part)
Good friends and esteemed guests:
Officiant:
As for now:
[Groom], I accept you as my family, my closest friend, and my life partner. I will back your dreams and guide your journey/ I will endeavor to inspire you each day/ and never lose confidence in your unceasing love. In front of our friends and family, I pledge to continue doing this for the rest of our lives.
(Officiant now turns to the Bride and repeats the vows)
Do you accept NAME as your husband?
Are you prepared to devote your life to this person, to love, honor, adore, and defend them, to let go of all other relationships, and to hold on to this one for the rest of the time?
[Bride]: "I do."
Do you take NAME as your husband/wife?
In perpetuity, do you pledge to love, honor, cherish, and defend this person above all others?
[Bride]: "I do."
Do you, [Groom], take [Bride's NAME] to be your loving wife, to cherish and care for the rest of your life?
[Groom]: I do
Could we please have the wedding rings? (Best Man hands off the rings to the happy couple). Thank you.
The rings NAME and NAME are about to exchange are a symbol of the love and commitment they have made to one another, and the officiant is now ready to perform the ceremony.
Rings are made of precious metal, and they become much more valuable when worn.
Your wedding bands are unique and beautiful, just like the two of you!
Your first steps as a married couple.
The wedding ring represents eternal love.
It is the last touch to your promises of eternal love.
Please repeat after me.
[Bride], I give you this ring as a token of my unwavering love and affection, to reflect our limitless future, and as a symbol of our unending love.
([Bride] places the ring on [Groom's] finger, and now Groom exchanges the ring.
[Bride] and [Groom], you have pledged a lifelong commitment to one another and exchanged rings to symbolize this holy commitment. By the authority entrusted in me, it is my greatest honor to pronounce you
husband and wife for the first time. You may now share your first kiss as newlyweds.
Congratulations.
Ladies and gentlemen, I introduce the [Bride NAME] and the [Groom NAME] as husband and wife.

MODERN WEDDING SCRIPT SAMPLE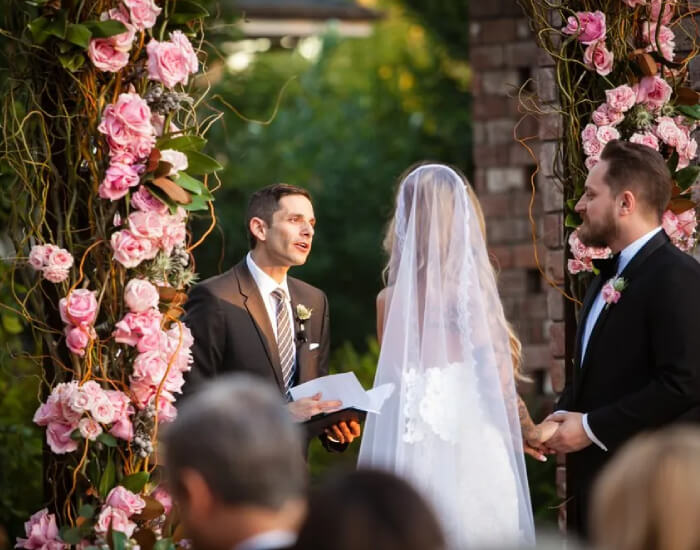 Welcome.
Officiant:
We warmly welcome you and your loved ones.
To commemorate the union of NAME and NAME, we have gathered here today.
Everyone here today is here to witness the official commitment that NAME and NAME are making to one another, to show their love and support for the couple, and to help them begin their married life together in the company of those who are most important to them.
All the guests, no matter how far they have come, are welcome!
Name and Last Name would want to express their gratitude for everyone's support thus far, and they would greatly appreciate it if you would continue to cheer them on and support them in their marriage decision in the years to come.
Marriage in a nutshell:
Officiant: Marriage is one of life's most exciting and nerve-wracking journeys.
Only the two of you can bring your marriage into existence, and that takes time, effort, communication, tenderness, laughter, forgiveness, appreciation of one another's diversity, and a willingness to focus on what really matters in your relationship while setting aside petty disputes.
This ceremony can serve as a public record of your commitment to one another as lifelong companions and spouses.
This is a Statement of Intent.
Do you, NAME, take this woman to be your lawful married wife?
[Groom]: "I do."
Are you, NAME, willing to take this man as your husband?
[Bride]: "I do."
Readings.
Officiant: NAME and NAME have asked two cousins to recite choices on the love that really resonates with them in honor of the value of great friendships to a marriage.
READING 1; then READING 2.
To the guests
Officiant: A couple in love does not have a solitary existence.
They can draw vitality from their love to nourish not only one another but the world at large.
As a result, we in their social circle have some accountability to them.
Their marriage and the new family they are creating today may count on our unwavering support, which we can give via our constant care, respect, and love.
Official: Please stand.
Do you, the people present today, promise to love and support NAME and NAME as they begin their marriage?
[Guests]: "We do."
Officiant: Please take a seat.
Those Heartfelt Wedding Promises.
Officiant:
Now is the time for you to make your vows to one another and be married.
But before you do that, I want you to keep in mind that a relationship built on love—love that is based on trust, faith, and acceptance—will last and grow.
There is no greater love or more profound commitment than the one you are about to enter into.
If you are able to keep the promises you make here today, not because of religious or civil law, but because you want to love and be loved by another person fully and without limits, your lives will be full of joy, and the
home you make will be a place where you can both find the direction of your growth, freedom, and responsibility.
The time has come to share the promises you've made to one another.
Please hold each other's hands and say after me [Groom] and [Bride]:
[Groom], I solemnly promise to devote my life from this day forward to enriching our days with beauty and joy. I will honor your spirit and all of your achievements, as well as be present to remind you of your beauty and power. I accept you as my partner/my confidant/my other half today, and I will love you for the remainder of my life.
(Officiant repeats the vows while facing the Bride)
[Bride]: I, NAME, take you, NAME, to be my husband/wife, my best friend, and my lifelong companion, and my love.
I'll do everything I can to foster a relationship based on open communication, appreciation, and trust that can weather the storms of life and evolve as we do.
I promise to cherish and appreciate you for everything you are and will become and to take great delight in our unique and complementary identities.
I swear to challenge you and welcome your challenges.
I'll fight alongside you and our people for the kind of world we both envision, one in which the many faces of love and friendship are universally cherished.
Our house will be a safe haven where we and those we love will live together in harmony.
Above everything else, I promise to love you without condition.
For the rest of our lives, I promise you this with all my heart.
Officiant: "May I please have the rings?"
[Bride] and [Groom], do you intend to live together as husband and wife from this day forward?
[Bride] and [Groom]: "We do!"
Rings Exchanged
[Bride]: I give you this ring to remind you of my love for you always.
[Groom]: Lays the ring on Bride's ring finger and says I give you this ring to remind you of my love for you always.
Officiant: I now pronounce you husband and wife by the force of your love and dedication and the authority invested in me.
I welcome you to kiss one another.
Congratulations.
Near and dear ones,
I'm happy to introduce you to the happy couple finally.

FUNNY WEDDING CEREMONY SCRIPT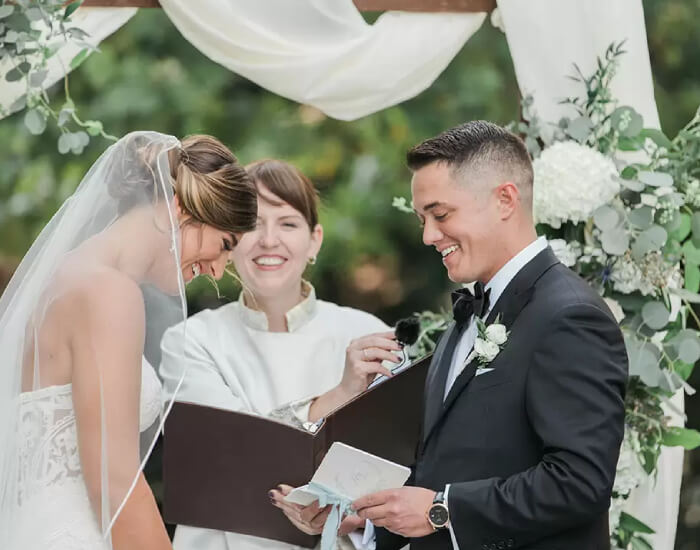 Welcome:
Officiant: Welcome one and all present here. We have gathered here today to celebrate the marriage of NAME and NAME amidst this scenic location.
You have traveled from near and far to be here today to witness NAME and NAME's marriage, to show your love and support, and to celebrate the beginning of their new life together as husband and wife.
Officiant introduces himself —briefly—and explains why he was chosen and how he knows the couple.
Taking the plunge into marriage is a huge act of bravery. It's putting our present selves at stake so that our future selves might flourish.
When two people join together in marriage, their lives become intertwined. Yet, this union should maintain both partners' individuality.
In fact, it ought to highlight both partners' unique qualities.
The essence of why we marry – Certainly, it is a lot of labor. Certainly, it requires a great deal of compromise.
Nevertheless, when you're married, you have someone to come home to at the end of the day.
You have someone who has pledged to love you regardless of how dirty your socks are, how awful your attitude is, or what the universe has decided to drop on your head this week.
And now you have someone to engage in kitchen spaghetti battles with.
Someone with whom to share the same stupid inside jokes. You will eventually find someone with whom you share a small inside language.
We marry because it is beneficial to have a companion to travel through life with.
Exchange of promises and declarations of intent:
[Bride] and [Groom] Join hands, look at each other and repeat after me.
Do you, the [Groom], take the [Bride] to be your wife?
[Groom]: "I do."
Do you commit to taking out the garbage and picking up your dirty laundry?
[Groom]: "I do."
Now officiant asks the Bride the same.
Do you, the [Bride], take the [Groom] to be your husband?
[Bride]: "I do."
Do you commit to loving her no matter how grumpy she gets?
[Bride]: "I do."
After that, the officiant asks the Bride and Groom if they're ready to be husband and wife.
Officiant: [Groom] take [Bride's] hand and recite the vows with me.
To my beautiful wife [Bride], I say, "I take you as you are, adoring you just as you are, and I pledge from this day on to make our home a place of adventure and fun."
To encourage your development as a person, I will share in your joy and sorrows.
Officiant: [Bride], hold [Groom's] hand and repeat after me.
Please know that I accept you exactly as you are and love you for it. From this day on, [Groom's NAME], our lives will be full of adventure, and our home will be full of laughter.
To encourage your development as a person, I will share in your joy and sorrows.
Ring exchange
Officiant: Rings, please.
Once you slip this ring upon Bride's finger, I want you to repeat after me, [Groom]:
This ring represents my undying devotion to you and the promises we made to each other today.
[Bride], as you lay this ring on Groom's finger, repeat these words:
My love for you and the promises I made to you today are represented here by this ring.
Last Thoughts and Announcement
You have come here today to publicly announce your love and commitment to one other in front of your family and friends, and I applaud your courage and bravery.
You have exchanged rings as a sign of your commitment to one other.
With authority bestowed upon me and in witness of your love and dedication to one another, I hereby pronounce you husband and wife.
The newlyweds are welcome to their first kiss as man and wife.
Congratulations.
Near and dear ones,
I'm happy to introduce you to the happy couple finally.
Wrapping it up…
So, there you have it: wedding ceremony script samples that you can consider while creating your own script.
Of course, writing a script seems like a task. However, once you start working on it, it becomes fun. All you have to do is to follow the tips outlined above in order to carry on with the process. Know that the process of writing the script for a wedding ceremony is highly personal. You may include a few anecdotes from your life; however, make sure to keep your script short and sweet.
Also, adding some fun elements to your script will help you keep your guests entertained during the procession.
So, that's all for now! Stay tuned for more such articles!
Thanks for reading!
Happy Wedding… ☺ ☺