Many a time we hear 'Change is the rule of nature,' or Change is the only constant', and that's true in any case, from our lives to technology, everything changes, some changes are slow, some however are faster. Change has taken place in the wedding industry too, today couples are looking for more from their wedding attire to venue décor they just want more. Unlike the olden times when in the name of décor we had only some hanging garlands, draped stage backdrops, red colored velvet covered chairs for the bride and groom and delicate veils, and that's all! In fact couples' want more than that minimalistic subdued trend, now, everything needs to have an impact.
Today, bold wedding designs are used, where the decor makes a statement, and it is the newest trend. No we can see many larger-than-life floral installations and lots of mirrors, all designed to a massive scale, and is the latest décor trends.
Besides modern wedding décor, there are couples who are looking to bring back traditional design elements like silver candlesticks, crystal stemware, linen napkins, flower wall etc., and give a timeless touch to their wedding. Another way out for having a beautiful décor on your wedding is to have highly sustainable or upcycled decor. Couples' are emphasizing on doing larger but more thoughtful set-ups for a smaller guest size, which is a great change in the trend itself. Trends are created by game changers who thrive by being experimental and pushing the envelope. And you can be one!!
Wedding décor
When it comes to wedding venue décor there may be some limitations in case you have planned your wedding at some museum or historic venue. They will surely not want you to damage their property in the name of wedding decoration. You may not use the nails to hang things out there. So, likewise you can face challenges while getting your wedding venue decorated for the event.
And sometimes the challenge comes when your wedding theme or style is different or unique, or when you are looking for a minimal decoration at your wedding. If not all these, then your budget is a constraint. Whatever the reason is, a wedding venue has to be decorated for good reasons. Howsoever you want your wedding décor to be, personalization should be key!!
There are plenty of ways you can have a great, enchanting, elegant, and memorable décor at your wedding. Here are top 25 wedding décor trends in 2023:
Keep reading…
1. White Lights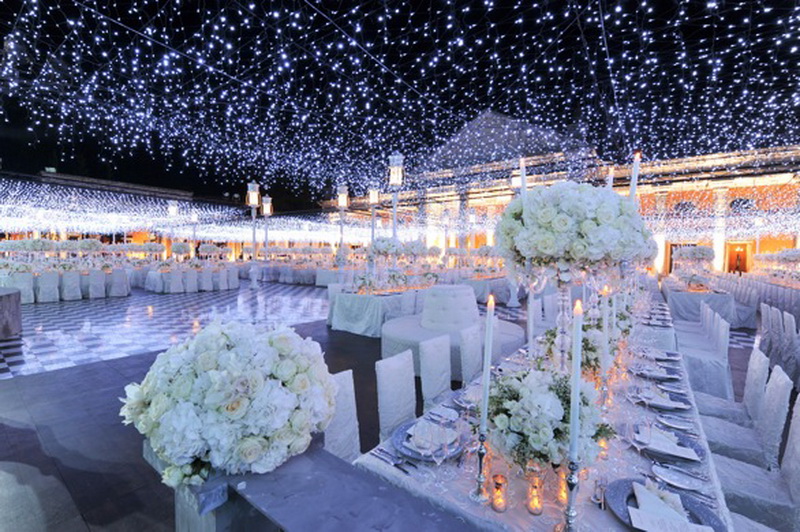 White lighting looks simple yet beautiful and elegant. And in 2023, it is trending like anything. It makes for the perfect decoration at the venue. Using lots of white lights can make a beautiful addition to any wedding venue decor! These lights can be hung to the ceiling, around tables, on the trees, on the sidewalks, and on the potted plants. Most importantly, these lights are really inexpensive ways of decoration. Lots of lighting make the place look relatively bigger, spacious, and enchanting.
2. Go Vibrant
For the couples obsessed with pastel wedding color palettes, then 2023 is the year of their choice, because bright colors are trending back! Today, more and more vibrant colors are used for venue décor. Anything from cheerful citrus-inspired hues such as orange, coral, and yellow to moody wedding colors like burgundy, emerald green, and mauve, are in trend in 2023. Couples are once again daring to be bold. Rather go with matching colors, here is a great opportunity to play with multiple colors now. You can even incorporate various shades of one color — for example, steel blue, powder blue, and navy blue.
3. Seal the Deal with Ceiling Decor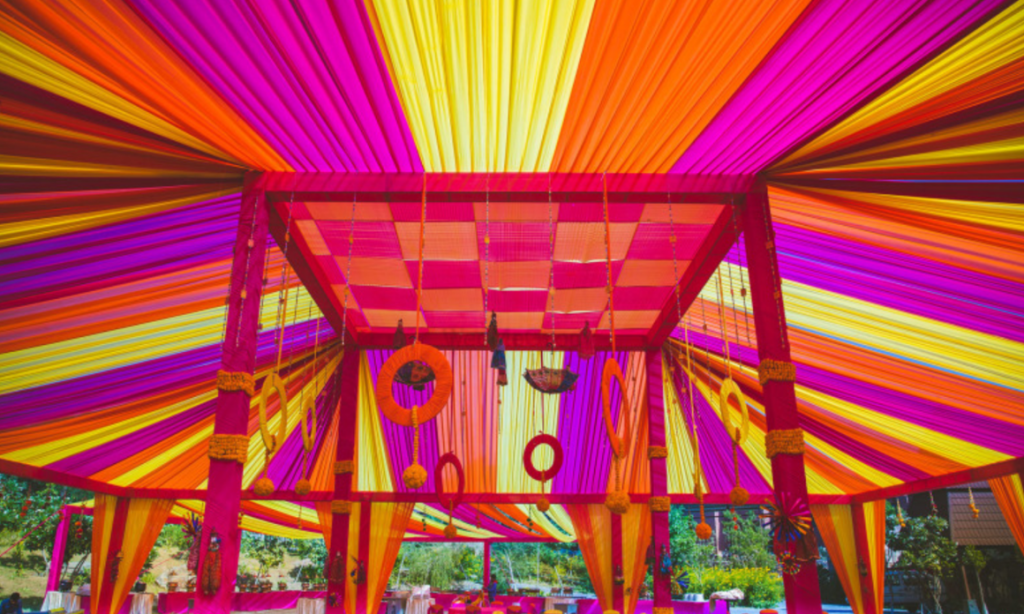 You will be amazed to know that a little fabric can bring in a great change in the entire venue, and can add to your overall decoration. There are many vibrant colors available to opt from, you can choose any color from yellow and mauve to red and blue. If you're looking to add some fun vibe, then you can opt for some bright colors like red and yellow. Or if you want to keep the whole thing formal and elegant, then white is the color for you. Believe you me, draped ceilings are the cost effective ways of decoration and looks mesmerizing.
4. Candles but Tapered
Besides, cutting down their wedding decor with quality over quantity, couples are also going back to the basics. And the timeless taper candles are the sign! These long candles are undoubtedly one of the top 2023 wedding decor trends. Candles make for perfect wedding décor, and taper candles can seriously elevate your decor in a matter of seconds with minimal effort. All it takes is a few taper candles to boost your tables' capes. Tapers are an ideal option if you're going for a high-end style while being in budget. The best thing is that you can find taper candles in almost any color, from classic white to metallic gold, and black for a gothic-inspired wedding. You can pair your tapers with mismatched vintage candlesticks for that ultimate effect.
5. Beautiful Ribbons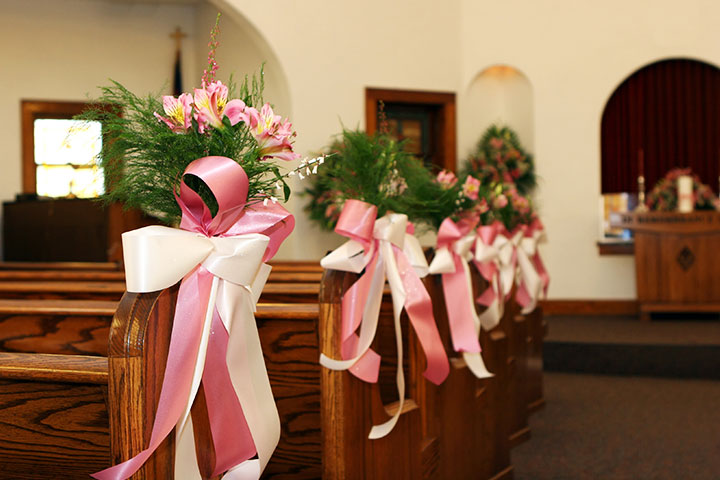 Would you believe if I say a ribbon can make a huge difference in your overall décor? Wide ribbons can be used to decorate your dining area and the wedding hall. If you really have to watch your budget along with your wedding décor, then wide ribbons can be a great alternative to fancy and expensive seat covers. All you have to do is get some beautiful wide ribbons and tie them on the backs of the chairs. These ribbons will add elegance to your décor. And the best thing about ribbons is, they come in various colors and are inexpensive.
6. Colorful Fabric
After ribbons, fabric is another most sought-after décor option in 2023. And trust it is really inexpensive. It is easy to get yards of your favorite fabrics and use it to cover almost everything from your tables to your ceiling, believe me, sheer fabric will create a romantic atmosphere at your wedding. From velvet to cashmere, faux fur and even corduroy, ultra-luxe fabrics are trending today. Thicker fabrics like these are a perfect contrast to the airy, gauzy wedding linens. Couples are using these non-traditional fabrics at their weddings in order to add richness, texture, and dimension to the decor.
However, heavier fabrics like these are ideal for fall and winter weddings, and the ways you can incorporate them at your wedding are apparently endless. You can use them as your table runners, for wedding lounge furniture, as throw blankets, or like ribbons on your invitations and place settings, fabrics are a great way to upgrade your décor and create a romantic, and intimate atmosphere at the venue.
7. Go Earthy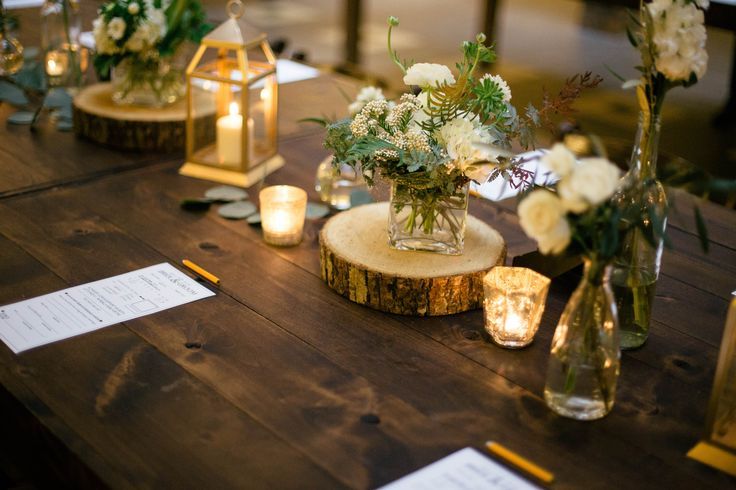 The newest bohemian chic style is more about earthy elements in 2023, with a heavy focus on neutral color palettes — whether you want to have a desert wedding or planning to get hitched in the middle of a secluded forest. This feathery grass is a bohemian wedding favorite, used in almost everything from bouquets to centerpieces and other decorative ceremony backdrops. Pampas grass naturally has a soft brown hue that automatically gives it an exquisite vibe. But the best thing is it can also be dyed to match your wedding color palette.
8. Floral Decor
Flowers make for an elegant, eye-catching, and enchanting venue decoration. Flowers can be used in any ways to add to the decoration of your wedding venue. And flowers are always in trend. You can use just a single flower for the overall decoration or the mix of some of your favorite flowers to add a romantic flavor to your wedding. These days, in fact some people are using flower balls to decorate their venue. Flower balls are the newest addition to the trend, and they look mesmerizing and create a romantic ambiance.
9. Wonderful feathers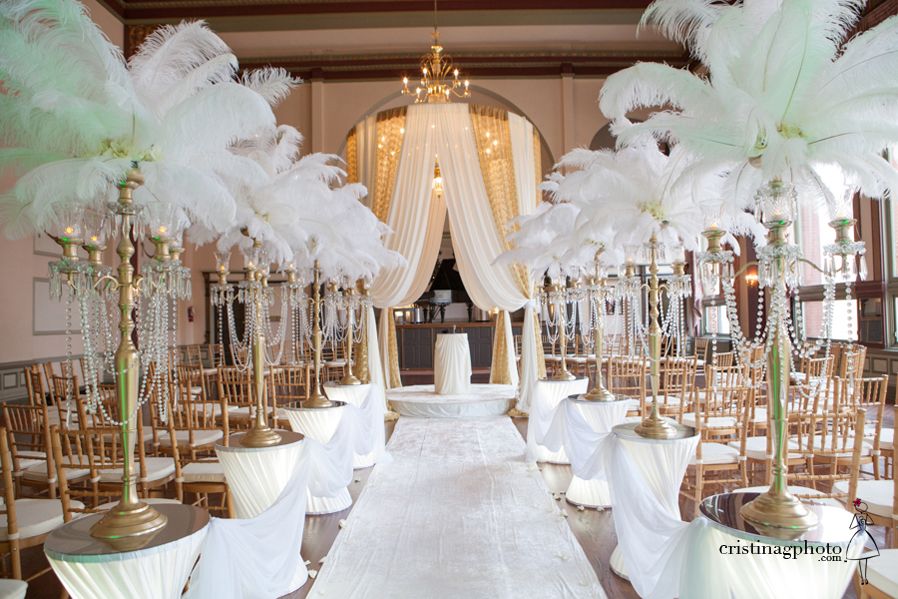 For 2023, if you wish to have a unique décor at your wedding venue, then go with feathers. Feathers are trending in wedding decor. And the best part is, they are very inexpensive, you can buy them in bulk from a craft store or online. Create large feather wreaths from them to hang on the walls or else just add them to centerpieces and flower vase for an elegant look. It is a cost effective way to get a unique and elegant wedding décor.
10. Vintage-inspired statement
For bohemian weddings in 2023, rattan and wicker accents are on track and one of the biggest 2023 wedding decor trends. Couples are going back to these vintage-inspired statement pieces to bring a dose of hippie chic flair to their wedding decor. Whether it's with high-back peacock chairs, rattan lounge furniture, lanterns suspended from the ceiling, or assorted wicker baskets displaying floral arrangements, they just look classy.
11. Go Green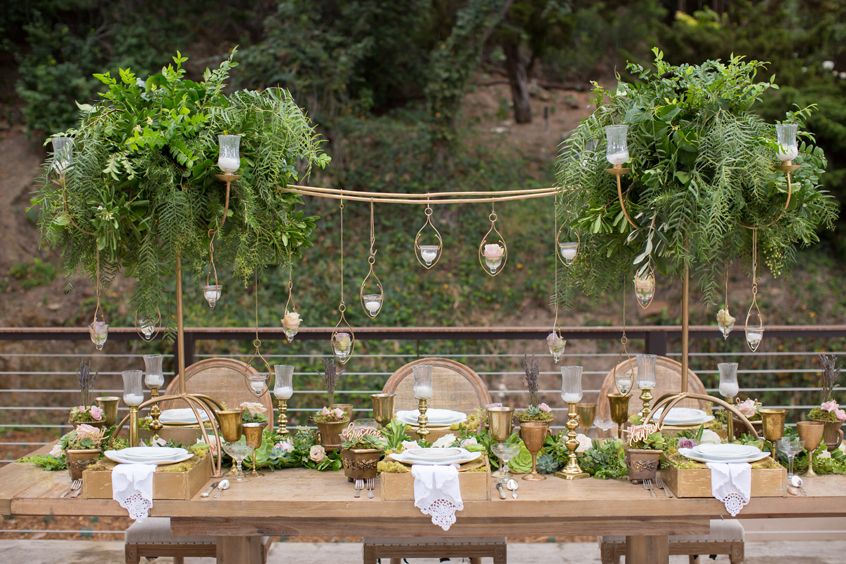 Natural plants always make for a perfect décor. And, couples are turning to nature in 2023. It is not only an inexpensive way to give your wedding venue a unique look, but also a great way to have a green wedding. Green weddings are trending in 2023, and couples who love nature to the core are heading to green weddings. Moreover, you don't need to buy these flowers, you can always get them rented as there are many vendors who rent plants for your event.
12. Pragmatic Signage
When it comes to wedding signage, the trends have changed a lot over the last few years. Earlier there were chalkboards, then came wooden signage and mirrors, then neon signs, and now felt letter boards and retro-style light boxes are trending in 2023. These two wedding signage ideas are perfect for couples who are looking for minimalistic wedding ideas. The best thing is they can easily be paired with floral accents.
13. Zen Style Decor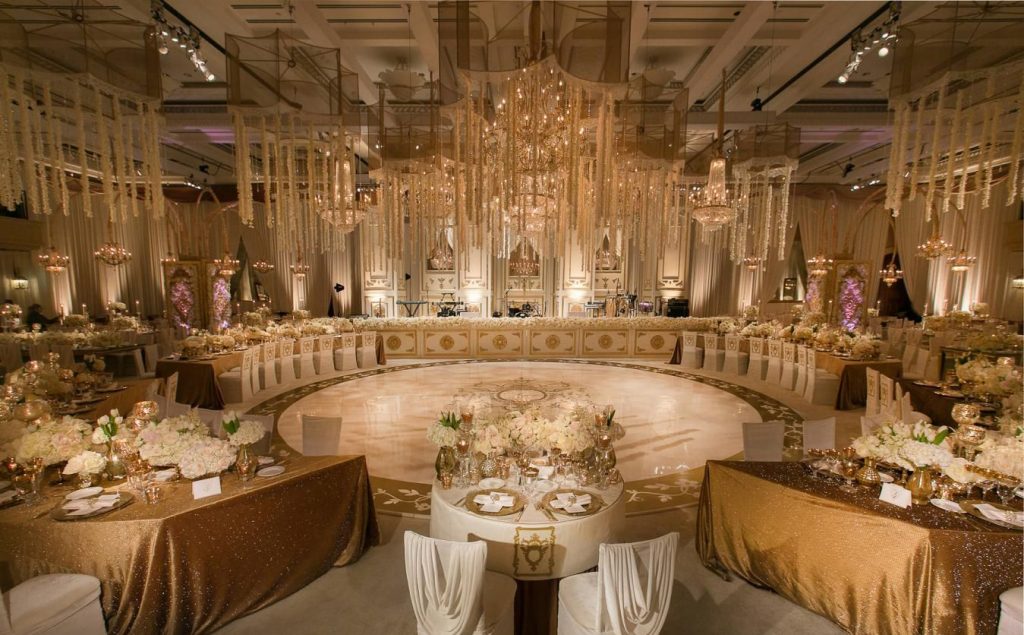 Another wonderful décor trend of 2023 is Zen, a wonderful theme for your wedding venue. The style looks beautiful, let everyone bewitch your wedding décor. There are so many things that can be done to have a Zen wedding theme. It's soothing, peaceful, and relaxing for everyone, a great décor idea for couples looking to create a peaceful environment. For instance, you can set up a water fountain at the entrance of the hall. Set up paper parasols, rock gardens, bonsai trees, lanterns, and origami here and there at the venue and make an unforgettable ambiance!
14. Table Lamps
A perfect wedding décor idea in 2023 that's trending, especially if yours is going to be a small wedding event in the evening, by the side of some mesmerizing beach, then table lamps will be just enough to create the ambiance. This an amazing décor trend for couples who really want to take their beachside wedding décor to another level.
15. Colored Glassware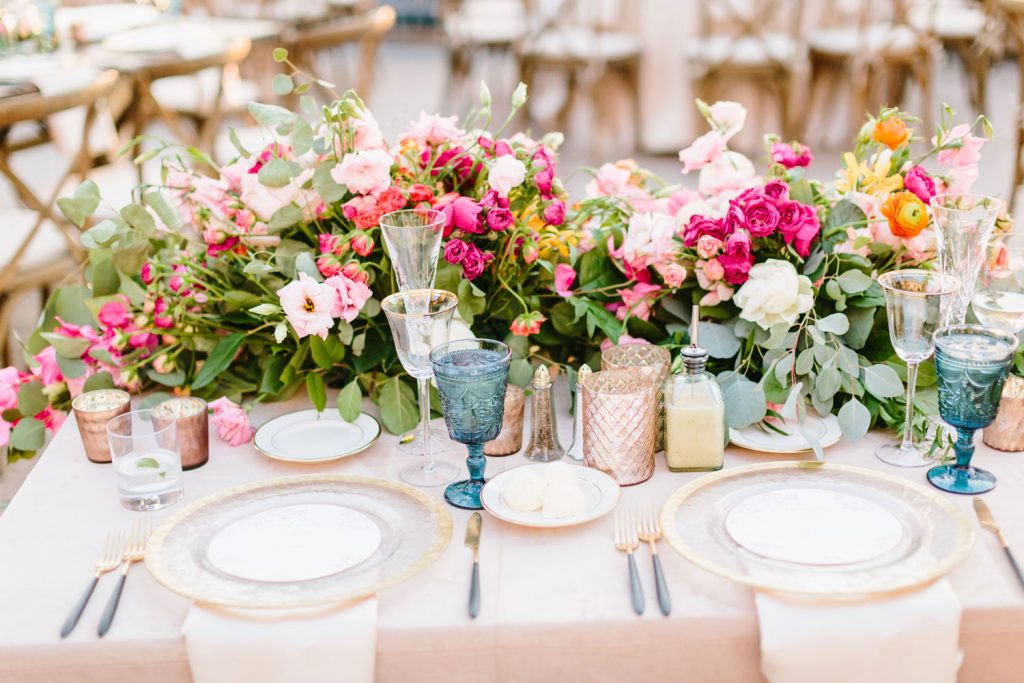 As said earlier, 2023 is the year of lots of bright colors. And using colored glassware for your wedding venue décor, you will be able to give your décor a new standard all in all. Today, couples are just opting for outside-the-box wedding decors, and one is this. They are saying no to those traditional centerpieces, instead, they are using colored glassware and making their tables pop in no time. And the best part is you don't need to buy this glassware, you can rent them easily for the day.
16. Paper Lanterns
Gone are the days when only some restaurants used paper lanterns to create a perfect ambiance for the people. Now in 2023, they are used in wedding décor as well, to add to the richness and texture. They can be used in a huge numbers and it's going to be a different story in all.
17. Use Terrariums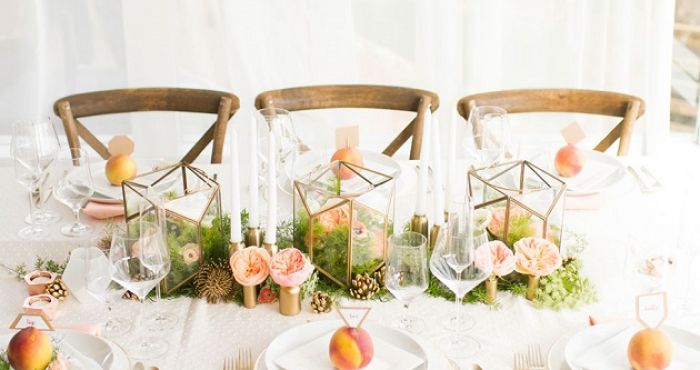 Who doesn't like terrariums? They look really mesmerizing and they are the latest trends. Especially if the couple is not into too much of flowers, then adding terrariums to the wedding décor can bring in uniqueness to the overall décor. And the best thing is you don't need to splurge on centerpieces. 2023 is the year of quality, just adding some romantic terrarium to the wedding décor will take the whole décor to another level.
18. Mixing Up
For 2023, the new take is to mix up the whole thing and create an amazing atmosphere. Mixing up things is for couples to give their wedding venue a new dimension. Mixing up simply means adding all the elements like lighting, and luxe fabrics, along with tall taper candles, and creating an enchanting atmosphere.
19. Natural is Classy!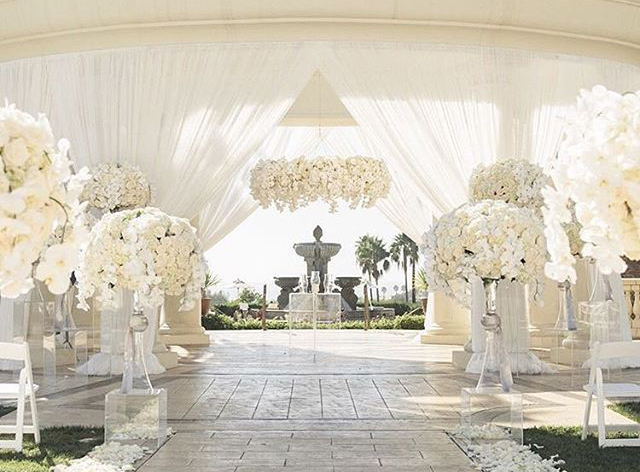 Couples are choosing wood over plastic in 2023. Natural is always classy!! Though plastic is easily available and relatively less costly the beauty of natural elements is beyond. Couples are now ditching plastic and creating an environment-friendly wedding ambiance by opting for wood over plastic because wood is natural. Wood makes for seriously classy wedding decor.
20. Focus on the Ceiling
The 2023 year is the year of going for an out-of-the-box décor. Especially for couples who are scared of experimenting, then this is the time to do something unique and different. For keeping the entire décor more quirky, one can eliminate the flower arrangements on the table and add wonderful elements to the ceiling. Just a simple garland of greenery along with a few hanging paper lanterns on the ceiling would do wonders. It will not only fill the space but also make the whole ambiance look romantic!
21. Tapestries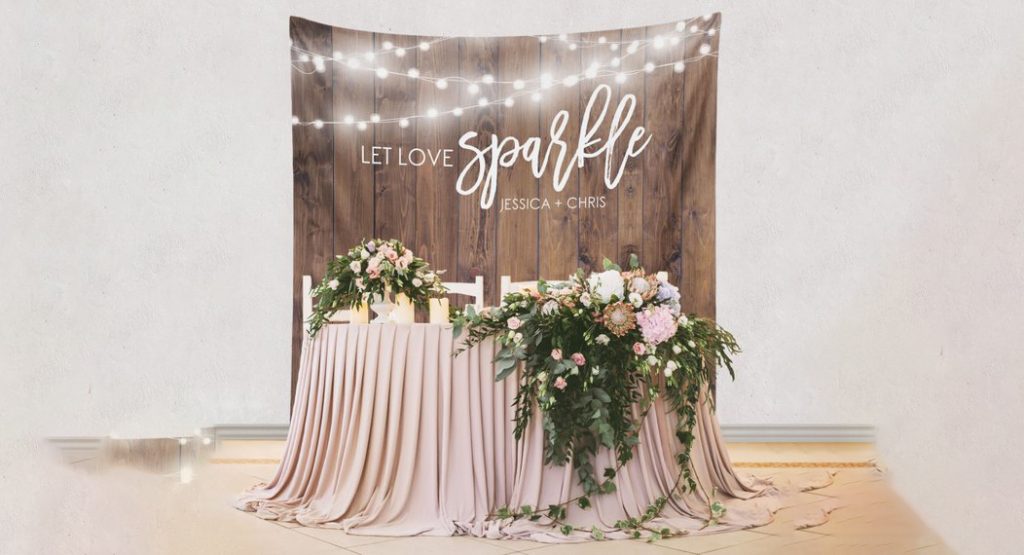 Hanging tapestries is another wonderful boho chic-inspired décor of 2023. Especially if you feel your wedding hall walls are too boring, and your budget is also limited, then go outside the box. Adding some beautiful tapestries to the walls will add to the décor and allow you to cover up the walls.
22. Creative Menu Cards
DIY is trending in 2023, couples don't want to have the same old menu cards at their wedding. They prefer to go creative and have something unique for their wedding matching to their theme. Couples are not leaving any stone unturned to flaunt their creativity. You also don't need to go with the same old trend, instead of printing out your escort cards and menus, be creative and make your menu cards more enchanting.
23. Food Decoration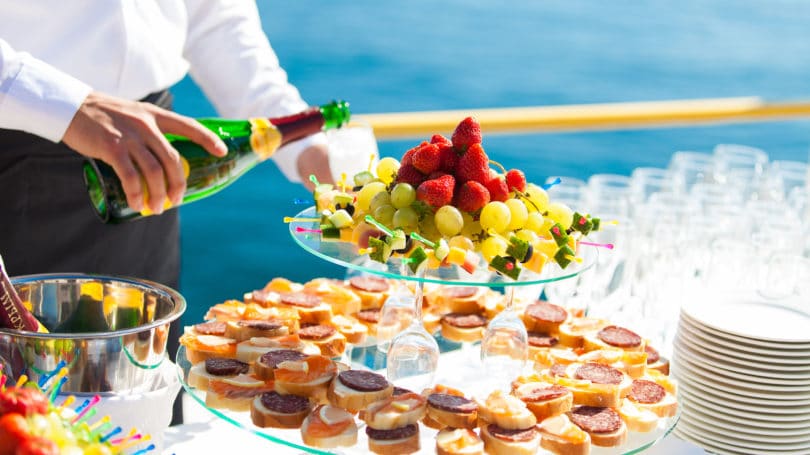 Couples today are like nothing, which means no area of the wedding should go plain and bland. Couples are adding pizzazz to their special day by having their wedding food and drink arranged in an enchanting way. For 2023, the use of stunning trays and farm-fresh cheeses to give an organic feel to the area and using big and assorted apothecary candy jars on the dessert bar to add to the festivities of the occasion is in trend.
24. Patterned Table Runner
Now, no more of white, it's time to have some patterned table runners to add to the texture. Yeah, couples are bidding adieu to white table runners in 2023 and welcoming newness. Patterned table runners instantly pop.
25. Organic Style Arrangements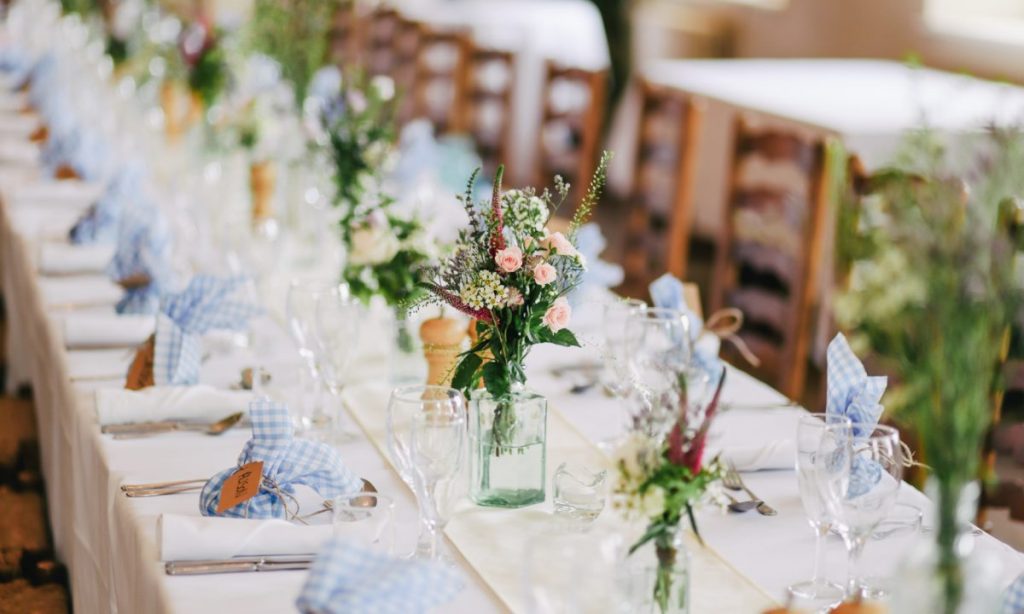 2023 is the year of abstract floral installations. The 2023 wedding decor trend is all about creating free-flowing, organic-style arrangements on a larger-than-life scale. Just imagine flowers and vines growing up a wall, epic hanging floral centerpieces, and overflowing greenery arches above venue entryways. Couples today are looking for ways to personalize their decor by bringing the outdoors in. And special thanks go to Meghan Markle and Prince Harry for reigniting this trend, as their florist decked out Windsor Castle with gorgeous greenery and floral arches on their wedding day.
Final thought…
The 2023 wedding decor trends are all about change and newness. There are no hard and fast rules to go about in 2023. Couples are making their own rules and shifting away from so-called wedding "themes". And why not after their wedding is about their story! The best thing about 2023 is you don't need to go traditional ways, in fact, you can have your own quirky way and create a wonderful ambiance for one and all. Go creative, and think outside the box!!
Happy wedding….. ☺ ☺