When it comes to wedding venue décor there may be some limitations in case you have planned your wedding at some museum or historic venue. They will surely not want you to damage their property in the name of wedding decoration. You may probably not use the nails to hang things out there. So, likewise you can face challenges while getting your wedding venue decorated for the event.
And sometimes the challenge comes when your wedding theme or style is different or unique, or when you are looking for a minimal decoration at your wedding. If not all these, then your budget is a constraint. Whatever the reason is, a wedding venue has to be decorated for good reasons. Howsoever you want your wedding décor to be, personalization should be key!!
Well, if you are also looking for some best décor ideas for your wedding venue, then let me tell you, there are plenty of ways you can have a great, enchanting, elegant, and memorable décor at your wedding. Here are best décor ideas for your wedding venue.
Here we go…
1. Use lots of white lights for decorating your wedding venue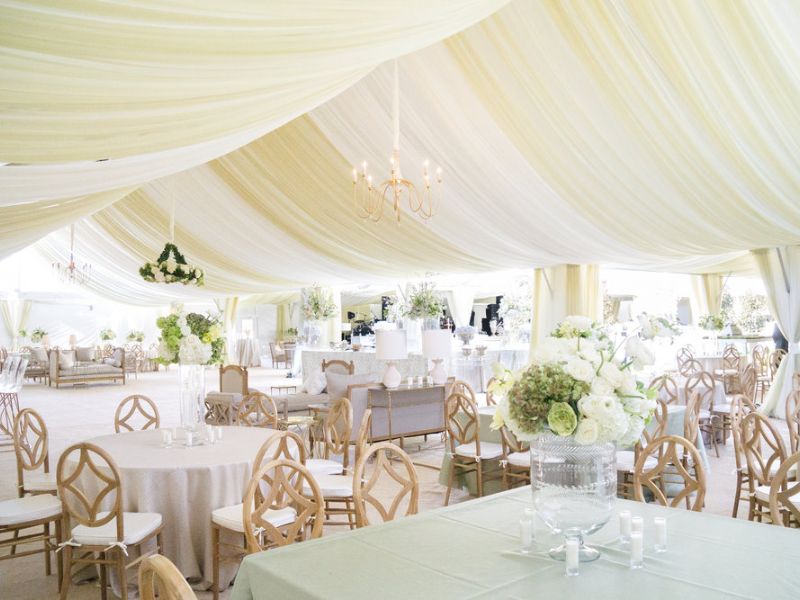 White lighting looks simple yet beautiful and elegant. And it makes for the perfect decoration at the venue. Using lots of white lights can make a beautiful addition to any wedding venue decor! You can hang these lights to the ceiling, around tables, on your trees, on the sidewalks, and on the potted plants. Most importantly, these lights are really inexpensive ways of decoration. Use of lots of lighting make the place look relatively bigger, spacious, and enchanting.
2. You can drape the ceilings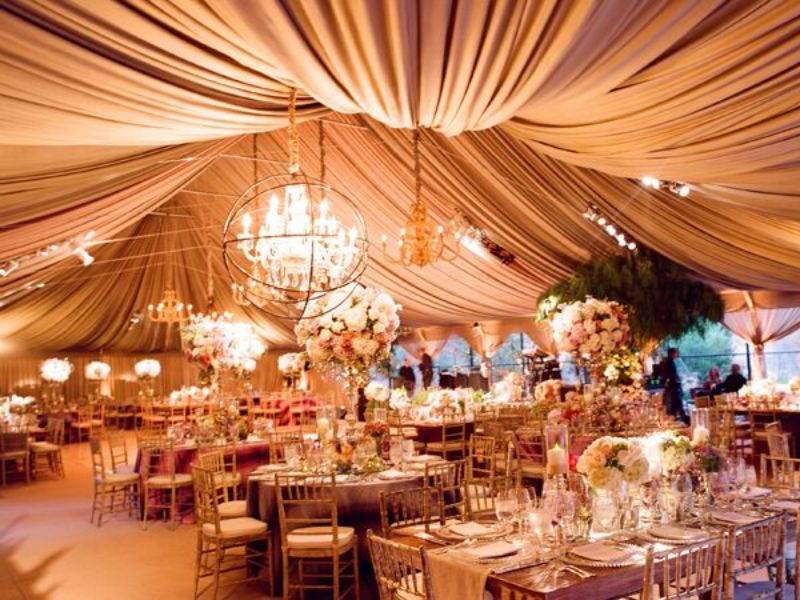 You will be amazed to know that a little fabric can bring in a great change in the entire venue, and can add to your overall decoration. There are many vibrant colors available you can opt for like yellow, red, blue, etc. If you want you can keep it formal and elegant with just white fabric, or if you're looking to add some fun vibe, then you can opt for some bright colors like red and yellow. Believe you me, draped ceilings are the cost effective ways of decoration and looks mesmerizing.
3. Make the venue look romantic with candles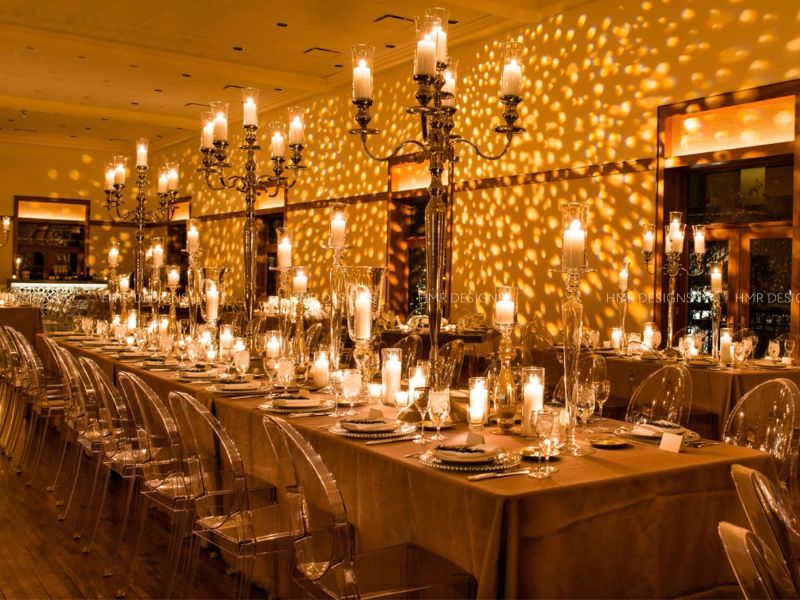 There's nothing more romantic than a decoration with candles. Just imagine a dim venue lit only by the glow of thousands of candles all around. And the best part is, candles are inexpensive, and make for a perfect venue decoration.
4. Use colorful wide ribbons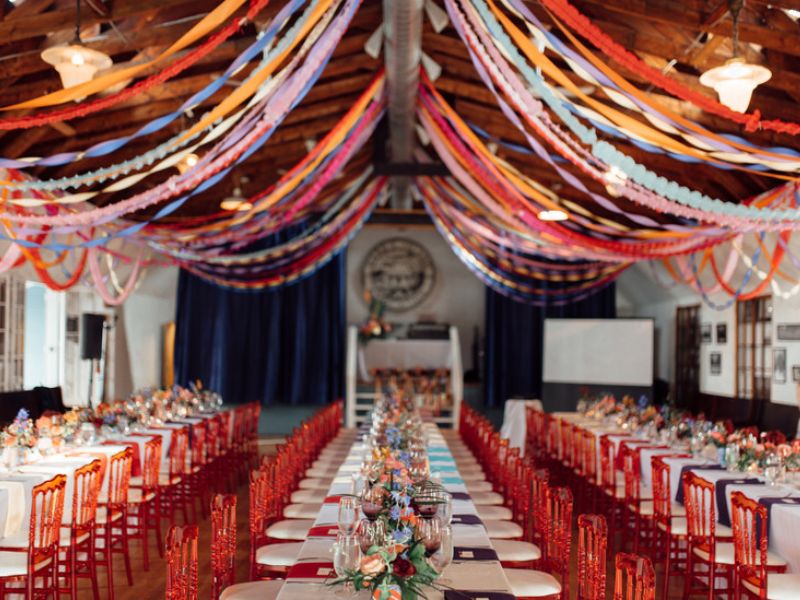 Would you believe if I say a ribbon can make a huge difference in your overall décor? If not, then try yourself, you will see it on your own. To decorate your dining area and the wedding hall, get some beautiful wide ribbons and tie on the backs of the chairs. These ribbons will add elegance to your décor. And the best thing about ribbons is, they are inexpensive and a wonderful alternative to your fancy seat covers.
5. Use fabric to cover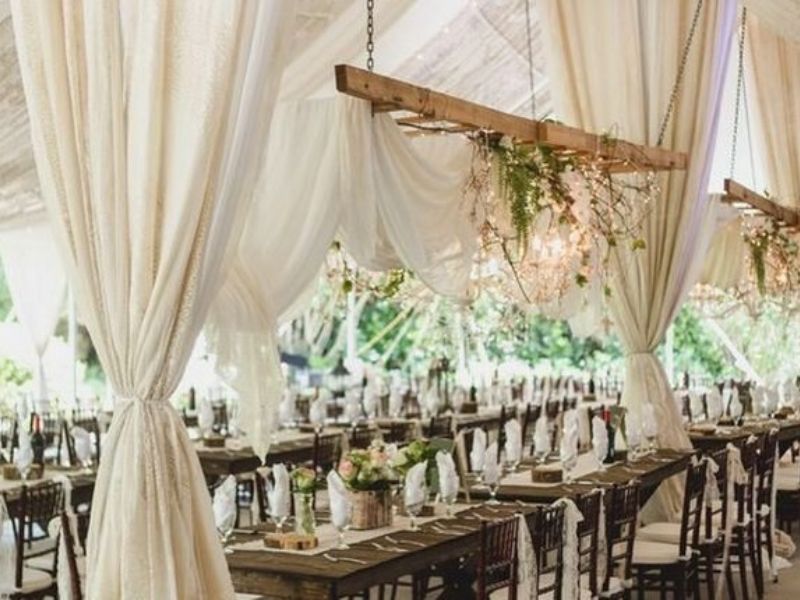 After ribbons, fabric is another most sought after décor options. And trust it is really inexpensive. It is easy to get yards of your favorite fabrics and use it to cover almost everything from your tables to your ceiling> believe you me, sheer fabric will create a romantic atmosphere at your wedding. All you need to do is get creative with fabric and create a romantic, and intimate atmosphere at the venue.
6. Use your engagement and pre-wedding photos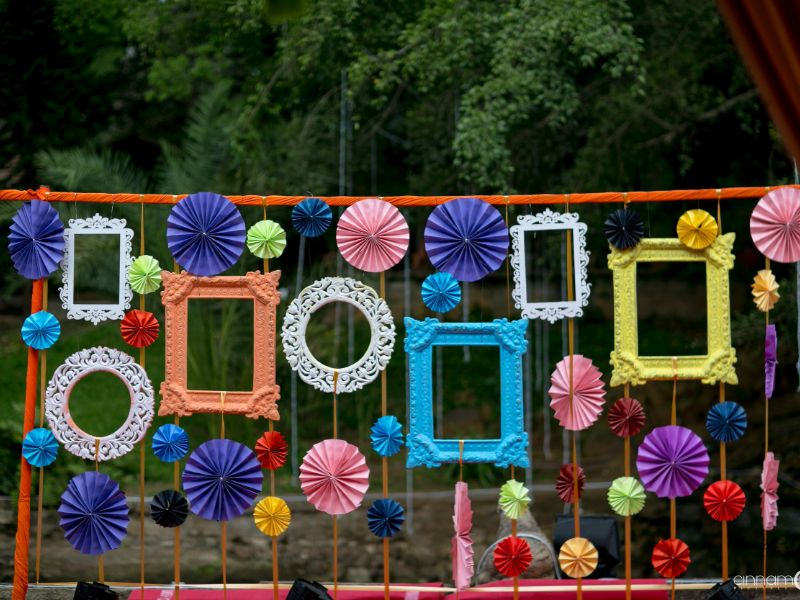 Your engagement or pre-wedding shoot photos will be very useful for your wedding décor. If you really wish to flaunt some of your cozy pictures amongst your guests, use your photos. In fact, your guests will love to see your photographs, and your wedding venue is the perfect place to display them, if yours is an intimate wedding with few guests. Possibly your wedding venue will be the only place for some of your guests to see your engagement and pre-wedding photos. All you need to do is select some of your favorite pictures, get them oriented and display them in a collage or in frames.
7. Use lot of flowers to create mesmerizing atmosphere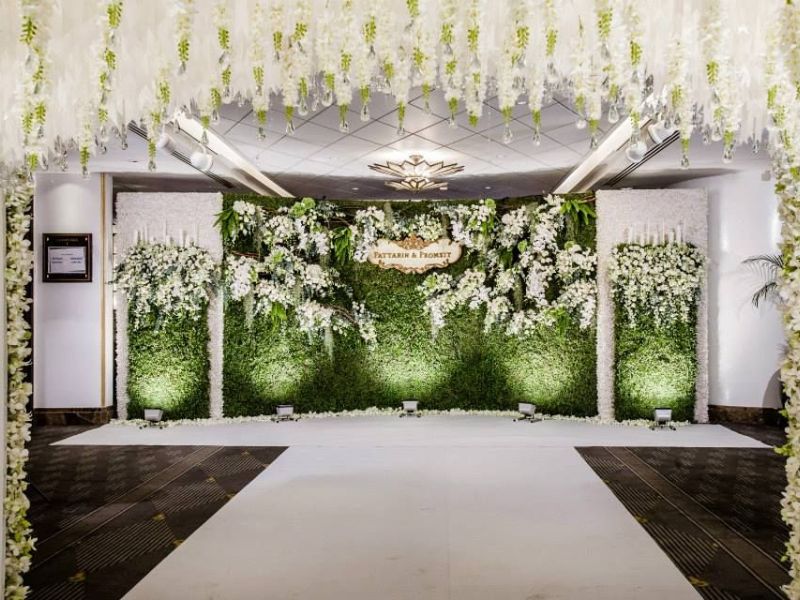 Flowers make for an elegant, eye-catching, and enchanting venue decoration. Flowers can be used in any ways to add to the decoration of your wedding venue. You can use just a single flower for the overall decoration or the mix of some of your favorite flowers to add a romantic flavor to your wedding. Also, these days some people are using flower balls to decorate their venue. Howsoever you want to use flowers, use them. They look perfect!!
8. If not flowers then use feathers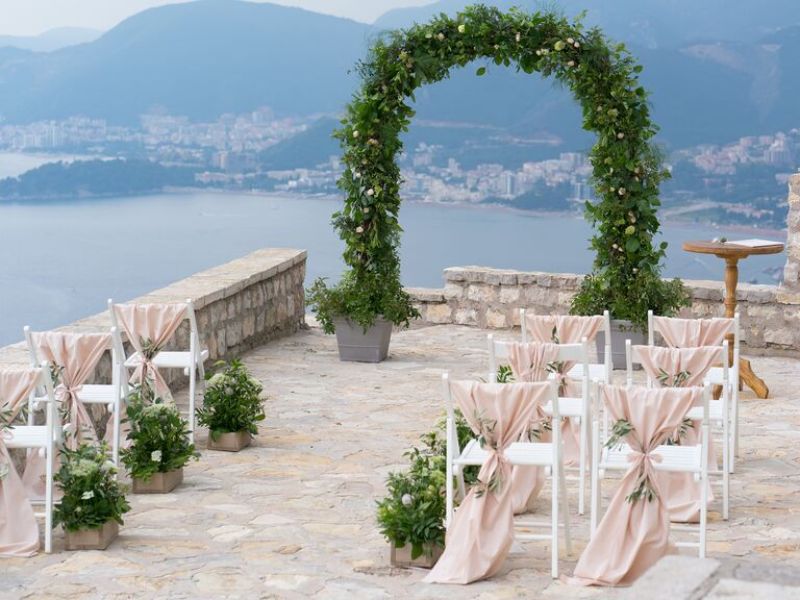 If you want to have a unique décor at your wedding venue, then go with feathers. Feathers are trending in wedding decor. And the best part is, they are very inexpensive, you can buy them in bulk from a craft store or online. Create large feather wreaths from them to hang on the walls or else just add them to centerpieces and flower vase for an elegant look. It is a cost effective way to get a unique décor.
9. Use lots of cushions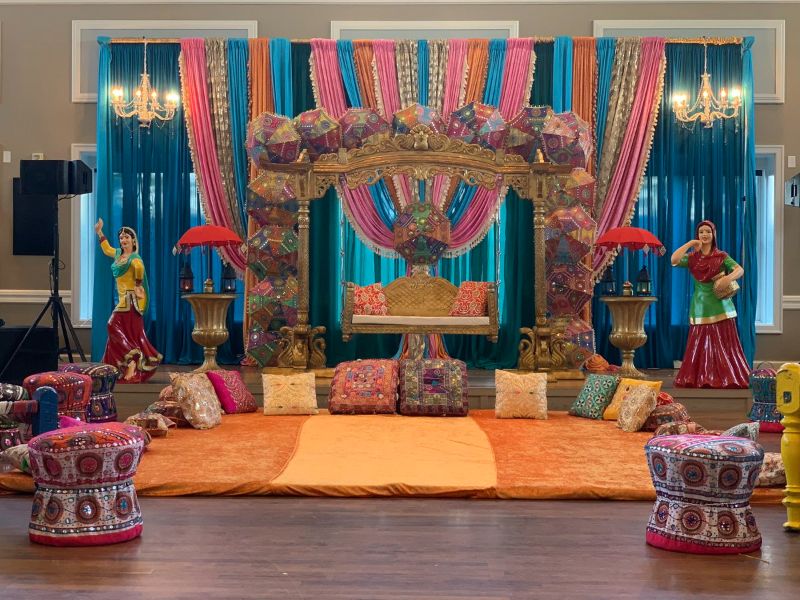 If yours is an intimate wedding with just few guests then there's no better way than using lots of cushions for your wedding venue décor. To make it look a little traditional you can always use cushions and bolsters, like Rajasthan. Use cushions with mirror work, they will look mesmerizing. Give your intimate wedding a traditional touch.
10. Use natural plants as your décor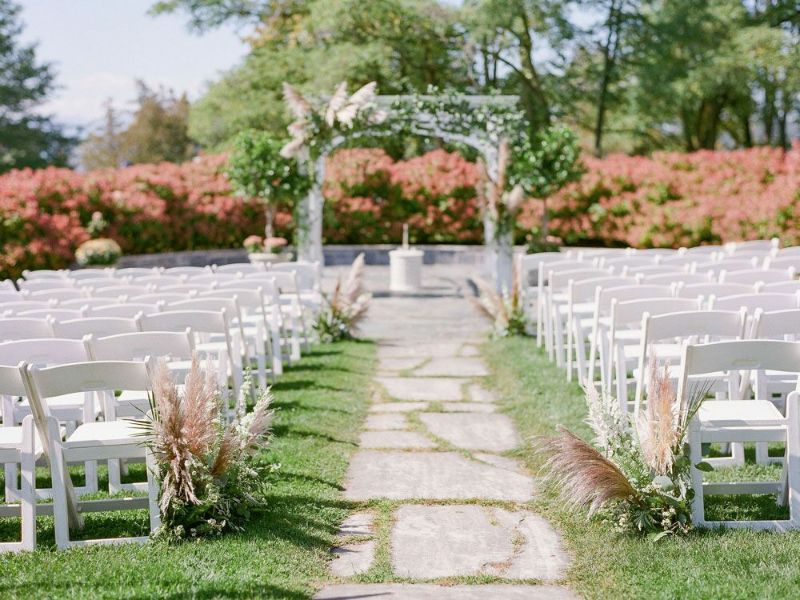 Natural plants make for a perfect wedding décor. And, it is an inexpensive way to give your wedding venue a unique look. Specifically for the couples who would want to go green on their weddings too. Also, you don't need to buy these flowers, you can always get them rented as there are many vendors who rent plants for your event.
11. Decorate the venue by creating an escort card display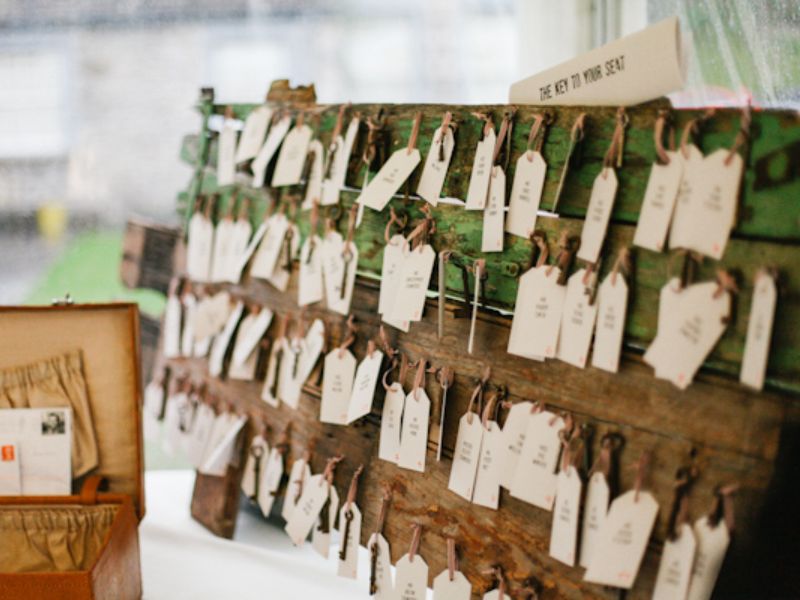 Just chuck the old idea of having an escort card table, instead try to create a board of seating assignments and simply display it near the entrance of the reception space. It will look cool and also you won't have guests peering at tiny tented cards, trying to know their table number. This is going to be unique!
12. How about adding a water feature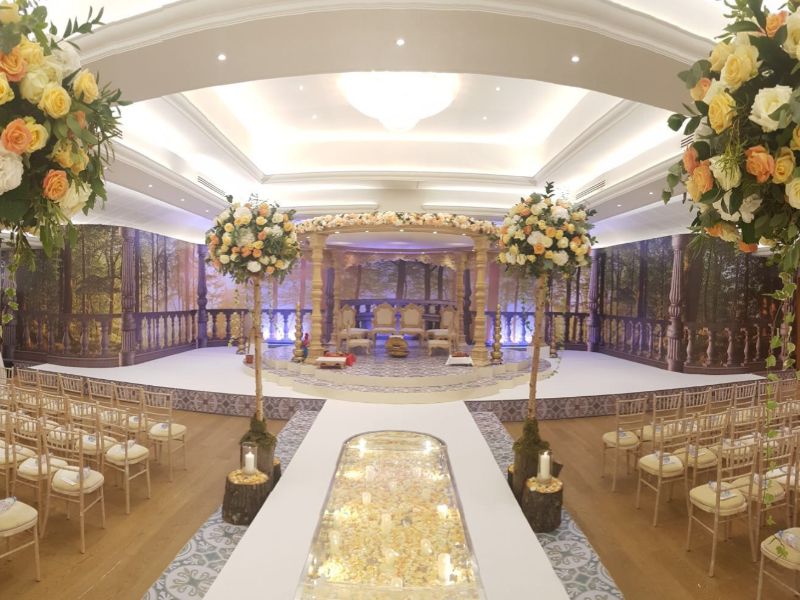 Simply adding a water fountain at the entrance of the wedding hall will add to the overall décor of your wedding venue. If you want you can even go for small ones that you can be kept on the tables. I am sure everyone would love the mesmerizing and refreshing sound of the water fountain.
13. Chalkboard signage will add to the decor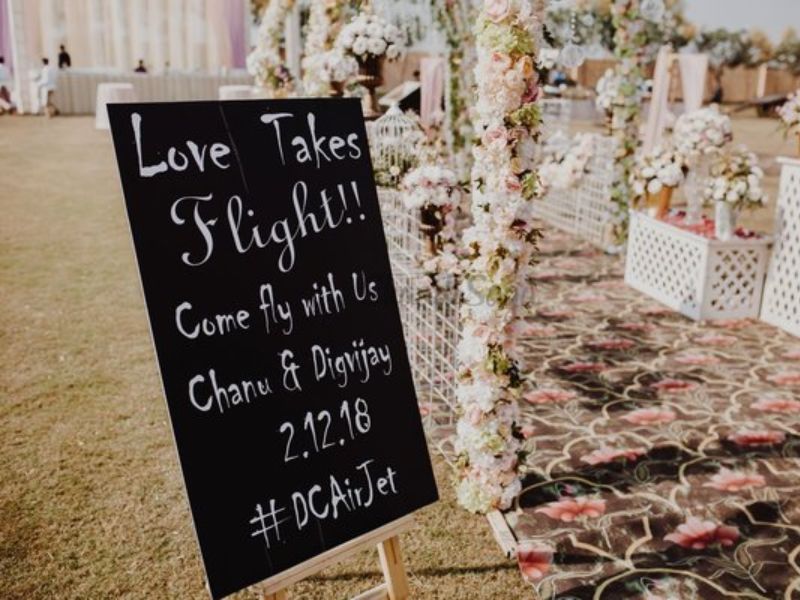 Chalkboard signage is a wonderful way to decorate an entrance of the wedding venue. You can even customize and personalize it, simply take an old frame and spray-painting it with the theme of the wedding!
14. Go for a Zen style decor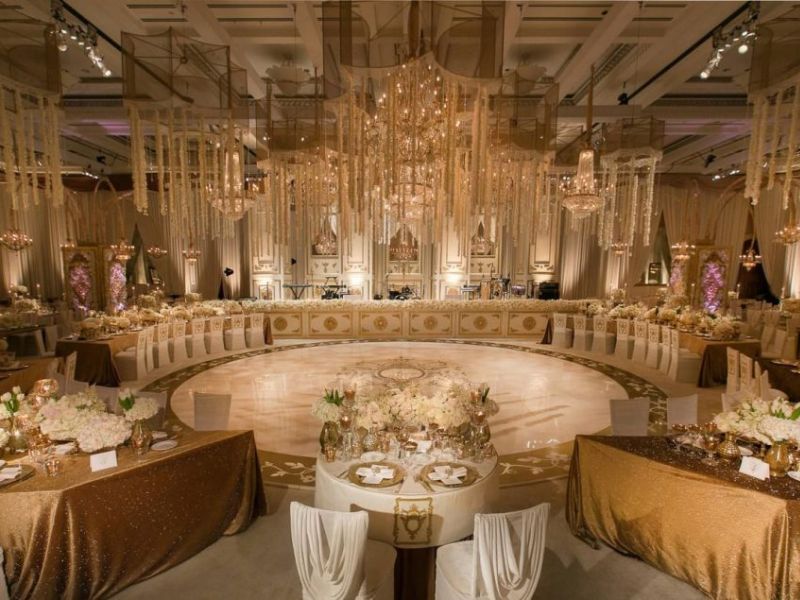 Zen, a wonderful theme for your wedding venue. The style looks beautiful, let everyone bewitch your wedding décor. There are so many things, which you can do with a Zen wedding theme, it is going to be a soothing, peaceful, and relaxing arrangement for your guests. Like you can set up a water fountain at the entrance of the hall. Set up paper parasols, rock gardens,bonsai trees, lanterns, and origami here and there at the venue. All your guests will love the theme, it will not only be unique, but also be unforgettable!
15. Make use of table lamps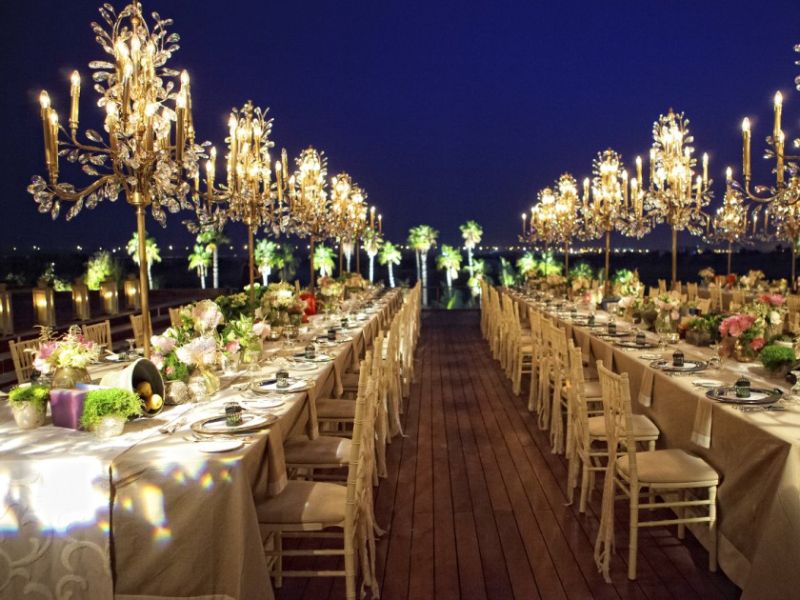 If yours is going to be a small wedding event in the evening, by the side of some mesmerizing beach, then table lamps will be just enough to create the ambience. Just take your décor to another level by using table lamps at your beach side wedding.
16. Use colored glassware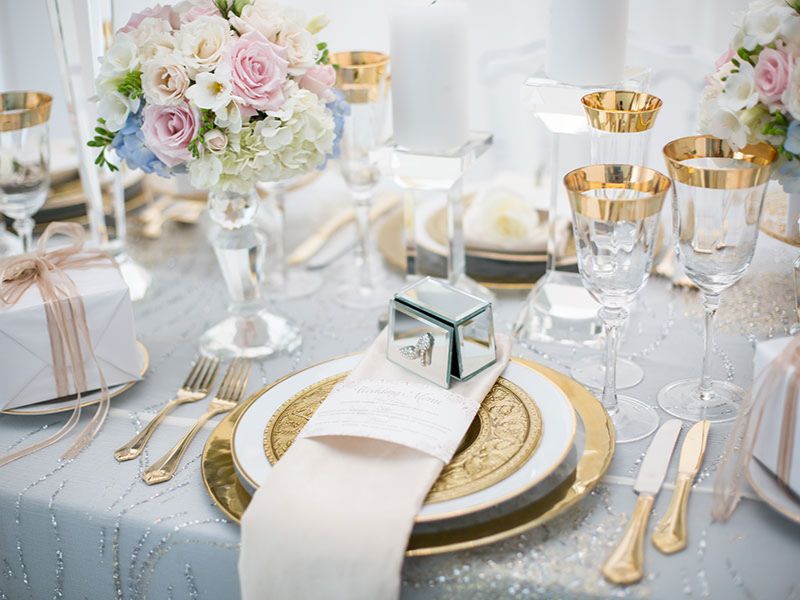 By using colored glassware for your wedding venue décor, you will be able to give your décor a new standard all in all. Why should you go for centerpieces, why not simply get some colored glassware and make your tables pop in no time. And the best part is you don't need to buy these glassware, you can rent them easily for the day.
17. Display a family photo wall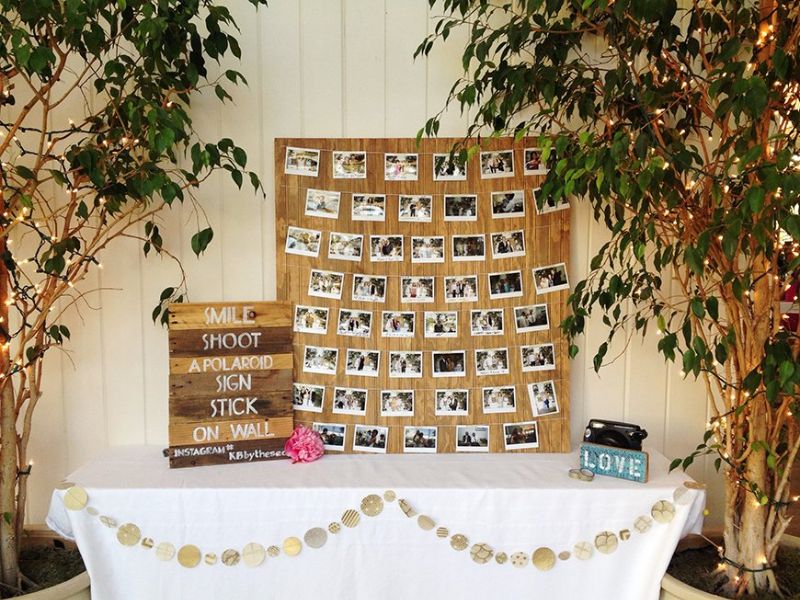 Another sought after décor idea is to have a family photo wall. This is not only unique and enchanting décor idea, but also will help people initiate conversation.All you have to do is to create a wall of family wedding photos. Make sure you add your partner's family pictures as well. Or you can also create a family tree. Your guests will be able to know who is who with the help of this family photo wall. Make sure you are create the wall in the most creative way.
18. Use paper lanterns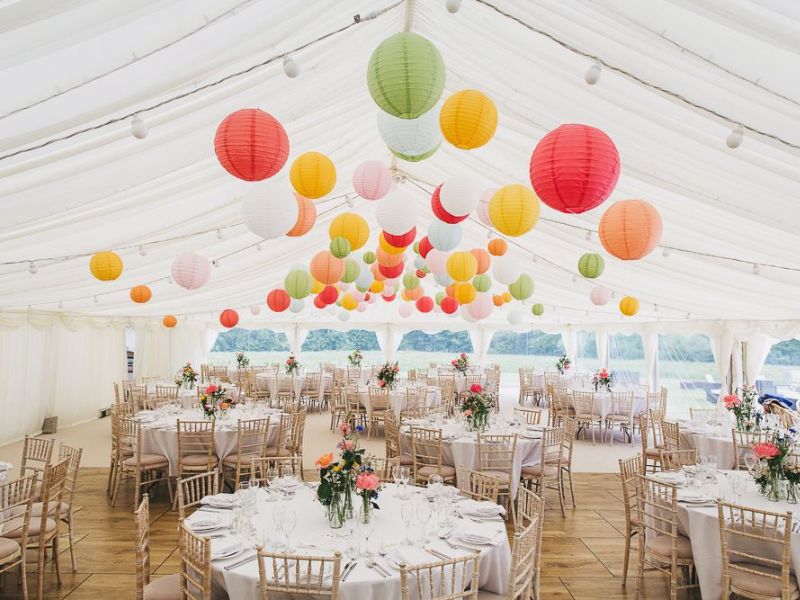 You must have seen paper lanterns in many occasions, especially some restaurants use create a perfect ambiance for the people. Though, paper lanterns are not new, but they make for a perfect décor idea. But multiply the number of lanterns you usually see hanging in a reception space by 100 and it's a totally different story.
19. Use terrariums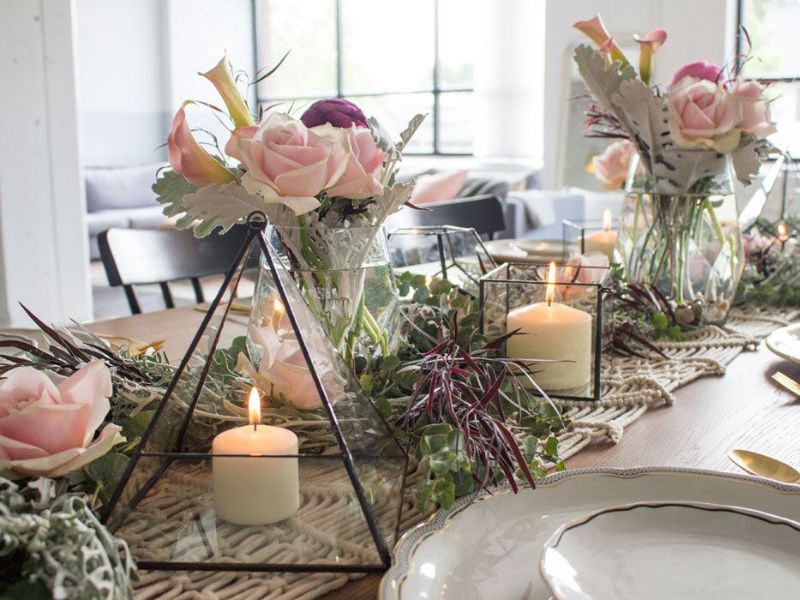 Who doesn't like terrariums? They look really mesmerizing. If you are not a flower truly, then adding terrariums to your wedding décor can bring in uniqueness to the overall décor. You don't need to splurge on centerpieces. Just add some romantic terrarium, candles, and a few blooms and the job is done!!
20. Make a photo backdrops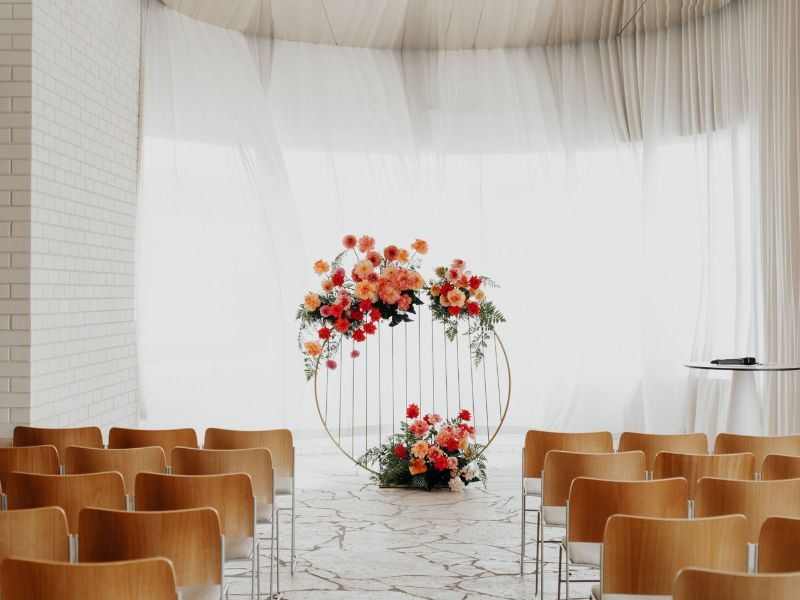 You will be stunned to see the ways your photos can be used to bring in a difference in your wedding venue décor. This is another way to use your photos for your wedding decoration. Just create a beautiful focal point for all. Use layers of different colors and shapes, give your guests some unique elements to venerate at. You can personalize the backdrop with materials like balloons, flowers, paper flowers, tissue paper tassels, garlands of greenery etc.
21. Mix it all up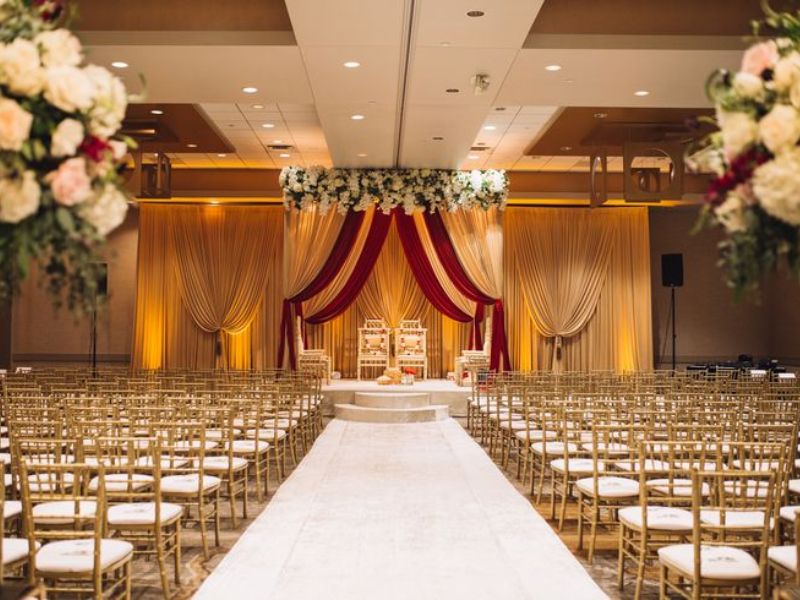 If you want to give your wedding venue a new dimension, then you can add elements like lighting, luxe fabrics, along with tall taper candles, which will just give your venue an enchanting look.
22. Choose wood over plastic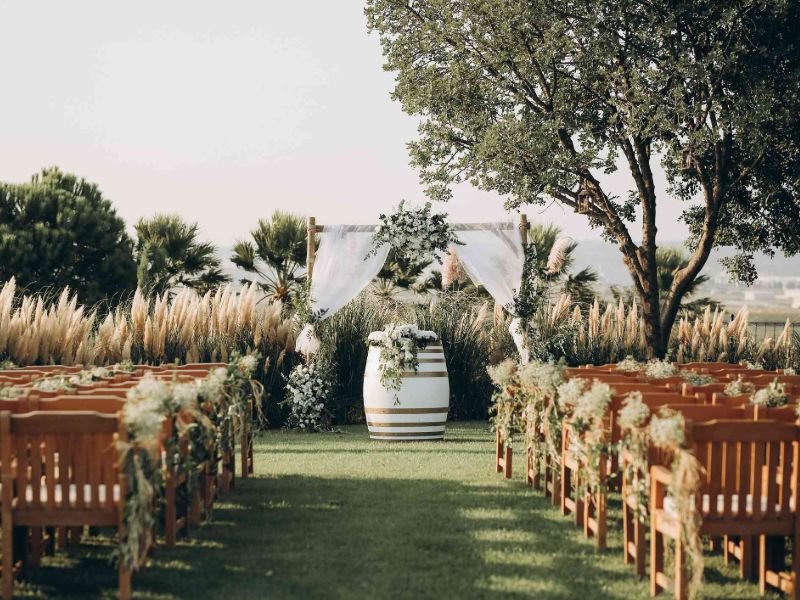 Natural is always classy!! Though plastic is easily available and relatively less costly but the beauty of natural element is beyond. If you have to select between plastic and wood tables and chairs, go with wood, because wood is natural. Wood makes for a classy decoration ideas.
23. Focus on the ceiling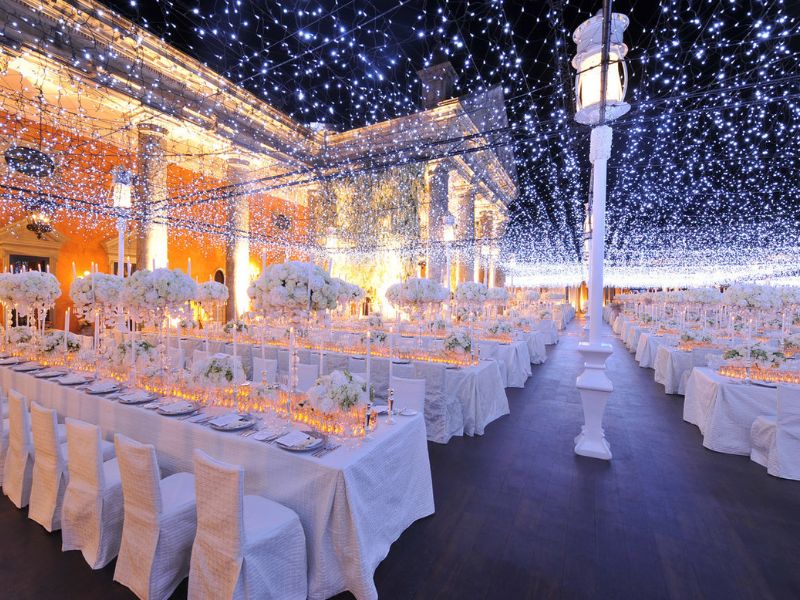 If you are looking to eliminate the flower arrangements on the table, then you have a choice of adding some wonderful elements on the ceiling, to make it look beautiful. Just use some simple garland of greenery along with a few hanging paper lanterns on the ceiling. It will not only fill the space, but also make the whole ambiance look romantic!
24. Hang tapestries on the walls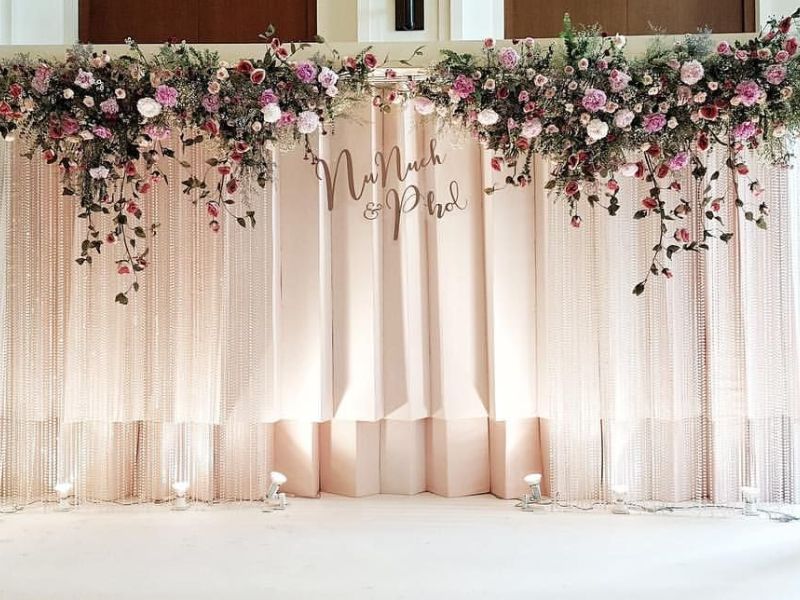 If you think the wedding hall walls are too boring, then adding some beautiful tapestries to the walls will add to the décor and allow you to cover up the walls. They are very easy to set and arrange. The best thing about tapestries are – they are not very expensive décor items.
25. Go creative with your menu cards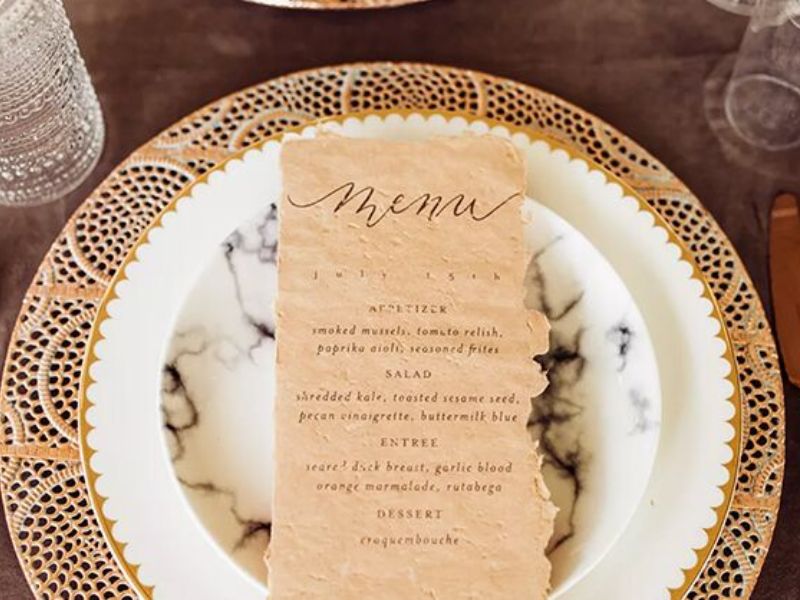 If you want to flaunt your creativity furthermore, than instead of printing out your escort cards and menus, be creative and make your menu cards more enchanting. You can use any material for your menu cards. All you need is to have some wonderful ideas and some people to help you with the designing and making.
26. Make your food look gorgeous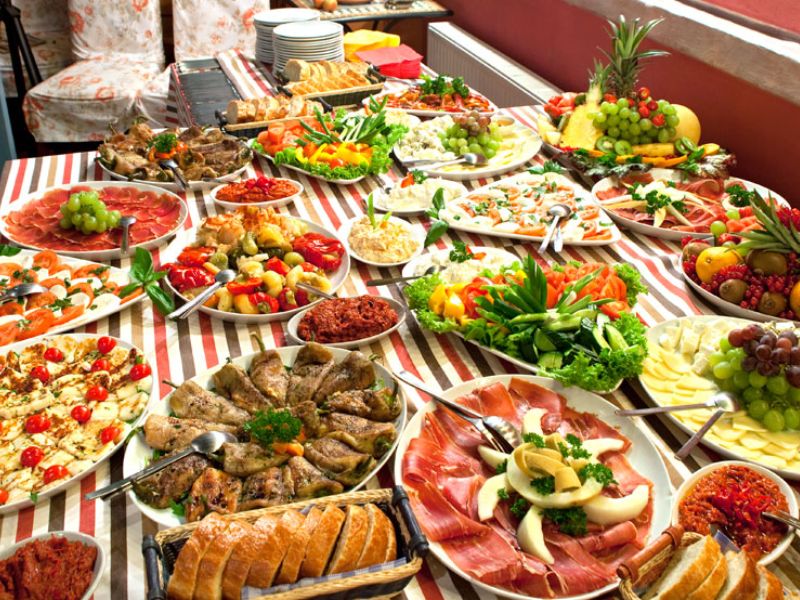 Add pizzazz to your special day by simply arranging the wedding food and drink in an enchanting way. It very much matters what menu you choose and how it is arranged. You can add some big and assorted apothecary candy jars on the dessert bar to add to the festivities of the occasion. And adding some stunning trays and farm fresh cheeses will help you give an organic feel to the area, all in all.
27. Use beautiful table runner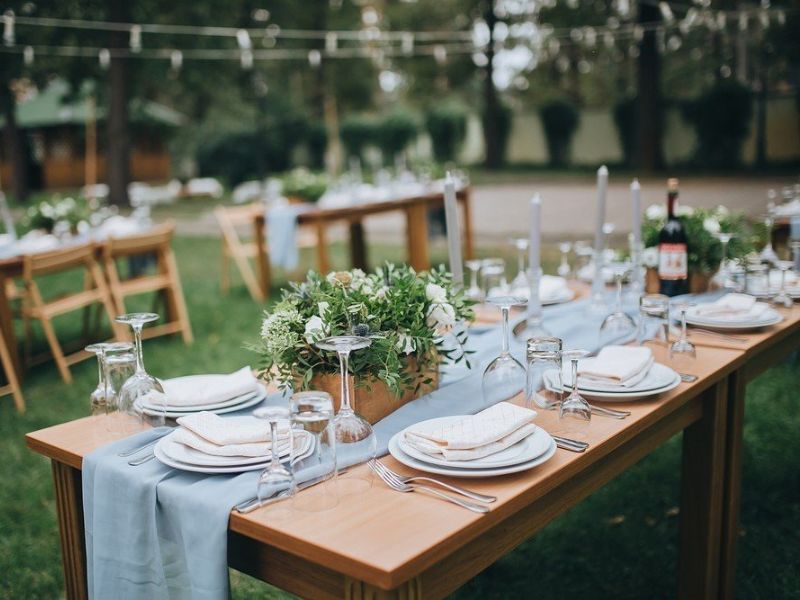 Believe it or not, your table runner can also help you add pizzazz to the décor. Get a patterned table runner which can instantly pop. If you can arrange for a beautiful table runner, then you will not need to have big floral centerpieces or vases to decorate your table.
28. Have fun with the table labels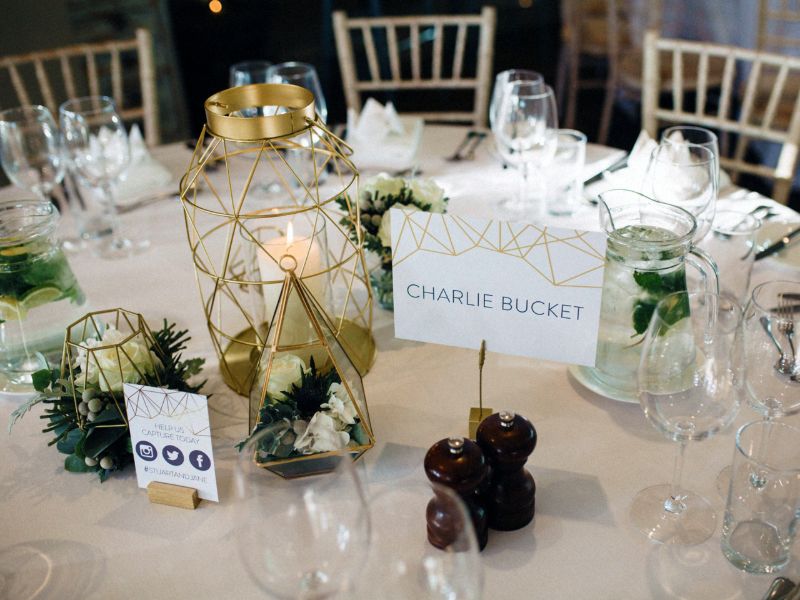 Go more creative and have some fun with the table labels to give your wedding décor a newness. You can use different items such as wine bottles, or flags to display your table numbers or names. Your guests will definitely love the idea. You never know some of your guests will use your idea in their weddings too.
29. Use balloons to add to the ceremony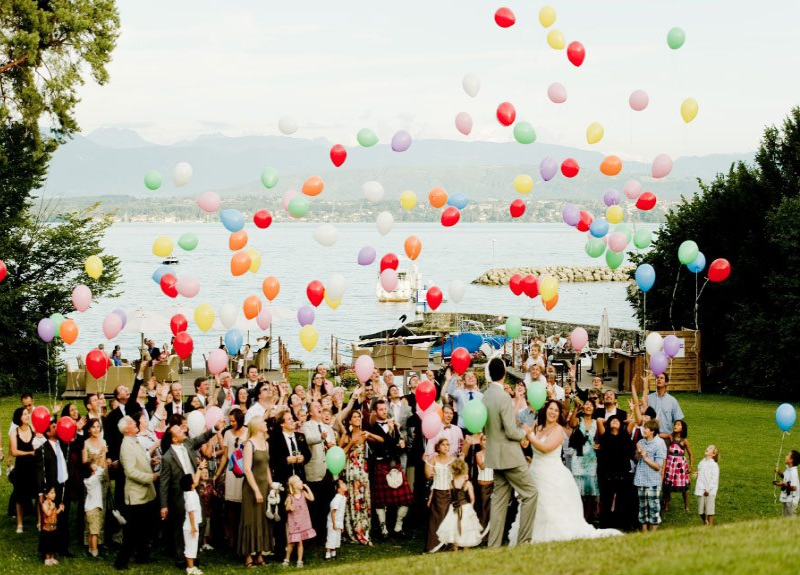 Balloons are not new, and quite often used in birthday parties. No matter what the occasion is balloons really make for a perfect wedding venue décor. You can add balloons of any color. If you want to go a little romantic than red is the color to go with. Or if you are looking for some elegant decoration at your wedding, then using white and blue balloons will help you have the sort of feel which you are looking for.
30. Use hanging lanterns and frills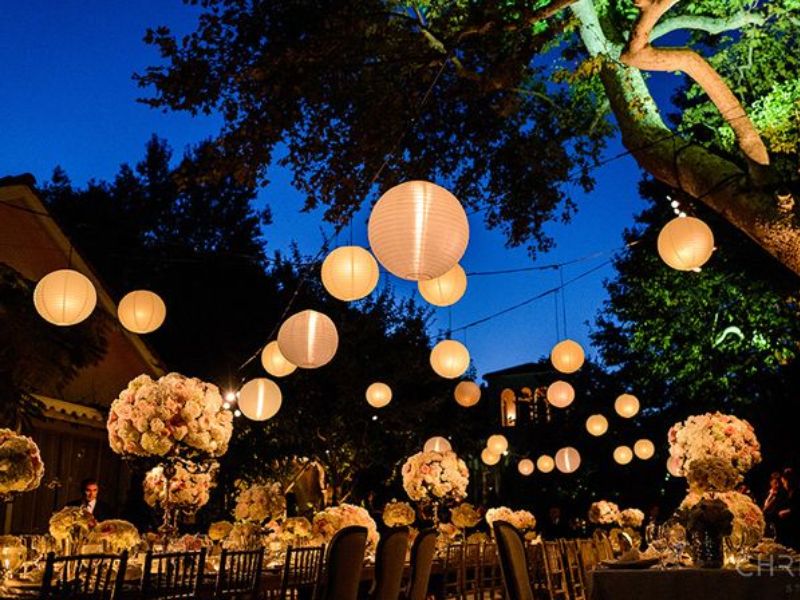 Just give your guests a reason to look up. Use a lot of hanging lanterns and drape to decorate the ceiling. By doing so, you will need a minimal decoration on the table. Use simple white light lanterns above and colored frills in between, the overall ambiance will not only be romantic, but will also look gorgeous.
Final thoughts,
Your wedding is a once in a lifetime event, a special occasion, go creative. With a little creativity and guidance from your friends and family you will be able to create a wonderful ambiance on your big day. Moreover, you don't need to go for expensive decoration ideas for your wedding, in fact all that can be done in budget!
Thanks for reading… I hope the list helps!!
Happy wedding….