When everything in a wedding is enchanting and captivating, how can a wedding tray go bland and insipid, it has to be gorgeous. Everything and every preparation related to wedding is important, no matter big or small. Even the tray which is used to carry wedding rings should be as beautiful as the wedding itself.
Here in this post we are sharing with you 20 most enchanting wedding tray decoration ideas that you can use to decorate your own wedding tray or your best friend's wedding tray.
Let's get started…..
1. Go minimal
Minimalism is in trend these days, especially with couples. If you think minimal is what you are looking for then, this is a perfect wedding tray décor for you. Simply take a sober tray, decorate it with your favorite flowers and put the ring boxes on it. And yes, tie ribbon it will look mesmerizing.
2. Create a wedding scene
Another wonderful wedding tray decoration would be to create a wedding scene on the tray. Take a tray, decorate it with your favorite elements and place miniature bride and groom on it. Now put your ring boxes in the same tray. It will look gorgeous.
3. Red velvet wedding tray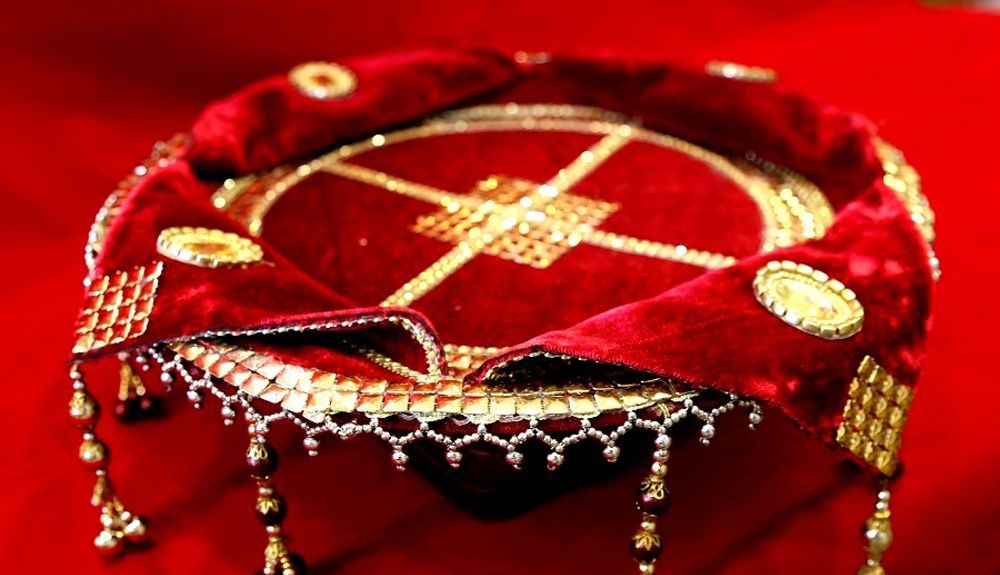 Take a heart shape or round shape cardboard or a tray. Decorate it with red velvet cloth or paper. Now decorate the tray with your favorite color flowers from edges and at the center place your rings in stylish manner. Your tray is ready!
4. Pink tray with cages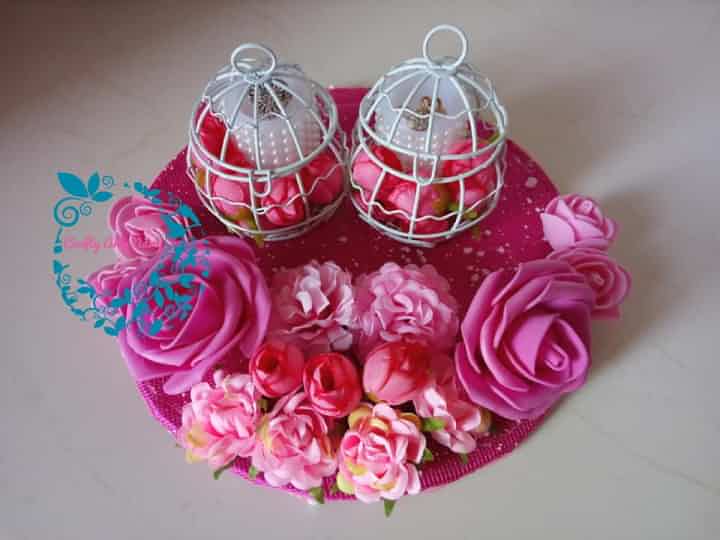 Take a tray decorate it with pink cloth and pink color flowers. Now take two cute cages in white and inside the cages place your rings. Now place the cages on the tray. And your tray is set!
5. Go silver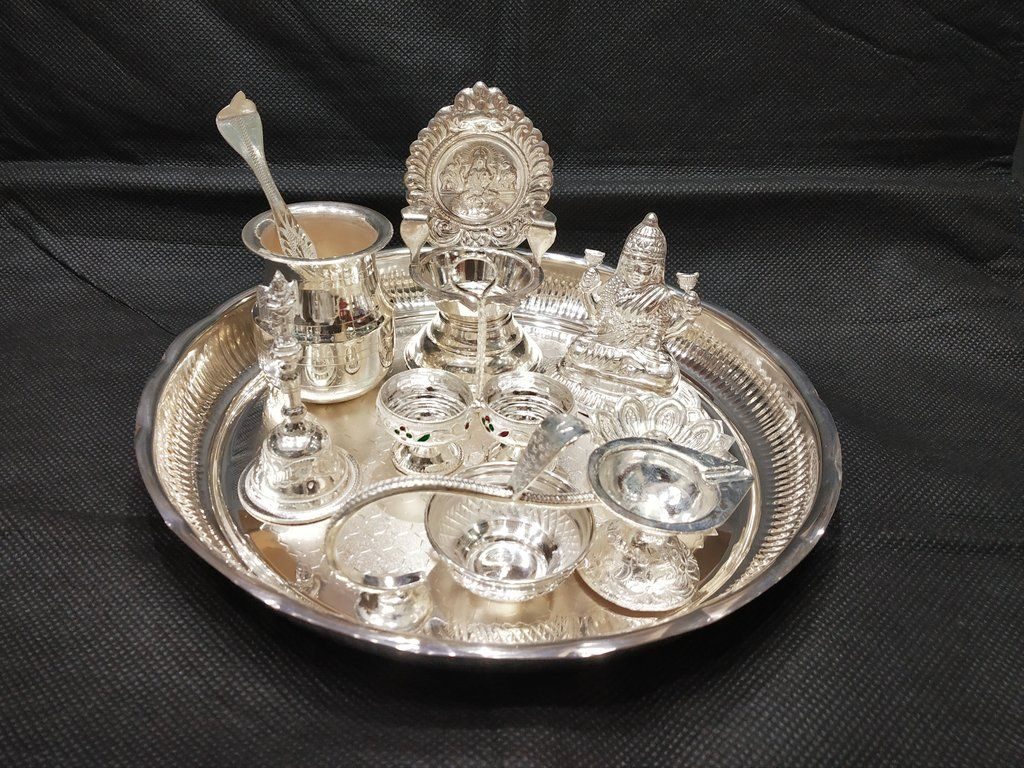 When it comes to wedding décor silver makes for the most referred color choice amongst couples. Take a silver tray and two small sized silver bowls. Take the tray decorate it with pearl string and white roses. This will make for a really wonderful tray and yes simple as well.
Also See: 25 Fancy Wedding Car Decoration Ideas and Accessories
6. Traditional wedding tray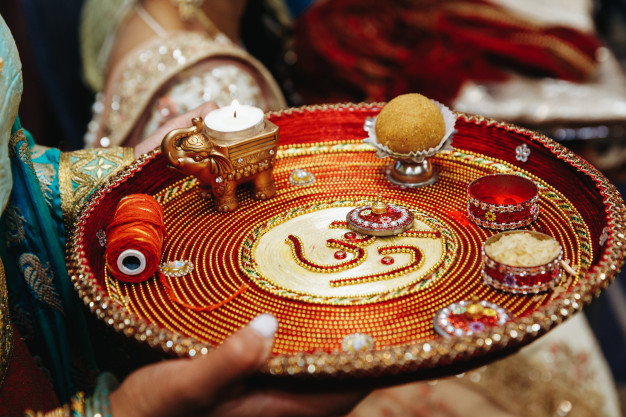 Couples who are connected to their roots would never mind going with traditional wedding trays. A traditional wedding tray will have it all. Take a round or rectangular or a square shape tray. Cover the tray with red satin or velvet cloth. Now place little Lord Ganesha idol, a small diya, peacock feather, some flowers, and your ring boxes. You can decorate the tray any which way you want to. It will look simple yet elegant.
7. Blue and white wedding tray
Blue and whites together make for a perfect combination. Take a tray of any shape, from round to heart shaped. Get a blue color satin cloth and wrap the tray with it. Now take white pearl string and decorate the tray with string at the edges, make two to three rounds of pearl string at the edges. Now, take some cotton, divide in two, flatten both the cotton balls, give both cotton pads a round shape and cover with blue satin cloth. Now, place cotton padded blue rounds in the center, and surround them with the pearl string. Place your ring inside the cotton padded circles and that's all!
8. Wedding tray with peacock feather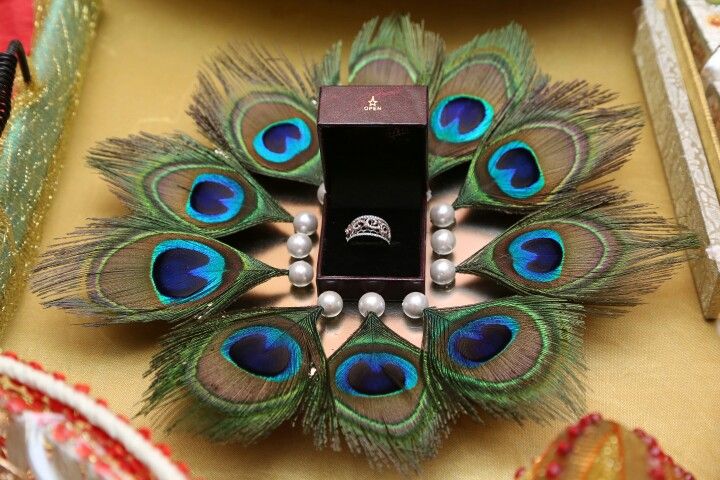 A simple yet beautiful wedding tray. Take a round colored tray, now decorate it with peacock feathers and place the ring boxes at the center of the tray and your beautiful wedding tray is ready!
9. Paisley wedding tray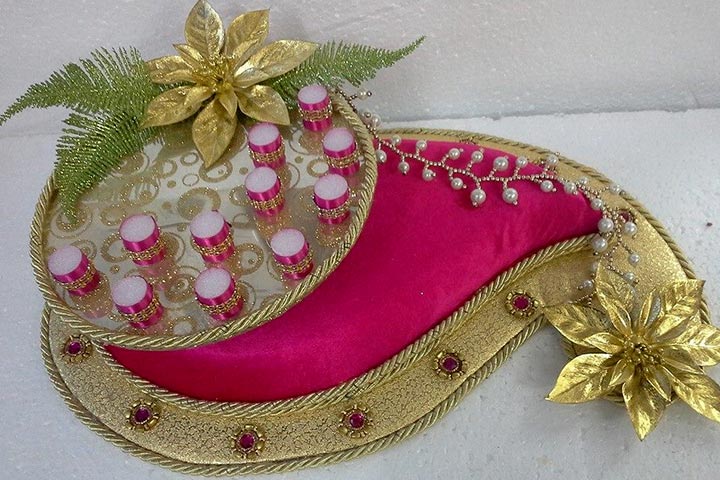 Take a cardboard, cut it into paisley shape and now decorate the same with cloth, flowers and pearl and place your rings at the center and you are ready!
10. Metal wedding platter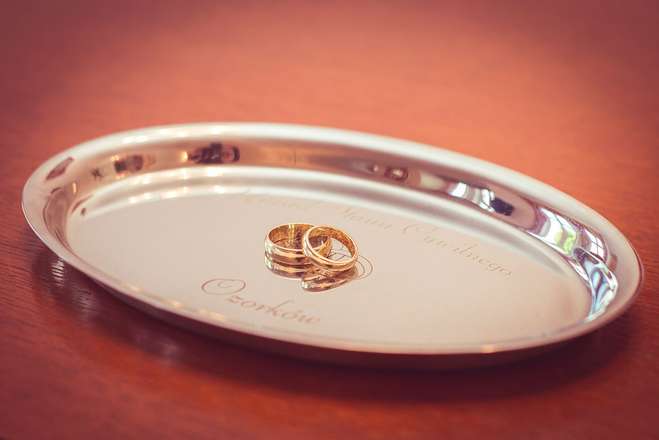 Take a metal tray with handles, now take two small size metal bowls and arrange the bowls at the center of the tray, fill in cotton in the bowls, then place pearls on top of it, now place your rings in the bowls. Take red or purple color flowers and white pearls, decorate the tray with flowers and pearls. It will look stunning.
11. Wedding stage platter
Create a wedding stage with miniature bride and groom on it. Take a rectangular tray, now take blue or pink or white color satin cloth. Cover the base of the tray with the cloth first, now make flowers with the cloth. Make like 10 cloth flowers. Make a stage of cardboard, decorate the cardboards stage with cloth, use pearl strings to make curtains of the stage and on the stage place two cute ring boxes. Arrange cloth flowers on the tray, place miniature bride and groom, spray some light smelling perfume and your wedding stage tray is ready.
12. Pink and silver wedding stage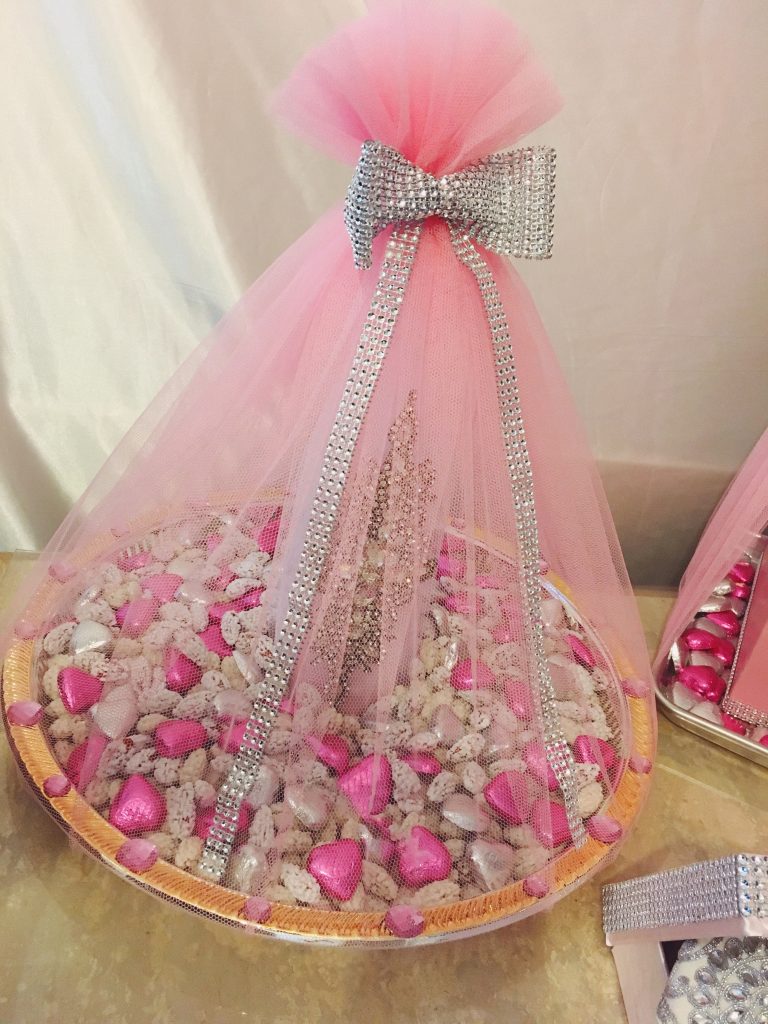 Another beautiful wedding tray – create a wedding stage in pink and silver. Take a round tray, cover it with silver color paper or cloth. Now place lace at the edges of the tray, after lace place white or silver pearl string. For the stage, Take a cardboard create a small round platform with two to three stairs. Cover the platform with pink colored paper, now take cardboard and make two round pillars with a top. Cover the pillars with pink paper or cloth. Place the stage at the center of the tray, now place both the pillars each side of the stage stairs. Decorate the base of stage and pillars with white or silver pearl string. Now for the back of the stage, create a frame in semi-circle, place it at the edge of the tray behind the stage. Decorate it with silver or white pearl strings just like a curtain. Place your rings on the top of the pillars and you are set!
Related: 42 Creative Engagement Gift Ideas for Couples
13. Golden wedding tray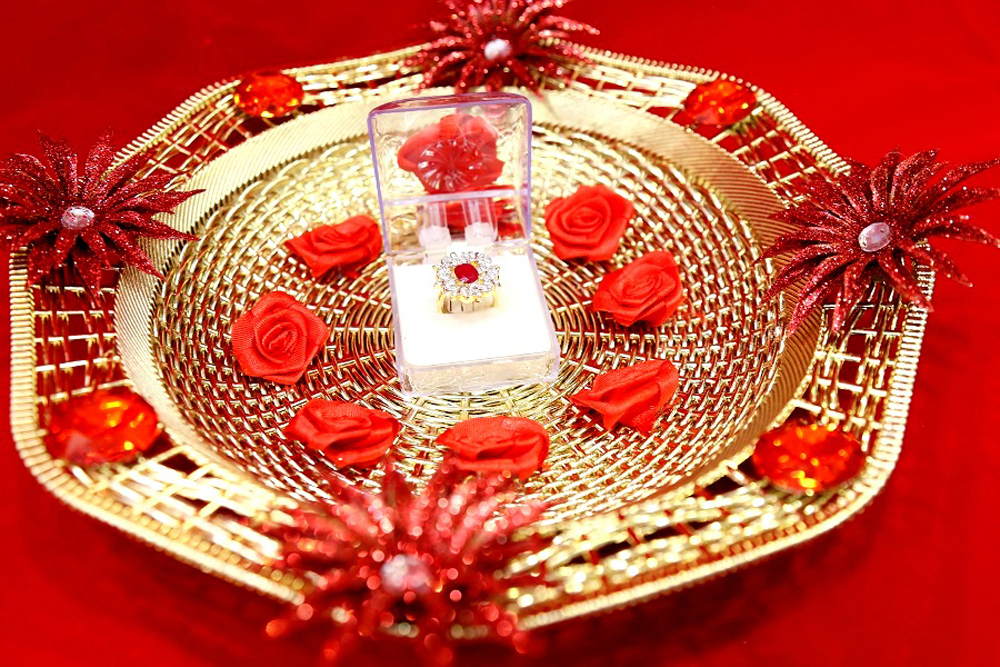 Take a metal tray or a simple round tray, paint it with golden color. Now take plastic spoons and cut their stems, and take the spoon part of it. Paint all the trimmed spoons with golden color or spray. Now arrange all the colored spoons at the edge of the tray giving it a floral pattern. Make two to three such rounds of spoons and at the center place two golden color bowls, fill them with cotton at base and pearl on top, place your rings inside the bowls and your tray is ready.
14. Heart wedding platter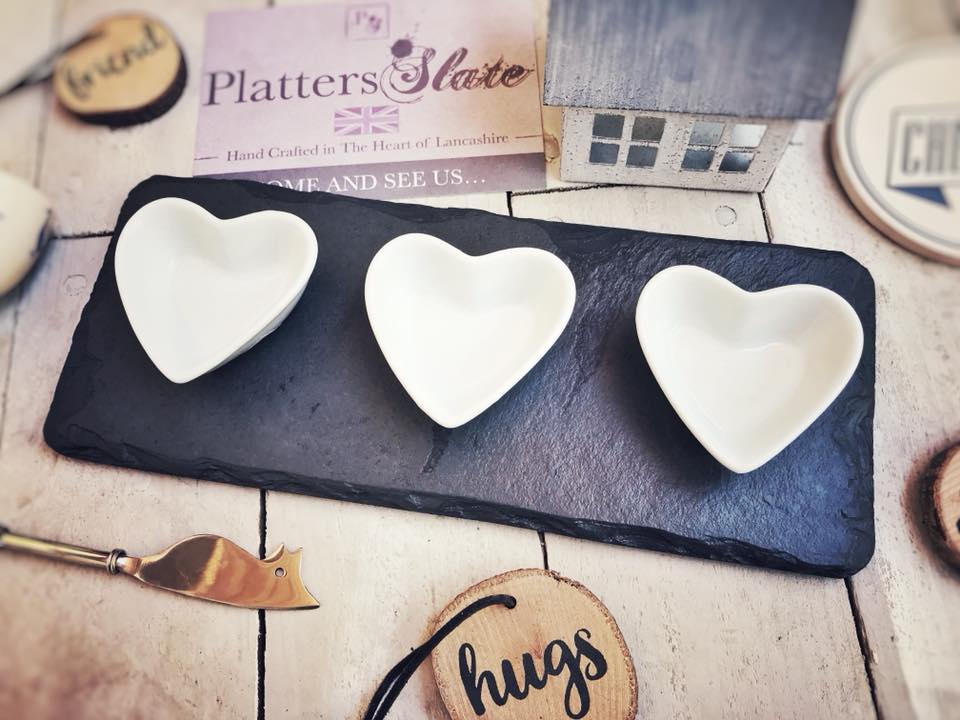 Take a heart shape stray, or make one with cardboard. Cover it with white satin cloth. Decorate the edges with broad pearl lace. Now decorate the upper part of the heart tray with blue satin cloth flowers. At the center place two heart shaped small size ring boxes and just at the center place miniature bride and groom. Your tray is ready!
15. All silver
Take a round silver color tray, a silver color bowl, silver pearl strings and flowers. Decorate the tray with the silver color pearl string first, place the bowl at the center place cotton at the base of the bowl, then place purple flowers and at the center of the bowl place your rings. Now decorate the remaining portion of the tray with silver flowers.
16. Wooden tray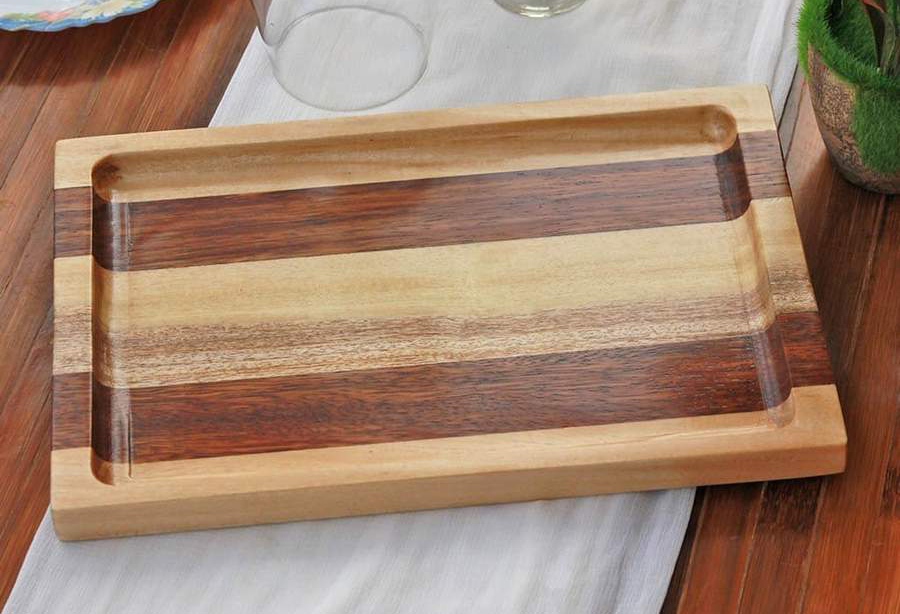 Take a wooden tray, decorate it with the name initials of both of you and at the center of the tray you can have your rings placed in beautiful boxes. This is another minimal decoration to go with. You can buy a beautiful wooden tray online or from a nearby store and personalize it.
17. Date wedding platter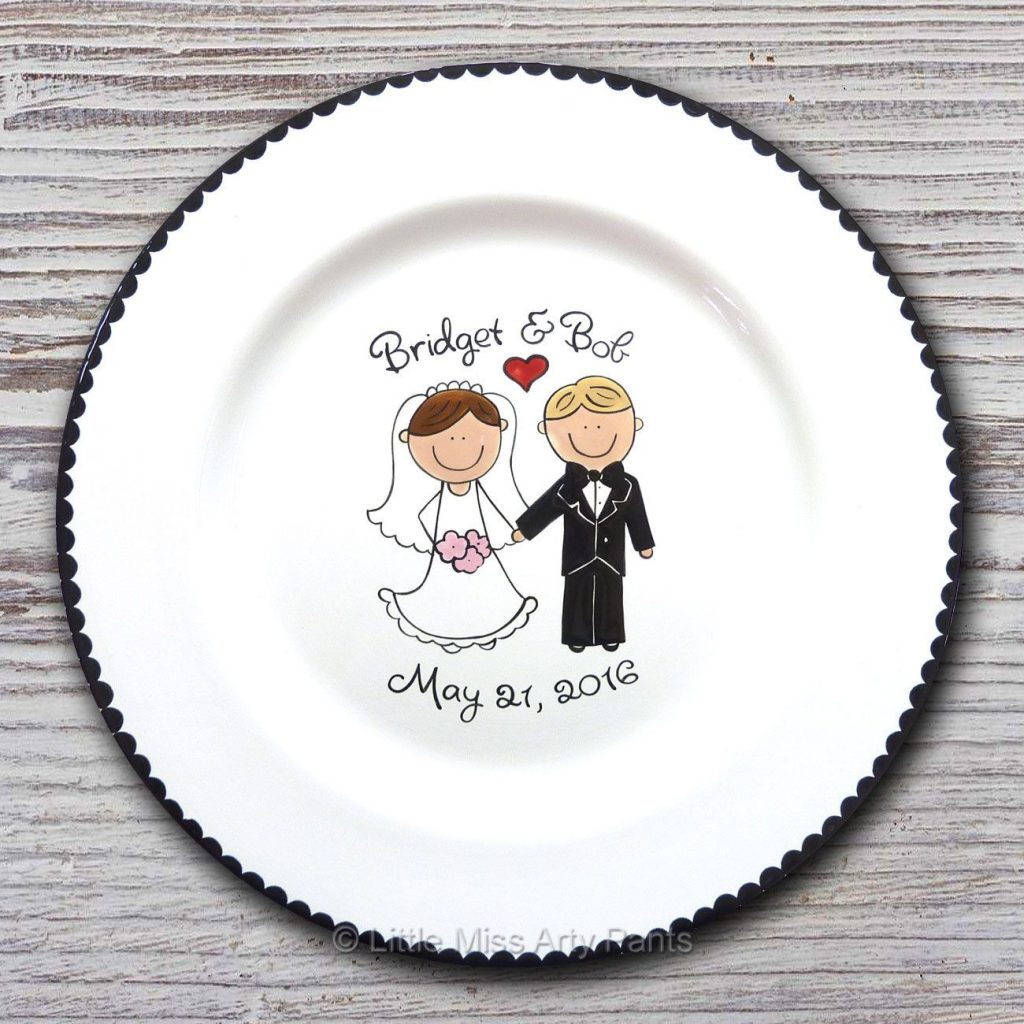 Create a theme of your first date on the tray, give it a unique and beautiful look. All you have to do is to take a tray, and two miniature wooden chairs and a table. At the center of the tray create a date theme, place chairs and a table, and decorate the entire tray with flowers and artificial grass, just like a restaurant. And on the table you can place your rings. If you want you can have two figurines sitting on chairs. A perfect first date wedding platter is ready.
18. Garden wedding platter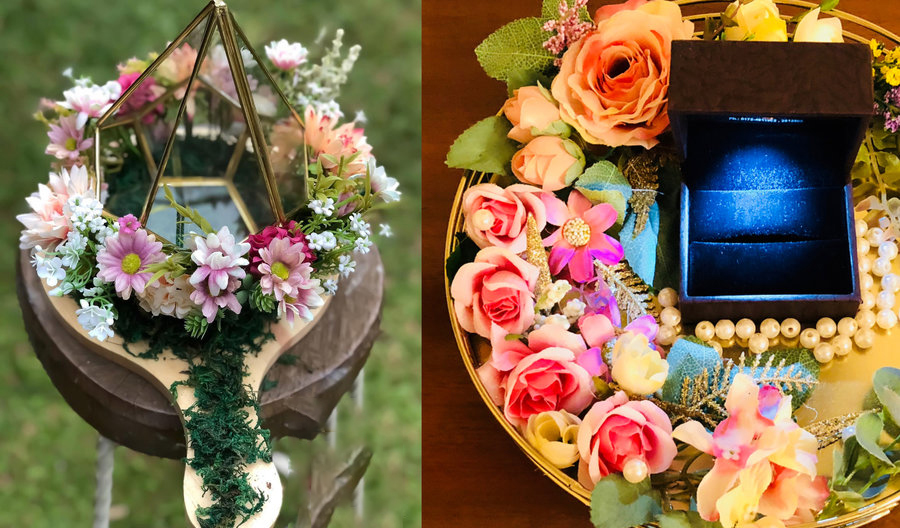 Another beautiful way to decorate your wedding tray is to create a garden scene. Simply take a round or rectangular tray, decorate the same with artificial grass and flowers, take two miniature bicycles, and place them at the center. Make sure you take miniature bicycles with baskets. Now place wedding rings in the baskets of the bicycles and your unique and beautiful garden wedding platter is ready.
19. Wooden wedding platter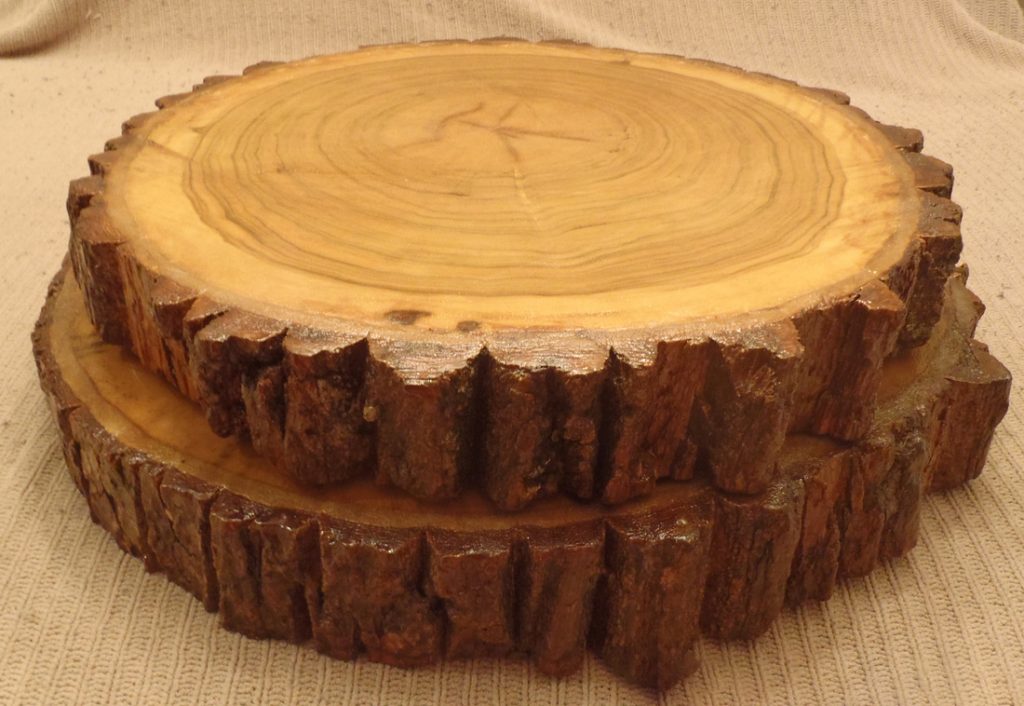 Take a round thick wood tray or log, decorate it with flowers and at the center place the rings. This is perfect for those who have less time to do a lot of stuff. This is a very simple yet very elegant wedding tray decoration that even your guests would admire you for.
20. Wooden tray with a signage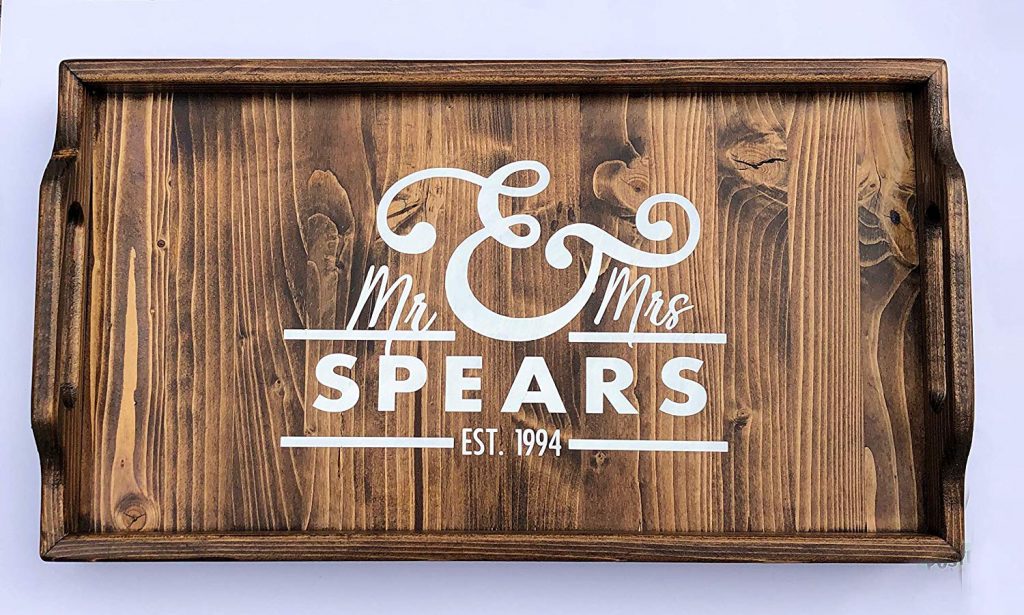 Personalize your tray to the fullest. Simply take a wooden tray and a small wooden signage. Get your names along with the date of wedding etched on the signage. Now arrange the signage in style on the tray and at the center decorate with flowers and place your ring boxes there. It will look simply mesmerizing.
To pan out….
These are some of the ideas you can consider to decorate your wedding tray. Besides these, you can decorate your wedding tray in your style using all the personalized elements to give it a unique look and feel. Wedding trays are easy to make trays that you can do at your home only. You can give it a personalized touch.
All the items required for decorating trays are available online or you can even buy them from a nearby store. Very easy to decorate trays, you can have them for the lifetime as the keepsake of the biggest day of your life.