In a wedding, everything from wedding venue décor to car décor is an important matter. Decorating the car of bride and groom at weddings is a popular trend followed throughout the world. It is one of the gestures to wish them a happy and successful marital life ahead.
Whether you believe it or not, wedding car decoration is indispensable. Not only does it add a lovely finishing touch to your wedding vehicle, but it also gives it an ornate look and vibe. Every bride wishes to make her "Bidai" ceremony, or the farewell, or the good-bye ceremony a memorable one.
Gone are the days when there were limited options available for wedding car decoration. Car decor has evolved tremendously in the past few years. From floral corsages to ribbons to balloons, a lot of fanciful items can be used to decorate a wedding car. Today, cars are not just covered with flowers; they are now being given more attention and thought to match the wedding theme perfectly.
You can get your wedding car decorated by professionals, or you can choose to do it yourself to make it the best ride of your life. Here are a few wedding car decoration ideas for you to take inspiration from, take a look:
1. Floral Wreaths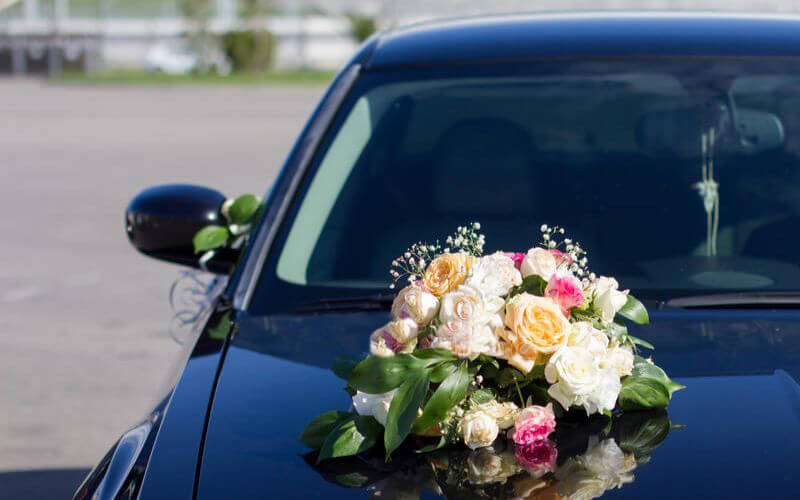 Flowers have always been used for wedding car decoration. They give the wedding car a fresh and vibrant look. There are myriads of ways to use flowers for wedding car décor, like floral wreaths.
Flower wreaths look stunning and have been in trend since time immemorial. You can consider adding a flower wreath of lilies or white roses or a bunch of colorful flowers with some greens to make your wedding car look alluring. Flower wreaths are an excellent way of decorating your luxury limo.
2. Colorful Floral Decor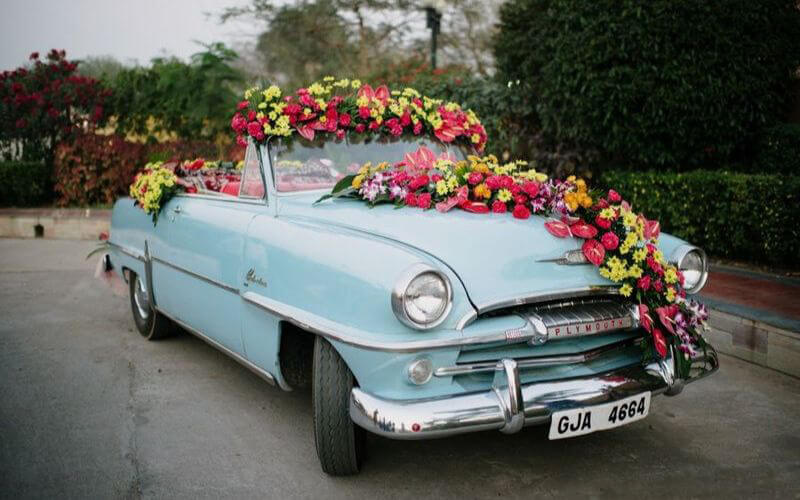 If you're going to use a white car for your 'Bidai' ceremony, then using bright colored flowers will be sager. You can go for a colorful floral wreath or tie them in a massive bunch on the bonnet. Consider pairing up two or more colors, like purple and blue, or red and white, so on and so forth. The idea is to match your car décor with your wedding theme. Whatever prominent colors are there in your wedding, you can have the same color combination flowers for your wedding car décor.
Make sure the bunch is not too big; otherwise it will block the driver's view.
3. Heart-shaped Floral Wreath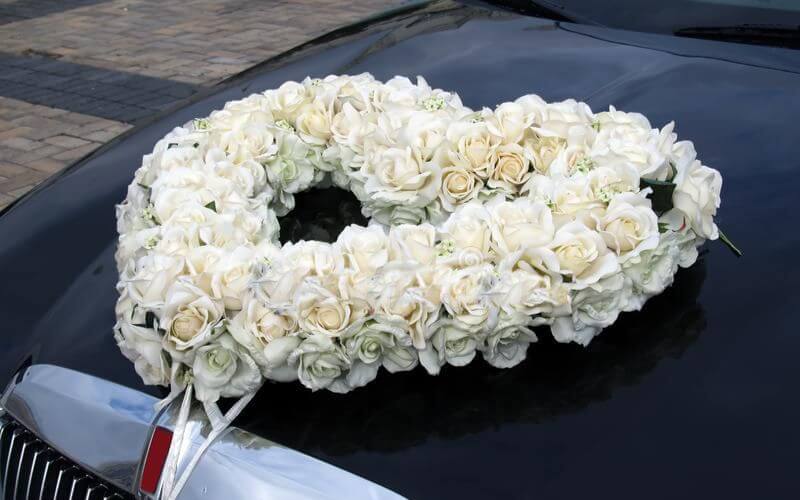 The heart-shaped floral wreath looks absolutely gorgeous. Moreover, they go very well with the wedding themes. You can use just white lilies or roses for a floral wreath. But if your car is white, then go for a colorful wreath.
4. White Ribbon Decor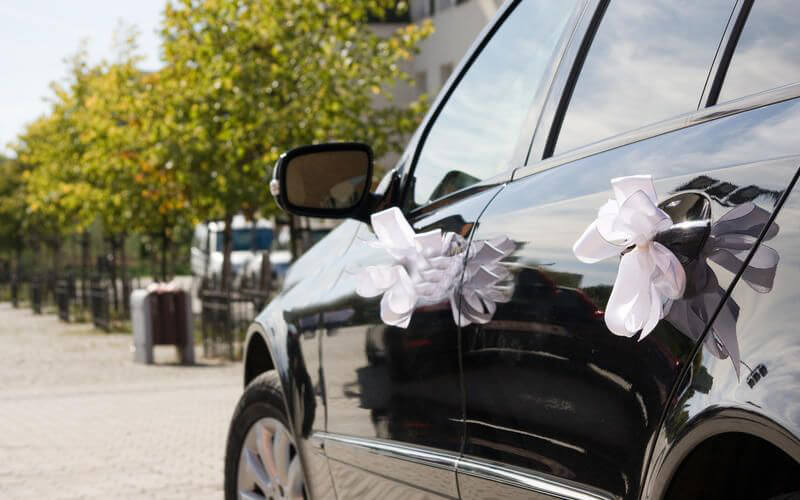 The white ribbon is by far the most traditional element for wedding car décor. Apart from this, it is the most pocket-friendly option for decorating a wedding car. White ribbon décor makes your car look elegant and fanciful.
5. Minimalistic Car Décor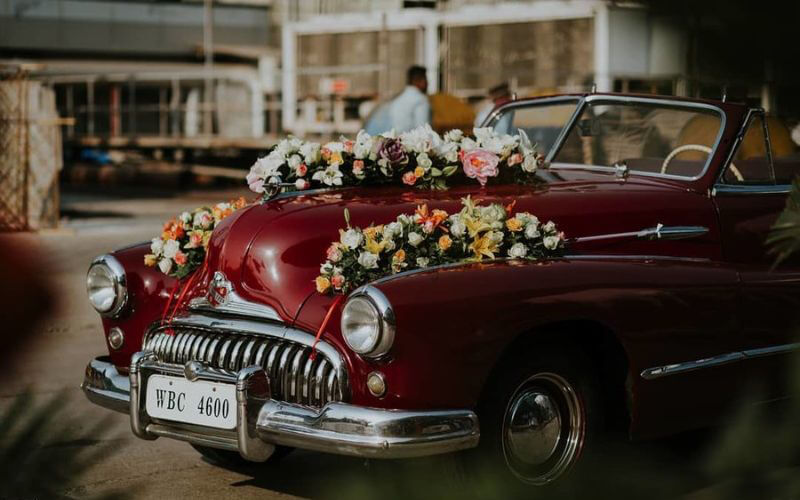 Many couples prefer minimalistic car décor. If you also don't like flaunting much, then a large white bow with a red rose floral arrangement on the back of your wedding vehicle will be perfect. Minimal and non-cluttered look for those who don't want to overdo their wedding cars.
6. Fabrics and Roses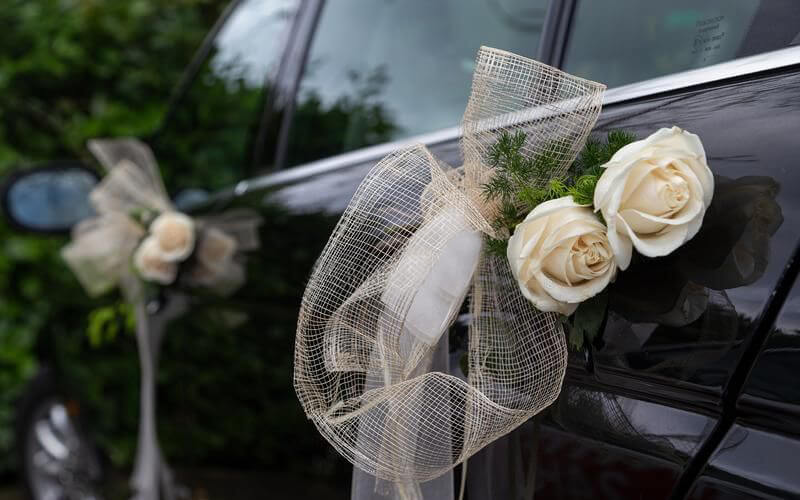 Another more widely used element for wedding car décor is fabric. The fabric, along with roses, makes your car look classy. You can even add some quotes; a "Just Married" or "Happily Ever After" sign would look ace. Make sure you use only satin, silk, or velvet fabric for décor.
7. "I Love You" Car Décor
This is a perfect car décor idea for the couple's car décor. It matches well with the theme and a great way for couples to flaunt their love for each other. The best thing about this décor is that – it is easy to do. You don't need an expert for this kind of décor.
You can get the "I LOVE YOU" car décor kit online. The kit contains One Heart Shaped Foil Balloon with Ribbons, 2 Alphabet Balloons – I & U, 2 Star Shaped Foil Balloons, 30 Heart Shaped Red Balloons & Round Shape White Balloons, and 2 Printed Balloons.
All you have to do is put "I LOVE YOU" foil balloons at the back of the car with the trunk open. And fill the trunk with all the other balloons to surprise her with the grand gesture.
Also See: 27 Wedding Transportation Ideas for Guests
8. Lilly Carnations Car Décor
You can't go wrong with Lilly Carnations car décor. They look amazing; decorating your wedding car with Lily and carnation will make it look fresh and bright. If you're planning to use a white car for your "Bidai," consider using pink and white Lilies and carnations. Simple yet elegant wedding car décor idea. Also, don't miss to fasten pink fabric bows on the Handle of your car.
9. Green Garland for Rescue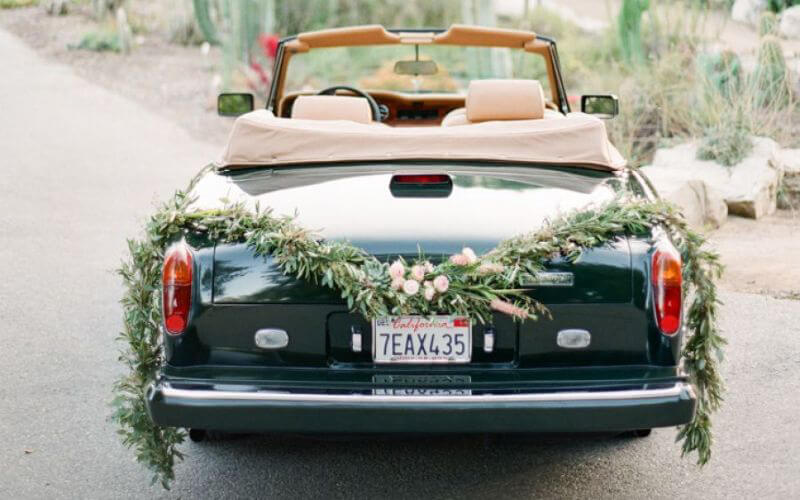 Some people are really not fond of flowers; if you're one of them, then green garland is for your rescue. Instead of flowers, you can use green leaves or green plants for decoration—a unique and outside-the-box wedding car decoration idea.
10. White Ribbon and Purple Themed Floral Corsages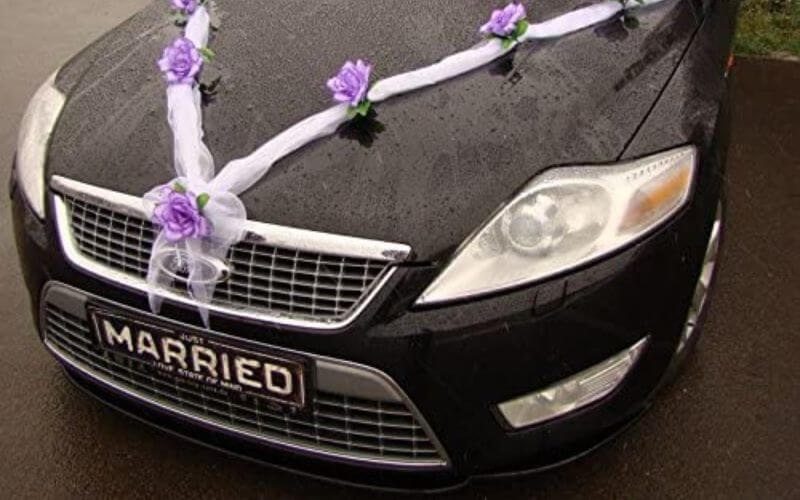 White ribbon and purple-themed floral corsages look awesome. Either you're using a vintage car or a luxury limo for your wedding, a combination of white and purple will look apt. This theme will look perfect if you're using a white car.
11. Decorative Figurines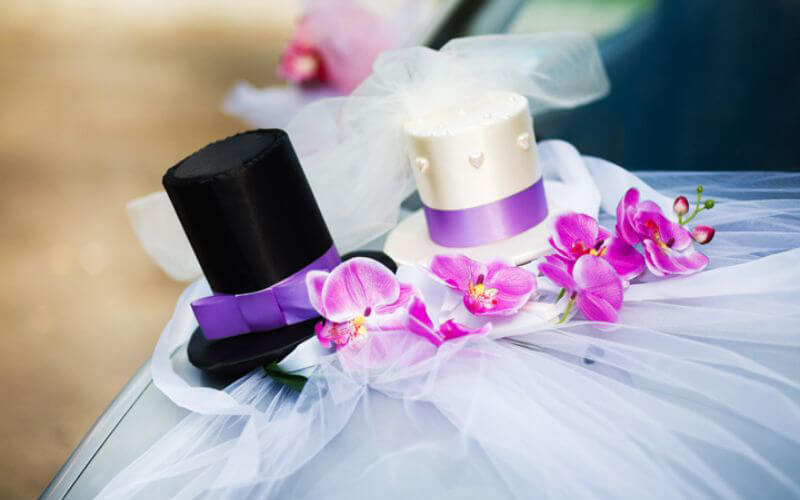 Have you thought of using Decorative figurines for your wedding car décor? Yeah, figurines, a very creative and unique car décor idea. Maybe a couple figurines or your favorite character from the show that you loved as a child will do.
Decorate your car with flowers, and then add a figurine on the bonnet of the car or wherever you want. Make sure it should not block the driver's view.
Also See : Things to Consider When Hire Wedding Car
12. Decorative Corsage Fastened on the Handle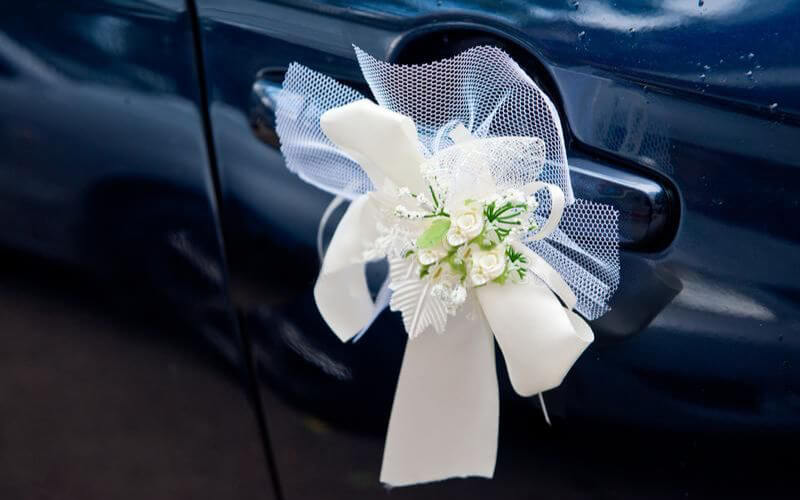 If you're one of those who don't like over decoration, then a decorative corsage fastened on the Handle will be enough. A very simple, sober, and minimalistic wedding car décor that can't go wrong at all. A sizable decorative corsage fastened on the handles of a wedding car will look amazing.
13. White Tulle with Silver Ribbon
Nothing else, just white tulle with a thick silver ribbon put on the bonnet of your luxury limo, will look awesome. Perfect to use for wedding car embellishment. You can get it done by a professional or just buy the kit online and do it yourself.
Related: Top 25 Wedding Decor Trends in 2022
14. Car Décor with Balloons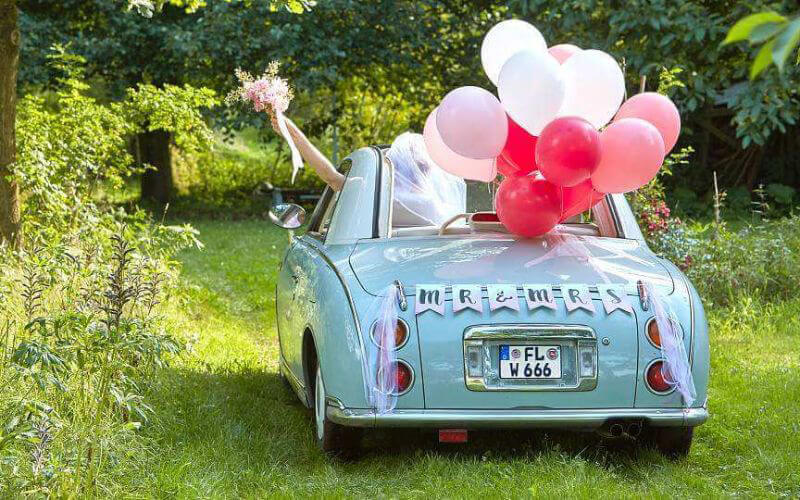 Use Balloons for dainty and cute wedding car décor. You can use normal rubber balloons or mylar ones for decorating the wedding car. The best thing is that you can use any shape or color balloons for car decorations. You can even use balloons for spelling the initials of the couple. Make sure you do not use too many balloons in the car. Yeah, your car should be visible; it should not be covered with balloons.
15. Red & White Flower Car Décor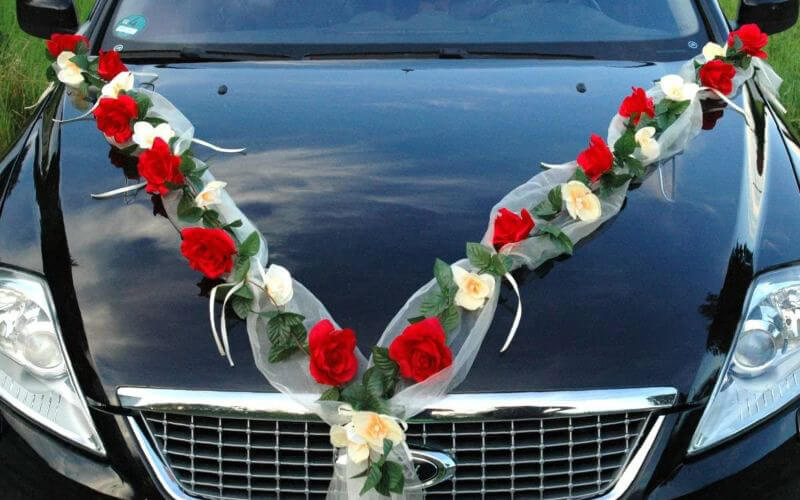 Make it simple with red & white flowers. If your car is white, then the combination of red and white will make it appear classy and very beautiful.
16. Ballerina Style Bouquet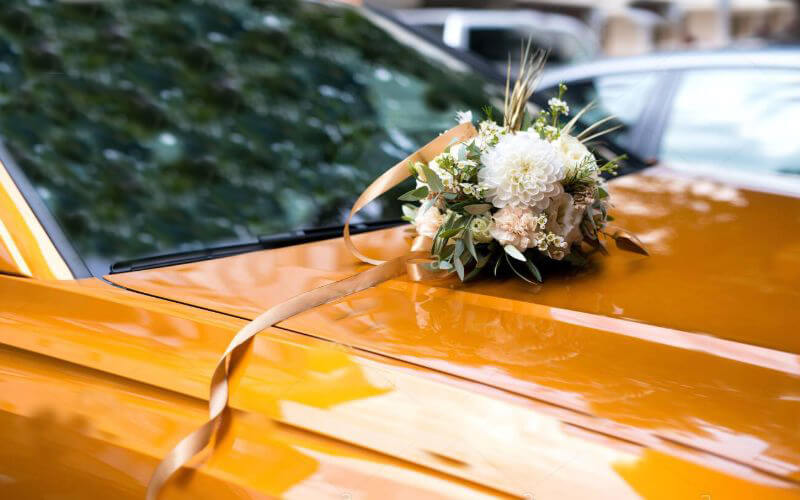 Get the pink roses or any other roses of your favorite color gathered together in a ballerina-style bouquet put on the bonnet of your car or wherever you want to.
17. Car Decoration with Ribbons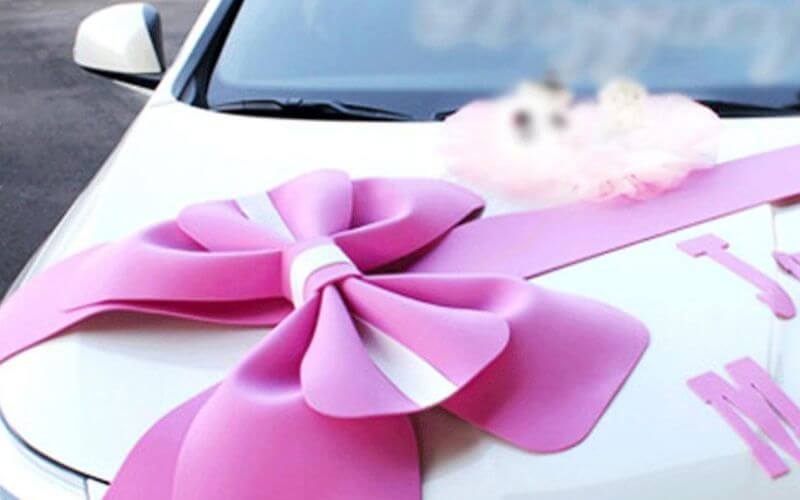 Ribbons work as a great decorative material and are very inexpensive too. Ribbons come in many different sizes, fabrics, and colors. You can use any color ribbon matching your wedding theme on your wedding car to beautify it.
18. Pennant Strings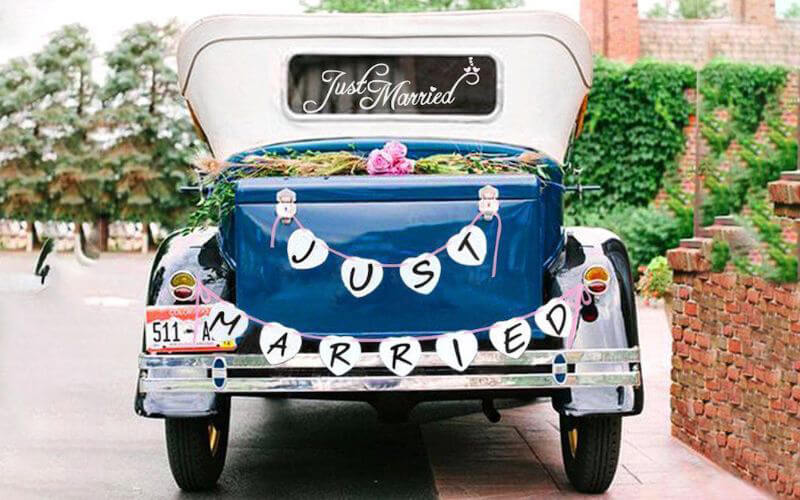 Pennant strings are extensively used for wedding car decorations. You can use paper-made pennant strings or fabric pennant strings on your car to amp it up. From "JUST MARRIED" to "HAPPILY EVER AFTER," you can write anything around the number plate for a minimalistic look.
19. Multi Flower Car Décor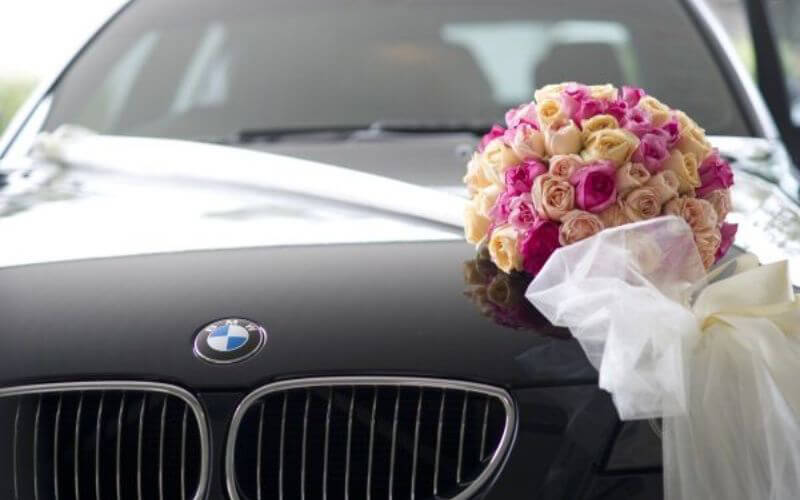 Go for multi flower car décor. You can use as many color flowers as you want for decorating your wedding car. Colorful flower décor will make your car appear gorgeous. If you want, you can add some minimal elements, such as decorative figurines, or ribbons to enhance the car décor.
20. Bows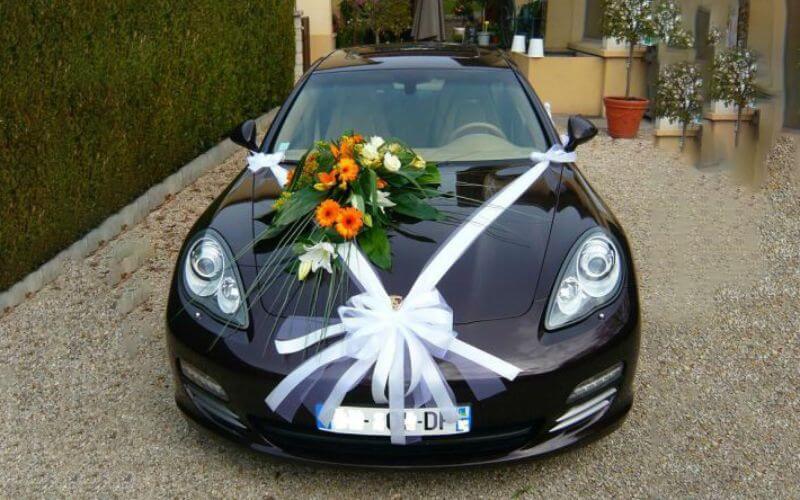 You can use wider ribbons of sheer fabric to make a huge bow with some flowers for a classic kind of vibe for your car decoration. In this case, one huge bow fixed to the hook or the trunk of the car would give the car an absolutely divine look!
Also See: Best Decor Ideas for Your Wedding Venue
21. Tulle Ribbons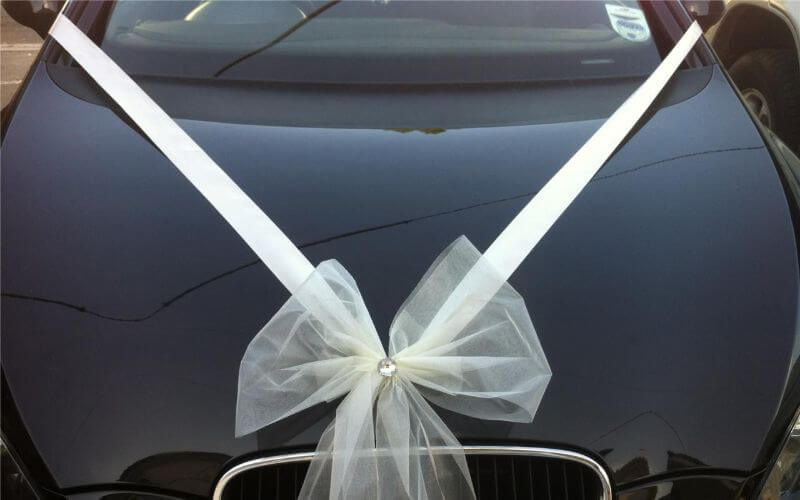 Tulle Ribbons are widely used in wedding decoration; you can even use them for wedding car decoration. Simply drape a ribbon in a slant to one or both sides of the hood of the car for that stunning look or a wedding car.
22. Ribbons Across the Wedding Car
You can use ribbons running across one side of the car to the other side for a sleek, stylish look. You can also use small bows made of ribbon fastened on the handles of the car to beautify it further.
23. Flower in Abundance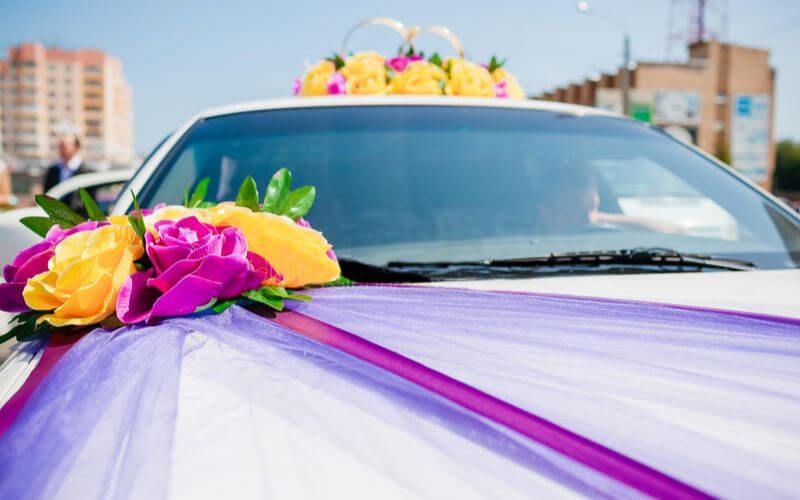 If you don't mind using flowers in abundance, then go for the old-world charm. Pick a flower or flowers, like white lily or peachy rose, and adorn the whole car with rows and strings of it. It will look marvelous!
So these are the wedding car decoration ideas to embellish your 'just married getaway vehicle.' Besides these, there can be several ways of wedding vehicle decoration. Just make use of your imagination. Not only will this make for quite an experience but also add a unique charm to your 'Bidayi ceremony.'
Now, it's time to talk a little about the accessories you can use to decorate the care.
Wedding Car Decorating Accessories
The accessories that you need to decorate your wedding vehicle will depend on the decoration and wedding theme. For instance, if your entire wedding décor is flower-based, you'll definitely use matching flowers for your car. There are plenty of wedding car accessories to decorate your wedding vehicle. You can even buy a wedding car decoration kit online. They come in different packages, such as balloons, pom-poms, wedding bells, just married vinyl clings, pennant strings, confetti, ribbons, streamers, window markers, etc.
Wedding Car Decoration FAQ's
Here are the most frequently asked questions for wedding vehicle decoration. Just take a look at these FAQs….
Q1. Which car is perfect for the 'Bidayi' ceremony, sedan, or classic luxury limo?
Well, you can use any car that you like or the one that is easily available for you. But if you've always dreamt of riding your bride on a vintage car, then you can rent a car for your wedding day. There are many travel agencies that offer rental car services for events, including weddings.
Q2. How to choose the wedding care décor?
Of course, everything related to your wedding is important and needs to be given proper attention and thought to. There are myriads of wedding car decoration options that you can choose from. But the rule of thumb is to go by the color palette matching your wedding theme.
Q3. Shall we opt for professional services?
Whether to choose a professional service or not is absolutely your choice. Some people DIY their wedding vehicle décor, while others opt for professional services. It is the individual's own choice whether or not to hire an expert.
Q4. Which company provides the best wedding car décor services?
There are many small and big companies that provide wedding car décor services; Ferns n petals is one of them. To find out which company provides the best wedding vehicle décor service, you'll need to visit their website. There you will find reviews and feedback from other customers. Read all those reviews, and if you can manage to contact any previous client of the company, talk to them and ask about their experience.
Q5. What shall we do to hire an expert wedding vehicle decorator?
Since we are in the era of technology, which makes searching for a decorator a bit easier, go online and find out the best wedding vehicle decorators in your area. Talk to them on the phone; if need be, meet them in person to explain your needs. If you think a vendor is able to deliver the kind of services that you want, book it.
Q6. How much does it cost to get a wedding vehicle decorated by a professional?
Getting your wedding vehicle decorated by a professional will cost you anywhere between INR 5000 to INR 10000. Basically, it depends on the kind of decoration you want. Because accordingly, your car decorator will choose the elements for your vehicle decoration. It's a simple formula – The grandeur the decoration, the more the price.
Q7. Which elements should we use to décor our wedding car?
Elements that tell your story in a unique and personalized way are perfect for your wedding car decoration. It could be a simple bow or a floral wreath. The choice is yours absolutely!
CLOSING THOUGHT
Hope this post helps you with your wedding car decoration. You can integrate any of the wedding car decoration ideas mentioned above in your wedding. All you have to take care of is that it should complement your wedding theme! Rest
everything is awesome!
Happy Wedding…. ☺ ☺