If you're the Mother of a bride, your daughter's wedding day is likely to be one of the happiest days in your and her life. As such, you must look as perfect as possible in all areas – including hairstyle! Today we'll explore fifteen different looks ranging from classic updos to modern braids that suit any matron-of-honor looking their best on their daughter's big day – and every event leading up to it!
With something here for everyone, no matter hair type or preference; whether short or long, curly or straight – these easy yet trendy styles will help ensure you perfectly capture those special moments alongside your beautiful daughter. In this blog, we go through 15 Mother of the Bride hairstyles.
Best Hairstyles for the Mother of the Bride
1. Twisted Half-Up Hairstyle
The Twisted Half-Up Hairstyle is an elegant choice for the trendy Mother of the Bride. This sophisticated look combines a sleek half-up with loose waves and twists, lending an air of effortless sophistication for special occasions or formal events. This chic hairstyle will add instant polish to any occasion, whether highlighted by intricate barrettes, adorned with a floral crown, or accessorized with sparkling bobby pins.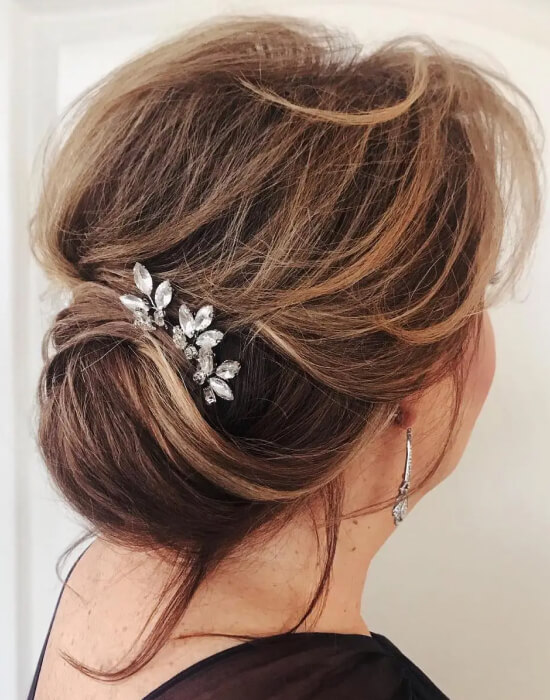 With its timeless beauty and adaptability to all styles and hair lengths – plus its practical nature in most wedding scenarios (it won't get messed up throughout the day) – this classic 'do is a surefire way to make you stand out on your daughter's big day!
2. Simple Short Haircut
As the bride's Mother, you like to look your best on your daughter's wedding day. And what more helpful form than an easy yet elegant short hairstyle? Whether it be a chin-length bob or finger waves and pixies, there are many stylish options for mum when choosing her haircut.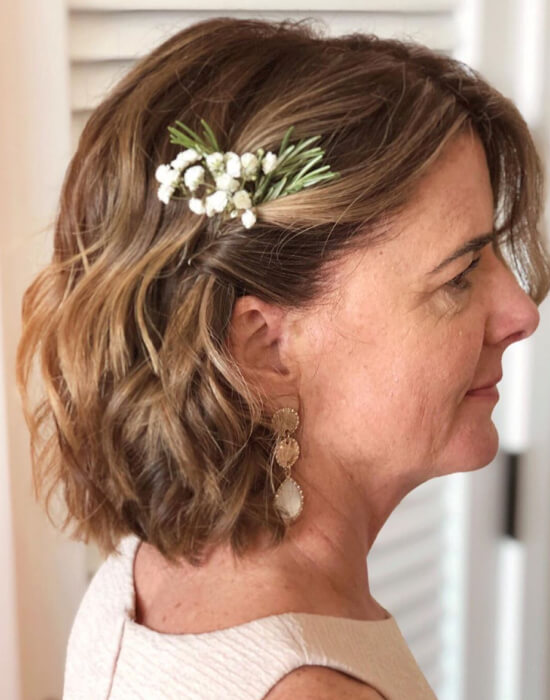 From side-swept curls to slicked-back chic bobs – whatever style is chosen will always look sophisticated and timelessly beautiful! With a shorter 'do,' you won't have any hair in your eyes as you take pictures all night while watching that special moment between husband and wife unfold before you. A great-looking but low-maintenance hairdo choice for those important occasions!
3. High Pinned-Up Bun
For the bride's Mother looking for a stylish and elegant hairstyle, why not try a high pinned-up bun? This timeless look is ideal for any memorable event! From classic to modern twists, it creates an effortless yet chic statement.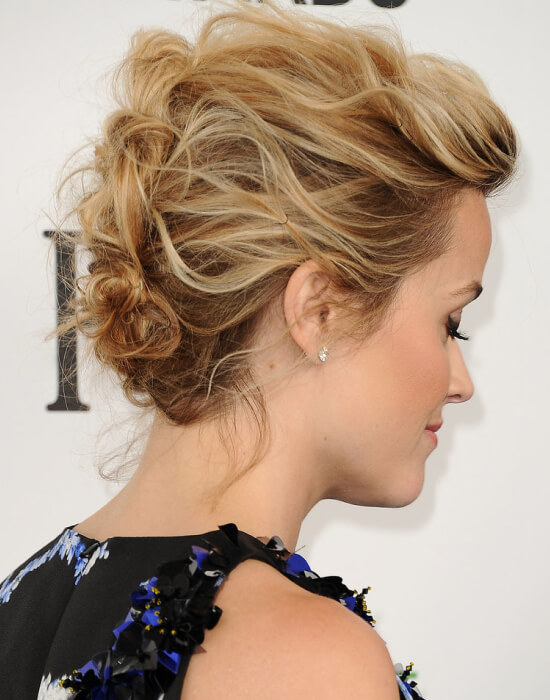 Part your hair at its midpoint or sweep it back with some light teasing, then twist it into place before securing it above your neckline. Soft curls can be added in between if you want that extra volume. Accessorize with pins and barrettes as desired – the options are endless! With this updo, all eyes will surely be on you come wedding day and beyond!
RELATED: 15 Most Beautiful Wedding Hairstyles For Curly Hair
4. Half Up Half Down Hairstyle Variant
As a bride's Mother, you want to look your best on such an important day. Half-up-half-down hairstyles are one way to do that! A variant of this timeless and classic style can offer elegance and sophistication while still maintaining an effortless charm. It is versatile enough for any hair type or texture, so no matter what curls they are rocking, it will surely make them stand out in all their beauty.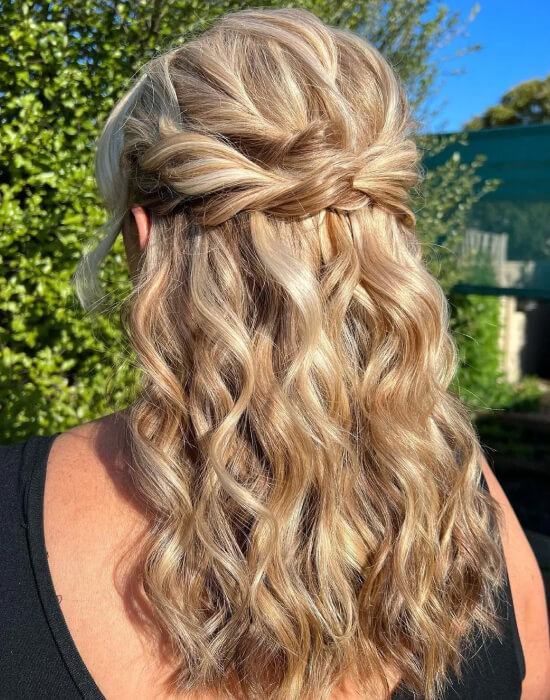 Plus, if paired with gorgeous accessories like sparkling pins or delicate flowers, they'll have heads turning when entering the ceremony hall! Give your daughter that special finishing touch by styling her locks into a fabulous half up half, down wedding 'do she'll never forget about
5. Low Twisted Bun
Looking for a timeless and elegant style to complete your Mother of the Bride ensemble? Consider an up-do with a low twisted bun. This classic look is perfect for adding sophistication to any wedding day. It's easy to do it yourself, yet it looks like something fit only for royalty when done correctly!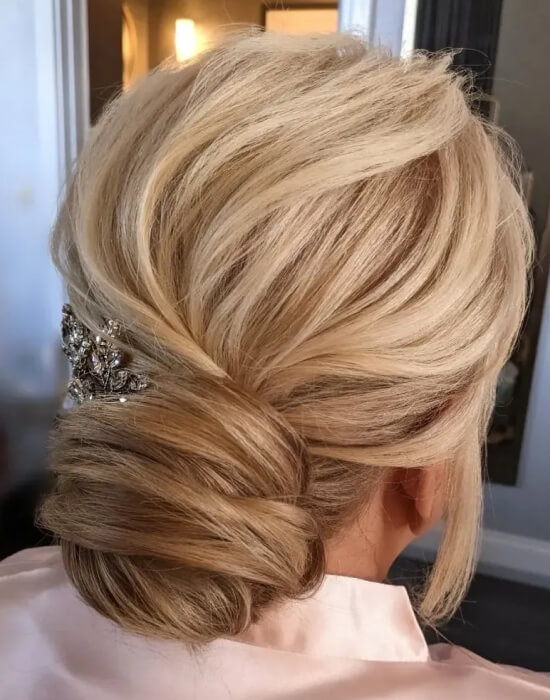 A subtle twist in the front adds extra texture, while accessory pins or combs at each side are ideal complements. Mastering this hairstyle will ensure your mom stands out from all other guests – without overshadowing anyone else's beauty on a special day!
6. Straight Hairstyle
Every Mother of the Bride wants to look her best on their daughter's special day. But choosing a hairstyle that suits formal events can be difficult, especially in today's ever-evolving fashion scene. Straight hair is classic and timeless, making it an optimal choice for any occasion, like weddings or prom nights!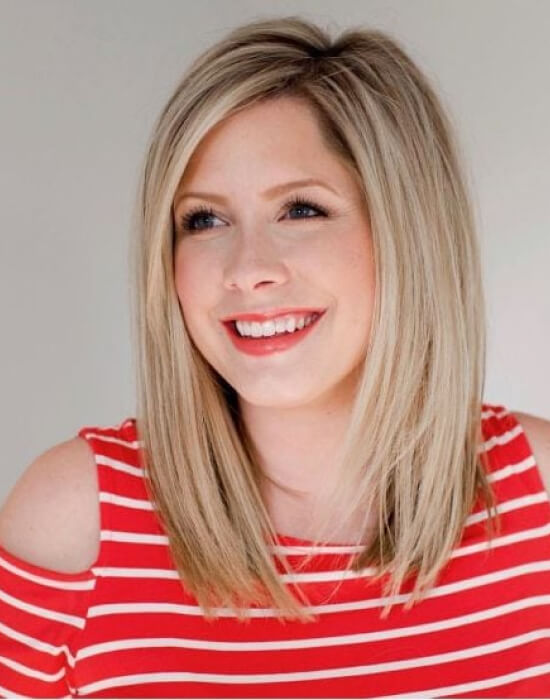 There are many ways to wear straightened strands, from sleek updos sporting one-length looks – emphasizing simplicity and sophistication – to loose braids adorning voluminous curls – letting your inner glamour shine through! No matter what style you choose, wearing a glamorous straight hairdo will undoubtedly make you feel confident at the event – ensuring all eyes stay on You as the Mother of The Bride!
7. Short Grey Hair With Bangs
Are you seeking an elegant yet modern hairstyle to complete your Mother of the Bride look? Look no further than short grey hair with bangs. This chic style is sophisticated, easy to manage, and looks amazing on all face shapes. Cut into a shoulder-length bob or kept shorter, this eye-catching hairdo accentuates facial features giving it a youthful glow any fashionable woman would love.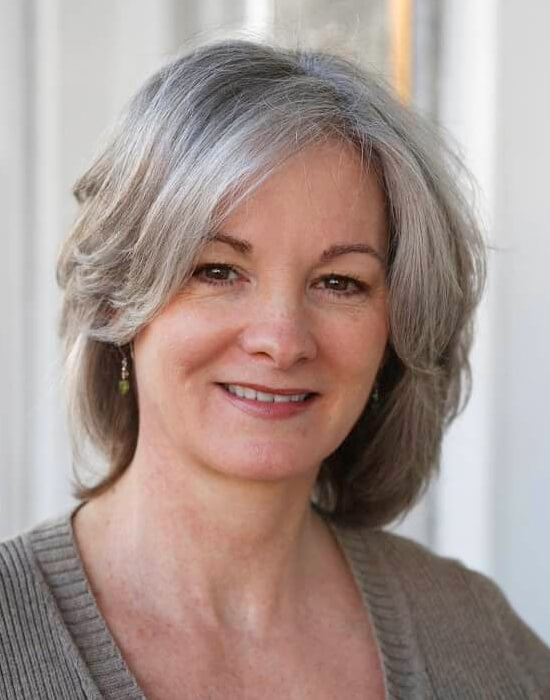 Ensure the layers are skillfully cut around your forehead for added volume and texture, while shorter lengths in front draw attention away from rounder cheeks! Show off your classy beauty at the special event by wearing one of these timeless cuts gracefully and confidently!
8. Floral Hair Updo
As the Mother of the Bride, you like to look your finest on this memorable day. Why not consider an elegant floral hair updo? Professional stylists can create gorgeous updos filled with lush colors and textures. From classic French rolls accented with flowers to cascading curls adorned with beautiful blooms, there are many options for creating a hairstyle that will leave guests in awe!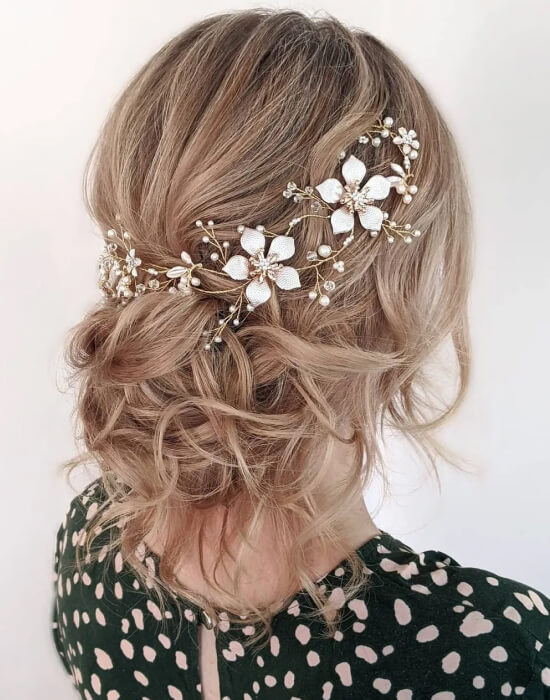 Adding some sparkles like crystals or rhinestones will also make your look unique. If it's something more subtle you're after, try adding minimal greenery accents alongside pretty pastel hues- perfect for any wedding occasion!
9. Side Hair Knot
Every Mother of the bride deserves to look her best on her daughter's special day. Side hair knots can be the perfect choice for those achieving that elegant and timeless style. Helping create an effortless appeal that is as strong in its simplicity yet so versatile when it comes to accessorizing – these hairdos are sure to make any mom stand out from the crowd for all the right reasons!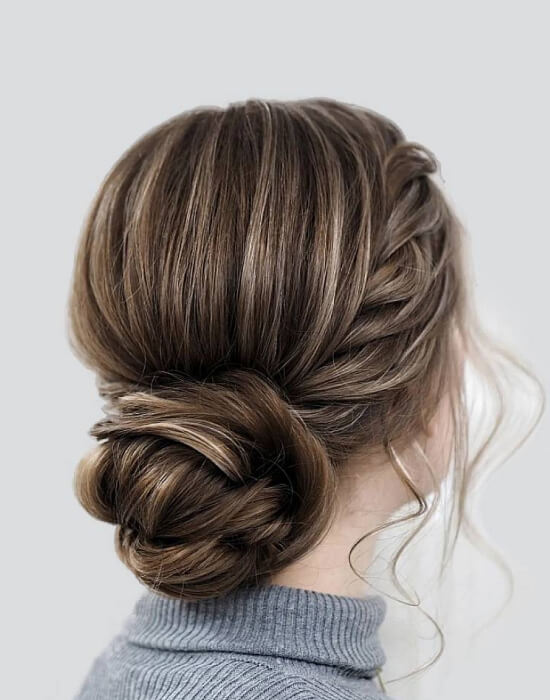 Whether you choose a simple bun or layer sections with intricate twists – why not up your game this year? Side hair knot styles provide a touch of glamour but maintain their no-fuss charm, making them ideal choices for adding instant wow factor without taking away from other aspects of beauty preparation like makeup and couture outfits.
10. Simple Half Hair Up Look
As the Bride's Mother, you want to look beautiful and stylish yet still maintain an air of formality. The simple half-up hairstyle is a great way to achieve both! It allows for flexibility in style; add curls or waves if desired, and use clips or barrettes on one side only for added flair – whatever works best with your outfit.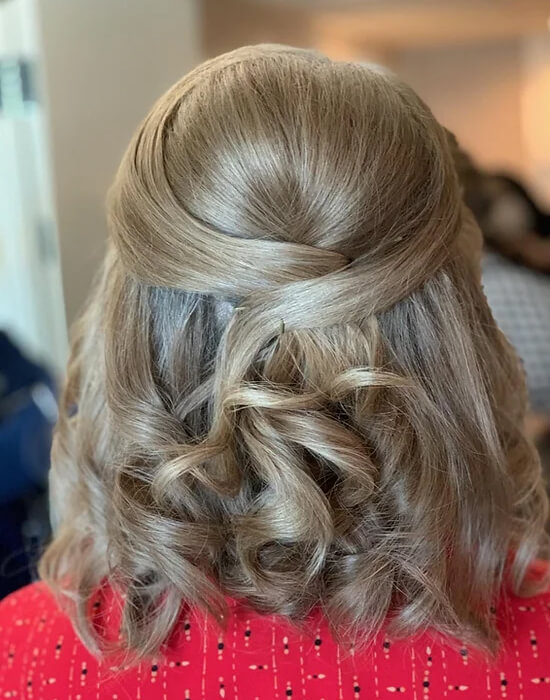 And because it's half up and secure at the neckline, there will be no worries about hair being out of place during special moments such as photo ops or dancing later in the evening. Whether you have long locks that need taming or short layers needing definition, this professional yet understated style provides timeless elegance while celebrating your momentous event.
11. Natural Waves With Bangs And Hat
When it comes to Mother of the Bride hairstyles, there is no better style than natural waves with bangs and a hat. This look is perfect for any event — from an outdoor wedding to a formal gathering — as it commands attention while maintaining its effortless elegance.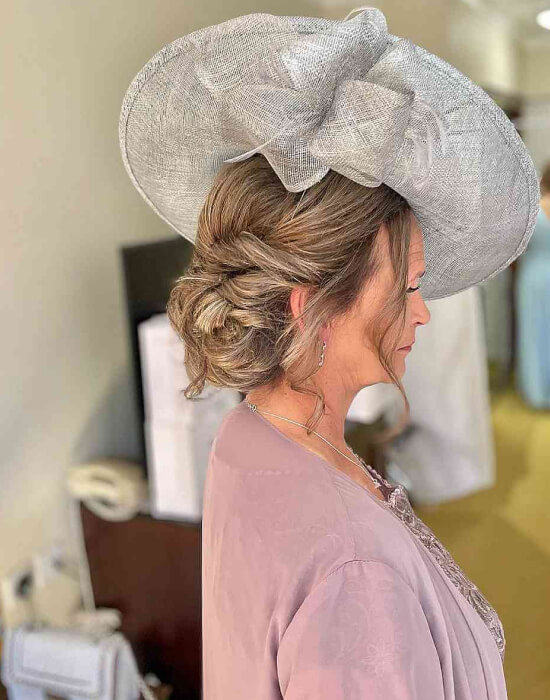 Natural wave styling gives you a confident yet relaxed vibe, which all Mothers of the Brides will appreciate on their child's big day! To top off your sophisticated hairdo, why not include some sass in one or two statement hats? Whether vintage cloches or contemporary fedoras are more your thing, this timeless accessory can make any outfit pop!
12. Bouffant With Side Bangs
Are you looking for the perfect Mother of the Bride hairstyle that is timeless and elegant? Look no further than a bouffant with side bangs. This classic look consists of voluminous curls pinned away from the face to give an overall soft yet sophisticated style.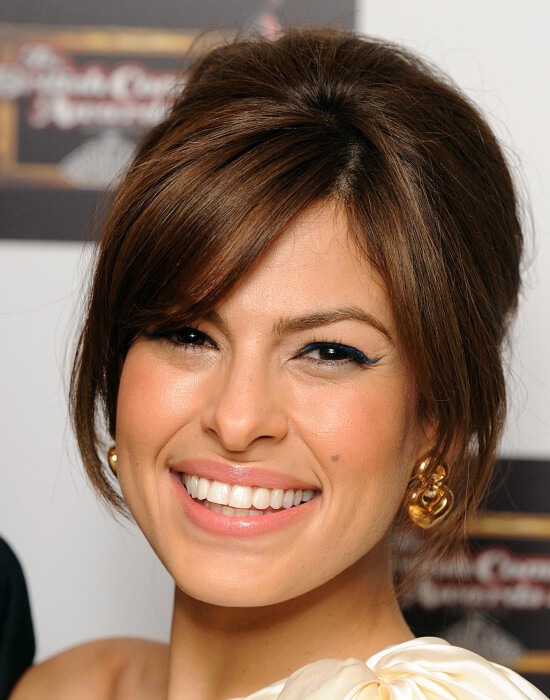 The addition of delicate side-swept bangs adds texture and completes this beautiful 'do while subtly framing your face. Ideally suited for those seeking a glamorous but not overly showy style, it'll have everyone convinced you to step out straight off the catwalk!
13. Curly Voluminous Updo For Short Hair
When the big day approaches, Mothers of the Bride need to look their best, and what better way than with a stunning curly, voluminous updo? Perfect for short hair, this style is unique and stylish while maintaining an elegant sophistication that stands out from other hairstyles.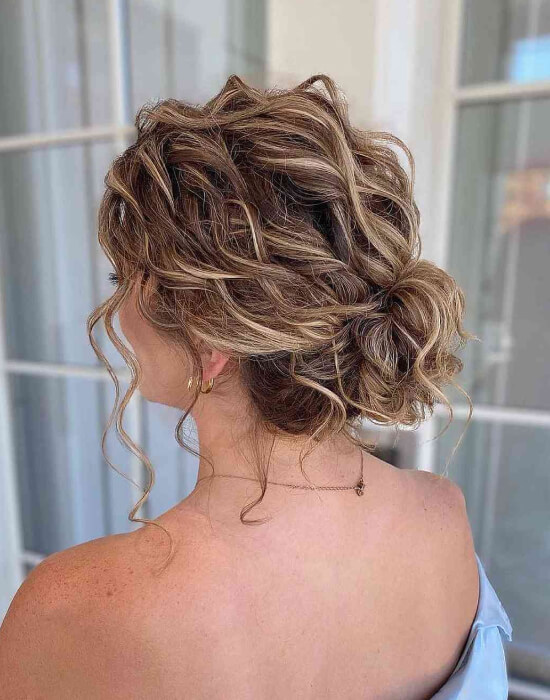 Whether you want something sleek or more wild-looking curls, this can be achieved easily using curling tongs or large barrel irons combined with a little mousse for added volume and shine. The perfect finishing touch? A bold accessory like sparkling clip-ins placed at the back to add even more glamour!
14. Texturized Bouffant Bun
If you're examining the ideal hairstyle to be a fashionable mother of the bride, your search ends with texturized bouffant buns. With its sleek and sophisticated style that creates an elegant silhouette with just enough fluffiness in all the right places, this updo will turn heads on your big day. The classic appeal will make it timeless while still being modern enough to stay up-to-date throughout time.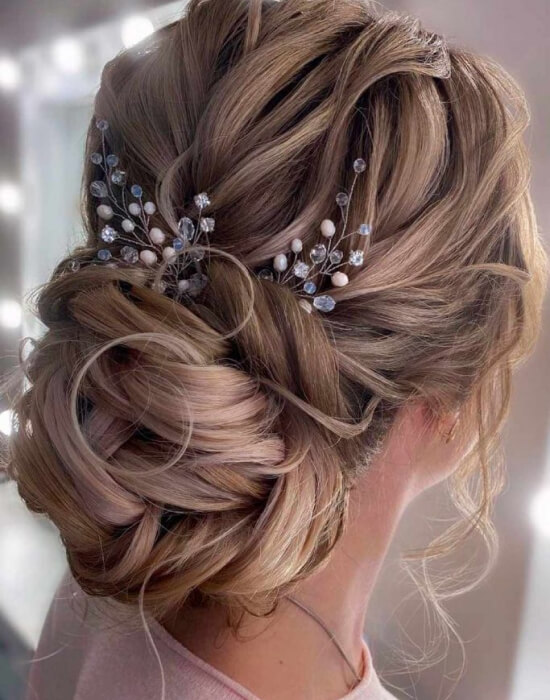 And best yet – you can accessorize it any way you want; by adding pins or clips – making this a unique hairdo! Let us show how stunningly beautiful texturized bouffant buns are when done correctly in preparation for such extraordinary occasions as wedding celebrations!
15. Classic French Twist
As the Mother of a Bride, it's important that you feel gorgeous and assured on your daughter's memorable day. One way to achieve this is with an elegant French twist hairstyle. From romantic curls to simple buns, these classic looks are always in style!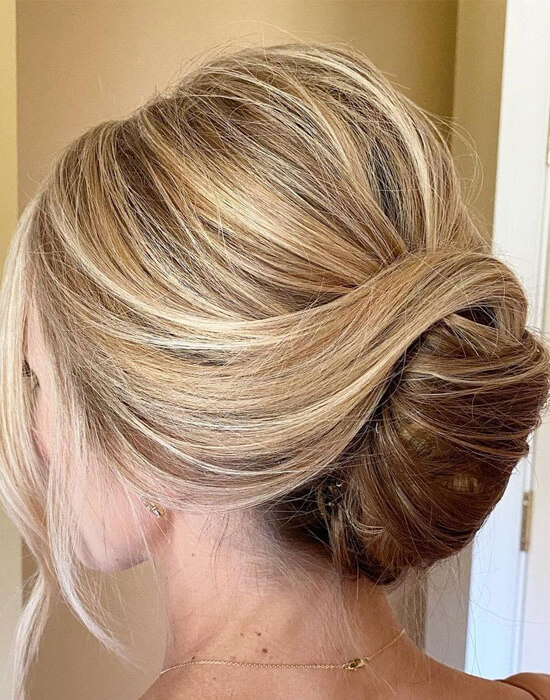 With timeless appeal and effortless sophistication, a French twist will provide the perfect finishing touch for any bridal guest ensemble – subtle or glamorous! Enhance your look even further by adding delicate accessories such as hairpins or flowers for extra detail – making sure all eyes are fixed firmly on you when walking down the aisle.
Conclusion
This brings us to the conclusion of our blog on 15 mother of the bride hairstyles. We've reviewed some classic, timeless hairdos and provided helpful tips for styling each to make your look as special as possible. No matter which style you decide, we hope this post has helped you better understand how important it is to pay attention to detail when contemplating a wedding-day 'do.
With just a bit more thought and care than usual in your hair preparation plan, any fashion-savvy mom can confidently pull off her dream hairstyle!