Welcome to the world of beautiful and unique wedding hairstyles! This article will introduce you to 15 unique curly hair wedding styles that will leave your guests in awe. These stunning looks were designed by experts with years of experience creating perfect bridal-day 'dos. Whether you're searching for a graceful updo or a glamorous cascading curls look, we have something special.
For added glamour and sparkle, choose one of our embellished options like sparkling crystals or flower crowns—your friends won't believe their eyes when they see how gorgeous these styles can be! No matter what kind of modern bride style you're after this season, take a few minutes out today and get inspired by these truly showstopping looks, especially with bouncy natural waves. In this blog. We go through the latest curly-hair wedding hairstyles.
Modern and Stylish Curly Wedding Hairstyle Ideas
1. Messy Braided Wedding Hairstyle
Messy braided wedding hairstyles are making a huge comeback. These gorgeous looks allow brides to express their style while still looking stunning on their special day! Whether you go for a classic French braid or something more intricate, these styles can be tailored to your taste and add an extra touch of sparkle.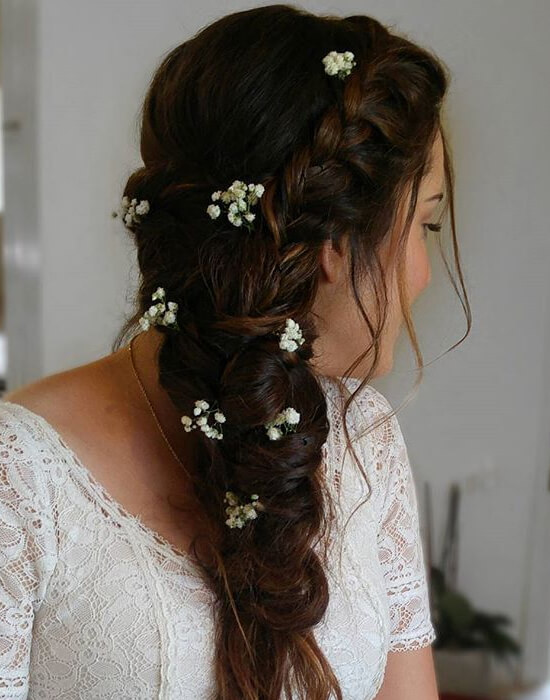 Braids also provide structure for unruly curls; they transform simple updos into statement pieces with minimal effort required by the bride-to-be herself. If you're a fan of texture and volume in your hair, then messy braided wedding hairstyles are perfect – so get creative and experiment before your big day! It's one of the simple curly hair wedding hairstyles.
2. Half-Up Half-Down Curls with Flowers
Half-up half-down curls with flowers are a classic wedding hairstyle for curly hair that adds an elegant and romantic touch to brides on their big day. This beautiful style is achieved by curling the hair from the midsection down, then pulling it back in loosely flowing waves at the crown of your head and securing it with bobby pins or barrettes.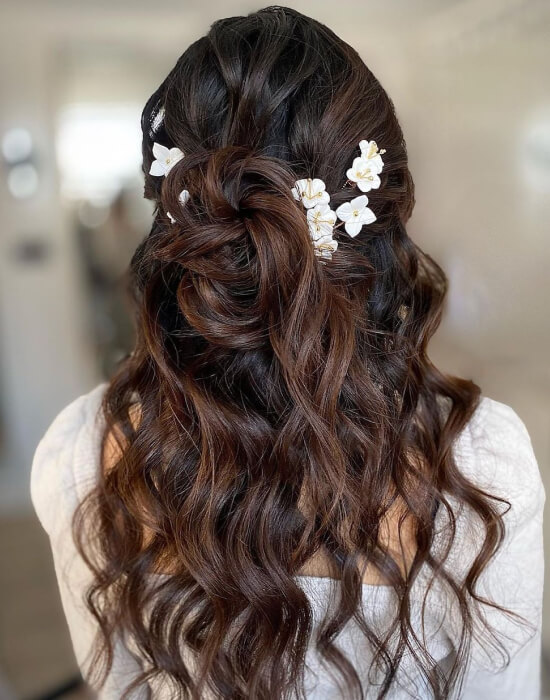 Adornments such as fresh fragrant blooms make this look even more eye-catching while keeping strands out of your face for pictures all night. It's easy enough to do yourself if you have some practice, but getting help from a professional will create stunning results worthy of any grand celebration.
Whether using natural or fake blooms, there's no better way to look gorgeous than wrapping up those dreamy curls with colorful petals atop each graceful curl, perfect for saying "I Do!"
3. The vintage royal look
When it comes to special occasions like weddings, having the perfect hairstyle is a must. Highly in demand among brides are vintage royal looks for curly hair wedding styles – they make an impressive statement that will have your guests' jaws dropping! With these looks, you can add volume and texture to your style without sacrificing comfort or practicality. They also help show off tiaras and other jewelry beautifully so everyone knows who the leading lady of the night is.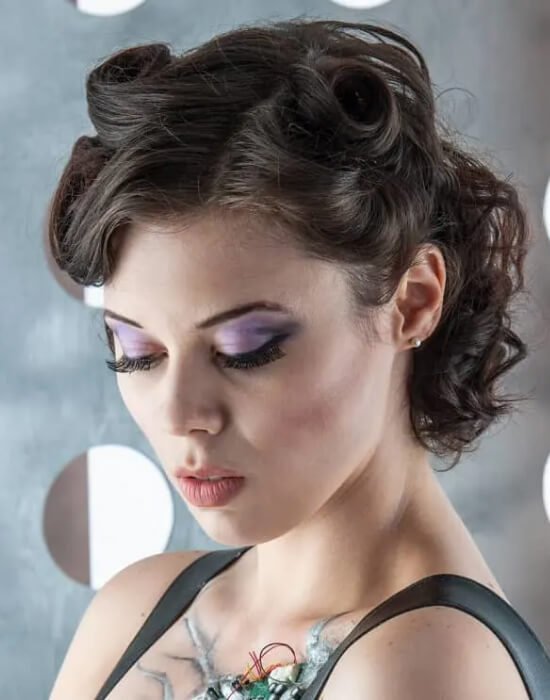 So if you want a timeless yet modern hairstyle on such an important day, then this should definitely be one of the first considerations when planning out how exactly what kind of updo would suit best all aspects involved with pulling together those stunning outfits while still looking comfortable throughout long days spent celebrating happily ever after fantasies coming true to come alive before our very own eyes! It's one of the simple curly hair wedding hairstyles.
4. Classic Bridal Updo with Curls
A classic bridal updo with curls is the perfect way to add a touch of elegance and glamour to your special day. These looks are timeless and sophisticated, from vintage-inspired ringlet buns to structured chignons. This hairdo can suit any bride's unique look, whether you opt for an intricate style fit for royalty or something more understated yet still striking.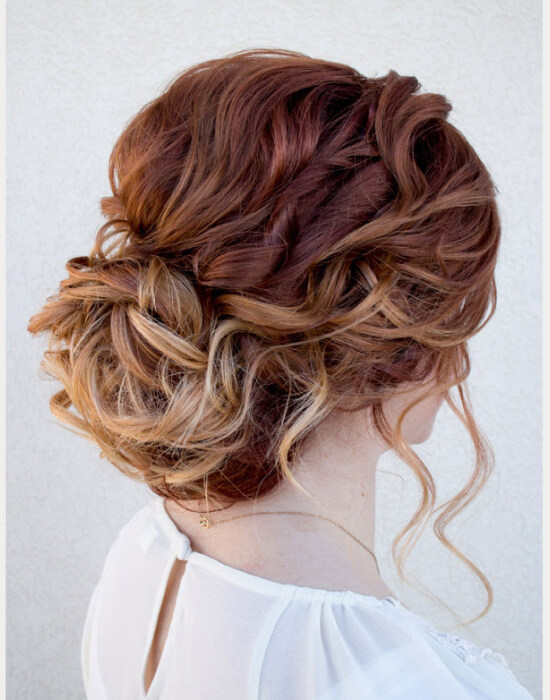 For modern brides who want their wedding hair up but don't want it overly formalized, incorporating looser waves into the style creates a beautiful body that will last through all those happy tears! Most important–with such gorgeous results come amazing photographs that will remind you how truly stunning YOU looked on your special day!
5. The Curls, Accessorized, and Twisted Bun
For a stunning look on your wedding day, why not go for the curls and accessorized/ twisted bun hairstyle? This classic curly hair up-do will give you a distinctive look. Whether short or long locks, this style can be easily customized with accessories—from beautiful fresh flowers to sparkling gems—to add glitz and glamour!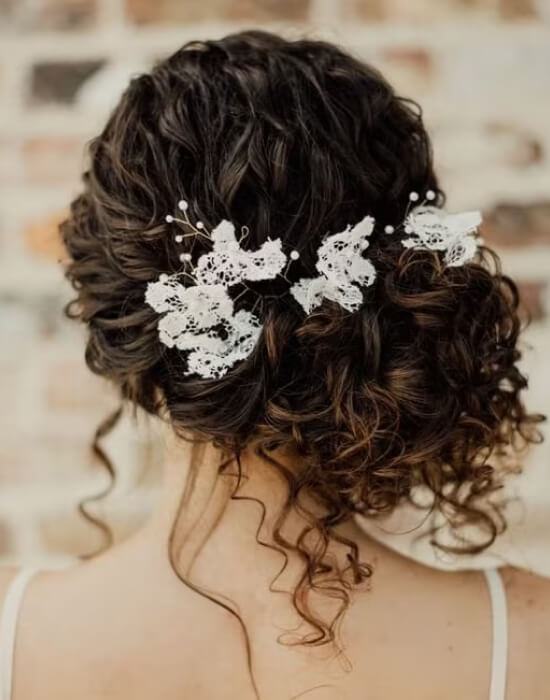 It's an easy way to transform loose waves into stylishly tamed coils that stay put all night. Your guests are sure to take notice when they see how chic yet flattering it looks against your face and arms. Stylish elegance has never been more effortless than these timeless and romantic curls accessorized in a perfect twist at the back of your neck! It's one of the unique short curly hair wedding hairstyles.
6. Wedding Updo with Flower Crown
For the big day, every bride wants her hair to be perfect. With so many styles to choose from, finding the perfect look for your special occasion can be intimidating. A unique and beautiful hairstyle option is an updo with a flower crown for curly wedding hairstyles – creating an enchanted bridal style that will turn heads!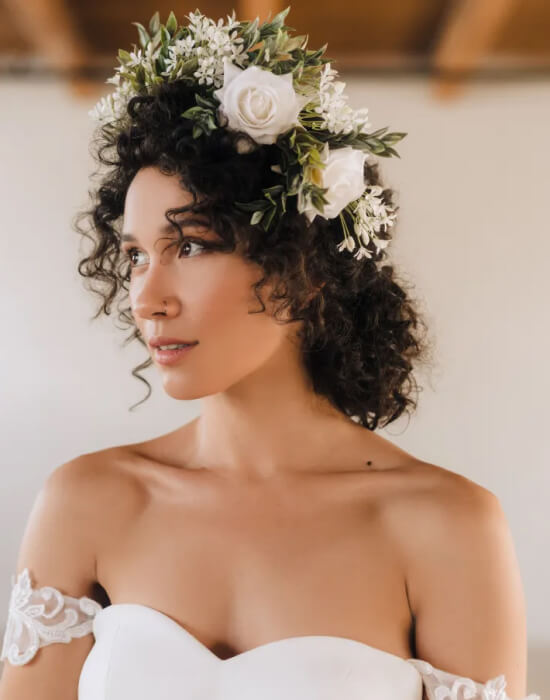 An experienced stylist will work with you to create any desired look while ensuring your curls are manageable and healthy throughout the picturesque ceremony and reception photos. Make this fairytale dream come true by opting for this romantic yet timeless classic on the most important day of your life! It's one of the best short curly hair wedding hairstyles.
7. Full Curls
Full curls are a beautiful wedding hairstyle option if you're a bride with naturally curly hair. Using the right techniques and products, it can be crafted to look both elegant and romantic. For a touch of glamour, add some sparkling clips or delicate headpieces throughout the updo for subtle sparkle without going overboard.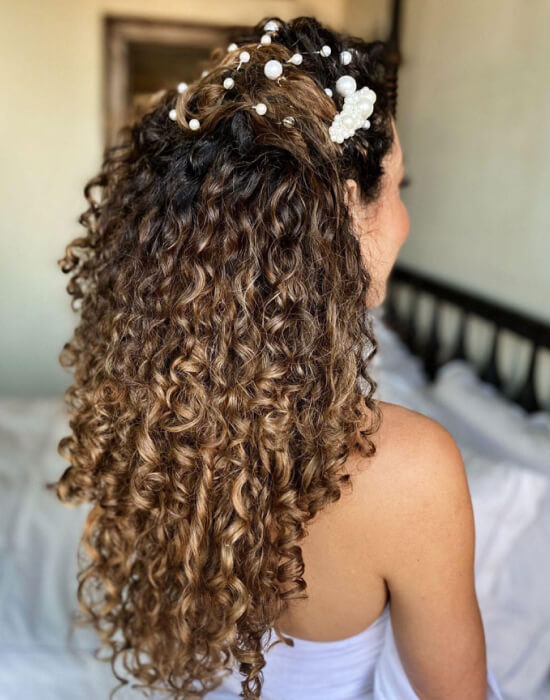 The key is to use lightweight gel that won't flatten out your natural texture but still holds well enough so every last spiral stays in place during all the memorable moments on your big day! You'll love how beautifully these sumptuous locks frame your face as they flow down into soft waves at your nape—sophisticated yet effortless!
8. Eye-Catching Curly Pony
The perfect hairdo for your wedding day can make or break a bride's look. With that in mind, an eye-catching curly pony is the way to go! This gorgeous and timeless hairstyle for curly will add texture and movement while still keeping it polished enough for a formal occasion like your special day. The high top of this updo adds volume, so even those with finer locks won't be disappointed.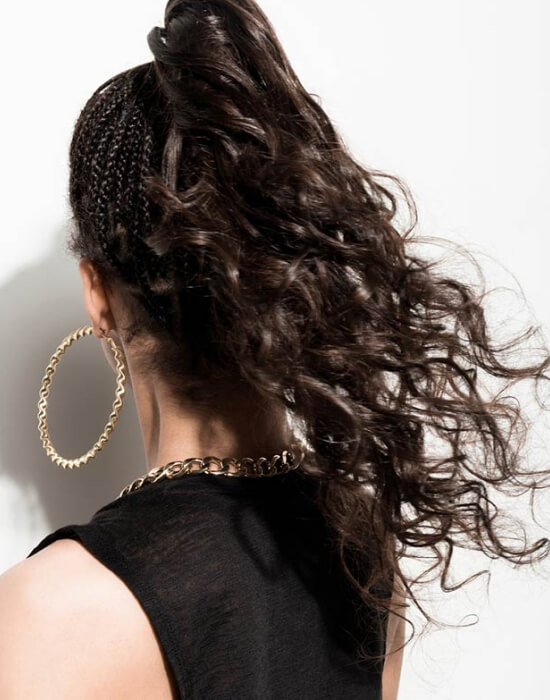 To complete this unique style, you'll need some strong-hold hairspray to keep everything locked into place without stray curls popping out here and there! Trust us when we say that guests at your ceremony won't be able to take their eyes off you as you gracefully walk down the aisle wearing such an elegant hairdo – one sure to last all night long.
9. Simple Accessorized Hairstyle
Are you seeking a simple but elegant hairstyle to accessorize on your big day? Look no further – curly hair wedding hairdos are the perfect option. Whether you prefer loose waves or tight ringlets, curls can provide texture and definition that will make it easier to add jewelry, flowers, veils, and other accessories without removing your locks' natural beauty.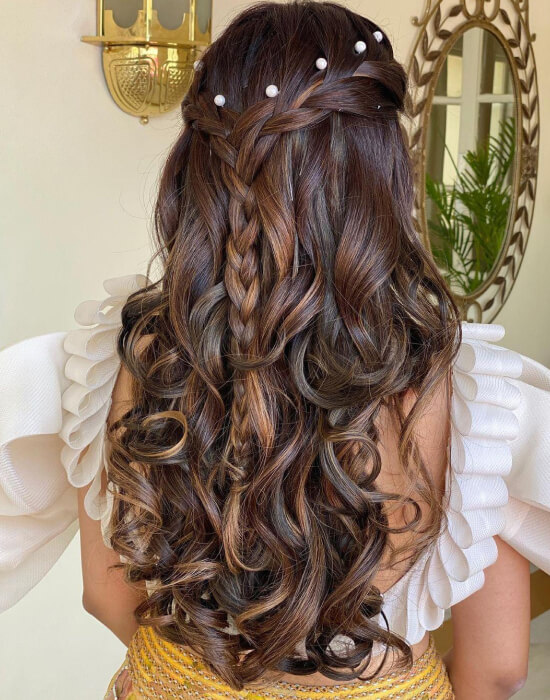 With its soft yet dramatic look, this style makes a statement at any reception! Not only that, but styling these looks with professional products ensures long-lasting hold so each accessory stays secure all night long. So if you want an effortless way to glam up your curls for a timelessly beautiful bridal look – Curly Hair Wedding Hairstyles just might be exactly what you need!
10. Glam Bridal Updo with Volume
For the modern bride with an eye for fashion looking to make a statement on her big day, it's time to consider a glam bridal updo with volume. A professional stylist can create beautiful looks that accentuate your natural curls and bring out their best features without losing any of their personality or charm.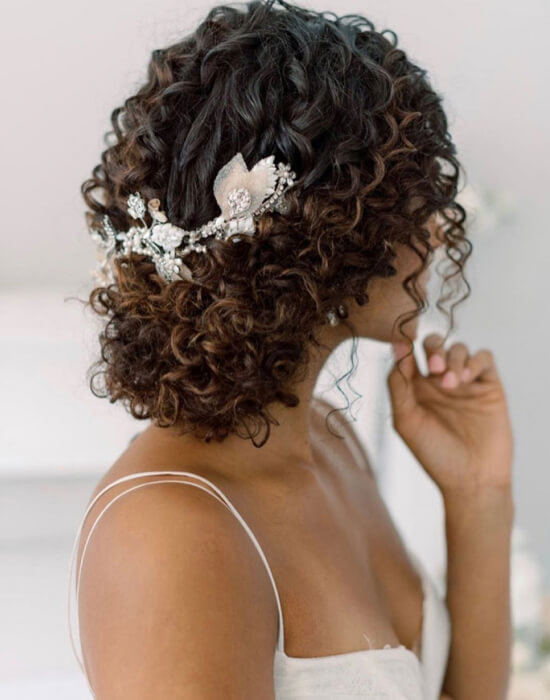 With this type of hairstyle, you'll have plenty of movement throughout and still look spectacular in photos – perfect if there are lots of photo ops planned! Not only will these voluminous styles be the talk of the town, but they'll remain comfortable all night long, so you don't miss out on dancing at your wedding reception party!
11. Short Tight Curls
Having the perfect hairstyle can have a big impact on your wedding day. Short and tight curls for curly hair are a great option if you're looking for an elegant look that still stands out from traditional straight styles. This particular hairstyle is timeless, versatile, and eye-catching – perfect for making a statement on your special day!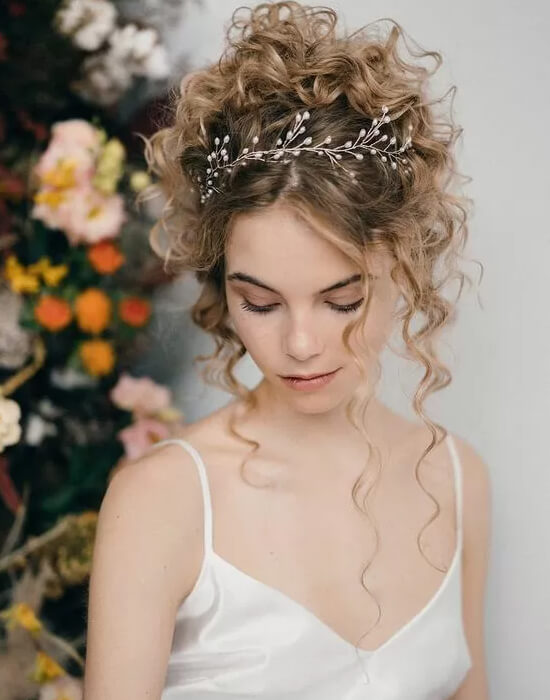 You could even accessorize it with decorative pins or jewelry to further boost its beauty. You get texture without sacrificing length with short, tight curls, so there's plenty of opportunity to experiment too!
12. Side Clasp With Loose Curls
A beautiful side clasp with loose curls is a popular wedding hairstyle for curly hair. It's a timeless look that adds elegance and sophistication to any bridal ensemble while maintaining the curl structure of your natural tresses. Professional stylists recommend using light styling products when creating this stunning hairdo as it allows you to enhance each strand without compromising its strength or integrity.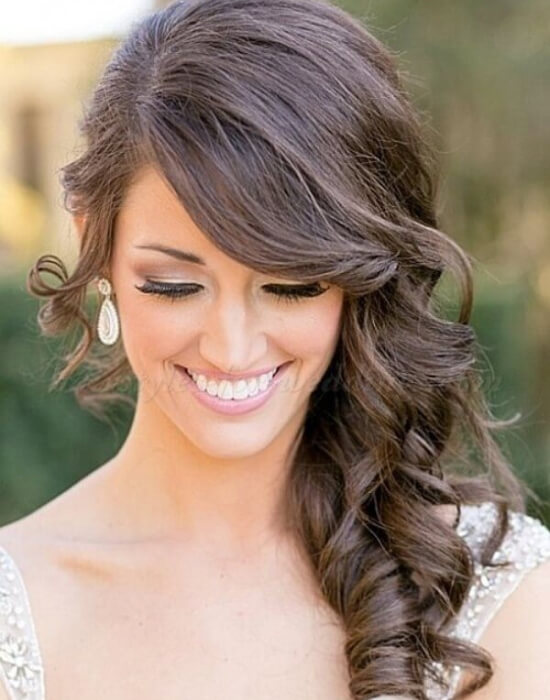 When complete, you will be left with glossy locks adorned by romantic ringlets cascading across your face – sure to make heads turn on your special day!
13. Voluminous Bun
Are you looking for the perfect hairstyle to complete your wedding look? Look no further than voluminous buns! This style features large, full curls and a high bun that will give any bride an elegant yet modern feel. Whatever the length of your curly hair, this is a timeless wedding choice.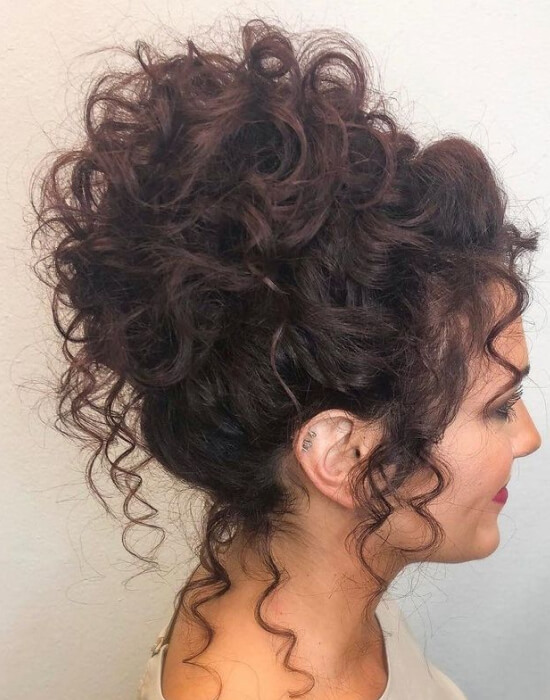 It's also easy to achieve with minimal products – use hairspray or wax on damp strands before wrapping them into the desired bun shape. Voluminous buns are a surefire way to create unique looks that can be easily recreated after your special day!
14. Curly Bridal Hair Pulled Back
Say "I do" to gorgeous, pulled-back hairstyles for your big day. Curly bridal hair can be tricky to pull off, but there are many ways to make it look beautiful and unique while still looking professional. From low-side ponies with soft curls framing the face or half-up styles secured at the back of the head, this type of updo gives an effortlessly romantic vibe that will last through all those wedding day pictures and hugs from grandma!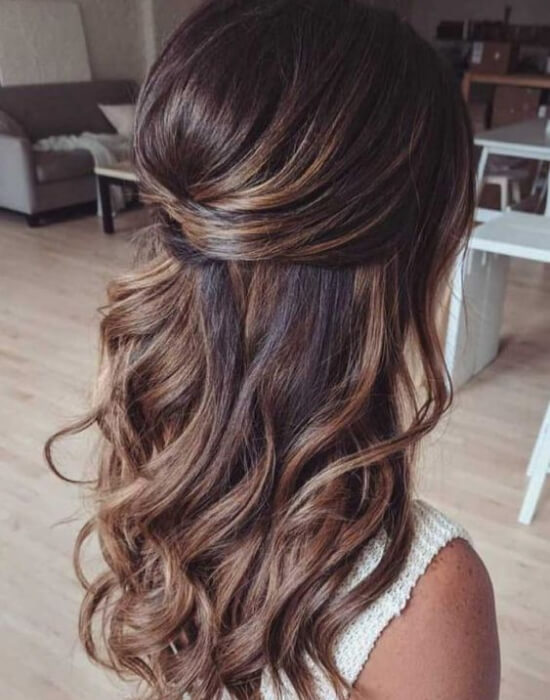 With beautifully pinned elements in their unique pattern along crowns or tucked sides, curled tresses will always stand out no matter what dress is worn on that occasion.
15. Reverse Braids
A stunningly unique hairstyle for the modern bride is a Reverse Braid. This style gives curly hair an elegant and graceful look, making any wedding day memorable. With this stylish hairdo, you can ensure your curls don't get lost in all the pomp and circumstance – they steal the show!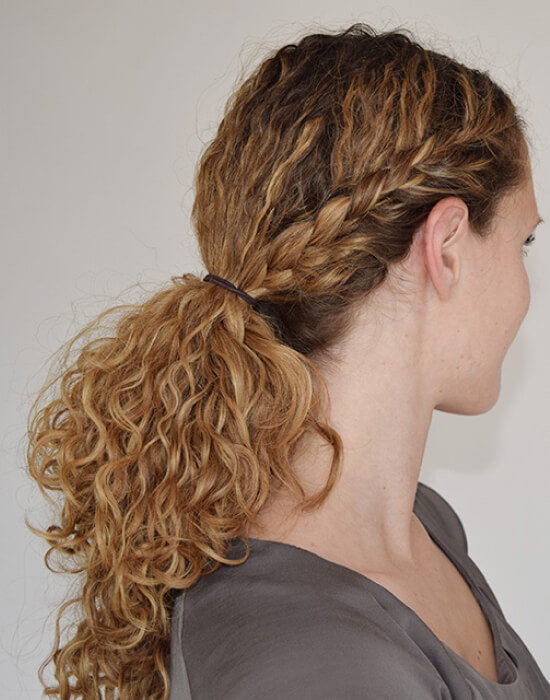 To create a reverse braid, start with three strands near each ear, then cross them over one another until reaching far back on either side of the head before securing them with bobby pins or clips to add texture at the tips. The result is truly captivating; perfect for achieving 'picture-perfect' photos from your big day!
Conclusion
With so many different choices open, there is a perfect curly wedding hairstyle for every bride. From glamorous updos to braided half-ups and everything in between, these 15 gorgeous styles will surely make brides feel beautiful on their big day.
Whether you're looking for something simple or extravagant, romantic or classic—you can be confident that any of these down-do's will look stunning up close and from afar! We hope this blog is useful to the readers.