Undoubtedly, love knows no religion, and this is what Bollywood stars have been proclaiming since its outset. No matter how hard the battle of love goes, one wins at the end. And, the same is the story of our 27 Bollywood Celebrity Couples Who Had Inter-Religious Marriages. All these couples got hitched with partners from other religions. For some, it was a cakewalk, and for others, it was no less than a battle. Here is a list of the 27 Bollywood stars who got married to their respective partners after facing too many challenges of belonging to different religious backgrounds.
Let's have a look at the 27 most famous Bollywood celebrity couples who had inter-religious marriages…..
1. Farhan Akhtar and Adhuna Bhabani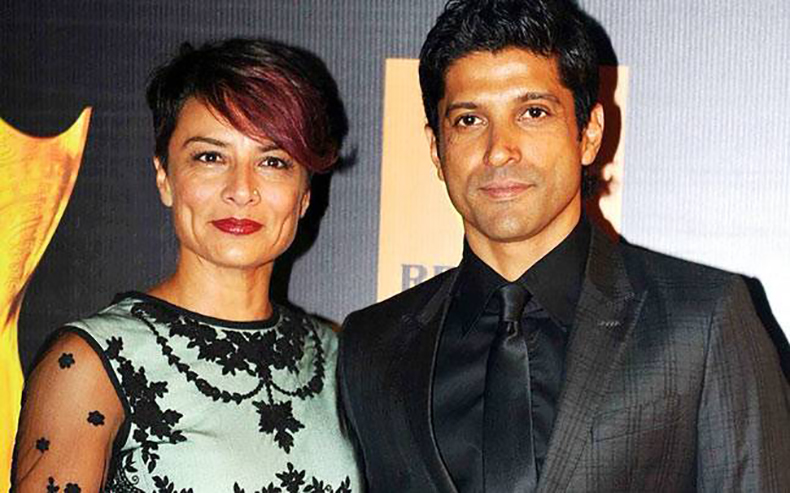 The Bhaag Milkha Bhaag star fell in love with Adhuna Bhabani during the making of Dil Chahta Hai. They dated each other for three long years, and then they got married. Both of them belonged to different religious backgrounds. Apart from this, Adhuna was six years elder to Farhan as well. The two have two daughters, and the couple got separated in 2016.
2. Aamir Khan and Kiran Rao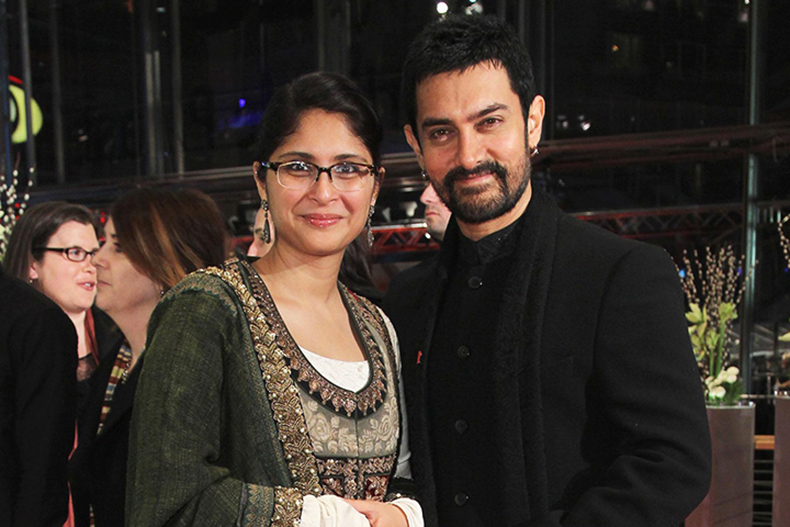 Aamir Khan, popularly known as 'Mr. Perfectionist', fell in love with Kiran Rao at the set of Lagaan in 2001. Kiran Rao belongs to a Brahmin from Bangalore, while Aamir was already married to Reena Dutta. Aamir divorced Reena to get married to Kiran. Aamir and Kiran got married in the year 2005. Well, both of them set a perfect example for others by marrying despite the religious difference.
3. Shah Rukh Khan and Gauri Chibber
Shah Rukh Khan, famously known for his romantic roles in the movies, is very passionate in real life too. He fell in love with Gauri Chibber, who belonged to a staunch Hindu Brahmin family. And, her family, especially her brothers, were always against their relationship. However, even after so many disagreements and strong resistance from Gauri's family King Khan married her. Nothing could stop them, Shah Rukh always believed in his love, and that's what his support was as well. They got married in 1991 and have been one of the best examples of fidelity in marriage since then.
RELATED: Karan Deol Wedding His Longtime Girlfriend Drisha Acharya
4. Saif Ali Khan and Kareena Kapoor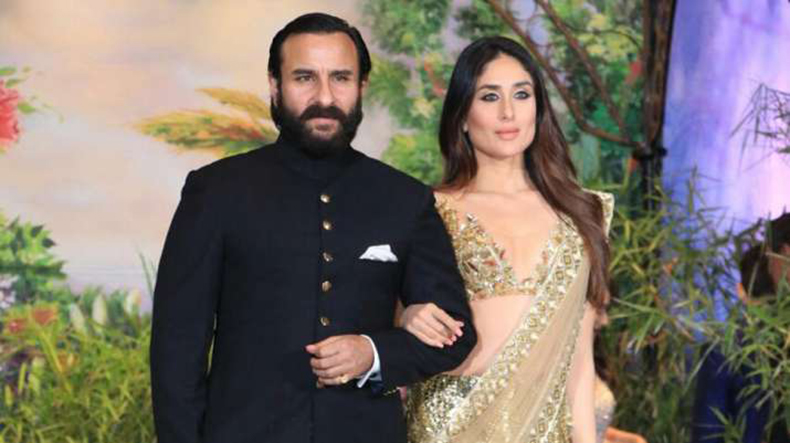 The couple is popularly known as "Saifeena", and was one of the most talked-about couples once. After five years of courtship, both of them got lavishly married in the year 2012. There were rumors that the actress will change her religion after marriage, but just like her mother-in-law, Sharmila Tagore, she too chose to stay a Hindu. Even after eight years of their marriage, they still make the most ravishing couple. In 2016, Kareena gave birth to a baby boy named Taimur.
5. Kunal Khemu and Soha Ali Khan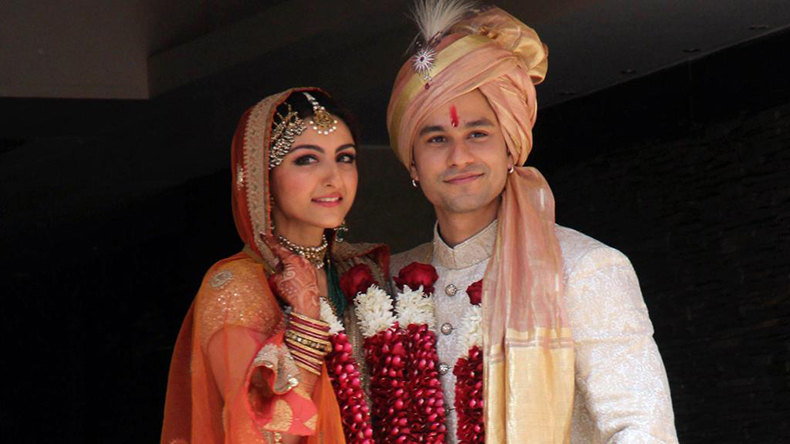 Love is the only religion of the Pataudi family, as most of them are married to a person belonging to a different religion. Just like her brother, Soha Ali Khan also chose to marry her longtime boyfriend, Kunal Khemu. Both of them met on the sets of Dhoondthe Reh Jaoge (2009) and fell in love. The couples dated each other for quite a long time before they got hitched. The two got married on January 25, 2014. They were even in a live-in relationship for some time before they tied the knot.
6. Arbaaz Khan and Malaika Arora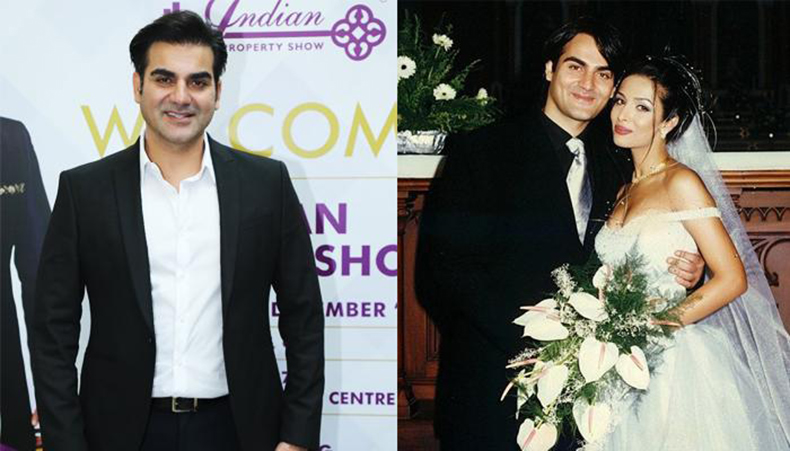 Arbaaz fell in love with the Chhaiyya Chhaiya girl, Malaika Arora. Both Arbaaz and Malaika did an advertisement for a coffee brand, Mr. Coffee, in 1993, from where their story began. In an interview, they said that it was love at first sight for them. Malaika said, "I met Arbaaz for the first time while modeling for the MR coffee ad when I was 18." They dated for some time, and then Arbaaz took permission from Malaika's mother, and the two had a Christian wedding. They have a son, and they are now divorced!
7. Sohail Khan and Seema Sachdev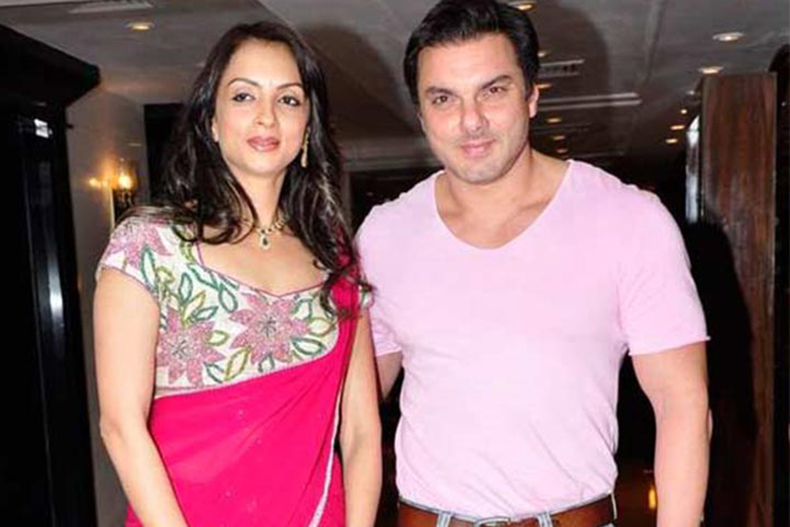 Sohail Khan fell in love with a Punjabi girl, Seema Sachdev. They have an exciting love story, which is no less than any Bollywood movie. The two fled away when Sohail's first movie as a director, Pyaar Kiya To Darna Kya, was released. They first married as per the Arya Samaj rituals, and later in the evening, they had a nikah. However, later, their families accepted them, and they are now blessed with two sons.
Related: Find the Exclusive Tips to Host The Inter-Caste Weddings Smoothly
8. Riteish Deshmukh and Genelia D'Souza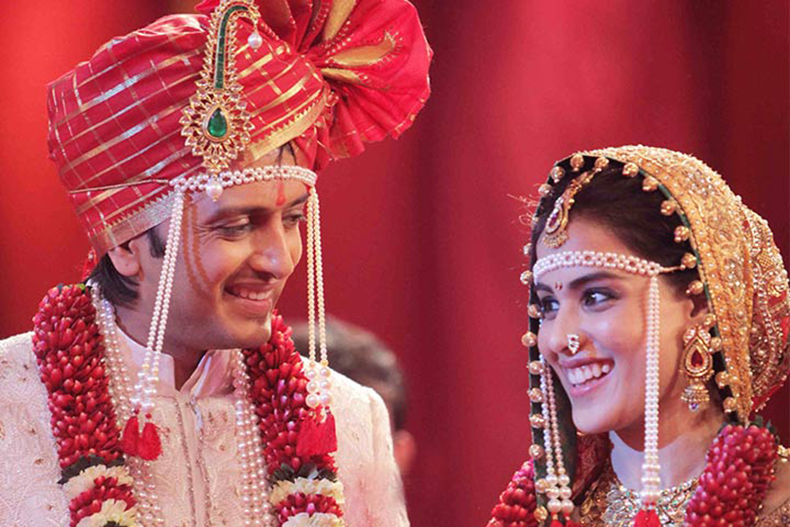 The sweetest and the gorgeous couple of the Bollywood met on the set of Tujhe Meri Kasam and fell in love with each other. This super-cute couple of Bollywood is one of the best examples of inter-faith marriage. As Riteish is a Maharashtrian Hindu and Genelia, on the other hand, is a Mangalorean Catholic. The two got hitched in 2012, in both Maharashtrian and Christian style. They are blessed with two baby boys and still make the perfect couple.
9. Hrithik Roshan and Sussanne Khan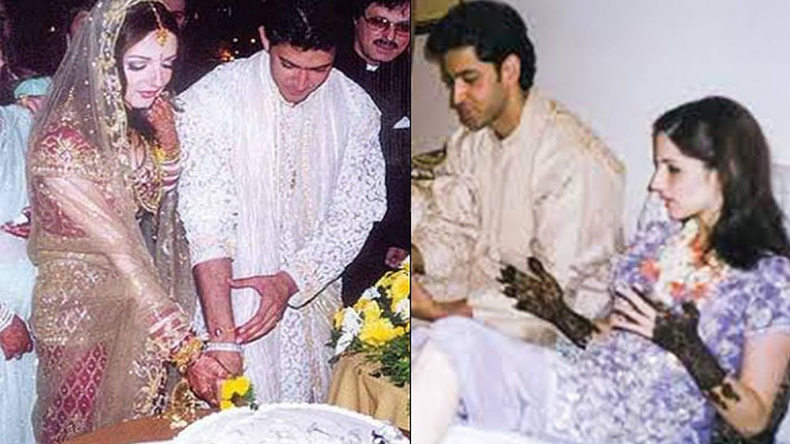 Hrithik Roshan and Sussanne Khan, one of the most talked-about couples of Bollywood, is now separated, though. However, there was a time when they set an example of true love and commitment. The couple was in love with each other since childhood. And they got married in 2000, and after 14 years of their marriage, they got divorced in 2014. They have two sons, and they still spend time with each other as a family for their sons.
10. Preity Zinta and Gene Goodenough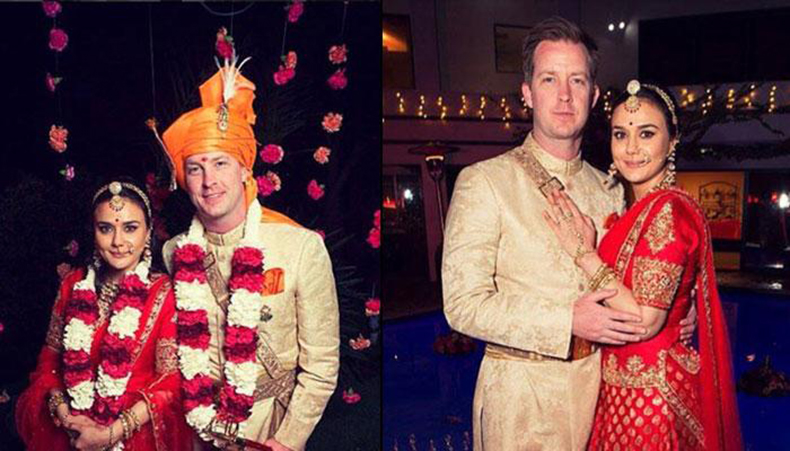 Preity Zinta got married to her longtime-beau, Gene Goodenough, on February 28, 2016. The couple dated each other for quite some time before tying the knot. The couple tied the knot in a Hindu wedding ceremony in Los Angeles with an intimate gathering of family and very close friends. Preity Zinta belongs to a Punjabi family, while Gene Goodenough is a Christian from the USA.
11. Irrfan Khan and Sutapa Sikdar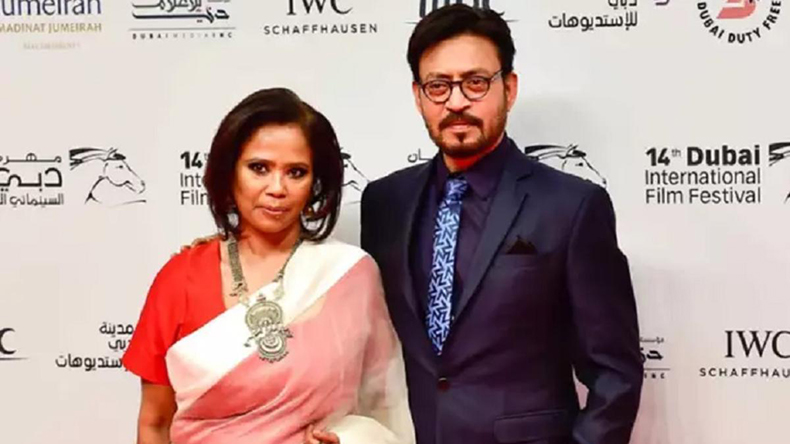 It was during one of the practice sessions when Irrfan noticed Sutapa Sikdar and fell in love with her. Irrfan took the risk and introduced himself. Gradually they became good friends, and finally, they decided to take their friendship to the next level. They got married On February 23, 1995. Sutapa Sikdar is Bengali. The two have two sons. Recently we lost the most precious actor in Bollywood.
12. Shirish Kunder and Farah Khan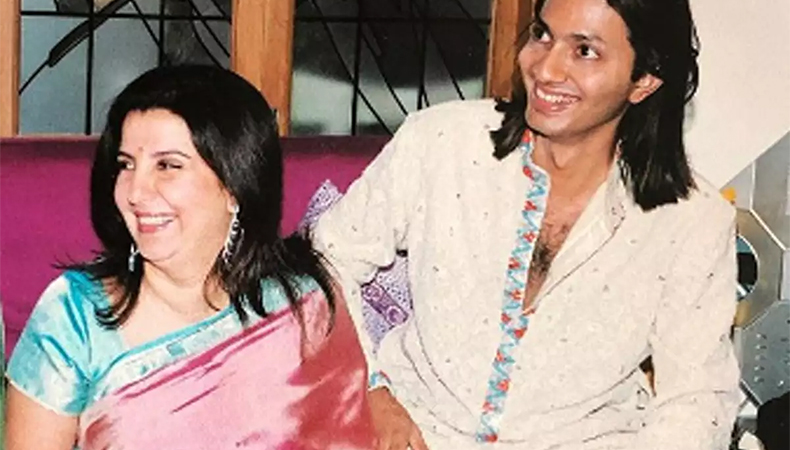 Shirish Kunder and Farah Khan met on the sets of Main Hoon Naa and fell in love with each other in no time. The couple faced not only the hurdle of religious differences but also the significant age difference as well. Shirish is eight years younger than Farah. However, the couple fought all the odds and got married in 2004. They are blessed with three kids.
13. Naseeruddin Shah and Ratna Pathak Shah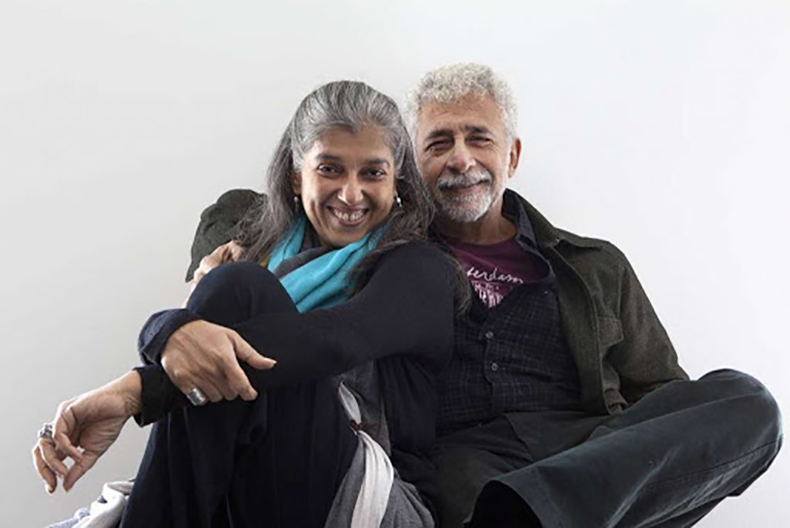 The two met during the rehearsal of a play, in the year 1975. Naseeruddin Shah was already married and had a daughter from his first marriage. However, that didn't make any difference in their relationship. And they got married in 1982 and have two sons.
14. Manoj Bajpai and Shabana Raza (Neha)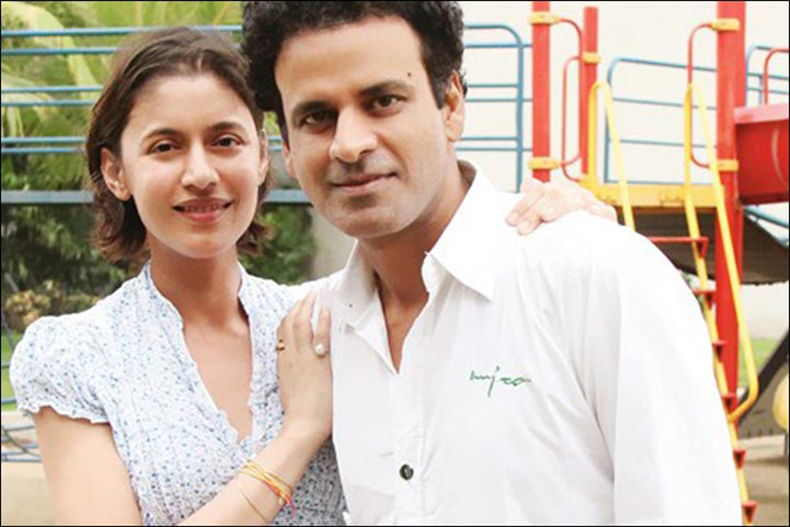 The most versatile actors of Indian Cinema, Manoj Bajpayee, also got married to a non-Hindu girl, Shabana Raza. Shabana Raza was very famous by her screen name Neha. The two met a short while after her first movie Kareeb was released in 1998. They got married in the year 2006 and are blessed with a daughter.
15. Sanjay Dutt and Dilnawaz Sheikh (Maanyata)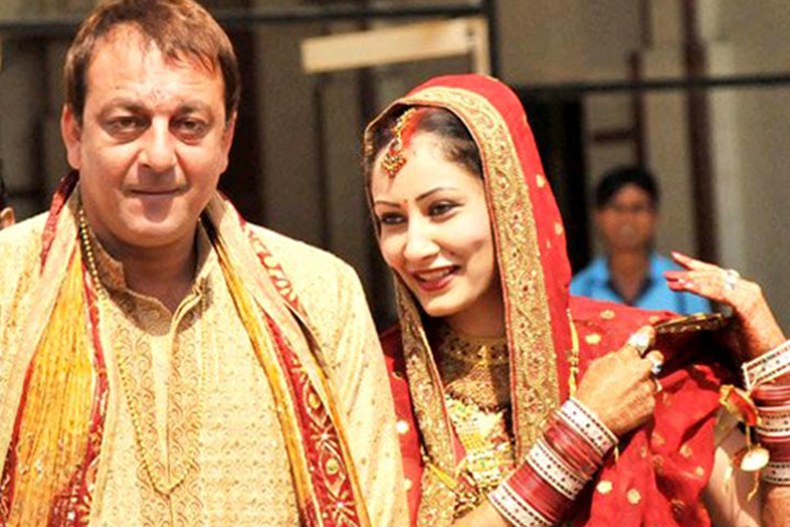 Sanju Baba and Maanyata, whose real name is Dilnawaz Sheikh, met in the year 2006, through a common friend. Sanjay Dutt fell in love with Maanyata, and soon the duo got married despite different religious backgrounds, too many rumors about Maanyata's previous marriage, and a substantial 19-year-old age gap.
Also See:  Rana Daggubati's Roka Ceremony With Miheeka Bajaj During Lockdown
16. Dia Mirza and Sahil Sangha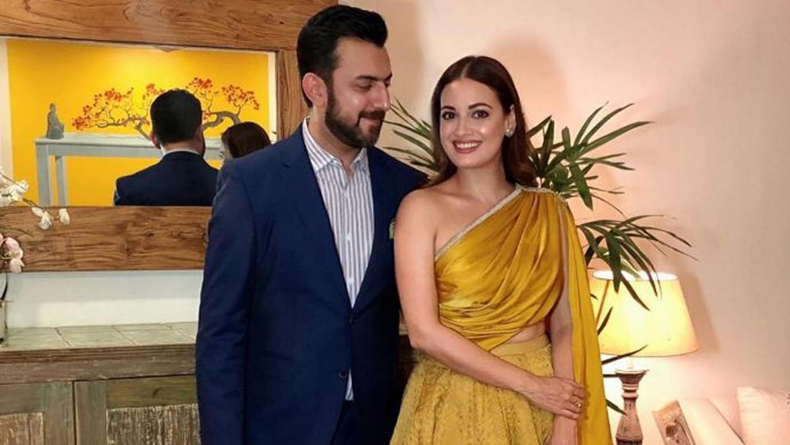 Undoubtedly, Dia Mirza is one of the gorgeous actresses in Bollywood. Dia won Miss Asia Pacific 2000 title and made her acting debut with Rehnaa Hai Terre Dil Mein (2001). She is half German and half Bengali Hindu by genes and half Muslim by parentage as she uses her step father's surname Mirza. She got married on October 18, 2014, to her longtime business partner Sahil Sangha. However, the two got separated in August 2019.
17. Atul Agnihotri and Alvira Khan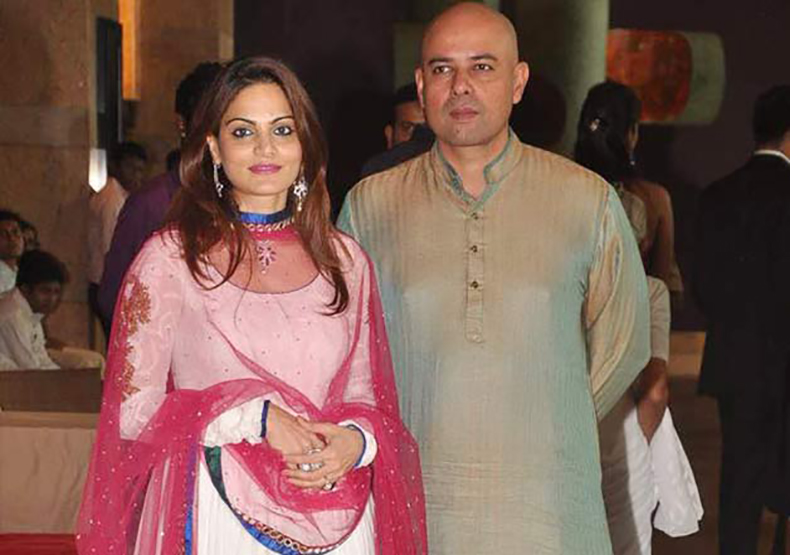 Yesteryear actor Atul Agnihotri was born into a Punjabi Brahmin family and got married to Alvira Khan, Salman Khan's sister. The two set a perfect example for others. They fell in love, and despite their different religious background, they got married in 1996. They have two children.
18. Arshad Warsi and Maria Goretti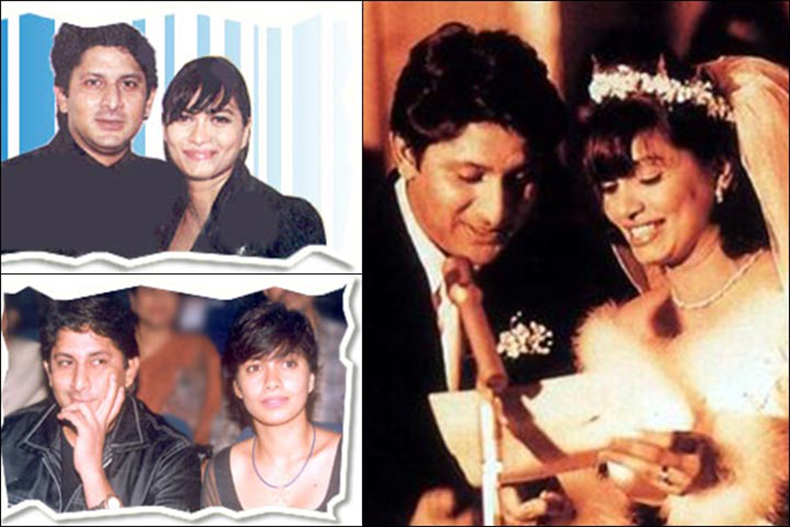 The comic actor of Bollywood is not just famous for his incredible acting skills, but also he is known for setting an example for people in love. He got married to Maria, who is a Christian. Both of them met in 1991. And, they got married on February 14, 1999. They are blessed with two kids, a son, and a daughter.
19. Sunil Dutt and Nargis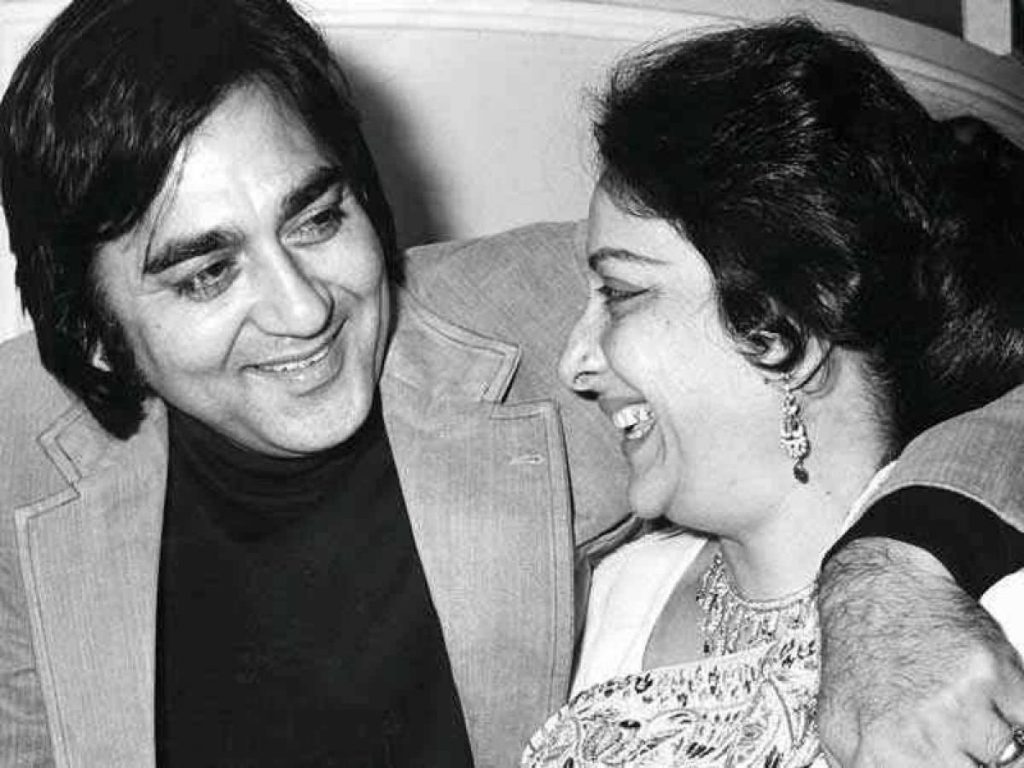 Their story is no less than a Bollywood masala. They got married because Sunil Dutt saved Nargis during the shooting of Mother India when the fire broke. Nargis was impressed with Sunil Dutt's brave act, so she decided to get married to the actor. Sunil Dutt was a Punjabi Hindu from Jhelum district. The two got married on March 11, 1958. She converted to Hinduism on her marriage and changed her name to Nirmala Dutt.
20. Aditya Pancholi and Zarina Wahab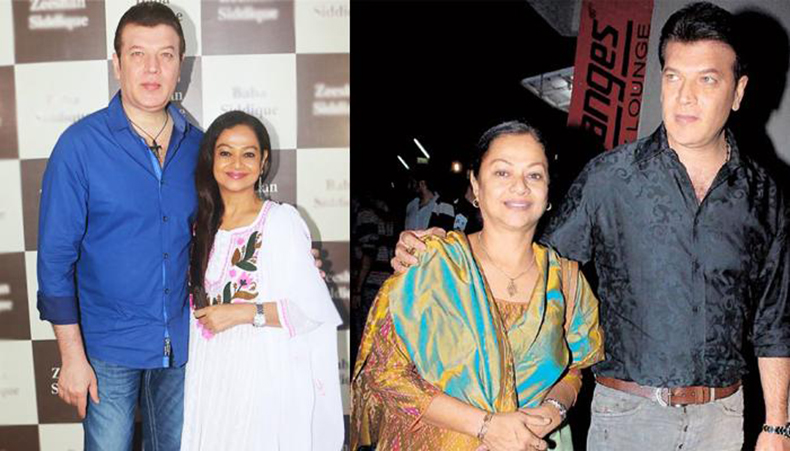 Aditya Pancholi and Zarina Wahab met on the sets of Kalank Ka Tika and fell in love with each other. The two got married in 1986. Aditya Pancholi is a Hindu by religion and is six years younger than Zarina, who is a Muslim by religion. However, they never faced any problems from their families' side, as both their families were supportive. They are still together and make a nice couple.
21. Suniel Shetty and Mana Qadri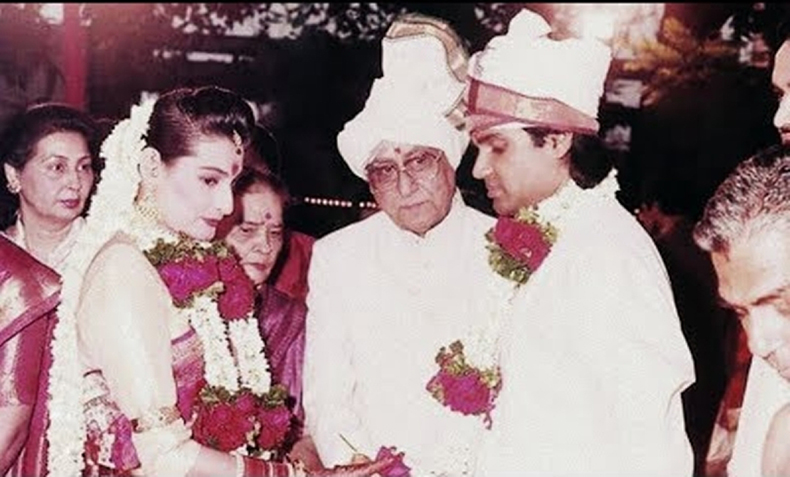 Suniel Shetty got married to a Muslim, Mana Qadri. While Suniel is a Hindu and belongs to the southern part of India, where inter-caste marriages are still a taboo. The couple dated for quite a long time of 9 years and later they got married in 1991. Mana was just 17 when Suniel fell for her.
22. Urmila Matondkar and Mir Mohsin Akhtar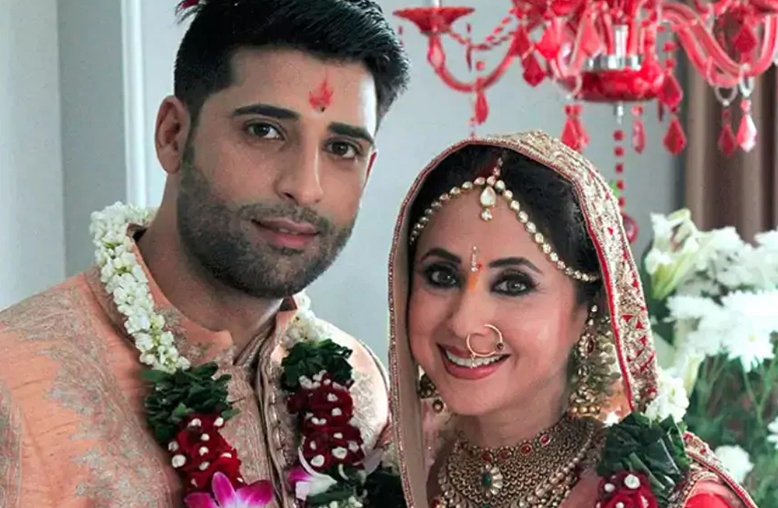 Urmila Matondkar and Mir Mohsin Akhtar are the latest entrants on the list of Bollywood couples who had an inter-religious marriage. Urmila, who was the famous 90s heroine, got married to her boyfriend, Mir Mohsin Akhtar, in a private ceremony on March 3, 2016. Urmila is a Maharashtrian, while her husband Mir is a Kashmiri Muslim. Not just that, Urmila is ten years elder to Mir; however, that didn't make any difference.
23. Farooq Sheikh and Rupa Jain
Farooq Sheikh, who was one of the finest actors of Indian Cinema, met his love, Rupa Jain in St.Xavier's College, Mumbai. The two were actively involved in theatre. Rupa was Farroq's junior in college and classmate of Shabana Azmi. They got married and had two daughters, Shaista and Sanaa.
24. Shakeel Ladak and Amrita Arora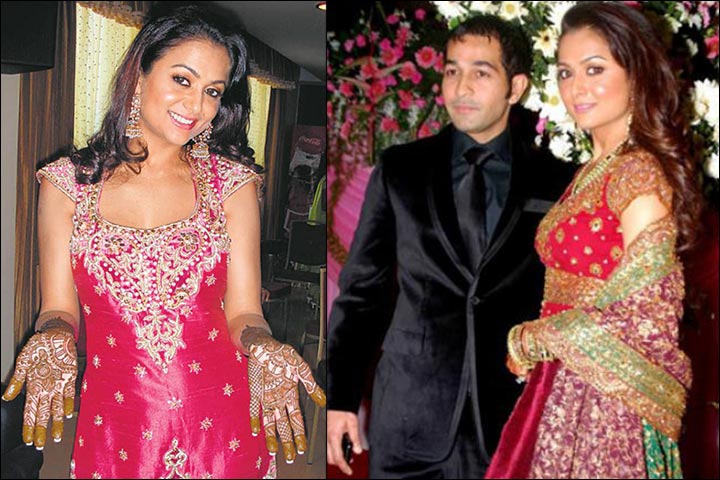 Amrita Arora, like her sister Malaika, got married to a Muslim guy, Shakeel Ladak. Amrita's father is a Punjabi while her mother is a Catholic. The couple got married in three different styles- Christian, Muslim, and Punjabi, just to honor all the cultures they belong to.
25. Raj Babbar and Nadira Zaheer
The two met in 1975 in the National School of Drama. When they met, Nadira Zaheer was already an established actor-director, while Raj Babbar was just a student. Their story began during the play, Jasma Odan. And they got married just five months after their love story began. Raj Babbar also married Smita Patil, while he was married to Nadira. He left his wife for the dusky beauty. However, after the demise of Smita Patil, Raj and Nadira patched up, and they now live together.
26. Zayed Khan and Malaika Parekh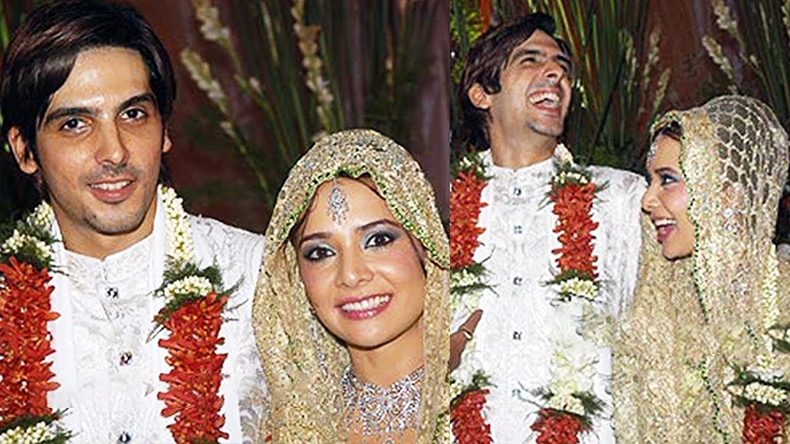 The Main Hoon Na Actor, Zayed Khan, married his childhood girlfriend, Malaika Parekh on November 21, 2005. Zayed had a crush on Malaika from school days. After years of dating in school, both of them decided to venture out and face the world. The couple is happily married and has two children now.
27. Mohsin Khan and Reena Roy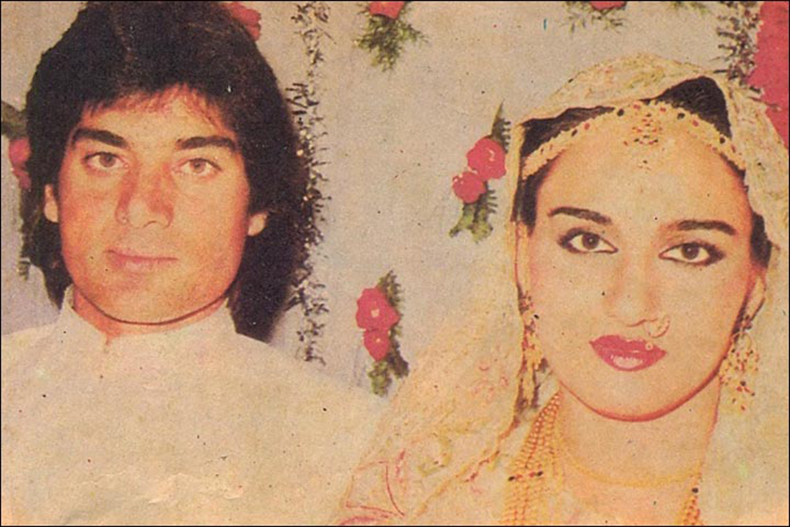 Last but not least, Mohsin Khan and Reen Roy. Mohsin Khan was a Pakistani Cricketer and has also acted in a few Bollywood films. While, Reena Roy was one of the most beautiful and famous actresses of yesteryear, made a headline when the news of her links with a Pakistani cricketer came out. They had to face a lot of issues. However, nothing could deter their compassion and fondness for each other. The two got married in 1983, and later shifted to Bombay. However, their marriage didn't last for long, and they later got divorced.
So, these are the 27 Bollywood celebrity couples who had inter-religious marriages and set examples for other people in love. If you also believe that love should be only religion, then go ahead and set an example!
Happy Wedding….. ☺ ☺