The fragrance selection should represent you as a person while also complimenting the dress, shoes, and other accessories chosen to complete your look. The best way to ensure success is by considering key factors such as body chemistry reactions, type, and strength level before making any purchase decisions – all these are essential when selecting something so personalized as a perfume that will be associated with one's life-changing moment!
When thinking about choosing the perfect wedding scent, it's important to consider several factors, such as whether it has staying power throughout the entire event, if any guest might have sensitivities and allergies, or if budget is an issue – all these things must be taken into account when selecting that perfect fragrance fit just right for such a momentous occasion. In this blog, we go through wedding perfume for groom.
Aspects to contemplate when picking a wedding perfume
When picking a wedding perfume for the groom, several aspects should be taken into Regard
Personal preference: The groom's taste and preferences should be the primary Consideration. The perfume should align with his personality and make him feel comfortable and confident.
Style and theme: The groom's perfume should complement his style and the overall theme of the wedding. Whether a formal, traditional wedding or a casual outdoor event, the fragrance should harmonize with the ambiance and atmosphere.
Longevity and projection: Consider the longevity of the perfume and its projection. A long-lasting fragrance ensures that the groom smells great throughout the day, while appropriate projection provides that the scent is noticeable but not overpowering.
Here are the best perfumes for grooms
1. Citrus and Fresh Scents
Citrus and fresh scents are characterized by their uplifting, invigorating, and clean aroma. They often include notes of lemon, lime, bergamot, and other refreshing ingredients. These fragrances are perfect for daytime weddings and outdoor settings.
➤ Acqua di Gio by Giorgio Armani
Acqua di Gio is a perfectly tailored wedding scent for the groom, crafted by legendary Italian designer Giorgio Armani. This elegant and timeless fragrance blends notes of orange, rosemary, green tangerine, and warm Indonesian patchouli to create a fresh cologne for men with Calabrian bergamot to create an aromatic blend that will evoke memories on your special day.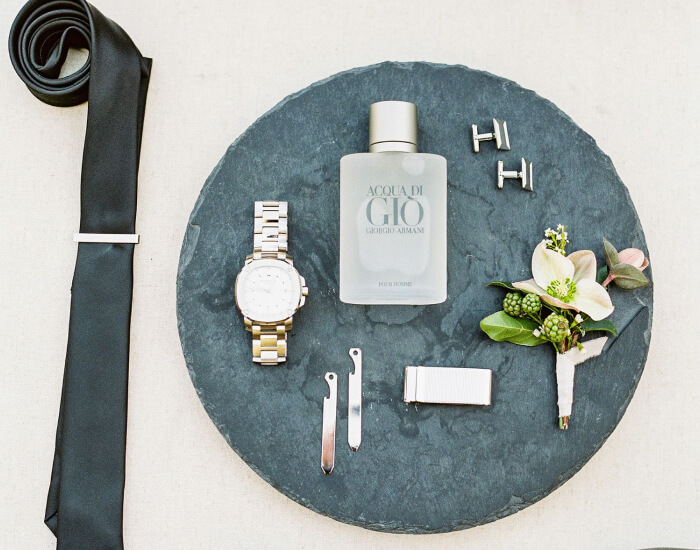 The woody undertones make it the ideal match when coordinated alongside classic tuxedos or more formal attire on the big day. Acqua di Gio stands out as one of today's leading fragrances due to its superior craftsmanship without compromising luxury quality standards- making it the perfect choice for grooms looking for sophisticated style paired with long-lasting performance to smell great all night! It's a long-lasting perfume for the wedding day.
➤ Dior Homme Cologne by Dior
The Dior Homme Cologne by Dior has been a popular choice for grooms on their big day. Its classic, woody scent is both masculine and elegant, with delicate aromas of Linalool, Citral, and Butyl blended perfectly. The fragrance offers the groom an opulence that makes him feel distinguished without being overpowering or too bold; it also radiates warmth to the wedding party as they celebrate this special event.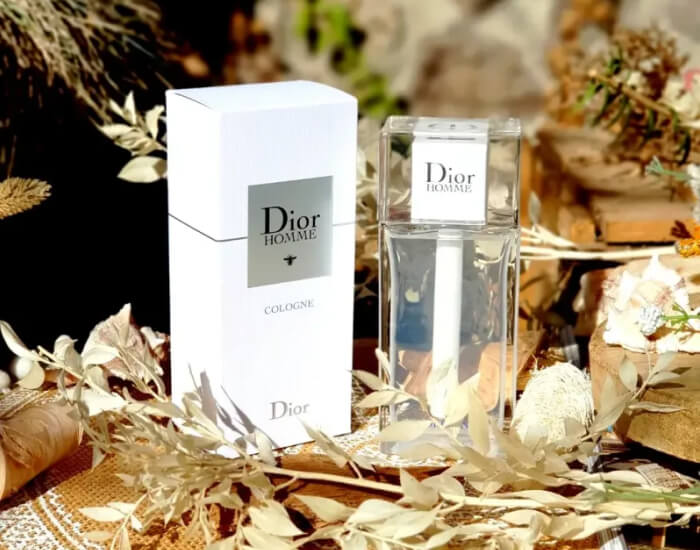 As the most important gentlemen present at any nuptials, Wedding Perfume by Dior can help equip each groom with timeless sophistication he will be remembered for – making sure his style stands out during those first precious moments when two families come together in unity! It's the best perfume for a wedding day groom.
➤ Light Blue by Dolce & Gabbana
Light Blue by Dolce & Gabbana is the perfect choice for wedding perfume for a groom. This iconic cologne combines fresh and modern notes of citrus, grapefruit zest, and refreshing marine notes to create a unique, daring scent that will make your special day unforgettable. The powerful blend of Mediterranean fragrances sedges every spray—making it an ideal pick as a professional signature scent on such a momentous occasion!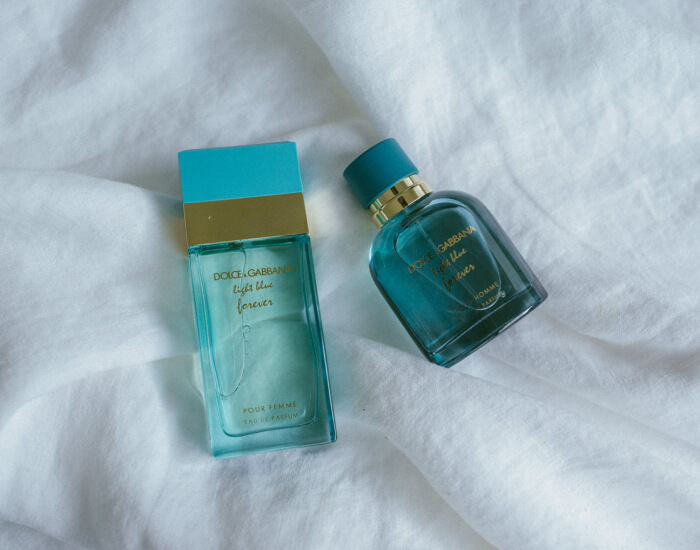 Light Blue's captivating yet subtle aroma makes it timelessly distinctive and memorable while delivering sophistication without overly demanding or strong-smelling. With its undeniable appeal, this exquisite cologne from one of Italy's most brilliant fashion houses is undoubtedly the perfect addition to any man's grooming collection before his long walk down the aisle. It's a long-lasting perfume for the wedding day.
2. Woody and Earthy Scents
Woody and earthy scents are warm and masculine and often evoke a sense of elegance and sophistication. They feature notes such as sandalwood, cedarwood, patchouli, and vetiver. These fragrances are well-suited for evening weddings and formal settings.
➤ Terre d'Hermès by Hermès
Introducing Terre d'Hermès by Hermès: an irresistible, woody, spicy, and earthy scent for the discerning groom. With its unique blend of freshness– this wedding perfume will make sure your special day is as memorable for you as it is for your guests! This classic masculine fragrance has been blended exquisitely in harmony so you can be confident whenever you wear it. Let's raise a toast on the big day – cheers! It's the best perfume for a wedding day groom.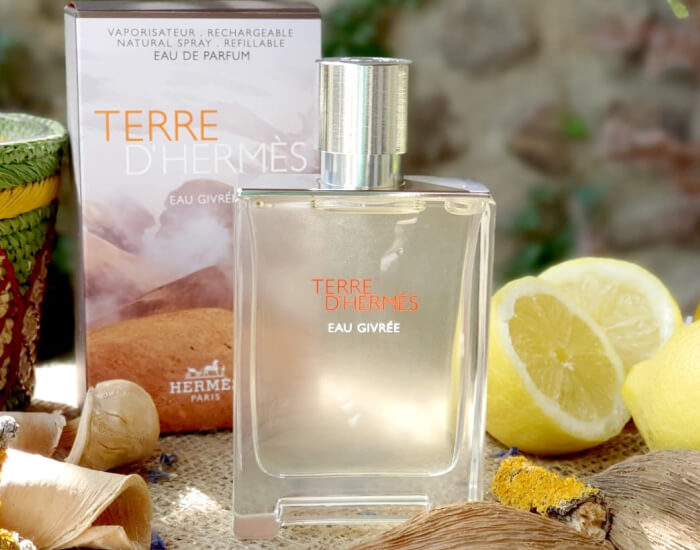 ➤ Bleu de Chanel by Chanel
Rich, luxurious scents of woodsy tones and earthy elements come together to create a special scent just for grooms on the most important day of their lives. This aroma will make your groom stand out from the crowd as he walks down the aisle in style. The sweet combination gives off an aura that will enhance his charm throughout all stages of life's journey.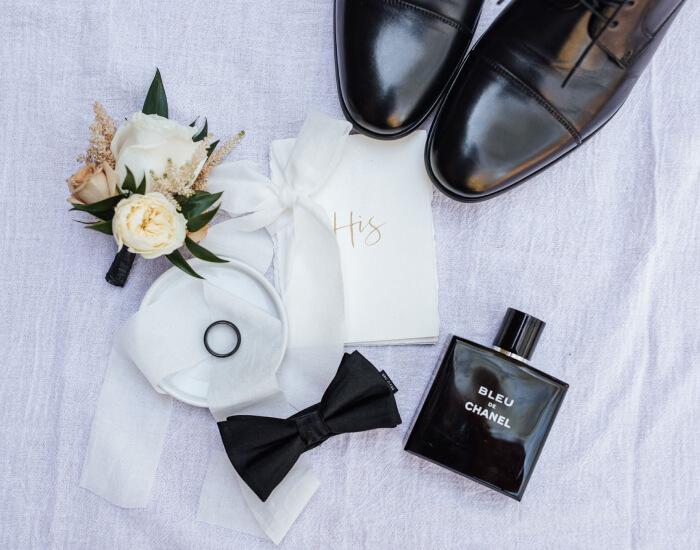 The unique blend begins with top notes rooted in nature-inspired ingredients like citrus accord, vetiver & pink pepper – captured here by Bleu de Chanel's performance version of Eau De Parfum Spray Intense liquid perfumes.
These provide a patterned structure designed around subtle musky undertones – creating a comforting layer that helps define this wedding fragrance experience further, giving it depth and character whilst also adding complexity without being heavy or cloying when worn close against the skin thanks to base accents like musk absolute & leather accord rounding things off nicely while providing body behind each initial flicker. It's the best perfume for a wedding day groom.
➤ Tom Ford for Men by Tom Ford
Tom Ford for Men by Tom Ford is a unique men's fragrance created to capture the spirit of style and luxury. It has an invigorating blend of woody and earthy scents, making it perfect for any occasion. With its luxurious aroma, this perfume will make you feel confident and sophisticated while providing a powerful boost to your confidence level.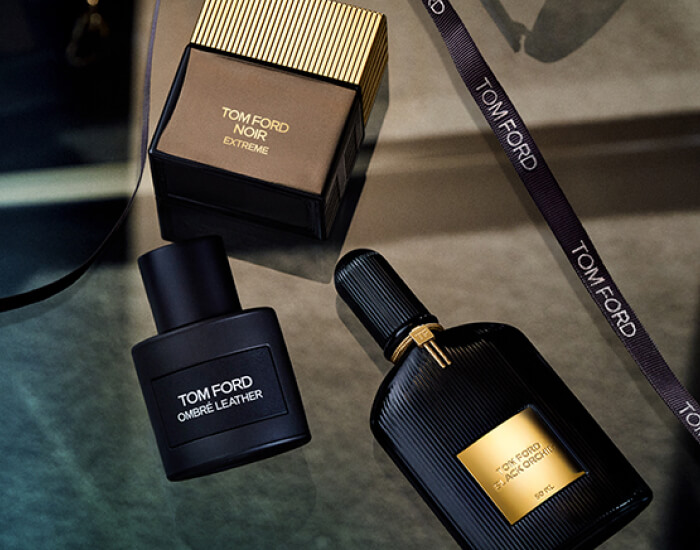 This scent works excellent as daytime or eveningwear and leaves behind an unforgettable trail that lingers on the skin throughout the night. Whether at work or with friends, this cologne adds enough flare to turn heads in admiration! It's the best perfume for wedding day groom.
3. Spicy and Oriental Scents
Spicy and oriental scents are bold, sensual, and exude a sense of mystery. They typically incorporate notes of cinnamon, cardamom, and exotic spices. These fragrances can add a touch of sensuality and allure to the groom's overall presence.
➤ Spicebomb by Viktor & Rolf
Are you ready to take your groom's fragrance from less than ordinary to extraordinary? Spicebomb by Viktor & Rolf is the perfect choice for a wedding perfume. This bold and daring scent combines spicy oriental notes with hints of pepper, making it ideal for a unique wedding experience. The aroma opens up with an intense combination of bergamot, cardamom, and pink pepper, leaving lasting freshness on his skin throughout your special day!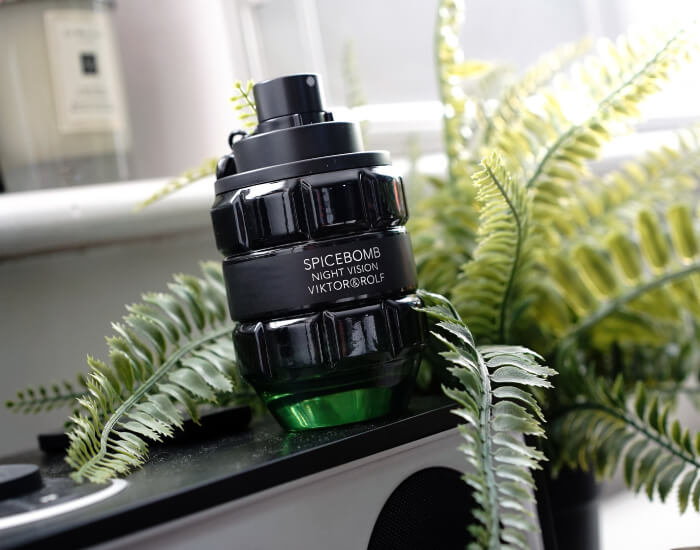 The heart unites cinnamon and elemi before drying down into smoky subtleties blending in sweet elements such as vanilla facets rounded off with patchouli essence giving him an air of mysterious allure he'll never forget. With just one application, this warm woodsy bomb will provide powerful expressions, ensuring moments like these are unforgettable experiences shared between grooms and treasured forever among their guests!
➤ La Nuit de L'Homme by Yves Saint Laurent
Introducing La Nuit de L'Homme, a captivating new scent from Yves Saint Laurent. Whether preparing for your big day or wanting to add a seductive twist to special occasions, this appealing fragrance will surely be a perfect choice—notes of Cardamom, Iris, & Tonka beans in an aromatic blend that draws attention without overpowering.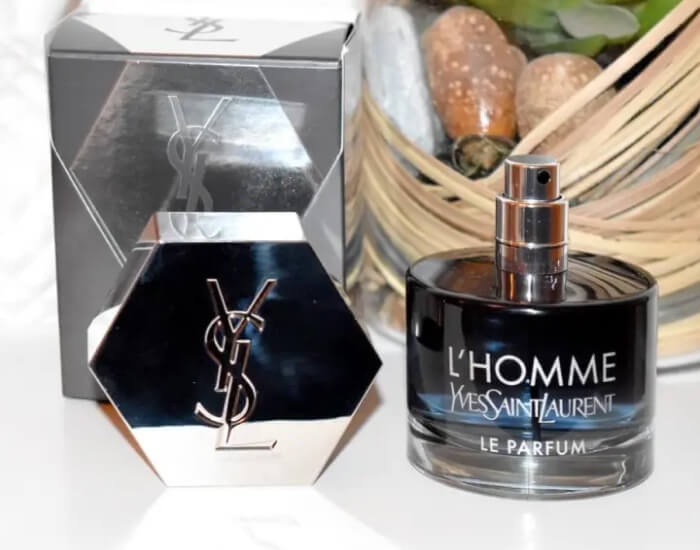 Warm woody undertones for long-lasting power enhanced throughout the night ahead! With its masculine yet sophisticated aroma, it will undoubtedly make any groom feel confident on his magical journey through marriage as well as leave others upon inhalation mesmerized and curious about where he found such sophistication all in one bottle – La Nuit de L'Homme at YSL.
➤ Armani Code by Giorgio Armani
This luxurious fragrance is the perfect way to add an extra-special touch to any wedding event or celebration. It features rich and warmed with Guaiac wood and tonka bean, with soft notes of olive tree blossoms- all blended in one sophisticated yet playful aroma. With its unique sophistication and modern elegance, this perfume by Giorgio Armani ensures that your groom will be remembered long after the ceremony has ended!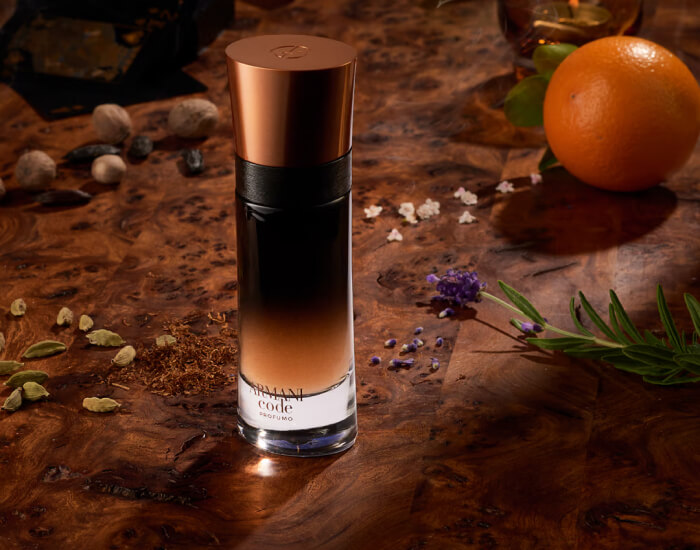 It evokes feelings of joy combined with individual style and adds romantic depth when layered on the skin during those tender moments shared between couples beneath soft lightening. Whether you are seeking something intense or low-key – this sensual composition can accommodate both moods, creating memories that stay alive forever.
How to choose a perfume that is ideal for you?
Personal Preference and Style
● Matching the groom's personality and style
When selecting a wedding perfume for the groom, evaluating his personality and style is important. The perfume should reflect his identity, making him feel comfy and assured on his big day. Each individual has unique characteristics, and the fragrance chosen should align with these traits.
If the groom has a classic and sophisticated style, he may prefer a fragrance with timeless elegance and refinement. Bergamot, lavender, or leather notes can evoke a sense of sophistication and complement formal attire. On the other hand, if the groom has a more modern and trendy style, he might lean towards fragrances with a contemporary and fresh appeal. Citrus notes or aquatic accords can provide a modern twist and a youthful vibe.
● Consideration of the wedding theme and ambiance
Another essential factor when selecting a wedding perfume for the groom is the theme and ambiance. The fragrance should harmonize with the atmosphere and enhance the overall experience for everyone present.
A fragrance with a touch of elegance and sophistication would be fitting for a traditional and formal wedding. Rich and warm notes such as sandalwood, vetiver, or musk can create a luxurious and timeless aura, complementing the event's grandeur.
On the other hand, lighter and fresher scents are more appropriate for a more relaxed and casual wedding. Citrusy or herbal notes can provide a refreshing and laid-back feel, perfectly matching the peaceful ambiance of the occasion.
Considering the wedding theme and ambiance ensures that the groom's perfume becomes integral to the overall sensory experience, contributing to the atmosphere and creating a cohesive and memorable wedding day.
Finalizing the Wedding Perfume
● Narrowing down options based on preferences and feedback
After testing and exploring various perfume options, it is time to narrow down the choices based on the groom's personal preferences and feedback from trusted individuals. Each fragrance will have unique characteristics and evoke different emotions, so paying attention to how each scent makes the groom feel and how it resonates with his vision for his wedding day is essential.
Consider the scents that stand out and align with the groom's personality, style, and desired ambiance for the wedding. Consider the notes that evoke positive emotions and make the groom feel convinced and cozy. Additionally, feedback from trusted individuals can provide valuable insights and perspectives, helping the groom make a more informed decision.
● Considering budget and availability
While the groom's preference and feedback are essential, it's also crucial to consider the budget and availability of the chosen perfumes. Perfumes come in a wide range of price points, so it's important to find a fragrance that fits the groom's budget without compromising quality or satisfaction.
Additionally, consider the availability of the chosen perfume. Some perfumes may be limited editions, exclusive releases, or seasonal scents. Ensure the selected fragrance can be purchased on the wedding day and is readily available from reputable retailers or online platforms.
● Making the final selection
After carefully considering preferences, feedback, budget, and availability, it is time to make the final selection of the wedding perfume. Trust the groom's instincts and go with the fragrance that resonates most strongly with him and aligns with his vision for his special day.
It should be a scent that he loves and enjoys wearing, as it will become a part of the cherished memories associated with the wedding day. Once the final selection is made, embrace the choice and look forward to wearing the selected perfume on the wedding day. The scent will add an extra touch of charm and elegance to the groom's ensemble and create a lasting memory for both the groom and those who share in the joyous celebration.
Proper Application and Storage
● Applying the perfume correctly for optimal effect
Once the groom has chosen his wedding perfume, it's important to apply it correctly to maximize its effect. The proper application ensures that the fragrance is distributed evenly and lasts longer on the skin. Start by spraying or dabbing the perfume on pulse points. These areas include the wrists, neck, behind the ears, and inner elbows. These areas' warmth helps diffuse the scent and release its notes more effectively.
Avoid rubbing the perfume onto the skin after application. Rubbing can break down the fragrance molecules and alter the scent. Instead, let the perfume dry naturally on the skin. This allows the fragrance to develop fully and maintain its intended composition.
● Storing the perfume to maintain its quality
By following proper application techniques and storing the perfume correctly, the groom can ensure that his chosen fragrance retains its integrity and provides an optimal experience on his wedding day and beyond. It's advised to store the perfume in a cool and dark place.
Applying and storing the perfume properly is essential for maximizing its effect and quality. By adhering to these practices, the groom can ensure that his wedding perfume performs at its best, allowing him to enjoy the fragrance's intended notes and leaving a lasting impression on his special day.
Conclusion
It is no secret that scent is vital in how we perceive our wedding day. Regardless of the style or ambiance you are trying to create on your special day, picking out an ideal groom's fragrance can take time and effort.
Grooms should take heart knowing that amidst all the craziness leading up to their weddings, there is help to find just the right wedding perfume. Many companies have made it easier than ever before with specialized scents perfect for momentous occasions like yours. With various fragrances ranging from traditional musks and woody to more contemporary notes, any man looking to make his mark at his ceremony will undoubtedly find what he needs here!
If you're looking to stand apart on your big day couldn't think clearer solution than opting for the perfumes mentioned above as a surefire way to set yourself a uniquely charming, aroma, celebratory-filled occasion! We hope this blog on wedding perfume for grooms is useful to readers.