The Internet is swamped with so many tips and tricks to have a fabulous wedding; however, there is hardly any information on how to walk down the wedding aisle with Pizzazz. Of course, every bride wants to
walk down the aisle in style. That's why we are here to help you with some of the best tips to walk down the wedding aisle.
Take a look…
Top 10 Tips To Walk Down The Aisle
1. Walk Down the Aisle Solo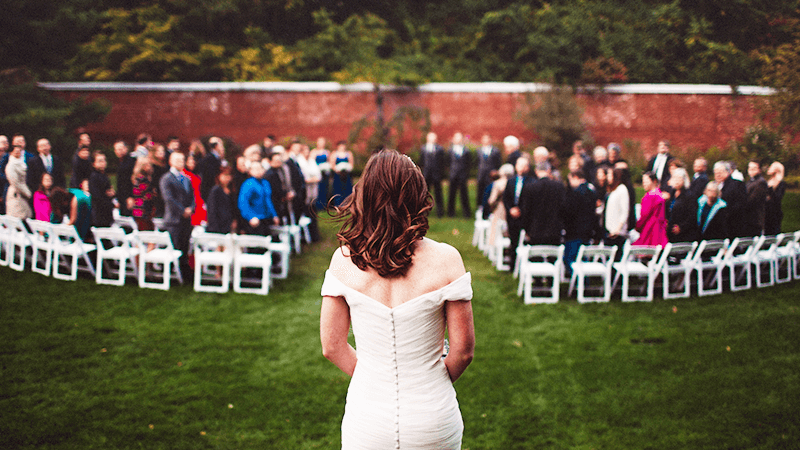 You might prefer to walk down the aisle solo, which is OKAY, if you don't have or if you're not close to your parents or father, or if you don't, you have anyone you consider suitable to walk you down the aisle. If you're planning an intimate destination wedding ceremony in paradise, walking solo is ideal.

2. Walk Down the Aisle Hand in Hand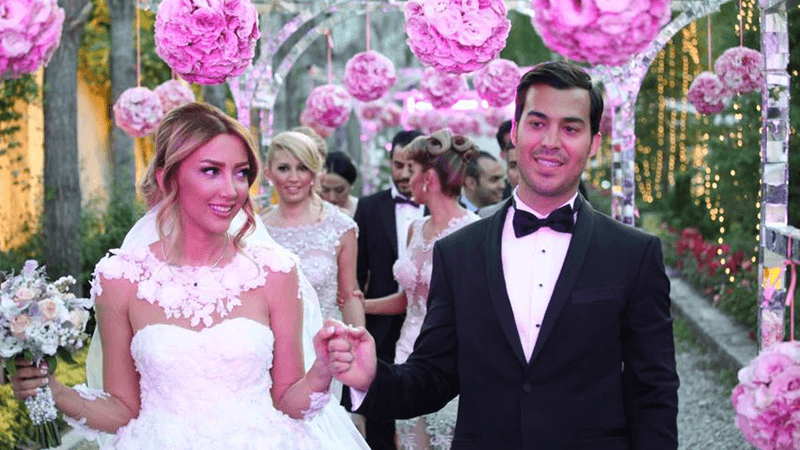 Nowadays, many couples prefer to have destination weddings. Typically, only close family and friends attend such weddings. Couples who don't want a big ceremony can consider walking down the romantic aisle hand in hand can bring a romantic touch to your intimate wedding ceremony. Moreover, your videographer will also get to click on some fantabulous wedding moments.

3. Dance Your Way In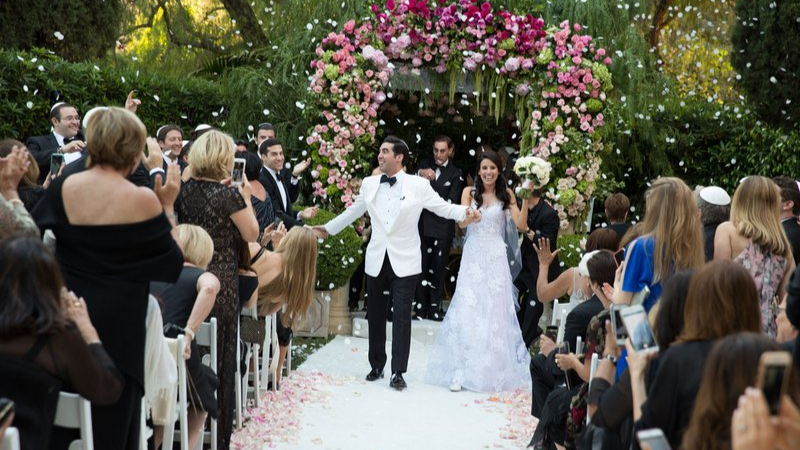 he best way to spruce up your wedding celebration is to dance your way in. You can have your entire wedding party, including you and your partner dancing down the aisle to your favorite songs! Not only will it add fun to your wedding, but also it's a great way to add pizzazz to your wedding. All of your wedding guests would love to join in the fun by cheering, clapping, and laughing! Your wedding videographer will surely present you with an amazing wedding video with such a grand entry.

RELATED: 15 Best Wedding Aisle Decor Ideas to Embellish Your Ceremony
4. Meet at the halfway point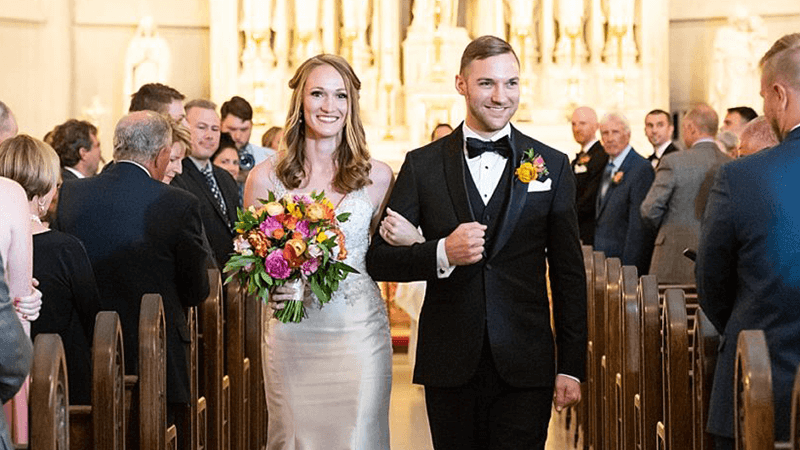 You two can meet in the middle of the aisle! This will be an extremely unique and very romantic way to walk down the aisle. Your guests would be enchanted to see you walking towards your partner. You can even consider sharing a kiss or a glass of wine at the meeting point.

5. Elegantly Hold Your Bouquet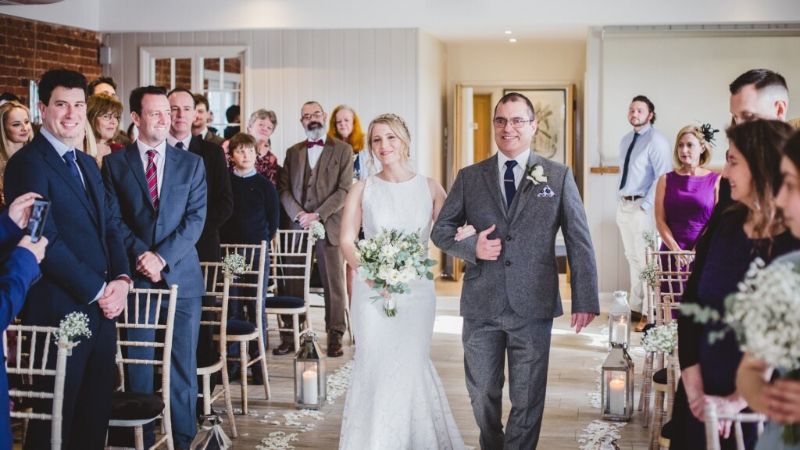 To make a sophisticated entry, make sure to hold your bouquet by your pubes. To achieve that effect, make a diamond shape between each arm and your body. Your elbows should be directly across from the lower extremity of your waist.

6. Walk Down The Aisle Normally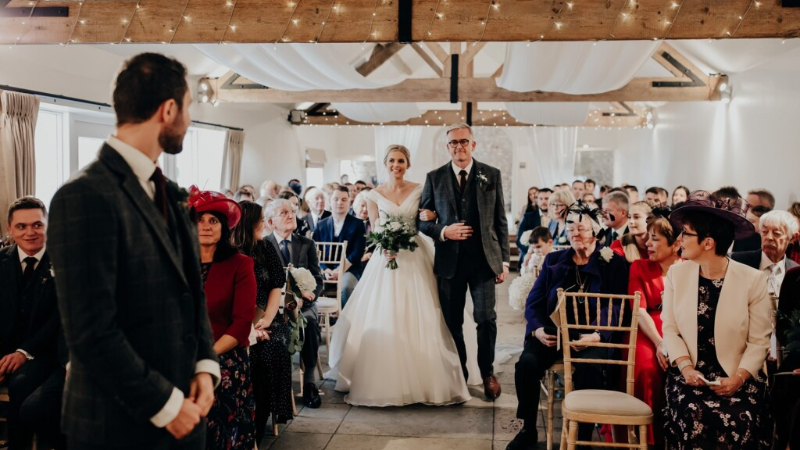 When it comes to walking down the aisle, there are no hard and fast rules. In order to feel confident and comfortable while you walk down the aisle – walk normally – as you would walk anywhere else, albeit at a slightly slower pace. Walk to the beat of the music. However, make sure the music you choose is medium-paced.

7. The Right Posture Matters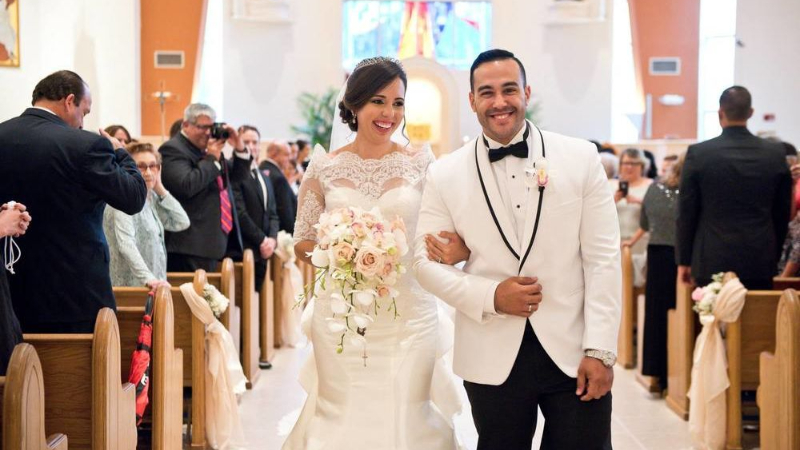 Remember to keep your shoulders back as you walk down the aisle. It is critical for every bride to appear confident and at ease while walking down the aisle to the love of her life. Some brides simply hunch over, which detracts from their wedding photos and overall appearance.

8. Be Relaxed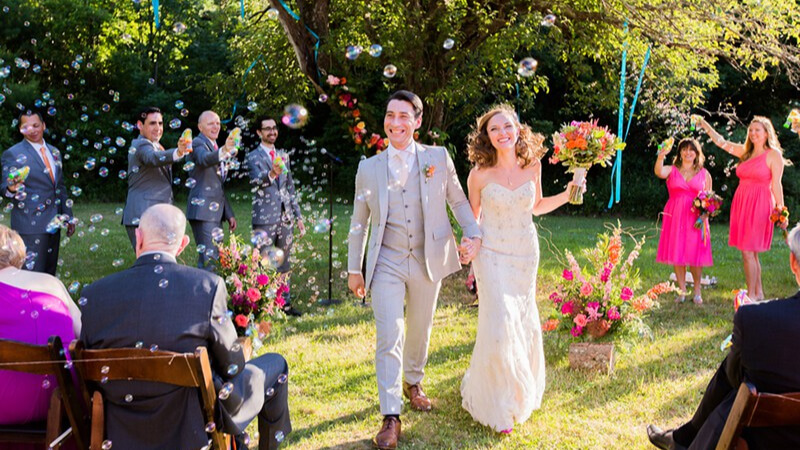 You don't have to walk down the aisle with your arms stiff or rigid. It's simple: if you keep your arms stiff, you'll appear stiff. So the goal is to relax in order to appear relaxed and cool.

9. Acknowledge Your Guests While You Walk Down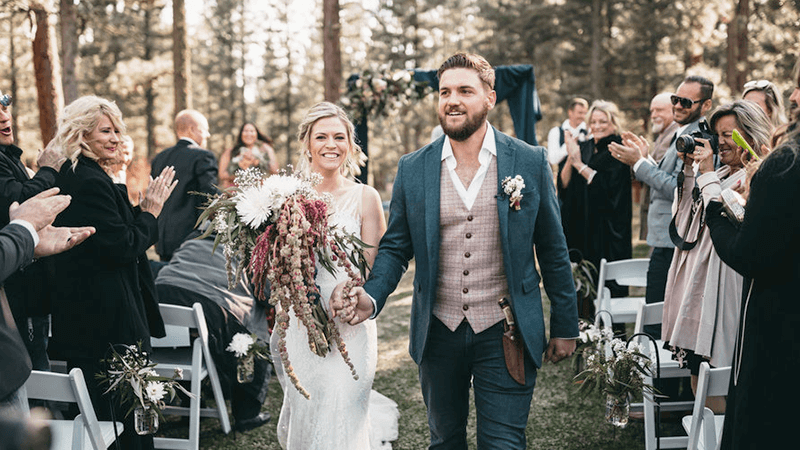 It's perfectly acceptable to smile at your aunt, who traveled across the country to attend, or at a childhood friend you haven't seen in years. Brides who stare straight ahead appear to be robots, which is not a good look. And believe me, you will love it when they all give you a happy look as you walk down the aisle to take the most significant step of your life.

10. Walk with a Smile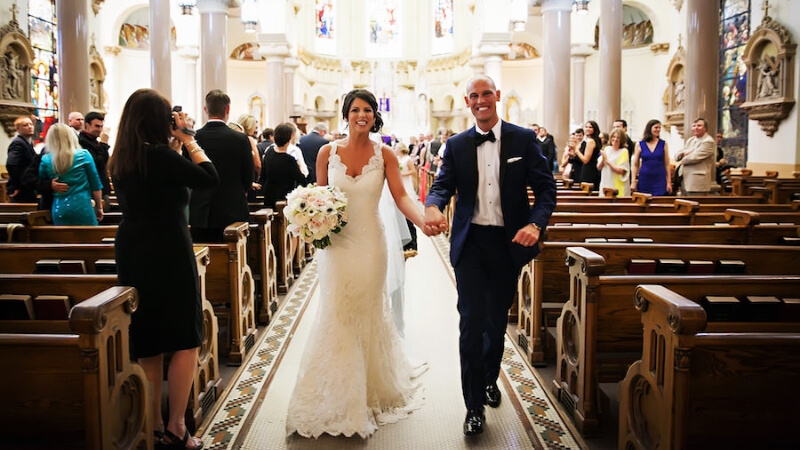 Last but not least, walk with a smile, it costs nothing! It can be intimidating to walk down the aisle with all eyes on you. The anticipation can be nerve-racking if you are a shy person. Fret not! All you have to do is to take a few deep breaths and relax, then smile and start walking. If you find trouble doing so, keep your focus on your Groom, Broom, or Partner ahead of you. They are sure to bring a smile to your face!
Wondering what's more?
Well, here are some bonus tips to make your walk down the aisle extra special…

BONUS TIP #1. Practice Walking Before Your Wedding Day
If you're intimidated by the thought of walking down the aisle, then it's advised to practice it before the D day. Of course, there is a huge difference in practicing on normal days and walking down the aisle in actuality. However, it will give you some confidence in the run-up to your wedding. You can practice with your friends or loved ones. For instance, your mother, elder sister, or married friend can teach you some tricks and trips to help you feel confident as you walk down the aisle.

BONUS TIP #2. Choose A Music With Medium Pace
This is again crucial. You already know that you will need a piece of music running in the background. So it's best to choose a piece of medium-paced music so that you can walk to the beats of the music. Music will help you boost, especially if you're shy by nature or are nervous while walking down the aisle.
Putting it all together…
So there you have it, the top ten tips to walk down the wedding aisle. Hopefully, this post helped you get enlightened on ways to walk down the aisle in style at your wedding. Remember that there are no hard and fast rules when it comes to walking down the aisle. You can come up with your own distinct ideas to make your walk as memorable as possible. What matters the most is your confidence and charm as you walk down to the love of your life.
Happy Wedding… ☺ ☺